Daily Links: What Men Think Of Spanx, JWOWW's Clothing Line, More
1. What do men really think of man-boob eraser tops, Spanx for Men? Lemondrop found out. In the meantime, see our favorite Spanx swimwear. [lemondrop] 2. Jersey Shore's JWOWW is doing more than just GTL (gym-tan-laundry): she insists her new clothing line, "won't go porn star sexy," even though it's called Filthy Couture. Judging the looks of her dress above at the MTV Movie Awards, we're not so sure we agree. [the Cut] 3. May the force be with Natalie Portman, as the new face of all Christian Dior perfume advertisements. Check out our guide to the best fragrances for every season. [Stylefrizz] 4. Who knew Tweezerman tweezers (if you haven't tried them, you must now), could be cute? Try the new Tweezerman for Benefit pink swirled ones. [The Beauty of Life] Stay on top of fashion and beauty news with our daily links. Check out our guides to the best summer dresses and the best harem pants. Subscribe to our newsletter for SheFinds news right in your inbox.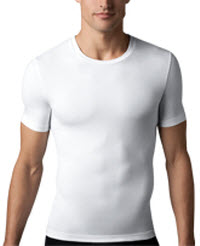 First Look: Equal Opportunity Shapewear–Spanx For Men
No matter which side of the fence you're on: yay or nay, Spanx for Men is here, to buy now. What do you think--has the shapewear trend gone too far, or is it just equal opportunity shopping? What would your guy think of you got him some for Valentine's Day? Says Spanx founder Sara Blakeley,   "The men in my life (and in Hollywood) have been asking me to make SPANX for men for years, so I was inspired to create comfortable and powerful undershirts that provide instant gratification." This compression crew neck tee is for the guy who likes classic tees--and has a little bit of a belly and upper arms he doesn't want to show off. The v-neck tee is perfect to wear under a button-down shirt for extra coverage. Best for the man who might be apprehensive about shapewear, this compression tank hides his tummy, too. See the best in shapewear, Spanx swimwear, and cheap shapewear that won't break the bank.
This Just In: Spanx For Men To Launch (Seriously)
We've long been fans of Spanx--who doesn't like seamless shapewear that hides their tummy? We love the new Spanx swimwear, and now, just a few days after the technologically advanced bathing suit styles hit the web, Spanx has announced they're coming out with Spanx for Men--see the photos, and buy some here. What do you think--would your guy try Manx? Maybe in secret? Tell us in the comments. For now, see the best shapewear and the best bathing suit styles, plus dresses to hide your tummy and shirts to hide your tummy--and stay tuned for photos of the Spanx for Men styles coming soon.