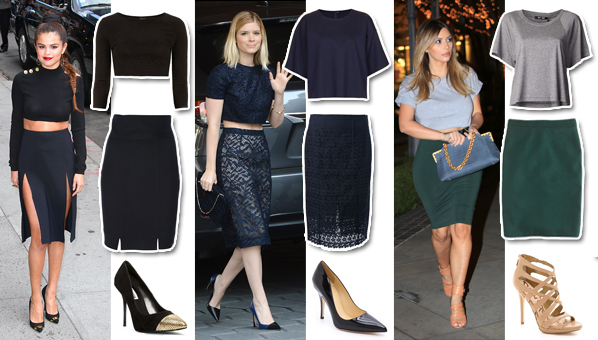 How To Wear: Crop Tops + Pencil Skirts, A La Kim Kardashian
While we're not quite ready to put our sweaters, coats, and snow boots, into storage just yet, we can still start daydreaming about shopping for our favorite spring outfits. We've got our eyes on a pairing that we've seen a number of  times on celebrities like Kim Kardashian, Kate Mara, and Selena Gomez: the T-shirt crop top and pencil skirt. This goes to show that the easy-to-do outfit combo is actually super flattering for all shapes and sizes. And the pencil skirt usually sits high on your waist, so you don't have to worry about starting a steady schedule of ab work. (Phew!) Whether you're looking to wear this look during the day or for a special evening (Valentine's Day is just around the corner), we show you the different ways on how to wear it: 1. Dress it up with heels. This look is basically, well, two basics put together. So that means it can go the casual route pretty quickly. Pairing your crop top and pencil skirt with a pair of neutral-colored heels, like Kim Kardashian's nude strappy heels, will keep your outfit classy without looking like you're ready to hit da club. (Yup, da club.) Get the look: BLK DNM T-Shirt 38 ($75); J.Crew No. 2 Pencil Skirt in Double-Wool Serge Wool ($130); Sam Edelman Erin Crisscross Sandals ($130) 2. Play with fabric or prints with your pencil skirt. Another reason why we want to wear this outfit through spring is because T-shirts are just so darn comfy. But if you're looking to take this look into the evening, make a statement with your pencil skirt. Kate Mara dons a head-to-toe lace look but we prefer to keep the top in a good ol' jersey knit. Then, you can wear your lace skirt with a blouse or sweater next time. Ta-da! You got yourself at least two new outfits ideas. Get the look: Boxy Crop Tee by Boutique ($64); Nina Ricci Broderie Anglaise Pencil Skirt ($896.72); Kate Spade New York Licorice Pumps ($328) 3. Keep a balance between what you cover up and reveal. Have you fallen for a long-sleeve crop top instead? That'll still do the trick! To avoid looking oddly proportioned with modesty, take a tip from Selena Gomez and show just a hint of skin with a high-slit pencil skirt. It's all about balance. If you were to wear a mini-skirt with this look, it would still look way too revealing. Like Mily Cyrus-level revealing. And we don't want that. Get the look: Dorothy Perkins Black Cropped Top ($21, down from $35); DSquared2 Cut-Out Pencil Skirt ($186.26); Steve Madden Deceptve Heels ($129.95) [Photos: Splash] Don't forget to check out: how to wear the oversized sweater trend, layered necklaces, and how to make your closet Pinterest-worthy.
Don't Throw 'Em Overboard Just Yet–Anchors Are Back Again This Spring
Every spring without fail, the nautical trend re-emerges with anchor details at the forefront. Over the years, however, anchors have gotten more and more cutesy and less and less cool. But this season, that's all about to change. This spring's anchor details are done with edgy leather accents, in bright colors and even in sequins, which is just the refresh the old fave needed. Pair a sequined anchor tank with colored jeans, or a sheer anchor print shirt with a leather skirt and voila! all the sweetness is out the window. But don't stop with clothes. Anchors make great accents on jewelry, too, so treat yourself to a stack of anchor-adorned bracelets or a cool gold anchor necklace. Shop all our anchor favorites in the slideshow. And for more trends we love, check out jungle prints, printed bomber jackets and map prints. [Photo: atlantic-pacific.blogspot.co.uk]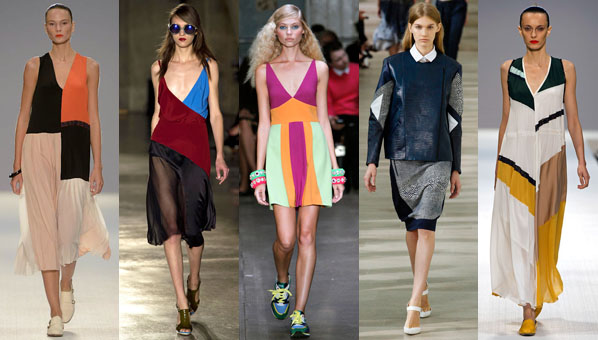 Colorblock Just Won't Quit: The Persistent Trend Popped Up On London Runways
Just when you thought you had to stow away your favorite colorblock dress, the designers at London Fashion Week confirmed that this incredibly persistent trend (first spotted for spring 2011) will still be in 2 years later. For spring 2013, Paul Smith mismatched colors and patterns on tea-length dresses, while Jonathan Saunders did the same thing with his line, but made the bottom half sheer (another LFW trend). Moschino Cheap and Chic took dress lengths well above the knee, and in eye-catching neon tones. Preen played with separates, adding different colors to certain parts of tops and skirts for an accentuated effect. The takeaway: no matter how you prefer your colorblock, it's here to stay. Read more spring 2013 fashion trends: silver skirts, fanny packs, protective eyewear, and trend repeats from fall.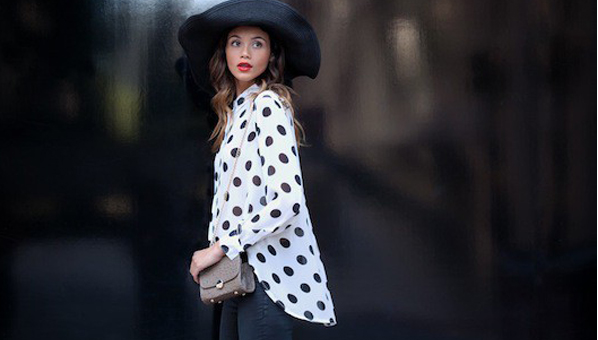 8 Reasons We Love Polka Dots (On More Than Just Teenie Weenie Bikinis)
Seen on the iconic runways of DVF and Marc Jacobs, the quirky print is fresh and feminine, perfectly in line with spring's pretty girl movement. Celebs are embracing the chic print as well, sporting mod translations or taking goofy to glam with polka dots on the red carpet (Emma Stone, you work this). Get a little print happy this season - work a pair of dotted sidewalk ballet flats or get retro with a spotted silk blouse. All our fave picks are here... Looking for more fashion inspiration? Check out the best sales and deals or shop our guides to the best slimming pants, mini skirts, and discount fashion.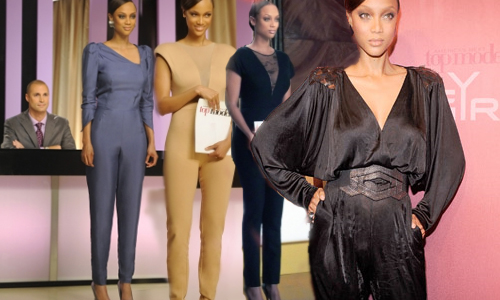 Wear These Tyra Banks-Approved Jumpsuits For Spring
On this season of America's Next Top Model, host Tyra Banks has been sporting different jumpsuits during nearly every elimination scenes. I'm not sure what sparked her love for the jumpsuit, but girlfriend is extremely fond of them as she's been rocking them in public for almost a year now.  Check out some pretty fierce jumpsuits that will help you "smize" all spring long. Victoria's Secret has you covered when you want to dress in a casual yet stylish look. Their tapered crop leg jumpsuit ($39.50) is a fabulous option that you can also get in black.  Read through the spring shoe trends to help discover the perfect platform or flat to wear with this outfit. Push the envelope with this Rachel Roy racerback cargo jumpsuit ($82.99, down from $139) with a mesh top. Enjoy free shipping on this already reduced selection. There are more awesome jumpsuits after the jump plus additional styling tips. Want to flex your style muscle while staying budget friendly? Pick up this Asos chocolate soft stretch jumpsuit ($76.09, down from $251) at 70% off. Stack on some bracelets to jazz up this ensemble. . This DKNY silk cap-sleeve jumpsuit ($245) keeps you perfectly on trend for Spring 2010 and allows you to decide how much you want to cinch the waist with its self tie belt. One way to add some edge is a great necklace. For a few different options, check out our guides to necklaces, blazers, and handbags.
Deal Of The Day: Stock Up On $7.99 Nautical Tanks At The Gap
You'll wear this Gap favorite ribbed striped tank ($7.99) all spring and summer--(and even in fall). Layer it with a cardigan, throw a leather jacket on, tuck it into a skirt, wear it with boyfriend jeans...the list goes on. See more great discounts today at the Gap. More Sales & Deals: White House Black Market: Get 50% off The Outnet: Up to 75% off designer spring dresses Bloomingdales: Uo to 60% off select items All the A-listers are wearing nautical tanks this year - check out our celebrity style watch, shirts to hide your tummy, all of our deals of the day, and don't forget to browse the calendar of online sample sales so you never miss a deal.