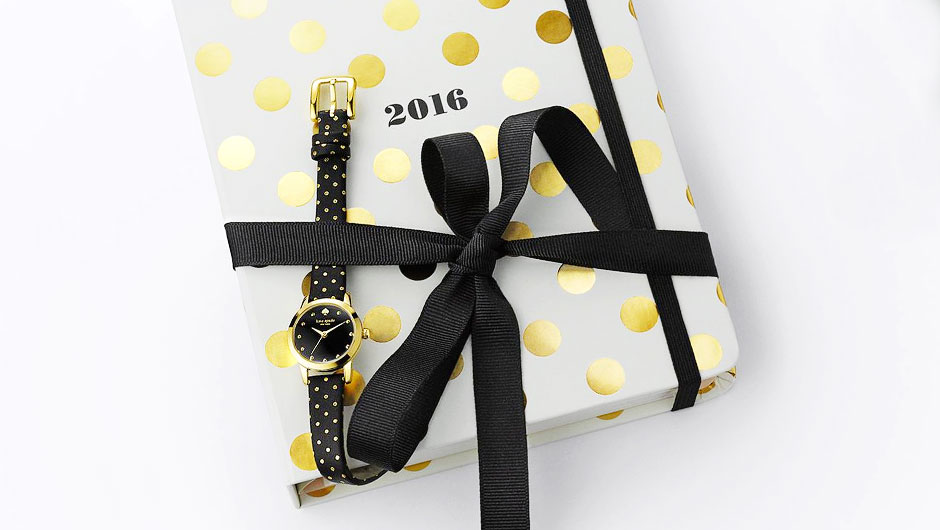 Get Your 2016 Kate Spade Planner Before They Sell Out (Because They Will!)
Bust Out The Matching Outfits And Mustache Props–Holiday Card Season Is Here
Because we know how hard it is coordinating the outfits and getting everyone to smile, we did you a little favor this holiday season. We looked through hundreds and hundreds of the season's best holiday cards and narrowed down the 27 best, so all you have to do is drop in your sweet photo and click order. Consider it our gift to you--no thanks necessary. SHOP THE BEST HOLIDAY CARDS NOW! Be sure to check out the best holiday collabs for kids and Oprah's favorite things.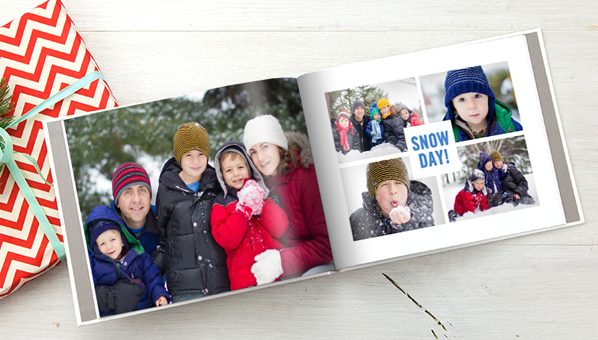 Why Send Simple Holiday Cards When You Can Send Complete Photo Books Instead?
Your MIL's refrigerator is covered with holiday cards dating back to 2002 and your mom has 10 years worth of them tucked away in a drawer for safe keeping. Meanwhile, your siblings trashed your Christmas cards only a month after they arrived and you're stuck with 9 extras you have no idea what to do with. As wonderful as holiday cards are, they come with quite a few challenges. So this year we suggest you nix the traditional card and take it up a notch by giving those closest to you photo books instead. Not only do they make perfect gifts, but they're something your loved ones will really cherish. Now when it comes to photo books, we recommend MyPublisher. It's the perfect place to create premium-quality, professionally-bound photo books that include all of 2013's most special moments. Grandma's 95th birthday celebration, the arrival of your bouncing baby boy and your little girl's first day of school--there's a page for all of it in a photo book. MyPublisher's photo books are your opportunity for you to tell your story, your way. With four different book sizes, you can create an album to suit everyone on your gift list. Smaller photo books are perfect for your brothers and sisters, while the Classic or Deluxe hardcover photo books are ideal for grandparents. Once you select your size, you can add flair to your project with customization options like photo finishes, unique book jackets and special binding technology that will keep the pages flat in a open book. Throw in Super Gloss printing and your book will be complete with sharper and more vibrant images that are both scratch and spill resistant. MyPublisher will even add a special note and does the gift wrapping for you by placing your memories in a decorative gift box. Convinced? Well there's more. MyPublisher is offering SHEfinds readers 25% off orders of $50 or more and 50% off orders of $100 or more until December 19th so get started making your photo books now at MyPublisher.com, and give your loved ones personalized memories they can pass from generation to generation.
How Nice Of Hallmark To Reward You For Giving Friends Holiday Cards This Season
Everyone knows it's better to give than receive and one of our favorite items to gift are holiday cards. Yes, they may seem trivial and dated, but believe it or not some people actually appreciate the sentiment of few thoughtful--and sometimes, funny--words. Obviously, when it comes to cards it doesn't get much better than Hallmark and they've truly outdone themselves this year. Not only is their seasonal stationery better than ever, but you'll earn rewards for every Hallmark card you buy. As an added bonus Hallmark is giving one lucky SHEfinds reader a $250 Hallmark gift card just for signing up for the Hallmark Card Rewards. To kick off the holiday season in style, Hallmark recently launched its Seal the Deal instant win game on Facebook. You'll be excited as us once you check out the prizes, including a chance to win $2,500 to fund your guilt-free holiday shopping spree! Intrigued? Here are the deets: First, play Seal the Deal to be automatically registered for Hallmark Card Rewards. Next, download Hallmark's awesome mobile app. Then shop Hallmark cards at more than 30,000 grocery, drug stores and supercenters across the country. Before you hand over your Holiday card to its recipient, use the mobile app to easily scan the barcode on the back of your purchased Hallmark card and register your rewards for your account. You'll earn 1 reward for every 5 cards you buy. Wondering what 5 festive holiday cards could earn you? Think gift cards, discounts and dollars off from some of your favorite brands. Pretty amazing, right? Now no worries if you're not an app person. You can also register your Hallmark Card Rewards here. Just be sure to tweet @hallmark using  #hallmarkcardrewards when you earn a reward so your friends and followers can share in the rewards. 'Tis better to give than receive, after all. Start Earning Your Hallmark Rewards Now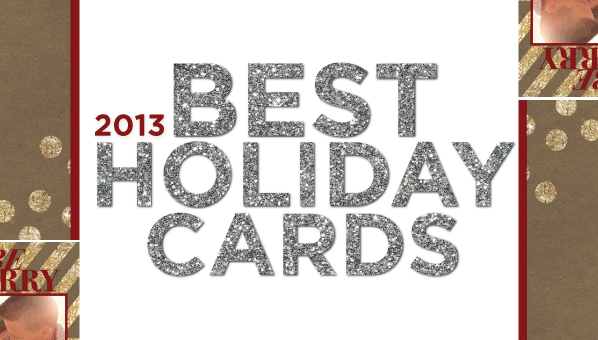 Not Even The Kardashians Can Touch These Festive Holiday Cards
Whether you're just married or you're already enjoying the pitter patter of little feet, there's only one way to truly kick off the holiday season: holiday cards! Sure, they're the source of many an awkward family photo, but those days are gone. Not only are couples and families going all out with props and cute outfits for their holiday card photos, but the cards themselves are actually way cute. We were so impressed with this year's selection, we rounded up the best of bunch to make finding the perfect card for your fam easier than ever. Happy holidays! SEE THE BEST HOLIDAY CARDS NOW Ready to start gift shopping? Check out gifts for her, gifts for him and gifts for kids.
Minted Just Debuted Their First Letterpress Wedding Stationery Collection And It Is Epic
Minted is always one of the first places we recommend brides looking to buy their wedding stationery online turn because their designs are always top of the line, but they've really outdone themselves this time. They just released their first ever Minted Letterpress Collection and it's easily some of the most beautiful stationery we've ever seen. The new line features over 25 designs, which are all printed using a vintage Heidelberg Windmill press. Even better, brides will have the option to customize their letterpress designs in ways you never could before--there are  25 font options, 2 paper types, and up to 3-color letterpress printing. Amazing, right? It's also worth mentioning that being a Minted brides comes with huge perks, namely the Perfection Live Studio which gives you access to a designer dedicated to your wedding stationery order. Want to make changes to your design? Use their screen sharing tool to work one-on-one with your designer to make tweaks in real time. Because we're so obsessed with how easy Minted makes wedding stationery, we're teaming up with them to give one lucky SHEfinds readers win a $250 gift certificate and two readers $100 gift certificates towards Minted Wedding Stationery. Want to win? Simply click the link below to enter. After that, be sure to click through the slideshow to check out Minted's amazing new Letterpress Collection. ENTER THE MINTED WEDDING STATIONERY GIVEAWAY NOW
5 Amazing Sales You Shouldn't Miss This Weekend
Just because it's Friday--enjoy! Take 20% off all ASOS orders with code USXMSSTANDARD at checkout. Take an extra 30% off sale items at Destination Maternity. Take an extra 30% off your order at Gap with code GAPGIFT at checkout. Take 30% off all J. Crew orders with code WISHLIST at checkout. Enjoy 20% off any holiday order at Tiny Prints with code 20dec at checkout. (more…)
Don't Be A Square! Say "I Do" To Minted's New Wedding Stationery Silhouettes
Still haven't found a wedding invitation that speaks to you? We know there are tons of options out there, but there's one thing they all have in common: they're all the same silhouette! For a long time wedding invitations have either been square or rectangular, but Minted is changing the game with their brand new wedding stationery silhouettes. They just introduced four fancy new silhouettes and they're just what you need to take your wedding invitation from special to unforgettable. Click through the slideshow to get your first look at the new silhouettes: Gorgeous, huh? But the silhouettes aren't the only thing that's newsworthy. Head over MOMfinds and you could enter to win $200 to spend on your own wedding stationery from Minted. 'Tis the season of giving after all. Good luck!
Blew Your Holiday Card Budget at All Those Cyber Monday Sales? That's Okay, Minted Is Here to Help…
We know. Those Cyber Monday sales were incredible yesterday. And it's totally understandable that the money you were supposed to have set aside for holiday cards is, well, spent. But don't despair--those holiday card photo props don't have to go to waste. Because it is the season of giving, our friends at Minted are giving one lucky MOMfinds reader $200 towards holiday cards. Now in case you've never shopped Minted before--tsk, tsk!--they have some of the best stationery out there. The paper is great quality, they ship quickly and the designs are amazing. You totally want to win, right? Enter the Minted holiday card giveaway using the entry form below and you'll be entered the win the$200 grand prize or one of four $50 credits to Minted.com. Sign up below to be entered to win. EMAIL ADDRESS: Click here to email Jeanine, the author of this post.
Now That You've Crossed All Those Holiday Gifts Off Your List, Shop Minted's Gorgeous Holiday Cards
Shopping for toys is crazy. Shopping for holiday cards? Not so much. Now that Black Friday and Cyber Monday are over and all the kids' toys are wrapped and hidden (ha!), it's time to focus on more important things. Your holiday cards, for example. When it comes to holiday cards, it doesn't get much better than Minted. The paper is great quality, they offer fast shipping and personalization and the designs are modern and festive. Take a peek at some of our favorites of the season: [slideshow] See, we told you they were amazing. And lucky for you, there's still plenty of time to personalize, order, address and ship this year's holiday cards so head over to Minted and get started ASAP. Shop Minted's Holiday Cards Now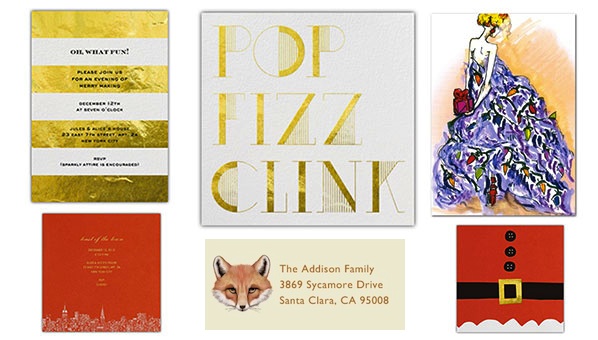 Would You Buy Designer Holiday Cards And Wrapping Paper?
As if buying their bags and clothes wasn't enough, Tory Burch, Kate Spade and Rachel Zoe want you to buy their paper products now, too. And not just stationery - the designers have turned out Hallmark holiday staples like wrapping paper, Christmas cards and even address labels, this holiday season. This may repel those of you who use newspaper and twine to wrap gifts, or who recycle bows year to year; but you can actually feel all warm and fuzzy about this designer trend: Kate Spade went eco-friendly with a digital line of cards for Paperless Post, while Tory Burch's line for Tiny Prints benefits the Tory Burch Foundation (more info here), and Rachel Zoe's wrapping paper for One King's Lane supports Save the Children. Zac Posen also created a card for Tiny Prints which benefits foster care youths in New York City, and J.Crew's Jenna Lyons line for Minted supports Teach For America. So, now that you can justify this designer splurge - get shopping in our slideshow above. They also make the perfect gift for your philanthropist-and-designer-loving friend. Love pretty paper goods? Read about designer playing cards and Anthropologie's handmade wrapping paper.
Yet Another Reason to Hit Up Target This Holiday Season? They've Got Holiday Cards!
Between Gwen Stefani's adorable new Harajuku Mini collection and the Target + Neiman Marcus holiday collection, there are already plenty of reasons to head to your local Target this season. But here's another: Target holiday cards! Now maybe I'm just late to the party, but I had no idea that Target sold holiday cards or that they were so cute. Best of all, they're affordable! Shop our pics now, so your Target holiday cards arrive in time. [slideshow] [slideshow] Start Shopping: target.com (more…)
Season's Greetings! 30+ Must-See Holiday Photo Cards
Get the cameras out and start coordinating the outfits--it's holiday card season! We scoured the Web and found 38 of the best holiday photo cards out there. Shop the best holiday cards of 2012 >>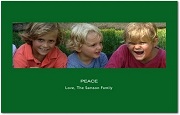 Finally, You Can Afford Tory Burch! Shop the Designer's New Collection of Holiday Cards at Tiny Prints
I love Tory Burch's handbags and accessories, but they're normally way too expensive for me. You, too? Well here's a way we can get our Tory fix for under $50--her holiday cards! Yup, the designer just launched a limited-edition collection of 4 holiday cards with Tiny Prints and they're totally affordable! Even better, a portion of the proceeds from the Tiny Prints and Tory Burch holiday collection will benefit the Tory Burch Foundation, which supports the empowerment of women and families. Take a look at the holiday cards: [slideshow] In addition to holiday cards, there are also address labels and thank you cards--click here to shop the complete Tory Burch for Tiny Prints stationery collection. (more…)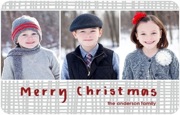 It's The Most Wonderful Time of the Year! Shop Our Favorite Tiny Prints Holiday Cards
There are so many reason we love the holiday seasons--the joy of seeing our little ones unwrap gifts, the food, and of course, holiday cards! Now if you think holiday cards are a waste, you've come to the wrong place because we disagree whole-heartedly. Holiday cards are not only a great way to spread love during the holiday season, but they're also a great excuse for an annual family photo. Save them up over the years and we promise it's an incredible experience to look back at how everyone has grown. So now that it's November, it's officially holiday card season. We combed through the stock at one of our favorite stationery retailers, Tiny Prints, and narrowed down the 15 you must see. We say order them now because they're on sale! (And don't worry, you can send in your pics later.) [slideshow] (more…)
Have a Summer Baby? Shop These Super Summer-y Birthday Party Invites Now!
Anyone else have a birthday party to plan this summer? My daughter turns 4 next month and it's about time to stop procrastinating and start planning! First things first--the invites! I always buy her birthday party invites from Tiny Prints because the designs are cute, the paper is sturdy and the prices are affordable. If you've got a summer baby too, check out these summery birthday party invites I found: [slideshow] (more…)
Nice Work Giuliana & Bill! Check Out They're Gorgeous–Gender Neutral!–Baby Shower Invite
Looks like parents-to-be Giuliana and Bill Rancic are in full baby mode. E! just released the couple's baby shower invite, which means their little one should be arriving relatively soon. But let's talk about how fab that invite is. We love the playful way it addresses the gender question and the muted colors are gorgeous and modern. (more…)

Hurry! Take 30% Off Your Entire Order at Tiny Prints
Look who's a year older!  Happy Birthday, Tiny Prints, and to celebrate, take 30% off your entire order with promo code 8YEARS through 3/6. (more…)

The Cutest Homemade Valentine Idea Ever…
Yes, those are Swedish Fish. And, yes they're "swimming" in a fishbowl.  And you probably can't read the text, but it says, "glad we're in the same school". Now raise your hand if you agree that these are the cutest homemade Valentine's Day cards ever.  Have any other fun DIY ideas? Share them in the comments below. (more…)

Hurry! Tiny Prints Valentine's Day Cards Just 99 Cents
Didn't get around to sending out those holiday cards? Or New Year's cards?  Here's how you can make it up: send a personalized Valentine's Day card instead.  They're on sale at Tiny Prints for just under a buck with coupon code 99GC, and you don't even have to worry about sending it. They'll mail it directly to the recipient for the cost of a stamp. (more…)
Don't Even Think About Going to the Drugstore–Tiny Prints Has Valentine's Day Cards That Are Way Cuter!
Is Valentine's Day just another excuse for competition in your kid's class? Well, don't bow out! Show the other moms you know a thing or two about love by arming your little one with a collection of gorgeous, personalized Valentine's day cards from Tiny Prints. You can get 20 for less than $20 and they ship for free with code FREESHIP12 at checkout. [slideshow] (more…)

It Pays to Procrastinate…Save Up to 40% Off Tiny Prints Calendars
Yes, we all have our smart phones, iPads and laptops to keep us on top of our schedules, but I'm sure you can make room for a printed calendar, especially one that's personalized with your favorite photos...and on sale.  Now through 1/11, save up to 40% on wall and desk calendars at Tiny Prints, and if you spend $30 or more, enjoy free shipping with code FREESHIP30. (more…)
Don't Wait! Order Your Personalized 2012 Calendar Now and Save Up to 50%
The one thing everyone needs to start the new year? A 2012 calendar, of course. But instead of getting one from your local bookstore, why not create a personalized calendar with pics of your fam? Tiny Prints teamed up with Shutterfly and they're offering a bunch of gorgeous wall calendars for 2012. And not only can you personalize the calendar with big pics of your kids--you can also personalized days on the calendar with important dates and pictures. (more…)
Now This Is a Cute Christmas Card…
Those are David and Victoria Beckham's kiddies and the pic was featured on the Beckham's 2011 family Christmas card? Cute, right? I love all the smiles and how adorable is little Harper next to all her big brothers? Not that there's a competition, but this pic is way better than that creepy Kardashian one. (more…)

Still Haven't Ordered Your Holiday Cards? Send New Year's Cards Instead!
It might be too late to order your holiday cards this year, but who says you can't send New Year's cards? Tiny Prints has over 100 festive designs starting at just $0.75 and if you order before 12/21, save an additional 15% off orders of $49 or more with coupon code HOLIDAYS15.  See, sometimes it pays to be a procrastinator! Bonus: Use code FS5GIFT at checkout to receive free express shipping! (more…)
Order Your Holiday Cards Today–Get Them on Monday!
No, this isn't joke. You can seriously order holiday cards today from Tiny Prints and with Super Rush shipping they'll arrive at your doorstep on Monday. Crazy, right? It's the perfect option for all you procrastinators moms who've been too busy holiday shopping. And if you're worried about finding a design you'll like, don't. Tiny Prints has over 1100 holiday cards to choose from and they're as cheap at $1 per card. Start Shopping: tinyprints.com (more…)
There's Still Time–Save 60% On Your Last-Minute Holiday Cards!
Yes, its the second week of December, but you know what? It's not too late to order holiday cards. Really! Not only will they ship with plenty of time for you to address, stamp and mail them, but there are still deals to be had! Here are 5 you shouldn't miss if you still need to order your cards. It's the last day! Save 20% on orders over $49 at Tiny Prints with code 20HOLDEC at checkout. Save 60% on all orders sitewide at Cardstore with code CSSAVE608 at checkout. (more…)
Deal Alert! Score 20 Festive Holiday Cards for Just $40
I finally ordered my holiday cards this weekend and let me tell you the satisfaction of checking something major off my holiday to-do list was exhilarating. So if you haven't already, don't wait a day longer to order your holiday cards. Tiny Prints is running a great promo where you'll save 15% on holiday card orders over $49 and and 20% on holiday card orders over $149 with code DECFS20 at checkout. Not so good with math? You could score 20 of the festive cards above for just $40! Start Shopping: tinyprints.com (more…)
Check Holiday Cards Off Your To-Do List This Weekend!
If your holiday to-do list is anywhere near as long as mine, it's time to put a plan in place. First things first: the holiday cards. Kodak Gallery is still having a great sale, but you should also check out Minted's gorgeous holiday photo card selection. For a limited time you can save 10% on your holiday card order of $100+ with Minted coupon code CHEERS10. If you spend $150+, you'll get 15% off with code CHEERS15. (more…)
Today Only! Take 60% Off All Holiday Card Orders at Cardstore
Didn't see any holiday cards you liked at the Kodak Gallery sale? That's okay because Cardstore has an equally good offer running today only. Use code CSSAVE605 at checkout and you'll get 60% off your holiday card order! Not only will get 60% off--all orders also qualify for free shipping or free stamps. Good deal, huh? What's not to love about cheap holiday cards that look and feel expensive? Place your order asap! Start Shopping: cardsore.com (more…)
Don't Wait! Holiday Card Sets Are Buy One, Get One Free at Kodak Gallery for 2 Days Only!
Normally we'd be tsking at you for waiting so long to order your holiday cards, but you get a pass this time. Why? Because you were clearly waiting for an amazing deal like this one to come around. Kodak Gallery--the amazing site where I ordered my holiday cards from last year--is having a 2-day special and all their holiday card sets are buy one, get one free. Yes, free! Their cards are sold in sets of 10 so that means you could score 20 beautiful holiday cards for just $7!! Shop now while the selection is still plentiful. Here are a few of our favorite cards to get you started. [slideshow] (more…)
Today Only! Save 20% on Gorgeous Holiday Cards from Tiny Prints
We won't call you out for slacking on your holiday cards. Instead, we'll just share this awesome Tiny Prints deal with you. From now until 11/29, use code CYBER20 at checkout and you'll save 10% on holiday card orders over $75 and 20% on orders over $149. Tiny Prints has hundreds--literally, hundreds!--of cards to choose from. There are Christmas cards, Hanukkah cards, traditional cards and modern cards. The options are endless so you really have to excuse not to order them today. Start Shopping: Holiday Cards (more…)
Hurry! Be One of the First 100,000 Customers to Get Your Holiday Cards for 70% Off
Still haven't ordered your holiday cards? Well you'll be glad you waited. Today only, the first 100,000 holiday cards from Cardstore are 70% off with code BLACKFRI at checkout, plus you'll get free shipping. Because the deal is limited to the first 100,000 cards sold, you have to act fast. Start with these cards we love: [slideshow] (more…)
Black Friday Is Going to Be Bananas, So Stock Up on These Sweet Deals Now
I am an avid shopper, but even I am a little bit terrified for next Friday. I'm not looking for anything specific, but something tells me Black Friday will not be the day to just browse. So instead of waiting a week, why not follow my lead and shop these sales now? I can't predict just how low prices will go next week, but something tells me leaving the Black Friday 2011 sales will hardly be worth leaving Thanksgiving dinner early. Take 35% off regular price items at Gap with code GAPWANT at checkout. (Ends 11/19) Save 20% on $80 orders of select kids' shoes and boots at Endless. Save 40% off all Aeropostale orders with code AEROFRIENDS at checkout. (Ends 11/20) Save 25% off all orders from Tiny Prints with code SAVE25 at checkout. (Ends 11/19) Take 15% off orders over $100 at Tea Collection with code FIESTAFUN at checkout. 6pm has a bunch of UGG Kids boots and shoes starting at just $43. Tons of hot holiday toys are on sale for up to 50% off at Kohl's. (Ends 11/19) Designer kids' clothes from Calvin Klein, Ralph Lauren and more are up to 50% off at Macy's. (Ends 11/19) (more…)
The Easiest Way to Avoid the Whole Christmas/Hanukkah Holiday Card Issue? Thanksgiving Cards!
Feeling awkward about sending your Jewish friends Christmas cards? Or vice versa with Hanukkah cards? Why not send Thanksgiving cards instead? Not only will it stand out as there are definitely fewer photo cards flowing in November, but a card featuring your family does fit a holiday about being thankful quite nicely. Need some ideas? Check out these festive--non-religious--cards we found and be thankful for the early handle on the holiday madness! [slideshow] (more…)
The 10 Best Places to Score Holiday Cards That Don't Suck…
Finally ready to get down to business and order this year's holiday card? Well I'm here to help. I spent years scouting the best wedding stationery for a wedding magazine, so I totally have a thing for paper. As lame as it sounds, I've ordered samples and reviewed every minute detail of tons of stationery sites. (more…)
Stop Procrastinating! Save $25 on Your Holiday Cards Today, Send the Pic In Later
I am the queen of sending holiday cards. I absolutely love it. I actually look forward to it every year. But you know what? It's already the second week of November and I haven't even ordered mine. Eeek. In the same boat? Stop slacking! Here's my plan: I'm going to order my holiday cards this weekend--Minted has them for $25 Off + free shipping with code SNOW25SHIP until 11/14--and then send them the pic after I have my holiday card photo shoot next weekend. Yup, you can order your holiday photo cards for 2011 in advance and send them the pic(s) you want to use whenever you're ready. Genius, right? (more…)
Attention All Holiday Card Enthusiasts–You NEED This!
What you're looking at is the most awesome holiday card prop set ever! Okay, maybe not ever, but it is totally cool. Especially if you, like me, love staging fun photos for your holiday cards. I may not be a Halloween person, but I love the holiday season. (more…)

Be Merry! Save 25% on Tiny Prints Ornament Cards
Think holiday cards are square?  Maybe these Tiny Prints Ornament Cards will change your mind.  Choose from 24 festive designs that will bring cheer to everyone who receives one, and they all come with satin ribbons so recipients can easily hang them on their trees instead of getting lost in a  pile of mail.  Plus, today only use coupon code 1027DOD at checkout and receive 25% off your entire order. (more…)
Today Only, Save 25% on William Arthur Holiday Cards
Would you classify your style as more traditional instead of trendy?  If so, you don't want to miss out on these luxurious William Arthur Holiday Cards.  Always classic, and they make an elegant backdrop for your family photos.  Plus, today only they're 25% off at Tiny Prints with coupon code 1024DOD. Start Shopping: tinyprints.com (more…)

Hurry! Half Off Halloween Cards at Tiny Prints
Now through 10/25, use coupon code 50HALLOWEEN and save 50% on all Tiny Prints Halloween greeting cards.  Why Tiny Prints?  Well, aside from the adorable designs and cool shipping options (they can send the card directly to the recipient), you can personalize the cards with your kids' names and pictures.  You know, so you can show off their fabulous costumes. Start Shopping: tinyprints.com (more…)
Who's Ready for Holiday Cards?! Shop Early and Save 15% on Minted Holiday Cards
Though I may not be the biggest Halloween fan, I am diehard for all the holidays in November and December. Thanksgiving, Christimas, Black Friday--I love them all! So it should come as no surprise that I'm already thinking about holiday cards. I know it's still October, but there are outfits to plan, scenes to create and cards to choose. I've been eyeing a few of the 2011 photo holiday cards Minted this week and I can already tell it's going to be a hard decision. Check out a few I love: [slideshow] (more…)
Hurry! Last Day to Save 20% on Your Tiny Prints Order
Have a new baby and looking for that perfect baby announcement to share the news?  You'll probably find it at Tiny Prints, and if you pick your design today, use code FALL11 at checkout and save.  Here's the breakdown: save 10% off orders of $49 or more, 15% off orders of $99 or more or 20% off orders of $199 or more. And don't forget they have more than baby announcements.  They also have holiday cards, birthday and baby shower invitations, personalized stationery and photo books. (more…)
Want to Make Summer Last Longer? Turn Your Summer Photos into Art and Save
Already missing summer break?  Well, sort through all those summer pictures and choose your favorite ones because Tiny Prints is having a sale on their photo gifts.  Now through 9/20, spend $49 or more on their photo books, calendars, wall art and more and save $10 with coupon code photo11.  And then you can enjoy your summer vacation all year long. (more…)
Hosting a Halloween Party? You Need to See These Awesomely Spooky Halloween Party Invitations…
Planning a big Halloween fete next month? Your party isn't official until the invites are sent out. And if you're not one of those crafty, creative moms who can design their own, no worries. Tiny Prints has an awesome selection of Halloween party invitations. Whether you're hosting a spooky grown-up affair or something more kid-friendly, there are a bunch of designs to choose from. (more…)

Put a Smile on Grandma and Grandpa's Face with One of These
Want to put a smile on Grandma's and Grandpa's face? Send them one of these photo thank you and thinking of you cards on Grandparents Day to  let them know you and the kids are thinking of them.  Didn't know about Grandparent's Day?  Me neither, but it's on 9/11, and if you use coupon code THANK50 today only, take half off your order. And here's a sneaky tip: why not make a couple of extra cards for your sister, neighbor, friend or anyone else you've been meaning to thank. [slideshow] (more…)

Score 25 Mommy Cards for Free from Minted.com!
Who says you can't get anything for free anymore?  Yesterday I wrote about 5 back-to-school essentials for parents and included cute Mommy Cards from Minted.com.  Well, it looks like you can get 25 cards for free and a card holder.   The catch?  You just have to pay for shipping. Choose from over 100 chic designs, and tell all your friends.  Deal ends 9/23. (more…)

5 Back-to-School Supplies Every Parent Should Have
You've already hunted down the perfect backpack and lunch box for your kid and have narrowed down his or her first day of school outfit, but what about your back-to-school supplies?  Yes, even parents need a few things to  survive the new school year, so here are five items that should help.  Sorry, but a personal driver-chef-homework assistant is not included. [slideshow] (more…)

Yes, It's Super Early But Tiny Prints Photo Holiday Cards Are 30% Off
Halloween costumes are already out, so can you really be surprised that holiday cards are out, too?  That's right, Tiny Prints Holiday Photo Cards are here, and they're on sale for 30% off. Yes, it's super-duper early, but if you think about it, it's not that crazy to order them now, especially if you already have the perfect photo in mind--you know, the one you took on your summer vacation. Just use code DOD0818 at checkout through 8/22, and then you can cross it off your holiday to-do list.  Hey, it's one less thing to worry about! (more…)
Congrats Jessica Alba & Tina Fey! Show Off Your Baby Girls On These Sweet Birth Announcements
Congrats to Jessica Alba and Tina Fey! Both actresses welcomed healthy baby girls last week and are quickly adjusting to life with two daughters. And we're both Tina and Jessica Alba's baby names? Jessica now has Honor Marie and Haven Garner and Tina is mom to Alice Zenobia and Penelope Athena. Cute, right? And since we're in the business of helping moms shop for the best products on the web, here are some sweet baby girl birth announcements from Tiny Prints with plenty of room to include a photo or two of their new arrivals with their big sisters. (more…)