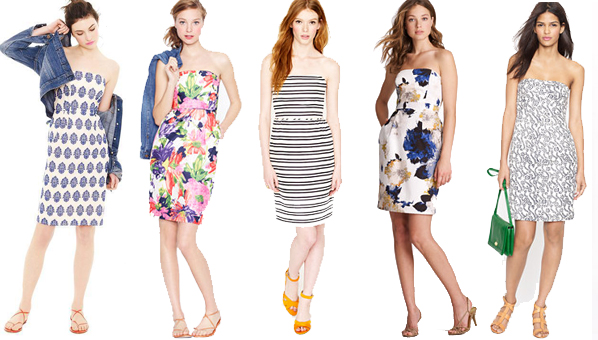 The LSD (Little Strapless Dress) Is The Answer To All Your Summer Events
It's just SO hot and sticky and humid these days that us girls are struggling to keep our cool and look fabulous while doing it. Don't you worry your pretty little heads though, the LSD (coined NOT after something illegal, but abbreviated to our liking) is the perfect way to look feminine, fresh, and just adorable no matter what the weather is doing to your hair. Throw the frizziness (or flatness) into a sock bun, don a fun, colorful bib necklace and voila, you are ready for any event. Whether it's a weekend BBQ, a garden party or something a little grimier (think beach side bars), these little numbers are your one stop shop to looking perfect in any venue. Pair with decorated flat sandals to keep it day time casual or throw on your go to neutral wedges to dress it up without competing with the coloful prints. STRAP(LESS) IT ON Don't forget to shop other summer trends such as printed bikinis, great beach cover ups, and summer sequins. Photo: J.Crew.
Knee Length Dresses – The Newest Addition To Hollywood
Gone are the days when we were all about showing tons of leg in mini skirts and dresses. The rumor is true, the more you have covered the classier you look, which is why we're super pleased that knee-length dresses have been sneaking into the closets of celebrities. So ladies, cover up and prepare to turn heads. (more…)
Jennifer Lawrence Turns Heads As The Lady In Red
As Jennifer Lawrence makes her way to stardom one thing is for sure, red is definitely her color. Whether her dress is short or long, her complexion and medium-blonde hair match this bright hue like none other. So copy the look for yourself, either for a new date night dress or just soething to spruce up the office. (more…)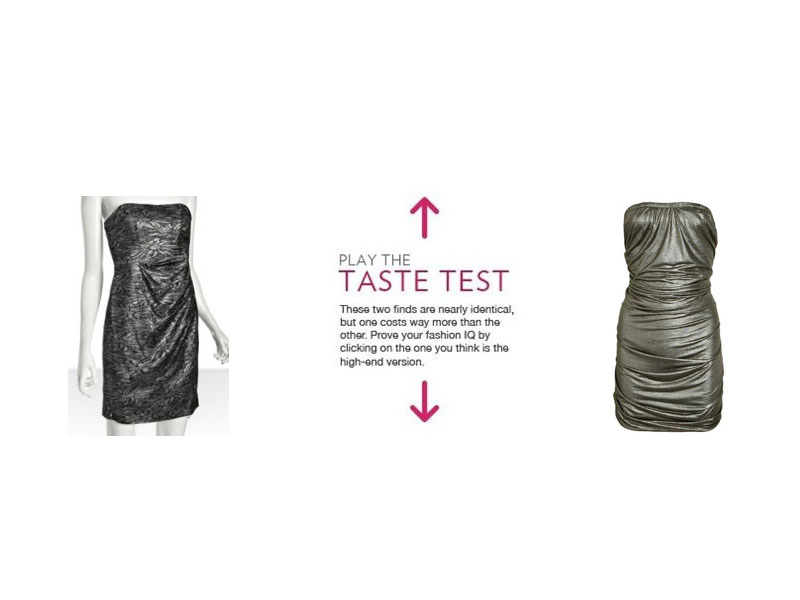 Can You Find Which Metallic Strapless Dress Costs $136 Less Than The Other?
Test your fashion IQ with all of our Taste Tests. Shop our guides to the best cocktail dresses and the best sheath dresses. Subscribe to SHEFindsMail for exclusive updates.
Mila Kunis Proves Red Isn't Hard To Pull Off (Or Just For V-Day) After All
It looks like Alexander McQueen red dresses are hot and heavy this season as shown by Mila Kunis (and Michelle Obama, remember?) Mila looks sultry and sophisticated in this Alexander McQueen red printed chiffon gown. And the $300,000 worth of borrowed Cartier jewelry doesn't hurt her look either. Check out more of our favorite celebrity styles. Shop our guides to the best cocktail dresses and the best floral dresses. Join our e-mail list for exclusive updates.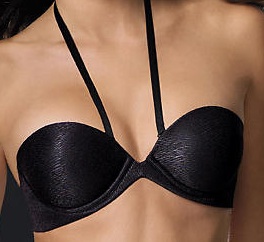 Don't Be A Hot Mess In Holiday Photos: The Right Bra For Any Party Dress Neckline
From sweetheart necklines to one-shoulder dresses, there's never been more ways to show off your goods this holiday season. But while finding dresses to wear to all those friggin' holiday parties might be tough, choosing the right undergarment is even trickier. Behold, our answer to any bra-line problem: If you have a halter dress: For a full length black gown, this under-$200 Riller & Fount Selene Open Back Long Dress ($190) is perfectly priced. If you're going to a classy black tie party - this dress is perfect (just don't have you bra straps hanging out). Then you need a adjustable halter strap bra: This Wonderbra Ultimate Convertible Underwire Bra ($36) is perfection when it comes to halter neckline dresses. Get the full support of Wonderbra straps, but with zero visibility. If you have a strapless or sweetheart dress: This Parker Strapless Dress ($242), in a perfect shade of holiday pink, calls for a great strapless bra that stays in place all night. Who wants to be constantly readjusting a falling bra with a glass of champagne in hand? Then you need a stays-put strapless bra: Va Bien's Ultra-Lift Strapless Convertible Bra ($55), a wardrobe staple that will keep below the dress's sweetheart neckline and won't budge no matter how much dancing you get into. If you have a backless dress: Nothing is sexier than an exposed back - even a little bit. Show off your back-side with this hot Rachel Pally Solange Dress ($211). Then you need an adhesive bra: Don't even mess with a full coverage bra in this case, you need pasties. These Nu Bra Divine Body Bra ($65) are the best (I swear by them) you can wear the same pair 100 times, and the silicone padding gives a bust of any size a good boost. If you have a one-shoulder or asymmetrical dress: Nanette Lepore's Come Hither Dress ($298) combines two of the season's hottest trends-- leopard print and one-shoulder. Then you need a convertible strap bra: Va Bien's Ultra-Lift Low Plunge Convertible Bra ($64) takes out the guesswork out of choosing a bra for any neckline. It features removable straps that take can be worn countless ways (from strapless, to one-shoulder and much more). And to top it off, it's super comfortable. Want more party-season essentials? Make sure to check out our shopping guides for the best shapewear, cocktail dresses, killer heels, and bras.
Can You Tell Which Little Black Dress Costs $900 More Than The Other?
For more sales and deal on little black dresses, check out our guide, then head over to our guides of celebrity dresses and black pants for your shape. Join our e-mail list for exclusive fashion updates right in your e-mail.
Natalie Portman's Try-This-At-Home Strapless Red Carpet Look
Natalie Portman stepped out at the Venice Film Festival in a totally simple and easy to replicate at home red carpet look: a purple strapless cocktail dress, nude satin pumps and a silver clutch. The trio just pops; the actress looks feminine but still on-trend. Try to recreate the magic here: Get Natalie's pretty-in-purple look with this flowy Donna Morgan Belted Chiffon dress ($138). Pair it with dangling earrings and a metallic clutch for a polished party look. For something a little more fashion-forward, try this Kimberly Taylor Sasha dress ($250). The geometric detail and sharp purple color make it perfect for a night out in the city. This Purple Strapless Homecoming dress ($59.50) is perfect for all those friggin' fall weddings. Pair with a black pashmina and an extra long necklace. Get some lift with nude satin pumps just like Natalie's; these Casadei 3509 Triple Platform pump ($650) should do the trick. The triple platform height makes even the smallest gals look like she has legs for days. Top of Natalie's look with a metallic or silver clutch like this Kaia Peterka Silver clutch ($175). For more celebrity style tips, check out our guides to celebrity denim, over the knee boots, and cardigans.
Get An Under-$100 J.Crew Dress Straight From The Going The Distance Red Carpet
I love seeing off-the-rack and inexpensive clothing on the red carpet, and was psyched to see romantic comedy and Watchmen star Malin Akerman show up to the premiere of Going The Distance in this J.Crew strapless cocktail dress. And you can imagine my delight to discover that the dress had been recently marked down to under-$100. Oh. Yes. You will love the tie-dye affect of this J.Crew Fleurette bustier dress ($99.99, down from $148); its perfect for all those friggin' weddings you have left this summer and fall. If you love this mini strapless dress style, you will also love this new fall J.Crew Ikat bustier dress ($148). Wear it to cocktail parties with a cardi when the weather drops. Another perfect special occasion, dress-up kind of dress, this J.Crew Degradé Seraphina dress ($450) is elegant, ethereal and yet somehow cool. How do they do it? For more party-worthy outfits, check out our guides to the best summer dresses, little black dresses, and jewelry staples.