Where To Buy Meghan Markle's Christmas Camel Coat And Boots (Before They Sell Out!)
Meghan Markle's style tour continues, this week's stop is the Christmas Day church services she attended with the rest of the royal brood--in our opinion, looking chic AF. Meghan and her stylist Jessica Mulroney chose a belted camel coat, over-the-knee boots, Chloe bag and traditional ornate hat for the service. Crowds waited for hours for a glimpse of the future princess at the Church of St. Mary Magdalene for the yearly Christmas service. Thankfully, Meghan did not disappoint--not only did she dutifully waive to fans and show immense grace under pressure (so many royal family members AND fans!), but she also chose a traditional yet fashion-forward look for the day. We love it! Arm-in-arm with her groom to be, Meghan also appeared in tandem with the other royal couple Prince William and Kate Middleton (have you seen the two of them curtsying at the same time? It's a real treat). Now, back to the outfit--here's everything you need to know about what Meghan wore on Christmas day (plus, links to buy everything, just in case you have an extra $10K laying around...): Her coat: The piece de resistance of her Christmas day outfit was this belted baby alpaca wool camel coat from Canadian brand Sentaler. (Now, you might be wondering at this point why California born-and-raised (and soon to be British!) Markle would wear *so many* Canadian brands. The answer goes back to that BFF and stylist we referenced earlier, Jessica Mulroney. Jessica's father-in-law happens to be the former Prime Minister of Canada. So, there you have it. Mulroney and Markle (sounds like a buddy cop duo) chose this luxurious wide collar, fit and flare camel coat from the CA brand, which is still available (unlike everything else Markle wears). Actually, this particular coat is available for pre-order. Those hoping to get their hands on one will have to wait a little bit longer--the coat ships in March 2018, according to the website: This Sentaler Long Wide Collar Wrap Coat in Camel ($1,295) is available for pre-order. The item ships March 2018. Her boots:  Meghan is a fan of Stuart Weitzman when it comes to her footwear. She's worn the American shoe designer before--but on Christmas she chose the bestselling Hiline boots to wear. The stretch-calf over-the-knee boots feature super-soft goatskin-leather and chunky block heels. Sometimes royal footwear can be a bit of a snooze-fest (think neutral kitten heel pumps--yawn!) so we love how fashion-forward this choice is. She's a total fashion girl! We want them *so badly*. Stuart Weitzman Hiline Over the Knee Boot ($798) Her bag: Last but not lease is her GORGEOUS designer handbag from Chloé. The 'Pixie' bag is a light-brown suede and textured-leather mixed media bag in 'Caramel' color. Made in Italy, the circular bag is just enough room to hold Meghan's cell phone, keys and compact. We especially love the gold finishes-- the studs and hammered top handles. Perfection! Chloe Pixie suede and textured-leather shoulder bag ($1,490) So, there you have it--Meghan's head-to-toe Christmas day look! Let us know in the comments section below--would YOU spend $10,000 on this outfit to meet the queen (if you had the scratch). We're dying to know! READ MORE: Where To Buy Meghan Markle's White Coat From Her Engagement Announcement (Before It Sells Out!)
Gigi Hadid Just Announced Something Major & We're Freaking Out!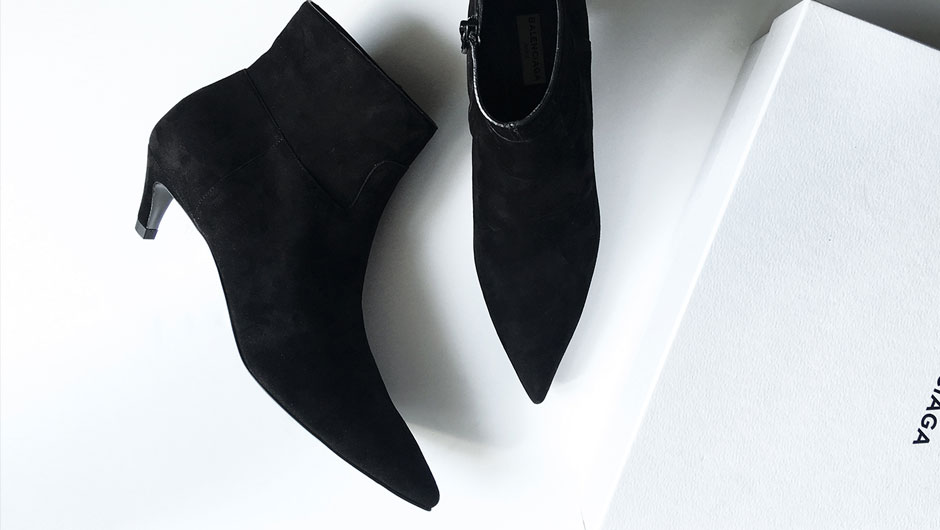 6 Mistakes You're Making When Shoe Shopping, According To An Expert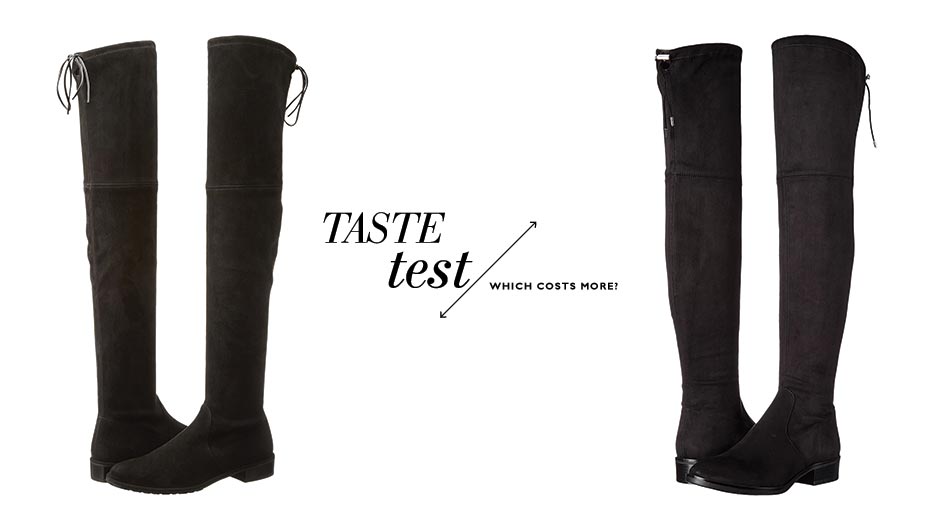 Can You Tell Which Over-The-Knee Boots Cost $623 More Than The Other?
It's no surprise that Stuart Weitzman Lowland Boot ($798) knockoffs are rampant. The "it" shoe is a favorite of Gigi Hadid, Lily Aldridge, and Karlie Kloss, after all. However, I have never come across such a good lookalike of, well, anything in my life. Sam Edelman's Paloma Boots ($175) have the same exact shape and design, down to the ties on the top of the shoes. I seriously have to keep double checking which boot is which as I'm writing this post. Can you tell which over-the-knee boots cost $623 more than the other? Click below to find out! Test your fashion savvy some more with saddle bags and crop flare jeans Save Save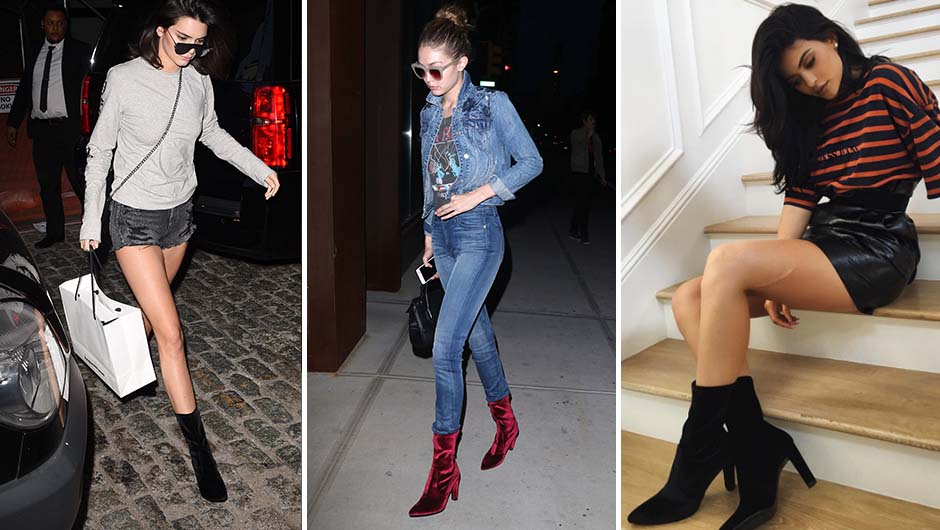 All The Cool Girl Celebs Are Obsessed With These Velvet Booties
We already told you that velvet shoes are gonna be huge for fall, but it looks like all the cool girl celebs are into one pair in particular: Stuart Weitzman's Clinger Bootie ($725). Gigi Hadid, Kendall Jenner, Bella Hadid and Kylie Jenner have all been spotted in the black colorway. They prove you can wear the booties with pretty much anything, from cutoffs and mini skirts to midi dresses and pants. https://www.instagram.com/p/BG5N0YngN-A/ https://www.instagram.com/p/BJlMKeBhEUo/ The booties also come in red (obvi King Kylie owns both) and if you're not feeling the velvet trend (I am with you!), they are also available in black leather. https://www.instagram.com/p/BJlL9VBB8Jk/ Stuart Weitzman Clinger Bootie ($725) Don't forget to check out: the off-the- shoulder top and one-piece bathing suit celebs love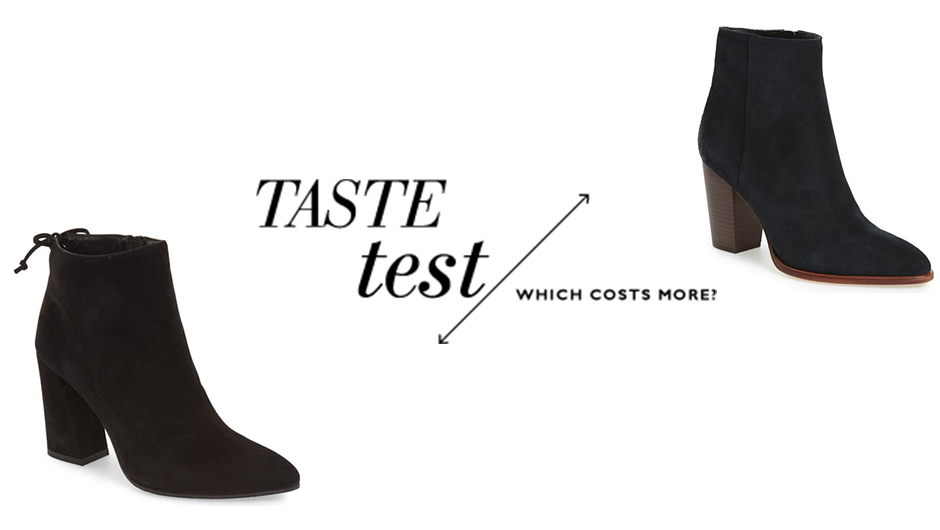 Can You Tell Which Black Booties Cost $400 More Than The Others?
This is our favorite game--the fashion Taste Test! Are you ready to play? Can you tell which black booties cost *a lot* more than the others? One is Stuart Weitzman and rings in at $525. The other are from Sam Edelman and go for $159. Have your answer? K, now click to find out if you were right:
The Designer Shoes Literally Every Celeb Owns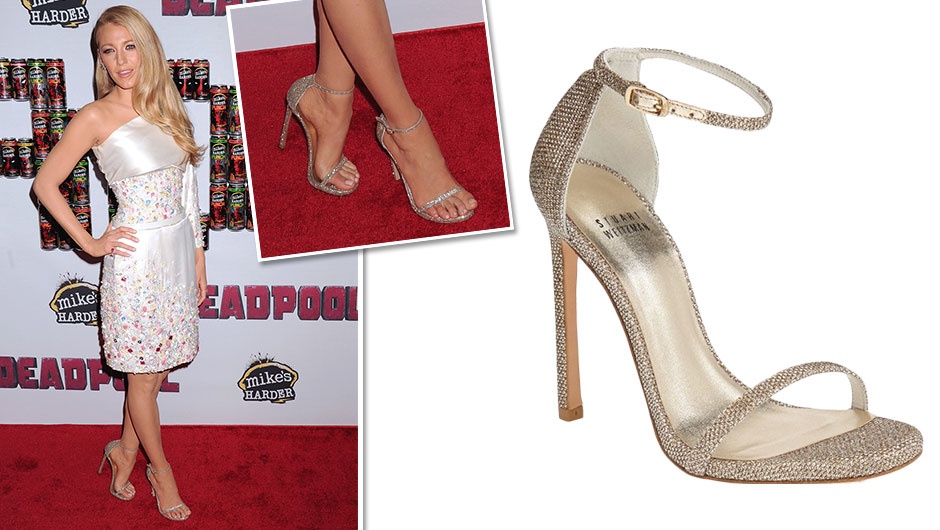 Make A Statement In Blake Lively's Subtle, Yet Sexy Metallic Sandals
For all your cocktail events, there is only one strappy sandal you need will ever need - weather aside. And Blake Lively modeled them beautifully. She wore the Stuart Weitzman Ankle Strap Sandals Nudist High Heel in Metallic ($398) with her off-the-shoulder cream-colored embellished dress at the Deadpool premiere. Slip it on under your black tie gowns, teeter around in your cocktail dresses with some bling, or hey, pair with jeans for a little oomph on date night. The Nudist is everything we ever dreamed of in a dressy sandal. Shop it below! Stuart Weitzman Ankle Strap Sandals Nudist High Heel in Metallic ($398) Don't miss out on Kendall Jenner's sweatshirt or Bella Hadid's chic leggings. [Photo Credit: Splash News]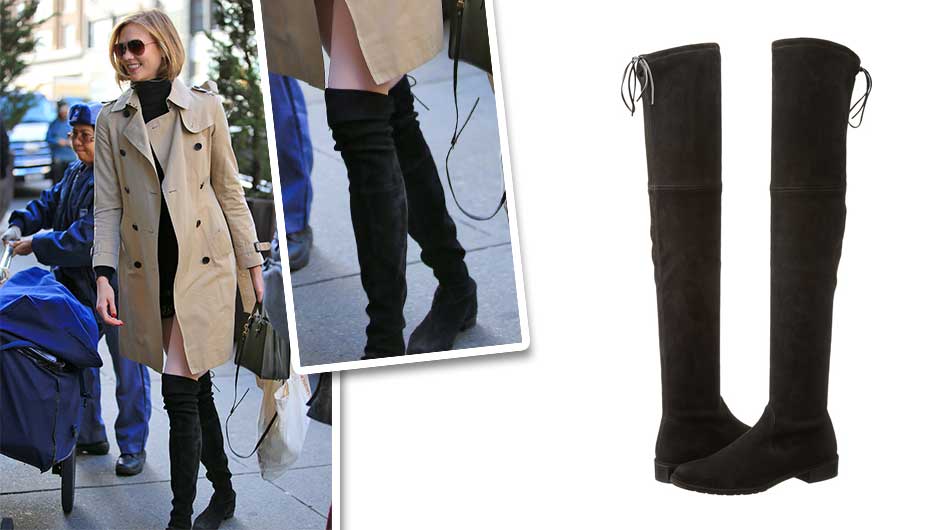 You Don't Have To Be Karlie Kloss To Pull Off The "It" Boot Of The Season
We are always a fan of Karlie Kloss' street style which is why it was no surprise that she showed off her new bob haircut in the "It" boots of the season. The Stuart Weitzman Lowland Boots ($798) have decorated the long, lean legs of everyone from Gigi Hadid (she chose them in nude) to Lily Aldridge. But you don't have to be a model to rock the over-the-knee style, we promise. Even short girls can rock 'em! The Lowland boots make everyone appear statuesque. Don't believe us? Give them a try and shop them below! Stuart Weitzman Lowland Boots ($798) Check out Jessica Biel's plaid shirt and Kendall Jenner's cool sunglasses. [Photo Credit: Splash News]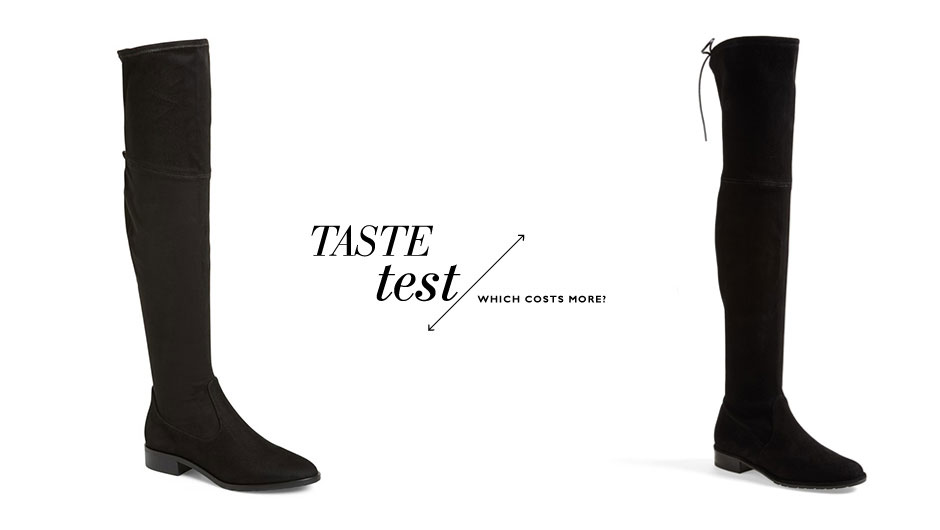 Can You Tell Which Over-The-Knee Boots Cost $688 More Than The Other?
As the writer of this post (aka the person who chose both of these products and should know which is which), I had an incredibly challenging time telling these boots apart. They're basically identical, except one pair will put you out a month's rent and the other will just set you back a week of groceries (NBD...). The splurge, in this case, is the ever-trendy Stuart Weitzman Lowland Boot in suede ($798), while the lookalike is an Ivanka Trump faux suede version ($109.90). Click on the photos below to find out which pair is which! Don't forget to check out: One Direction Kills It During James Corden's Carpool Karaoke, VIDEO: Bryan Cranston, Amy Schumer And More Celebs Perfectly Recite 'Hotline Bling', and Headed Somewhere Warm? Show Off Your Bikini Bod In Olivia Wilde's Pretty Printed Bikini
Only Because It's Almost Black Friday, You Have Permission To Treat Yourself To Gigi Hadid's Sick Suede Boots
Looking for a Thanksgiving/Black Friday splurge? Go with Gigi Hadid's insanely amazing Stuart Weitzman Lowland Over-the-Knee Boots ($798). Everyone's been wearing the Highlands, but Gigi's are actually a more practical option if heels aren't your thing. Plus, the neutral color is such a nice alternative to all the black boots you'll be seeing this winter. Despite the price, these babies are selling fast so snag a pair for yourself ASAP! Stuart Weitzman Lowland Suede Over-the-Knee Boot ($798) Be sure to check out Heidi Klum's cute booties and Kourtney Kardashian's suede skirt set. [Photo: Splash News]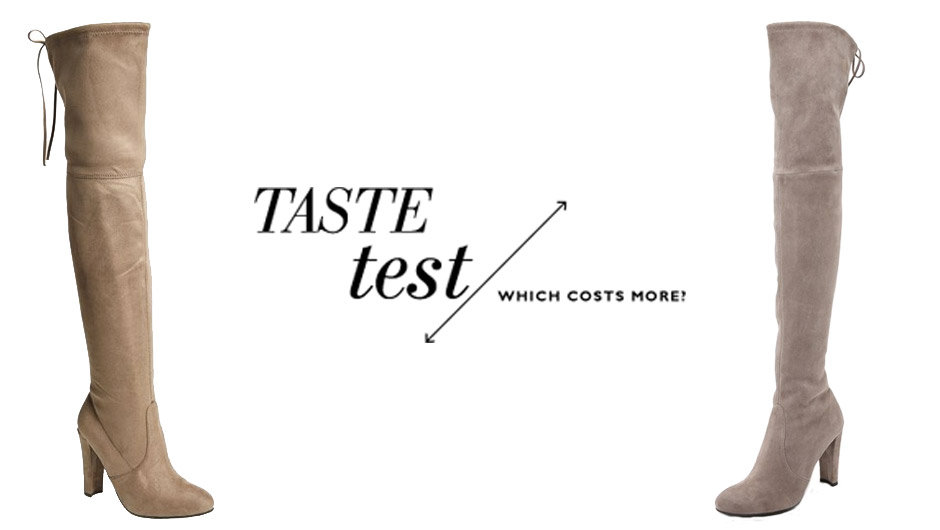 Can You Tell Which Over-The-Knee Boots Cost $648 More Than The Other?
We already told you that Sam Edelman makes a great Stuart Weitzman Highland boot knockoff for less than half the price, but we just found another lookalike pair that's even cheaper! That's right, Steve Madden's Gorgeous Over the Knee Boot ($149.95) is under $150 and looks pretty much identical to the originals, with back lacing and all. But the real question is, can you tell which pair costs more than the other? Did we mention the cheaper version is still available in a ton of sizes and colors... Test your fashion savvy some more with black ankle boots and crossbody bags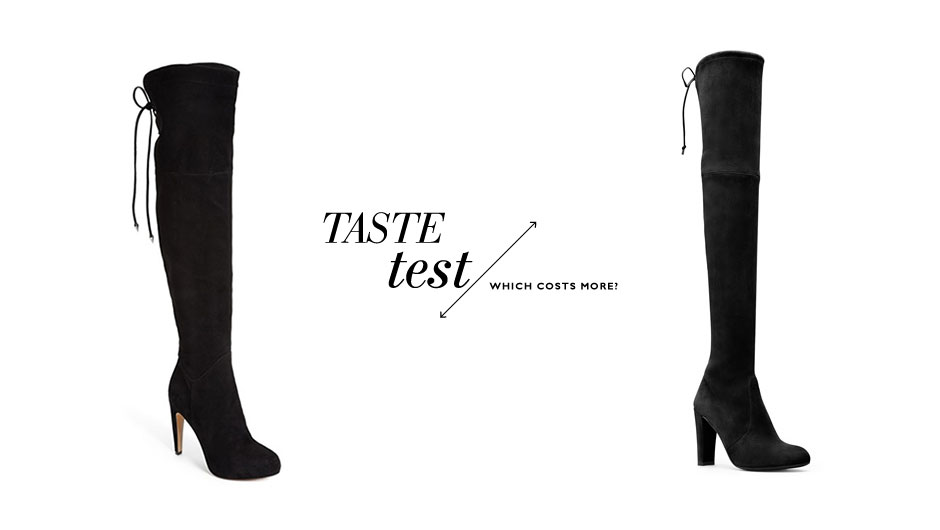 Can You Tell Which Black Suede Over-The-Knee Boots Cost $513 More Than The Other?
Loving those Stuart Weitzman Highland boots ($798) that are trending all over Instagram, but not exactly in a position to drop almost $800 on a pair of boots? I feel you. They're gorgeous and I'd definitely put them to good use all fall and winter, but the way my bills are set up. Fortunately, I did a little digging for a Stuart Weitzman Highland boot knockoff and found an awesome option. Not only do Sam Edelman's Kayla boots ($284.95) look almost identical--they're less than half the price! These boots look so similar, I bet you can't even tell which is which from the pictures below. Go ahead--take your best guess. For more taste test challenges, check out duck boots, colorblock ponchos and scalloped sandals.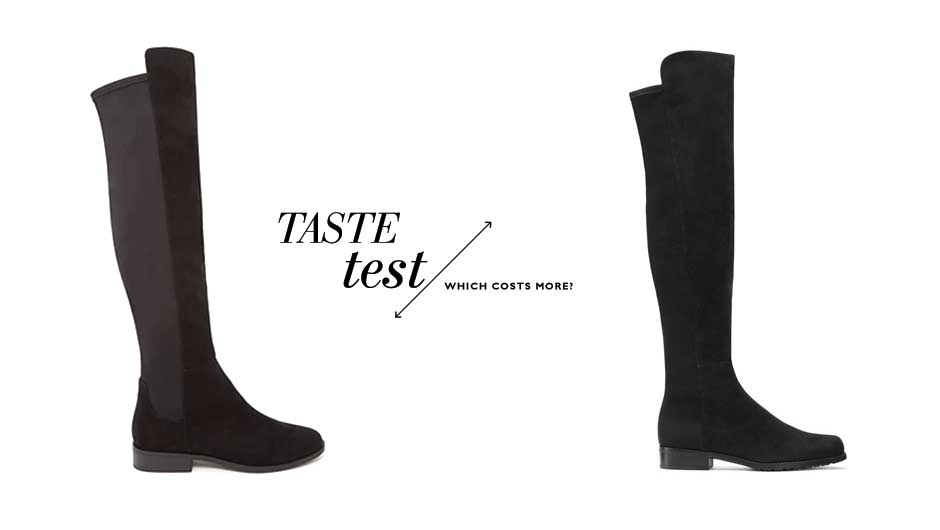 Can You Tell Which Knee-High Boots Cost $610 More Than The Other?
Knee-high boots are popular season after season, especially the ones featuring elastic back panels. They are super stylish and fit virtually anyone's legs because of the stretchy back. A huge customer favorite are the Stuart Weitzman 5050 Over-The-Knee Boots ($655). If you don't want to spend that much money, don't fret because there's an almost identical pair available. Forever21's Faux Suede Knee-High Boots ($44.90) will cost you way less money. Can you tell which knee-high boots cost $610 more than the other? Click the pictures to find out!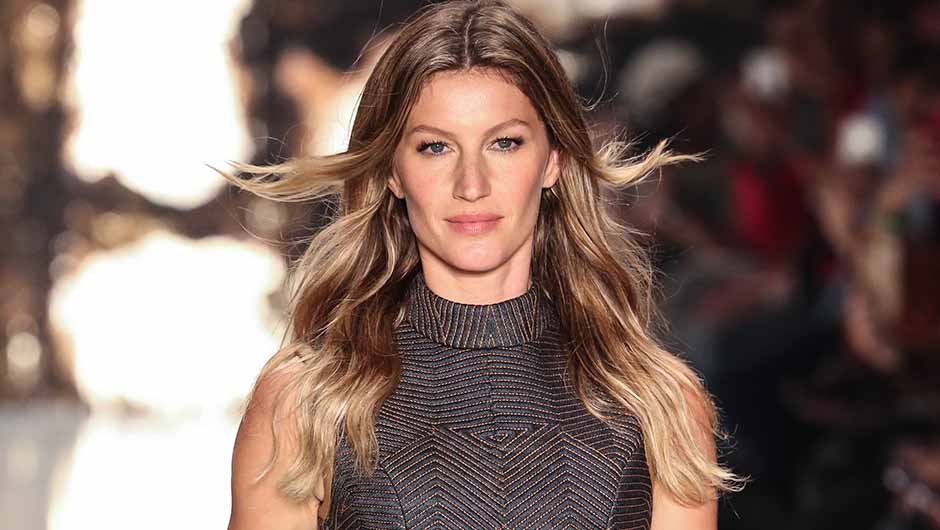 Gisele Bundchen Is Starring In Stuart Weitzman's First-Ever Commercial
Gisele Bundchen is starring in Stuart Weitzman's first-ever television commercial. In the 30-second video, she leads a dance class of shirtless male models while wearing a black-and-white leotard. The video was shot by Mario Testino and will debut during the MTV VMA's. "The message is 'Stuart Weitzman makes great product and you can dance in them,'" Weitzman said. "If girls see that you can dance in them, they sure know that we can wear them. The commercial side comes in that way in the sense that we're selling the story of our DNA. We think that showing off what you can do in those boots is just as important as how you look in them." Watch a sneak peek below and try not to be too jealous of her. https://instagram.com/p/65W5rDTC0Z/?taken-by=mariotestino Don't miss Gigi Hadid is the face of Topshop's fall collection and Old Navy's amazing sitewide sale! [Photo: Splash News]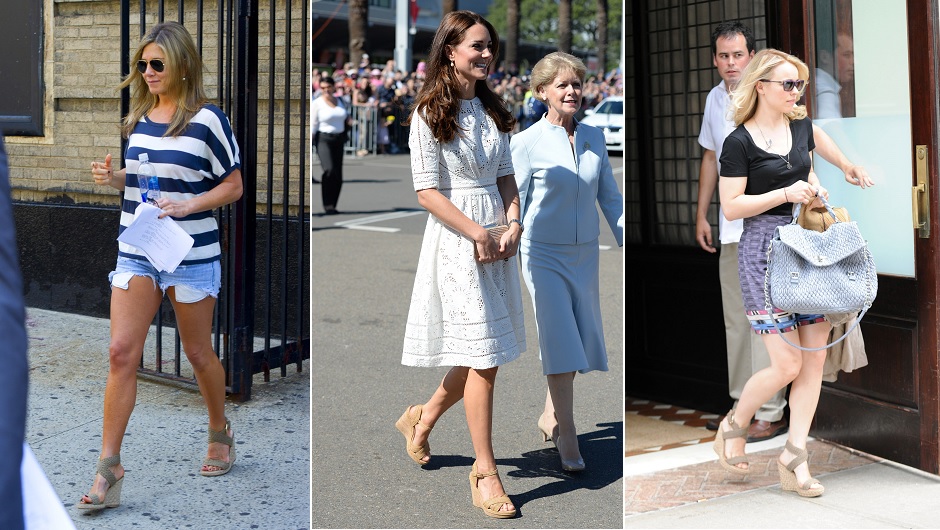 So Many Celebs Love Stuart Weitzman Wedge Sandals–And You Will, Too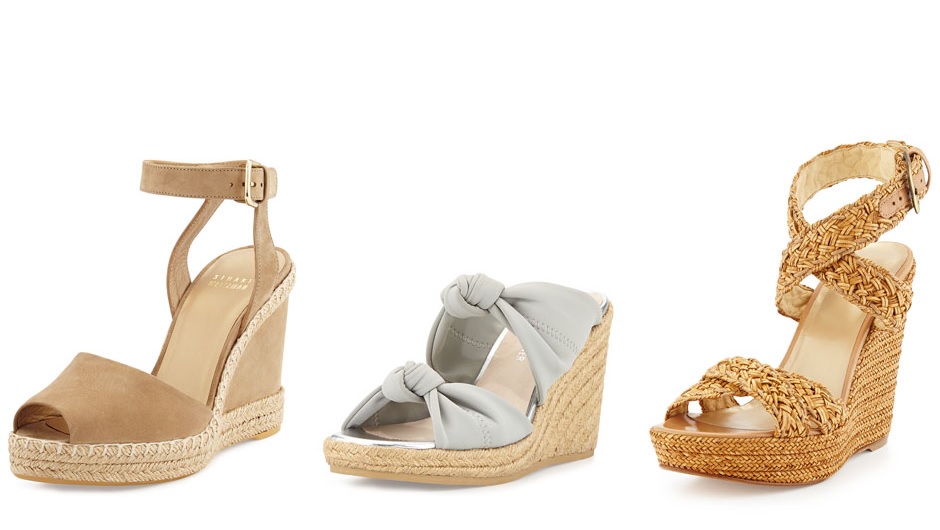 50% Off Stuart Weitzman Sandals, Including Jennifer Aniston's Favorite Alex Wedges
Calling all wedge sandal fanatics! Neiman Marcus Last Call is currently offering an additional 30% off all shoes, including some of the best designer wedge sandals you'll ever get your hands on. We're talking the cult Stuart Weitzman Alex wedges that Jennifer Aniston loves, plus more comfortable, yet walkable styles from Donald J. Pliner, Splendid, Delman and more. Did we mention the extra 30% off is on top of a sale price?! Go get some wedges now! SHOP THE NEIMAN MARCUS SANDAL SALE NOW Be sure to check out Sarah Hyland's $54 top, 80% off dresses and Bluefly and Jessica Alba's Madewell shirt. [Photo: Stuart Weitzman WayCool Nubuck Wedge Sandal; Donald J Pliner Wila Knotted Wedge Sandal; Stuart Weitzman Hoopla Woven Wedge Sandal]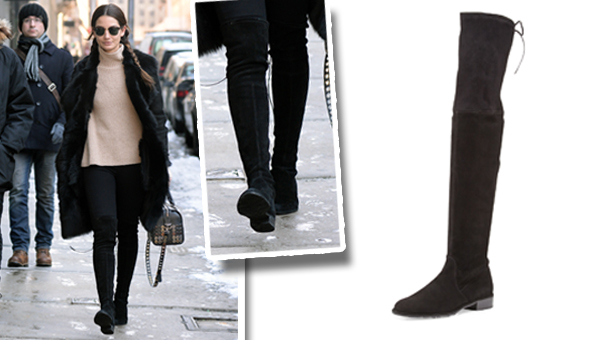 Lily Aldridge's Accessories Are The Perfect Off-Duty Look For Anyone With Serious Style
When Lily Aldridge lunches in the Big Apple, she does it in serious off-model-duty style. She walked the walked in her Stuart Weitzman Lowland Suede Over-The-Knee Boots ($785) which make any pair of legs look super long and slim. She also shaded her eyes from all the onlookers with Ray Ban Clubmaster Tort Sunglasses ($150) which are the perfect little pair of shades for your spring outings. Don't be afraid of the over-the-knee boot look! We promise anyone can rock it and these Weitzman boots are classics (i.e. they will last forever i.e. they are worth every penny). Shop both her stylish accessories below! Stuart Weitzman Lowland Suede Over-The-Knee Boots ($785) Ray Ban Clubmaster Tort ($150) Shop more celebrity style like Kendall Jenner's sweater and Gwen Stefani's striped top here! [Photo: Splash News]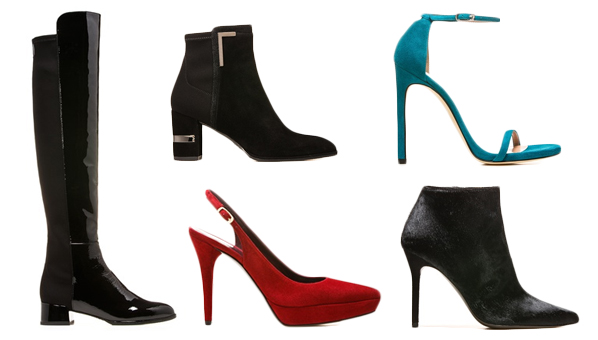 Select Stuart Weitzman Shoes Are 50% Off #BestDayEver
Is it even possible to have a bad day when you know that there are shoes on sale? I don't think so. Stuart Weitzman is currently running a 50% off sale on select styles, including boots, booties and their signature heels. There are even marked-down flats and sandals to help you get a jumpstart on Spring and Summer! With prices like these, the shoes won't be available for long. What are you still doing here? Get shopping now! SHOP THE STUART WEITZMAN SALE NOW Editor's Picks: FIFO boots, SCAFFOLD booties, POINTSLING heels, The Nudist Sandal and HITIMES heeled booties. And don't forget to check out: pretty and functional home decor ideas, how to wear neon makeup to work, and open toe & heel booties that are perfect for Spring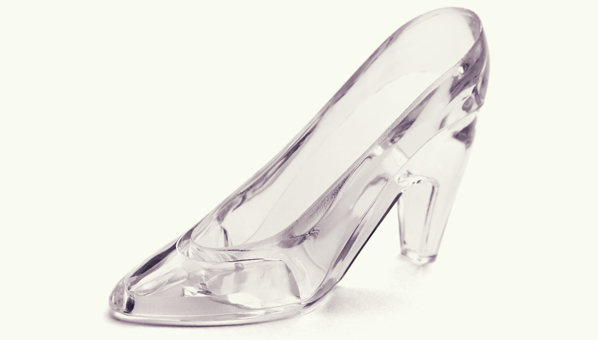 Jimmy Choo, Stuart Weitzman & More Are Re-Making Cinderella's Glass Slipper
Have you ever wondered if Cinderella lost her glass slipper on purpose? Maybe it didn't just fall off when she was rushing to get home before the midnight. Maybe she just thought they were ugly or uncomfortable (because, you know, they're GLASS). Well, clearly I'm not the only one who thinks things like this, because some of the best shoe designers in the game are coming to her aid and designing glass slippers of their own, in honor of the upcoming live-action Cinderella movie, in theaters this March. According to Vogue UK, designers like Jimmy Choo, Stuart Weitzman, Salvatore Ferragamo, Nicholas Kirkwood, Charlotte Olympia and more have designed ranges of shoes, from pumps to sandals, made from glamorous materials such as Perspex and Swarovski crystals, inspired by the fairy-tale nature of Cinderella's glass slippers. The shoes, which are set to be sold at key retailers like Harrods, Saks Fifth Avenue in NYC and Beverly Hills, and Galeries Lafayette in Paris, will be unveiled just before Valentine's Day, in case you were still looking for the perfect gift. And don't forget to check out: Beyonce and Jay Z's upcoming joint album, Caroline Issa for Nordstrom and Rihanna and Blue Ivy's adorable Grammys moment. [Photo: Shutterstock]
30 Designer Boots On Sale: Stuart Weitzman, Michael Kors, Frye, More
When it comes to boots, you can never have enough. Like denim jeans or delicate jewelry, boots go with pretty much everything in your wardrobe. And with spring collections hitting stores right now, those fall/winter staples are getting major discounts with nearly 50% or more in reductions from their original cost. Can it get any better than that? Designer name boots, such as Stuart Weitzman, Michael Kors, Frye, Loeffler Randall, finally have price tags that won't put a major dent in your wallet. Check out our slideshow to see which pair of boots (or more) you'll want to snag on sale. Don't forget to check out: hats, scarves and gloves from $5, celebrity beanies under $100, and Jessica Alba's Tory Burch booties.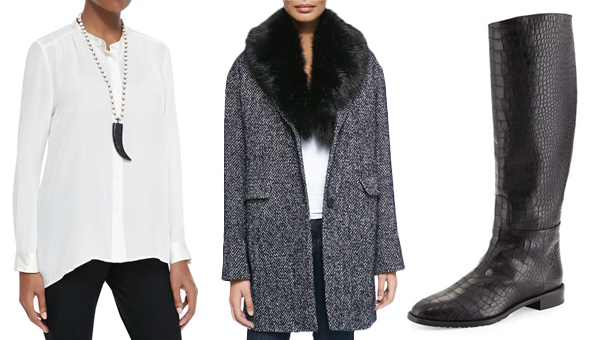 This Neiman Marcus Sale Has Exactly What You Need Now: Fur-Trim Coats & Tall Boots
Another great end-of-season sale just went live today: Neiman Marcus' Last Call Sale which happens only twice a year and features up to 65% off designers like Stuart Weitzman, Michael Kors, Alice + Olivia, DVF, Rebecca Taylor and more. I just bought these Michael Michael Kors moto rain boots for $100 (down from $225) which I plan to use as my winter boots for the next month. Cha ching. SHOP NEIMAN MARCUS LAST CALL Editor's picks: Stuart Weitzman Nero Equine Croc-Embossed Knee Boot ($337, down from $750), Jules Smith Zoe Wrap Spike Bracelet ($75, down from $125), Eileen Fisher Silk Crepe de Chine Long Shirt ($86, down from $248), Andrew Marc Ava Metallic Puffer W/ Fur-Trimmed Hood ($347, down from $695).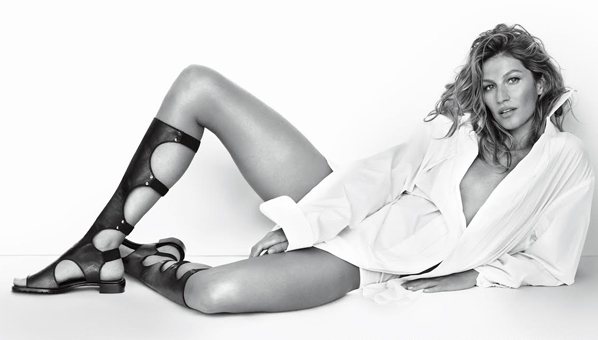 Coach Is Buying Stuart Weitzman As Part Of Its "Brand Transformation"
In today's news we didn't see coming, representatives for Coach announced that the brand is acquiring Stuart Weitzman. This marks Coach's first acquisition, but given Stuart Weitzman's recent popularity with celebs like Jennifer Lawrence, Olivia Palermo, Naya Rivera and more it seems very smart. Of the acquisition, Coach's CEO Victor Luis says it's all part of Coach's brand transformation. You'll note the look (and price point) of Coach bag, shoes and clothing has been markedly different under the creative direction of Stuart Vevers; Coach is now hoping to leverage Stuart Weitzman's expertise in fashion and fit to further grow their brand. On the flip side, Coach will be using their international cache to help grow the Stuart Weitzman brand on a global scale. "We look forward to advancing Stuart Weitzman's global development, especially by leveraging Coach's international infrastructure and expertise in handbags and accessories," Luis says. So what happens when two accessory powerhouses join forces? Does one outshine the other? Does everyone benefit? Only time will tell. SHOP COACH NOW SHOP STUART WEITZMAN NOW Be sure to check out Jennifer Lawrence's Coach tote and the Net-A-Porter clearance sale. [Photo: Stuart Weitzman]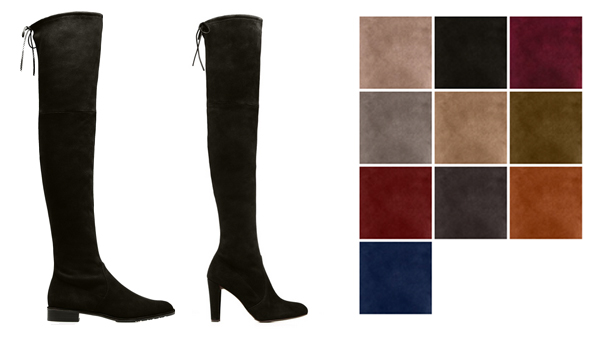 The First Day Of Fall Is A Legit Excuse To Customize Stuart Weitzman Boots, Right?
How does one celebrate the first day of fall if Pumpkin Spice lattes have been available since the end of August? With a pair of custom Stuart Weitzman boots, that's how. The SWXYOU: Best Boots app just launched yesterday, which lets you customize a pair of thigh-high Highland or Lowland (new style alert!) boots now through October 6th. Ooooh we're feeling fancy just typing this. The tool lets you choose between two different heel heights (3.25 and 1.25), 10 stretch suede colors and three widths (narrow, medium and wide) to create your personalized shoe. Did we mention that the Highland, which just came out last year, sold out regularly at Stuart Weitzman stores? Maybe it has something to do with the fact that celebs like Olivia Palermo, Naya Rivera and Diane Kruger are fans. Just a thought. Basically, we're saying you shouldn't wait until the last minute to customize a pair of boots. Who knows how much longer your favorite style or color will be available. Even if you don't plan on actually buying the boots, it's still pretty fun to play around with the app--trust me, I've been doing it for the past 30 minutes. Boots ship within six to eight weeks, prices range from $785 to $795. CUSTOMIZE YOUR STUART WEITZMAN BOOTS NOW And don't forget to check out: Jessica Alba's jean jacket. the new Everpurse clutch and bridal shower games that aren't lame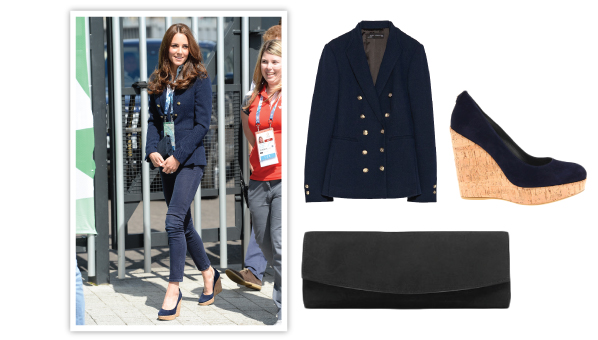 This Aint No Deja Vu–Kate Middleton Just Can't Hide How Much She Loves This Outfit
That's right, Kate Middleton has been spotted in this outfit not once, not twice, but four times now. And those Stuart Weitzman Corkswoon Wedges? They must be pretty comfortable if she keeps wearing them. But do we mind? Of course not! Power to her for recycling a solid look. This morning, Kate, Prince William and Price Harry stopped by the Commonwealth Games to watch the gymnastics portion of the annual event. All three royals were dressed down for the occasion, but Kate still looked perfect because really, when doesn't the Duchess look good? Kate wore a Zara Double Breasted Jacket in navy ($59.99, down from $139), Stuart Weitzman Corkswoon wedges ($398) and a Russell & Bromley Muse Suede clutch ($433.25). She wore this outfit to various events during the London 2012 Olympics, and also on the Royals Australia and New Zealand tour. Best part about her outfit? The Zara blazer is on sale! Zara Double Breasted Jacket ($59.99, down from $139) Stuart Weitzman Corkswoon Wedges ($398) Russell & Bromley Muse Suede Clutch ($433.25) And be sure to check out awesome sales going on from ASOS, Piperlime and Moda Operandi [Photo: Splash News]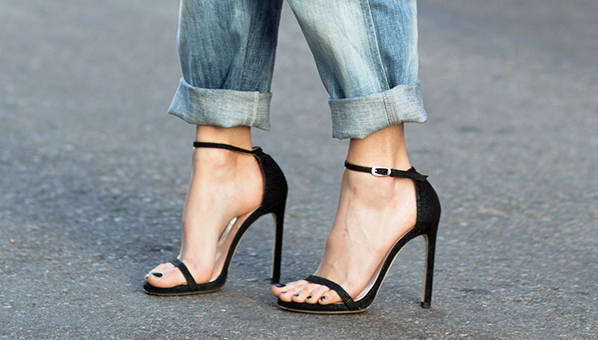 Shop Look-Alikes Of Stuart Weitzman's Nudist Sandals Starting At $68
It's safe to say Stuart Weitzman's Nudist Sandals ($385) are having a moment. Not only is the shoe style a major trend this season, but every celeb from Jennifer Lawrence, Diane Kruger, Julianne Hough and Solange has been spotted in a pair. And who could blame them? The shoes are practically a work of art. The perfect arch and slim straps give a delicate feel to the 4.5 inch heels. They manage to make feet look sexy, which is an achievement in itself and reason enough to shell out the money for a pair. But before you do, you might want to check out all the lookalikes (read: less expensive knockoffs) we found. So you can get the one-strap stiletto look without spending the dough. Check out our favorite pairs in the slideshow starting at just $68. Don't worry, we threw in a pair of Nudist Sandals too in case you want to yolo it and go for them (get it girl!). For more trends, check out: printed denim jackets, front and back earrings and this season's best skorts [Photo: Always Judging]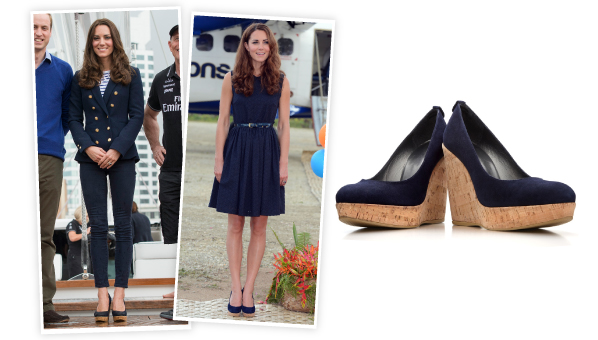 One-Up Kate Middleton In A Custom Pair Of Her Fave Stuart Weitzman Wedges
Ever since Kate Middleton first wore her Stuart Weitzman Corkswoon Wedges ($398) at the 2012 Olympics, they have not only been her shoe of choice, but also everyone elses. She wore them on numerous occasions, including a volleyball game in Olympic Park and her most recent trip to Australia and New Zealand. Obvi every woman in the world took notice of Kate's shoe of choice. They've been a best-selling item ever since the Duchess first slipped her feet into the comfy wedges...the "Kate Effect" strikes again. But since Kate's navy pair is selling out like crazy, it seems like it is almost impossible to get a pair of your own, but now you can. Instead of stealing Kate's look, you can customize your own pair of  Stuart Weitzman Corkswoon Wedges from now until May 27th on the SW site. Forget the "Kate Effect," now you can be your own designer and start the "You Effect." The customizable suede wedges come in 15 different colors with cork or espadrille heels. On the site, you can mix and match until you get your desired color, heel, size and width. With so many cute summer colors it might be hard to choose just one!  But once you do, just place your order and your creation will be on its way. If you're a Kate Middleton fan, or you're just looking for a great pair of trendy summer wedges that are unique to you, place your order now. You better hurry, this opportunity won't be around for long. CUSTOMIZE YOUR OWN STUART WEITZMAN CORKSWOON WEDGES NOW To get more of Kate Middleton's look, check out: Kate's Zimmermann dress and accessories, Kate's DVF dress, and Kate's Go-To Outfit.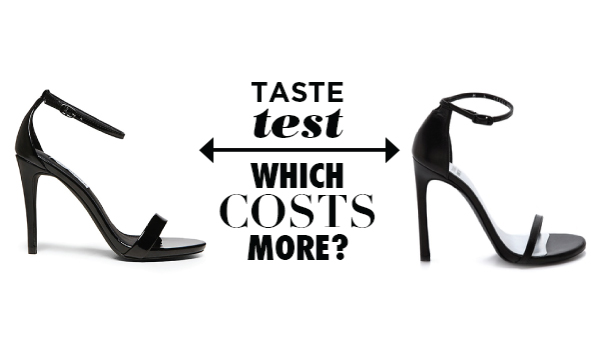 Can You Tell Which Ankle-Strap Sandals Cost $300 More Than The Others?
In our latest style guide for this season's best sandals, the one-strap stiletto is like the sexy black pump for the spring and summer months. You'll find yourself wearing it to that upcoming bachelorette party, black-tie wedding, and that day you felt like wearing heels to the office. The toughest part about the one-strap stiletto is that its price and quality is a vast range. Can you tell which sandal costs over $300 more than the other? Answer: The sandal on the left is the Steve Madden Stecy ($79.95) and the sandal on the right is the Stuart Weitzman Nudist Single Band Sandals ($385). The heel is much higher on the Stuart Weitzman, which is made of sheepskin leather, boasting 4.5 inches, while Steve Madden's patent leather stiletto heel comes in at just under 4 inches. Both choices are exactly the same when it comes to its silhouette so the pair you pick depends solely on your budget. No matter which one you choose, you'll definitely get your money's worth. Try out more Taste Tests: Mean Girls jewelry, Karl Lagerfeld vs. New Balance, and fast food phone cases.
Pretend It's Not Still Winter And Customize Your Own Pair Of Stuart Weitzman Sandals
With the majority of the country still at the mercy of the polar vortex, it's hard to believe that spring will ever return. But it will--we promise! If all the snow and ice is giving you a serious case of SAD (seasonal affective disorder), we've got something that might cheer you up. Stuart Weitzman's just launched a limited edition app on their website, SWXYOU, which allows users to customize its popular "Nudist" strappy sandal from now until March 12th. The tool lets you chose between two different heel heights (4" and 2 3/4" "Naked" style), 12 different colorways and textures, and three widths to create a pair of shoes with your personal stamp. In three simple steps, you'll have a mock-up of your very own bespoke sandals. Of course, we've been playing with the app all morning, and have already created quite a few options for ourselves. We're loving the black petrol patent "Nudists" and the more sensible red napa leather "Naked" styles. If only our bank accounts would let us have 'em all. If you're looking to snag a pair of your own, you'd better hurry-March 12th is just around the corner. CUSTOMIZE YOUR OWN STUART WEITZMAN SANDALS NOW  Don't forget to check out Simon Cowell's adorable new baby, Target's new SI Swimsuit collection, and some eye-searing photos from Miley Cyrus's Bangerz tour.
Shop Look-Alikes Of Stuart Weitzman's Stretch-Back 50/50 Boots Starting At $75
When it comes to buying boots, there's a million choices. But luckily you only need 1 or 2 great pairs to get you through the rest of winter (just 6 weeks left!). One of the boot styles we can't get enough of is the stretch-back boot, which we give Stuart Weitzman credit for originating with his 50/50 design, a favorite of celebs from Olivia Palermo to Gwyneth Paltrow to Hilary Duff and more. Of course, other designers followed suit, adding a panel of stretch fabric to the back of knee-high-and-up boots. That way, we can easily slip them on without worrying about letting them break in after a few wears. And for those of you who've gotten awesome calf muscles from sticking with your New Year's fitness resolution, this type of boot is definitely a must for you. Check our our slideshow of some of the best stretch-back boots (including a 50/50 choice obvs) you can buy right now. Don't forget to check out: Nike's newest sneaker, chain rings, and how to wear oversized sweaters with skirts. [Photos: Splash News]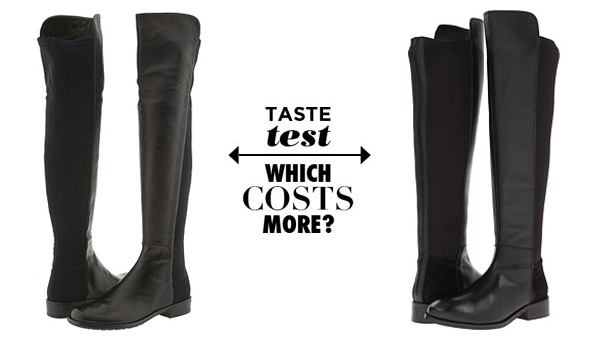 Can You Tell Which Over-The-Knee Boots Costs $436 More Than The Other?
This winter, we're ditching the booties and going for full on coverage with over-the-knee boots. After all, they're our top choice for freezing temps and they slip on nicely over a pair of skinny jeans or tights. Plus, they're perfect for those that find it tough to wear tall boots made entirely of leather thanks to its flexible stretch backing. But when it comes to picking the perfect pair, there's tons of choices within a wide price range. So much so that it's tough to really tell the difference. Can you tell which pair of boots costs $436 more than the other? Answer: The boots on the left are Stuart Weitzman 5050 ($598) and the boots on the right are Luichiny Trend Lee ($161.99, down from $179.95). The Stuart Weitzman pair, a style favored by actress Elizabeth Olsen, offers two inches more coverage than the Luichiny Trend Lee but stands at less than an inch in heel height. Which pair do you like better? Let us know in the comments below! Try out more Taste Tests: speech bubble clutches, fuzzy patterned sweaters, and jeweled-heel shoes.
Stuart Weitzman Fuels Your Footwear & Celeb Fetish To Benefit Charity
Stuart Weitzman, a purveyor of insanely luxe (and comfy!) shoes, is turning your footwear fetish into something more than an overflowing shoe rack -- as per his annual tradition, Weitzman teamed up with Hollywood's finest to raise money and awareness for ovarian cancer. This time, he's collaborated with everyone from Brooklyn Decker to AnnaSophia Robb on a five-piece range called The Stuart Weitzman Young Hollywood Cares Collection. Each starlet worked with Weitzman individually to create their own shoe: Nikki Reed designed a black goose-bump calfskin platform ($425), Julianne Hough worked with Weitzman on a black lace-up high heel oxford ($425), the young Chloe Grace Moretz churned out a menswear-inspired color-block lace up ($375), the gold metallic cap-toe ankle boot ($495) was co-designed by Brooklyn Decker, and AnnaSophia Robb teamed with Weitzman on a black pony-hair pump with burgundy satin piping (my fave!), which retails for $425. Proceeds benefit research at the Folkman Institute in Boston, so you can feel good about indulging in a little fall shopping. Styles look like they're going to sell out fast (especially Chloe Grace Moretz's two-toned oxfords), so head over to StuartWeitzman.com or any of his flagship locations to get your hands on a pair now! Want more collaboration news? Get your hands on Club Monaco x Erickson Beamon before word gets out, shop Kenzo x Van's sixth (and most amazing) collab now, or find out which huge department store just teamed up with Derek Lam!
Get Kate Middleton's Stuart Weitzman Wedges In All 3 Colors (And On Sale!)
The Duchess of Cambridge (DoC) Kate Middleton was seen more-than-once in a pair of Stuart Weitzman Corkswoon ($190.99, on sale from $375) heels at the Olympics in London. This means that these fancy wedges are probably super comfortable and very sports-friendly, allowing its wearers to stand up and cheer for their favorite athletes—without the sore feet and blisters. Lucky for you, these cork-made pairs are available in three shiny patent leather choices and nearly half off its original price. This is a win-win shopping situation, ladies! Stuart Weitzman Corkswoon in Adobe Aniline ($190.99, on sale from $375) Stuart Weitzman Corkswoon in Black Patent ($190.99, on sale from $375) Stuart Weitzman Corkswoon in White Patent ($190.99, on sale from $375) Shop more celebrity style finds: Jennifer Aniston and Kate Bosworth's Tom Ford bag, Hannah Simone's Mary Katrantzou's dress, and Nicole Richie's House of Harlow 1960 sunglasses.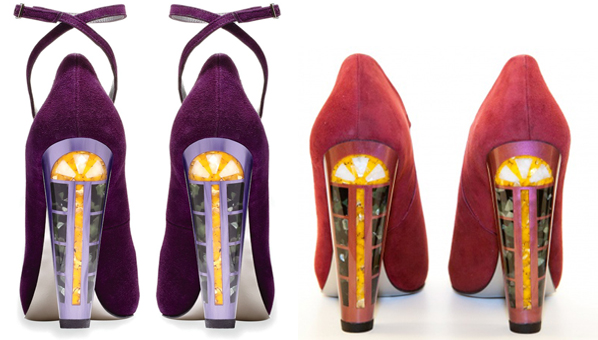 Stuart Weitzman's SW1 Line Of Luxury Accessories Is Almost Here
New York-based shoe designer Stuart Weitzman joined creative forces with accessories guru Alvaro Gonzalez to produce a pricier line of footwear and handbags for Weitzman's high end retailers this fall -- including Neiman Marcus and others. Going against the grain of lower-priced diffusion lines, the SW1 collection (not to be confused with the posh London neighborhood) includes shoes ($595-$995) and handbags ($800-$1,500). The collection's 50 shoe styles boasts suede, satin, or leather in lush jewel tones (think emerald, ruby, purple, and dark blue). Other details of the line are inspired by Spanish architect Santiago Calatrava, such as resin heels with a deco-like, mosaic pattern (above). The collection also includes sharply-shaped handbags, from python skin minaudières and buttery soft leather cross body bags in neutral tones to clutches with neon-colored piping. SEE FIRST PHOTOS OF THE COLLECTION Read more fashion and beauty news: Richard Nicoll's bridal collection for Topshop, Minnie Mouse inspires OPI's new collection (and is out now!), and Missoni x Havaianas Part II.
The Youngest Olsen Is Already Setting Trends: Get Lizzie's Exact Over-The-Knee Boots
Lizzie Olsen in Stuart Weitzman boots. Okay, not setting trends per se because we noticed this over-the-knee boot before. But Elizabeth Olsen's winter boot of choice while traipsing about Park City, Utah, during Sundance thus proves that these Stuart Weitzman 50/50 Boots ($475.99, on sale from $595) are top notch when it comes to achieving this still emerging style. And now that spring/summer's stock of sandals and espadrilles are starting to trickle into stores, you can snatch these boots on sale. Congrats! (more…)
Stuart Weitzman Makes Stretch Boots For Gals With Big Calves (And Olivia Palermo, Apparently)
If you don't have twigs for legs, it can be hard to find tall black boots that fit like a glove (which they should). Enter Stuart Weitzman -- who's always looking out for us gals. These Stuart Weitzman 50/50 boots ($595) have an elastic panel up the shaft of the boot that gives them a perfect fit. (more…)
60% Off Kitten Heel Wedding Shoes — Your Feet (And Wallet) Will Thank You
Today is a good day for wallets and feet: incredibly comfortable kitten heel wedding shoes are 60% off at 6pm -- including gems from Kate Spade (featured), Stuart Weitzman, and more. (more…)
40% Off Wedding Pumps: Kate Spade, Stuart Weitzman, Badgley Mischka, More
Zappos never ceases to amaze me; they stole my heart with "Free Shipping," and keep me coming back for more with sales on my fav designers. If you're looking for a great pair of wedding pumps, I suggest you start here: get up to 40-50% off Kate Spade, Stuart Weitzman, Badgley Mishcka, Pour la Victoire, and more. (more…)
Thakoon For A Cause: Meet The $250 Charity Scarf That Matches His Fall 2011 Collection
Ruby Aldridge in the new charity scarf, and models from Thakoon's Fall 2011 runway show The hottest trend in fashion lately? Giving back. One of the many designers heading charitable ventures is Thakoon Panichgul, who has created a limited edition scarf (pictured left on model Ruby Aldridge) whose entire proceeds will benefit famine victims in Somalia. The blue and red checkered scarf mimics the pattern seen in much of Thakoon's Fall 2011 runway collection, which was inspired by the Masai people of East Africa. The $250 scarf is now available exclusively at Thakoon.com. But Thakoon isn't the only one using fashion for philanthropy... (more…)
We Found Wedding Shoes In Every Color Of The Rainbow: Find The Perfect Pair For Your Palette
Colorful wedding shoes are all the rage right now and can spice up your entire wedding look in an instant (we're obsessed with this idea). From hot pink to canary yellow to bright green, this trend is definitely one to try out. Match your shoes to your maids dress color, or have your whole bridal party mix and match colors for a photograph-worthy look. (more…)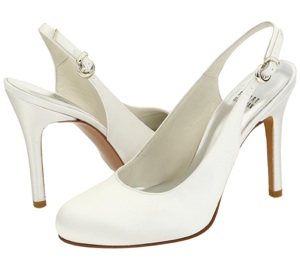 35% Off Stuart Weitzman Dyeable Wedding Pumps: Buy Now, Deal With Color Matching Later
If you have a tricky color scheme or are just undecided on what the bridesmaids are wearing, don't miss the chance to get designer dyeable wedding shoes on major discount: Zappos is giving 35% off dyeable Stuart Weitzman Bridal shoes today. (more…)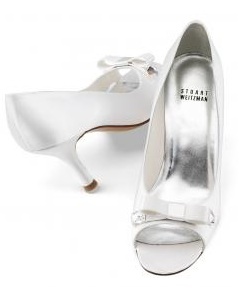 Up To 60% Off Dyeable Stuart Weitzman Wedding Shoes – Pick Your Color Scheme Later
Dyeable wedding shoes are the way to go - buy a designer style you're obsessed with now, then deal with the whole color-scheme issue later. Luckily, Model Bride has 60% off dyeable Stuart Weitzman wedding shoes now: Shop our guides to the best strapless wedding dresses, white wedding shoes, and inexpensive wedding dresses.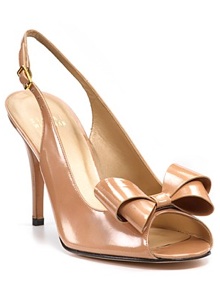 Can You Tell Which Patent Bow Pumps Cost $517.50 More Than The Others?
Shop our guides to the best simple bridesmaid dresses, long bridesmaid dresses, and satin wedding shoes.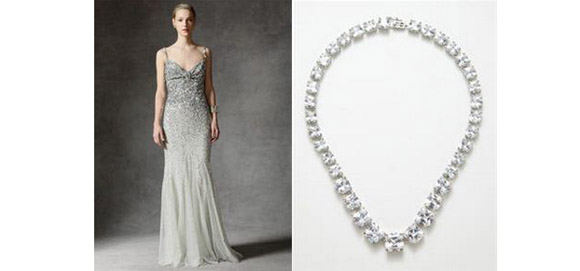 Exclusive: Preview Gilt's Wedding Shop Loot A Day Early (Vera Wang, Reem Acra, More)
Tomorrow, 4/14, Gilt's Wedding Shop will launch at 12pm, and like any Gilt sale, scoping the merchandise ahead of time is the key to scoring big. Luckily, the folks at Gilt were nice enough to share more than 25 product photos with us: like Vera Wang, Reem Acra, Alberta Ferretti and Temperley London gowns, to Judith Leiber clutches, Stuart Weitzman pumps, and Kenneth Jay Lane jewelry. One highlight? A $59,000 diamond necklace going for $19,000. Whoa, Gilt. Sale end 4/17, but we doubt the inventory will last that long: (more…)
50% Off Stuart Weitzman: The Answer To Your Designer Wedding Shoes Daydreams
If you're sitting at work today daydreaming about the perfect designer wedding shoes - you and I have something in common. Luckily, for both of us, Bellissima Bridal Shoes, a site I just stumbled on, has Stuart Weitzman for 50% off today. Oh, hello, lover: (more…)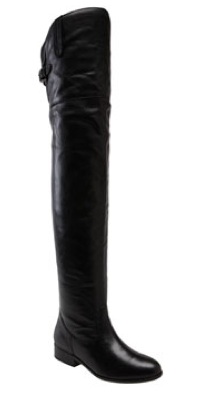 Sick Of Rubber Rain Boots Yet? Leather And Suede Boots Are 50% Off Today
February is the month of dirty rain boots, manly winter boots and just generally awful footwear. But for the days that aren't wet and gross - and for the Spring months when things clear up for good - you'll need some actually cool boots and booties. Luckily, Nordstrom has them for half off: If you're as sick of rubber rain boots as I am - why not treat yourself to 50% off Stuart Weitzman 'Elf' Boot ($359.90, down from $595) today? Or these Dolce Vita 'Donnie' Over the Knee Boot ($148.90, down from $299.95). (Act fast - only a few sizes left). These MAXSTUDIO 'Crotia' Bootie ($78.90, down from $158.95) are as sexy as booties come - while still totally work-appropriate. These Cole Haan 'Air Talia' Bootie ($149.90, down from $248) will be a staple in your wardrobe. More excellent sales: Under-$100 Urban Outfitters dresses 30% off Kara Ross, Kenneth Jay Lane, More 50% off Foley + Corinna 50% off tons of great stuff at Apart Style 65% off at Piperlime 30% off designer dresses at Shopbop 30% off Hanky Panky underwear 70% off long sleeve dresses at The Outnet Check out more of this week's handpicked sales and deals, today's online sample sales and our guides to the best booties to go with these dresses. Follow the author of this post on Twitter @bridefinds.com
Can You Tell Which Nude Patent Leather Pumps Cost $370 More Than The Others?
Press your fashion luck with even  more of our Taste Tests. Shop our guides to the best platform pumps, the best comfortable high heels and the best nude shoes. Make sure to sign up for SHEFindsMail for exclusive updates.
Can You Tell Which Black Over The Knee Boots Are Steve Madden And Which Are Stuart Weitzman?
Kill some time with a some more Taste Tests and check out our buying guides to the best lace up booties, the best flat black boots, and the best high heeled boots. Join our mailing list for exclusive fashion updates.

Monday's Sample Sale Scoop: Stuart Weitzman, Chanel Vintage Jewelry, Joe's Jeans, More
Editor's Pick: Stuart Weitzman at Gilt Beyond The Rack: Off The Beaten Track, Kristin Kahle, Christina C. handbags, CO2, Montelle Intimates Billion Dollar Babes: Dior & Fendi Sunglasses, Bread and Butter, CHANEL Vintage Jewelry Editors' Closet: Tag Heuer  Gilt Groupe: Arunashi Jewelry, BCBGeneration, Laila Azhar, Last Minute Father's Day, Lauren Moffatt, Max Azria, Matthew Williamson, Zero + Maria Cornejo, M Missoni, Stuart Weitzman, Yarnz Guiltless Purse: Take up to 70% off Tylie Malibu, Lauren Merkin, Marcio Furla, Kooba, Hayden Harnett, Isabella Fiore, Cole Haan, More Hautelook: 7 For All Mankind, QuickTrim E Boost/Idol White, Arnold Zimberg Women, Marie Chavez, Simple Pleasures ideeli: Carol Malony, Ed Hardy shoes, Carden Lane, Prabal Gurung, Lacoste, Wendy Katlen, Drew, Juliette jewelry, Michael Stars Ivory Trunk: Guess Modnique: Krementz Jewelry, Pulsar Watches, Joe's Jeans OohILove: Take up to 90% off Louis Vuitton, Chanel, Christian Louboutin, Marc by Marc Jacobs, More RowNine: Blackberry Fuel Rechargeable Pack, Glam Rock Watches, Mikasa Flatware Rue La La: Theory, What He Wants (To Do) Boutique: Experiences Dad Will Love, La Fiorentina The Sample Sale: Rivet De Cru The Top Secret: London Fog Handbags Stay up to date with our calendar of sample sales. Shop our guides to the best flat sandals, the best wedges, and the best platform shoes. Subscribe to our newsletter for more sales and deals.
Good Stuff From Cheesy Stores: Simply Vera Pumps Look More Expensive On My Feet Than On Kohls.com
Vera Wang's Kohls line has been turning out some really stylish shoes, and these distressed leather t-strap pumps are the best of the bunch this season. (In an attempt to demonstrate that the shoes are much less cheesy in reality – and an astoundingly good buy at $30 - I've juxtaposed my iPhone photo with the official Kohls.com picture.) While these pumps are nothing special in black, the taupe version, with a vintage-y look weathered and very slight sheen, can easily rival a shoe five times the price. The platform and chunky heel make them easy to walk in, and they look fantastic against opaque black tights. We're just sad the photographers at Kohls didn't do them their proper justice. Get yours: Kohls.com