The One Summer Denim Trend That's Here To Stay (& It's Not Skinny Jeans!)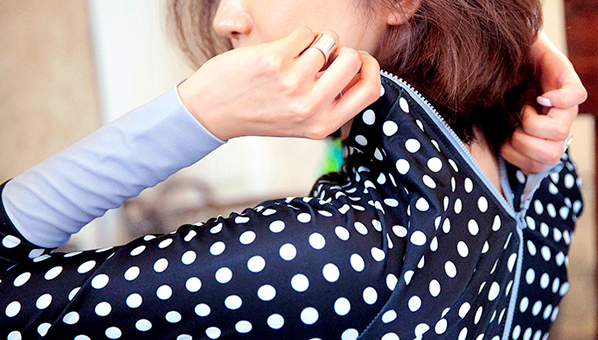 Rash Guards: The MuuMuu Free Way To Cover Up At The Beach
Now that it's officially bathing suit season, it's best you know all of the looks that are in style this summer. Besides the high waist bikini, rash guards are also making a comeback. I know, you're probably thinking, "Why would I wear this when I want to get a tan?" Or, "This is what surfers wear and I am definitely not a surfer!" But the rash guard brings a lot to the table that most bathing suits don't. First off, they aren't all long sleeved, remember Kate Bosworth in Blue Crush? Girlfriend rocked the short-sleeve rash guard. And though many are sold with matching bottoms, you can still mix it up with all of your bikini bottoms. Sensitive skin, or possibly in need of a break from the sun? The rash guard is a perfect way to cover up without having to stay in the shade all day. Have I sold you on this trend yet? Well, take a look at the slideshow to see some adorable rash guards. Be sure to check out swimsuits every woman should own, must-have sunglasses, and these massive sales! [Photo Credit: Chuu]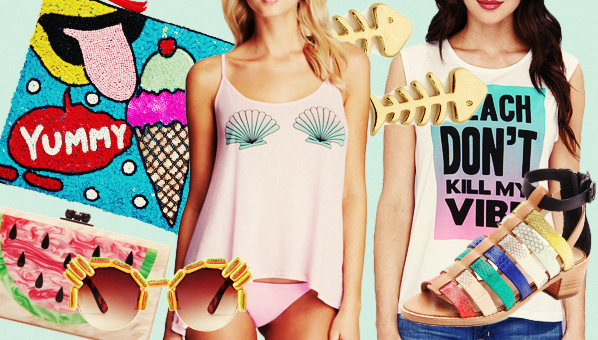 The Countdown Is ON: 17 Fun Products That Prove Summer Is Almost Here
Not gonna like, I feel like spring just started (you too?). Well, news flash: summer is 15 days away...which is insane in the membrane. But while we were all busy figuring out what season it is, retailers were one step ahead of the game. They've been selling fun summer-inspired products for weeks now. Wait, maybe that's why we're all confused? Whatever, at least it's adding even more excitement to the BEST SEASON EVER. Not only do we get longer days and ah-mazing weather, but our outfits have WAY more swag. It's time to break out the prints and colors, baby! If all of that still doesn't get you pumped for summer, then check out the items we found that remind us of this season. From hot dog sunglasses and seashell handbags, to fish bone earrings, we're 100% sure this slideshow will convince you that there's no better time than summer. And don't forget to check out: how to celebrate National Donut Day calorie-free, the best black bathing suits and this season's prettiest printed skirts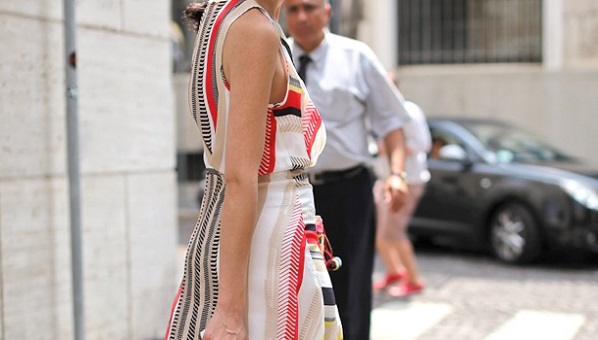 Summer Is Just 16 Days Away–Here's What To Wear To Work On Scorching Hot Days
In the hot days of summer, it's hard to find an outfit that won't cause you to overheat on your commute, but that's also workplace-appropriate. Not to mention, it's hot outside but icy thanks to the blasting AC inside. Makes getting dressed every morning kinda tricky, right? Here's a tip: our go-tos during the hot summer months are loose cotton or silk dresses and  sleeveless button-down tops in light colors. When you're outside, they're light enough to keep you from sweating to death, but in the office you can easily throw a pretty cardi or blazer on top. Because summer is literally just days away, we rounded up some of our favorite work-ready dresses and blouses so you can stock up now.  With cute options from Rag & Bone, Diane Von Furstenberg, Milly, Joie, Equipment and more, these picks not only work for your commute and the office, but they'll keep going for happy hour afterwards, too. Browse the slideshow for our picks, and don't forget to check out this summers top 10 essentials, beat the heat dresses, and jackets for every temperature. [Photo: Lee Oliveira]
The 10 Items You Really Need For Summer: Your Essential Shopping Checklist
Summer isn't typically a season you go all out shopping for, but that doesn't mean you should let June 21 get here without having some essentials. You don't need to go crazy and restock your whole wardrobe, but you should definitely make sure you have a good selection of sunnies, shorts and sandals to rotate over the next few months. What else do you absolutely need for summer? Check out our complete checklist below. 1. Sunglasses. You should technically be wearing sunglasses all year round, but they're an absolute must come summer. We recommend circle sunglasses, printed sunglasses, half-frame sunglasses and these sunnies that will never go out of style. 2. White jeans. Nothing says summer quite like a crisp pair of white jeans, so whether you opt for skinny or bootcut you should definitely have at least one pair. Shop our faves here. 3. Neon jewelry. Although summer is synonymous with sun, there will be some cloudy days. When they come, a little flash of neon jewelry will instantly brighten your mood. 4. Non-leather bag. Whether it's for a beach trip or as a trendy carryall, now's the time to trade in your hot leather tote for something lightweight like straw or nylon. 5. Hat. Hats are huge this season, so we say get one in every style from panama to pork pie. 6. Ankle strap sandals. If you only buy one new pair of sandals, they should 100% have an ankle strap. Look for styles that also have pops of neon or metallic. 7. Lace dress. Easy to dress up and down, you'll find yourself reaching for a lace dress over and over this summer. You can't go wrong with classic white, but be adventurous and get one in a bright color, too. 8. Swimsuit. This is a no-brainer. You're bound to hit the beach or the pool, so a flattering swimsuit is obviously an essential. This summer we love classic black styles and sexy bustier bikinis. 9. Pastel nail polish. Trust us on this one, pastel hues will look amazing against your tanned skin this season. 10. The perfect shorts. Last, but certainly not least, no summer wardrobe is complete without an array of shorts. Whether denim, lace, embellished, printed or leather, you have permission to stock up. Now that you've narrowed down your shopping list, click through the slideshow to see (and shop) our favorites! Be sure to check out Milly x Banana Republic, the best summer dresses and Net-A-Porter's huge sale.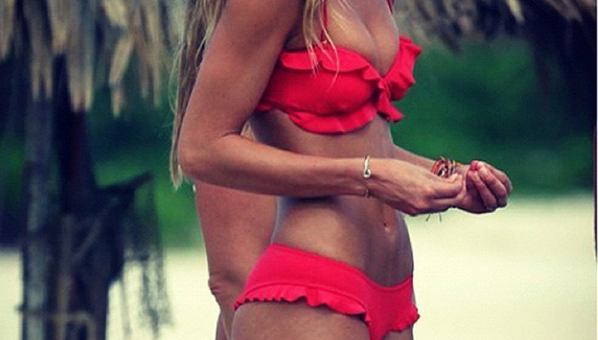 Ruffled Bandeau Bikinis Are The Swimsuit Of Choice – According To Pinterest
Going somewhere warm for President's Day weekend or taking a 'spring break' this year (sans the body shots)? It's time to prioritize your packing list - and a new on-trend bikini should be at the top of that list (unless you prefer one piece suites, then right this way). Swimsuits might be the last thing on your mind in January, but if you're going to a beach or pool or a lake for that matter you're going to need one. According to my Pinterest feed, sweet, girly, ruffled bandeau bikinis are so hot right now. The strapless style lets you tan your sun-starved chest and shoulders, and sweet ruffling in all the right places will let you ease into bikini season (ain't nothing wrong with needing a little extra butt coverage). Check out the slideshow above for our faves from Zimmerman, L Space, Melissa Obidash and more. We've got the rest of your packing list covered too--browse summer dresses, straw hats, and flat sandals.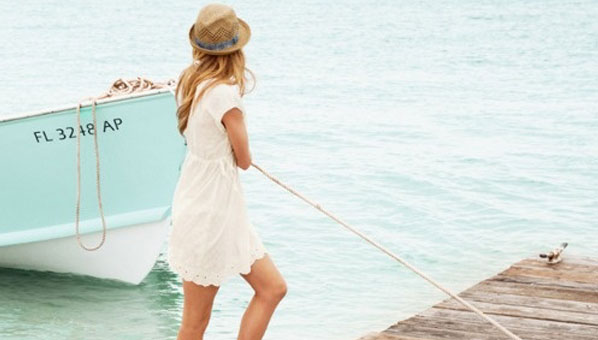 What To Wear This Labor Day: All Of Our Favorite Summer Trends, Obvs
What are you doing this Labor Day? We'll be sitting on the beach, having happy hour wine on the water, and eating and drinking with friends and family. To celebrate the end of summer, we plan on wearing all our favorite trends from this season--from chambray, to stripes, to lace, to scallops and ruffles! SHOP OUR FAVORITE LABOR DAY FASHIONS For more ideas on what outfits to pack this weekend, check out 10 things you can't wear after Labor Day, beach-worthy printed slip on sneakers, and cat-eye sunglasses!
10 Non-White Dresses To Wear To All Those Summer Weddings
So many summer weddings, so many dresses to buy. This season, shy away from white, cream, and ivory, and go bold in brights and patterns. Whether it's sunshine yellow, neon coral, floral or zig-zag, these fun dresses all boast flirty hemlines that promise for a fun night of dancing and drinks. Pair them with strappy sandals and a metallic clutch and you're golden. SHOP PARTY DRESSES FOR SUMMER WEDDINGS Check out more of our favorite dresses--from the little strapless dress, to a fun floral number, to these awesome under-$200 options!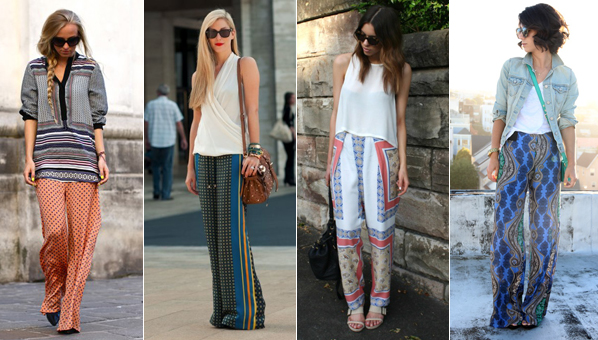 How To Rock Printed Silk Pants–Without Looking Like You Just Rolled Out Of Bed
We love the printed silk pant trend for casual summer days when it's too hot to have anything clinging to your skin, but we sometimes have trouble figuring out just how to wear it without looking like we stepped out in our pajama pants. The trick? Size down. If you're usually a medium, snag these trousers in a small to get a cool tailored look. Then, pair with a tucked in top, slouchy cropped sweater, or structured blouse to enhance your top half. Finally, throw on an elegant and understated pendant, and don't forget your heels--this trend is hard to pull off without 'em. SHOP SEXY SLOUCHY SILKY PANTS NOW Check out our other favorite trends this season: fancy shorts, pastel satchels, and boxy shift dresses.
Forget Fancy Pants–We're Loving Summer's Fancy Shorts For Nights Out
Oh hey Miss Thang. Looking for something to wear to that cocktail party, or hot date, or casual wedding, and don't want to look like every other girl in the room? Why not try a pair of fancy shorts? Silk, brocade, or embellished, a pair of luxe shorts will make you stand out while still being totally party-appropriate. Try 'em with a fitted silk blouse, and sky high heels, of course. SHOP OUR FAVE DRESSY SHORTS NOW Check out lace shorts, denim shorts, and leather shorts too!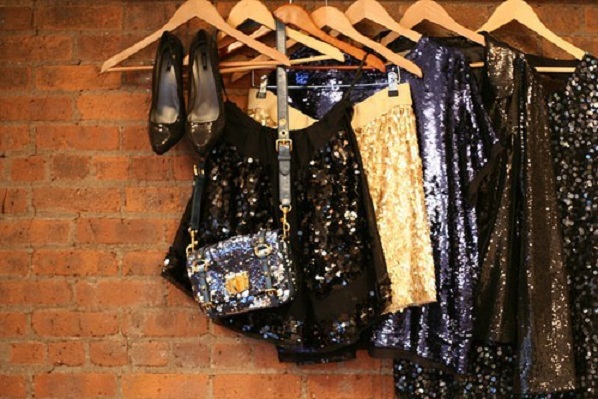 Summer Sequins: They're Not Just For New Year's Eve Anymore!
When we think of sequins, we tend to think of holiday parties and dressing up winter days, so we were pleasantly surprised when we found ourselves loving sequins for summer. Whether they're pastel or neon, on shorts or a dress, sequins look just as a great with a tan and wedges as they do by the Christmas tree. SHOP OUR FAVORITE SUMMER SEQUINS NOW Want  more sequins? Check 'em out on jackets, tanks, and skirts!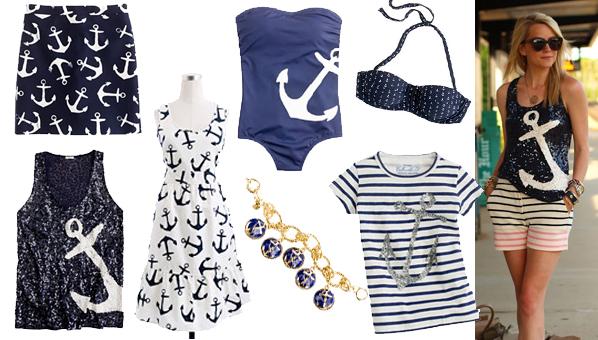 Anchors Away! Cute Anchor-Print Clothing For Smooth Sailing This Summer
We love the nautical trend, and this summer, we're putting a fun spin on it with anchor-print shorts, dresses, tops, and bikinis. These adorable navy and white pieces have us daydreaming about taking out our yacht and going for an impromptu  spin to say, Croatia? See ya there. SHOP THE ANCHOR-PRINT TREND NOW Check out other summer prints we love: animal print, polka dot, and tribal print!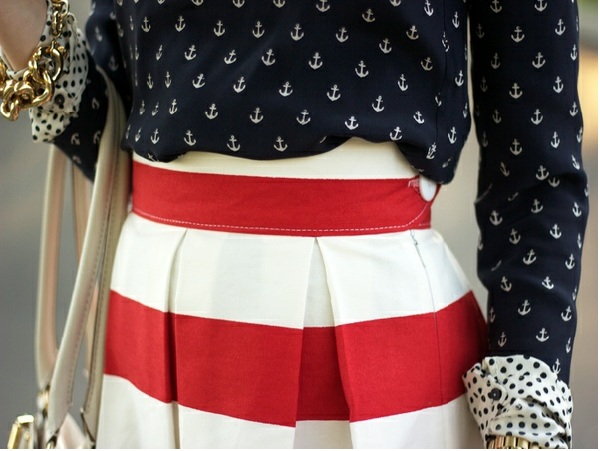 Hey, Procrastinators: Order These Patriotic Pieces Now & Get Them By July 4!
God Bless America...and two-day shipping. Don't have a perfect outfit for your Fourth of July bash yet? Don't fret--lucky for you, all the pieces in the slideshow below can be ready and on your doorstep way before you leave for the beach. Here's to flaunting our stars and stripes... SHOP OUR LAST-MINUTE 4TH OF JULY PICKS NOW While you're at it, don't forget a bathing suit, cover up, and straw beach bag! [Top Photo via Pinterest]
Here's A Celebrity Trend That Anyone (And We Mean Anyone) Can Wear
Some celeb faves are way beyond our budget--from it bags in the 5 digit range, to handmade couture dresses, to weekly highlight touch-ups--so we're happy to report that this trend is one we can actually copy (without sacrificing our rent checks or substituting the next two months' meals with Ramen). Flip-flops--whether you're an A-list millionaire or a broke college student, a few good pairs of flip-flops are essential in building your wardrobe. This year, in addition to our basic black (a pair every girl should own), we're loving options that are bright, be-jeweled, and patterned! Like Kirsten Dunst, Hilary Duff, and our other fave leading ladies above, we're loving Havianas, Tkees, Bernardos and more. SHOP OUR FAVORITE FLIPPY FLOPPIES Not a flip-flop chick? Check out more comfy shoes: wedges, flats, and espadrilles!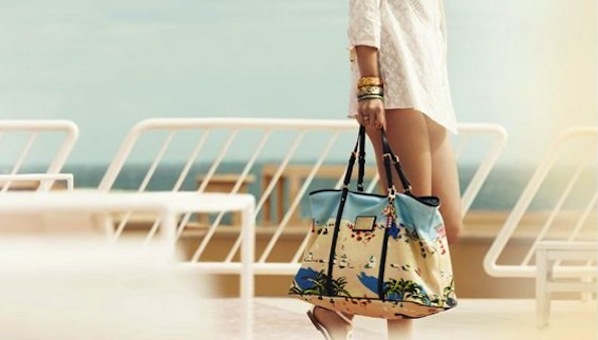 What You Put In Your Beach Bag Says A Lot About You: 12 Summer Must-Haves
What you wear, listen to and read at the beach says a lot about you -- so don't hit the beach this summer ill-equipped. From the latest brush-applied facial sunscreens, to the best portable stereo on the market, we've got you covered. Shop our slideshow above for grease-less sunscreens, hydrating after-sun items, printed beach towels, beach reads (that AREN'T 50 Shades of Grey)--even a cute Marc by Marc Jacobs tote to carry it all in— and you'll be the most stylishly supplied gal on boardwalk. WHAT'S HOT THIS SUMMER Read more style and shopping guides for the summer: patriotic threads, best summer flats, and what to pack for your weekend getaway.
No Vacay Planned? No Problem: Clothes That Bring the Beach To You
We can't wait to get our bums to the beach this summer, but til then, we'll do anything we can in order to bring the beach to us. Lucky for us, though we're still slaving away in the concrete jungle, we've found some sweet summer digs that can almost make us feel like we're lounging poolside. SEE THE SLIDESHOW HERE Check out the slideshow above for our favorite summer-treat-inspired prints, or browse some of the other trends we're loving: floral shorts, peplums, and rompers!
Coolest Swimsuits Ever: We Love Mara Hoffman's Newest Collection
What's one part Navajo chic, one part get-your-tan on, and one hundred percent guaranteed to turn heads at the beach this summer (albeit, while giving you some inteeeeresting tan lines)? If you guessed Mara Hoffman's new swimwear collection, ding ding ding! The New York-based designer's line of printed bikinis, sick one-pieces, and tribal coverups hit stores this week and we are totally obsessed. Whether you choose to rock one of the bathing suits, or the casual separates (which not only work as beachwear but would also be awesome for a summer night on the town), this colorful, youthful line is guaranteed to make you look like one of the coolest chicks on this side of the boardwalk. Check out our slideshow above  For some of our fave pieces, and get 'em on Mara Hoffman's site, Shopbop, or Net-A-Porter. Can't get enough swimwear? Check out our guide to metallic bikinis, our picks from the Kate Spade X Malia Mills collection, and the best cover-ups to top 'em off with. See ya at Pilates tomorrow, ladies.
Shop Our Favorite Summer Basics: Striped Nautical Shoes Are Where It's At
There's something about a striped shoe that gets us dreaming about summers in Nantucket, crabs and beer, and tanned cuties in polo shirts.  You can't go wrong with a good navy and white stripe--whether it's on a flat, a wedge, or a heel, the nautical vibe is perfect for showing off a bronzed summer gam. There are tons of stunning striped shoes to choose from--check out the slideshow above for some of our faves. We're thinking these would look great with a white dress or pants, denim shorts, or a bathing suit cover-up! Either way, navy and white stripes are an awesome summer alternative to neutrals! Can you tell we can't wait for warm weather? Check out our guide to summer hats, nude shoes, and of course--bikinis! [Top photo via Pinterest]
Summer Hat Round-Up: The Best Ones For A Lazy Post-BBQ Hangover
Fun summer riddle: what came first, the oversize hat or the hangover? We're not sure, but the two go hand in hand like summer and barbecues (and, coincidentally, both tend to be things one might wear to work before, during and after a summer barbecue). We love summer hats--whether you rock them on a beach day or a Saturday afternoon when your morning after hair just won't cut it. Better at controlling your tequila shot intake than we are? These fun toppers are so ridiculously cute that you certainly don't need to be having a  miserable morning to wear them--throw them on with your favorite sundresses, shorts, and other summer essentials. CHECK OUT THE SLIDESHOW More essentials for when last night's Memorial Day party got a liiiiitle raunchy: our guide to sunglasses, leggings, and oversize tops.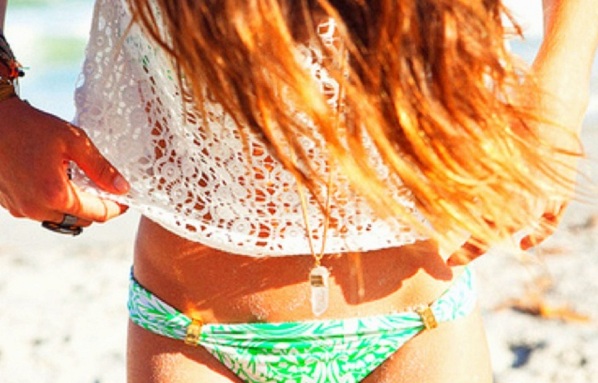 Caring For Your Itsy Bitsy Teeny Weenie Yellow Polka Dot Bikinis: Roux Maison Swimwear Detergent
Things that are the worst: finding the perfect bathing suit, wearing it once, and proceeding to completely destroy it in the laundry. I know from experience that washing a bathing suit is tough--when you throw it in your regular laundry, you risk stretching out or fading it, and when you handwash it in the sink, it's often hard to get the sand out of places where one should never ever have sand. Your Summer Best Friend: Roux Maison Swimwear Detergent, $14.50 for 3 Luckily, Roux Maison is now making swimwear detergent that helps your favorite bikinis maintain their shape and color while removing all traces of chlorine, sunscreen, tanning oil and that dreaded sand. These travel-sized bottles are a steal at  3 for $14.50--you can toss one in your beach bag for your next long weekend in the sun. Get 'em online at Roux Maison. Now, all you need is that bikini bod... Shop hot summer swimsuits now! We love Mara Hoffman For Madewell, Rag & Bone Bikinis, and this L*Space fringe stunner!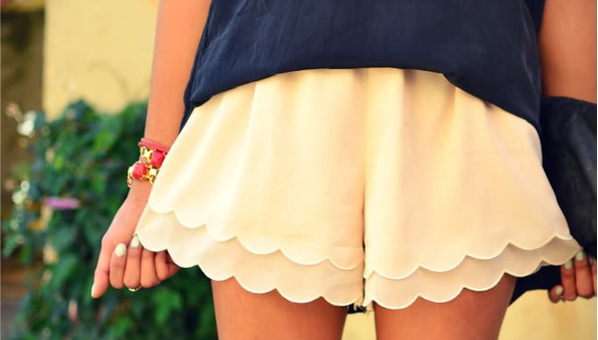 Could Scallops For Summer Be Any Cuter? Shop Our Favorites
As the temperatures (and the amount of bare skin I have on display) finally rise, I'm loving an interesting summer hemline. Now that I'm slowly shedding layers and tights, I've been looking for clothes with delicate, feminine details, and while I love a good asymmetrical edge or strategic cutout, my favorite detail this season is the scalloped hem. A scalloped hem has a wonderful way of making a plain tee look interesting, jazzing up an otherwise ordinary pair of shorts, or adding a little fun to a purse or pair of shoes. Whether it's on tops, bottoms, or accessories, the scallop makes all your summer apparel girly and sweet, while staying away from to overly-saccharine. Our one piece of advice? Stick to one scallop per outfit, please. Check out our favorites in the slideshow ! For more of our favorite summer trends, check out our posts on neons and neutrals, floral skirts, and wedge pumps. [Photo Credit: DonatilaRose]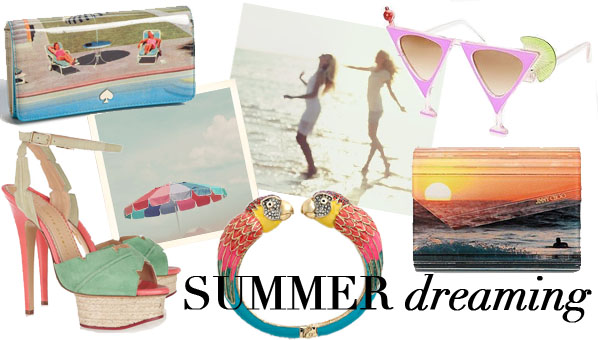 Is It Summer Yet? 15 Products That Make Us Really Wish It Was
If you haven't seen Jimmy Choo's surfer clutch yet check it out here. It's pretty awesome, and makes us long for those endless days of summer (no wonder it was featured in a bajillion fashion mag editorials). This season, "summer prints" are everywhere; from Charlotte Olympia's palm leaf pumps, to Samudra's sunset pouch and Kate Spade's poolside wallet -- we want everything. This is the kind of trend that makes you want to turn on some Beach Boys, flip on some cool shades and kick it old school on a pool floaty for hours. SURF PARTY, U.S.A. For more warm-weather finds, check out Macy's Brazil-themed collection, this neon Thakoon x NARS nail polish colors, and get Brooklyn Decker's swimsuit.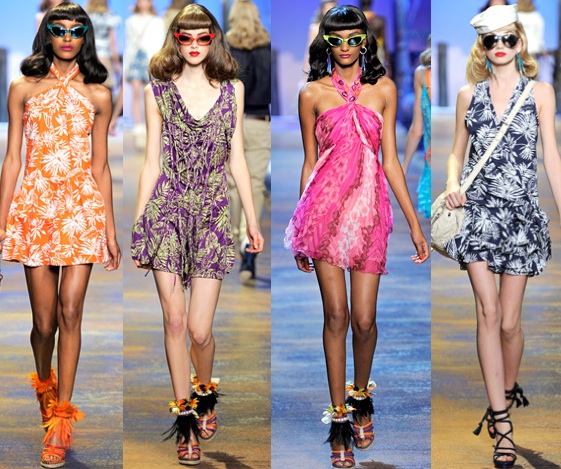 How To Wear Hawaiian-Inspired Hibiscus Prints Without Channeling Tommy Bahama
Christian Dior Spring 2011: Hate to say it, but John Galliano has always been pretty good at  trend forecasting. Last summer, I took a gamble on a hibiscus-printed mini swing dress from a thrift store (granted, I didn't have much to lose---it cost me no more than $8). And while I felt a little American tourist-y in it the first few times I wore it, I eventually learned to love it---primarily because it became the most complimented item in my closet. I can honestly say that every time I wear it, someone makes a comment about it (which is rare living in a city where no one comments on anything). Maybe it reminds them of their favorite island vacation. That, or their affinity for piña coladas. (more…)
Can You Tell Which Floral Shorts Cost $137 More Than The Others?
Keep yourself guessing with all of our Taste Tests, and join our e-mail list for exclusive updates.

Can You Tell Which Pink Wedges Cost $125 More Than The Others?
Keep yourself guessing with all of our Taste Tests. Join our e-mail list for exclusive updates.
Bring The Party: Don't Leave For Spring Break Without This Ikat Print Beach Bag
This Twelfth St. by Cynthia Vincent ikat print beach bag is not only sturdy (canvas with leather straps), super roomy inside (for your iPad, towel, a change of clothes, etc) but its bold print also serves as a great reminder where your spot on the beach was after a swim. Oh yeah, and it has a really cool lining. Get it now and use it all the way through the summer (for picnics, day trips and carry-on luggage) and even through the warm days of September. Thousands of compliments later, it'll be well worth it. Get yours: $295 at Shopbop Have you seen the Spanx swimwear line yet? You no longer have to be afraid of a bathing suit. If you've been working out all summer, you might want to pick up Gwyneth Paltrow's Tory Burch bikini. Or just get a pair of the best sunglasses from around the web.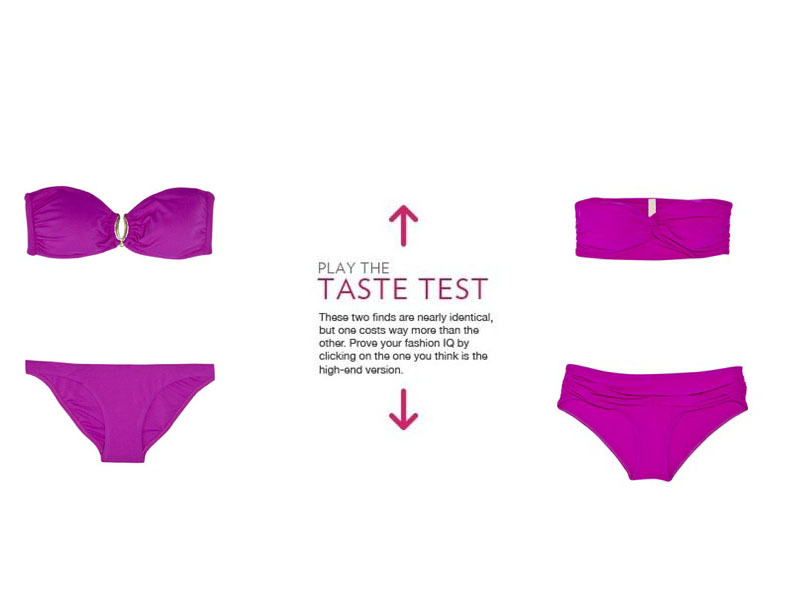 Can You Find Which Bandeau Bikini Costs $505 More Than The Other?
Keep yourself guessing with all of our Taste Tests. Shop our guides to the best bikinis and the best Spanx swimwear. Subscribe to our e-mail list for exclusive updates.
Copy The Copenhagen Fashion Week Trends Before They Hit The Runway
Copenhagen's Bi-Annual Fashion Week, taking place August 11-15, might be less popular than say, New York or Milan, but that's no reason to not tune in to the exciting fashion happening in Denmark. Between introducing the first fashion week cellphone app and Helena Christensen's mile long runway, Copenhagen is proving its worth in the fashion world. This week will feature 150 designers including American Retro and Preen. Every hour for the first 3 days, a different designer will own the catwalk. Check out all of the buzz and see what international bloggers have to say via Twitter. The Copenhagen International Fashion Fair (CIFF) made life even easier by previewing all the Spring/Summer 2011 collections and summing up the 4 major trends here: 1. "Tiny Pleasures - The Emo Humans": Think frills and pretty patterns with this style. Try the pastel look at home with this Lipsy Lace Frill Trim Babydoll Dress ($109.53) and the Bop Basics Ginger Dress, which will brighten up any spring or summer day. 2. "Exotic Junk - The Neo Dissidents": Get your jungle safari fix with these styles inspired by the exotic outdoors. Get a pair of trendy Rococo Floral Leggings ($40) and wear this BCBGMAXAZRIA Cargo Shirt ($84.90, down from $128) over them. 3."Elitist Elegance - The Precious Uber": When military meets working woman, Copenhagen predicts the outcome. This Hype Cross Body Satchel ($151.25)  doubles as a handbag and a messenger bag. We're also loving the feminine touch on this Charlotte Russe Military Jacket ($30). 4. "Color Therapy - The Cool Citizens": Bright colors and fun basics are all the rage for this trend. Try a radiant jacket, like this Classic Long Orange Peacoat ($89.90) or these Jeremy Cuffed Denim Shorts by James Jeans ($97.20). Shop our guides to the best floral dresses and the best summer dresses. Subscribe to SHEFinds for exclusive fashion updates.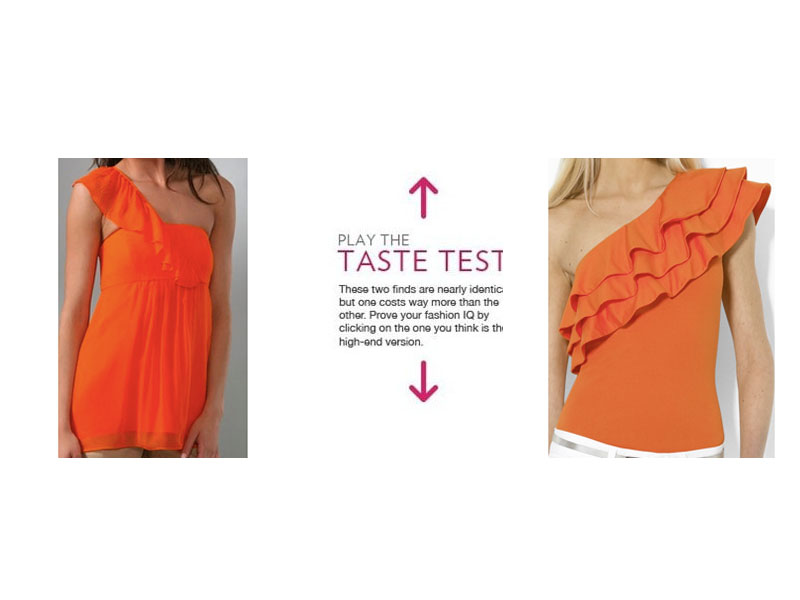 Can You Tell Which Orange One Shoulder Top Is Milly And Which Is Ralph Lauren?
Keep guessing with more of our Taste Tests. Shop our guides to the best and the best. Subscribe to the SheFinds newsletter for exclusive fashion updates.
Padded Panties And Kelly Ripa Make Fake Bubble Butts Mainstream
As we've mentioned before, Kim Kardashian butts are in. And now, even the Wall Street Journal's telling us how it's so easy to rock a tush like hers with Beauty Pop's padded underwear. Created by a TV director and a fashion director, it comes as no surprise that Booty Pop undies filled the late-night informercials slots.  It wasn't until Kelly Ripa held up her pair on Regis & Kelly (above) that padded panties became the new thing. Since then celebrities and models alike have been flaunting their makeshift bubble butts everywhere they go. Try the trend out for yourself with these insta-butt panties: The original Booty Pop Classic Cotton Panty ($19.95) will turn heads and maybe knock a few tables over, but hey, Beyonce would be jealous of your butt. For a more subtle bubble, try Squeem Magical Lingerie Magical Panties ($28.53, down from $32). Magical is certainly the perfect adjective for these bad boys. SheFinds Favorite: Combine Spanx and padded panties and you have the Cabernet Padded Brief ($30). They suck you in at the waist, allowing your rear to enjoy the attention. Pair you new inflated bum with skinny jeans, boyfriend jeans, or white jeans. Subscribe to SheFinds now for exclusive fashion news.
Under-$20 Basics To Get You Out Of That Mid-Summer Slump
It's the middle of the summer and we know you think you've run out of clothes. Don't worry, trendy shopper, we have great under-$20 solutions that should solve this problem. Stick with basic neutrals that go with everything in your existing wardrobe so you can just mix and match all the way to Labor Day. For a fun pop of color, go for this J. Crew Skinny Leather Belt ($19.99, from $32.50) in neon coral, which easily transitions from summer dresses to fall chinos. Though you might already have a little white dress, we love the idea of a comfy one like the Delia's O'Neill Teagan cover-up ($19.99, from $39.50). Wear it over a bathing suit or bright tank for a pop of color, or a nude camisole for a tamer look. You can never go wrong with a neutral tank like the Banana Republic Timeless tank ($20). It's a customer favorite, too. Pair your basic tanks and floral tops with these Old Navy Weekend jeans ($19, from $34.50) to complete your causal look. Protect your eyes from UV rays with Delia's Mila sunglasses ($12.50). You can toss these inexpensive in your beach bag and go. Pack all of your new stuff into the sturdy Old Navy Multicolored Straw tote ($19.50) and never worry about a broken strap or over-stuffed beach bag. Find more summer staples with our Top 5 Cute (And Cheap) Beach Bags and our guide to the best Swim Cover Ups. And don't forget to see the calendar of online sample sales for the best discounts around.
Michelle Obama's Stylish Toenails Are Only Getting Brighter
The First Lady strikes again with a bold, funky pedicure choice while vacationing in Bar Harbor, Maine. Last time, she showed her patriotic spirit with navy blue. This time, Michelle Obama brightened her digits with a festive mint green. We love how Michelle's style is so fresh and non-traditional (can you imagine Barbara Bush with those toes? I think not). Here are our favorite minty-green nail polishes to spruce up your summer, just like Mrs. Obama: Put a coat of O.P.I.'s Green-wich Village ($16.76) onto nails for a more neutral green tone. Great for easing your way into this new trend. A light and pastel shade of green like Model's Own in Jade Stone ($8.42) is more feminine and matches more outfits than you'd expect. Mint Candy Apple by Essie ($8) looks as delicious as it sounds. For more noticeable toes, we recommend two or three coats. See more of Michelle Obama's best looks. Shop our guides to the best celebrity jeans and the best celebrity sunglasses. Subscribe to our newsletter for fashion updates in your inbox.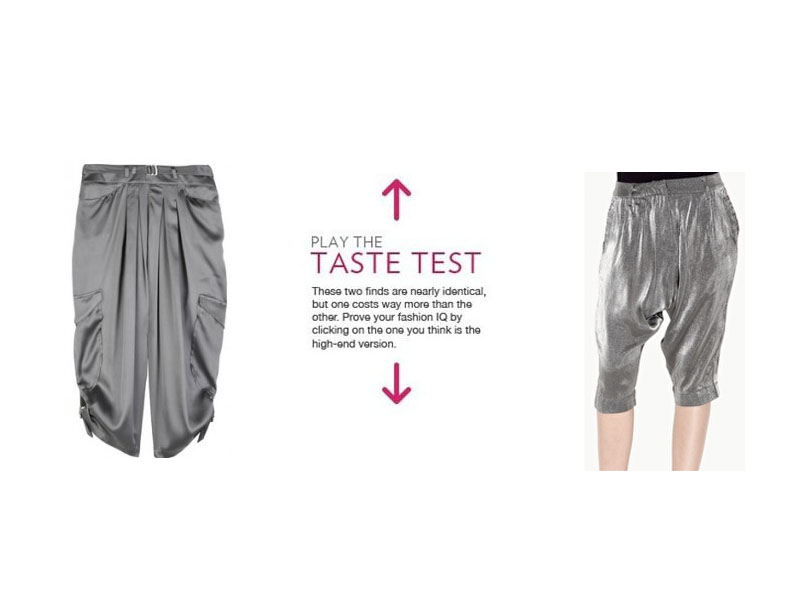 Can You Spot Which Pair Of Silver Harem Pants Are $163 More Than The Other?
Keep yourself guessing with more of our Taste Tests. Shop our guides to the best harem pants and the best cheap pants. Sign up for the SheFinds virtual newsletter.
Get Nude Shoes And You'll Never Stress About Mismatched Outfits Again
We know it's summer and colorful dresses and tops are all the rage, but who wants to spend time hunting for shoes that exactly match their dress (especially that bright royal blue or pale yellow). Thanks to nude shoes, like these Ona Platforms by Martinez Valero ($154.95), the search is over. Nude shoes - sandals, heels, flats - match every outfit under the sun. And don't worry, they're in style for fall and winter, too. So check out our guide to nude shoes and never suffer from mismatched shoes again. Shop more of our summer trends with our guides to the best summer dresses, the best flat sandals, and the best cheap swimwear. Subscribe now for SheFinds newsletters to your inbox.
Summer's Expert-Approved Flat Sandals, Available In All Styles And Sizes
Since the best shoe for summer is the sandal and the best shoes all year areflat, put them together and you have the ultimate shoes for summer: flat sandals. Whether you're commuting to work or relaxing at home, flat sandals areyour go-to shoe like this 'To Die For' sandal by Zigi Girl ($59.95). With tons of styles to chose from, dressy and casual, check out our guide to the best flat sandals to ensure your feet have the perfect summer. Shop expert-approved items, plus see more of our summer trends like maxi dresses, self-tanners, and summer hats. Subscribe to SheFinds for fashion updates in your e-mail.
It's Not You, It's My Muffin Top: My Break-Up With The Bikini
After receiving this American Apparel Malibu bathing suit ($42) as a gift, I decided to try it, and cheat on my bikinis, even though I haven't worn a one piece since middle school. The results were surprising and slimming: the high hip cut made my legs look longer and leaner, the scoop neck lifted my chest, and best of all - I could eat anything that morning, because my midsection was tucked safely inside. It's safe to say I'm hooked. So I encourage you, cheat on your bikini-at least once. You might find that your relationship with the one-piece could turn into a long-term affair. With the new colorful prints and sexy cutouts, the one-piece has been reborn. Here are a few to get you started: Fun Prints: The eye-catching print will turn heads on this Tommy Bahama 'Garden Trellis' ($129) while the white band gives the impression of lifting your chest. Ruched: The J. Crew Jaipur Paisely Ruched Swimsuit ($84) slims your waistline and hides your tummy with the ruching on both sides. Solid Color: This retro-inspired BDG Cross Back Swimsuit ($49, down from $88) seems basic, but the criss-cross straps will narrow the broadest shoulders. Plunging Neck: There is no way any bikini could be sexier than this fully-lined Carmen Marc Valvo 'Metal Mesh' Plunging Swimsuit ($167) with this ultra deep V-neck and gold belt buckle. Check out more of our swimwear trends like the best one piece swimsuits and the best monokinis. Subscribe to SheFinds for fashion updates in your e-mail.
Shop For A Kardashian Butt In The Underwear Aisle
Trade in your celery sticks for cheeseburgers, the butt is back. Thanks to Kim Kardashian and Beyonce's derrières, the newest trend for summer is a bigger butt, according to the NY Daily News. It's time to let it all hang out-like Ice-T's wife, who went to the extreme in a thong bikini to flaunt your best butt, without the butt implants. Looks like Sir-Mix-A Lot had it right when he told us to turn around and stick it out. But for those of you lagging in the rear, since ultra-thin was cool last week, grab an ass bra, or a pair of our favorite butt-boosting shapewear: For a quick butt-boosting fix, throw on a pair of padded panties, like this pair of Pure Style Girlfriends Bump-A-Booty Padded Panties ($30). Yes - this is a real product - it's even a popular one. If you're looking for more of a panty, look no further than Miraclesuit's Wonderful Edge Waistline Brief ($30). It provides a smooth silhouette-perfect for your skinniest pants. This Bali Comfort Shape Hi-Waist Thigh Slimmer ($22.40, down from $28) is ideal for all over coverage. By slimming your thighs, it enhances and lifts your butt. Shop more shapewear with our guides to the best body shapewear, the best Spanx and the best shapewear to show off. Subscribe to our newsletter for more fashion trends and updates.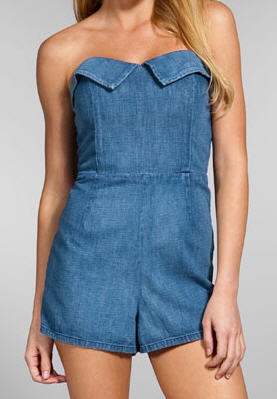 The 5 Best Rompers That We Would Actually Wear
We've gone back and forth on the romper trend at SHEfinds, but we think we're finally sold. Check out the five best rompers that won't make you look you're ten: Although this Current/Elliott romper ($213) is denim, it has a clean cut that makes it look sophisticated. This Windsor Black Strapless Romper ($26.90) will look great with flat sandals when you're running errands or with heels for a night out. The floral print on this AKA Silk Floral Print Jumpsuit ($189, down from $315) is perfect for summer. The flowy silk fabric is also extremely comfortable. This Modcloth Apiarist Romper ($34.99) is blousy, but also slimming. It has a defined waist, and tailored shorts that will define your waist and make you look skinny. For a super chic option, try out this DKNY Jeans Zip Front Romper ($73). It's definitely a grown up take on a romper. See our guides to the best clogs, the best white dresses, the best floral dresses, and the best Spanx swimwear.
Wear One Of These 5 Summer Dresses Every Day Of The Week
When the weather is warm, the last thing you're going to want to do is change your clothes just to grab dinner or meet up with friends. Lucky for you, all you need to do is change out of your flat sandals and flip-flops into a pair of wedges or heels as long as you have one of these summer dresses on. 1. This Tahari Stretch Belted Linen shirtdress ($128)  reveals just the right amount of skin with its rolled up sleeves and modest shape. 2. The sweetheart neck and fitted corset of the Free People 'Sunshine For My Love' dress ($128) incorporate summer's best trends: coral and floral. 3. The soft ruffles on this Dolce Vita Hope dress ($123.20, down from $176)  and v-neck help make getting dressed for hot days effortless. 4. T-Bag's Ruffle V-Neck Dress ($172) is so comfortable that you'll look seriously cute going from work to nighttime barbeque. 5. Watermelon is the new summer color, seen on this Social Ruffle Dress by Thread ($520). Although it's lightweight, you'll never see through it because of the lining. Top your dress off with one of the best 5 summer hats that help bad hair days. Check out our buying guides to the best shorts for your shape, the best jewelry staples and the best wedges.
The 5 Best Summer Hats That Make Bad Hair Days Better
Summer is cruel to my hair:  humidity, sand and ocean water really beat it up--so thankfully summer hats are a huge trend this year. Now, some of my favorites to hide under--bonus--they protect you from the sun, too: 1. Your friends will always be able to find you on the beach in this super chic and summery striped Juicy Couture floppy hat ($58.50, down from $78). 2. The perfect straw fedora just happens to be $7. Now you don't have to hesitate--get in on the trend--this one's courtesy of Aeropostale. 3. For a no-frills, crisp and clean aesthetic, opt for a plain white Burberry bucket hat ($138) that's easy to pack. 4. Nothing's sexier than a big, classic Bop Basics floppy hat ($98) to wear with your bikini. Check out our cheap swimwear guide for a new one. 5. If Eugenia Kim's hats for Target didn't catch your eye, try this one from her regular line - this sequined straw fedora ($315) is chic enough to wear out at night, too. Check out all of our collaboration coverage, and find your own perfect topper with our guide to summer hats.
Best Find Of The Day: $12.50 Vintage-Esque Sunglasses Rachel Zoe Would Die Over
Rachel Zoe would die for these square tortoise shell Cassie sunglasses ($12.50) from Delia's. They look straight out of a '70s vintage shop, no scouring required. Wear 'em with a swim cover up or a pair of RZoe's namesake Piperlime Rachel bell bottom jeans to get the look, or mix and match with other summer favorites. These sunglasses are a no-brainer: they cost less than the tank of gas you'll need to drive to the beach, and you can wear them all summer. See more of our best finds of the day we've scoured the web for and then check out our guides to the best sunglasses, celebrity sunglasses, cheap swimwear and Spanx swimwear.
Best Find Of The Day: The Perfect Floppy Hat For Sunny Days Is Under $30
This Gap floppy hat ($29.50) screams best find of the day: it's effortlessly chic and protects from the sun. Throw it on with all of your summer dresses, or wear it with a pair of easy shorts and a swim cover up for your next vacation or add some movie star glamour to for just for a day in the park. Check out our guides to more summer hats, plus the best Spanx swimwear, celebrity sunglasses, the best maxi dresses, and the best spring shoe trends.
The Best Under $30 Sunglasses (No Crying If You Lose A Pair)
I'm prone to losing sunglassesI learned this the hard way when my brand new Christian Dior sunglasses went missing twenty minutes into a beach vacation. Here are my top 3 picks for cheap sunglasses that won't break the bank...so it won't break your heart if you lose 'em: 1. Since I always lose my sunglasses by the end of summer, these AJ Morgan Eagles sunglasses ($20) are the way to go--plus, the cat eye trend is super hot right now. 2. Why so serious? Trendy sunglasses should be fun--try these AJ Morgan 1984 wayfarers ($20) in raspberry or a bright blue to switch things up. 3. Aviators continue to be a huge sunglasses trend--and the best part is they actually look good on every face. Get yours for just $26. Check out all of our celebrity sunglasses, plus see more of the best sunglasses, cheap swimwear, swim cover ups and Spanx swimwear.
Top 5: Embrace Summer's New Neutral (Without Looking Like An Office Drone)
Crisp white dresses will always be one of summer's obvious neutral staples, but this year, consider going gray for a surprising twist. Gray complements feminine colors like cream and blush, and tempers the season's shocking neons. The key to picking summer-friendly gray pieces is to stay away from anything that resembles suiting or is too structured. Instead, look for easy, flowy shapes that pair well with those pastels and brights. With a plunging ruffled neckline, a sweet bow and delicately striped fabric that's meant to look a bit crinkly, Ali Ro's light cotton dress contradicts gray's typically stuffy corporate reputation ($209 ,down from $350). Matt Benson's dove gray platform wedges are an unexpected alternative to basic (and sometimes boring) black or brown ($187). These funky cropped pants from Seventy Two Changes are edgy enough to pair with a highlighter-yellow tank and towering sandals, but they're safe enough for anyone still wary of harem pants ($128). A ballet pink shell, pearls and this swingy petal skirt from Rare would make such an easy, pretty night-out outfit ($118). It's tough to think of a pair of bottoms that wouldn't look great paired with this drapey Anthropologie tank, embellished with sweet rosettes ($58). Check out our guide to flat sandals, white  jeans, and maxi dresses and see our top five posts for more. While you're at it, subscribe to our newsletter.
Calvin Klein Wants You to Vacation In Style This Summer
I heard about a great sale on CalvinKlein.com and ended up with the perfect summer pieces to pack on my next vacation. Whether you're heading to Miami or Montauk - you'll be covered from start to finish, too, with these great finds. We are digging the oversize frames and fading lens of these Large Fade Sunglasses ($54, down from $72) - very chic, without breaking the bank. A soft cardigan is the perfect throw-on for chilly evenings or long plane rides. We love this Flyaway Stripe Cardigan ($39.99, down from $59). The perfect white jeans are a summer essential - especially if you are traveling somewhere chic. Wear these Skinny Optic White Wash Jeans ($44.70, down from $59.50) with a bright tunic or basic t-shirt - you're golden either way. A thin, gold thong sandal goes with everything - we love these Stellah Thong Sandals ($39.99, down from $59). The neckline gathering on this Ruched V-neck Printed Top ($19.99, down from $39) is super flattering - and the poppy color is pretty and great for tan skin. We love the relaxed fit and cool cuff on these Cuffed Boyfriend Cargo Short ($44.62, down from $59.50). This jersey dress ($59.99, down from $98) is easy to pack, the one shoulder is on-trend, and the color is bright and summery. Do we need to say more? Need something to carry all your new loot in? Try this Thompson 25" Wheeled Upright Suitcase ($200, down from $400). Get more sales and deals with our list of online sample sales, and then see party dresses, maxi dresses, swim cover ups, Spanx swimwear and cheap swimwear, plus hair removal products.
Best Find Of The Day: Tribal Sandals You'll Wear All Summer
Inexpensive sandals are hard to find, especially since you don't want them to look like you found them in the discount bin. These Zigi Girl sandals ($36, down from $48) fit the bill.  The details are cool and the genius small wedge heel that gives your legs a little lift because there's nothing I hate more than super flat sandals that don't do any favors for your legs. That's why we've named it a best find of the day. Save even more on your entire beach wardrobe--with cheap swimwear, summer dresses, and blazers so you can wear your springy outfits now while it's still a little chilly. Always get a deal with our calendar of online sample sales, and favorite sales and deals we scout out every day.