Swedish Hasbeens Just Launched HasJeans And They're So Good
I live for Swedish Hasbeens clogs. I keep the sandals on rotation in the summer and the clogs are the perfect slide-on-and-go shoes in the fall and winter. The newest debut from Swedish Hasbeens? HasJeans! Perfection, right? What could be better to pair with the retro clogs than retro-inspired flares and high-waist jeans?! HasJeans just launched and the styles are nothing short of amazing. I'm talking hot pink flared corduroys and cropped "mom" jeans. Get a pair for yourself ASAP! SHOP SWEDISH HASBEENS HASJEANS NOW Be sure to check out J. Jill's new Tencel collection and UGG boots on sale.
This Season's Answer To The Fall Clog Trend: Wooden Platform Sandals
I've loved these throwback-to-the-seventies wooden platform sandals ever since I spotted Sarah Jessica Parker wearing them around NYC with jeans-- but that's not the only reason these deserve some real estate in your closet. They remind me of the Swedish Hasbeens for H&M that flew off of shelves, but they're even better made. Actually, now that these APC wood platform sandals are marked down to $248 from $355, they're even cheaper than the original Swedish Hasbeens! They're easy to walk in (hence the straps that keep your foot in place), and surprisingly, they complement everything in your summer wardrobe. Try them with a few of these combinations below: Blazers, shorts, and striped tees. Maxi dresses (they're the perfect height!), belts, and tribal  jewelry. Rompers, bikinis and beach totes. Brainstorming even more ways to wear these wooden platforms? Tell us in the comments!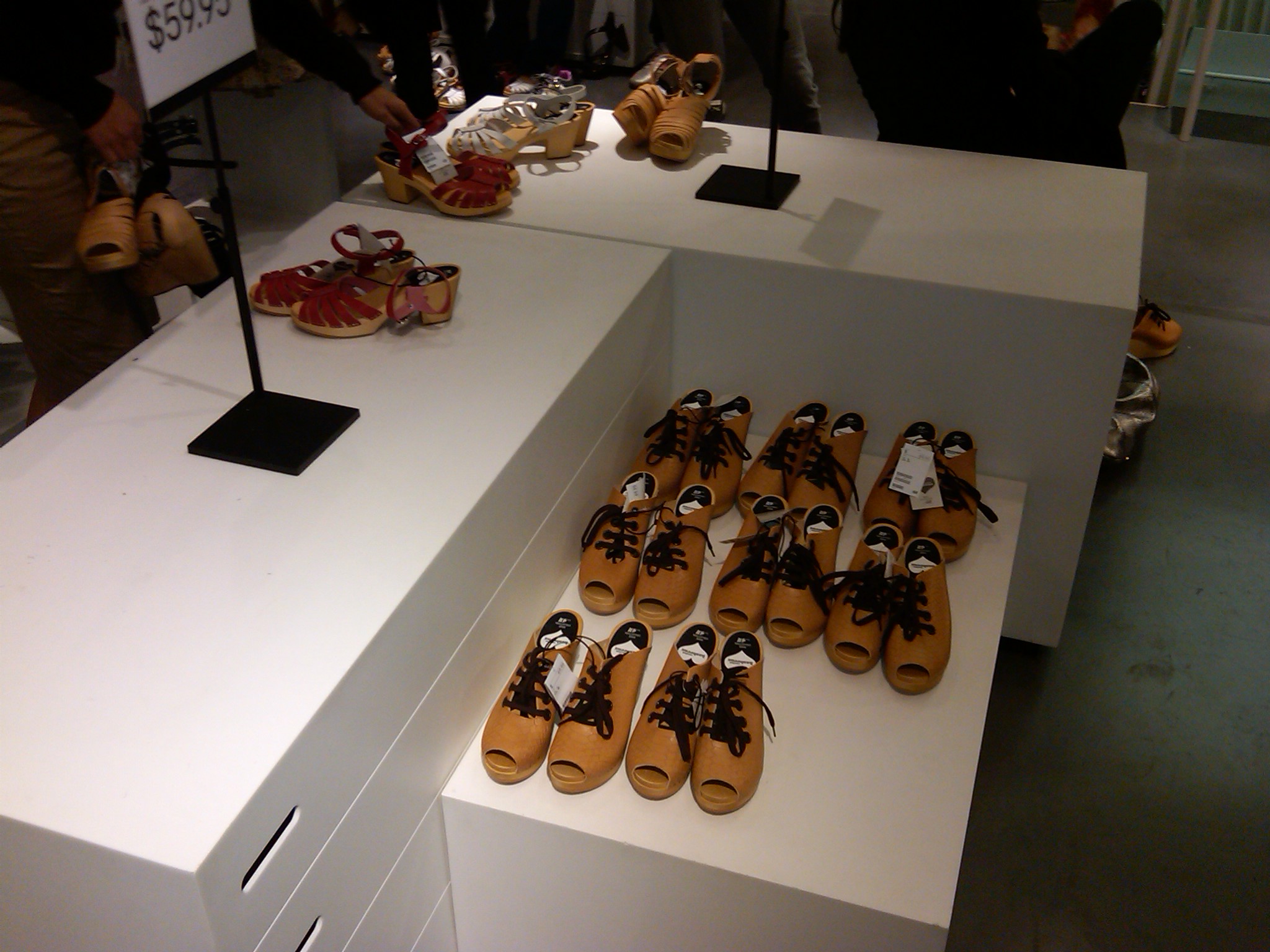 Move Over Swedish Fish, The Swedish Hasbeens' H&M Collection Is Finally Here!
We snapped this photo at the Soho H&M, a mere 15 minutes after they went on sale! People were already lined up before the store even opened... When H&M announced that the Swedish Hasbeens would be designing a capsule collection of shoes for the brand, we couldn't have been more excited. But the day has finally come, and just in time to satisfy our spring footwear fix.  The line of wooden-soled wedge clogs and sandals are sure to be the next perfect addition to our already growing clog collection--and at H&M prices, we don't feel too guilty about it. (more…)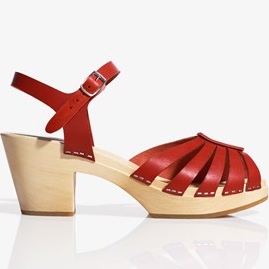 Still Clog-Obsessed? H&M's Shoe Collaboration With Swedish Hasbeens Launches April 20
If news of Calypso for Target, and our list of the top 10 collaborations of 2010 left you wanting for more, H&M announced that it will be satisfying your capsule collection fix this Spring. A collaboration with Swedish Hasbeens, a favorite of Sarah Jessica Parker and Maggie Gyllenhaal, hits stores April 20th. The line is filled with red, white and tan leather clog sandals, with the wedges and wooden heels that the line is known for. Check it out for yourself: Shop more of our favorite collaborations, like Mulberry for Target, Lanvin for H&M, Temple St. Claire for Target, then head over to our guides for the best black dresses, sheath dresses and cocktail dresses. Follow the author of this post on Twitter @bridefinds.