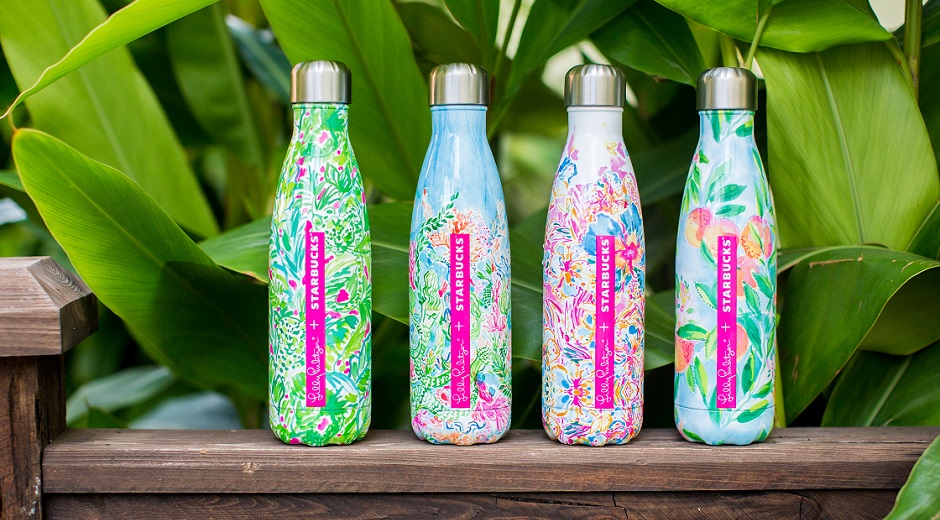 Mark Your Calendar! These Pretty Lilly Pulitzer x S'well Water Bottles Arrive In Starbucks Stores This Wednesday
If your current water bottle has seen better days, here's the perfect excuse to replace it: Lilly Pulitzer x Starbucks and S'well! Yes, it's a trifecta! The crazy pretty new bottles will be sold in Starbucks stores starting this Wednesday February 15th and honestly, could there be a better way to count down the days until spring?! If you've never owned a S'well water bottle, prepared to be hooked! I have 5 in my household because they keep water cold like nothing else. I carry one to the gym every day and we also pack them for long family car rides. They're the best! Throw on a signature Lilly Pulitzer and it's everything you could want in a water bottle. Want to win one of the new Lilly Pulitzer x Starbucks and S'well?! Lilly Pulitzer is giving away 30, so don't miss out! ENTER TO WIN A LILLY PULITZER X S'WELL WATER BOTTLE NOW Be sure to check out Gucci mule lookalikes and the best drugstore beauty products.
How Amazing Are These New Printed S'well Water Bottles?!
No offense to Poland Spring or Dasani, but plastic water bottles are so over. These days all the cool girls are carrying re-usable bottles and S'well is pretty much the must-have brand. Last year they introduced gorgeous metallic and animal skin-inspired designs, but their new Love Collection just might be the best yet. The collection features three whimsical prints including hearts, stars and arrows. Best of all, these beautiful bottles still keep your drinks cold for hours. If you've been looking for a way to drink more water--or just need an excuse to treat yourself to a pretty new water bottle--act fast. There's no doubt these babies are going to sell like crazy! Be sure to check out how to fix a broken zipper and cute Anthropologie coats on sale. [Photo: Joyus]
This S'Well x Mara Hoffman Water Bottle Is Great For Gifting
Whether you're a gym rat or not, you need this S'well x Mara Hoffman EOS Blue 17oz Waterbottle. It's classic Mara with bright colors and a kaleidoscope print. Not to mention, the S'well technology is awesome. The stainless steel water bottle is insulated, which means it can keep a beverage cold for 24 hours and hot for 12 hours. So good! S'well Mara Hoffman EOS Blue 17oz Waterbottle ($42) The water bottle already sold out once, so you better get your hands on one before it's gone for good. Don't say we didn't warn you... BUY THE S'WELL X MARA HOFFMAN WATERBOTTLE NOW Don't miss the best gifts for book lovers and the pair of duck boots that will make the perfect gift.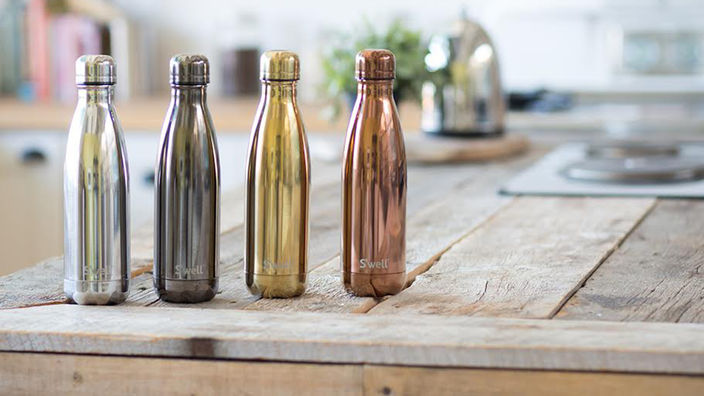 Who Needs A Rose Gold iPhone When You Could Have A Rose Gold Reusable Water Bottle?
Just because summer is almost over doesn't mean you should cut back on all the water you've been drinking to stay hydrated this season. Water is good for you all year long! But because we know the last thing that's probably on your mind once the temps dip is a cold glass of water, here's a tip: carrying around a cool water bottle ($42) is the perfect reminder to take a swig regularly. And when it comes to hot water bottles, Swell is killing the game with these brand new metallic water bottles. Yes, they're a little pricey at $42, but given the fact that they'll help ensure you're never dehydrated, I'd say that's a small price to pay for your overall health and well-being. Plus, rose gold, ladies?! Check the water bottles out in action in the video below, then get one for yourself stat! Be sure to check out the best ways to organize your boots for fall and our favorite on-the-go breakfast ideas.