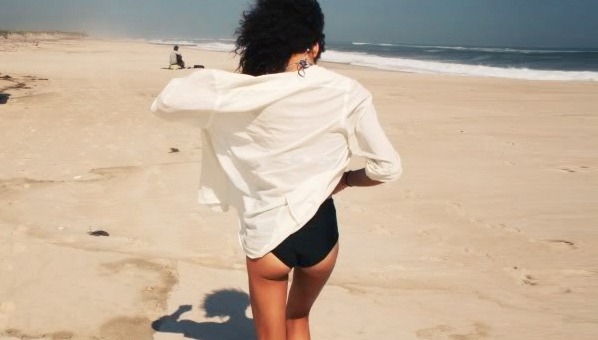 11 Ways To Cover Up At The Beach That Don't Involve A Sarong Or Muumuu
A good cover-up is just as important as what you're wearing under it. But throwing on a gauzy tunic over your bathing suit is so basic, and wrapping a sarong around your waist is a move that should stay in the 2000s. So since you probably wore your usual cover-up to death over the 3-day weekend, why not try something unexpected next time you head to the beach or chill by the pool? We're talking about items that don't necessarily have "cover-up" in the name, but can double as one. From white linen button downs and wide leg pants, to board shorts and cardigans, these next 11 items will have every chick wondering why they didn't think of wearing them first. Click the slideshow to see all the cool, unique ways you can cover up your bathing suit. And don't forget to check out: how your fave celebs spent the 4th of July, Kourtney Kardashian's jumpsuit and your first look at Alexander Wang x H&M [Photo: Trop Rogue]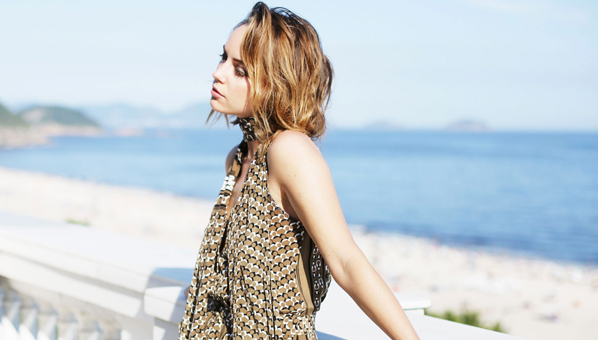 So You Got A New Bathing Suit, Now It's Time To Shop Cover-Ups
Now that you're all set with your swimsuit for the summer, it's time to pick out cute cover-ups to wear over them. Sure, you can throw on a pair of cut-off shorts and a burnout T-shirt, but do you really want your clothing exposed to saltwater, sand and sunscreen? That's why it's best to shop for a few pieces you don't mind throwing over your swimwear — and getting a little love by some of summer's elements. There's tons of stylish options to cover up, from printed loose-fitting pants and crop tops to dress shirts and patterned tunics. Check out our slideshow to see what you'll be wearing before you hit the water. Check out more summer trends: bikini tops with sleeves, "tropicool" prints and slide sandals. [Photo: The Glamourai]
Don't Stop With A New Swimsuit–You're Not Ready For Summer Without Cover-Ups, Too
Whether you're planning a day trip to the Jersey Shore or spending the week on Jost Van Dyke, your swim cover-up should be nothing short of stunning. After all, you've carefully picked out beautiful bikinis and one-pieces, so it's only right that what's on top of it be just as amazing. Can't handle having to sort through the sea of cute cover-ups? Lucky for you, we pulled together some of this season's best.  Whether you're into crisp white, sheer black, or bright and wild prints, we found the prettiest picks from Topshop, Ella Moss, Mara Hoffman and more in the slideshow. Check out the best black bathing suits, bustier swimsuits and BCBG's new swimsuit collection. [Photo: Miss Pouty]
If You Don't Have A Beach Bod Like Stacy Keibler's, Cover Up With Her Tolani Scarf
Okay, Stacy Keibler, we get it. You're a babe. We've even stalked your work-out gear so it would motivate us more at the gym. But now that we've spotted you in a Tolani Kundan Scarf ($85), you've brought our collection of swim cover ups to shame! We're already a bit jeals over the fact that you've snagged George Clooney, and now you have to traipse about the beach in a makeshift cover up made from a stylishly psychedelic fringe scarf. Once we're back from our cycling sesh, we'll be pre-ordering this beauty ASAP. Tolani Kundan Scarf ($85) Shop more celebrity style finds: Olivia Palermo's shorts, Zoe Saldana's dress, and Jessica Alba's shoes.
Double Duty: Bathing Suit Cover-Ups So Cute, You Can Wear Them Out At Night
As if having to bare it all in a bikini isn't hard enough, one of my biggest concerns when going to the beach or a summer pool party is what the hell to wear over it all. I'm constantly searching for something that's both lightweight and casual enough to wear for a sweaty day in the sun, but won't look completely ridiculous (and reveal my entire butt) if I head out to dinner or drinks straight from a day in the water. This season, beach cover-ups have really stepped it up. CLICK TO SEE OUR SLIDESHOW OF THE BEST COVER-UPS  These cool dresses and tunics can not only do double-duty long after the sun has set, but are cute enough to rock on a hot summer night all on their own. Once you've found the perfect one, check out our top bathing suit picks too--from Mara Hoffman bikinis, to Rag and Bone swimwear, to your basic black stunners. One step closer to beach season, am I right ladies?
Beyonce Shows Off Her Post-Baby Body In An Etro Swim Cover
Ever since we spotted Beyonce showing off her impressive post-baby bod in a black swimsuit, we've been inspired to get ourselves in gear for the anticipated beach season. (Ed note: The weekend weather in NYC was a lovely reminder, too.) So while we take some notes from our shopping guide to find the perfect swimsuit, it's always what to wear over that that tends to be forgotten. Well, Bey's got you covered—literally—with her Etro Oversized Printed Silk Shirt ($960), which she decided to cinch in and hike up with a simple belt (aha!). Oversized and silk not your thing? Check out some other options for swim cover-ups. Etro Oversized Printed Silk Shirt ($960) Shop more celebrity style finds: Jessica Alba's colored jeans collection, Lauren Conrad's skirt and top, Rosie Huntington-Whiteley's jacket.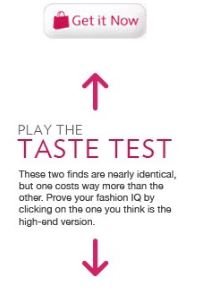 Can You Tell Which Printed Tunic Costs $653 More Than The Other?
Keep yourself guessing with all of our Taste Tests, and join our e-mail list for exclusive updates.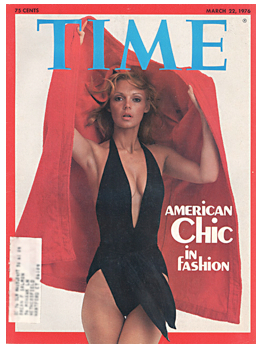 You Heard It Here: Black Is Back For Swimsuits, Sandals, Cover-Ups, & More
Warm weather makes us think of one thing: bikini season. But instead of fruity prints and bright colors, black is in for all of your beach essentials. Whether you're looking fit in your SPANX swimwear or flaunting your curves in a bikini, this slimming color will be everywhere. So make it work ladies and turn some heads while you're at it. (more…)
Even Though You Can't BE Anne Hathaway, You Can Get Her Floral Tunic
Consolation prize! Even though you can't have Anne Hathaway's life--or her vacation to Rio de Jainero in Brazil, you CAN get her floral tunic. Wear it all summer long, whether the paparazzi are stalking or not. Where to get it: Joie a la Plage Collie Cover up tunic at Shopbop ($178). Check out all of this week's best sales and deals, more celebrity style posts and all of our best find of the day favorites.
Go Ahead, Order The Fries. Spanx Swimwear Is Back With A Vengeance.
Thanks to the god that is Spanx, and ahem, Spanx swimwear, we can now look like a Bettie Page/Marilyn Monroe type on the beach (read: sexy, if not pin thin) and fit our bodies into these super cute and trendy shapewear swimsuits & cover-ups. They're perfect for those summertime barbecues or on your worst fat day. So forget the crash dieting, ladies, because is here to ensure you have a skinny summer. Be sure to check out our guides to the best bikinis, the best cheap swimwear, and the best one piece swimsuits. Sign up for SHEFindsMail for exclusive updates.
Shopping Off Season In The Dead Of Winter = Best Way To Prep For Spring
We know it's the dead of winter, and let's face it - we're so sick of buying rain boots, coats, and scarves. And besides, why stock up on winter gear when spring is a month away? It's time to snag some great deals on warm weather gear like swimsuits and sandals. Because according to the Groundhog, spring will be here before we know it. And nobody wants to wear a puffy coat when it's warm out. Check out our favorite on-sale picks below: Take a look at more of our favorite sales and deals. Shop our guides to the best flat sandals and the best Spanx swimwear. Join our e-mail list for exclusive updates.
Alessandra Ambrosio Isn't Thinking About Winter Boots: Another Reason To Be Jealous Of Her Look.
While the rest of us freeze our butts off, Victoria's Secret model Alessandra Ambrosio has a laid back shopping day...in shorts and a t-shirt. Not only are we jealous of the weather (and her body), but we'd love to be wearing shorts and t-shirts right now. So let's put our envy aside and get this look on sale by shopping off season before the weather gets this nice for us. Check out our favorite off-season picks below: See more celebrity styles. Shop our guides to the best shorts for your shape and the best flat sandals. Join our e-mail list for exclusive SHEFinds updates.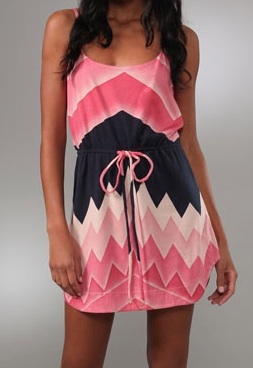 If You're Going Somewhere Warm (Lucky You!) Grab One Of These Marc Jacobs Beach Covers
If you've got a plane ticket to somewhere tropical this Christmas/New Years/January (lucky biatch), you'll need a colorful cover that can take you from the pool to happy hour to shopping on Ocean Drive, sans the wardrobe change. This Marc by Marc Jacobs Alta Print Jersey Dress ($198) will be an essential on your packing list: pair it with leather flats and gold jewelry for sightseeing, and a bikini and Havaianas for the beach. This cool printed dress is perfect for pretty much any destination: from Rio to Rome, South Beach to South America. For more packing-list tips, check our guides to the best SPANX swimwear, cocktail rings, party dresses, earrings, party shoes. Follow the author of this post on Twitter @bridefinds.
Under-$20 Basics To Get You Out Of That Mid-Summer Slump
It's the middle of the summer and we know you think you've run out of clothes. Don't worry, trendy shopper, we have great under-$20 solutions that should solve this problem. Stick with basic neutrals that go with everything in your existing wardrobe so you can just mix and match all the way to Labor Day. For a fun pop of color, go for this J. Crew Skinny Leather Belt ($19.99, from $32.50) in neon coral, which easily transitions from summer dresses to fall chinos. Though you might already have a little white dress, we love the idea of a comfy one like the Delia's O'Neill Teagan cover-up ($19.99, from $39.50). Wear it over a bathing suit or bright tank for a pop of color, or a nude camisole for a tamer look. You can never go wrong with a neutral tank like the Banana Republic Timeless tank ($20). It's a customer favorite, too. Pair your basic tanks and floral tops with these Old Navy Weekend jeans ($19, from $34.50) to complete your causal look. Protect your eyes from UV rays with Delia's Mila sunglasses ($12.50). You can toss these inexpensive in your beach bag and go. Pack all of your new stuff into the sturdy Old Navy Multicolored Straw tote ($19.50) and never worry about a broken strap or over-stuffed beach bag. Find more summer staples with our Top 5 Cute (And Cheap) Beach Bags and our guide to the best Swim Cover Ups. And don't forget to see the calendar of online sample sales for the best discounts around.
Topshop's Slashing Its Prices By 50%–Get Your Credit Card Out
Topshop's 50% off sale is seriously awesome--you have to check out all of their deals: Topshop's jersey boyfriend blazer ($50, down from $110) and ruched skirt ($30, down from $50) are cute together, or mixed with practically everything else in your closet. Fool everyone into thinking you collected these ornate mixed bangles at exotic bazaars--they're just $15, down from $30. Wear 'em on the beach with a festive beach kaftan for $20, down from $40.    More sales and deals: White House Black Market: 60% off dresses like this sexy, slouchy version that's just $79, down from $138 Radley: Get 30% off  buttery leather bags from the iconic UK brand, like this Pickering bag ($224, down from $280; plus free shipping on orders of $150 or more Lucky Jeans: 50% off jeans, bags and dresses, like this Ikat dress ($49.99, down from $88). For more great deals, check out our online sample sale page, and then see our guides to the best summer dresses, nude shoes, and cheap swimwear, the best Spanx swimwear, the best celebrity sunglasses, and the best rompers.
What We've Learned From Kate Hudson About Looking Better At The Beach
Kate Hudson was photographed on the set of Something Borrowed in the Hamptons wearing this tres chic beach outfit. From the flattering cover-up, to the big smile and boozy accessory, she looks confident and care free. So get over that bikini-related phobia, and follow Hudson's easy steps to looking better at the beach. 1. White Cover-Ups Make You Look More Tan, and Thus More Thin Even the fairest ladies on the beach know that a great white cover-up or white tee makes you look more tan. We also love the plunge neckline of Hudson's Missoni dress - choosing a flattering cover-up style for your body type is key. The waistline drawstring, plunge neckline and short sleeves of this sexy Milly Ava Voile Tunic ($210) are just like Hudson's, aka super flattering, and puts terry cloth beach covers to shame. 2. Tame Unruly Beach Hair - And Avoid Sea-Salt Dread Locks - With a Silk Head Scarf If you think wind and salt and sun equal bad hair day, you are wrong. It's simply an opportunity to accessories with super cute hats, scarves and high ponytails. Avoid beach-hair, and look put-together even on the windiest of days, with a bold, geometric silk scarf like Hudson's character did - like this Emilio Pucci Leite silk scarf ($156, down from $260). 3. Rock Oversize Sunglasses That Make You Look Like a Movie Star This one is self-explanatory - but dramatic, dark sunglasses are an easy way to make the beach look chic. And why not snag a designer pair marked 65% off like these Emilio Pucci Gene round-framed sunglasses ($122.50, down from $350)? 4. Accessorize with Sports Equipment Get off the beach towel and grab whatever paddle, racquetball or Nerf ball is closest and actually enjoy the day. Don't worry, you will still be catching rays - and getting major points with the dudes nearby. Be popular on the beach by bring a badminton set along, like this Halex Backyard Badminton Game ($9.99). 4. If all Else Fails, Get Some Liquid Courage Okay - we're only half kidding here. Check out more of our summer style tips - like the best rompers, cheap swimwear, SPANX swimwear and summer dresses.
5 Swim Cover Ups For Not-So-Beach-Ready Bodies
Don't dread that moment when you take your swim cover up off--get one that subtly covers your problem areas. If you don't spend all of your time in a gym, and maybe have a little pooch to cover up in some places, we found the best swim cover ups for your body--from flabby arms to tummy trouble. So chic, no one will ever suspect you're working undercover. This tunic by New York & Co ($18.37 down from $36.85) is like the sexiest version of your boyfriend's shirt made into the perfect beach cover-up. Topshop's draped jersey dress has an open racerback and gather details at the sides for a whimsical cover-up that covers up your stomach--for $36 (!) Preppy meets pooltime in this striped tunic from Vix swimwear ($114). Wear it all summer long. The goddess draping on this teal strapless jersey dress from Lotta Stensson ($135) will trim your tummy and make you look long and lean. This might seem crazy, but if you seriously hate your legs this year, consider this cute, lightweight Arden B romper ($49). See our entire guide to swim cover ups, plus the Spanx swimwear, the best summer dresses, sunglasses, summer hats, and cheap swimwear, too.
Best Find Of The Day: A Belted J.Crew Tunic We'd Wear To Cannes (If We Were Invited)
Even though I'm not at the Cannes Film Festival, I'm still dreaming about easy swim cover ups to wear when I actually do go away--and this belted tunic ($68), by J.Crew, is extremely chic in a very relaxed, not-trying-too-hard way. I'll continue to stalk Cannes via Twitter in the meantime. Can't you imagine accessorizing out this J.Crew belted tunic with Jackie O's favorite Delman flats or Bernardo sandals? I'm partial to Grace Kelly's Hermes scarves, or what about with Oprah's favorite, CJ by Cookie Johnson jeans when you're not at the beach? See more swim cover ups, plus the best flat sandals and necklaces, and more best find of the day picks.