Tadashi Shoji Launched A Kids Collection & It's Obviously All Kinds Of Adorable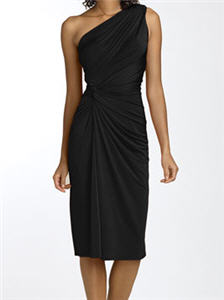 60% Off Chic Mother-Of-The-Bride Dresses: Tadashi Shoji, Adrianna Papell, More
Calling all hot mamas: Nordstrom has up to 60% off designer mother of the bride dresses today -- including Tadashi Shoji, JS Collections, Adrianna Papell, Calvin Klein, Eliza J - so basically all of Hoda and Kathy Lee's favorite designers. If your mom's had trouble in her dress search, definitely send her this link today. (more…)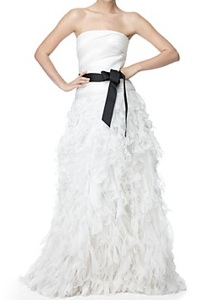 30% Off Gowns At Bloomies — Tadashi Shoji, Max & Cleo, More
If your gown budget is on the shy side of $500, you're in lucky today: Bloomingdales has 30%-off  gowns from the liks of Tadashi Shoji, Max & Cleo, Aqua and more. The sale includes gorgeous styles -- from a rosette one-shoulder BCBG gown, to an under-$200 satin strapless number. Editors' pick: this Tadashi Shoji Strapless "Feathery" Gown ($606, down from $808). (more…)
Kim Kardashian Can't Find A Wedding Dress: 4 Form-Fitting Options (Take Note, Curvy Girls)
We know you love those form-fitting gowns, and body-con/booty-con minidresses, so let us make your wedding dress shopping a little easier. Here are some of our top wedding gown picks for Kim and any bride who adheres to that time-honored adage: "flant it if you got it". (more…)
Beads, Sequins And Lace – Oh My! 6 Ways To Try The Embellished Wedding Dress Trend
Beads, lace, sequins, ribbons, and more were seen on the spring 2011 bridal runways, and thankfully, this embellishment trend has made it's way to reality. There is a plethora of embellished gowns to choose from; we've picked our favorites - after all, who doesn't love sequins from head to toe?! (more…)
Mothers Are Hard To Please: Stay On Their Good Side With Flattering MOB Dresses
If we're being honest, your mom has managed (and caused?) plenty of your pre-wedding breakdowns over the last year, and your future-mother-in-law is someone you want to get off on a good fit with, so help them both find something smashing to wear to the wedding. Whether she wants some flattering draping or a way to cover her upper arms, there are plenty of designer plus-size options to choose from. Remember that for plus size women, dresses that taper at narrow spots  (like just below the bust and the natural waist) tend to be the most flattering. And don't settle for a sloppy pashmina or wrap to top a fancy dress; opt instead for a fitted jackets or a dress with actual sleeves - they do exist! Shop our mother-in-law approved list (but shop for your mom first!): (more…)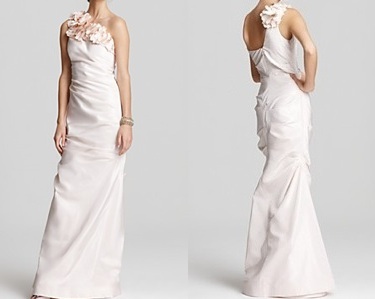 30% Off Wedding Dresses: Sue Wong, BCBG, Tadashi Shoji, More
Thank you, Reese Witherspoon for bringing pretty blush wedding dresses like this Ricky Freeman for Teri Jon Floral One-Shoulder Gown ($576.75, down from $769) back, and thank you, Bloomingdales for having it, and several other dress styles, on-sale today. Happy Friday! (more…)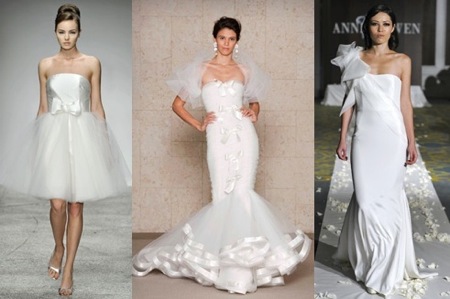 Wrap Yourself In Spring's Bow Trend: Dresses So Pretty You'll Feel Like An Actual Present
Prissy bows proved themselves pretty fierce on the spring 2011 Runway. If you can't afford fresh-off the runway designs from Amsale, Oscar de la Renta, or Anne Bowen (pictured above), we've found plenty that will satisfy you're stylish ego. (more…)
Whether You're Modest Or Just Cold: 8 Designer Wedding Gowns With Sleeves
Need a little more coverage for your cold-weather wedding? You don't have to opt for grandma's turtleneck frock; here are some modern takes on winter wedding gowns that don't skimp on style. For more on wedding wear, see our picks for simple wedding dresses, wedding veils, and wedding shoes.
Week In Review: We Love Retro Mad Men Style, Julia Child Was Stylish As Well As A Good Cook, And More
Must-Reads: Sorry for the wordplay, but we really are mad for Mad Men's style.  And sticking with our madness, we found some great, contemporary-looking dresses that are still thematically in keeping with Betty Draper's look. Julie & Julia hit theaters, and as expected, we were bowled over by Meryl Streep's performance as Julia Child.  Less expected, we were also really into her great classic style. The Sartorialist's aptly-named book, The Sartorialist, came out this week, and we need to go pick up a copy for endless sartorial inspiration. Sales & Deals: Take up to 50% off fun flats from Nordstrom Save up to 50% off a variety of handbags from Shopbop Take up to 50% off eye-catching handbags from Betsey Johnson Taste Tests: Which stretch belt is worth the investment? Which classic denim jacket comes with a traditional price tag? Guides to check out: This week, we're gearing up for fall with new booties, pencil skirts, and designer jeans.
Friday's Sample Sale Scoop: Ksubi Jeans, Zac Posen, Tom Ford, And More
Editor's Pick: Ksubi Jeans at Billion Dollar Babes Zac Posen handbags, Clarisonic beauty products, Charriol jewelry, Alice + Olivia clothing, mixed designer accessories blowout sale at Gilt Groupe Mavi Jeans at ideeli Tat2 Designs jewelry at Billion Dollar Babes Tom Ford sunglasses at Editors' Closet Triple 5 Soul clothing and Smash clothing at Beyond the Rack Zoe swimwear, Torn by Ronny Kobo clothing, Pegah clothing at Hautelook Wolford hosiery, Linq clothing, and Judith Ripka jewelry at Rue La La For more top jeans picks, take a look at our guides to celebrity denim, skinny jeans and denim for your shape.
Beauty Find: Mythbusting Hair Care
What: Dove's Hair Care Why: "If real life were anything like TV, every day would be a good hair day… For those of us living in the real world, however, separating hair care fact from myth can be tricky." That refreshing revelation comes courtesy of Dove's ongoing Campaign for Real Beauty. The soap company's newest hair care line attempts to take some of the mystery out of choosing a shampoo and conditioner by encouraging a focus on your unique hair type. Dove offers its Weightless Moisture system for hair types from thin to curly to color treated, so you can mix and match products after narrowing down your needs with the website's Hair Profiler. I chose the Moisture Rich Color conditioner, and noticed softer strands and a longer time between touch-ups after one bottle. My thick strands required a heavy dose of the product to see results, but the light weight of the conditioner seems perfect for thinner hair that tends to get weighed down by most intense-moisture products. Price: Shampoos and conditioners range from $4 to $7 a bottle Find it: Drugstore.com
A Beauty Find: Pucker Up for a Gorgeous, Rich Color
What: Moisture Extreme Lipcolor by Maybelline Why: Is it just me or has lipcolor gotten really complicated in recent years? Between all the different glosses, plumpers, liners, and stains to choose from, I've started wondering whatever happened to having one favorite tube of lipstick. Well I found mine. This lipstick packs a punch but doesn't look too flashy, shiny, or sparkly. It gives simple vibrant color that goes on oh-so-smooth and makes you look glamorous in a fifties movie star sort of way. Plus, it helps moisturize dry and chapped lips so you're never left with a cracked smile and eroded color. My favorite shade is Rare Ruby which is bold and sexy, but never cheap looking. Price: For a mere $6.49, this lipstick gives you a beautiful bang for your buck. Where: You can get this product and all your favorite beauty buys at drugstore.com
Trend Alert: Spring's Bags are White-Hot
Jessica Simpson's white perforated leather Marc Jacobs Brigitte bag has been getting almost as much tabloid cover time as her "alleged" fling with rocker Adam Levine. Simpson's been seen toting the snow-white stunner ($1,295 at eLuxury) during her supposed trysts. Paris and Lindsay have both been spotted flashing pearly whites, and the ivory tote Jennifer Aniston sports in Rumor Has It is in high demand among trendspotting moviegoers. If you loved Aniston's roomy tote and aren't afraid to make a stark statement with mid-winter white, check out Hogan's Lizzy bag (858.00), a sturdy shopper with plenty of space for all your seasonal transitional gear. If you're still of the old school that says white should wait 'til April (but you're never one to turn away from trends) pick a more subtle piece to act as an accent. Dior's Flight Small East/West (1370.00 at eLUXURY) balances the white's innocence with the boldness of chunky polished silver hardware. Same Bang, Less Buck: Catalina Double Zip Pocket Satchel ships free from eBags Deal Alert: SheFinds readers get $15 OFF $75 Handbag Purchases at eBags.com
A Find: Lacy Lingerie
This year, lingerie is about being demure but still sizzling. What better way to say it with delicate lace? We found this Huit collection on Figleaves.com, with semi-sheer, intricate black lace over nude lining harks back to this season's Dior collection. The wide satin ribbons on the bra are a fun touch to contrast with the structured look of the lace. The matching be-ribboned underwear is pretty and feminine. The big trend in this year's lingerie is the slip. I can't remember the last time I needed to wear one under a dress, but the slip as lingerie is so classy, so retro, and very Elizabeth Taylor steaming onscreen in Cat On A Hot Tin Roof. This Point D'esprit chemise combines that alluring classic slip style with touches of lace and velvet. Get the matching thong to complete the come hither ensemble. The best thing about the slip is that every figure looks great in one. They don't have to form fitting, most come in a variety of sizes, and the innocent sex appeal beats a teddy any day. The Kahlua chemise is a great find from figleaves.com.
Feature Footwear Find: Steve Madden's Anabelle Stiletto
What: Steve Madden's Open-Toe Anabelle Stiletto Why: I've been lusting after Steve Madden shoes since the 7th grade. His designs are funky, sexy, and best of all, affordable. I'm absolutely smitten with the Anabelle Stiletto. It's the perfect winter-to-spring transition shoe. The luxe brown suede goes perfectly with winter's heavy wools and tweeds, while the peep-toe lends itself to spring's flirty dresses and skirts. The metallic detail adds a modern, trendy flair without being too flashy. Look for the Anabelle Stiletto in black suede and natural white/gold fabric as well. Price: $79.95 Find It: Open toe heels are all the rage at SteveMadden.com.
Feature Footwear Find: Season-Hopping Boots
Our week of fab footwear continues...check back all week for our feature finds. What: Tommy Hilfiger Rozalia boots Why:If shoes were candy (and they are) Tommy Hilfiger's Rozalia boots would be like Now and Laters. Right now you can rock them with thick cable tights and tweed skirts. Or tucked into a pair of skinny jeans. And, once frostbite is no longer a legit threat, you can go sans hose and wear them with that denim mini that's hibernating in the back of your closet. The leather boot has a corduroy upper – an unexpected addition to the traditional boot. It also features a leather stripe up the side and subtle Western detailing, which allows the wearer to be just trendy enough without regretting the purchase five minutes later. Price: $112.45 Find them: At Shoebuy.com where there's no sales tax, free shipping and free returns!
Deal Alert: Nothing Says "I Heart You" Like a Bunch of Flowers
Remember the scene in the classic film 'Clueless' where Cher sends herself a huge bouquet, delivered to her classroom as part of her plan to prove her desirability factor? Well, that's my plan this V-Day. I'm sending myself flowers to complement the chocolate I'll be consuming as a pre-game to my girl's-night-out. While my coupled pals spend too much on dinner at Pastis--I'm going to use the money I save due to my currently single status to send flowers to my friends. 1-800-Flowers.com has some super deals: Get 15% Off their collection of Valentine's Flowers (Valid now through 2.14.06) OR Buy 12 Roses and get 6 Free. You can also get same day delivery on V-Day Flowers Starting at $29.99, which is perfect since I just concocted my plan to embrace the spirit of this highly commercial holiday as opposed to being a Bitter Betty. The "Pleasure for Roses" plant is perfect for your best girlfriends and favorite co-workers (or for a little kiss-up to your boss). You can deliver more than flowers. They have the requisite teddy bears, sweets, and chocolate gifts too. Find it all in time for Valentine's Day at 1800Flowers.com. Get 15% off Valentine Flowers- Enter code 23V when purchasing from this collection and save! (Only through 2.14.06.)