We Haven't Found A Body Type That Doesn't Look Dope In This Top
This Is What To Wear With Racerbacks (So Your Bra Straps Don't Show!)
SHEfinds receives commissions for purchases made through the links in this post. Last week we told you about this incredible product for wearing under loafers and boat shoes (they're WAY better than no-show socks) and this week we're solving more of your warm-weather woes, by addressing the issue of what to wear under racerback tanks and dresses so that your bra straps don't show. Here's the answer: bra clips! Convert any regular bra (because strapless bras can be so brutal) in to a racerback bra with this nifty product. And no, a paper clip or rubber band won't do--sorry, you have to buy the real thing. Luckily, several brands make them--including Hollywood Fashion Secrets and Maidenform. Maidenform Racerback Bra Clips ($8) Hollywood Fashion Secrets Bra Converting Clip ($3.90) https://www.instagram.com/p/BC-5kZztj2L/?taken-by=_hollywoodfashionsecrets https://www.instagram.com/p/BCTyiaTt5NX/ [Photo: Fire On The Head]
Junk Food Loungewear Is Your New #WeekendGoals
You probably know Junk Food for their super soft graphic tees--maybe you've ganked one from your boyfriend's closet? they are seriously so good--but did you know that they just launched a line of loungewear? The collection will take your weekend life to the hashtag next level; I'm talking serious Saturday #goals. Shop our fav pieces from the line--or the entire thing here: Junk Food 'No Talking Before Coffee' Graphic Tank ($38) Junk Food 'Today Has Been Canceled' Raglan Tee ($38) Junk Food Arrow Graphic Jersey Lounge Pants ($54) Junk Food 'Coffee Is Always a Good Idea' Sleep Shirt ($54) [Photos: Junk Food, Nordstrom]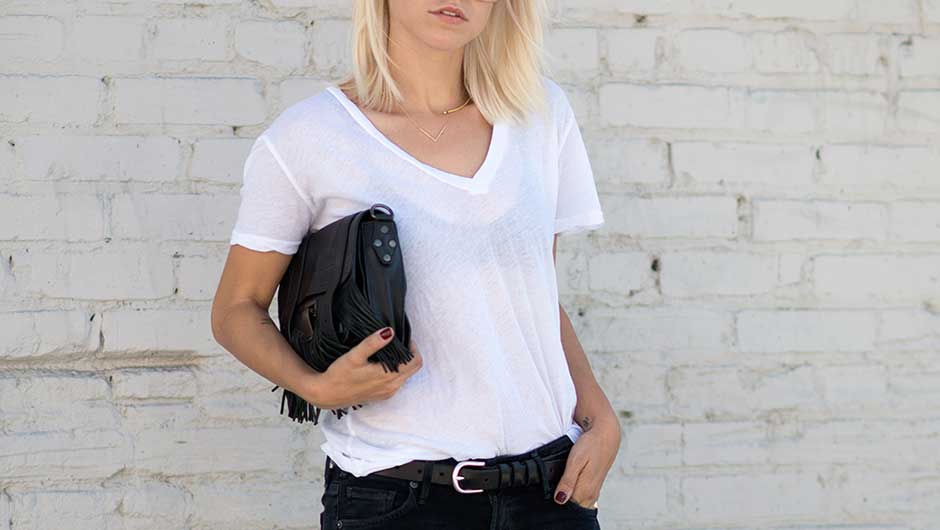 The Best White Tees And Tanks Under $20–You're Welcome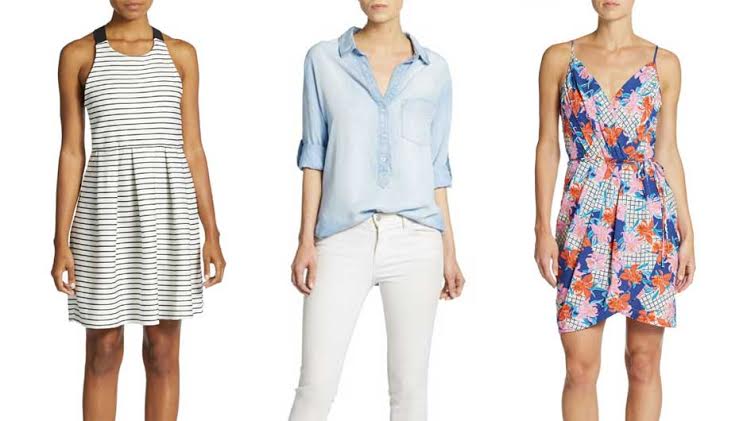 Up To 70% Off Joie, Splendid, Yumi Kim, Wildfox, More At Saks OFF 5th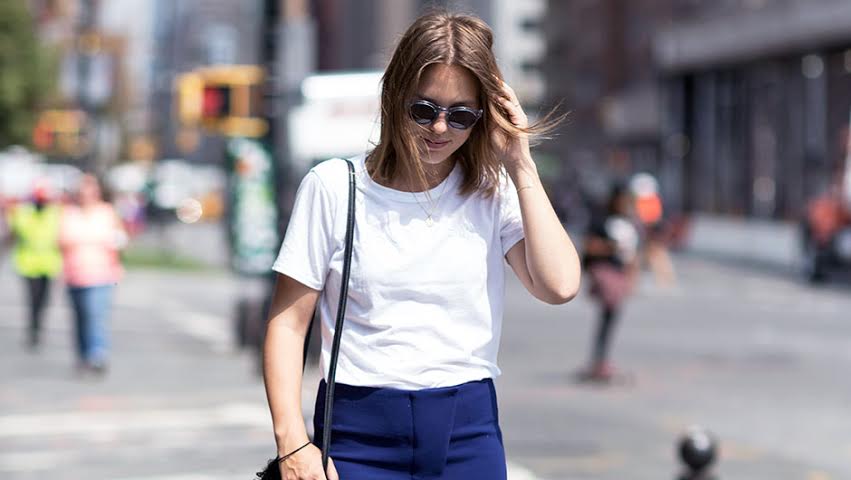 6 Basics Every Woman Should Own: The Best White Tees, Tanks, Leggings, More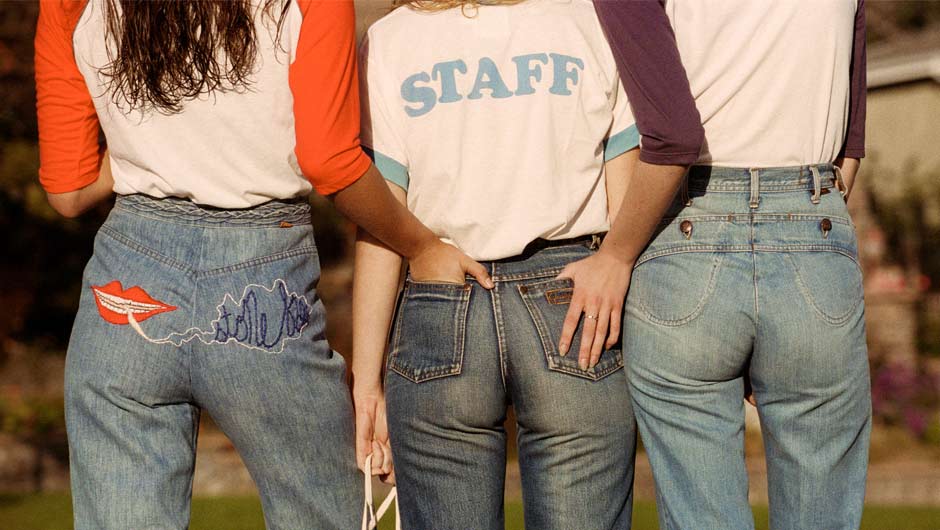 This New Collection Totally Nails 70s Summer Camp Fashion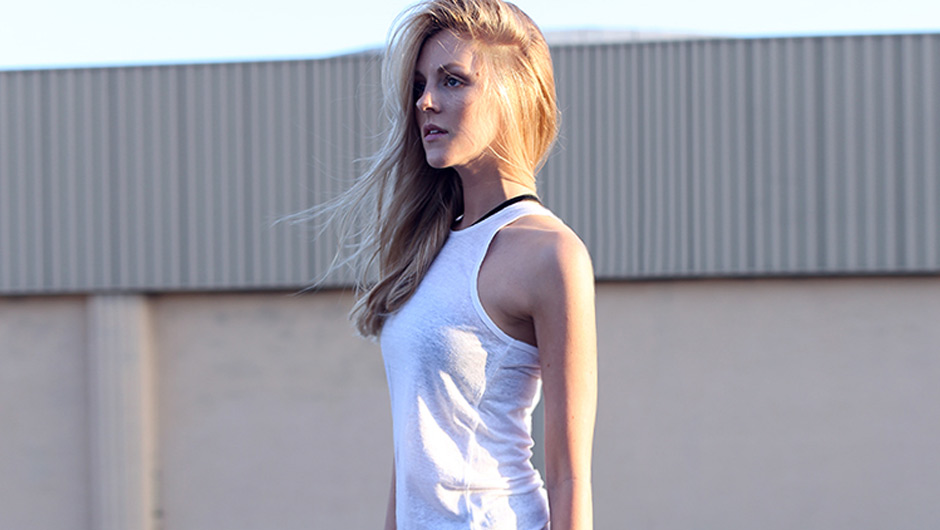 Is There Anything More Flattering Than A Racer-Front Tank?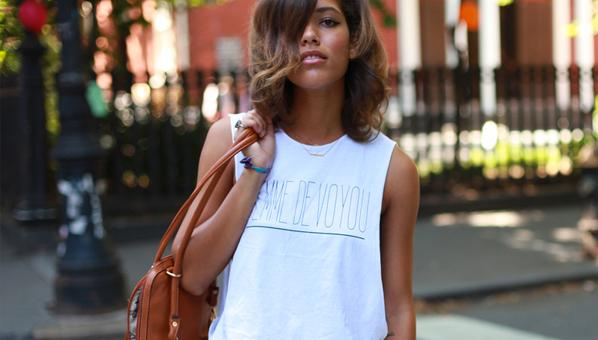 17 Muscle Tees To Order Now (And Then Go Crush 10 Push-Ups, Would You?)
First things first, muscle tees are not for girly girls. There's just something about these tops that gives off an "I'm not trying to look this dope but just am" vibe. Whether it's the perfect loose fit or the oversized arm holes, it always looks hella cool on AND off the racks. Need proof? Just check out Beyonce and Game of Thrones star Lena Headey killing it in their tanks. But the best part about a muscle tee is that you can dress it up or down. Pair it with a pencil skirt or tucked into skinny jeans for a less boyish look, or wear one with cutoff shorts for a full on chill outfit. Click the slideshow to shop our picks, from plain to graphic print muscle tees and yes, even Queen B's $48 one. For more trends, check out: jeweled sandals, illusion midi skirts and off-the-shoulder tops [Photo: Trop Rogue]
How About This Shirt Jamie Chung Wore Is Only $25? Yeah, You Should Get It.
Even though fall is swooping in and your wishlists are filled with chunky knits and boots, don't forget about all the great summer sale items you can totally make work for the new season. Need some inspiration? Check out this Vince Camuto Rose Print Tank ($25, down from $69) that Jamie Chung recently wore. Jamie rocked it with a skirt, but pair it with black skinnies and a blazer and you've got a gorgeous fall outfit. Just hurry and snatch one up. The top is currently on sale for $25, which means it won't last long. Vince Camuto Rose Print Tank ($25, down from $69) Want to dress like a celebrity without paying for a personal stylist? That's where we come in. Check out looks like Rachel Zoe's cape, Jessica Alba rocks chambray, Nicole Richie's House Of Harlow booties, and Kate Hudson's workout line  [Photo: Splash News]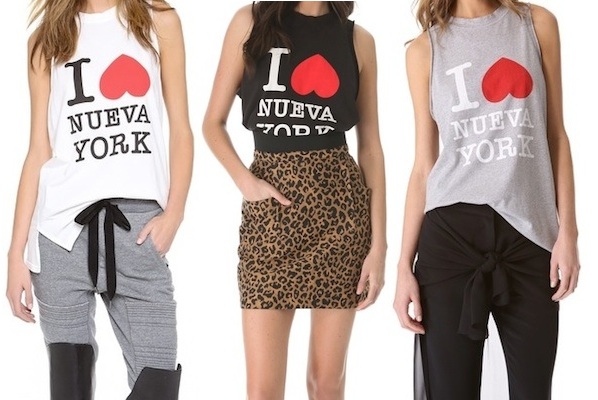 The Phillip Lim Nueva York Tank Is Back In Stock!
Um, best news ever?! For the past year or so, everyone has been obsessing over the 3.1 Phillip Lim Nueva York tank (with good reason). So it's no surprise that the tank sold out everywhere. Forever. Just kidding, it's back guys! And just in time for New York Fashion Week. Coincidence? We think not. After spending what felt like years (okay, months) stalking our favorite stores, we FINALLY found the shirt on Shopbop. We would click over there right now while it's still in stock...in all three colors...and every size. Are you really still reading this? SHOP THE 3.1 PHILLIP LIM NUEVA YORK MUSCLE TANK NOW For more great shopping, check out: Tory Burch Labor Day event, Sephora's MAJOR makeup sale and the best pre-Labor Day sales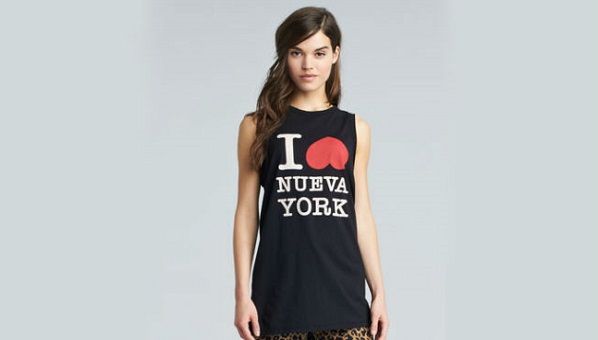 We Heart New York, And This 3.1 Phillip Lim Tank
When this muscle tank stomped down 3.1 Phillip Lim's Spring 2013 runway, we went inexplicably head-over-heels for a T-shirt we could duplicate with a few iron-on appliqués and a free afternoon. What can we say? Love makes us do crazy things. CLICK HERE TO FIND OUT WHERE YOU CAN GET THIS TANK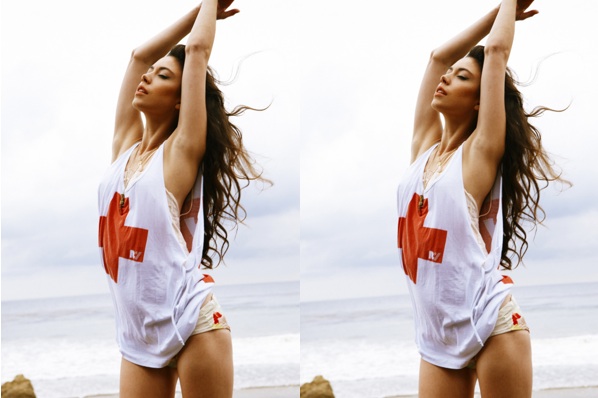 Graphic Tanks Are The New Beach Cover-Up: Get On Board
Although we all love a great beach cover up, in this heat, you're just happy to have gotten the swimsuit on. An easy and fun way to mix things up, stay cool, and add a little grunge to your look is the graphic muscle tank. Sleeveless and breezy with a hint of "I don't care" attitude make this the ideal throw on over swim suits or just worn with cut off denims. Now I know 'muscle tank' can conjure images of frat dudes chugging beers or those crazy muscle men on the beach, but trust us, our picks are cute, feminine and have a mind of their own. And with prices below $50, most of these tanks are a real steal. Go ahead, get a little casual and let your beachy hair run free. SHOP GRAPHIC BEACHY TANKS Don't forget to shop other fun summer trends such as LSD (Little Strapless Dresses), printed bikinis, and fabulous one pieces.
Prints Charming: Celebs' Love Affair With A Certain Floral Printed Tank
January Jones, AnnaLynne McCord, and Hilary Duff sporting a Fifteen-Twenty floral tank. Apparently, all the cool kids are obsessed with Fifteen-Twenty's floral tank. Unfortunately, the exact tank is currently sold out, but we don't want you to feel left out of all the floral fun. So, we searched high and low for a similar style and hit the jackpot with this Wyatt floral tank (pictured below) at Bluefly for $68.50. Now, you too can nail January, AnnaLynne, and Hilary's casual chic look. Get the look with this Wyatt floral tank.
Can You Find Which White Camisole Costs $62 More Than The Other?
Keep yourself guessing with all of our Taste Tests. Shop our guides to the best shapewear and the best bras. Join our e-mail list for exclusive updates.
Can You Guess Which Sequin Tank Costs $1,656 More Than The Other?
Keep yourself guessing with all of our Taste Tests. Shop our guides to the best evening tops and the best shirts to hide your tummy. Join our e-mail list for exclusive SHEFinds updates.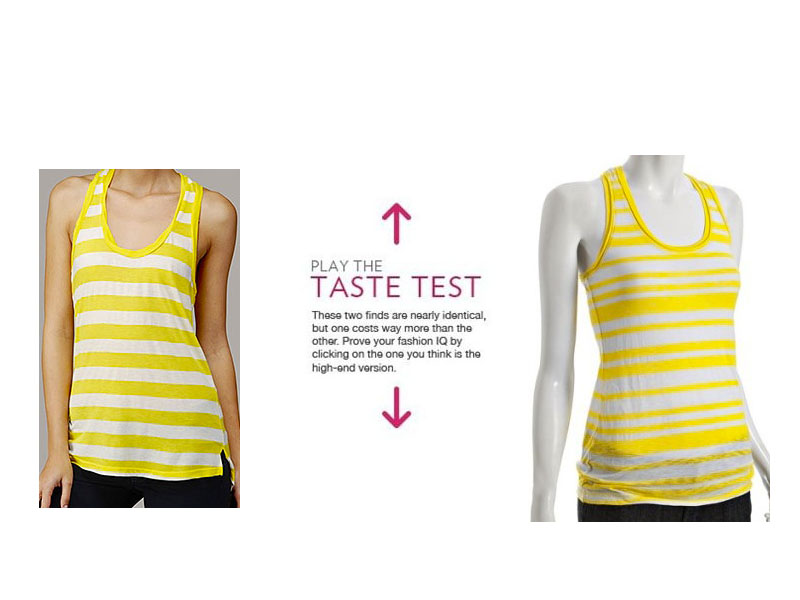 Can You Tell Which Striped Tank Is 7 For All Mankind And Which Is Splendid?
Use our Taste Tests to find amazing lookalikes. Shop our guides to the best tops for your shape and the best spring fashions. Sign up for our exclusive fashion e-mails.
Alexander Wang For Nike: A Gym Dream Come True
Twitter is abuzz - we may be on the verge of another designer athletic gear collaboration. Following Armani for Reebok, Stella McCartney and Heidi Klum for New Balance, the newest kid in the athletic gear arena could be Alexander Wang for Nike. We love his sporty diffusion line, T by Alexander Wang, and teaming with Nike would fit right in with his sporty aesthetic. Our fingers are crossed that this rumor becomes reality. In the meantime, we'll keep shopping the super-soft T by Alexander Wang line: This super soft Alexander Wang Classic Tee with Pocket ($87) would look great with skinny jeans. Layer an Alexander Wang Striped Classic Mini Pocket Tank ($56 down from $80) for fall. The slouchy jersey and welt back pockets on these Alexander Wang Knit Fitted Sweatpants ($124) elevates these pants to beyond cool. For more, shop our guides to the best cheap workout gear, sports bras, and the best rain gear.
Madewell Tanks Are Perfect For Layering. At 65% Off, Your Wallet Will Agree.
If first impressions are everything, why don't we pay more attention to the shirts we're wearing? They're the first thing people see when they look at you, especially if you're sitting down at a desk at work. Let's take a little time updating your tanks and you'll spend less time worrying about what to wear in the morning, guaranteed, and you'll always look polished. Madewell's sale has tons of tanks for awesome prices--plus get FREE SHIPPING with code SCORE. The neckline on this Madewell silk sandwashed top is flattering on everyone ($34.99, from $68). This flirty Madewell dancing pleats top ($29.99, from $88) will look cute with your skinny jeans and cardigans. The pleats and covered buttons give this Madewell hazy days silk tank even more refinement ($59.99, from $88)--and it's long enough to wear with leggings. This Madewell silk empire top witih super skinny straps is perfect for sexy layering with skirts or black jeans ($39.99, from $78). More sales and deals: Oprah's Favorite J.Crew shoes are 60% Off 75% Off Designer Belts At The Outnet 35% Off Celebrity-Worthy Rain Boots Check out every single one of our favorite deal of the day posts, plus best find of the day picks. Don't forget to update your fall shoes--clogs, leopard print shoes, over the knee boots and pumps are in this year. Follow the author of this post on Twitter @SheFindsEileen.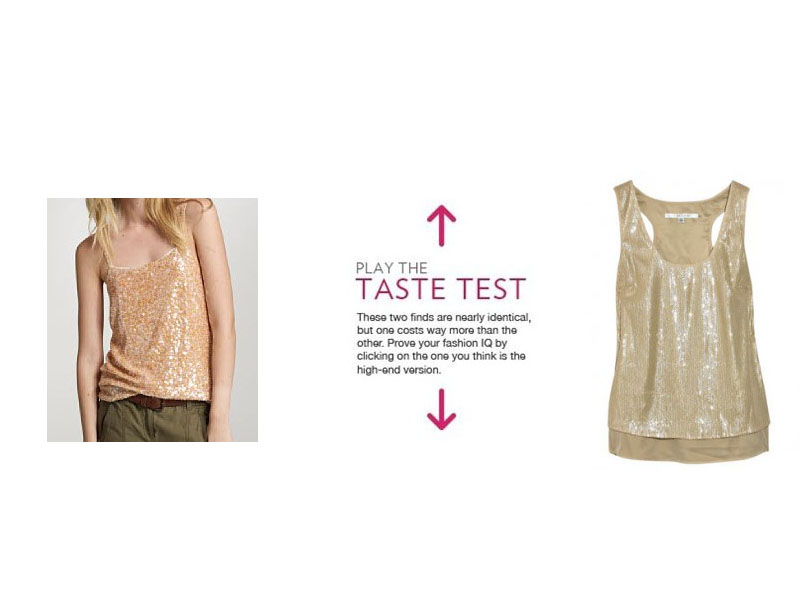 Can You Tell Which Sequin Tank Costs $400 More Than The Other?
For dinner and drinks this weekend, pair either of these sparkly tops with your favorite skinny jeans or harem pants for a totally now alternative to a black dress. To get the most out of this look, shop our guides for best skinny jeans and best pushup bras. Check out other ideas with our guide for best evening tops with jeans.
Never Underestimate The Power Of A Perfect-Fit White Tank
This time of year, weekends and vacations are reserved for skin-bearing simple tank tops and cotton t-shirts. Go for a tank that is flattering for your body type (if you're not already) by checking out our guide to the best tees for your shape. I prefer a white, tummy-smoothing style like this Yummie Tummie: Strappy T Shapewear tank ($72). The built-in shapewear keeps muffin tops, spare tires and pooches in their place. Plus the white makes you look more tan. Shop more great tees for your shape, then head over to our guides of the best summer dresses, skinny jeans and handbags under $250.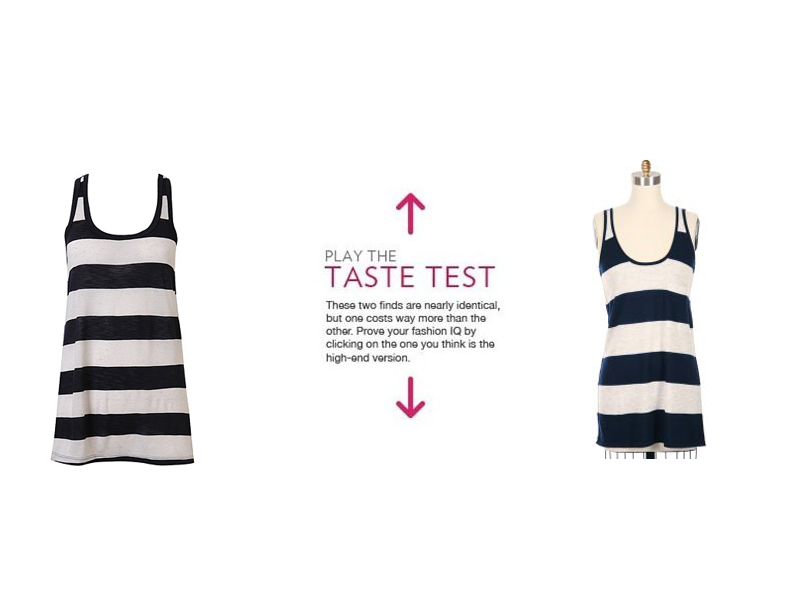 Taste Test: Which Sailor-Inspired Tank Is Forever 21, And Which Is Autumn Cashmere?
Check out our guide to tees for your shape, plus skinny jeans, and white jeans, plus blazers, oxfords and flat sandals.
Under $50 Finds To Pack For Your Best Weekend Ever
Leave the sweatpants behind--these pieces keep things ultra casual and can be thrown into one of your overnight bags in a flash. The only thing better is that they're all under $50: This Rachel Rachel Roy sheer layering tank ($31.99), is a great option to keep things clean and basic but still allows you to jazz things up with accessories. Another great feature is the additional 25% taken off this already discounted item at checkout. This retro beaded tee ($46.99), also by Rachel Rachel Roy, has an adorable 3/4 sleeve and beading around the collar. Add a cocktail ring to help breathe life into this look. Try this pair of BDG 5-pocket skinny jeans ($49) that are made with cotton and spandex. Feel free to have that extra piece of bread, because the stretch will always make you feel comfortable. Stray from the traditional, solid denim and be the trensetter in these hip hugging Gap sewn-on patch jeans ($39.99) for 50% off. Switch things up with this Deena & Ozzy espadrille sandal ($28) with elastic at the back. These are also easy to kick off once you've decided to call it a day. Make sure you check out our guides to skinny jeans, white jeans, black jeans, and denim skirts--throw them in your overnight bag with a couple of tops, some cheap swimwear, and one of your little black dresses and you're good to go.
Deal Of The Day: 50% Off Splendid Eco-Friendly Tanks At Shopbop
Even if it wasn't Earth Day, we'd still think this deal is pretty cool: get 50% off otherwise pricey Splendid hemp and organic cotton slub tanks ($27, down from $54). It'll absolve you of all of your eco sins--and at these prices, you can buy two for the price of one--they come in blue and black, too, and they're ultra soft. More Sales & Deals: Get 40% off dresses at Nordstrom Swimsuits starting at $24.50 at Delia's Up to 50% off at J.Crew--get $5.99 flip flops See our favorite summer dresses, skinny jeans, and celebrity sunglasses, plus check out more deal of the day picks.
Taste Test: Which White Tank Has The Lighter Price Tag?
See if you can tell the deal from the more expensive version in our taste test archive, plus the best skinny jeans and summer dresses to add to your spring wardobe.
Deal Of The Day: Stock Up On $7.99 Nautical Tanks At The Gap
You'll wear this Gap favorite ribbed striped tank ($7.99) all spring and summer--(and even in fall). Layer it with a cardigan, throw a leather jacket on, tuck it into a skirt, wear it with boyfriend jeans...the list goes on. See more great discounts today at the Gap. More Sales & Deals: White House Black Market: Get 50% off The Outnet: Up to 75% off designer spring dresses Bloomingdales: Uo to 60% off select items All the A-listers are wearing nautical tanks this year - check out our celebrity style watch, shirts to hide your tummy, all of our deals of the day, and don't forget to browse the calendar of online sample sales so you never miss a deal.
Deal Of The Day: Up To 85% Off Designer Clothes At The Outnet's Clearance Pop-Up Sale
The Outnet has some amazing deals today--from 80-85% off beautiful designer stuff we wouldn't be able to afford at full price. It's sales like this one that really get the blood pumping. Sign up--it starts right now, and it's going to sell out fast. Let us know what you get! This T-Bags top has a fun print and now it costs the same as a Forever 21 top--with better quality. ($25.20, down from $170) Get a load of these Notify Absinthe jeans--they're wide leg and the perfect color, but they're selling out fast at this price ($41.25, down from $275). These Marc Jacobs slingbacks are simple but extremely elegant ($75, down from $500). More Sales & Deals: Up to 50% off fashion-forward shoes for spring at Saks Fifth Avenue Up to 60% off designer clothes at Nordstrom Buy One, Get One 50% off at The Body Shop Don't forget to check out the best online sample sales today, along with all of our favorite sales and deals going on now. If the jeans above aren't your size, check out our guide to skinny jeans, wide leg jeans and comfortable high heels.
Best Find Of The Day: Banana Republic's Layering Tank To Wear Just About Anywhere
I've kind of been on a quest for a layering tank that's jersey (looks neater than cotton), sleeveless (not bra-baring spaghetti strap), and long enough to peek out under blouses and cardigans. You'd be amazed how hard that is to find. But! I found it last week at Banana Republic - and promptly bought two. Now it's on sale so you can take advantage of the deal. The Sleeveless Luxe Tank ($22.13, from $29.50) is 25% off today and tomorrow (along with all other regular-priced merchandise) if you use coupon code BRSAVE25. Wear your new tank with one of this season's spring trends (under a menswear-inspired shirt, perhaps)  or as a cover-up over one of our favorite bathing suit styles - you'll figure out how to wear it with pretty much anything more of our best finds of the day, and today's highlighted sales and deals.
Sponsored Post: 25% Off Everything Jockey, This Month At Bare Necessities
What: 25% off all Jockey products at Bare Necessities until January 2. Why: These already well-priced basics are now even more affordable, and pieces like lace-trimmed camisoles and PJ pants make good gifts for the family. Browse the sale for gifts or stock up on your favorites. We're particular fans of the No Panty Line Promise cami above, which comes in 14 layer-friendly colors and prints. How: Head to Bare Necessities' Jockey collection and start shopping!
Project Runway: Surf's Up, Or Down, If You're Mitchell
When the show moved to LA for Lifetime, the only real, noticeable difference was the swap of New York's steel backdrop for golden California scenery. So, it was only a matter of time before Project Runway took advantage of the left coast's legendary beach culture. Witness: episode 3's surfwear challenge. Designers had to work in pairs to design a "fun and fashionable surfwear look," with one team member acting as the team leader. Even before Tim threw in the prerequisite Surprise! element--an avant garde outfit in addition to the first look--at least half of the design teams were on the rocks. One of the strongest teams was Johnny and Irina, who put together a beaded racerback tank with a light sweater and flowing skirt that guest judge and former OC star Rachel Bilson said she'd wear in a heartbeat. But it was the unlikely team of Mitchell and Ra'mon who wowed hard-to-impress Nina Garcia with their ocean-inspired dress and lime neoprene avant garde dress. The problem for Mitchell, though, was that he let Ra'mon do all the work. Gotcha! So, he battled it out with Qristyl and Epperson, who fought constantly for control. Q. threw E. under the proverbial bus when it came time to judge their palm-frond dress (above), but Mitchell got the three-strikes penalty from Heidi. Straight from the mouths of surfer girls to designers' ears, California style is inspired by comfort and colors of the beach. Like Johnny and Irina's fave beaded tank, the Madison Marcus "Cascade" Beaded Ivory Top ($238) is delicate and functional at the same time. Even better, the classic racerback shows off sunkissed shoulders. Pair with a soft, fluid topper like this cashmere Velvet Electra Sweater ($297), for chilly fall nights. And if you've never tried anything from Velvet, the sheer softness of the clothes lives up to the name. Did we mention the colors? The most successful thing about Ra'mon's avant garde dress was the shocking green. These pretty Sutra Green Onyx Leaf Cluster Earrings ($200), made with sterling silver, yellow gold vermeil and gree onyx, add a little sand-and-sea sparkle to any outfit--without the neoprene. Whether you need more fancy tanks or cardigans, we've got you covered with evening tops for jeans and our guide to the best cardigans out there.  And in case you need to catch up on Project Runway coverage, don't forget to take a look at what happened last week.