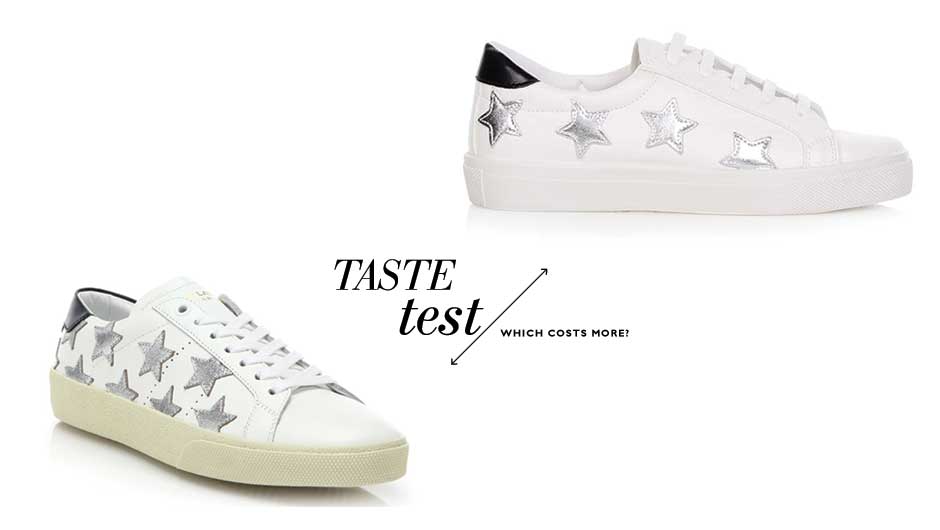 Can You Tell Which Star Sneakers Cost $600 More Than The Other?
SHEfinds receives commissions for purchases made through the links in this post. I'm a sucker for anything with stars. So when I saw Heidi Klum's metallic star sneakers, I had to have them... until I realized they cost $645. Fast-forward a few weeks later, and I found lookalikes of the Saint Laurent Court Classic Sneakers with Metallic Stars. Except, no joke, this pair from Topshop costs just $45. *Adds to cart* Can you tell which star sneakers are more expensive? Click on the images below to reveal if you guessed right! Test your fashion savvy some more with wedge boots and leather pencil skirts
Which Movie-Themed Clutches Are Better–Charlotte Olympia's or Kate Spade's?
Apparently, movie-themed clutches are a thing these days. Two of our favorite brands, Charlotte Olympia and Kate Spade, both have film-inspired bags out right now. And a few of the handbags are almost identical. Charlotte Olympia's Movie Night embroidered leather shoulder bag ($495) is $137 more than Kate Spade's Cinema City Popcorn Bag ($358), but otherwise, the bags are weirdly similar. If you don't feel like carrying around a carton of fake popcorn (we personally prefer the real thing) you can opt for this Take Pandora Perspex clutch ($995). The Kate Spade version is technically an iPad sleeve ($50), but no one will know the difference. We prefer Olympia's clapboard clutch because it actually snaps shut and you can run around screaming "Cut!" at people all night.   The handbags are cute, but we can't image a grown woman using a bag shaped like a popcorn carton. Is there a demand for movie-themed clutches that we just didn't know about? What do you think about the film inspired handbags? For more crazy handbags, check out this #selfie tote bag, this open cage clutch and these new Soludos totes.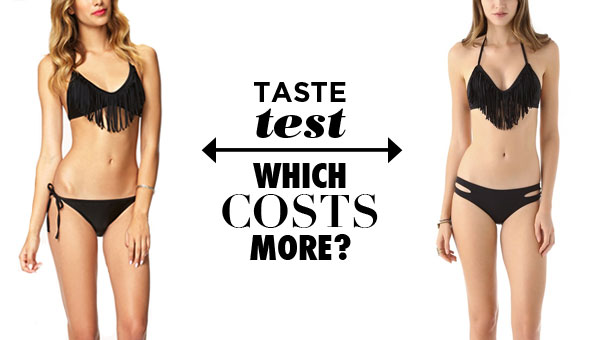 Can You Tell Which Black Fringe Bikini Is From Forever 21?
The countdown to the official start of summer is on and the best way to celebrate anything is shopping right? Celebrities love a good fringe bikini and it was just seen in the premiere of Bravo's new show Princess: Long Island during an unforgettable scene (for those of you who know what I'm talking about, awkward much?). Bikinis can sometimes be way over priced, but one of these options won't break the bank. Now you can get the look too and dress like a celeb, but first you have to guess which fringe bikini costs less. Answer: The one on the left is Forever 21 Fringed Bikini ($10.80) and the bikini on the right is the L*Space Audrey Fringe Bikini ($73). Which bikini do you like more? Check out more swimwear for summer: BCBG's debut swimwear line, one-piece body shaping suits and bustier suits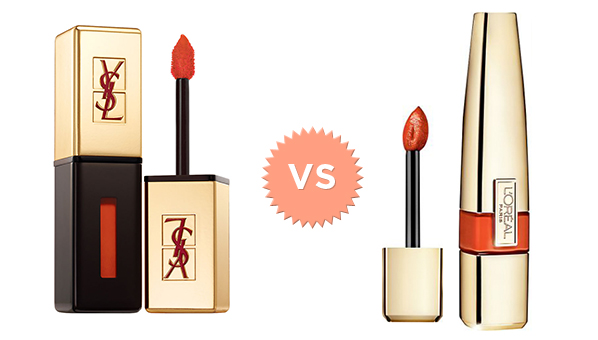 YSL Glossy Stain Vs. L'Oreal Colour Caresse Wet Shine Stain
Do you know what Yves Saint Laurent and L'Oreal beauty products have in common? Well, believe it or not, they are both owned by The L'Oréal Group (aka the world's largest cosmetics and beauty company). Which means occasionally L'Oreal products can be "dupes" (or duplicates) for YSL cosmetics. It doesn't happen all the time, but every once in a while YSL and L'Oreal come out with virtually the same product in terms of the forumla. We've seen rumors on the internet that the L'Oreal Colour Caresse Wet Shine Stains ($9.99) are very similar to the extremely popular (and expensive) YSL Glossy Stains ($34). We decided to give them both a try and compare the results: YSL Glossy Stain: This luxury lip stain has rave reviews because it combines the texture and shine of a lip gloss with the long wear of a lip stain. I applied about 3 coats to achieve the color I wanted. At first, the stain felt wet on my lips. After 1 or 2 minutes, the stain dried and had a glossy finish. I found that the color got a bit darker once it dried. This wasn't a problem for me, but it's something to be aware of when you are applying it. It lasted for solid 4-5 hours on my lips before I felt like I needed to reapply it. The packaging is beautiful but it's expensive ($34 a pop!). YSL Glossy Stains are available in 24 different shades so it's almost impossible to pick a favorite.  L'Oreal Colour Caresse Wet Shine Stain: The packaging is very nice, but it is lighter and cheaper than the YSL packaging. Both the L'Oreal and YSL products have rounded wand applicators that are similar in quality and performance. It took about 4-5 coats of the L'Oreal Shine Stain to get the color I wanted. Like the YSL stain, the color got a bit darker after it dried. It had almost the exact same finish and lasting power (4-5 hours) as the YSL Glossy Stain. At $9.99 these lip stains are a steal, but they only come in 12 colors. Verdict: It's a tie! The YSL Glossy Stains and L'Oreal Shine Stains are extremely similar. It's hard to say that one is better than the other. Both glosses have the same consistency and pigmentation.  My favorite feature about both products is that you can build up the color--you can keep the color light with only a coat or two or you can layer it up for a bolder look. The L'Oreal Shine Stain takes more layers to build up, but this can be a positive quality if you want more control over your lip color. The only other difference is the packaging. YSL packaging is more luxurious  but you get almost the same exact amount of product in each tube (YSL is .20 oz and the L'Oreal is .21 oz). If you want to invest in one nice lip stain, I recommend the YSL Glossy Stains. They come in a wider color range, so you can invest in the perfect shade for you. Personally, I rather get the 3 different L'Oreal Shine Stains for the same price. Either way, both lip stains are long-lasting and easy to wear. I highly recommend them both, especially if you are not a fan of traditional lipsticks. Test your taste skills some more: can you tell which pair of ankle boots costs $700 more than the others, which striped neon clutch costs $100 more or which PVC pump costs $600 more?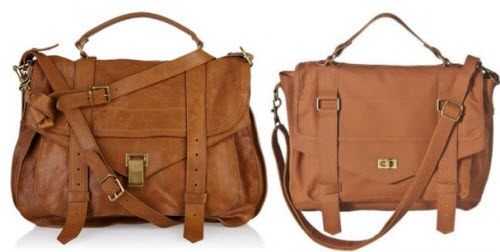 Target Copies Proenza Schouler's PS1 Bag–But What About All The Other Fashion Copycats?
Proenza Schouler's PS1 bag at Net a Porter vs Mossimo's satchel at Target. Target's newest messenger bag, by Mossimo, looks just like the uber-coveted Proenza Schouler PS1 bag and Proenza Schouler is not happy. Granted, they're not exactly the same, but close enough where Target's are all sold out. Nobody has sued just yet, like Burberry or Juicy Couture, but we'll keep you posted. In the meantime,we've rounded up the best knockoffs we've seen lately. (more…)
Week In Review: Hermes Gets Pissed, H&M Recycles, Justin Bieber Hits Target, More
Must Reads: Hermes sued Thursday Friday over some Birkin-printed tote bags. SHEfinds broke the news first. February is here - stay up to date with our  fashion and events calendar, and then check out our Zodiac Guide for February to get your fashion horoscope. What do a space dress and a lumpy sweater have in common? Check out our latest edition of Designers on Crack. Justin Bieber nail polish hits Target; we also loves these Nancy Gonzalez iPhone cases. H&M makes a habit of recycling, by announcing the launch an all organic and recycle Conscious Collection for April. Celebrity Style: Victoria Beckham has it right - stilettos are proven to slim legs. By scientists. America Ferrera's Timberland boots don't look too rugged. Celebrity discount on a budget: get Diane Kruger's glamorous look for less, and Mila Kunis' SAG dress, which just happens to be red and by Alexander McQueen. Taste Tests: Can you tell which metallic oxford shoes cost $194 more than the others? Which leopard print faux fur trapper hat costs $110.50 more than the other? Can you find which khaki trench coat costs $520 less than the other? Sales & Deals: Save up to 70% off on long sleeve dresses at The Outnet. Ooh la la: Hanky Panky panties are now 30% off. We're so excited to update our wardrobes with Foley + Corinna bags at half off. 50% off designer jewelry like Kara Ross and Kenneth Jay Lane? Yes, please. Beauty: If you have problem skin, try Bliss' 'No Zit, Sherlock' that works as well as the name says. Is La Prairie's newest skin serum worth $475? Check out our Beauty Math to see why. Guides To Check Out: Shop our guides to the best wedges, the best wide leg jeans, and the best leggings. Stay up to date with all of our news posts. Be sure to sign up for SHEFindsMail for exclusive updates.
Can You Tell Which Black Opaque Tights Cost $79 More Than The Others?
Press your fashion luck with all of our designer Taste Tests. Shop our guide to the best tights and the best patterned tights. Join our e-mail list for exclusive updates.
Week In Review: H&M's Latest Shoe Collaboration, The New Housewife, More
Must Reads: H&M announces a new Swedish shoe collaboration with Hasbeens. Jewelry designer Mellisa Joy Manning hops on board for Doo.Ri's newest jewelry collaboration. Salon owner and waxing extraordinaire, Cindy Barshop, is now the new brunette of Real Housewives of New York City. Eco-friendly fashion is coming back in style with February's fashion week approaching and a portion of the proceeds will be donated to help raise money. If you're a shoe nazi, satisfy yourself with "make your own" shoes at Milk & Honey. Neon & Khaki - two fashion opposites - come together for Spring's brightest trend ever. But if you're looking to dress for your horoscope, check out these tips. Taste Tests: Which black suede wedges cost $72 more than the others?Mo Can you find which quilted chain strap bag is Kate Spade and which is Chanel? Can you guess which red draped cardigan costs $566 less than the other? Best Sales Of The Week: Get 50% off Neiman Marcus' Tory Burch Sale all weekend long. Enjoy Madewell's sale on dresses, skirts, jewelry and more. Happy MLK day (!) Celebrate with up to 70% off your favorite stores like Zappos and Shopbop. Celebrity Style: Shop the latest trend - the maxi skirt - just like Anne Hathaway, Mary Kate Olsen, and Kate Bosworth. Getting caught in the rain is no big deal for Elle Macpherson and Claudia Schiffer. Learn how to wear the latest Golden Globe trends anywhere - to the office or to brunch. Beauty: Trina Turk collaborates with Clinique for a preppy line of cosmetics. Turkk is also releasing a line of graden hoses, dustpans, kitchenware, and more. At home wrinkle-banishing laser treatment comes to life - we're kind of excited. Guides to Check Out: Shop our guides to the best leggings, the best sheath dresses and the best sexy underwear. Read up on more fashion news. Subscribe to our e-mail list for exclusive SHEFinds updates.
Week In Review: Snooki Does Jewelry, Victoria Beckham Handbags, Target's New Collab, More
Must Reads: We've been Snook-ified - read up on Snooki's newest jewelry and accessories label (with clothing to come). On the other hand, Posh Spice introduces her newest line of handbags. Target is still hot and heavy with their collaborations, with a Calypso St. Barth collaboration due this May. Educate yourself on these 4 up and coming designers...before everyone else does. And just in case you haven't read it yet, be sure to check out our January calendar for the entire month's happenings. Taste Tests: Can you spot which cashmere cardigan is from the Gap and costs $60 less? Which white button down shirt costs $62 more than the other? Can you tell which aviators are MICHAEL Michael Kors and cost $65 less? Best Sales of the Week: The most flattering jeans ever (Oprah's favorite), CJ by Cookie Johnson jeans, are 30% off - time to stock up. Hold onto something - Jimmy Choo is now 60% off. Yes, we can't believe it either. It's still cold out, so be sure to check out these on-sale winter scarves, gloves, and hats. Be sure to snag Kate Spade at 25% off, Linda Farrow sunglasses at 70% off, and suede over the knee boots at 50% off - 'tis the season of sales. Celebrity Style: Even though she's not in the spotlight, Lauren Conrad still looks red-carpet ready. Jessica Alba wins in her transformed summer to winter dress and cardigan. J-WOWW crosses back to the dark side with her newest boob-baring New Year's outfit - yikes (!) It's just as bad as Ke$ha and Fergie's feather & fur fashion mishap. Beauty: You'll want to keep these 5 beauty resolutions this year, believe us. We're so excited for Sephora and Shopbop's newest makeup collaboration, find out why. Guides To Check Out: Shop our guides to the best booties, the best cashmere accessories, cardigans, puffy coats, and the best gloves. Join our e-mail list for exclusive SHEFinds updates.
Week In Review: Free Shipping Guide, How Make Over Your Man This Xmas, More
Must-reads: The holiday shopping gods have answered our prayers: over 30 stores have free shipping this year! WWD reported the season's bestsellers, and we found them for you online - plus free shipping in some cases. Our holiday gift guides will help when you don't know what to get your music-obsessed friends, your BFF, geeky-tech friends, tree-hugging friends, sporty friends, your mom, and your man. Louisiana swamp rat... the resolution to the great fur debate? Cold weather is here in full force - get the must-have winter accessories to battle the frigid temps, gloves so pretty you shouldn't shovel snow in them. See what clutch Natalie Portman wore that can actually make you look smarter. The latest Etsy Find: a gold evening bag that is $160 less than its Halston Heritage counterpart. Going, Going, Gone: Get 'em while you can: DVF Kindle cases, Plush Fleece-lined tights, Tory Burch iPad cases, Juicy Couture over-the-knee boots, and the YARNZ leopard print scarves are selling out. Taste Tests: Can you tell which pair of ruffle boots are $300 more than the other? Can you tell which gold heels are DVF and which are Nine West? Can you tell which leopard print vest is $400 more than the other? Can you tell which draped sequin cardigan is Calvin Klein and which is Charlotte Russe? Sale Alert: The beloved Tory Burch Reva flats are 30% off today - thank heavens! J.Crew outerwear is 30% off. A New Years dress that's guaranteed good luck for 2011...and it's 70% off. Cross-body bags are on-trend and 50% off. 20% off Bliss at-home spa sets - the perfect gift. 20% off cashmere scarves and sweaters. Celebrity Style: Channel your inner diva, dress like Jennifer Lopez. Sparkle and shine like Anne Hathaway this holiday season. The cast of Gossip Girl shows how fabulous DKNY tights can look. Beauty: Free shipping and 20% off at Bliss - bring on the at-home spa treatments! Makeup brushes, cosmetic bags, and palettes made their way on our best gifts for under $25 list. Guides to Check Out: For more gift ideas, check out the perfect gifts for your party girl friends, gifts for your reality TV-obsessed friends, and passive aggressive gifts for your frenemy. If you're still stumped, hit up Part 1 of Oprah's Favorite Things for 2010 and our many guides to things like skinny jeans, booties or gloves. Subscribe to our online mailing list for exclusive updates.
Week In Review: Pre-Order Spanx Swimwear, Marcel the Shell Costume, More
Must -Reads: Eat an extra piece of cake and still look good in the new Spanx swimsuits. Under $100 wardrobe staples: motorcycle boots, blazers, peacoats, motorcycle jackets, and suede boots. Be the most original on Halloween this year with this Marcel the Shell costume. These leopard print handbags would have Kim Kardashian swooning. SHEfinds is hiring a Marketing and Social Media Manager - interested? Taste Tests: Can you tell which striped sweater dress is Old Navy and which is Tory Burch? Can you tell which tortoise-shell sunglasses costs $200 more than the others? Can you tell which motorcycle jacket is Jessica Simpson and which is Theory? Can you find which lace tights are Wolford and cost $132 more? Sale Alert: Leggings you'll want to live in they're so comfortable AND they're 40% off at Bloomingdales. Our Friday Sample Sale Scoop has a ton of coupons for you and your friends. Motorcycle jackets don't seem so tough when they're 40% off. Make a statement with this jewelry that's up to 50% off. Celebrity Style: Gwen Stefani and Sienna Miller show us how hot the color red can be. Head over to J. Crew to score Petra Nemcova's awesome look. Look like a Gossip Girl with Eric Daman's new line for Charlotte Russe. Beauty: Throwback to the 90's: Denise Richards and Christy Turlington have fragrances and hair care lines coming out. Guides to Check Out: Get the hottest fall looks with our guides to the best faux fur vests, stylish rain boots, leggings, and trench coats. Don't know what to wear on October 31st? Check out all of our Halloween costumes. Join our e-mail list for exclusive fashion updates and newsletters.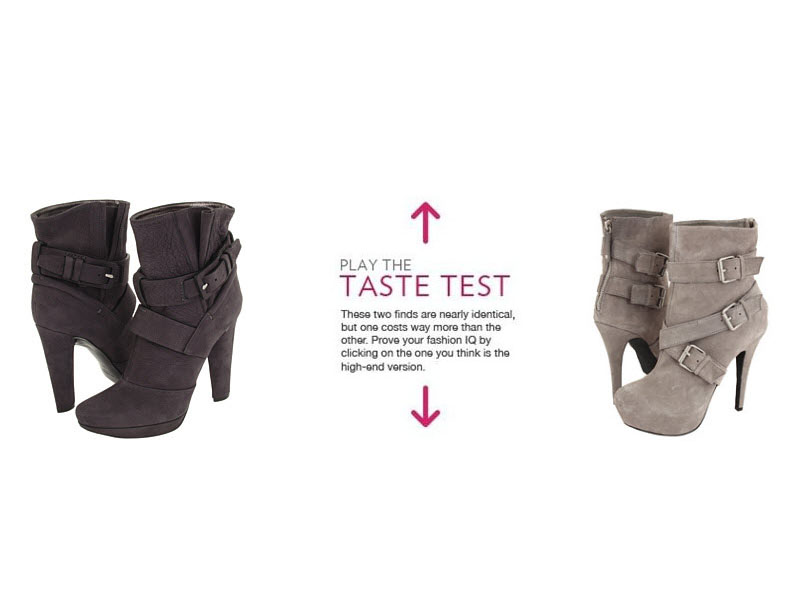 Can You Tell Which Suede Buckle Booties Are $565 More?
Test your fashion IQ with more of our Taste Tests, and don't forget to shop our guides for the best booties, clogs and cage booties.
Week In Review: Michelle Obama's Favorite Accessory, Cynthia Rowley In The Band-Aid Aisle, More
Must-Reads: Get Michelle Obama's purple ToyWatch. A surprisingly trendy gift from the Prez. If you're blistered feet need some stylish TLC, good news: Cynthia Rowley makes Band-Aids. Ugg needed the help of Jimmy Choo to make a fringed boot so tacky, only a Hilton sister could love it. Taste Tests: Can you tell which turquoise cocktail ring costs 10 times more? Can you tell which green messenger bag is Tory Burch? Or which cat eyeglasses cost nearly $90 more? Sale Alert: Winter Kate cardigans are 30% off. Get a serious statement necklace from French Connection for under $50. You new favorite black dress is Black Halo and 65% off. Celebrity Style: See what celeb wore an under-$100 J.Crew dress on the red carpet. Get the camel coats Blake Lively and Alexa Chung love for less. Reese Witherspoon did it again. Get Kim Kardashian's smokey eyes, bronze glow - at drugstore prices. Guides to Check Out: We know you're excited for fall shopping, so we took the time to round up the very best in cardigans, stylish rain boots, sheath dresses, and dry hair remedies.
Week In Review: More Drama Over Fakes (This Time It's Burberry), Target Collabs On Gilt, More
Must-Reads: Burberry sued an upscale boutique for selling - gasp - fakes. You read it here first. We are loving Simon Doonan's non-hoochie Halloween costumes for Target. We went behind the scenes at the SINE offices. Maybe these bad decisions are to blame for American Apparel's bankruptcy. Shop Target collaborations on Gilt 30 days early. (If you missed today's Tucker sale, don't worry, we have options for you). Michelle Obama's Banana Republic top is still available - act fast if you want one. Taste Tests: Can you tell which oversize green sweater costs $185 more? Can you tell which gray skinny jeans are Vince? Or which printed ballet flats cost $50 less? Sale Alert: Marc by Marc Jacobs is 70% off at Saks. The perfect pair of jeggings we've ever tried is on-sale and from Paige Denim. Jonathan Aston tights are $5 - stock up. Celebrity Style: Molly Sims wants to give Britney Spears a much-needed makeover. We helped. We want what Lo Bosworth has. Guess which Gossip Girl shuts it down in street clothes. Beauty: Get the new fall lipsticks straight from the runway. Screw $300 face creams, Jennifer Aniston's secret weapon is $2. Check out our weather-proof, portable solutions. Guides to Check Out: We tracked down the best leather handbags, earrings, and vests.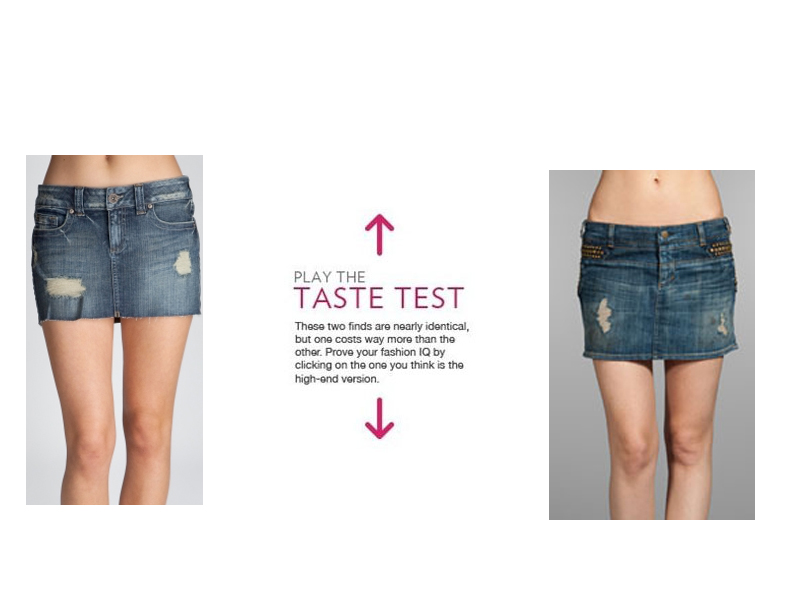 Taste Test: Can You Tell Which Denim Mini Skirt Is Charlotte Russe And Which Is Citizens Of Humanity?
Click through to more taste test challenges, and then see our guides to denim skirts, mini skirts and oxfords.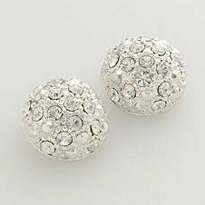 Taste Test: Which Pave Earrings Let You Sparkle Plenty For Pennies?
Wanna find more sparkling bargains? Look no further than our Taste Test archives. Plus, see our guide to the best celebrity jewelry.
Taste Test: Which Suede Booties' Price Won't Have You Singing The Blues?
Challenge your deal-spotting prowess with more Taste Tests from our archives.  Check out more booties with our handy guide, or go higher with a pair of foldover boots.