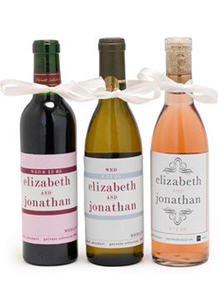 Get 20% Off Everything At The Knot Wedding Shop Today! #ChristmasComeEarly
If you're shopping for wedding accessories, you can't miss this latest promotion from The Knot Wedding Shop.  Right now you can get 20% off any purchase! Fill up your cart with little pretties for your ceremony or reception, like cake serving sets, cute place card holders, and favor boxes. Don't know where to start? We took the liberty of finding a few super chic items for you... (more…)
Rue La La's Knot Sale Just Opened! 70% Off Halston Heritage, David Meister, More
Cross some things off your Wedding To-Do list (we know you have one) at today's Rue La La and The Knot wedding boutique. Think about it: a specially-curated selection of gowns, reception dresses, bridesmaids dresses, and even suits for your fella and his crew - all in one place, all on sale. And not to name drop, but we've confirmed that Halston Heritage, Badgley Mischka, and David Meister will be there. Heaven? We think so. Hop to it, though because this sale's only on for 48 hours. (more…)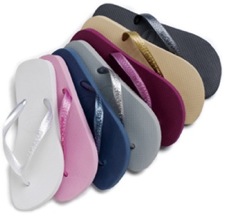 50% Off Havaianas And Personalized Guest Favors At The Knot Wedding Shop
The Knot Wedding Shop has an ongoing selection of sale and clearance items, but today they have an item I wish I'd seen for my wedding: 50% off Havaiana flip-flops in a ton of great colors. Other favors - like personalized candy bars and crystal "Team Bride" tanks - are also marked down. (more…)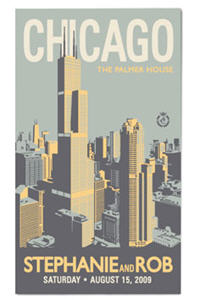 20% Off The Knot Wedding Shop: Clever Save-The-Date Magnets, Topiary Favors, More
Summer and fall brides: it's never too late or too early to start thinking about the little touches that make a wedding awesome: the guest favors (can you say "wedding bubbles"?), personalized serving napkins, and stationery. Good news: you can get 20% off anything your little heart desires at The Knot Wedding Shop with code SAVE20 today and tomorrow. Editors' pick: this Chicago personalized save-the-date magnet ($176 for 100, down from $220). They have other cities, too! (more…)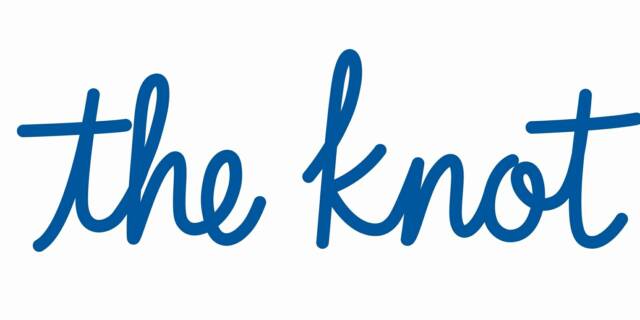 75% Off Favors And Decor At The Knot's Wedding Shop Today
Today, The Knot's Wedding Shop is having a major blow-out sale: get 75% off tons of favors, decor, bridal party gifts, and more, plus even more incentives (like 20% off orders of $150 or more with code TK3D20). (more…)

Runway's Designers Take a Shine to Working With Sparkle
This week's episode saw the designers blinging out over-the-top stage costumes for pop star and guest judge Christina Aguilera. We had legendary costumer Bob Mackie extolling the virtues of the diamond-encrusted crotch and we got to hear the words "super sexy slut" come out of Tim Gunn's mouth. Nicholas, the self-named Feather Prince, was all in a tizzy for this challenge. His top-three look—a white feathered ultra-minidress— was perfect for on-stage hip shaking. Get the same effect with Sue Wong's ostrich feather party dress. Althea ramped up the glamor with a long-trained sequined gown. Her chevron pattern was praised for being super flattering; you can get similar waist and booty accentuation with Alexia Admor's sequined dress. This week's winner, Carol Hannah, played with texture, layering sequins, feathers, and varying panels of shiny and matte fabric on an elegant black gown. Choose depth and dimension over wow-factor color with a textured sequin and tulle gown from Badgley Mischka. Shirin's stuffy, ruffly "upscale witch costume" earned her a "boring" critique and got her a one-way ticket home. Christopher, who's on a surprising losing streak, redid Christina's Moulin Rouge look, complete with a sorry-looking bustier and sparkle panties. If you haven't had your Lady Marmalade moment yet and have been longing for shinier knickers, try out American Retro's sequin shorts. For more dressy looks, shop for a cocktail dress, and then top it off with a swipe of the best mascara and eyeliner.
Count Me In: Rejoice Body Care
What: Natural Bath and Body Products Why: This handcrafted all natural body care set from Rada Mills is made with the freshest and finest ingredients that will moisturize your body and replenish your spirit. The 4 oz sugar body scrub is a great way to naturally and gently exfoliate your body. The 2 oz soap bar not only smells wonderful but lathers nicely, too. The 1.5 oz body butter is a decadent treat for your skin. Using only top shelf essential oils, botanicals, naturally derived color, and eco-friendly packaging, you're sure to love your "Believe in You" gift set. About the Designer: My daughters inspire me everyday to be my best, do my best and give my best. I want my daughters to know that their success in life starts with the belief that they can do and be anything that they set their minds too. I tell them everyday to "Believe in You." Proceeds to be Donated: 25% Get Yours: $30.00 @ www.rejoicebodycare.com Count Me In promotes the growth of women owned businesses and is the leading national not for profit provider of online business loans, resources, and community for women entrepreneurs. Beginning in September and continuing through Jan 1st, SheFinds will feature original pieces by independent designers. A portion of each sale will go to Count Me In. With each purchase, you are contributing to the development of women in business.
Fashion Show Recap: Honoring Fashion Greats Dishonors A Few
How much do you know about historical fashion houses? That was the task designers in episode 8 of Bravo's The Fashion Show had to face in this week's mini-challenge. The trivia competition whittled down the group to Anna--go figure, she's a teacher--whose prize was to assign each designer one of the legends. Their main challenge? Create a garment in the aesthetic of their designer. Obviously, Anna gave her friends choice assignments--Haven got Yves Saint Laurent, Johnny had Versace, and Anna took Chanel. She purposely gave Halston to Reco, who didn't know the label at all and who made the mistake of putting one of his signature corsets on what should have been a simple, flowing dress. Haven's terrible brown wool pant suit was a fail as well, but she should have known better since she was well-versed in YSL style. This was egregious enough to send her home. Johnny and his Versace-inspired mini-dress got rave reviews from the audience and the judging panel. Although he used faux leather in an attempt to be environmentally friendly, he still captured the fit, gold bling, and sensuality of the designer's intent. Buy the racy little cocktail dress on Bravo's website ($195). Versace in its newest incarnation is still fierce, but slightly softer. This Versace Star Back Cocktail Dress ($2,380) is still sexy but not hard. The flowing silhouette is matched with a deep V front, and a suggestive sheer back. Or for a more budget-friendly option, try this v-neck dress by Twelfth Street. ($130).