Rue La La's Knot Sale Just Opened! 70% Off Halston Heritage, David Meister, More
Cross some things off your Wedding To-Do list (we know you have one) at today's Rue La La and The Knot wedding boutique. Think about it: a specially-curated selection of gowns, reception dresses, bridesmaids dresses, and even suits for your fella and his crew - all in one place, all on sale. And not to name drop, but we've confirmed that Halston Heritage, Badgley Mischka, and David Meister will be there. Heaven? We think so. Hop to it, though because this sale's only on for 48 hours. (more…)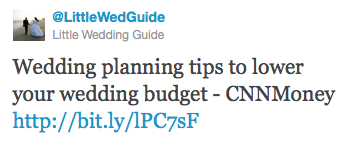 10 Best Twitter Accounts To Follow For Discount Codes, Bridal Inspiration, DIY Tips And More
If you love Twitter as much as we do, you already know it's a great resource for quick tips on a slew of of subjects -- wedding planning included. We've rounded up some of the best wedding-related accounts in the Twitterverse to keep you inspired and in-the-know. 1. Little Wedding Guide No need to go hunting 'round the web; @LittleWedGuide scours all the major media sources for wedding-related stories -- follow them and let the news come to you. 2. Wedding Bee @WeddingBee's account, managed by EIC Cathy Schroeckenstein, culls bridal tips and tricks from the site's large force of bloggers and followers -- like this jewel from a summer bride with bug problems. 3. Get Married The bridal magazine @GetMarried not only offers inspiration -- every Monday they offer giveaways as well as frequent discounts to online retailers with special codes for followers. Score! (more…)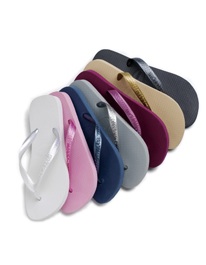 The Knot Wedding Shop Has Gifts For Bridesmaids, Guests & Groomsmen — And They're On Sale
Weddings aren't just about the gifts you get--they're also a chance to gift the special people in your life, especially those who've put up with you since you were in diapers through the planning of your wedding. Check out these thoughtful, yet won't-break-the-bank gifts from The Knot's Wedding Shop: For the guests: Ah, the endless uses for a flip-flop: perfect for a beach wedding, post wedding-day mani-pedis, and for throwing at anyone who gets sassy with you. These Havainas Flip-Flops ($8.99, down from $18) come in seven colors. I love personalized wedding favors, and these Personalized Matchbooks ($45.99 per 100, down from $55.95) are a cheap, but useful option. For the bridesmaids: The Personalized Canvas Tote ($14.99, down from $24) is available in 10 colors, so get all your b-maids one (and make them tote around your stuff on the big day). Not that we're trying to give your bridesmaids any ideas, but the Pink Flask ($9.99, down from $24.95) is pretty, pink, and holds booze, making it basically the best gift ever. For the groomsmen: Have wine, will travel. This Napa Wine Kit ($19.99, down from $24) holds two bottles of wine, one corkscrew, and the keys to my heart. Ditto for this Cherry Wood Humidor ($39.99, down from $44.95) is perfect for your cigar-smoking groomsmen. Ready for more sales and deals? Find them on our shopping guides for inexpensive wedding dresses, inexpensive wedding shoes, and cheap bridesmaid dresses.

Sponsored Post: Make Your Holidays More Comfortable With Hanes
I am a complete black tights fiend, which should be a surprise to exactly no one, being that I live in New York and wear almost exclusively dresses. Being an at least mildly logical individual, I had the presence of mind not to wear my compressive shaping tights to Thanksgiving last year – but I did wear another pair of beloved black tights, and to be honest, the elastic, digs-into-your-hip waistband was almost worse. The tugging and pinching and trying to hike them up or roll them down so they wouldn't hurt during dessert (I know, but it was Thanksgiving!) was enough to make me want to spend the next year's dinner in sweatpants. Thankfully, I just got this pair of Hanes Opaque Tights, and I've worn them with almost absurdly frequency since they arrived. In fact, I'm wearing them right now, and eating roasted Brussels sprouts with pancetta. And they're still comfortable. I got the tights in my normal size, but a holiday-friendly tip: If you want a comfy, high-waisted fit and a super-opaque leg, order a size up. And have a comfortable holiday.
Take Up To 60% Off J.Crew Jackets
For fall, an understated but chic J. Crew jacket goes with everything - from those cute leggings you've been working overtime at the gym to wear, to that new pleated skirt, these jackets are the final touch you've been looking for. A self-professed J. Crew lover, Michelle Obama would definitely approve of this retro-inspired cropped jacket ($140 from $350). With its neutral tone, it exudes the low-key elegance we've come to love about our First Lady. A casual jacket in a pale gray shade is always a smart buy for fall - this versatile jacket ($50 from $148) can be worn equally well with a pair of skinny jeans or a fitted pencil skirt. Made of super-soft merino wool, we'd warm up our slinkiest black dress by throwing on this sophisticated blazer ($180 from $230). For the outerwear we love, peruse our picks for the best trenches, denim, and leather jackets. More Sales and Deals: Express: Take Up To 50% Off Women's Apparel Bloomingdales: Up To 20% Off Handbags Nordstrom: Save 33% (or more) On Women's Shoes
A Find: A Fresh Smelling Home from a Bargain Candle
What: Febreze Odor-Eliminating Core CandlesWhy: I was always a fan of Febreze spray, so when I heard that Febreze introduced an odor-eliminating candle I was already on the bandwagon. Let me just explain a bit about my living situation. I share an apartment with a Brazilian/Polish couple. For some reason they love to cook beans and other legumes that inevitably stink up the entire house -- including my room. For minutes after I lit my new candle I wondered why I couldn't smell anything. After all, this is a scented candle. After I had forgotten that I lit the candle completely, I suddenly started to smell the fresh aroma. Out go the beans, in comes a scent reminiscent of Christmas time. The flavor is meant to be "Apple Spice & Delight," but not only do I get the sweetness of apple, but also the freshness of pine and the warmth you get on a cold winter's afternoon by the fire. It may have taken a while for the odor-eating core to diminish the stink of favas, but finally, my place smelled fresh, clean and just like a home should -- not like my roommate's cooking. Price: $30Get Yours: Amazon.com
Masstige Preview: Alice Temperley for Target
It is official, Alice Temperley has joined the ranks of renowned designers that will lend their talents to Target's "GO. International Flights of Fashion," a project intended to expose the masses to some of the top labels at lower prices, of course.Temperley's line, set to hit stores in October (for 60-90 days… be prepared to pre-order), is a little less timeless than usual, but definitely brings a high fashion, contemporary edge to discount shopping, which is what we would really hope for from such an elite designer. Among our top picks is a black and white belted sweater dress for $49.99, a potential favorite of the collection. Another great black and white number is a leaf-printed sweater with horizontal stripes paired with a white key-holed blouse and velvet miniskirt. These separates look great as an outfit but could easily coordinate with anything else in your closet. If you're looking for something a little trendier, there is a navy belted tunic layered over a white button down with fingerless gloves (very Lindsay Lohan). Although not particularly loving many of the looks with pants, we did enjoy a pair of sailor trousers in gray crepe for $39.99. In Target now? The Libertine Collection. Check out our review of the line before you shop! Alice Temperley for Target is now available in Target stores and at Target.com/go. Check it out!
Beauty Find: Mascara That's Safe for Sensitive Eyes
What: Mineral Wear Talc-Free Mineral Mascara by Physicians FormulaWhy: I'm sensitive to everything: pollen, cat fur, sodium laureth sulfate, boys who tease me, etc. My eyes also have some trouble with sensitivity, which is why I was happy to test out this new mascara and actually continue to use it until the tube dried up. What's great about it, besides the fact that it doesn't irritate my eyes and that it's formulated specifically for contact lens wearers, is that it also works. The plastic brush helps lift and separate, lengthening a bit, while adding fullness. I rarely used the comb side of the dual-sided brush, but when I did, wow! That's what I call big lashes. And for all you gunk-a-phobes, fear not; it goes on smoothly and coats each lash without clumping of any kind. Definicils, watch out! This bargain contender will give you a run for your money and all without doing damage to sensitive peepers. Price: $8 Get Yours: Walgreens.com Sensitive like me? Check out our guide to Beauty Products for Sensitive Skin, plus our guide to Eco-Chic Beauty.
Beauty Bargain I Can't Live Without: Burt's Bees Radiance Day Creme
What: Burt's Bees Radiance, Day Creme with Royal Jelly Why: Everyone knows that Burt's Bees Lip Balm is the best balm ever, but what about the rest of the products in the line? The carrot body cream had me wary, but I've just fallen madly in love with the Royal Jelly Radiance Day Creme. I kid you not it has the most indulgent smell of sweet honey that hits just the right note; not overly strong, sweet or dizzying, just fresh and clean. The texture is ideal for a day cream. Perfectly balanced with enough power to hydrate without weighing skin down, this mid-weight cream sinks in and replenishes fast so you don't have to wait forever to apply your makeup. Not only can I not get over how much I love this cream for what it is, but it's also 99.02 percent natural. Thanks to the great smell and silky formula, I never would have known it was so good for me -- the label boasts vitamins A, C, D, E and K, plus every single B vitamin known to man, a variety of amino acids and 12 minerals. Considering skin absorbs 65 percent of what we put on it, I could just about give up my multi-vitamin. Price: $15 a jar. Get Yours: Drugstore.com
A Find: Gradual Tan Tabs from EluSun
What: EluSun Effortless Beauty Sunless Tanning Softgels Why: OK, before you dismiss this post because it has to do with supplements, hear me out. I was skeptical, too, as was my mother who warned me that I would wind up looking like a carrot. In fact, I've been using these all-natural nutritional supplements for several weeks and don't look orange at all. Rather, me, the pasty Irish girl who doesn't tan, but burns, is getting a very little touch of sun without the use of sprays, gels or any other turn-your-hands orange sunless tanner. Plus, despite my rotten eating habits, my skin, hair and nails all seem to be looking better these days. Take two tabs with water twice a day during pre-tan season to help develop a healthy base and then taper off once you're hitting the sun on a daily basis. The recommended period for starting off full throttle is six weeks, but it's never too late to start. Throughout the months when the sun doesn't shine (which is practically always if you live in New England), EluSun can help maintain your glow naturally and safely. I figure it's a win-win situation: healthy looking skin and more vitamins and minerals for my body. What more can you ask for? No fuss, no muss, no smelly tanner smell -- just a healthy looking glow that comes from within. Price: $10 for 120 capsules Get Yours: Amazon.com
Celeb Beauty: Steal Ginnifer Goodwin's Fresh Look
If I ever had to cast an actress to star in the movie of my oh-so-riveting life, I would without a doubt lobby for Ginnifer Goodwin. As fresh faced, new-to-the-game Margene on Big Love, she's able to pull off perky perfectly, and her slightly more sultry off-screen style is funky and classy at the same time. Copping Ginnifer's brand of beauty is all abut capturing (or faking) a sublime inner and outer glow. LORAC's Cheek Stamp in Coral ($22) is perfect for giving cheeks a natural-looking, even flush. Top off with Benefit's just-sparkly-enough 10 bronzing and illuminating powder ($26) for a dazzling one-two punch of color. To get Ginnifer's natural, smoky eyes, try an easy-to-apply cream liner like Napoleon Perdis' China Doll Eyeliner Earth ($25). Layer a tawny matte shadow under plummy colors with slight sheens to make eyes pop. A Stila Compact ($14) stocked with Barefoot Contessa, Nude, Shell and Ecru shades ($16) is a good mix-and-match option. And don't forget how important flawless brows are. Anastasia Brow Ex-press kit ($32) has all the tools you'll need to maintain star-worthy arches. Finally, Ginnifer does right by her smoldering eye look by downplaying her lips. A simple, light gloss in a peachy shade, like Philosophy The Supernatural Lipgloss ($15), is a foolproof pick. Have Big Love for Ginnifer's look? Stock up on her essentials at Sephora.com. Deal Alert: Free Lorac Mocktail sample with any purchase. Enter promo code HOTLIPS at checkout. Offer valid through 8.16.07 or while supplies last.
Eco-Find: Shoes You Can Bring Home to Mom & Dad
What: Beyond Skin Ethical Shoes Why: Isn't it lovely how shoes are just so moral these days? While perusing the Beyond Skin website in search of a great find, what I ended up finding was myself with one of those rare yet delightful dilemmas: I could not choose just one thing to write about -- I loved it all! The collection of shoes from this exclusive ethical footwear label really made my eyes widen with desire. Catching my attention immediately was this pair of electric blue peep toe pumps. The classic stilettos in beautiful ruby red are also amazing. If you gush over jewel tones but not over running around in four-inch heels all day, there is a much lower amethyst "kitten heel" pair available, as well as round toe emerald flats. Vegans and vegetarians will truly appreciate the cruelty-free manner in which each shoe is manufactured, (manufactured = hand-made in London), and is non-exploitative to animals, people or the greater environment. The rest of us can feel good about ourselves for being eco-friendly shoppers, for after slipping into a pair of these beauties you won't just be strolling down the street feeling fabulously stylish, you might be inspired to pick up litter along the way. (We're hoping that's what Natalie Portman did when she wore them to the Golden Globes…) Price: $245 - $405 (Prices on the site are in British Pounds) Did I forget to mention these precious duo-tone T-strap sandals and these gorgeous slouch boots? For shame!
SheFinds a Soft, Comfortable Bra from Bali
What: Bali Passion For Comfort Underwire Bra Why: Silky, soft perfection in a bra couldn't come closer than this bra by Bali. Unfortunately, as much as I wanted to love this bra, I couldn't because they run large and the smallest size they have is a 34B. Lucky for me, my friends and I like to swap when stuff doesn't fit right. I'm flat, so my friend got to try out the Bali Passion for Comfort underwire bra and I got a vintage high-waisted skirt that used to be owned by a transsexual burlesque dancer. Anyway, on to the bra. My friend gave it glowing reviews, so I asked her to give SheFinds readers her review: I hate wearing bras with too much padding and lining because I don't really need it, so this one was just perfect. It was super comfortable and didn't show through under T-shirts; no lines or anything. Plus I liked how it felt; really soft and not scratchy. I could wear it all day and not notice it, so I would definitely recommend it. Have anything else that doesn't fit? So there you have it. Other details you should know is that the straps are slightly padded for extra comfort and the underwire is completely encased so it won't dig into your ribs. Full-figured women are the perfect candidates for this bra as it goes up to a size 42D. Price: Originally $29, On Sale for $23.20 Get Yours: BareNecessities.com For more great bra finds, check out: * The Best Bras * Bras for Big Busts * The Top Five Sports Bras
Taste Test: Jeweled Ballet Flats — Which Is the Splurge?
Bejeweled shoes and ballet flats are the hottest footwear styles of the summer. Why not combine the two and have the trendiest tootsies in town? These two ballets are very similar in looks but not so similar in price. One carries the name of a famous Italian fashion house while the other is a celeb clothing line wannabe. Do you have an eye for what is really designer? Click on a shoe to find out: Need just one more pair of gorgeous jeweled flats for the last month of summer? Check out a few of our favorite picks.
SheFinds News: The Morning Roundup
* Style find for right now? Nautical chic. Try it on land or sea with these quick tips. [Telegraph UK] * Counterfeit News: Not only is Forever21 playing today's punching bag for more folks than Gwen and Diane, but Levi's is suing Polo...for stealing their stitch. Will the madness ever end? [WWD] * The summer accessory trend for guys and gals that's reaching status symbol proportions? The straw fedora. [The NY Times] * Take a seat for a quick Fall Fashion Preview. [Seattle Times]
SheFinds Poll: Readers Like to Show Off Their Labels
Congratulations! Of all the SheFinds readers, 14 percent of you are really honest and admit to being "label whores." For that 9 percent who is unsure what the heck it means to be a label whore, here's a quick definition: "Label whore [noun, slang] is someone who only wears brand name clothes, with the name of the brand usually placed somewhere for all to see." Nearly 50 percent of you said it's OK to be a label whore on occasion, and we second that opinion. Why not show off that Louis? I mean, it did cost you several hundreds of dollars, right? Or those fab Dior horsebit shades? We can't resist. Although, on the other hand, among a variety of other faux pas (like going braless), we don't think it's a good idea to wear label on top of label like walking advertisement gone dizzyingly awry. Statement pieces that say designer without the need for a big icon are sophisticated ways to show your pride without looking like you dressed yourself on Canal Street (the must-see NYC shopping spot for knock-offs and other cheap imitations brought straight to you from a sweatshop in China). If you want to done luxury items that will scream designer without causing label overload, check out our guides to The Latest in Luxury and The Original and the Spin-off. And, if you just want to have fun, see if you can spot the designer find in our Taste Tests.
Deal of the Day: Take an Extra Exclusive 20% Off at FashionChateau.com
DEAL OF THE DAY: Exclusive for SheFinds Readers: Get 20 percent off with coupon code "SheFinds." Why: We found this have-to-have 100 percent silk Rebecca Taylor Shift Dress to add to our little black dress collection and are loving the elegance and simplicity of the design. With sheer, mesh straps and a high-necked back lined with a row of delicate buttons, it couldn't get any sweeter for summer. Pleating above and below the empire waist gives it movement and a light, breezy look that stylish and sophisticated for any important summer event. Price: Originally $372, now $223. Plus, use the coupon code and get an additional 20 percent off -- that's 60 percent off the original price! Get Yours: FashionChateau.com
Beauty Find: Eyeliner That Doesn't Tug
What: Physicians Formula Mineral Wear Mineral Eyeliner Pencil in Dark Brown Why: As we age, the delicate skin around our eyes becomes less and less taut. Still, when you want to apply eyeliner, you want to make sure it doesn't tug anymore than it has to. For those in search of an eyeliner that glides on super, super smoothly, try this Mineral Wear Eyeliner from Physicians Formula. This is without a doubt far easier to apply than certain so-called high-end cosmetics and for a mere $7 I was incredibly surprised at how well it performed. The catch with it is you should be sure to wear it during cooler months and you might even want to set it with powder, just so that it doesn't smudge (yes, it goes on that smoothly). It would also be great for someone with drier skin, rather than someone with oily skin. Price: $7 Get Yours: PhysiciansFormula.com
Beauty Find: HIP Eyeshadow With Punk Rocker Personality
What: L'Oreal Hip High Intensity Pigments Concentrated Shadow Duo Why: HIP stands for High Intensity Pigments -- and that's what these eyeshadows claim to be. Claim they may all into the night; these definitely pack a high-color punch that lasts. I'm wearing "Dynamic," a duo of chocolate and gold shown here. For evening I wet the darker shade and use it as a liner using the lighter shade as an all-over wash on the lid. For daytime I use the gold to rim around my eyes, which brings out the specks of yellow in my normally baby blues. That's just me, but HIP comes in all sorts of colors, so you're bound to find a combo that's right for you like Playful in pink, Sassy in blue and Lively in green. These are the ideal little compacts to act as your go-anywhere makeup, blending easily and building to your desire level of intensity. And don't fret about being hip to wear them. Although they pack a lot of pigment into a tiny compact, they're just as sexy on any gal, no matter what her demeanor. Price: $7 Get Yours: Drugstore.com