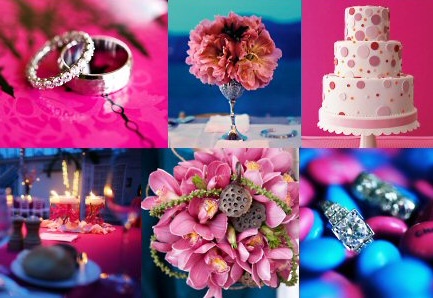 Forget Pastels And Boring Neutrals — Go For A Color Scheme That Really Pops
When choosing a wedding color scheme, forget about pale pinks and blues -- you'll get enough of those at the baby showers ahead. For any season, we're loving deep, bold indigo and bright pinks. Forego the same-old, same-old color combinations, and give your friends and fam a happy jolt of color instead: Read on for Flower Girl Dresses Under $50, Wedding Day Lipsticks and our shopping guides for Wedding Invitations and Cheap Bridesmaid Dresses.
Lift Your Spirits (And Your Skin) With Lancome's Best-Selling Creams
What: Lancôme's Rénergie Microlift R.A.R.E.™ Superior Lifting Cream SPF 15 Sunscreen ($78) and Superior Lifting Eye Cream ($58) Why: Unlike white hair on aging men, wrinkles don't make us ladies look distinguished. So, of course, there are countless anti-aging, wrinkle-decreasing products on the market for you to choose from, including these two best sellers from Lancôme, which we particularly like for their rich texture, signature floral scent and easy-absorption properties. Of course, the creams are similar because they both feature Lancôme's R.A.R.E. technology, but the eye cream is specially formulated for that particularly delicate area. Get ready to say goodbye to saggy lids, dark circles, and wrinkles! Have a little lift on Lancôme. Get Yours: Lancome-usa.com
Net-A-Porter Kicks Breast Cancer's You Know What
Starting last September, Net-A-Porter partnered with the CFDA to launch Fashion Targets Breast Cancer in order to raise both funds and awareness about the illness. Recently, two new designers premiered brand new pieces for sale on the site in support of the FTBC cause: This Exclusive tank dress ($170) was designed by the Australian duo Sass & Bide. Fashion heavyweight Oscar de la Renta has contributed this stunning Oscar de la Renta embellished silk kaftan available for $2390.Go to Net-A-Porter.com to snatch up these limited edition FTBC exlusives and help out a significant cause.