5 Mistakes Couples Make When Planning A Halloween-Themed Wedding
Shop Lavender Décor: Whether You Want A Whole Bunch Or Just A Sprig Of The Stuff
Lavender is a one-two punch: not only is this perennial plant incredibly sweet smelling, but it also has some pretty incredible health benefits. No wonder it's always an aromatherapy staple: the smell naturally helps cure anxiety, headaches and even acts as a repellent against pesky summer insects. Not to mention the color is gorgeous, especially for rustic, understated affairs. There's a lavender tree on my block, which is finally in bloom, and every time I stroll by, I get a euphoric feeling. Isn't that how you want to feel on your big day? This versatile super-plant blooms in both June and August – making it ideal for spring and summer brides, especially those prone to love bites from mosquitoes! Want to infuse your wedding with the sweet-smelling, pretty purple plant? We have some ideas. Incorporate fresh or dried lavender stalks into your centerpieces or bouquets, or even serve up lavender lemonade cocktails to your guests for a twist on your signature cocktail. Or you can rock a lavender gown (like Sofia Coppola's Azzedine Alaïa wedding dress, or Kate Middleton's BAFTA gown), and send out lavender invitations. Ah, springtime... We scanned the web (and Pinterest, this is tough work, ladies) to find you the most beautiful lavender wedding décor. Shop our guides to the best cheap wedding invitations, eco-friendly wedding favors, and wedding cake toppers!
Theme Thursdays: Western Favors That Don't Scream Coyote Ugly
You've decided on a western themed wedding, so what's next? We've searched high and low for the coolest ideas to make your wild, wild west dreams come true! Need more wedding favor inspiration? Check our guides to the best customized wedding favors, wedding centerpiece favors, and cake toppers.
Taste Test: Which Denim Hobo Costs Less Than A Pair Of Blue Jeans?
Did you get it right? Try our other taste tests. And don't forget that we found the best bargain bag and browse all the best handbags.
Payday Promos: Under $50 Thank-Goodness-It's-Friday Treats
Sure times are tight, but too much scrimping is never a good thing. (Don't doctors say deprivation is bad for your health, or am I just making excuses?) Even if there is no medical evidence to prove that every girl needs some shopping time, take this week's pay check, put aside money for your essentials, and stash a little for your own personal enjoyment. For less than $50 you can snatch up these bargains and nary put a dent in your bank account. Pick #1: Steve Madden Kalen Suede Wedge Sandal ($45, from $90) These sandals combine a slight wedge to lengthen the legs and an on-trend cage-like upper (think cage booties, but for summer), making them a smart addition to your spring wardrobe. Plus, shop shoes at DSW and get free shipping with code NEWYR10. You can also get $10 off your purchase of $49 with code SAVMORE. Pick #2: Newport News Oversized Sweater Tunic ($25, from $49) Slip into this cozy, comfortable cocoon style sweater for an instant splash of style. It's also available in black, but in berry it's a tad more refreshing. Pick #3: White House Black Market Printed Silk Charmeuse Chemise ($25, from $118) This pull-on, 100% silk dress in graphic black and white brocade print is cut slouchy throughout for a forgiving fit. With the cap sleeves and cowl neck, it can easily be worn from the office to happy hour. For more steals on the cheap, check out our past payday promos, these online sample sales, and naturally, the top weekly style sales and deals.
Beauty Roadtest: Scrumptious Creamy Body Milk For Your Thirsty Skin
What: Farmhouse Fresh Sweet Cream Body Milk ($26) Why: The air is dry, and skin takes a beating this time of year. Not only did my skin drink up this body milk, but it smells so delicious, you'll be tempted to drink it. (Don't). This milk really does do a body good. Paraben and chemical-free, this cream is so sweet, you'll want to put it on every morning. The glass carafe is cute, and looks great next to the sink in your bathroom, making it a great gift, too. Get inspired: try a new beauty product to change up your morning routine, and see more Beauty Roadtests to find out what works before you buy, and the solutions to your beauty questions.
Good News/Bad News, Posen's Sesame Street Offer, Sonia Rykiel's Line H&M (In Just 9 States)…
First, the Bad News, because it's pretty juicy today: In a very Gossip Girl kind of story, two prep school students who were busted for hacking into computer systems to get their name on lists for Fashion Week are ratted out by a former classmate, who emailed Fashionista to say they've done it before, with front row photographic evidence. The last line of the anonymous email reads, "My best friend and I have a thing against [them] because they got shot by the Sartorialist before we did, and they live in Vermont." Do yourself a favor and check out our list of Fashion Week shows available through livestream--they're drama-free. [Fashionista] An New York Times article about Zac Posen surmises his company isn't doing so well and re-hashes a confrontation the designer had with Harper's Bazaar editors, who once asked him to to pose in the mag with Sesame Street's Count last spring. He declined. Apparently, that's the kind of stunt you have to pull to be featured in the magazine if you're a non-advertiser these days. [NYT] Now, for the good news: Gray hair is really popping up everywhere (and not just on your head), but Kate Moss, Tavi Gavinson, and now models at Cheap Monday in Sweden are going gray intentionally. [Refinery 29] Sonia Rykiel (whose lingerie we loved from H&M) is coming back on February 20, available in a handful of states (AZ, CA, GE, IL, MA, NY, PA, WA and DC) with a line of cool classics like her signature sweater dresses. See the best underwear and Spanx shapewear to go underneath. [Nylon] In a roundup of stars who sell fashion to the rest of the world, Sandra Bullock's fashion Q rating is rising--at 45, she's relatable, has a great body, and now (more than ever) designers are rushing to dress her for the Oscars in the  hopes they'll reach target consumers. Even if we don't end up buying her Oscar party dress, but we still love her nail polish. [WSJ] Addicted to fashion news? See our previous style stories, and sign up for our newsletter to get in on the scoops first.
Five Star Spring Style From The New Limited Edition J. Crew Collection
The limited edition Spring 2010 J.Crew Collection has just hit the digital storefront and we're (surprisingly) starting to drool a bit. Although there were a few misses, like a pair of cooky overalls that are a little eighth grade, there were some great hits. There are some great accessories that were worn in the shots that you can buy now--trust me, they're well worth the green. s This Pearlized Sequin Dress ($650) with a sheer overlay is stunning worn either with or without the top layer. You might also notice that little pop of color in the model's hand; it's the fab Flutter-Flower Clutch ($128)--a perfect splash of color whether you're at a garden party or strolling New York City streets. It's hard to express how much I love and want this Suede Cascade Jacket ($895). On the same level, I'm also loving the way they styled the Vintage Silk Scarf ($58) as a belt. Lastly, although I could go on and on talking about this collection, the Matte Jersey Curator Pants ($168) and the Laporte Drape Blouse ($110) are affordable must-haves. The model is wearing them with equally desirable chunky jewelry like the Faceted raindrop ribbon cluster necklace ($135), a guaranteed spring trend. View more spring trends, like these favorites from the runway and from the editor's desk.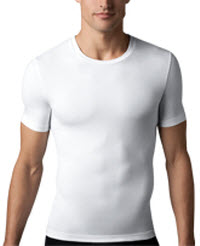 First Look: Equal Opportunity Shapewear–Spanx For Men
No matter which side of the fence you're on: yay or nay, Spanx for Men is here, to buy now. What do you think--has the shapewear trend gone too far, or is it just equal opportunity shopping? What would your guy think of you got him some for Valentine's Day? Says Spanx founder Sara Blakeley,   "The men in my life (and in Hollywood) have been asking me to make SPANX for men for years, so I was inspired to create comfortable and powerful undershirts that provide instant gratification." This compression crew neck tee is for the guy who likes classic tees--and has a little bit of a belly and upper arms he doesn't want to show off. The v-neck tee is perfect to wear under a button-down shirt for extra coverage. Best for the man who might be apprehensive about shapewear, this compression tank hides his tummy, too. See the best in shapewear, Spanx swimwear, and cheap shapewear that won't break the bank.
Beauty Find: Soft Skin All Year Long
What: Bobbi Brown Brightening Facial Water Why: While you can wear boots to protect your tootsies, scarves to protect your neck, gloves for your hands and hats for your hair, you can't exactly protect your face without covering it up. Since harsh winter winds can wreak havoc on your skin, causing redness, dryness and sensitivity, consider trying Bobbi Brown's Brightening Facial Water. Wash your face as normal and apply this facial water afterwards to help reduce redness and replenish lost hydration. You may not be able to stave off the elements completely, but at least now you can take extra care of your skin and remove redness with one simple step. Price: $28 Find it: Nordstrom.com
Deal of the Day: Up to 70% Off at Shopbop.com
DEAL OF THE DAY: We don't mean to play favorites, but we just can't get enough of this fabulous site. Hot designers, of-the-moment trends, incredible sales -- what more could you ask for? The perfect jeans? Done. Paige Denim Melrose Straight Leg (was $179, now $90): If you haven't heard of Paige Denim, you haven't been doing your homework. Their jeans are so hot because of their amazing slimming, yet curve-hugging qualities. Plus, everyone needs a straight leg jean this season. GoldSign Dietrich Wide Leg Jean (was $209, now $105): We were a little wary of wide-leg pants when we heard they were coming back, but we've been converted. Sort of. The trick is pulling them off. We suggest pairing them with a heel and billowy tunic top to balance the volume. Seven Jeans Roxanne Skinny Slimmer Jean (was $149, now $104): These sexy skinnies are sure to work their way into your favorites rotation. Made in a surprisingly soft denim with just enough stretch, they'll look great with ballet flats and sexy stilettos...even booties (gasp!)Visit shopbop.com for these denim deals and more!MORE DEALSSilhouettes.com: Take 15% off orders of $125 or more. Use Code AFF7PC8Avenue.com: Save 15% on fabulous fall styles!SpaFinder.com: Get a free spa finder gift box on orders over $125.
Fashion Find: Stock Up For Spring
What: Gap 3/4-sleeve smocked voile top Why: Technically it might be spring, but last time I looked outside, it was still the middle of winter. Nonetheless, it's never too early to start planning for the thaw, especially with the unusually warm winter we've been having. Instead of stashing away wool sweaters and digging out tank tops, a great option is to stock up on some great layering pieces, like the 3/4-sleeve smocked voile top by Gap. It's available in navy and white, but I highly recommend purchasing the white option as that's going to be a hot color this spring. The sheer, lightweight cotton easily adds an extra layer of warmth under a cardigan or over a camisole, and as the weather warms up it will transition beautifully into more forgiving weather. Price: $44.50 Find it: Gap.com
SheFinds Resolution Week: My Mom's Socks
Resolution: To update mom's sock collection Resolutions Week Feature Find: Hue Rib Dress Sock Why: I love my mom very much, but I don't love her sock collection. While she doesn't believe that your bag has to match your shoes, she does believe your socks should match your shirt. Teal shirt? Teal socks. Argyle sweater? Yep, argyle socks. And I haven't even touched on the St. Patrick's Day-Easter-Christmas themed collection… So mom (and all others looking for comfortable, classy, stylish, go with everything socks) this resolution is for you. I resolved to expose the world to Hue's Dress Socks in black, navy and brown. Price: $4.99 Find it: Amazon.com
SheFinds Resolutions Week: A Fresh Face
Resolution: To take better care of my skin Resolutions Week Feature Find: Von Natur's Balance Facial Creme Cleanser Why: This year I have promised myself that I would take better care of my skin. Living in Chicago, I experience tropical highs, Artic lows, and brutal blasts of wind- sometimes all in the same day. As a result, there are times when I feel like my skin is taking on a "Tales from the Crypt" look. This year will be different thanks to Von Natur's Balance Facial Creme Cleanser. Loaded to with anti-oxidants, this organic redyrating creme cleanser leaves my skin smooth and ready to face whatever the Windy City throws at it. Price: $21.99 Find It: vonnatur.com
A Fashion Find: The Perfect Fit
What: David Kahn 'Heidi' Enhancer Stretch Jeans Why: You're always on the hunt for the perfect pair of jeans. You try on dozens of pairs and study yourself in the dressing room mirror. How many times have you put on a pair that looks great from the front only to find that turned sideways you resemble the letter "P?" That may be what made J Lo famous, but... no thanks. End your search and slip into a pair of David Kahn 'Heidi' Jeans. These low rise, boot-cuts are designed to raise and shape your backside. So, to answer that age old question -- no, it doesn't look big. Mission Accomplished. Price:$158 Get yours: Nordstrom.com Check out SheFinds Guide to The Best Denim for all Body Types.
SheFinds News: A Devil of a Documentary
Anna Wintour, legendary editor of Vogue and the supposed inspiration for a certain Prada-clad devil, has agreed to allow A&E to film a documentary about her life and her magazine. According to A Socialite's Life, the doc will focus on the making of Vogue's September issue, traditionally the thickest of the year and a volume well regarded as the fashion Bible. With the box office and bookstore success of "The Devil Wears Prada," and with "Ugly Betty" making waves on TV, it seems only natural for the queen of magazine mean to open up. And don't worry that the infamously icy editor will hold back for the cameras: A&E executive Robert DeBitetto says the doc will offer "a very candid and very exclusive window into this iconoclast, her fame and her notoriety." Celebrate the best fashion/television marriage since "Project Runway" by splurging on some oversized — and very Wintouresque — PRADA Sunglasses. And if you can't wait for some juicy behind-the-magazine-scenes action, check out video podcasts from the Marie Claire offices at marieclaire.com.
Best Sellers: LIVE IT UP
Best Seller: The onehanesplace.com