The Layering Item You Need For Winter Is On Sale For Just $14 Today
What's one thing that your closet can't have enough of right now? Stylish layering pieces to keep in rotation when the winter chill is just too much to handle! Luckily, Nordstrom is making it super easy to stay warm this season because they've just put the one essential you'd better stock up on ASAP on sale. This Scallop Hem Tee from Topshop. As you can see, this isn't just your ordinary tee. It's gorgeous scallop hem makes this amazing top a definite wardrobe staple. This cozy cotton option will keep you warmer than your average tank top. Plus, you can layer it under your favorite sweaters and with cardigans, spotlighting the stylish hem. And did I mention that this staple available in five different color options?! Even better, you can snatch up this steal for so cheap at just $13.99, down from $28! So do not miss your chance to grab one (or two!) of these versatile tees. Sizes have already sold out in some colors. You've been warned! Topshop Scallop Hem Tee ($13.99, down from $28) Topshop Scallop Hem Tee ($13.99, down from $28) Topshop Scallop Hem Tee ($13.99, down from $28) Topshop Scallop Hem Tee ($13.99, down from $28) Topshop Scallop Hem Tee ($13.99, down from $28) SHOP MORE NORDSTROM MUST-HAVES ASAP Be sure to check out this flattering $29 Nordstrom top and these cozy cardigans on sale! [Photo: Nordstrom]
Nordstrom Has A Major Boot Sale Going On Right Now–Prices Start At Just $29!
Ladies, we are well into boot season! And if you're lacking in stylish options that are comfy and cute or just need a few more pairs to brave the winter chill, then Nordstrom just did you the biggest favor: They're having a crazy good sale on boots right now! (Seriously, this sale is too good to be true!) Snag a gorgeous pair like these Brooke Micro Ankle Booties for just $29!  (Yes, you read that right!) These booties the perfect statement shoes to put into your winter rotation ASAP--not to mention they also come in the color of the season: burgundy. And aside from being a stunning upgrade to your wardrobe, these booties also feature a block heel that's so comfortable to walk in. You can't go wrong! And they're so cheap right now. So hurry up an grab a pair while these booties are still in stock. We guarantee that they'll sell out fast!  Topshop Brooke Micro Ankle Bootie ($29.99, down from $60) But don't just stop with them! There are so many other pairs on sale to put in your cart. Even better, they're all under $60! So you'd better not sleep on these deals. Trust us: now is the time to stock up on a ton of stylish boots for super cheap. Topshop Brooke Micro Ankle Bootie ($29.99, down from $60) Topshop Krown Studded Bootie ($39.99, down from $80) Topshop Kash Sock Boot ($39.99, down from $80) Topshop Column Heel Bootie ($55, down from $11o) SHOP MORE NORDSTROM SHOES NOW Be sure to check out these statement leggings and this bestselling sweater! [Photo: Nordstrom]
These $45 Suede Booties Are Selling Fast At Nordstrom Right Now–Get A Pair ASAP
If you haven't invested in a new pair of booties for the season, you'll be happy you waited. Why? Nordstrom just put the most perfect pair on sale for less than $50. Check out these super cute Topshop Barley Chelsea Boots: Topshop Barley Chelsea Boot ($45, down from $75) Topshop Barley Chelsea Boot ($45, down from $75) As if you weren't sold on looks alone, can you please take note of the price! Less than $50 for a pair of genuine suede booties that have the perfect walkable heel? That's drop-what-you're-doing-and-score-a-pair-ASAP good! Right now these cute booties are available in just about every size, but that won't be the case for long. Consider yourself warned: get yourself a pair of these perfect suede booties right now! PS: While you're at Nordstrom, you might want to check out these insanely good deals, too: LUSH Legging Jeans ($23.40, down from $39) LUSH Perfect Roll Tab Sleeve Tunic ($27.90, down from $42) UGG Australia Aidah Mini Boot ($92.96, down from $154.95) Be sure to check out our fun holiday gift finder. [Photo: Nordstrom]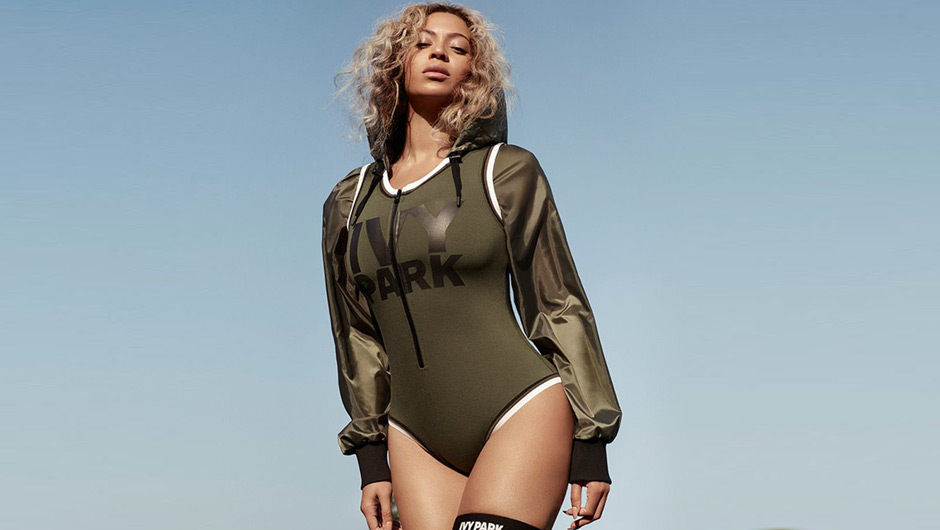 Here's Everything You Need From Beyoncé's New Ivy Park Collection (They're Under $100!)
This Huge Topshop Announcement Has Our Wallet's Singing
Nordstrom Has So Many Cute, Cheap Finds Under $26 Right Now–Don't Miss These Deals!
Fall may be coming soon, but it's not here yet! There's still time to stock up on and show off all of your summer faves. After all, many of your go-to closet staples (ahem, cold shoulder tops, anyone?!) can be worn well into the cooler months. For example, these super cute Topshop Honeymoon Grommet Sandals, which are on sale at Nordstrom for a steal at just $25.99. Topshop Honeymoon Grommet Sandals ($25.99, down from $52) From pairing with dresses to a relaxed jean and top combo, you can wear these stylish black and gold shoes with just about any outfit--and well into September, too! But these sandals aren't the only goodies that you can buy for cheap at Nordstrom. Here are a few more end-of-summer items to treat yourself to. Hurry and grab up these deals before they're gone! Lush Cross Front Blouse ($19.90, down from $45) Topshop Roleau Swing Camisole ($12.99, down from $25) BP. T-Strap Short Sleeve Tee ($14.98, down from $25) Topshop Cross Neck Tee ($14.99, down from $28) Hue High Waist Skimmer Leggings ($21.60, down from $36) Topshop Choker Flippy Tunic ($19.99, down from $38) SHOP MORE SALE GOODNESS AT NORDSTROM NOW Be sure to also shop these amazing leggings at Nordstrom and these super cute cold shoulder tops! [Photo: Nordstrom]
Psst! This Cheap Black Wrap Dress Is Crazy Flattering On Every Body Type
It's time to stock up on your fall must-haves. This wrap dresses is essential for year-round wear and you're in luck because it's on sale. The Topshop Black Cutout Wrap Midi Dress is the classic little black dress that you've been searching for. It's flattering, comfortable and goes with anything. Plus, it isn't too short, so it's appropriate for any occasion you have on your busy schedule. On warmer days you can rock the dress with strappy sandals, and on cooler days you can wear a pair of tights and booties with it. Topshop Back Cutout Wrap Dress ($35.99, down from $60) Want to add a few more summer to fall transition dresses to your wardrobe? Shop more of our faves under $35 below: Lush Olivia Wrap Dress ($29.40, down from $49) Sun & Shadow Ruffle Wrap Dress ($29.40, down from $49) Topshop Midi Slipdress ($29.99, down from $50) One Clothing Knit Wrap Midi Dress ($35) Cotton Emporium Ruffle Hem Knit T-Shirt Dress ($35) SHOP MORE DRESSES AT NORDSTROM Be sure to check out the $39 suede booties that look good with everything and the brand that makes crazy flattering jeans, pants and leggings. [Photo: Nordstrom]
Every Woman Should Own This $15 Topshop Camisole–It's The Best!
Need a basic top that will look good with anything during any season? Hands down, it's this Topshop Rouleau Swing Camisole. It keeps you cool in the summer and looks great with denim cutoff shorts and skirts. Even better, it's a great layering piece for fall, winter and spring. Just throw a cardigan or blazer over it with jeans or work pants and you've got a cute outfit in a flash. And get this: this camisole comes in 12 (yes, 12!) colors! Whether you like classic shades like black and white or bright hues like neon pink and kelly green, there's an option for you. The best part about this super cute camisole? It's on sale for just $15 (down from $25) at Nordstrom right now. Get one in every color before they're all gone! Topshop Rouleau Swing Camisole ($15, down from $25) Topshop Rouleau Swing Camisole ($15, down from $25) Topshop Rouleau Swing Camisole ($15, down from $25) Topshop Rouleau Swing Camisole ($15, down from $25) Topshop Rouleau Swing Camisole ($15, down from $25) Topshop Rouleau Swing Camisole ($15, down from $25) Topshop Rouleau Swing Camisole ($15, down from $25) Topshop Rouleau Swing Camisole ($15, down from $25) Topshop Rouleau Swing Camisole ($15, down from $25) Topshop Rouleau Swing Camisole ($15, down from $25) Topshop Rouleau Swing Camisole ($15, down from $25) Topshop Rouleau Swing Camisole ($15, down from $25) SHOP NORDSTROM'S ANNIVERSARY SALE NOW Be sure to check out the perfect summer tee for $14 and the best gladiator sandals for just $19. [Photo: Nordstrom]
These Are My Go-To Denim Shorts For Summer–They're Soft, Not Too Tight And Look Good With Everything
If you've been searching for the perfect "cool girl" pair of denim shorts for this summer, you can stop looking! I found the best pair of super cool shorts for this summer. The Topshop Ripped Mom Shorts are my new go-to. They came in the mail last week and I've been obsessed ever since. As we speak, I'm rocking these shorts over a super cute one-piece swimsuit on the beach and they look so. good. They also look amazing with a crop top and sneakers, or a sweatshirt and sandals! The ways you can mix and match these shorts are endless. The thing I love the most about these shorts, is that even though they're denim shorts, they don't feel uncomfortable at all. A lot of denim shorts I've owned in the past are tight and uncomfortable, but these feel so soft. Not to mention, they fit so well. They're super flattering, but not tight on my hips or waist. You can thank me later, but right now check these out for yourself! Topshop Mom Shorts ($60) Don't forget to check out gingham print shoes and the leave-in conditioner you need if you're going heat-free this summer.
These Are The "Best Jeans Ever' According To Nordstrom Reviewers–And They're Only $40!
In the market for a new pair of black jeans? Nordstrom reviewers are here to help you out. According to tons of the 4- and 5-star reviews over on nordstrom.com, these Topshop Moto 'Leigh' Ripped Skinny Jeans are hands-down the "best jeans ever." Commenters rave about how flattering they are, how great the stretch is and how they hold their shape. What I'm most stoked about? The fact that they're currently on sale for just $40--down from $70! Hurry and order a pair to put to the test for yourself. And remember--if you love them, spread the word and leave a comment! Topshop Moto 'Leigh' Ripped Skinny Jeans ($40, down from $70) Be sure to check out these cute $31 velvet booties and UGGs on sale! [Photo: Nordstrom] Save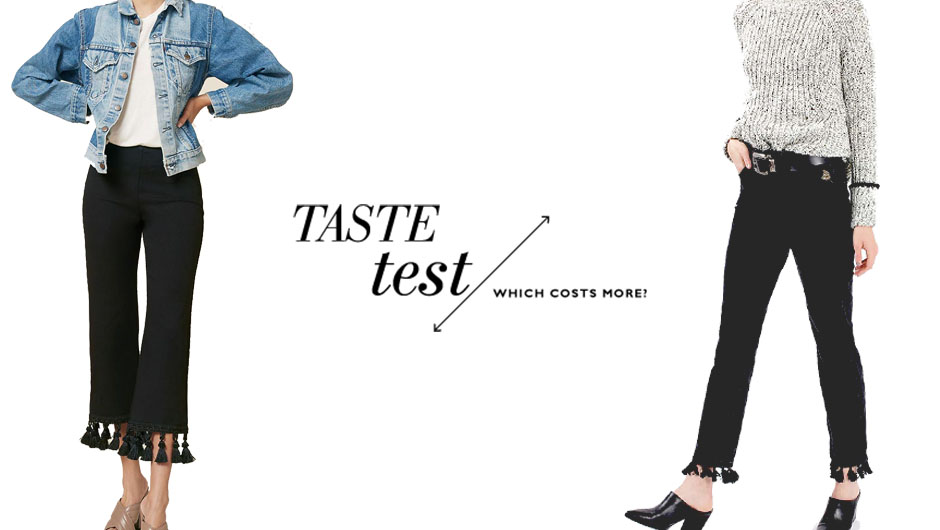 Can You Tell Which Tassel Hem Pants Cost $93 More Than The Other?
How fun are these tassel hem pants?! I first saw a pair from Reformation and obviously wanted them. But, in typical Ref style, the sold out immediately. Then I happened to find this denim version from Topshop (with most sizes in stock) that costs $93 less. Now that's #winning. Click below to find out which pair of tassel hem pants costs more than the other! Test your fashion savvy some more with velvet chokers and lace-up ballet flats
Topshop's New Season Collection Is Here–Shop It First Now!
We love summer as much as everyone else, but the truth is: nothing beats fall fashion! After months of sweating in barely-there dresses and short shorts, chunky sweaters, jeans and leather jackets are actually quite a welcome sight. Ready to start stocking your closet with fall goodness? Make Topshop the first place you start shopping. They just dropped their new season collection and no joke, we basically want everything. Of course, it doesn't hurt that "It" Taylor Hill is the face of the campaign and makes everything look amazing. Whether you're lusting after a new leather jacket or need to refresh your denim collection, you can get everything you need (and then some!) at Topshop this season. Afraid you'll have a hard time narrowing down all that fall clothing awesomeness? Check out a few of our fave pieces from the new line below: Lace Ruffle Shell Top ($46) KOBRA Boot ($65) MOTO Denim Raw Hem Jacket ($92) Mono Animal Ruffle Long Sleeve Blouse ($65) Embroidered Leather Jacket ($560) SHOP TOPSHOP'S NEW AUTUMN/WINTER 2016 COLLECTION NOW
Khloe Kardashian Is Kind Of Obsessed With This Cheap Denim Brand
Low key, Khloe Kardashian is obsessed with Topshop jeans. She's been spotted wearing the denim brand not once, nor twice, but at least three times.  We can see why Khloe is a fan of their skinnies in particular--look how well they flatter her hot bod: MOTO Mid Blue Ripped Jamie Jean ($75) The length, hitting just at her ankles, is ideal. MOTO Leigh Ripped Skinny Jeans (sold out) Plus, the high-waisted fit shows off her amazing curves. MOTO Mid Blue Ripped Jamie Jean ($75) And the best part is that Topshop jeans usually are around $75 a pair, which is pretty cheap for quality denim (think $100+ for Madewell and $200+ for rag & bone). And, you know, Khlo$ gives them her blessing, and she's the no-nonsense type. Shop more styles seen on her: MOTO Rip Jamie Jeans ($75) MOTO 'Joni' High Rise Skinny Jeans ($65) Don't forget to check out: how to make your iPhone battery last longer and Kim Kardashian's new haircut [Photos: Splash News]
These $48 Lace-Up Flats Are Blowing Up On Instagram
26,000 likes on Instagram? That's no easy feat. But these $48 Topshop flats garnered even more than that when Nordstrom posted this super cute pic of them a few weeks back. ? #twinning #topshop #shoefie A photo posted by Nordstrom (@nordstrom) on Apr 28, 2016 at 10:21am PDT Since then they've received 25 5-star reviews on nordstrom.com meaning you need them in your closet--ASAP! Obviously, lace-up shoes are a huge trend right now that show no signs of going away any time soon. So if ever there was a shoe the merited seizing the moment, it's these. They're cute, the price is right and according to the reviews, they're comfortable to boot--what more do you want?! Topshop 'N Fase Laser' Ghillie Flat in Nude ($48) Topshop 'N Fase Laser' Ghillie Flat in Black ($48) [Photo: Instagram] Follow me on Insta!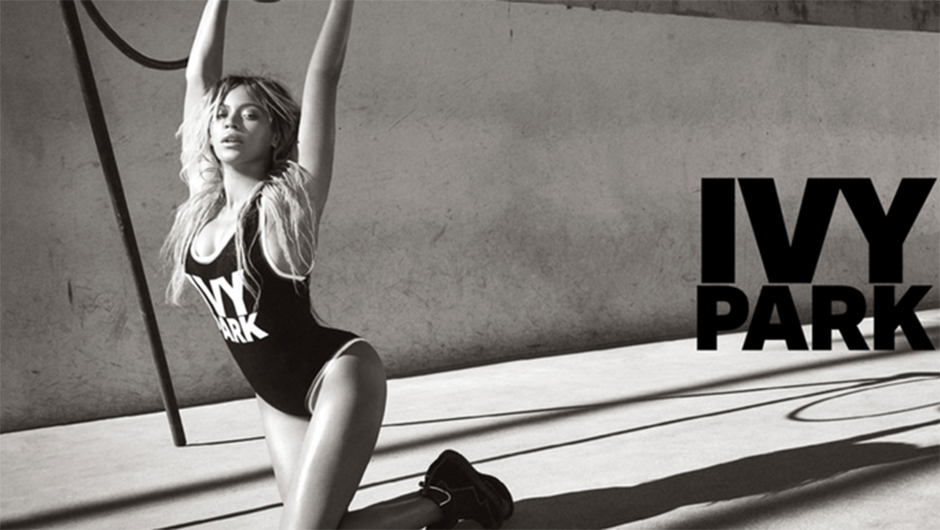 It's Here! Shop Beyonce's Ivy Park Athleisure Collection Now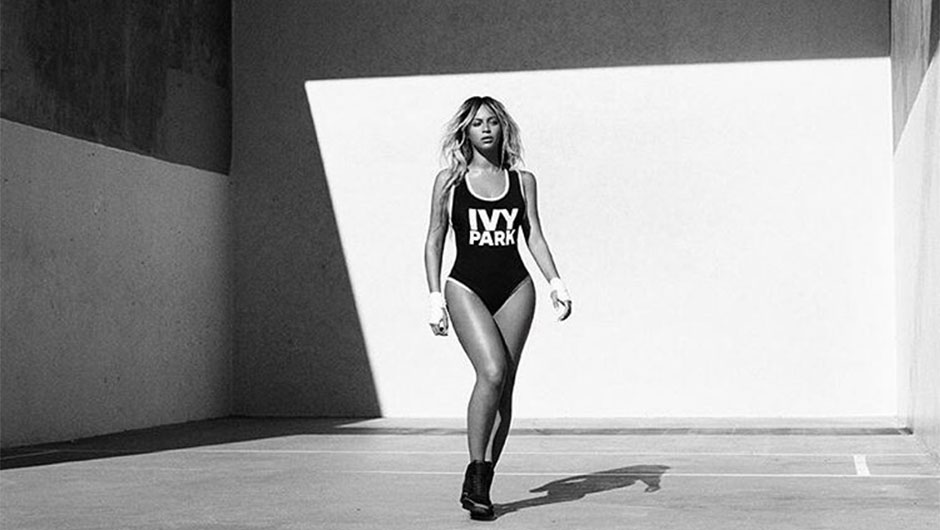 Beyoncé Debuts Athleisure Line With An Empowering Video
SHEfinds receives commissions for purchases made through the links in this post. Beyoncé debuted her brand new the athleisure line today, Ivy Park, and it does not disappoint. Queen Bey teamed up with Topshop's Sir Philip Green to create a collection of swimwear, tops, leggings and more. She announced the line with an empowering video where she models the collection and shares a personal journey. Blue Ivy even makes an appearance! https://www.instagram.com/p/BDnt9evPw5L/?taken-by=beyonce Ivy Park will be hitting Topshop and Nordstrom exclusively on April 14 so mark your calendars! In the black and white promo video, Beyoncé explains the reasoning behind the name Ivy Park. "I'd wake up in the morning, and my dad would come knocking on my door and tell me that it's time to go running," the voiceover starts. "I remember wanting to stop, but I would push myself to keep going. He taught me discipline and I would think about my dreams. I would think about the sacrifices my parents made for me. I would think about my little sister and how I was her hero. I would look at the beauty around me. The sunshine through the trees. I would keep breathing." She admits to having fears, which every person has experienced. "There are things I'm still afraid of. When I have to conquer those things I still go back to that park. Before I hit the stage I go back to that park. When it was time for me to give birth I went back to that park. The park became a state of mind. The park became my strength. The park is what made me who I am. Where's your park?" Watch the video below! [youtube]https://www.youtube.com/watch?v=mA1Wp1kfDfE[/youtube] Don't miss Christian Louboutin's brand new nude flats and see Cameron Diaz without makeup! [Photo: Instagram]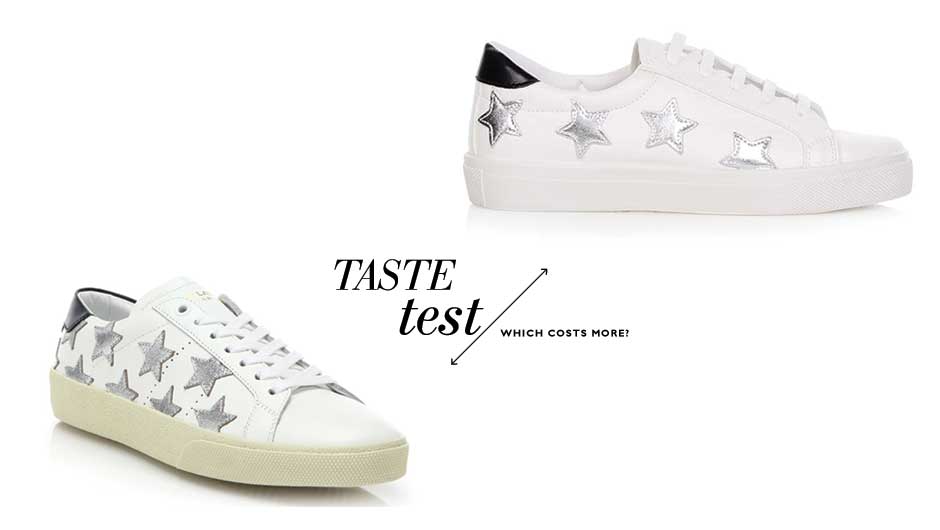 Can You Tell Which Star Sneakers Cost $600 More Than The Other?
SHEfinds receives commissions for purchases made through the links in this post. I'm a sucker for anything with stars. So when I saw Heidi Klum's metallic star sneakers, I had to have them... until I realized they cost $645. Fast-forward a few weeks later, and I found lookalikes of the Saint Laurent Court Classic Sneakers with Metallic Stars. Except, no joke, this pair from Topshop costs just $45. *Adds to cart* Can you tell which star sneakers are more expensive? Click on the images below to reveal if you guessed right! Test your fashion savvy some more with wedge boots and leather pencil skirts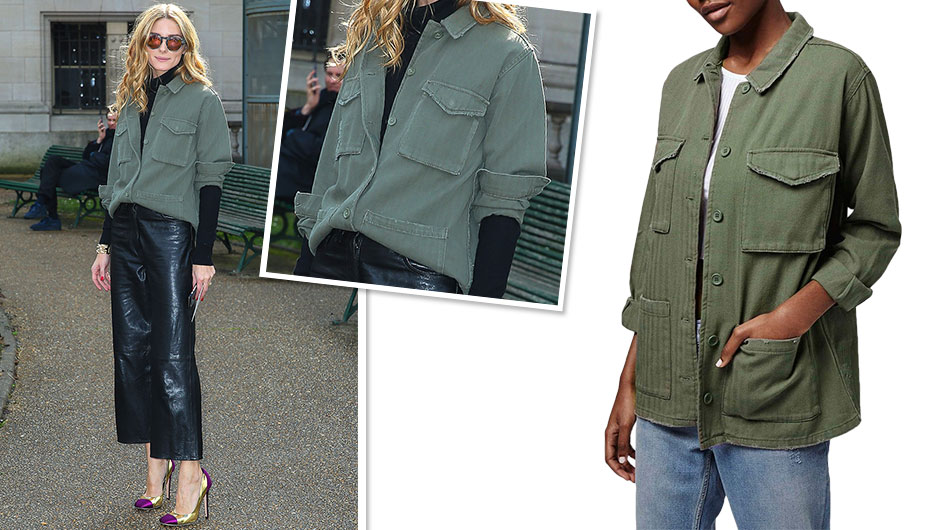 Olivia Palermo's Topshop Utility Jacket Has Your Name All Over It
Olivia Palermo was pictured leaving the Giambattista Valli show in Paris looking like she just walked out of a magazine. She paired the coolest leather culottes with a Topshop Authentic Washed Khaki Jacket ($75) and sleek heels. Olivia's jacket is a great jacket for the spring because it's lightweight and versatile. Wear it with jeans, a dress or anything else in your closet! Shop it below. Topshop Authentic Washed Khaki Jacket ($75) Don't miss Selena Gomez's lace-up bodysuit and the jeans every editor is wearing! [Photo: Splash News]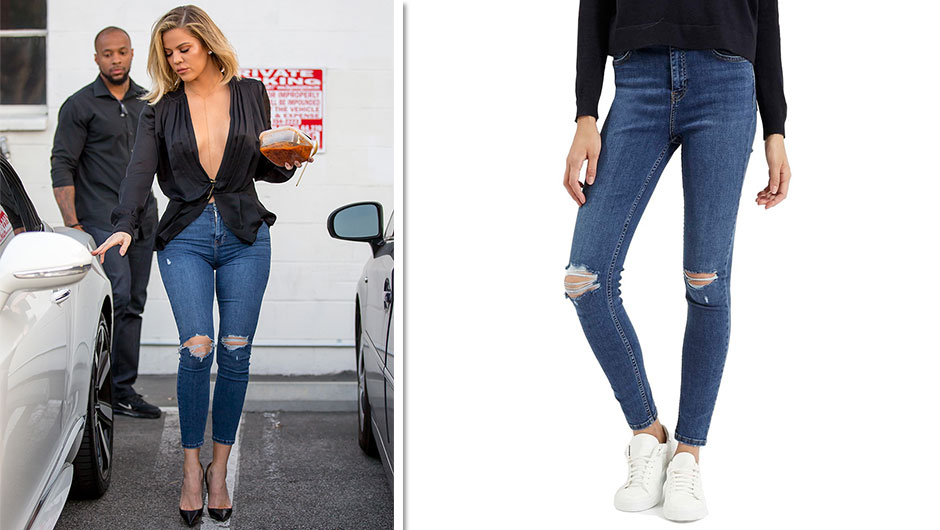 Khloé Kardashian's Flattering Jeans Are From Topshop And Only Cost $75–For Real
Khloé Kardashian dressed up a pair of Topshop Moto Mid Blue Ripped Jamie Jeans ($75) with a low-cut black blouse and heels while seen leaving a studio in Los Angeles. This is what we absolutely love about ripped jeans! They can be dressed up or down depending on how you style them. Plus, at just $75 who can resist?! Khloé's Topshop jeans are the perfect shade of blue with not too much distressing where it becomes distracting. Hands down: you need a pair. Shop below! Topshop Moto Mid Blue Ripped Jamie Jeans ($75) Don't miss Kate Hudson's gorgeous hat and Kendall Jenner's cool sneakers! [Photo: Splash News]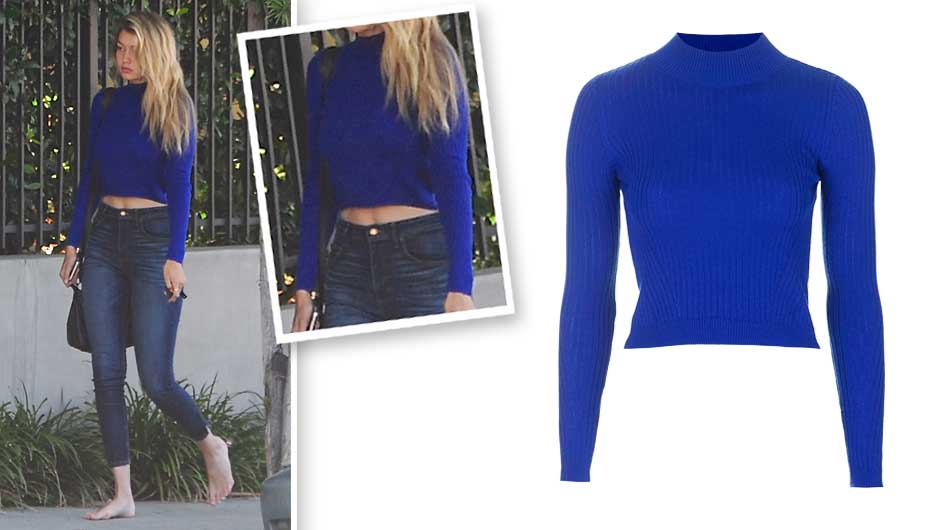 Make Gigi Hadid's $45 Cropped Sweater Your First Official Fall Purchase
Well, well, well, looks like we aren't the only ones who have been caught shoeless the morning after leaving a boys house. Gigi Hadid was caught by the paparazzi slipping out of Joe Jonas' house, barefoot. But more importantly, where do we get her gorgeous blue sweater? And who packs this well for the morning after?! Her Topshop Ribbed Wool Blend Cropped Sweater ($45) pairs well with your high-rise jeans and is totally affordable. Shop it below! Topshop Ribbed Wool Blend Cropped Sweater ($45) Be sure to check out Kourtney Kardashian's cute bikini, Jessica Alba's military jacket and celebs rocking Thakoon for DesigNation. [Photo: Splash News]
Gigi Hadid Is The Face Of Topshop's Fall Collection & She's Gonna Make You Want To Buy Everything
As much as we love summer, nothing gets a fashion girl more excited than fall shopping. Most retailers don't need to do much to get us stoked to spend for the new season, but that didn't stop Topshop from enlisting model-of-the-moment Gigi Hadid to model their new Autumn & Winter 2015 line. And surprise, surprise--she makes us want all of it! Gigi's brings her effortless California-cool style to Topshop's fall collection, perfectly mixing her laid-back look with classic fall pieces. The best part? Gigi created a special video with Topshop where she opens up about everything from her Instagram presence to her role in BFF Taylor Swift's Bad Blood music video. Watch the interview below: > Wanna buy everything Gigi is rocking? Good! Just click the link below to start shopping. SHOP TOPSHOP'S AUTUMN & WINTER LOOKBOOK NOW! 
Kate Hudson's White Dress Is Only $70 At Topshop And Still Available In Almost Every Size
This summer, it is all about the little white dress and Kate Hudson found a sexy, retro style that will flatter any body type. She stepped out for a night of fun in New York City wearing this Topshop Cord Zip Front Dress ($70) with wooden heels and sun-kissed blonde locks. Besides being extra chic, white dresses will keep you cool in the heat and really make that tan glow. Just beware of red wine and makeup stains (i.e. always carry a trusty Tide Stain Stick). And for $70, this one is a steal. Snag Kate's LWD below! Topshop Cord Zip Front Dress ($70) Don't forget to shop Jessica Alba's perfect evening bag, Blake Lively's sandals, and Kendall Jenner's chambray shirt. [Photo: Splash News]
Calling All Vintage Fashion Lovers! Topshop's New Archive Collection Includes Tons Of Their Greatest Hits And Cult Classics, Reborn
Topshop diehards, take note! The beloved Brit brand just launched their first ever archive collection and it features 33 of their bestselling pieces from past seasons along with old samples. That's right--this is your chance to own a piece of Topshop history, ladies! As if that were that weren't good enough, Topshop isn't stopping with just one archive collection. For the next one, they're crowd-sourcing. Have some Topshop favorites in mind? Just use the hashtag #BringThatBack to help pick which pieces will appear in the next archive collection. You only have a week to weigh in using the hashtag and then were will be a voting mechanism set up so that everyone can vote on their favorite. For now, though, you should definitely make it your business to snag some vintage Topshop while it's up for grabs. Click the link below to start shopping. SHOP TOPSHOP'S ARCHIVE COLLECTION NOW!
UPDATE: Here's A First Look At Kendall And Kylie's Exclusive Topshop Line!
Kendall and Kylie Jenner prove yet again they aren't your average teenagers. In addition to their PacSun and Madden Girl collections, the girls are designing an exclusive line for Topshop, launching this summer. The Keeping Up with the Kardashians duo gave us a quick behind-the-scenes look at their latest fashion endeavor. After seeing their new Instagram and Twitter pages called "Kendall and Kylie," it seems like they have a lot to be excited about! Fans got a sneak peek of a logo of their names and two black and white sketches that definitely capture the essence of both Kendall and Kylie's style. Expect to see more BTS photos as their Instagram bio reads, "Kendall + Kylie A peek behind the scenes of Kendall + Kylie™." https://instagram.com/p/3MepuPEOrB/?taken-by=kendallandkylie The sisters also shared a picture of them glancing over some designs. Judging from the picture, the collection includes pants, tops, skirts, dresses and more. Kendall and Kylie say the capsule summer collection will have a "contemporary, eclectic design aesthetic," according to their blog. You can shop the line at selected Topshop stores and online. https://instagram.com/p/3M5rPUEOtC/?taken-by=kendallandkylie Are you excited about Kendall and Kylie's new fashion line? Let us know in the comments below! Don't forget to check out: Kim Kardashian's latest Vogue cover, Selena Gomez's $70 jeans and J.Lo's new short hair [Photo: Splash News]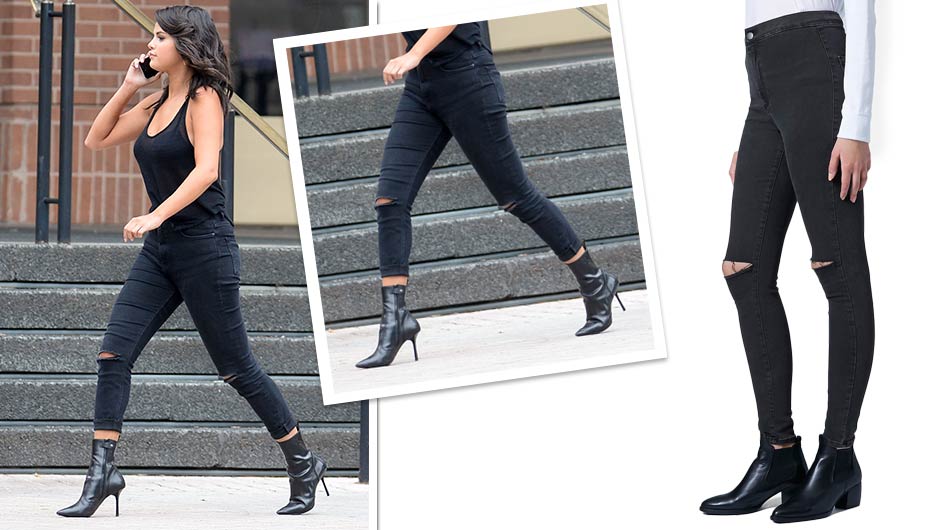 Your Closet Isn't Complete Without Selena Gomez's $70 Black Skinny Jeans
Just because June is around the corner does not mean it is time to store away your black denim. Dark denim looks good all year round. So if you need a flattering, yet affordable pair, look no further than Selena Gomez who wore  theseTopshop Joni Ripped Skinny Jeans in Black ($70) while on break from filming in New Orleans. Even in the dirty south, all black ensembles fit right in. Plus, at $70, you would be slightly crazy to not snag these (before everyone else does). Shop below. Topshop Joni Ripped Skinny Jeans in Black ($70) Shop more A-list style such as Charlize Theron's chambray shirt, Beyonce's white jeans, and Rihanna's leather tank top. [Photo: Splash News]
Kendall And Kylie Jenner Are Launching A Topshop Collection This Summer
There have been rumors all over the Interwebs for the past week about a potential collaboration between Kendall and Kylie Jenner and Topshop. And now you can breathe a sigh of relief because the sisters just confirmed the news (via Twitter, obvs). Kendall and Kylie currently have a collection stocked with U.S. brand PacSun, aptly named "Kendall & Kylie." It seems, though, that the girls made an impact on Topshop owner Sir Philip Green, especially after Kendall stunned in a Topshop Unique gown at the Met Ball last year. The new collection for the popular UK brand, which is being billed as a "young, contemporary" line and a "capsule summer wardrobe characterized by the girls' LA lifestyle and general eclectic design aesthetic," will be sold in select Topshop stores globally and online at Topshop.com just in time for summer 2015 (and all those music festivals). Get excited! And don't forget to check out: 9 questions with the founder of PIOL dresses, Adidas v. Isabel Marant and Taylor Swift's perfect oxblood sweater [Photo: Splash News]
Drop Everything–Beyonce's Black Ripped Jeans Are Only $85
Just because she can afford the priciest items around, doesn't mean Beyonce always goes for the designer duds. In fact, Queen B is notorious for her shop-able Insta account. But when it came to her courtside date with Jay-Z, she wore Topshop MOTO Black Super Ripped Jamie Jeans ($85). Yes, you read that right. These ripped jeans are under $100 and look eerily familiar to some uber popular expensive jeans (ehem, Frame?). Run, don't walk, your clicker over to these jeans before the masses find out! Topshop MOTO Black Super Ripped Jamie Jeans ($85) Looking for more great A-list style? Shop Shay Mitchell's printed dress, Heidi Klum's jeans, and Sofia Vergara's printed leggings. [Photo: Splash News]
Katie Holmes' Shearling Jean Jacket May Not Be All That Warm, But We Still Like It
Just because we are in the depths of January, does not mean you have to say bye-bye to your beloved jean jacket. Thanks to Katie Holmes you can now rock your denim and stay warm. She recently wore this Topshop Moto Light Stone Borg Western Jacket ($110) to a Rangers game and did we mention the oh-so affordable price? Snag it below! Topshop Moto Light Stone Borg Western Jacket ($110) For more celebrity style, be sure to check out Sofia Vergara's sunglasses, Chrissy Teigen's hat and Reese Witherspoon's sweater. [Photo: Splash News]
Umm, How Are Beyonce's $100 Topshop Heels Still In Stock?
It's no secret that Beyonce is a massive Topshop fan. Not only does she wear the brand quite often, but she recently announced a line of workout clothes she's doing with them. Given the history, it's not surprising that Queen Bey was hand to celebrate Topshop's 5th Avenue flagship store opening in NYC. What is surprising, however, is that the Sheila Platform Shoes ($100) she wore to the event are still in stock. We're guessing it's only because people don't yet know that the Queen rocked these heels, which is why you should act fast before word spreads. Get a pair for yourself below. Topshop Sheila Platform Shoes ($100) For more celeb style, check out Ashley Tisdale's vegan leather jacket,  J. Law's striped top and Kourtney Kardashian's backpack. [Photo: Splash News]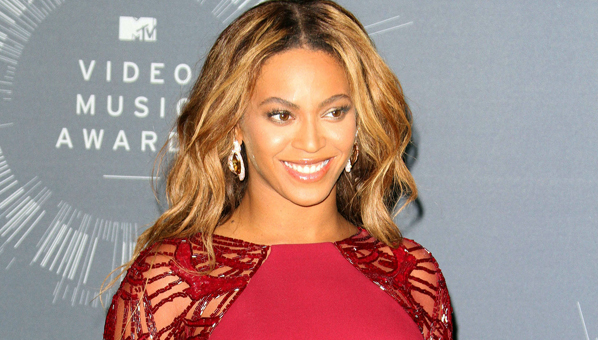 Beyonce Is Launching An Activewear Line With Topshop
Beyonce likes wearing Topshop so much that she decided to team up with the retailer on an activewear line. The 50-50 joint venture company (don't call it a collaboration), Parkwood Topshop Athletic Ltd., will produce clothing, shoes and accessories across dance, fitness and sports categories. The collection will include both performance and athleisure pieces, "targeting women who go to yoga or the health club, as well as those who just want to look as if they do," according to WWD. On the collaboration partnership, Beyonce said "I have always loved Topshop for their fashion credentials and forward thinking." Look out for the yet-to-be-named Beyonce x Topshop collection to drop in fall 2015 at Topshop stores and online (and maybe Nordstrom). Oh, and Topshop owner Sir Philip Green revealed that Beyonce workout videos might happen too. So is this all leading up to her next visual album or what? And don't forget to check out: Gucci makeup is here, Kourtney Kardashian's backpack and the lazy girls guide to dressing up for Halloween  [Photo: Splash News]
Everything At The Forever 21 Mid-Season Sale Is So Stinkin' Cheap–Under $20
If you're looking for some new fall or winter clothes, Forever 21 is where it's at. Starting today, F21 is hosting an epic mid-season sale on their site and everything is under $20. Since everything is so stinkin' cheap (and cute), you don't even have to feel bad about dropping a bunch of cash at Forever 21 today, because you'll get so much for your money. From long sleeve tees to warm winter coats, this sale has everything you could ever want (or need) to stay stylish and warm this season. And if Forever 21 doesn't have what you're looking for, we found Loeffler Randall bags and boots, rag + bone jeans and Topshop sweaters at a discount too! Be sure to take a look at them in our slideshow. Don't forget to check out: SJP's jeans, shearling boots and the J.Crew sale.
Is This Kendall Jenner's Way Of Picking A Side In The Great Kardashian Fur Debate?
It's no secret that the Kardashian klan clan has a long and complicated history with fur. Who can forget that time Kim Kardashian got flour bombed for her love of real fur? And then, of course, there was the time Khloe tried to make an anti-fur fashion statement while carrying a real leather bag. And don't even get us started on Kanye West--this pic says it all. Despite Kim's undying love for real fur--she was snapped wearing a fox fur stole back in February, FYI--we're happy to report her younger sister Kendall Jenner isn't following her lead. Instead, Kendall was snapped wearing Topshop's Luxe Boxy Faux Fur Gilet ($130) proving faux aint really all that bad. Of course, we wouldn't go so far as to call Kendall an animal rights activist considering she was also wearing Alexander Wang's Anouck Chelsea Booties ($595) which are made from calfskin, but hey--the faux fur vest is a nice start. Shop Kendall's vest and boots below. Topshop Luxe Boxy Faux Fur Gilet ($130) Alexander Wang Anouck Chelsea Bootie ($595) PS: In case you needed further proof of Kimye's affinity for fur, click through the slideshow for visual proof. Don't miss Jessica Simpson's plaid dress, Bridget Moynahan's NYDJ outfit and Jessica Alba's jean jacket. [Photo: Splash News]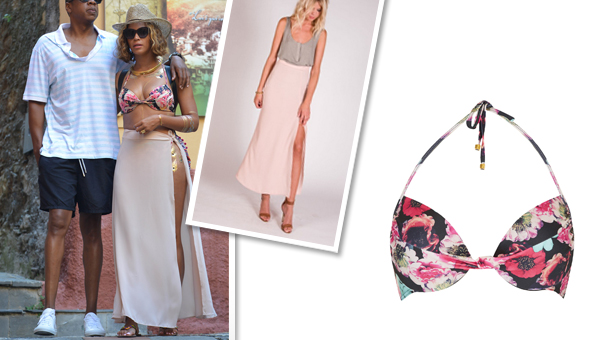 Is It Any Surprise Beyonce's Maxi Skirt Is Almost Sold Out? It's Only $58!
Beyonce strolled with her main man, Jay-Z, while wearing this knockout vacation outfit. She paired a Topshop Floral Mix Plunge Bikini Top ($32) with a d.RA Cara Skirt ($58, down from $90). We love Bey for many reasons, but strutting around in affordable clothing may be our top one. So what if summer is over? Bikini tops and maxi skirts are always a must on your resort wear list. Bachelorette party in Miami? Spring breaking in Cabo? Surfing in Costa Rico? The options are endless - the quantities are not. So hurry your still-tan booty over to shop these items before they are gone! Topshop Floral Mix Plunge Bikini Top ($32) d.RA Cara Skirt ($58, down from $90) Don't miss out on Nicole Richie's ID necklace, Taylor Swift's H&M set and Olivia Palermo's statement necklace. [Photo: Splash News]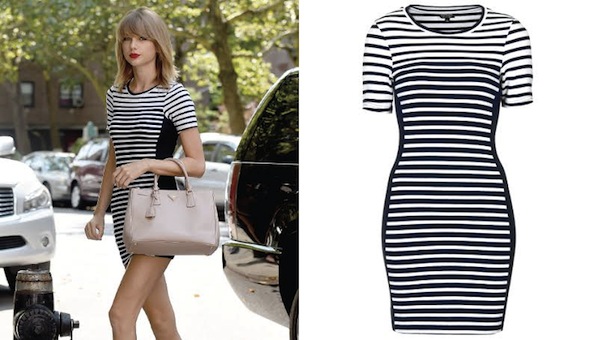 Taylor Swift's $55 Topshop Dress Is Still Available In Every Size
We're not quite sure how this is possible. Not only is Taylor Swift's Topshop Striped Body-Con Dress ($55) super cute and insanely affordable, but it's still in stock--in every size! Typically, when a celeb wears anything Topshop it sells out almost immediately--we're looking at you Beyonce--so it's kind of a miracle that Taylor's dress is available for the rest of us to shop. Maybe that means it's meant to be! Get yours below. Topshop Striped Body-Con Dress ($55) Be sure to check out Reese Witherspoon's jean jacket, Kate Middleton's favorite shoes and Mindy Kaling's cocktail dress. [Photo: Splash News]
Kate Moss For Topshop Is Still In Stock…And Now It's All 30% Off
If you missed out on Kate Moss for Topshop earlier this year (it sold out by 7am the day it launched!), then today's your lucky day. Not only is it still in stock, in many sizes, but now the entire collection is on sale for 30% off. This is even better than the time it was restocked back in May! Out of 59 boho meets flapper meets rock 'n' roll pieces, 45 are still available to shop. And don't be fooled by the fact that this collab came out just in time for spring. There's tons of items that you can wear beyond the warm weather months, like a leather fringe jacket and suede long sleeve dress. We won't hold you back any longer because who knows how long it will be before everything sells out for good. Click the slideshow to see our picks and get shopping. SHOP KATE MOSS FOR TOPSHOP NOW For more can't miss sales, check out: summer trends on sale, 60% off at Loeffler Randall and Kate Spade's wedding sale
50% Off At Topshop Basically Means You Can Afford To Get One Of Everything
The easiest way to brighten up a gloomy Monday? Treating yourself to colorful new clothes, shoes and accessories, of course. And the one place to do just that today? Topshop, baby! They've got dresses, tops, pants and shorts in all colors of the rainbow on sale for 50% off. And because Topshop is already crazy affordable, half off pretty much means there's no holding back. Just get there fast because sizes are going quickly. SHOP THE TOPSHOP 50%-OFF SALE NOW! Don't miss Kourtney Kardashian's 30%-off sweater, Beyonce's 40%-off dress and 50% off at Net-A-Porter.
Thank The Topshop Gods, The Entire Kate Moss Collection Has Been Restocked
If you're anything like us, you've been dying to get your hands on something from Kate Moss' Topshop collection since the lookbook dropped. But most of the collection was sold out by 7AM the day it launched. By now, you've been waiting to shop this collection for so long that you'll probably settle for your least favorite item. Am I right? We'll now you don't have to. It seems too good to be true, but while I was browsing the web for some awesome Memorial Day sales (don't forget to check back for those), I stumbled upon the Kate Moss collection and it has been entirely restocked! But you should definitely hurry. If this is anything like last time, the collection will be sold out before you know it. Shop for some of our favorite and most popular restocked pieces in our slideshow. You don't want to miss out this time around. SHOP KATE MOSS x TOPSHOP COLLECTION NOW For more collabs, check out: Bing Bang x UO, Banana Republic x Marimekko, and Kate Spade x Keds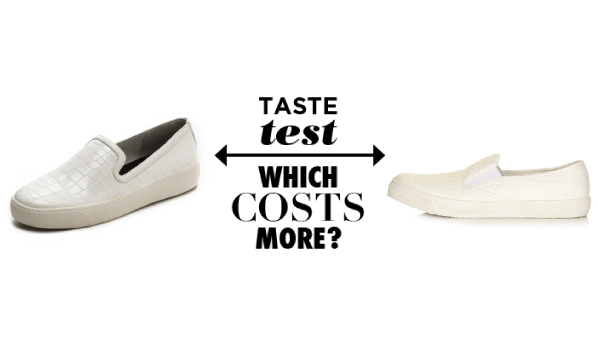 Can You Tell Which White Slip-Ons Cost $65 More Than The Other?
We already know white sneakers are #trending for spring, and slip-ons are having a major moment. So the combo of the two is THE shoe to rock right now. It's no surprise that everyone from Sam Edleman to Topshop is creating their own version of this popular style. With so many options out there, it can be overwhelming to decide on which one you're going to get (because we know you'll eventually give in to this trend). That's where we come in. We found two of the best white slip-on sneaks out there that don't cost a fortune, but one pair is super cheap while the other is more of an investment, at least compared to the $35 kicks. Can you tell which white slip-on sneakers cost $65 more than the other? Answer: The shoes on the left are Sam Edelman's Becker Croc Embossed Sneakers ($100), and the ones on the right are Topshop's TIKA2 High Vamp Skaters ($35). The only difference between these two croc-embossed kicks is the stretch material on tongue of the Topshop pair. Which do you like more? Let us know in the comments below! Test your fashion savvy some more with: Mean Girls-inspired bracelets, gold bar sandals and ankle-strap sandals
The Wait Is (Almost) Over, Pre-Order 3 Pieces From Kate Moss For Topshop Now!
Back in October, we found out Kate Moss was teaming up with Topshop for the first time in 3 years. We had to wait months and months for more details, THEN we finally saw photos of the entire collection a couple of weeks ago. Between the boho fringe pieces and sleek sequin dresses, we're super stoked for this collection to hit on April 30th. BUT we got word that you can pre-order 3 items thanks to Harper's Bazaar. The magazine's ShopBAZAAR website features the Kate Moss for Topshop Gold Beaded Fringe Dress ($500), Tuxedo Lame Jacket ($240) and Strappy Black Jumpsuit ($150), all ready for you to scoop up right now. But don't wait, there's only limited availability. So we'd get on that if we were you because who knows how crazy hard it will be to get ANYTHING once the collab launches later this month (probably very difficult). PRE-ORDER KATE MOSS FOR TOPSHOP NOW And don't forget to check out: Kate Spade x Gap Kids, 10 trends only Florida girls think are cool and 43 matching skirt sets that don't cost a fortune [Photo: Splash News]
PHOTOS: See Every Piece From The Topshop x Adidas Originals Collab
What could be better than clothes that actually make us want to hit the gym?! Topshop and Adidas Originals know exactly what's up, so they teamed together on a 20-piece collection that combines sport and fashion. But what makes this collab so good is the fact that Topshop brought bespoke prints to Adidas classics, like the 3-Stripe track pants and Superstar shoe. There's also a hint of London in the line with the city's famous landmarks emblazoned on sweatshirts, sneakers and pants. Kate Phelan, Topshop's creative director, told WWD earlier this year that, "the collection aims to bring some "femininity" to Adidas Originals' sports designs." We say job well done, guys! Click the slideshow to see all the peices from Topshop x Adidas Originals now, and pick out what you want to shop when it hits stores and online March 20th. Prices range from $40-$150. And don't forget to check out: clothes inspired by Beyonce and Jay Z lyrics, Kim K's $22 sunglasses and the shoes you NEED for spring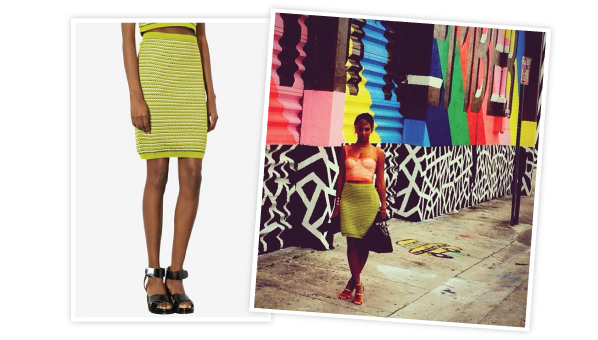 What Is The World Coming To? Beyonce's Topshop Skirt Is Available In Every Size!
Once upon a time, anything Beyonce wore would sell out in a matter of hours. And if said item was less than $75? It was likely to be gone before you even knew who the designer was. But believe it or not, this Topshop Geo Knit Pencil Skirt ($72) Bey wore for one of her Instagram photo shoots is not only still available, it's in stock in every size. Now we'd hate to think Beyonce's lost her selling power, so we're just gonna chalk this one up to the fact that you had no idea her skirt was so cheap. But consider yourself warned: if your closet could use a little color, better snatch up Beyonce's exact skirt before it sells out (because trust us, it will). Get yours below. Topshop Geo Knit Pencil Skirt ($72) Be sure to check out Kourtney Kardashian's flattering sweats, Alessandra Ambrosio's booties and Kristin Cavallari's boots. [Photo: Instagram]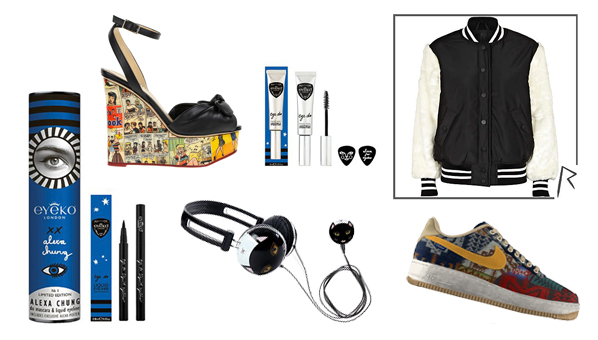 10 November Collaborations You Need To Know About Now
This November the collaboration on everyone's mind is Isabel Marant x H&M. But did you know there's a ton of other designer collaborations launching this month that are worth knowing about? Holiday shopping is quickly approaching after all. Whether you're looking for a custom pair of Nike running shoes or the perfect eyeliner gift set inspired by Alexa Chung, there's bound to be one you'll like. Check out the slideshow to see 10 big-name collabs you might have missed this month. For more news, check out: Jennifer Lawrence's new super short cut, nail polish that's good for you, and lariat/lasso/drop necklaces.
Kate Bosworth Goes Manly For Her Third Topshop Collection
In her third collection for Topshop, Kate Bosworth wanted to be a little tougher and masculine with her designs. After launching a holiday collection last year and bohemian collection inspired by music festivals in the summer, Bosworth went with something pretty different this time around. The color palette is Mondrain inspired, which means lots of blacks, whites, and metallics. You can also expect a range of different mediums like leather and chiffon. Bosworth tells Elle UK, "I respond to a slim silhouette cloaked in a more masculine shape, staying true to the mix of masculine feminine balance that exists in my own wardrobe." And she has a couple faves from the collection too that all involve cracked silver. Prices range from about $50 all the way up to $800. To see some pieces that we love, click through the slideshow below. SHOP KATE BOSWORTH X TOPSHOP NOW In other news, check out TOMS x Tabitha Simmons holiday collection, MACs new holiday collection, and Demi Lovato x The New Black [Photo Credit: Twitter]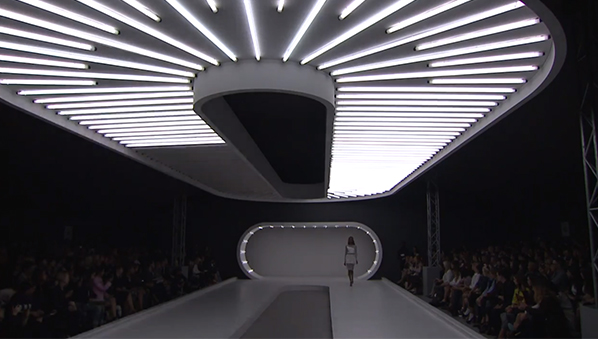 Topshop Takes Live Streaming To The #NextLevel With Google
Not to be outdone by the droves of designers who are live streaming their runway shows this season, Topshop has vowed to make the viewing experience of their Fall 2013 collection more interactive than ever. The British retailer has come a long way since high street; using a state-of-the-art camera created in conjunction with Google and called the Model Cam, the brand will give shoppers a view that is even better than front row. The camera will capture the point of view of the models walking, as well as other insiders like makeup artists and the Topshop design team. According to Vogue UK, the footage will be shown on Topshop's YouTube channel and Google+ pages, and will be supplemented by a digital diary called the Road To The Runway, which documents the models first-hand experiences, as well as a Be The Buyer app in which users can create moodboards based on the collection. A video chat with the show's designers will also be available the day before the show, and is called Google Be The Create.  Okay, Topshop is not messing around. The show is this Sunday, September 16th. Will you be tuning in? For more fashion tech news, check out this color-change 'mood ring' dress, Vivienne Tam's Obama dresses (feautring a QR code!), and a perfume that mixes with your body chemistry to attract the opposite sex.
See The First Photos Of J.W. Anderson x Topshop (Plus, The Drop Date)
We've been patiently (okay, not-so-patiently) waiting for more deetz on the J.W. Anderson collaboration with Topshop, which we announced earlier this summer. Our heads were brimming with ideas of Alexa Chung-like garments just because, well, the stylish gal was spotted wearing the fashion designer's creations (it is, after all, her BFC Young Style Ambassador duty). And now thanks to Grazia, we've gotten a glimpse of the first items that we'll be expecting at Topshop stores and online on Friday, September 14th. Chung-inspired pieces are definitely in the mix: graphic print sweaters (a total trend for fall), paisley print crop tops, and collared shirt dresses. There's also some statement pieces like a red-and-white tortoise-print skirt and tartan plaid tops and trousers. Anderson told the weekly pub that his favorite pieces of the capsule collection include a " graphic t-shirt, with the photo print from Jamie Hawkesworth of the back of a boy's head," as well as the graphic bat sweater, which you can see in the slideshow above, along with other first photos from the anticipated collab. Read more beauty and fashion news: Coach x Frye, Chanel's exclusive FNO nail polishes, and Nicole Richie's perfume.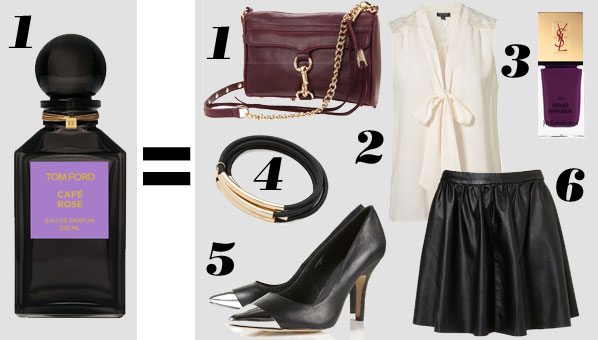 5 Things You Can Get For The Price Of Tom Ford's Jardin Noir Perfume
Designer Tom Ford doesn't just make nearly $4k cross body bags (that make celebrities want to tote along their boyfriends fiancées too), but coveted beauty products as well. His newest creation, according to T Magazine, is a collection of flora-inspired fragrances called Jardin Noir, which is priced at $495 for a 250 milliliter bottle. Granted, the generously sized bottle can last for a while. But why shell out up to $500 for perfume when you can buy so many more things at the same price? Let's do the math... You could get Tom's latest perfume... or Rebecca Minkoff's Mini MAC clutch ($195), a Topshop sleeveless lace blouse ($64), Yves Saint Laurent's nail lacquer in 'Violet Baroque' ($25), Jules Smith Wrapped Up Tube Jellies bracelets ($29 each),Topshop's GABBI Toecap pointed pumps ($100), and this Topshop 'Skater' skirt ($76), plus $21 in spare change to buy yourself a coffee, blueberry muffin and a magazine. Treat yourself! Read more fashion and beauty news: Amazon's luxury shopping division, Bottega Veneta's monogramming service, and scratch-and-sniff nails.
Topshop's Final Clearance Sale: Last Call To Bulk Up Your Closet
Don't you love checking out what's on tap at Topshop? It's always trendy, rather affordable, and easy to wear, but it's even better when everything is marked down to ridiculously low prices during the Topshop Clearance sale. We're really good at justifying purchases as it is, but these barely make a blip on the credit card statement. Time to check it out. CLICK TO SHOP OUR FAVORITES FROM THE TOPSHOP CLEARANCE SALE Check out more sales and deals (there are TONS!) learn all about fall 2012's trends with our handy fall preview, and don't forget to check out our guides for the best hair removal techniques (we've tried 'em all) and cheap swimsuits.
Did You Know That Topshop x Opening Ceremony Was Happening? Well, It's Here.
If you stopped counting all the Olympic and London-themed collaborations that have popped up in the past week or two, here's a pretty awesome one to hone in on: Topshop and Opening Ceremony have teamed up on a capsule collection in "Union Jack colors." The red, white and blue separates (think crop tops, mini shorts and sporty shift dresses) just hit OC stores and online -- and are being sold exclusively there. This is all apart of Opening Ceremony's big London Pop-Up shop, where they are also selling limited edition designer pieces from Norma Kamali, Proenza Schouler, Repetto and more. If you're more of a fashion collector than a sports memorabilia one, this is the perfect way to get your hands on special edition regalia -- and ones that you might actually wear. Next to Butter London's metallic nail polish, we'd say this is the most practical of the Olympics collabs yet (although, who wouldn't want a shiny gold PS1 bag?!) SHOP TOPSHOP x OPENING CEREMONY NOW For more Olympics awesome, check out the best Olympics designer collabs, Converse' 'Country' collection and Adidas x Opening Ceremony.
Green Pastures: Topshop's First Eco-Friendly Line Is Launching Today
Go green! Just last week Topshop announced the upcoming launch of their first eco-friendly line, with a Reclaim To Wear collaboration. Today you can shop the 8-piece capsule collection, of color-blocked dresses, ombré denim, sweaters, denim bags and high-low hem dresses, available online and in stores. Made entirely from discarded materials (like surplus stock and leftover fabrics), this collection is anything but trashy. Shop sustainably, with prices starting at $50. Shop the eco-friendly finds here  For more sustainable fashion, check out H&M's Conscious Collection, and shop our guides best vegan shoes and handbags.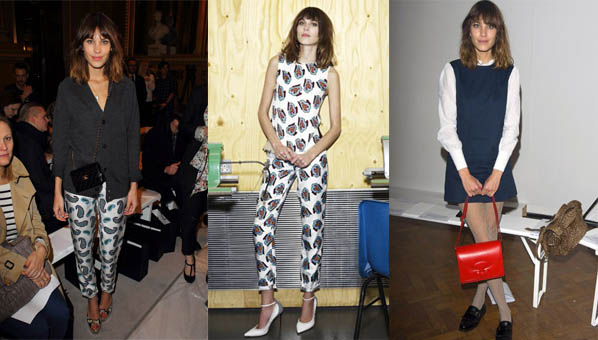 A Little Bit Of Alexa In Our Closet: JW Anderson X Topshop Will Launch In Fall
Hot on the heels of the H&M x Maison Martin Margiela announcement, Topshop revealed its upcoming collaboration with JW Anderson, London-based knitwear genius with a cult following in the UK, today. JW Anderson x Topshop is set to launch in September, with a second installment scheduled for 2013. It's going to be huge. Not convinced? Check out the brand's unofficial spokeswoman, Alexa Chung, rocking the Brit's designs in the photos above. "It has always been very important to me that my collections are made accessible to anyone interested in fashion and design," JW Anderson said in the press release. The capsule collection will include jersey, denim, knitwear, and outerwear, as well as fun trinkets like pencils, memory sticks, rubik's cubes, vintage magazines and photography books. They had us at knitwear.With upcoming Louise Gray, Reclaim To Wear and Richard Nicoll collaborations, and recent Chloe Green and Maarten Van Der Horst collections, we don't know how Topshop does it. Not that we are complaining. Shop Chloe Green and Maarten Van Der Horst collabs here  For more on JW Anderson designs, check out the collaboration that he did with ALDO Rise.