Attention Parents: These Are The Hottest Holiday Toys For 2017
Every Christmas season, parents are reminded of the classic holiday film Jingle All The Way with equal parts nostalgia and terror. While it was good fun to watch The Arnold fight it out with Sinbad over the last Turbo-Man action figure, it's best to leave that scary scene in 1996 where it belongs. It's a parent's nightmare: not having the ONE gift your child wanted so badly sitting under the tree. But luckily, in 2017, while a little advanced planning and some internet sleuthing, you can find pretty much everything on your list and come out unscathed. We don't want you to have to fist fight a mall Santa, so we've got the hottest holiday toys of the year right here. From oldies like last year's Hatchimals (yes, they're big again) and Barbie's Dream House, to entirely new toys like L.O.L. Surprise Balls, we've got the most-wanted gifts for every kid on your list. Everybody--including the parents--will get what they want this year (for parents, it's their self esteem intact.) So, here's the list. Everything is conveniently sold at Target! https://www.youtube.com/watch?v=M2KmmajsuI0 1. Luvabella Dolls If you're creeped out by realistic baby dolls, too bad, because kids love them. This Luvabella Responsive Baby Doll  ($99.99) has a heart beat, opens her eyes, and even says "Mama." How sweet! 2. Hatchimals  For the second year in a row, Hatchimals are on the top of all the hottest toy list. This Hatchimals CollEGGtibles 4pk ($9.99) includes 4 Hatchimals and a hatched friend. 3. Moonlite Gift Pack Parents will actually think this is really sweet: turn your iPhone into a storybook projector with this Moonlite Gift Pack Storybook Projector for Smartphones ($39.99). Each set comes with 5 story reels. 4. Star Wars The Last Jedi Figurines Star Wars fans will have a lot of toys to choose from this year, but this Star Wars: The Last Jedi Figures 12" 6-Pk ($49.99) is your best bet. It's a substantial box filled with weighty figurines, and perfectly timed to the movie's upcoming release. 5. Barbie Dream House This Barbie lover's dream comes with 3 floors, 7 rooms, a working elevator and a variety of furniture and accessories. Get it now: Barbie Dream House ($164.99). 7. Giant Sized Jumbling Tower Target reported that this Giant Sized Jumbling Tower Game with Storage Bag ($71.99) was a Black Friday bestseller. 8. Googly Eyes  This goofy Googly Eyes Board Game ($14.89) is a kid-favorite, parent-loved and wallet friendly. A no brainer! 9. Super Spirograph Another bit of nostalgia! The 50th anniversary of this Orginal Super Spirograph Art Pad ($33.99) means you can draw those memorable shapes with your kids 8+. 10. Paw Patrol Sea Patrol  Kids can't get enough of Paw Patrol--and that definitely extends to Christmas. Grab this affordable but pleasing Paw Patrol Sea Patrol ($44.49) boat for your little fan. So, there you have it--the hottest holiday toys of the year, plus where to buy them! Which was your favorite? Leave a comment below: what are you buying for your tiny humans this year? READ MORE: How To Host A Re-Gift Swap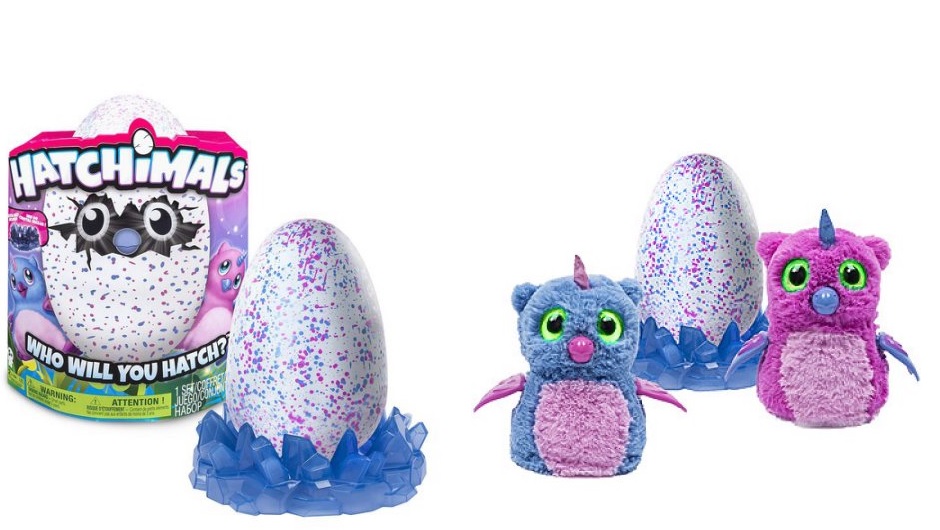 Important Hatchimals Update! Walmart Will Receive New Shipments Starting On December 8
Yesterday, we revealed that Target would be receiving new Hatchimals this Sunday, but here's an important update from Walmart. They'll be receiving additional Hatchimals shipments starting December 8--as in, tomorrow! At this point, we shouldn't even have to tell you how important this is. Hatchimals are definitely the hottest holiday toy this year; they're being resold for $250 around the Web! Here's the update from our friends at Walmart: "This week, Walmart will be restocking Hatchimals at approximately 1700 select stores across the country. The retailer has received tens of thousands of Hatchimals and each of the select stores will be receiving dozens of Hatchimals per store. Just $48.88 at Walmart. Hatchimals shipments will begin Decemeber 8 but customers should check with their local store on availability." Consider yourself warned! Be sure to check out this popular $6 initial necklace and UGG slippers on sale. [Photo: Walmart]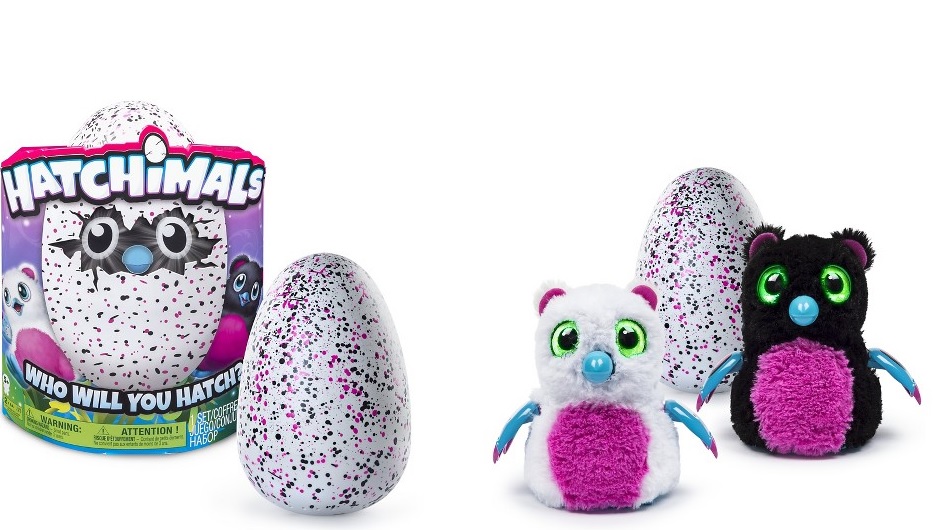 Sound The Alarm–Target Is Re-Stocking Hatchimals In Stores This Sunday!
If you're anything like most of the parents I know, you're frantically trying to get your hands on a Hatchimal before December 25. When we told you they were going to be huge back in October, we weren't joking. These fluffy little toys flew off shelves crazy early and stores haven't been able to keep them in stock since. But here's a tip from us to you: Target just alerted us that they'll be restocking Hatchimals this Sunday. Consider yourself warned! Here's the info, directly from the source: Starting this Sunday, Target stores nationwide will begin receiving dozens of Hatchimals, including the Target-exclusive Bearakeet. Stores will also be receiving Hatchimals themed GiftCards (these do not reserve a Hatchimal), available in any dollar amount and located in the toy aisle. If you're smart, you'll be at your local Target before it opens this Sunday to ensure you snag one of these super hot Hatchimals before they sell out again. Good luck! Don't miss this super pretty $6 initial necklace and cute booties on sale. [Photo: Target]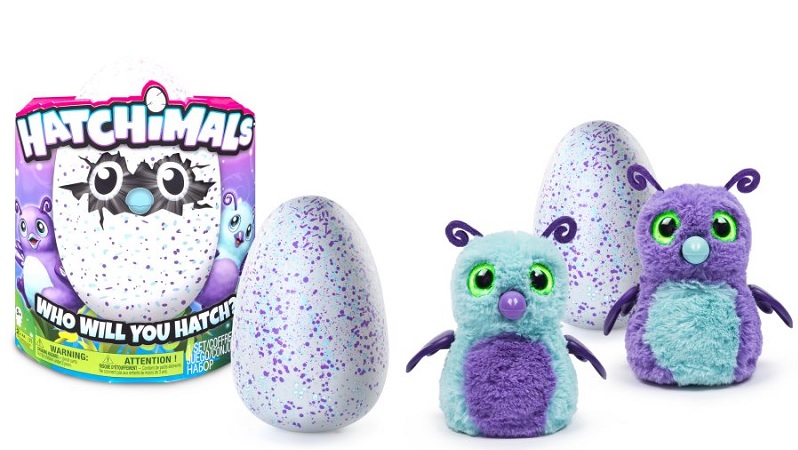 Hatchimals–The Hottest Holiday Toy This Year–Are Already Sold Out And Currently Being Re-Sold For Over $200!
When I first started perusing the top toy lists last month, I had now idea Hatchimals would blow up. In fact, I thought they were kind of odd. But silly me--kids love odd! What exactly is a Hatchimal? It's a toy that you purchase as a colorful egg that hatches into a stuffed animal creature. Currently, there are Pengualas, Burtles, Owlicorns, Draggles and more. No, those aren't typos, that's what they're called. Let's be clear--it's only October 26 and Hatchimals are already completely sold out at Target, Toys 'R Us, Amazon and Walmart. The only way to get your hands on one? Pay $100+ for a toy that originally retailed for just $50! If you're looking to get your hands on a Hatchimal this holiday season, you'd better act fast. Currently, they're being resold on eBay, Amazon and Walmart. Click the links below to browse your shopping options. SHOP HATCHIMALS AT WALMART SHOP HATCHIMALS AT AMAZON SHOP HATCHIMALS ON EBAY Be sure to check out Kate Spade's surprise sale and $27 dresses at Nordstrom. [Photo: Walmart] Save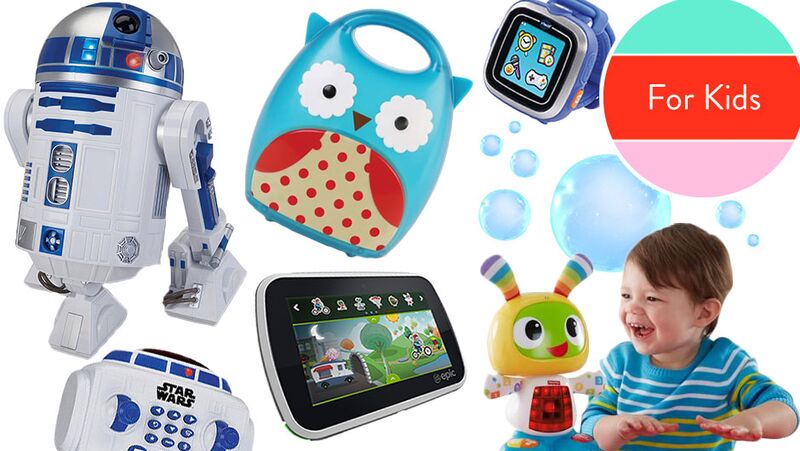 The 9 Hottest Holiday Gifts For Kids This Season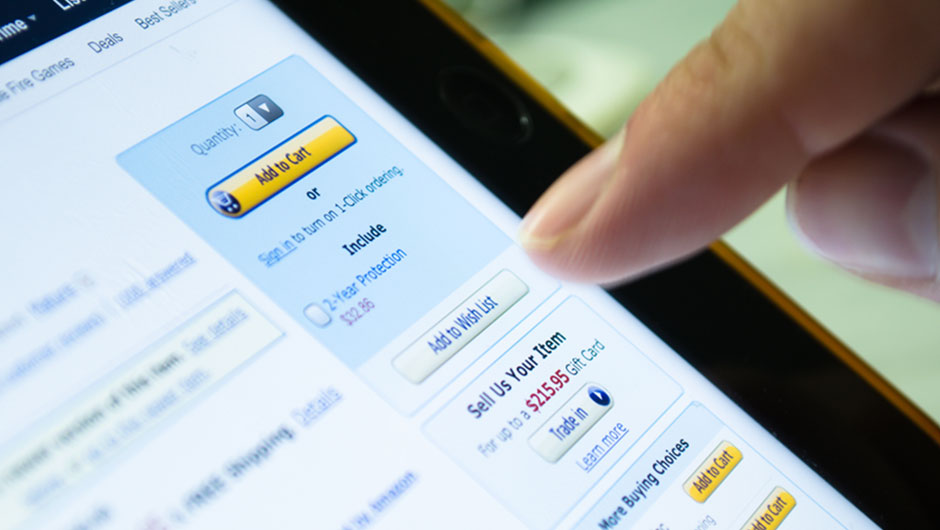 Amazon Just Released The Top Holiday Toys For 2015
There are literally thousands and thousands of toys to shop on Amazon and it can be quite overwhelming. Fortunately, Amazon has done the dirty work for us and picked out the top holiday toys for 2015. Check out the list below and start getting your holiday ideas brewing. - Meccano MeccaNoid G15 KS - Thames & Kosmos Remote-Control Machines: Space Explorers Science Kit - Star Wars Legendary Jedi Master Yoda, Collector Box Edition - Play-Doh Star Wars Millennium Falcon Featuring Can-Heads - Playskool Heroes Jurassic World Dino Tracker Copter Toy - Wow Wee Robot Miposaur - Radio Flyer Radio Flyer Deluxe Steer and Stroll Trike - Spirograph Deluxe Design Set - Anki OVERDRIVE Starter Kit - Fisher-Price Bright Beats Dance & Move BeatBo - Syma X5C Explorers 2.4G 4CH 6-Axis Gyro RC Quadcopter With HD Camera - Funko POP! Marvel: Dancing Groot Bobble Action Figure - Mega Bloks First Builders Big Building Bag, 80-Piece (Classic) - VTech Sit-to-Stand Learning Walker (Frustration Free Packaging) - LEGO Minecraft The Cave 21113 Playset - Days of Wonder Ticket To Ride Don't miss your chance to shop Gymboree's Olivia collection and see Chrissy Teigen's tiny baby bump! [Photo: Shutterstock]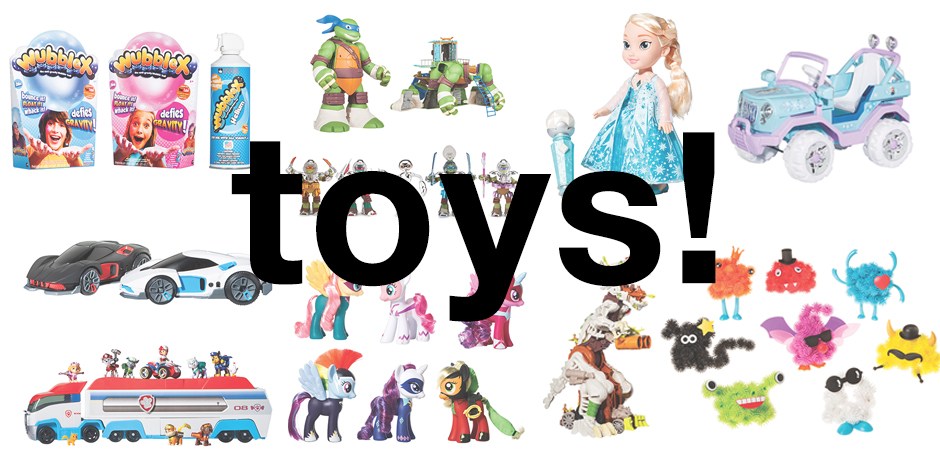 Target's 2015 Top Toys List Includes A Whopping 34 Options For The Kids In Your Life
My daughter has only been back in school two days, but that's not stopping the holiday announcements from coming. Target just released their annual top toys list and if you're anything like me, you're already trying to get prepared and organized. December will be here before you know it! Believe it or not, Frozen will still be huge this holiday season, but there are also some throwback options. Razor scooters? My Little Ponies? Teenage Mutant Ninja Turtles? Yup, they are all going to be hot sellers in the next few months, so better start stashing them now. See Target's full list of top toys below. Birth – 12 months - Fisher-Price Smart Touch Playspace, $59.99 18 months – 3 years -" Frozen" ERO, $189.99 -Playskool Sesame Street Play All Day Elmo, $59.99 3 – 4 years - Teenage Mutant Ninja Turtles 24'' Mutations Playset, $99.99 - KidiZoom Action Cam, $59.99 - Bunchems Mega Pack, $24.99 - Paw Patrol Paw Patroller, $59.99 - Imaginext Ultra T-Rex, $99.99 - My Little Pony Power Ponies Collector Pack (Target Exclusive), $59.99 - FurReal Star Lily, My Magical Unicorn, $119.99 - Barbie Dreamhouse, $199.99 - "Frozen" Sing Along with Elsa Doll, $39.99 - Spinnyos Giant YO-ller Coaster, $49.99 - AVENGERS - Hulk Smash RC XPV, $69.99 5 – 7 years - Star Wars Legendary Jedi Master Yoda, $179.99 - Star Wars BB-8 Droid R/C (Target Exclusive), $79.99 - BRATZ - Snowkissed Dolls, $32.99 - Little Live Pets Clever Keet, $59.99 - Hot Wheels Ultimate Garage, $99.99 - Razor Scooter, $29.99 - Nitro Stealth Stinger Skylanders Figure (Target Exclusive), $14.99 *Available 9/20 - Disney Infinity Star Wars figure (exclusive light up Yoda), $14.99 *Available 12/1 - WubbleX, $7.99 *Available 9/28 8 – 12 years - Girl Scout Cookie Oven, $59.99 - Nerf Modulus ECS-10, $49.99 - LEGO Minecraft Crafting Box, $49.99 - LEGO Friends Popstar Tour Bus, $59.99 - WOW WEE R.E.V. - Robotic Enhanced Vehicles, $99.99 - Meccano MeccaNoid G15, $179.99 - LEGO Dimensions Benny Fun Pack from LEGO, $14.99 *Available 9/27 - WiiU Bundle with Mario Kart from Nintendo, $299.99 - Xbox One Controller from Microsoft Teens - Guitar Hero Live from Activision, $99.99 *Available 10/20 - Sky Viper v950HD Video Drone, $89.99 Be sure to check out Walmart's top toys of 2015 and Tadashi Shoji's new kids collection. [Photo: Target]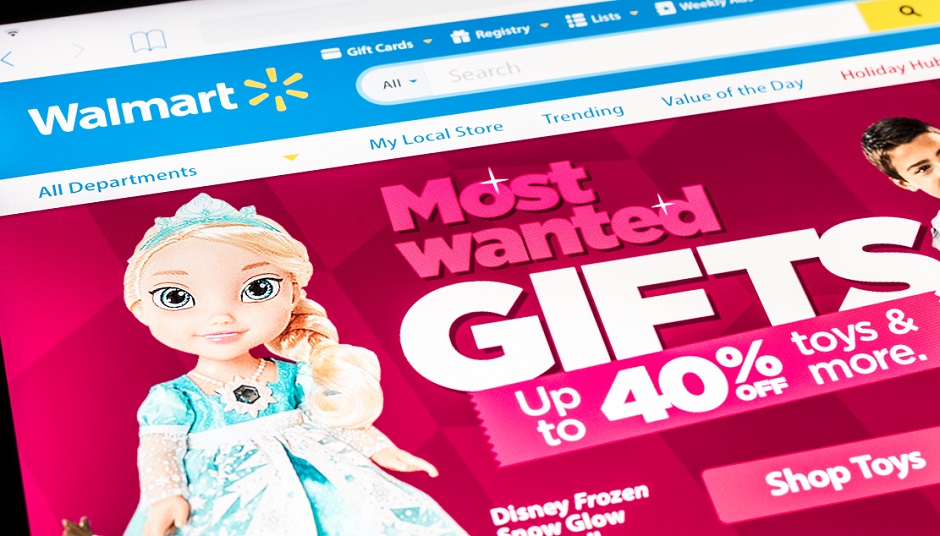 Walmart Just Announced The Top Holiday Toys Of 2015
Forget back to school; Walmart is already thinking holiday. Yes, I know it's still August, but they just released their annual top toy list and if you're one of those moms that likes to be super on top of things, better find a good hiding spot now. You ready? Here's the full list of the best holiday toys of 2015: - Shopkins S3 Scoops Ice Cream Truck Play Set - Barbie Dreamhouse - Paw Patrol Mission Chase - Nerf N-Strike Mega Series RotoFury Blaster - FurReal Friends StarLily, My Magical Unicorn - Fisher-Price Bright Beats Dance & Move Beatbo - Disney Frozen Elsa Castle - Fisher-Price Little People Big Animal Zoo - Fisher-Price Thomas & Friends TrackMaster Shipwreck Rails Set - Fisher-Price Imaginext Ultra T-Rex - Moose Toys Little Live Pets Season 3 Clever Keet - Marvel RC Hulk Smash - HoverTech Battle FX - Project Mc2 Ultimate Lab Kit - Pie Face Game - My Little Pony Cutie Mark Magic Canterlot Castle Play Set - VTech Go! Go! Smart Wheels Ultimate RC Speedway - Girl Scouts Deluxe Cookie Oven - 1:10 Full-Function 12.8V Pro Reaper R/C Car - Max Tow Truck Turbo Speed - Candy Craft Chocolate Pen - Hot Wheels Ultimate Garage Fanman - Doc McStuffins Pet Vet Talking Doll and Care Clinic - Voice-Command Auldey Sky Rover IR Helicopter Assortment Be sure to check out our back to school guides, plus Gap x Ellen DeGeneres.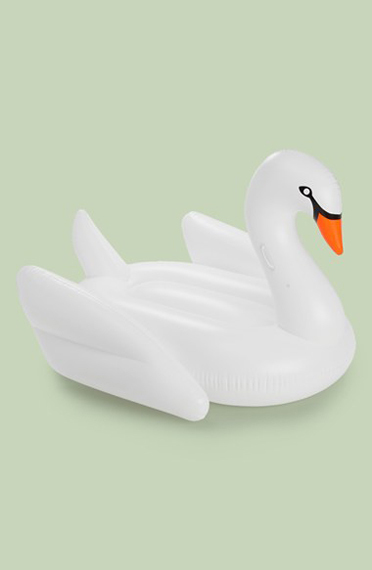 Nordstrom's Poolside Pop-In Just Gave Me All My #SummerGoals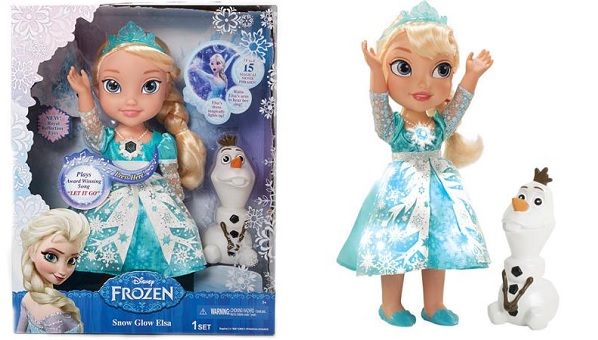 Calling All Moms! Walmart.com Just Restocked The Snow Glow Elsa Doll
Fun fact: the Snow Glow Elsa Doll is the most-searched toy on Walmart.com this season. That probably has something to do with the fact that it's been sold out at Toys 'R Us and Target for weeks now. The good news is not only did Walmart just get a huge new shipment Snow Glow Elsa dolls, but they also put them on sale. Originally $39.99, you can get your hands on this hot holiday toy for just $28.88 at Walmart today. So if you have a daughter, niece, goddaughter, go get one ASAP. It's the toy every little girl wants this season. GET YOUR SNOW GLOW ELSA DOLL NOW!
21 Disney Frozen Gifts That Are So Much Better Than Another Anna Or Elsa Doll
Despite the fact that Frozen came out last year, Frozen-themed toys are still on track to be among the bestselling items for kids this holiday season. So what do you get the kid who already has way too many Anna and Elsa dolls? Frozen roller skates! Frozen headphones! A Frozen karaoke machine! Click through the slideshow to shop the best Frozen gifts and toys of the season. You have to see the Birkin bag North West painted for Kim Kardashian, plus the hot holiday toys of 2014. [Photo: Loren Javier/Flickr]
Here They Are–The 24 Toys That Will Be On Every Kid's Wish List This Season
I hate to brag, but I started Christmas shopping for my daughter in September. Yes, I'm one of those moms. I haven't always been this way, though. It's taken two years of searching unsuccessfully for some freakin' toy that sold out back in October for me to realize, I need to step my game up. That's exactly why I've spent the last few months getting the inside scoop on 2014's hottest holiday toys--so that I could share the intel with you before they sell out. Now unless you like getting trampled and elbowed on Black Friday only to miss out on the darn Elmo-of-the-moment, I suggest you peruse our annual Hot Holiday Toys list and buy anything you think your child will want now. You've been warned. SEE THE COMPLETE LIST HERE! Don't miss the hottest holiday gifts for grown-ups, plus Jennifer Lawrence's cute striped top and Starbucks x Swarovski.
Target's 2014 Top Toy List Includes A Robot, A Pet Dinosaur And Simon
I hope you're ready because holiday 2014 is pretty much here. Walmart already released their annual top toys list and now Target is following suit with holiday picks for 2014. Who made the cut? Of course, there are goodies from Leapfrog, Fisher-Price and vTech, but there are also some surprises like the Wubble Bubble Ball (pictured above) and the WowWee MiP™ Robot. Click through the slideshow to see all the toys kids will be clamoring for this Christmas. [Photo: Target]
Walmart Just Announced The Top Holiday Toys Of 2014–Who's Ready?
Many of our children haven't even been in school for a full week yet, but that's not stopping Walmart. The megastore just announced their annual Top Toy List, so yes--back to school season is officially over and holiday starts now! For the last few years, Walmart has enlisted real children ages 18 months to 12 years old to help select what will be the most popular toys of the season and this year was no different. The Chosen by Kids Top 20 Toys Lists includes the latest kids tech items from leading brands like LeapFrog and Vtech, but also new takes on classics from Disney, Mattel and Fisher Price. So if you're ready, click through the slideshow to find out the top holiday toys of 2014. Most of them are available to purchase now, so if you're feeling super proactive go ahead and start ordering. SHOP THE CHOSEN BY KIDS TOP 20 TOY LIST NOW Be sure to check out Twitter's new buy button, iPhone 6 cases and the new Apple Watch.
Find Out Target's Thanksgiving Bestsellers (AKA, What You Should Fight For Today)
While we do admit feeling sympathy for the folks that had to work yesterday, the one upside is that stores like Target already know what the bestsellers are. So before you go crazy today for items that you'll probably be able to get later in the season, here's what Target could barely keep in stock yesterday and early this morning: - iPad Air (you'll get a free $100 Target gift card with your purchase) - Zoomer Robot Dog (two of the three styles are already sold out online) - Nintendo 3DS XL (on sale for $190, down from $239.99) - Beats by Dr. Dre Solo HD On-Ear Headphones (on sale for $115, down from $179.99) For more Black Friday steals, check out the 50% off Net-A-Porter sale and the Macy's Black Friday sale.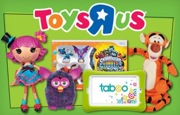 Thank Groupon for the Ultimate Holiday Gift–$10 for $20 Worth of Merch at Toys 'R Us and Babies 'R Us
Slept through Black Friday? Didn't find what you were looking for? Whatever the cause, here's one reason to be happy you didn't knock your holiday toy shopping out this weekend: a 50% off Groupon to Toys 'R Us and Babies 'R Us! Every year Groupon outdoes itself with a holiday deal better than the last and this one is no exception. Spend just $10 and you'll receive a $20 credit good toward your purchase at Toys"R"Us stores, Babies"R"Us stores and the FAO Schwarz NYC flagship location. Get your deal now at groupon.com! (more…)
Hurry! Save $10 on All LeapPad2 Bundles at Leapfrog
Why wait until Black Friday or Cyber Monday when you can get the best sales and deals today? If a LeapPad2 is at the top of your kid's holiday wish list, head over to Leapfrog ASAP. Eight of their best LeapPad2 bundles are now $10 off, plus all order over $40 ship for free. Given how well the LeapPad sold last year, it's just a matter of time before the LeapPad2 sells out. That's why we recommend you get yours now--while they're available and on sale! [slideshow] Start Shopping: leapfrog.com Sign up for our newsletter for even more great finds delivered right to your inbox. Click here to email Jeanine, the author of this post.
It's Here! Check Out the Annual MOMfinds Sold Out Holiday Gift Guide
It's November, which means the holiday season is officially under way. Hooray! No before you start panicking about long lines and sold out toys, don't! We've done all the legwork and found this season's hottest holiday toys. All you have to do is shop early and wait for your no-fail gifts to arrive. Easy enough, right? Check out the 2012 MOMfinds Holiday Gift Guide >  Sign up for our newsletter to get even more finds delivered right to your inbox. Click here to email Jeanine, the author of this post.
Don't Get Ripped Off This Holiday Season… These 5 Toy Retailers Offer Price Matching–So Use It!
A few weeks back Toys 'R Us announced they would match competitor pricing during the holiday season, but it seems they're a little late to the party. We checked with a bunch of the major the toy retailers and most of them already have a price match policy. (more…)
Hot Holiday Toy Alert! Take Your Kid On a Trip Around the World With the iTikes Map
Every year I toy around with the idea of doing no gifts for the holiday and instead taking a family vacation. I had almost convinced myself that this would be the year we gave up the presents, the tree and the cold and went somewhere warm for Christmas. And then, I saw the new iTikes Map. (more…)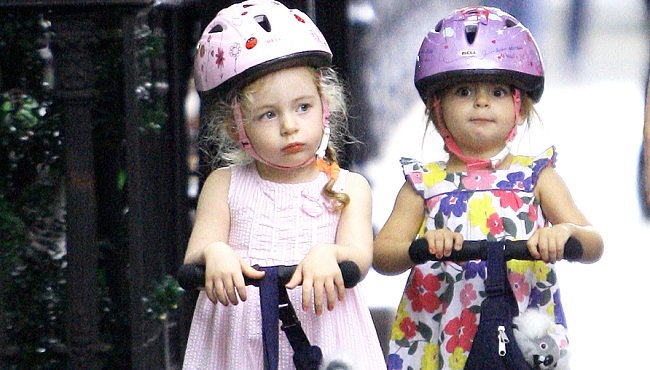 Found! Those Adorable Little Scooters Sarah Jessica Parker's Twins, Tabitha and Marion, Were Riding
They are so freakin' cute! We're in love with this adorable pic of Sarah Jessica Parker's twins, Marion and Tabitha, riding their scooters around NYC over the weekend. Their little helmets are so sweet and their facial expressions are precious. (more…)
Spotted! Ivanka Trump's Baby Girl, Arabella Rose, Can't Get Enough Playmobil
She's back and cuter than ever! Ivanka Trump shared a sweet pic of her daughter, Arabella Rose Kushner, over the weekend and it looks like the little one is the latest tot to be hooked on Playmobil. (more…)
On Your Mark, Get Set, Go! The Toys 'R Us 2012 Holiday Hot Toy List Is Here
Who's ready for the holidays?? Not me. I feel like I just got my daughter settled in school and already I'm being bombarded with holiday prep. Last week, Walmart released their top toy list for 2012 and now it's Toy 'R Us' turn. Check out the Toys 'R Us Fabulous 15, plus the 35 other toys on their annual Holiday Hot Toy list. [slideshow] (more…)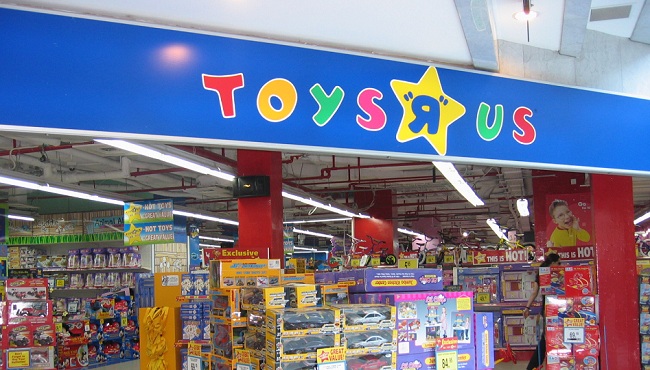 Holy Amazing! Toys 'R Us Is Making the Hunt for Hot Holiday Toys Easy With Their Hot Toy Reservation Program
Already scheming on your plan of attack for holiday shopping this year? Between the LeapPad and Fijit Friends, last holiday season was crazy and it's looking like this holiday season will be stocked with its own crop of hard-to-find toys. So how's a mom to compete? With the Toys 'R Us Hot Toy Reservation program! (more…)
Pre-Order the New Toys 'R Us Tabeo Learning Tablet Now!
Ready for your toddler to have more tricked-out gadgets than you? Hot on the heels of the LeapPad2 and the InnoTab 2, Toys 'R Us unveiled their very own kids' learning tablet, the Tabeo. (more…)
It's Here! Check Out Walmart's Top Toy List for 2012
Still finalizing your kid's Halloween costume? You're so behind the curve. While you were busy deciding between Iron Man and Captain America, Walmart was compiling it's just-released Hot Toy List for 2012. (Yes, in September...) So what should you be on the lookout for (after you get the Halloween sitch figured out, of course)? Here's a peek at the 20 toys Walmart predicts will be this holiday season's bestsellers: [slideshow] (more…)
Looking for Ways to Keep Your Kid Occupied Now That Summer Is Over? Better Sign Up for BabbaCo
Okay, yes I know summer isn't really over, but it's almost over. And between the weather cooling down and homework, your kid will be spending more and more time indoors. So rather than spend all that free time watching TV, we suggest you sign up for BabboCo ASAP. Never heard of it? It's this genius new subscription service that delivers fun, creative kids' activities to your doorstep every month. For just $29.95/month, you get: (more…)
Go, Go, Go!! LeapPad2 Bundles Are Now Back In Stock… But Not for Long!
Here we are, months before the holiday season and we're screaming at you to go buy some toys. Don't we know there are backpacks and lunch boxes to be purchased? Well, yes, of course we do. But we also happen to know that LeapPad2s have already sold out once this summer and it's very probable that they'll sell out again. Need we remind you how November arrived last year and there were no LeapPads available... anywhere?! So as crazy as it sounds, yes, get a jump start on your holiday shopping and scoop up one of the LeapPad2 bundles while they are still available. [slideshow] Get Yours: leapfrog.com (more…)
OMG! Your Daughter Is Gonna Flip for the New Special-Edition Disney Princess LeapPad2…
It's kind of amazing, right? If your daughter has a thing for the Disney princesses, this is sure to make her squeal with delight. Now we know you're probably consumed with back-to-school shopping right now, but stop for just a minute. The holiday season is just  4 months away and these LeapPad2s are already selling out. If you want one, you have to order one now. Like right now because there won't be any left come November (or maybe even October, for that matter). This special edition Disney princess LeapPad2 comes with a Disney princess carrying case, 7 exclusive wallpapers and 2 sticker sheets. It's really the perfect holiday gift, so order it now, stash it away until December and thank us when your daughter is beyond delighted after the holidays. Get Yours: target.com Sign up for our newsletter for even more great finds delivered right to your inbox. Click here to email Jeanine, the author of this post.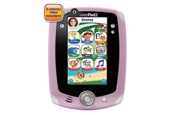 Going, Going, Gone… The LeapPad2 Is Already Sold Out at Leapfrog.com, But We've Got the Scoop On Where You Can Still Pre-Order One for Your Kid
Didn't we warn you? One need not think back very far to recall how impossible it was to get a LeapPad last holiday season. So is it really any surprise that less than a week after the LeapPad2 became available for pre-order, they're already sold out at leapfrog.com? (more…)
It's Here! Pre-Order Your LeapPad 2 Today!
The wait is over! Just 1 month after we announced Leapfrog was debuting a LeapPad2, the kid-friendly learning tablets are now available for pre-order. Wondering what makes LeapPad2 better than the original? Well for starters, it's faster which means your impatient toddler can get through his/her games faster. It also boasts a front- and rear-facing camera and video recorder, and there are more games and apps than ever. The first edition LeapPads sold out within weeks, so get on the list to receive yours ASAP! Pre-order your LeapPad 2 now at: leapfrog.com target.com walmart.com amazon.com (more…)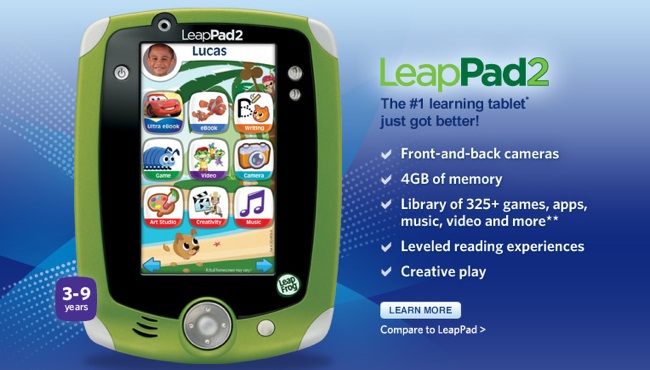 Mark Your Calendar! Leapfrog's LeapPad2 Will Be Available For Pre-Order on July 18
If there was one toy that blew all other toys out of the water last year, it was definitely the Leapfrog LeapPad. With tons of games and apps, a camera and a touchscreen, it was like an iPad for toddlers. And we weren't at all surprised when it was completely sold out weeks before Christmas. (more…)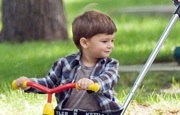 Spotted! Gisele Bundchen And Her Baby Boy, Benjamin Brady, Go For a Ride in Boston
If this woman is pregnant, good for her. That's Gisele Bundchen and her son, Benjamin Brady, this weekend and she looks as slim and supermodel-like as ever. Gisele and Benjamin were snapped in Boston and after we finished gawking over her insanely long legs, we caught sight of that adorable tricycle Benjamin is riding on. It's a Kettler and it features an awesome pushbar so parents can help steer. When your kid is ready to ride on his own, it comes off easily and there's even a safety strap for around the waist. Here's where you can score the same Kettler Kettrike for your little one: (more…)
Spotted! Heidi Klum and Her Sleeping Beauty (And a Super Cute Princess Doll, Too!)
If you've been reading MOMfinds for any period of time, you know we have a serious weakness for sleeping babies. They're just so irresistibly cute. Case in point, Heidi Klum's little girl Lou Samuel. The pair were snapped California this weekend and we can't get enough of little Lou sucking her thumb and snoozing. And check out that adorable princess Tiana doll Heidi is holding. It won countless awards last year including the Disney Family Fun Magazine Toy of the Year Award and The National Parenting Center Seal of Approval Award. Want one for your daughter? Get it on sale now for just $20! (more…)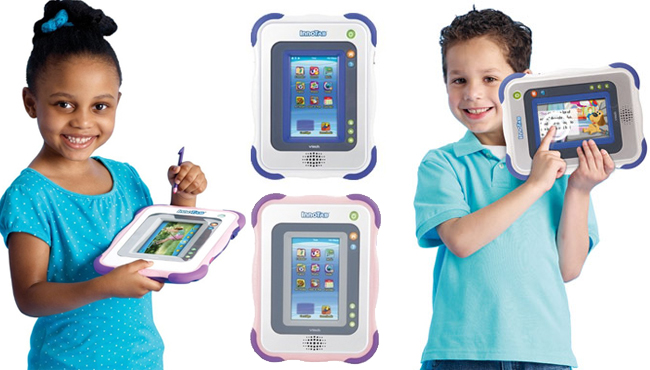 Join the MOMfinds.com Community and You Could Win a VTech InnoTab!
Tired of sharing your iPad with your kid? Put all that to end by entering to win your kid his very own iPad! Okay, it's not really an iPad, but the VTech InnoTab is basically like an iPad for toddlers. This touchscreen, kid-friendly tablet features tons of games that help boost your child's memory, math and creative thinking skills. The screen easily wipes clean and the rubberized edges ensure it can withstand falls. (more…)
It's Earth Day! Celebrate With These 20 Eco-Friendly Goodies Every Mom Should Own
Earth Day is April 22--today!--so to commemorate the day, we decided to share a few of our favorite eco products for moms and their little ones. From all-natural bath goodies to bamboo clothing, you should totally give every one of these products a try. Star moms like Jessica Alba and Jennifer Garner already have! [slideshow] (more…)
Get 20% Off On Adorable, Customized Keepsake Teddies & Quilts From The Patchwork Bear
If you can't bear to part with your baby's adorable onesies, or your toddler's precious Easter outfits, don't despair! Recycle your tot's discarded duds into a one of a kind keepsake with The Patchwork Bear. Just order the kit, choose 6-10 pieces of clothing (you can consult their instructions on how to choose the best pieces), and ship them in the provided box to The Patchwork Bear. In just 2-4 weeks, you'll have your very own handmade, custom Keepsake Memory Bear. It's simple! You'll also receive free perks like complimentary personalization, return shipping of your finished bear, and an optional design guide. These snuggly teddies aren't just for babies and tiny tots - you can make a bear out of souvenir t-shirts, sports jerseys, school uniforms, or military uniforms. The special Keepsake Memory Bear makes a fabulous gift for occasions such as birthdays, showers, or graduations. These bears have been spotted on the arms of celeb tots (Jessica Alba and Jennifer Garner's kiddos are all fans!)  Not only are they super popular with the A-list set, they were also awarded the 2011 Creative Child Magazine Top Choice Award. The Patchwork Bear is extending a special, limited time offer to MOMfinds readers - you can get a whopping 20% off on all handmade keepsake bears and quilts from now through April 30th! Just enter MOMfinds at checkout. Want to keep up with special offers from The Patchwork Bear? Just follow them on Twitter!
Just 1 More Day To Win The Ultimate Keepsake For Your Child With The Patchwork Bear!
Every parent faces this inevitable dilemma: your baby is getting too big for all of his or her most adorable outfits. You can't let those bright and cheerful graphic print onesies go to waste! Do you store them for prospective baby No. 2, do you pass them on to a deserving friend or family member, or do you preserve them for posterity? Now you never have to let go of all those baby memories - you can create a memorable keepsake for your little one with The Patchwork Bear! Just choose 6-10 pieces of clothing, and ship them in the provided box to The Patchwork Bear. In just 2-4 weeks, you'll have your very own Keepsake Memory Bear. You'll also receive free perks like complimentary personalization, return shipping of your finished bear, instructions for choosing clothes, and an optional design guide! Of course, the Keepsake Memory Bear isn't just for babies - you can make a bear out of souvenir t-shirts, sports jerseys, military uniforms - you can even create a special Memory Bear to commemorate a lost loved one. The Patchwork Bear is the preferred keepsake of the stars - Jessica Alba, Jennifer Garner, and Tori Spelling have all gifted a bear to their celeb tots. This sweet and snuggly gift is not only a celeb fave, it's also the recipient of the 2011 Creative Child Magazine Top Choice Award. But the best news of all? This week, The Patchwork Bear is giving away one Keepsake Memory Bear to one lucky MOMfinds reader! The Patchwork Bear also specializes in keepsake quilts, and in addition to their line of customizable Keepsake Memory Bears, they also have a line of Signature Bears made from premium designer fabrics. Want to keep up with special offers from The Patchwork Bear? Just follow them on Twitter! Rules: 1. You must be a subscriber to our newsletter to be eligible. Sign up here if you haven't already done so. 2. To enter, just tell us which special items you'd use to make your Keepsake Memory Bear in the comments below! 3. You must supply us with a valid email address. 4. The contest starts now and entries must be date stamped by our server no later than Wednesday, March 27, 2012 at 11:59 AM Eastern Time to be eligible. 5. One winner will be selected during a random drawing and will be notified via e-mail and must respond as instructed to receive the prize. 6. No prize substitutions. 7. You must be 18 years old or older and a resident of the US to enter. Entries from the state of Florida are void. 8. No purchase necessary. 9. Void where prohibited. 10. Click here to see the full rules.
Spotted: Hot Dad David Beckham Shopping for His Baby Girl, Harper Seven Beckham
Last week we saw David Beckham balancing his baby girl, Harper Seven, and pushing a stroller. Today, we get him shopping for pink toys and baby gear. Don't you just love this guy? From the looks of it, David treated Harper to VTech's Activity Walker and surprise, surprise he made an awesome choice. It features sit to stand activities that help teach your baby colors, numbers and animals. Plus, it lights up and makes noise so your little one is sure to be entertained. (more…)

Sneak Peek: LEGO Recreates The Sydney Opera House
The LEGO Architecture series has already paid homage to landmarks such as the Guggenheim Museum and the Burj Khalifa, and their latest set will take you to the Land Down Under.  Behold, a LEGO replica of The Sydney Opera House, which will be available March 1st for $39.  Who else is excited? Need a LEGO fix right now? Shop the Architecture Series here >>> (more…)
No Doubt Safety Comes First for Kingston Rossdale
Leave it to Kingston Rossdale to make safety look so cool. Check out the little trendsetter sporting a Raskullz Mohawk Helmet while taking his bike for a spin last weekend.  And while the helmet looks cute head on, it looks even better from the side.  See for yourself after the jump. (more…)
Say Cheese! Sam Sheen Shows Off Her Cool VTech Digital Camera
What's cuter? Denise Richards' little daughter Eloise, or the fact that she's so intently watching big sis Sam play around with her VTech Kidizoom camera? The girls are definitely adorable, but don't overlook that camera. It's not just a toy--it takes real pictures! And once your kid has a snap he/she likes, they can add graphics right onto the picture from the camera. Cool, right? Treat your kid to one for just $35. (more…)
Deal Alert! Take an Extra 25% Off Sitewide at Disney Store
I know it's only been two months since the kids ripped into their holiday gifts, but a deal is a deal.  Now through Monday 2/20, save an extra 25% off sitewide at the Disney Store with coupon code HAPPY25.  The deal applies to toys as well as apparel and sleepwear, so if you're not yet ready to bring more toys home, your kids could always use a spare set of cute PJs. (more…)
Barbie Gets the Royal Treatment with William & Catherine Replica Dolls
Couldn't make it to to London to watch the Royal Wedding in person?  Well at least you can relive that day in the comfort of your own home with the help of Mattel. Yep, coming this April, they'll be releasing the Barbie Royal Wedding William and Catherine Doll Set just in time for the couple's first anniversary. But don't wait until April to get yours--they'll be long gone by then. They're available for pre-order now for £99, which is about $155.  Not cheap but hey, it's cheaper than that trip to UK you didn't make...and could even be an investment down the line. (more…)
OMG, That Giant Kitty Nahla Aubry Is Carrying Is $100!
Actually, it's $105. If I had known about this kitty a few months back, I totally would have included it in the round-up of outrageous kids' gifts. Yes, the price tag is astronomical, but you know what? I actually think it's a pretty awesome toy. It's by ALEX Toys and it's designed to help kids learn to dress. ALEX's giant kitty is life size--4 feet tall!--and it features 11 dressing activities that will help your toddler master important fine motor skills. So if your tot has a birthday coming up and you're looking for a gift with some wow factor, this kitty gets our stamp of approval. (more…)

Still Need Convincing to Buy a LeapPad? How Does "2012 Toy of the Year" Sound?
That's right. LeapPad was named the "2012 Toy of the Year" by the Toy Industry Association as well as "Educational Toy of the Year" and "Preschool Toy of the Year".  In other words, plenty reasons for you to buy one for your kiddo if you haven't already done so.  Still need a little nudge?  The LeapPad bundles are on sale and shipping is free. (more…)
What Your LEGO Maniac Can Do with 30K Bricks
No, that's not an image from last year's Super Bowl game.  That's 30,000 LEGO bricks made to look like the Lucas Oil Stadium, home of Sunday's big game.  Amazing, right?  The replica took a whopping three years to make (three years!!!) and just goes to show your LEGO maniac that anything is possible if you set your mind to it.  And an endless supply of LEGO wouldn't hurt either. (more…)

Why Every Kid Should Have 'My Space'…And I'm Not Talking About the Web Site
You know the saying that kids are more interested in the cardboard box than the actual toy inside?  Well, the 'My Space' pop-up playroom by Liya Mairson takes the cardboard box to a whole other level.  A playroom for kids that folds flat when you're not using it?  Genius!  Watch it in action and let us know what you think. [youtube]http://www.youtube.com/watch?v=0trABfSFlPU&feature=player_embedded[/youtube] (more…)
Buy One, Get One Free Plush Toys from the Disney Store!
Kids already pushed their new Christmas toys to the side? If your little one needs a new plaything--or two--head over to disneystore.com ASAP. For a limited time only, they're offering Disney plush toys buy one, get one free. Yes, FREE, as in you get two for the price of one. (more…)

Wait! Before You Throw Out Those Small Toys, Read This…
You know those toys.  The ones you get with a Happy Meal or in line at the checkout stand to hold your kid over for a few more minutes before she completely melts down. (more…)