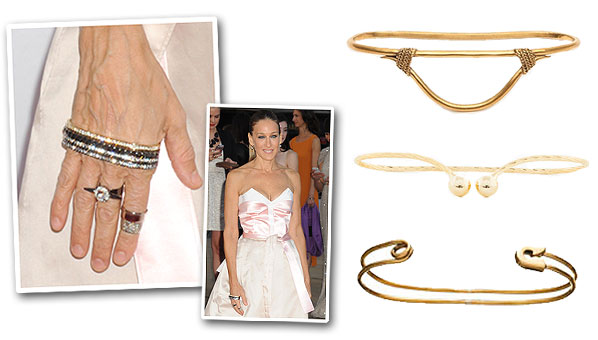 It's A Ring! It's A Bracelet! No, It's A Handlet–The Accessory Made Famous By SJP
Just when you were getting used to the midi-ring (you know, the fashionable term for the finger-knuckle ring), a brand new, legitimately non-existent before now accessory hits the market, and Sarah Jessica Parker buys one. Now, per usual, no fashion trend takes off just because one celebrity wears it that one time (when she was hanging out with Prabal Gurung no less), but SJP isn't your run of the mill celebrity. In fact, it was by her fashion eye alone that 90s couture made the lust lists of the middle class and made Jimmy Choo the must-own shoe. Needless to say, when SJP likes something, it is only a matter of time before the rest of us like it, too, but that isn't to say that some of her choices aren't a bit bizarre (tutus and cropped tops and bows, oh my!). This time, it's her hand bling that has caught our eye. It's a ring! It's a bracelet! No -- it's a handlet, a bracelet for your hand, if you will. It is akin to the midi-ring, being worn right below the knuckles and right above where we are traditionally used to wearing jewelry in that area. For the most part though, it is just known as a hand cuff, but not the dirty kind. Browse through and check out six of our favorite pieces, most of them at a steal of a price -- that is, until the rest of the shopping world picks up on the trend. [Celebrity Image: Splash News]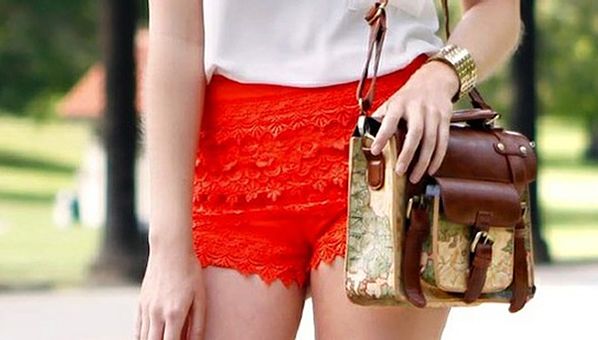 Ace Geography 101 In Spring's New Map Print Trend
GPSs beware, old-school maps are making a comeback...on shirts, leggings and handbags. We can't remember the last time we used an actual map but lately we've been seeing them everywhere. The trend first popped up on these colorful square scarves that actually look like maps. But now you can incorporate geography into your wardrobe in a ton of other ways. Go bold with map print leggings or take a more subtle approach with a map themed watch. Pick from fun, bright prints or more neutral designs that have an old world vibe. Which map is more your style? Click through the slideshow of map printed clothing and accessories and let us know what you think. For more trends, see spring vests, mint handbags and baseball hats. [Photo: Dailylook]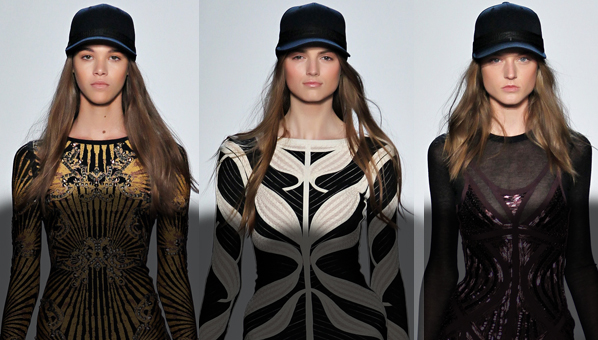 Baseball Hats: A 'Borrowed-From-The-Boys' Trend We're Not Giving Back
Batter up--it's almost baseball season. Well, baseball hat season for us. In our version, team logos are out, and studs, metallic accents and lots of leather are in. Baseball caps have been a street style favorite for a while now, but we knew the trend wasn't going anywhere when we saw them on the runway at the Fall 2013 Hervé Léger by Max Azria show (above). We love how the hats add a tomboyish touch to HL's super sexy dresses, and the look is surprising easy to pull off at home, too. Styling tip: wear hair down in loose waves - it's casual, but not too sporty. Or pair the hat with a playful graphic sweatshirt (like these) and sky-high heels. A leather baseball hat also looks great with statement earrings and a dress. We could go on... Will you be wearing baseball hats outside of the stadium this spring? Click through the slideshow to see some of our favorite styles. For more of this season's trends, check out tulle skirts, PVC flats and ankle strap heels.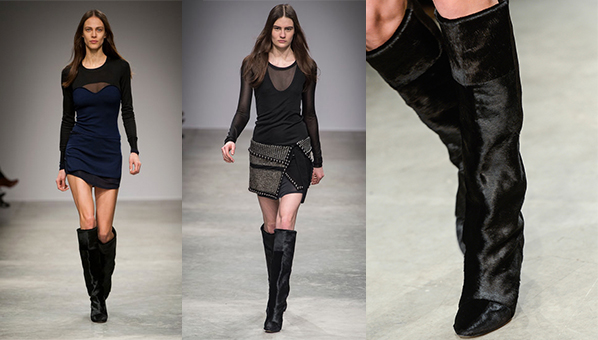 These Isabel Marant Wedge Boots Are Next Season's Answer To Her Bestselling Bekett
If you couldn't get your feet into a pair of Isabel Marant's wedge sneakers last fall, here's your chance to get her "it" shoe next time around. Her fall 2013 collection just debuted at Paris Fashion Week, and while there were many standout pieces in the rock-and-roll themed line, a pair of knee-high black boots stole the show. The boots, which are a tall, sexier version of her bestselling Bekett wedge sneaker, took the term "ready to wear" to another level: every editor in attendance was ready to wear 'em right out of the Carrousel du Louvre. And while you can expect to see them on every off-duty model and celebrity this fall, you don't have to be a pin-thin actress or working model to wear them. The ponyskin boot hits right below the knee and the wide opening makes legs look thinner. Okay, are you sold yet? Another stand-out of the show, was the ponyskin, Velcro-strap ankle booties that the designer herself wore at the close of the show: Isabel Marant Fall 2013 Ponyskin Boots If you can't wait until fall to score Marant's casual-cool style, shop her famous Bekett wedge sneakers here. Don't forget to check out Isabel Marant's "Memphis" ankle boot, Rebecca Minkoff's Nilson Sunset Nylon Skirt and this season's must-have sunglasses.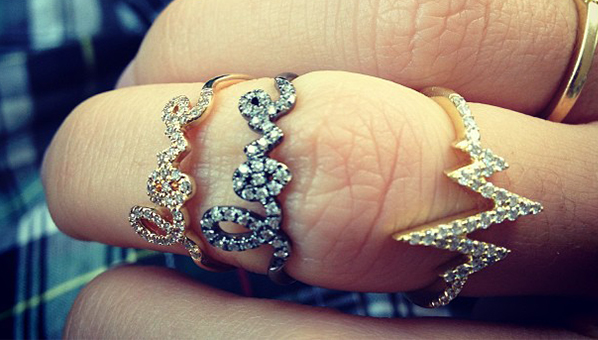 Sydney Evan's Cursive 'Love' Rings Just Shot To The Top Of Our V-Day Wish List
Looking for a sweet piece of jewelry to brighten your day, perhaps something to give yourself for Valentine's Day? We're currently obsessed with Sydney Evan's cursive 'Love' rings, as spotted on the Man Repeller above, and celebs like Bar Refaeli, Halle Berry and Rihanna (not to mention the fact that they are dominating Pinterest). Just get one (at $860 a pop, that may be all you can afford) or layer them up like the  in the photo above. Or, shop one of the many cheaper look-alikes we found in the slideshow above. It's a win-win! [Man Repeller] For more hot trends, check out these lucite clutches, colorful coats and melting tights.
Would You Wear The New 'Melting Tights' Trend?
Tights are like nail art - if you spend $10 or $20 to try a new trend, and it just doesn't work, no harm no foul. You can throw them away or bury them at the bottom of your underwear drawer and act like it never happened. So, does that mean you'd try the latest legwear trend coming out of Germany, melting tights? Clothing company Urb thinks they are the next big thing to hit your thighs since the thighmaster, and are selling 10 styles, in a variety of hues, opacity and drip lengths (eww). This latex-layered hosiery is not for the fashion faint of heart, and at $60 a pop, trying this trend is no cheap endeavor, either. On the flip side, these out-there pairs are exactly what street style dreams are made of (see: proof! more proof!). They're also kind of amazing for Halloween costumes, and have that freaky deaky factor a pop star would kill for on the red carpet (say, the MTV Music Awards?).  The only question is who will wear this pair first - Ke$ha, Nikki Minaj or Lady Gaga? I'M MELTING Also, check out some slightly less crazy trends, like ombre shoes, tech-friendly gloves and harness bracelets. [MTV Style]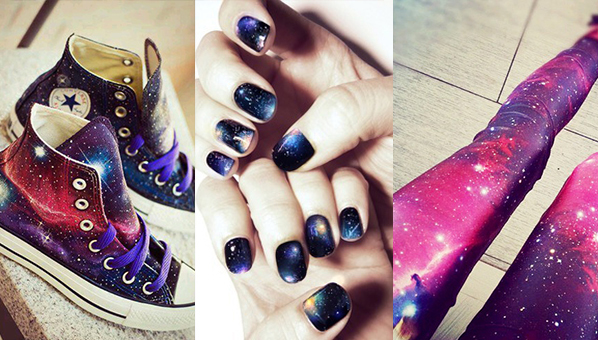 Galaxy Prints: Light Years Ahead, Or Way Too 'Out There'?
Galaxy prints: the "far out," milky way-inspired trend that is seems to be everywhere (if Pinterest) is any indication. Love it or leave it? Galactic patterns are popping up on everything from tops to leggings, Converse sneakers, nail art and quirky Etsy items. The perfect trend for astrology lovers and star-gazers alike, the trend is definitely out of the ordinary. Unsurprisingly, it's being carried by some of our favorite cheapie retailers--ASOS, Nasty Gal, and Urban Outfitters. At these prices, we've got to at least try this fun alternative to winter blacks and greys. Check out our favorite galaxy print digs in the slideshow! Check out some other trends we're loving up: Printed pants, fur trapper hats and PVC pumps!
Chunky Fisherman Sweaters For Surviving These Frigid Temps #Brrr
If there is any singular must-have for any winter closet, it's definitely the perfect fisherman sweater. Also known as an Aran sweater, these cozy knits are named after the fishermen who have worn them for decades on the islands off the coast of Ireland (why are all the best pieces stolen from the guys?). Sounds sexy, right? But you don't have to be hauling sea bass to wear the distinct chunky cable design. Toss yours over a mini skirt for a warm night out with the girls, or layer it over a button-up and skinny jeans for a casual Friday work look. They're also a huge trend in fall and winter weddings! So if your New Year's resolution is to amp up a more stylish wardrobe, it's time to kick off with a cozy and chic fisherman sweater (or two!). We've rounded up eight of the best in the slideshow below. For more warm winter wear, check out these metallic sweaters, Rachel Zoe's coat and Kate Bosworth's top. [FashionHippieLoves]
From Christmas Eve Until NYE, Rock Sequins From Head To Toe
Ladies, we know you've been waiting all year for this. Sure, presents are great and gorging yourself on delicious food isn't too bad, but what we really look forward to? Head-to-toe sequins. 'Tis the season -- dress as sparkly as you desire! From headbands to pumps, we've got you covered. Literally. No holiday ensemble is complete without a bit of shine, so we've rounded up all the pieces you'll need to create an all-eyes-on-me look.. just don't wear everything at once. And if your coworkers give you side-eye (because we strongly encourage sparkles at work), sweetly wish them a happy holiday. Because it's that time of year. Biotch. Shine on.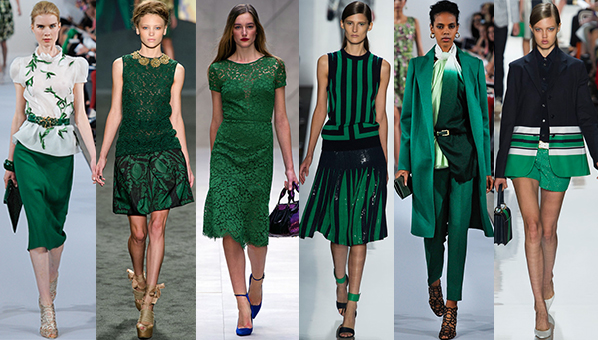 Shop Pantone's 2013 Color Of The Year Now Before Prices Inflate
Pantone has laid down the official ruling: the "It" color for 2013 is emerald. Every December, the Pantone Color Institute gives the title to one lucky swatch (last year, Tangerine Tango took the top spot), which influences fashion trends, especially at the fast-fashion level, for the rest of the calendar year. Designers like Oscar de la Renta, Burberry, Vera Wang, Michael Kors and more have already put the jewel tone hue in their Spring '13 lineups, and before the rest of the industry catches up - and hikes prices - you should stock up on emerald now. Luckily, jewel tones have already been big this fall, with celebs like Pippa Middleton and Halle Berry rocking this May birthstone, so there are plenty of great designs to choose from. So, my pretties: It's time to follow the yellow brick road to the Emerald City. See what else is hot right now. Check out these sequin skirts, sweaters with elbow patches and cat-like hats.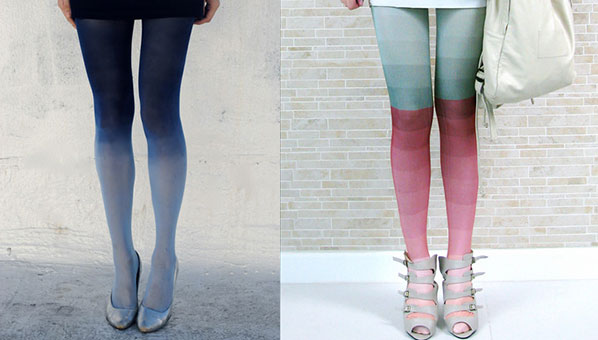 This Fad Is Made To Fade: Dip-Dyed Ombré Tights Just Get Better As They Go Down
It seems that everything is getting the ombré treatment these days, from hair to nails and even wedding cakes. Now, leggings and tights are the latest ombré obsession. Which makes sense, since leggings are quite colorful this fall. It just makes sense for them to come in fun, dip-dyed colors. Whether it's a subtle hue change or a complete fade-to-bleach look, this twist on a fall staple is a playful addition to your cold-weather armory. If you're loving the gradients, check out this round-up of amazing ombre tights. Get into more fall trends, like these cold-weather accessories, jacket trends and velvet booties.
Real Flowers May Be Dead, But Floral Prints Are Very Much In 'Bloom' For Winter
Though the flowers outside are nearly all gone, you don't have to completely give up floral print for the year. You can wear it well into fall and winter when you stick to a darker color scheme and embrace the dramatic, moody hues of winter -- much less feminine than those found in the warmer months. On the Fall 2012 runways, Dolce and Gabbana, Erdem and Alexander McQueen showcased the trend with needlepoint, patchwork and appliqué florals, respectively. To get the look, ditch the ditsy print in favor of large-scale blooms set against against dark and heavy fabrics. Check out the slideshow below for all the best winter floral picks, so you can stock your closet to make up for the lack of greenery until Spring hits. We love these fall trends, too: Fur vests, camouflage jackets and laser-cut leather. [Vanessa Jackman]
Embroidered Loafers Are King This Season (Save The Ballet Flats For Peasants)
We've been telling you that smoking slippers are all the rage for months now, but not to worry if you're late to catch on to this trend. In its latest variation, the embroidered detail on these loafers takes the particularly cozy footwear to a whole other level of luxe -- think very regal hand-stitching on velvet or velour loafers. If you still haven't grabbed a pair of fall's most-wanted shoes (or if you need, oh, nine more pairs), we've rounded up the best of the best, right here. So, make like Tom and Donna of Parks and Recreation -- it's time to "Treat yo self." No cigars or swanky members-only clubs required. Shop more fall and winter trends with fur vests, sweater leggings and these celeb-adored Rag & Bone boots. [Cocorosa]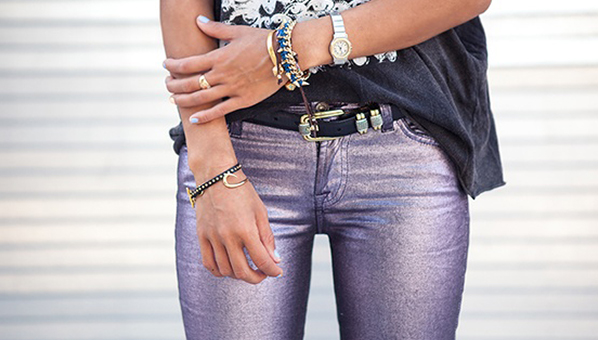 See Yourself In A New Pair Of Jeans, Literally, With The Metallic Trend
Stock up now: metallic jeans are going to be huge in terms of fall trends. Celeb-adored designer brands like 7 For All Mankind, J Brand and Hudson are leading the charge, all featuring versions of the mirror-like trend in their fall/winter 2012 collections. And, the metallic jean often comes hand-in-hand with a coated wax finish, which we predicted would be everywhere this fall (thank you, thank you). Don't click away just yet, shy little wallflowers. You can still get in on the action with low-shine picks by trying a demure bronze or rose-gold pair. And if you are looking to attract some attention, you're in luck: These babies absolutely lend themselves to the pickup line, "I can see myself in your jeans." In more fall trends, see the best flannel shirts, quilted vests and geometric jewelry.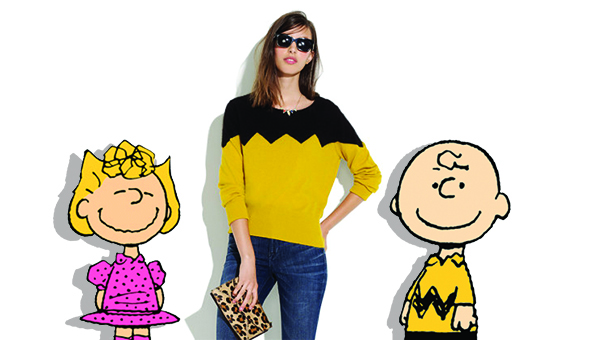 Hey, Blockhead! Why The Fashion World Has Gone Nutty For Charlie Brown
First, Chloé debuts Peanuts-inspired handbags named after characters in Charles Shulz's beloved cartoon. Smart move, we think -- who wouldn't want to own stylish sheepskin leather bag named after sweet, intelligent sidekick Marcie? And now, Madewell is carrying this Something Else by Natalie Wood Sweater ($180) with a certain iconic zig-zag in a color scheme that Charlie Brown himself would wear (if you need a last-minute Halloween costume, it's totally apropos). We're not sure where this trend came from or why; maybe the next wave of collaborations will be cartoon-strip ones? What do you think -- would you wear these looks straight out of the iconic cartoon? Or would you feel like a, well, blockhead? Chloe's Charlie Medium Zig Zag Patch Tote ($2,195) and Marcie Medium Satchel With Strap ($1,795). Give in to your inner child, and check out some more cartoon-inspired fashion and beauty with these cosmetics (Miss Piggy! Smurfs!), Minnie Mouse x OPI nail polish and Hello Kitty x Vans shoes.
Top 5: The Cutest Owl Costumes for Kids This Halloween
One of the first Old Navy Halloween costumes to sell out this year? The owl costume. Given the popularity of owl backpacks for back-to-school season, I had a feeling the owl would be a sellout and I snagged one for my daughter back in September. If you weren't lucky enough to get your hands on one, don't fret. There are still tons of cute owl Halloween costumes out there for kids. Don't believe me? Check out five of our favorite baby owl costumes and kids' owl costumes. [slideshow] (more…)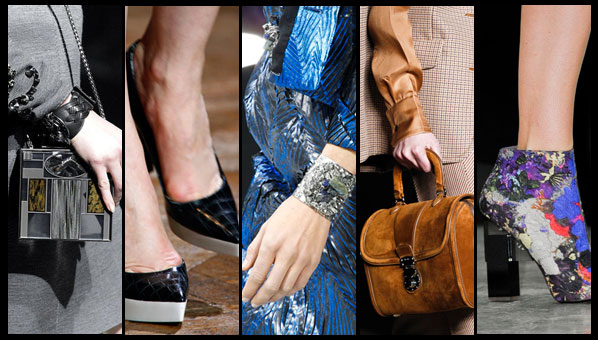 The 7 Fall Accessory Trends That Actually Matter (Plus, How To Rock Them)
With each new season comes a bevy of new trends - especially in the accessories department. Lucky for you, we've honed in on the 7 fall accessory trends that actually matter, and we've got tips on how to make them work for you. Cross Jewelry: As a result of this fall's gothic trend, cross jewelry is no longer just for the religiously devout. We prefer this trend in small doses (bracelets and rings), but if you're adventurous, take a cue from the runways with a dramatic pendant necklace. Giant Waist Belts: Aka, the easiest way to fake an hour-glass shape. These belts cinch you in, in all the right places. Go for a monochrome look - black belt, black outfit - to maximize this trend's slimming effects. Hinged Rings: An update on the "tough" jewelry trend, hinged rings pack all the punch of their knuckle ring counterparts, but are more practical. Cameo Jewelry: Miu Miu and Lanvin had us falling in love with cameo jewelry earlier this year, and the trend isn't going anywhere soon - cameo earrings, necklaces, and rings are all on-trend this fall. Statement Collars: Detachable, embellished collars are legitimately a thing. Embrace it, and shop it! Geode Jewelry: Chanel made geodes cool with their Fall/Winter runway show - but you don't have to be on a Chanel budget to "rock" (pardon the pun) this trend: just throw on an easy-breezy pendant necklace. Rose Gold Jewelry: Elle Woods would approve of this trend, why not add a hint of pink to your gold? We love this trend in all its forms, but we're especially big fans of watches. For more on fall trends, read up on the 7 fall beauty trends, the Navajo trend, and doctor bags for fall.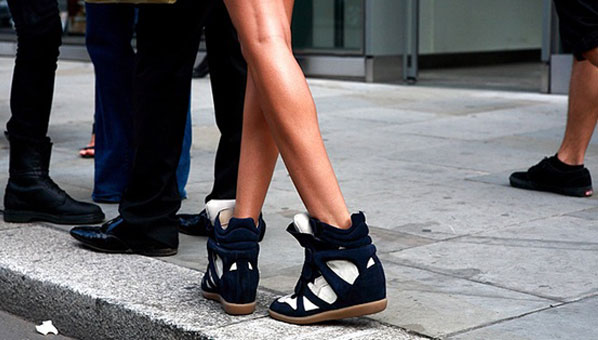 Wedge Sneakers Are Here To Stay (And Now Come In Studs, Prints & More)
We'll admit, we weren't crazy about the wedge sneaker at first (what could we wear them with? are they even comfortable?), but now that we know the answers (everything, and yes, respectively), we're thrilled that the trend isn't going away. This fall, there's a ton more styles out there than just the $700 Isabel Marant kicks that were flying off shelves last year. Now Steve Madden, Jeffrey Campbell, Rebecca Taylor and more are making versions of this favorite off-duty model look. They even come in studded, leopard and more, for as low as $80--we know what we'll be wearing with our jeans and t-shirts come cooler weather. Check out more shoes we love--wedge sandals, espadrilles,and flat sandals.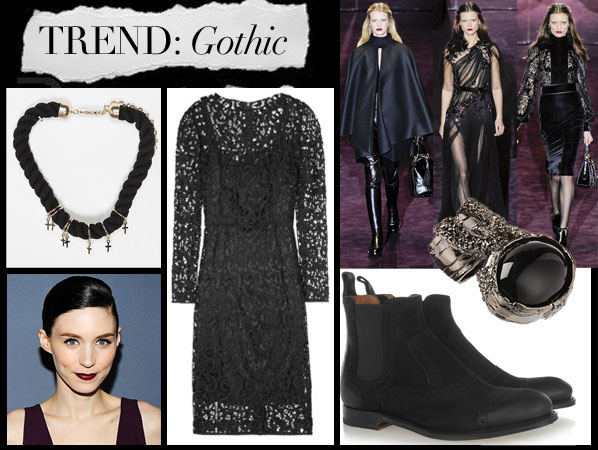 You Don't Have To Be Covered In Piercings To Rock Fall's Gothic Trend
Despite what you have may learned in high school, this fall, the cool kids are actually taking a page out of the gothic style book. Designers from Dolce & Gabbana and Gucci to Urban Outfitters and Topshop are coming out with collections that are edgy, alternative, and totally punk--and we love them. Think about all the trends that used to scare you as a teen (black, chains, skulls, and crosses), and go ahead--let your freak flag fly. Feel free to pile on the black eyeliner too. Finish off your new goth look with Lady Gaga perfume, black jeans, and of course, a sweet leather jacket.
Miu Miu's Glitter Booties Opened The Sparkle Floodgates For Fall
Remember Miu Miu's amazing glitter booties? Of course you do--they (and the knock-offs that followed) were last fall's hottest item. This fall, we'll do you one better. Not only are sparkles finding their way onto heels and flats alike, but they're literally everywhere--on belts, pants, dresses, purses, and even sneakers! We can't stop ogling (and eagerly hitting "Order"). Sparkly things, why do you do  this to us every.single.time? What else are we loving for fall? Check out our posts on printed jeans, cold weather florals, and adorable back-to-school inspired items!
You'll Be The Incredible Shrinking Woman In This Season's "Illusion" Trend
Introducing the Illusion Dress -- as in, it creates the illusion that the woman who is wearing it has either a) lost 10 pounds, or b) invested in an amazing pair of Spanx. Well, the no-magician-necessary trend is back for fall, and it's gone way beyond dresses--from frocks, to tops, even to pants, this style is sure to flatter on even the chubbiest of fat days (don't believe us? Ask Kate Winslet). Your rapidly disappearing mid-section will remind others of a certain rail-thin Duchess (we're not naming names). From creating an hourglass shape to thinning your thighs, the contrast trend is here for good. We've rounded up a few fall favorites in the slideshow below. You're very welcome. SHOP THE ILLUSION TREND NOW Speaking of fall trends we love--check out our posts on velvet, peplum, and collared necklaces!
Thanks To Dior, We Can All Pretend To Be Ballerinas Again
We're fairly obsessed with Karlie Kloss (but you knew that already). And when she closed out Dior's ballet-themed F/W 2012 show this week in a floor-length tutu dress, we gasped, swooned, and immediately got to clicking to find some similar styles to wear this spring. The result was a total ballet class flashback — after all, is there any girl who didn't have a ballet phase, however brief? There are tutus, tights, and ballet flats galore in our slideshow up above; snatch some up to channel Kloss's signature grace for the upcoming season. Shop our guides to the best patterned stockings and tights, A-line skirts, and flats.
Florals? For Spring? Michelle Williams Thinks So With Her Erdem Floral Printed Dress
From the previous times we've seen her on the red carpet, Michelle Williams hasn't been turning too many heads with her outfit choices (a navy velvet Jason Wu dress during the Golden Globes, and a Valentino red gown for the SAG Awards). But her latest ensemble is pretty much perfect. Spotted during an appearance on the Late Show with David Letterman, the rising actress wore a floral printed dress from Erdem's spring collection. Erdem Printed Cotton Dress available at Saks Fifth Avenue ($1,800) Michelle's exact dress isn't available online but you can still shop for plenty of the London label's unique and feminine floral pieces. Our favorite is the Erdem Printed Cotton Dress available at Saks Fifth Avenue ($1,800). Shop our guides to Jennifer Lopez's heels, Lauren Conrad's earrings, and Sarah Jessica Parker's velvet blazer.
Show Off Your Baby Bump In Stripes! Let Hilary Duff and Jennifer Garner Will Show You How It's Done
It's no secret that horizontal stripes tend to make things looks bigger. They're great if you want to add some va va voom to your bosom, but not so great on a less-than-toned tummy. That being said, horizontal stripes are not a pregnant woman's enemy. To the contrary, striped maternity tops are actually a really chic way to flaunt your baby bump in style. Don't believe me? Just take a look at Jennifer Garner and Hilary Duff above. They're working those striped maternity sweaters and you can do the same in one of these picks we love. (more…)
All The Cool Kids Are Doing It… Rock The Colorblock Trend In One of These Pretty Colorblock Maternity Tops
Colorblock was all the rage in 2011 and it doesn't seem to be going anywhere in 2012. All the trendiest celebs are still wearing it, which means there's still time for you to jump on the bandwagon. Now you may be thinking, "I'm pregnant, I can't pull that off," but you're wrong. Just take a look at these fab colorblock maternity tops designed to flatter expectant moms. Pair one with your favorite maternity pants and you're good to go. [slideshow] (more…)
Need a Good Reason to Treat Your Daughter to a Faux Fur Vest? Just Take a Look at This Pic of Honor Warren…
As cute as faux fur vests are, they're really not all that practical for a toddler. They don't actually offer much warmth and if anything spills on the faux fur, it's a wrap. That being said, sometimes the cuteness factor just outweighs all practicality. And this is one of those times. Just look at Honor Warren in the pic above rocking her faux fur vest. Too cute! So follow in Jessica Alba's lead, throw caution to the wind and get your daughter one of these adorable toddler faux fur vests. Just because they're so freakin' adorable. (more…)
Thank You, ASOS! Now Moms-to-Be Can Get In On the Colored Denim Trend
For months now, both celebrities and real women a like have been rocking colored denim. There's even colored denim for kids. And yet, it's been slim pickings for moms-to-be. Well not anymore and you have ASOS to thank for they. The UK superstore has some fun colored maternity jeans on their site and we like. [slideshow] (more…)
Art As Fashion: We Can't Get Enough Of Mondrian-Inspired Colorblocking
From left: "Komposition," by Piet Mondrian, and Motel's Rubix leotard Colorblock clothes, like capes and crop tops, are one of those trends that have yet to fizzle out, appearing on runways season after season. That's why we decided to look back---we're talking 1930's back---to the artist that is responsible for much of the trend's origin. (more…)
What Are You Waiting For?! It's Only a Matter of Time Before These Star Moms Start Putting Their Kids in Colorblock, Too
We already told you that colorblock was going to be  one of the hottest fall fashion trends for kids this year, but it looks like it might even be the hottest trend. Star moms like SJP, Halle Berry and Jessica Alba have already embraced the trend, so it's a just a matter of time before they start colorblocking with their kids clothes. Plus, fashion-forward retailers like J. Crew and Bloomingdales have tons of cute, new coloblock pieces for the season. (more…)
Don't Be Alarmed–Justin Bieber's Leopard Print Shoes Are the Reason Why Your Kid Is Now Asking for a Pair
After Beyonce announcing her pregnancy, my favorite moment from last night's VMAs was Justin Bieber's leopard print shoes. Really. (more…)
Top 5: Mommy & Me Trends You Should Totally Try This Fall
I'm not one for dressing my daughter in outfits that coordinate with mine, but this fall girls' fashion is crazy good. Tons of the trends I love for myself are also available in miniature so my little girl can wear them too. From animal print jeans--yes, really!--to cap toe ballet flats, here are 5 fall additions to make to your daughter's wardrobe and your own. [slideshow] (more…)
Move Over Dorothy! Sequin Shoes Are One of This Season's Hottest Back to School Trends
Call it the Lelli Kelly effect. The crazy sparkly shoes that were so popular last season have spawned a multitude of glitterly lookalikes this season making shoes that sparkle one of the hottest back to school trends of 2011. Now if you're thinking Dorothy's ruby red slippers, stop right there.  The sequin shoes we're referring are definitely sparkly, but that doesn't mean your girl can't get around in them. From sneakers to sporty mary janes, don't send your daughter back to school without a pair. Here are a few we love: [slideshow] Shop the best girls' dress shoes in our buying guides. Sign up for our newsletter to get even more finds delivered right to your inbox. Click here to email Jeanine, the author of this post.
Top 5: Fall Fashion Trends to Try… On Your Daughter
Like it or not, fall officially arrives next month. And as sad as it is to see summer go, I'm so pumped for fall. Why? The 2011 fall fashion trends, baby! If you think trends only apply to women's clothing, think again. We may not have catwalks, but we definitely have kids' fashion trends. And to get you excited about autumn, here are the 5 kids' fashion trends we're most excited about. [slideshow] Shop Lelli Kelly shoes in our buying guides. Sign up for our newsletter to get even more finds delivered right to your inbox. Click here to email Jeanine, the author of this post.
Blue Is So Last Year… Spice Up This School Year With Some Colored Skinny Jeans Instead
Skinny jeans may have started off as a scary trend, but years later it's evident they are here to stay. Your daughter is probably asking for a few new pairs for the school year ahead, but before you load up on basic blue denim consider this tip from one of my in-the-know Twitter followers: So take it from @kidsen and Miranda Kerr and invest in some colored skinny jeans for girls this fall. Not only will they brighten up your daughter's wardrobe, but they'll ensure she's one of the best-dressed kids at school this year. [slideshow] (more…)
They're Back… Peace Sign Backpacks for Girls Are Here to Stay
Peace sign backpacks weren't in our backpack trend round-up last week, but they probably should have been. They were huge last year and it looks like they'll be popular again this school year. There are loads of cute options, so if your daughter still hasn't found a cool backpack, show her these. We have a feeling one of the peace sign backpacks for girls below might win her over. [slideshow] (more…)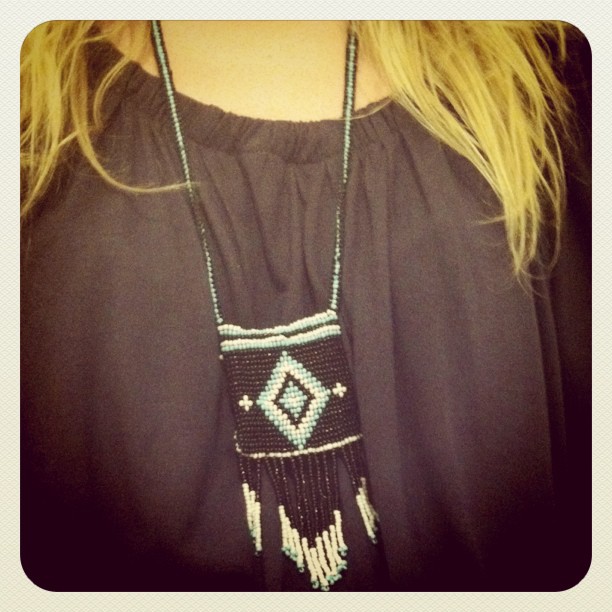 Purse Necklaces: Sort Of Like Stylish Fanny Packs
My Navajo-inspired purse necklace The latest trend in jewelry these days? Purse necklaces. These may just replace the locket for the coolest necklaces with hiding spots. My necklace is from ShopTheLook.net. Although I love it and wear it often, I have surmised that purse necklaces are actually kind of like cargo pants: the extra storage just looks cool (and doesn't really serve a purpose). (more…)

5 Ways to Wear Black & White This Summer–And Beyond!
Sure summer is all about bright bursts of color, but you can never really go wrong with black and white. Just take a look at the stylish expectant moms above who've all managed to take classic black and white to the next level during their pregnancies. The key? A great, graphic print. Love the look? You're in luck! We found a bunch of graphic black and white maternity dresses and maternity tops on sale at Zappos. From Olian Maternity and Maternal America, these eye-grabbing pieces are flattering must-haves you can wear no matter what the season. Happy shopping! (more…)
The 1 Thing Every Star Mom-to-Be Loves? Maxi Dresses!
If celebrities are the ultimate trendsetters, then maxi dresses are the ultimate trend for moms-to-be. (more…)
Summer Must-Have: Cute Espadrilles for Your Little Girl
I've been furiously hunting for a cute pair of espadrilles for myself this summer, but as luck would have it, the cutest espadrilles of the season only come in my daughter's size. Because your little girl deserves to be just as fashion-forward as you this summer, lots of stores are selling adorable espadrilles that look just like moms. Don't believe me? Check out these toddler and baby girl espadrilles I'm coveting: [slideshow] Check out the colorful Lelli Kelly shoes in our buying guides. Sign up for our newsletter to get even more finds delivered right to your inbox. Click here to email Jeanine, the author of this post.
Found: The Maternity Dress You'll Live in This Summer
If you're a fan of this season's colorblock trend (me!), I just found the one maternity piece you can't live without. Check out these colorblock maternity dress by Nom Maternity. It just arrived at Nordstrom and I'm swooning. (more…)
Jessica Alba & Gwen Stefani Rock Skinny Cargo Pants–You Can, Too!
Just because you're expecting doesn't mean you can't have some fun with the latest fashion trends. From maxi dresses to colored leggings, there are lots of ways for moms-to-be to wear the styles of the moment. And yes, that includes the skinny cargo pants you've seen on everyone from Jessica Alba (love her!) to Gwen Stefani. (more…)
See Yourself in Stripes This Summer!
Moms-to-be, I hope you like stripes because it looks like they're here to stay through summer. Tons of stores are introducing their new summer styles and there are stripes everywhere. From wide diagonal stripes to thin horizontal ones, your summer maternity wardrobe isn't complete without a few cool striped maternity tops or a maternity dress. Here are a few I'm loving and I have you will, too. [slideshow] Find more pretty maternity dresses in our buying guides. Sign up for our newsletter to get even more finds delivered to your inbox. Click here to email Jeanine, the author of this post.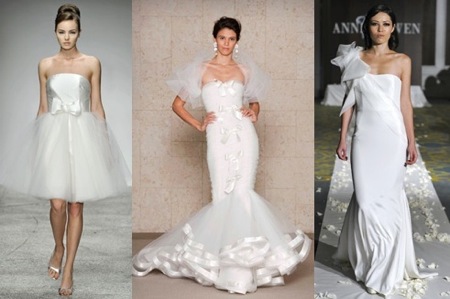 Wrap Yourself In Spring's Bow Trend: Dresses So Pretty You'll Feel Like An Actual Present
Prissy bows proved themselves pretty fierce on the spring 2011 Runway. If you can't afford fresh-off the runway designs from Amsale, Oscar de la Renta, or Anne Bowen (pictured above), we've found plenty that will satisfy you're stylish ego. (more…)
We Want to Know: Are You Wearing These Belted Maternity Dresses?
When I was pregnant, there were definitely cute maternity clothes, but I wouldn't exactly say they were fashion forward. Just 3 years later, and that's all changed. All the hottest women's trends--from stripes to bold prints--are being done for moms-to-be and I'm impressed. But one trend I'm still on the fence about are these belted maternity dresses. Chambray Maternity Dress ($40) (more…)
Week In Review: Shopbop's Cool Girl Boutique, Backstage At Oscar de la Renta, French Connection For Sears & More
Must Reads: Shopbop launches yet another new boutique. Keep the compliments coming. Or just try on Katie Holmes' newest line, Holmes + Yang. The SHEfinds staff is all set for Spring - check out what made the cut with our wishlists. Shop this springtime fruity trend, too. Get a behind-the-scenes peek at what really goes on backstage at Oscar De La Renta. When French Connection makes clothes for Sears, we can't help but be in love. Hunter does more than just rain boots - expect trench coats and other wardrobe finds soon. Sales and Deals: On sale print wedges are totally the way to go for Spring. Get ready for work with this 40% off stylish office dresses. Warmer weather is coming - grab your under $100 swimsuit now. If you're craving some luxe leather, these Marc Jacobs wallets are 30% off. (more…)
4 Under $100 Leopard Handbags That Would Make Kim Kardashian Jealous
It's easy to lust after all the fab leopard accessories, from leopard print shoes to leopard handbags, we're seeing everywhere right about now, especially on celebs like Sofia Vergara and Kim Kardashian. Not so easy? Scraping together enough money to keep up. We feel your pain, so we've found 4 leopard bags to get you through this jungle season, each for under $100. If you carry around your life in your bag like Sofia Vergara, opt for the Big Buddha Sunset Leopard Print Tote ($92) that has plenty of room for books, magazines, daily essentials, even an extra pair of shoes. For smaller loads to carry, we love the Nine West PartyBox Leopard Minaudiere ($59) for its dainty profile  and how perfect it is for a night out, casual or dressy. You will love the gold clasp of this Topshop Leopard Leather Clasp Purse ($20). This Mad Men-style purse would also be great for a Joan Holloway Halloween costume. And this Paul's Boutique Leopard Purse ($50.55) is pretty much the perfect clutch - small but not too small, and an easy shape to carry on its own or stash inside a larger bag. Read on for more on the leopard trend, and don't forget to shop our guides to leopard print shoes, fall handbags and faux fur vests.
5 Rock & Roll Studded Handbags For Fall (Groupie Status Not Required)
Luckily, handbags are always a good investment because, unlike other wardrobe staples, you can wear them as many consecutive days as you want without getting nailed by the Fashion Police. What's also serendipitous is that one of our favorite bag trends - the rock 'n' roll studded look, is majorly in style for fall. Here are some of our favorites: The Matt & Nat Scrilla ($101.97, down from $255) is an earthy take on a studded tote with its vegan status and slouchy, easy silhouette. Don't be fooled - it works just as easily with a chic, nighttime look as it does with jeans and a tee. In the "Yes, Please!" category, this MICHAEL Michael Kors Uptown Astor Large Shoulder Tote ($448) is pretty much handbag nirvana. We have trouble imagining an outfit this wouldn't look amazing with, plus it has strap options, always a good thing. For maximum impact, the Morcheba Clutch from Malene Birger ($445) is your best bet. Because this foldover clutch mixes different metals and shapes, your other accessories will fit right in and further enhance the rocker-glam chicness of this bag. We love it with a cropped blazer and skinny jeans or a little black dress. Olivia Harris' lambskin Studded Ball Leather Hobo ($495) mixes a classic chain strap with the super trendy studded look to arrive at a bag that's edgy and elegant at the same time, bound to be a wardrobe staple for a long time. And if you'd need to sell your gold fillings to afford some of the pricier studded options, we feel your pain. Thankfully, Old Navy brings us the supercute Old Navy Studded Hobo ($30.50) which has a comfortable carrying shape and an on-trend trim of mixed metal embellishments, and leaves you some money for a killer pair of over the knee boots. Read on for more of fall's best handbags and wallets, and be sure to check out guides for blazers, skinny jeans and clogs so you're prepared for fall.
Be Jealous Of Your Own Feet: Fall's Hottest Flat Black Boots
If you're sick of flip flops like we are, dive feet first into fall boots. There are so many amazing styles this year - from your basic flat boots, to over the knee boots and leopard booties. Our favorite has got to be the classic black boot; we can't wait to pair this sophisticated style with skinny jeans, leggings and beyond. Here are some of our favorites of the season so far: These Modern Vintage Camie Suede Flat Boots ($350) are a perfect classic boot, but with suede's added texture and the slightest of heels to give a little height and polish, especially when worn with your best fitting jeans. The Theo Flat Boots ($425) from Twelfth St. by Cynthia Vincent strike the perfect balance between tough and tender with their buckle strap detail and exposed zipper. These would be great with jeggings, a blazer and a crossbody bag, channeling an urban equestrian look. Love it! You'll need something new to wear with the summer dresses you'll be wearing with cardis or blazers, and the Steven by Steve Madden Abee Tall Boot ($249.95) is the perfect pair, since its military-inspired buttons are too great looking to hide under pants. And the Banana Republic Hero over-the-knee boots($250) are amazingly sleek and sexy worn over skinny jeans, skinny cords or even under your best fitting work pants. For a more rugged, casual style, we love Madewell's Flat Motorcycle Boots ($230). The pebbled leather and buttoned ankle strap lend added interest to this pair, sure to become utility players in your fall wardrobe, during the week and and weekends alike. Get ready for fall fashion with our shopping guides to the best flat boots, blazers, skinny jeans and fall handbags.
Back Away From The Neon Nail Polish–Get Some New Fall Colors
It seems like over night, we're all in the mood for fall nail colors and I couldn't be happier about it. Gone are the pinks and corals of summer, and here are the warmer, darker tones of fall. Nail polish is the cheapest way to update your look, and beating all your friends to the punch is an added bonus. So, we did a little fall runway stalking and bring you fall's hottest nail trends (including an impressive fall Essie collection that just hit today): Take a cue from the runways of Karen Walker, Thakoon and more who showed velvets, leathers, and furs and stock up on the rich colors like purple, slate gray and shimmery, galactic hues like teal and rasberry. Purple is huge for fall. Leading the charge is Chanel's Paradoxal ($23), a pretty, feminine twist on the darks browns we've all been wearing for years. This is an on-trend way of wearing the hottest color this fall without totally restocking your closet. Tarina Tarantino gets sparkle right with her Supernova Nail Lacquers ($12). We love the gunmetal Starchild as a strong neutral, and the teal and blue options as jewel-toned punches of color. Not to be outshone, Deborah Lippmann's All That Jazz Color Trio ($40) packs an insane amount of sparkle into its salmon, ocean and raspberry-hued shades, grabbing attention everywhere you go. The second fall trend - pale neutrals like beige and camel, and muted greens and mauves - comes courtesy of Marc Jacobs, Derek Lam and others. Following suit, Chanel's Khaki collection is a perfect trio of flattering neutrals (from left, Khaki Vert, Khaki Brun and Khaki Rose) set to debut on September 10th, and we can hardly wait. Thank goodness we have Chanel's Jade to tide us over. Thankfully, Essie's fall collection is available today and the Nordstrom exclusive Essie Fall Mini 4-Pack ($17) features Sew Psyched, a dead ringer for Chanel's Khaki Vert and Merino Cool, a suitable alternative to Chanel's Khaki Brun. If you're yearning for the Chanel's terracotta-hued Khaki Rose, check out Essie's new In Stitches ($8), a nice match. For a cooler neutral look, try out Deborah Lippmann's Waking Up In Vegas ($16), a perfect taupe which can look more or less opaque depending on how many coats you use. Whether you're rocking skinny jeans or jeggings this fall, over the knee boots or flat boots, your nails will be in runway style every day of the week. Get ready for fall with our shopping guides for blazers, fall handbags and all the fall fashion trends.
Trend Alert: Lumberjack Plaid Will Be Cool When The Weather Gets Cool
It may still be another month until the weather gets cool enough for your kids to sport boots, but these lumberjack plaid picks are so cute you won't be able to resist getting them now. Robeez didn't forget about the boys. These Little Logger Mini Shoez ($30) are perfect for your son's first walk through the woods. On a tight budget? These Mossimo Flannel Booties are only $20 and they are just as comfy as sneakers, only cooler. These UGG Plaid Knit Boots ($100) are so cozy, they'll be your little girl's favorite sweater…for her feet. Find more of the best baby shoes, plus fall shoes for boys and fall shoes for girls in our buying guides. Click here to email Farah, the author of this post.