How This Couple Took Their Twilight Wedding To The Next Level #ImScared
Oh, Twi-hards. We really do try to accommodate you - what with the Bella's wedding dress replicas, et all - but this is just too much. (more…)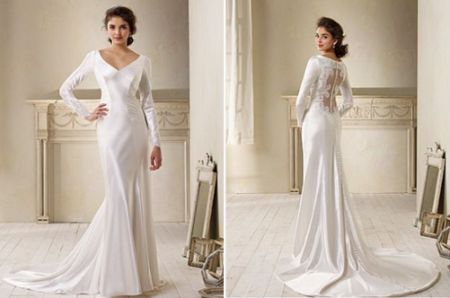 It's FINALLY Here! Bella Swan's "Twilight: Breaking Dawn" Wedding Dress Replica
After a ridiculous amount of anticipation, Alfred Angelo finally shared Bella's Carolina Herrera wedding gown replica with us at 9 AM EST this morning! This long sleeved, slinky v-neck gown is inconspicuous enough from the front, but click through for a close-up of that GORGEOUS cut-out back detail with lace embellishments! (more…)
Couture Headpieces, Twilight Wedding Dress, More Bridal Gems From Around The Web
Attention Twi-hards: we have all the details on the Twilight wedding dress, plus brand-new stills from Breaking Dawn: Part One. Think outside of the box: A look at large floral sculptures by wedding genius Preston Bailey and contemporary artist Jeff Koons get your ideas going on OK, Now What Bride. (more…)
Latest From MomFinds
Pampering Products For New Moms Being a new mom is joyful, but sometimesthey're stressed, exhausted and overwhelmed.  Sneak in some well-deserved pampering with these gifts for new moms as seen on Parents.TV with MomFinds and SheFinds founder Michelle Madhok. Serenity Now: Give the Gift of Yoga Gifts for the yoga enthusiasts in your life to get her (or you) on the mat and ready to salute the sun. Five Cuddly Stuffed Animals for Kids of All Ages Everyone loves a soft stuffed animal, from the smallest babies to grandparents. But to avoid adding to the heaps of plush toys that collect dust, not attention, we've sorted through and come up with some soft, furry friends unique enough to enthuse and endure.
Slip On A Pair Of Charlize Theron's TOMS Shoes Today
We love gifts that give back, so we're excited that Charlize Theron has collaborated with TOMs shoes, according to WWD. The ever-popular and comfortable slip on shoes company that sthat famously donates one pair of shoes for every pair that's bought. No stranger to helping others, Theron co-designed the orange slip on shoes, above, along with Africa Outreach Program. They will be sold for $54. Proceeds will go to the charity, which teaches children in Africa about HIV/AIDS, health and education. Since TOMs shoes are a big holiday item--they're also on our Sold Out Holiday Gift Guide, our roundup of items that will be gone soon-- so here, we've included a few of our favorite TOMS shoes: We love these glitter slip-ons because they're sparkly and comfortable. For the artistic types - these Tyler Ramsey paint splattered TOMS are the epitome of effortless (you don't even have to get the paint can out). A winter-friendly buffalo plaid boot, these are lined in fleece for extra comfort--and a departure from the typical slip-on style. See our guides to the best boots this winter--including the best UGGs, over the knee boots, and for all those parties, holiday party shoes.