13 Netflix Movies That Are Perfect For Valentine's Day–Whether You're In A Relationship Or Not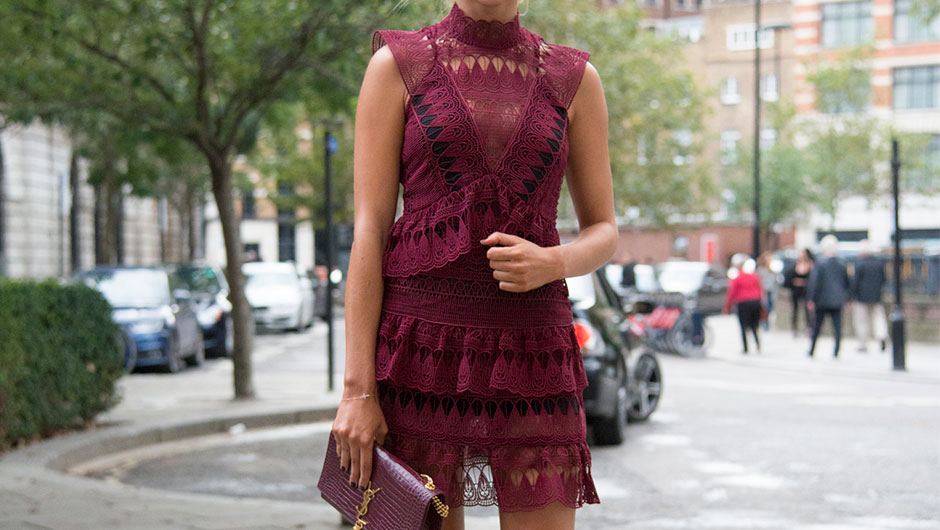 11 Cheap Valentine's Day Dresses Editors Are Wearing (They're Under $100!)
If You're Not Getting Customized Ray-Bans For Valetine's Day, You Need To Dump Bae
Valentine's Day is an opportunity to be showered with love and hopefully gifts, and if your bae needs some giftspo, Ray-Ban's engraving option is where it's at. They just launched a new heart symbol on their Ray-Ban Remix program, so he basically has no excuse to give you anything else. Hearts, guys!!! ♥♥♥ If you don't already know, Ray-Ban Remix allows you to choose one of 15 Ray-Ban styles and customize it with different lenses (standard, gradient, mirrored and polarized), frame and temples colors and/or a personal message on the frame, temples and case. The personal engravings can be literally anything you want (here's where your guy can get romantic--hint hint). More info on Ray-Ban Remix here! SHOP RAY-BAN REMIX NOW
This Brand Makes The Best Dresses For Valentine's Day (Or Any Other Date Night, Really)
This T-Shirt Is The Ultimate Galentine's Day Gift For Your Bestie
So maybe your relationship status is "single" on Valentine's Day (Dakota Johnson, Rebel Wilson and I are with ya, gurl), but that doesn't mean you can't partake in a made-up holiday about lOoOoOve. Celebrate that special someone who you have bestowed upon the honor of "bestie." We found an excellent way to share your bond with the world, this Hips and Hair Mary-Kate and Ashley Muscle Tee ($48). What says LYLAS more than a cool muscle tee that references your favorite duo, MK & A? Nothing, that's what. Hips and Hair Mary-Kate and Ashley Muscle Tee ($48) Don't forget to check out: Are Katy Perry and Orlando Bloom hooking up? and how to brew coffee at home
43 Valentine's Day Gifts You Can (And Should) Buy For Yourself #LoveIt
Guys, If Your Girlfriend Is Cool Get Her Something From Forever 21's Valentine's Day Shop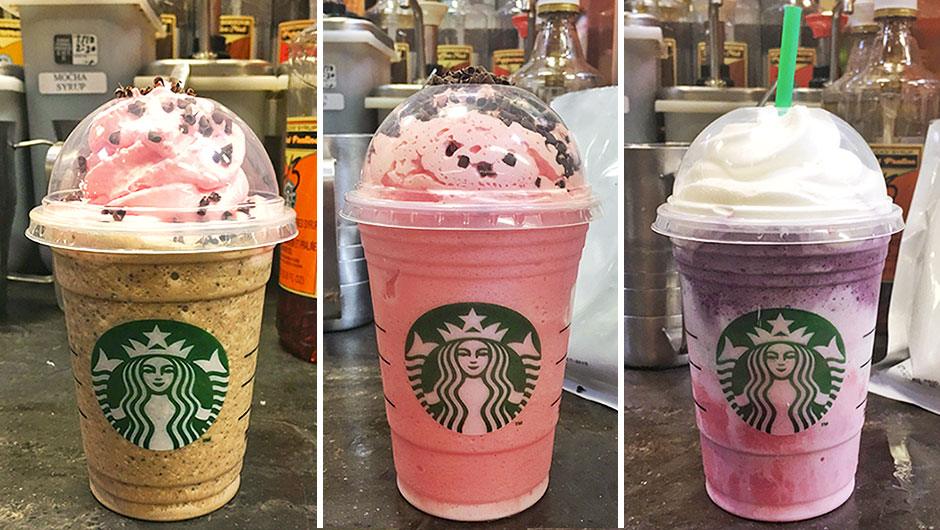 Starbucks Has A Secret Valentine's Day Menu Including 3 New Frappuccinos
Everyone knows Starbucks has a secret menu, but did you know there are special Valentine's Day items on it?! Tony Aguilar, a Starbucks employee in a Tucson store, came up with not one, but three V-Day Frappuccinos. "My coworkers and I came up with some Valentine's Day drinks to go with our Valentine's Day merchandise," he wrote on Reddit. Here are their delicious creations: The Valentine Frappuccino: "Strawberries and cream with raspberry pumps to make it extra pink, vanilla bean in the middle and blackberry on top, topped with whipped cream." The Love Bean Frappuccino: "Vanilla bean with raspberry pumps topped with raspberry infused whipped cream and chocolate curls." The Java Berry Frappuccino: "Java Chip Frappuccino topped with raspberry infused whipped cream." Don't expect to go into any Starbucks store and simply ask for a Valentine Frappuccino. A Starbucks spokesperson said, "If customers would like to order a beverage that is not listed on our menu, we recommend they know the recipe so that their barista can handcraft the beverage perfectly for them." Don't miss how to eat a Kit Kat like Kourtney Kardashian and the most efficient way to clean your coffee maker! [Photos: Imgur]
Kylie Jenner Debuts A New Lip Kit Color Exclusive For Valentine's Day
Kylie Jenner's Lip Kits have been a huge success. They literally sell out in minutes and it's almost impossible to get your hands on one. Jenner has been experimenting with new colors for her upcoming Valentine's Day collection and she just revealed one of three new colors! https://www.instagram.com/p/BAd-q0Qyshf/?taken-by=lipkitbykylie "Very excited to share with you one out of three of my new colors for my valentine collection coming up," she wrote in the caption. "I've been working on a new very exclusive formula that I have absolutely fell in love with.. But now I need your help on picking a name for this beauty! Comment below what you think this lip kit should be named and I will pick one!" https://twitter.com/LipKitbyKylie/status/687153253193105408 Jenner also said she's been working on a "very exclusive" formula that she "absolutely fell in love" with. What's more, her fans are already raving about the color! https://twitter.com/jesicarhiannon1/status/687079910813208576 https://twitter.com/littlethottie/status/687080614609170432 https://twitter.com/KinngKyliie/status/687080607797481472 What would you name Kylie's new Lip Kit color?! Find out what your lipstick shape says about you and Target is launching their own nail care line! [Photo: Splash News]
'Love You More Than WiFi,' 'You're My Person' And 9 More Valentine's Day Mugs
Let's be real, not everyone is getting diamonds from their boyfriend on Valentine's Day. If you want something that says "I love you AND know what you like," why not go for a mug? It's not as exciting as a baby blue box, but it does get the message across. Whether you're personality is sweet or quirky, there's a mug in this slideshow for you. Click through and find yours, then make sure to leave this window open for your boyfriend, parent or bestie who just happens to be coming over later... Don't forget to check out: J.Crew's sweater sale, Kendall and Kylie Jenner for Topshop and the 5 tops every woman should own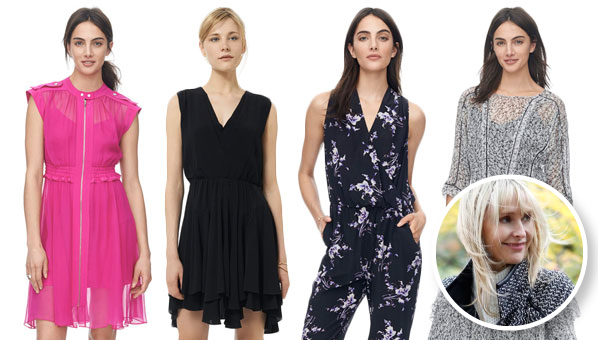 What To Wear On Valentine's Day, According To Dress Guru Rebecca Taylor
When it comes to gorgeous, feminine dresses, we really can't think of many designers who have it down quite like Rebecca Taylor. Her dresses are just magic--they're flirty without being sweet and edgy but not intimidatingly so. If I could only shop one designer, Rebecca Taylor would definitely be in my top three. Given that she knows her way around a good dress, we thought it made perfect sense to consult her on behalf of all you ladies gearing up for Valentine's Day next week. Whether you've got a hot date with your man or you have plans with your girlfriends, here's what Rebecca recommends you wear. SHEfinds: Valentine's Day is right around the corner--do you recommend red or something a little less expected? Rebecca Taylor: I love a red lip. I find this really completes a look. SF: Lots of women spend Valentine's Day with their friends--what's your idea of a perfect girls night outfit? RT: I think a great jumpsuit is perfect for a night out on the town with the girls. It's modern and easy! SF: What do you recommend a woman wear on a first date? RT: I think that the most important thing is comfort. Dresses are a great option because of their versatility. You can pair it with a high heel or throw on a moto jacket depending on your mood. SF: What's your go-to dress? RT: I love a long chiffon dresses at the moment. My go to would have to be the flight feather dress from our Pre-Spring collection. SF: What's the one dress every woman should have in her closet? RT: The LBD is always a classic, but I am really into jumpsuits at the moment. I find they are the modern update to the dress. SF: Any fun V-day plans on your calendar? RT: Yes, a fun night out with my family at Franny's in Brooklyn. Click through the slideshow to shop our favorite V-day options from Rebecca Taylor. Be sure to check out the 5 tops every woman should own, plus pretty pajama sets.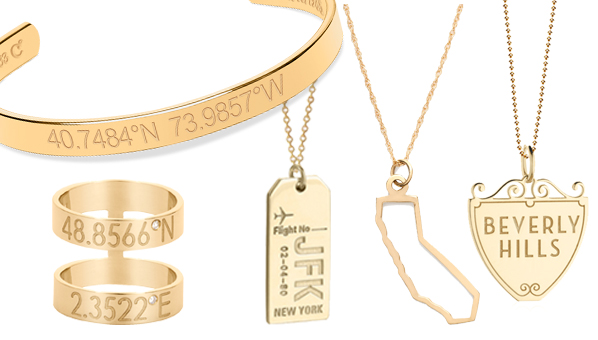 This Jewelry Is The Most Interesting Thing To Happen To Geography Since, Well, Ever
While you might remember geography as a boring subject in your middle school Social Studies class, it's actually a lot cooler now thanks to this trend going on in the jewelry world. Designers like Maya Brenner and BaubleBar are creating pieces inspired by maps and specific locations, and there are brands like Jet Set Candy and Coordinates Collection who only make geography jewelry. It's really taking over--just ask the SHEfinds staffers. So since Valentine's Day is coming up (though these really work for any and all life events), we decided to roundup our favorite geography jewelry. Ask your boyfriend to click through this slideshow, or casually leave this window open for him to stumble upon (nbd). For more jewelry, check out: Ringly on Shopbop, double-side pearl earrings from $14 and the Jacquie Aiche choker celebs lover
Our Hearts Nearly Exploded While Rounding Up This Valentine's Day Cuteness For Kids
Take my word for it, Valentine's Day is so much more fun when you're celebrating with kids. Sure, flowers and chocolates from your man are nice, but nothing beats little kisses and laughs of glee from children. So whether you've got plans with your own little ones or you decide to play Cupid for your nieces, nephews, grandchildren or godchildren, we gathered a bunch of beautiful gifts and treats that will remind them just how much they're loved on February 14th. You'll also want to check out the new AMNH x Crewcuts collection, plus these super cute metallic baby booties. [Photo: Pottery Barn Kids]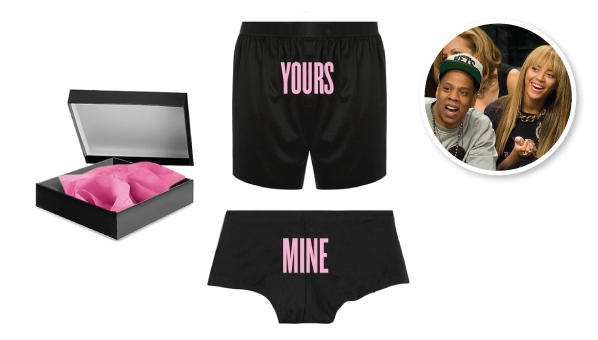 Beyoncé's Yours & Mine Set Is A Gift Even Valentine's Day Haters Would Want To Get
Stumped on what to gift your significant other on Valentine's Day? BEYONCÉ TO THE RESCUE. Last month, the singer released an offering of black sweatshirts, emblazoned with key phrases from her self-titled album in pink lettering. But if you don't want to walk around with "Surfboard" and "Flawless" on your chest (weird that you wouldn't, but whatevs) give the Beyhive member in your life (or yourself, if you happened to be part of this esteemed clan) something that says "I love you, and so does Beyoncé." Behold: the most romantic addition to the Beyoncé merch store; the Yours & Mine Box Set ($40), inspired by the Drake-penned song on the album. Each set comes with a pair of boxers and boyshorts and is available in six different combos. So no matter who is "yours" or who you belong toooo, there is something that works for all couples. Sure, $40 a pop is a little pricey, but when it comes to Bey merch, money should be no object. SHOP BEYONCE "YOURS" AND "MINE" BOX SET HERE For more Beyoncé, find out where to get her EXACT AM Eyewear shades, Her $10 million-dollar Grammy jewelry game, and the 2014 Beyoncé calendar that should be hanging on your wall right now. [Photos: Splash News]
10 Non-Romantic Comedies To Watch With Your Besties On Valentine's Day
Boy meets girl. Boy falls in love with girl. Boy screws it up and almost loses girl. Boy gets back with girl and they live happily ever after. Yeah, the old RomCom movie formula is definitely played out. If you're sick of mushy romance movies, we feel your pain. Fortunately, there are tons of comedies that touch on the love between BFF's, which is good, because we really can't stand to see another flick where the couple lives happily ever after, while we're left  languishing in our pajamas, lamenting the lack of a significant other. No more of that! We want to feel good on Valentine's Day, and you deserve to, too, regardless of your relationship status. So in the spirit of the holiday, we bring you something better than flowers and candy: 10 movies about friendship and love that won't depress you on February 14th. Don't forget to check out 10 things to watch at the Sochi Olympics, Tibi's Spring 2014 wood accessories, and this single girl's guide to Valentine's Day. [Photo: Olivia Von Halle]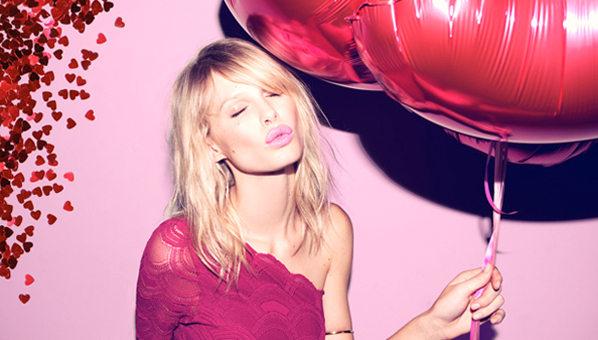 How To Kill It On Valentine's Day If You're Single
From the ecstatic couples holding hands on the street to an endless stream of Facebook posts about teddy bears and chocolates, Valentine's Day can be a dreaded holiday for singles. But you don't need a man to have a good time on February 14th. You can easily make the most of your day by catering to the person you love most: duh, yourself! VDay is the perfect opportunity to indulge in a few luxuries that you totally deserve like shopping. And if you feel like hitting the town with your girlfriends, you'd be pleased to know there are several parties exclusively for fabulous single women like yourself. Here are 19 killer ideas that will help you win Valentine's Day. Don't forget to check out: the Spring trend we refuse to wear, 14 beauty trends to expect this year and the Chanel All-Red collection that totally beats red roses on VDay.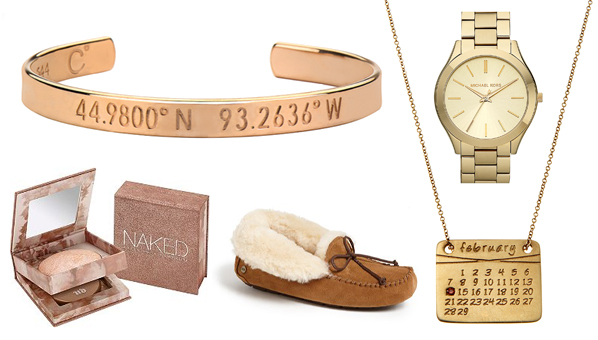 11 Non-Romantic Valentine's Day Gifts (AKA What To Ask Your Parents For)
The only people who really get gifts on Valentine's Day are girls in relationships. But just because you might be a single lady on February 14th, doesn't mean you shouldn't get (and give) some love to your family and friends. After all, doesn't family love you no matter what? And how many times a week (okay, day) do you tell your besties that you couldn't live without them? That's what I like to call true love peeps. Isn't that what this holiday is all about? If you do decide to ask your parents for a gift on V-Day, make sure to keep it un-romantic. Sexy lingerie from your dad might make for a good episode of GIRLS, but it will  just be super awkward in real life. Luckily, we've rounded up 11 gifts that you'll definitely be happy to get--but don't come in red, pink or lace.  There's everything from a Coordinates Collection bracelet ($205) (which you can customize with your fave location), to UGG slippers ($119.15) and a Marimekko pillow ($49). Still thoughtful, but the gifts don't look like Hallmark's Valentine's Day section just threw up on them. And don't forget to check out: Piperlime's 60% off sale, 25 things that would make a 25-year-old's day and Rita Ora's Jennifer Fisher necklace
Match Your Valentine's Day Lingerie To Your Relationship Status
If you aren't sure what to wear under your Valentine's Day dress, we're here to help you out. Normally you don't want to let yourself be defined by relationship status - but in this case, it could simplify your dilemma. We've come up with a few simple rules of thumb to nail down your perfect lingerie ensemble. Whether you're single, married - or somewhere in between - there's a little something for everyone here. Check out the slideshow to see what you should be wearing February 14th. Check out the most popular shoe brands on Facebook, shop Lauren Conrad's $61 dress, and read about this season's raffia trend.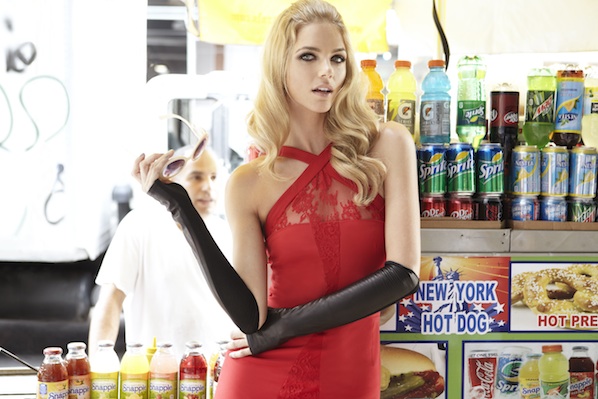 Get A Designer Dress For Valentine's Day With Our Exclusive Rent The Runway Code
If your man knows what's good for him, he's planning to shower you with chocolate, flowers, and affection on Valentine's Day. What better way to return the love than to spend the evening celebrating with him...in a sexy new dress? We've got you covered with $15 off your Rent The Runway Valentine's Day dress and a free full size Olay Regenerist Eye & Lash Duo--just use the code SHEFINDS2013 on your order of $75 or more (psst--it's good until 2/28, so why not surprise him by getting decked out for date night the next week, as well?) Browse our favorite dresses for Valentine's Day from Rent The Runway--they're flirty, seductive, and everything your man could want. Check our more of our VDay picks: sexy dresses under $50, Splendid lingerie, and amazing self tanner to make your February bod look like it's July.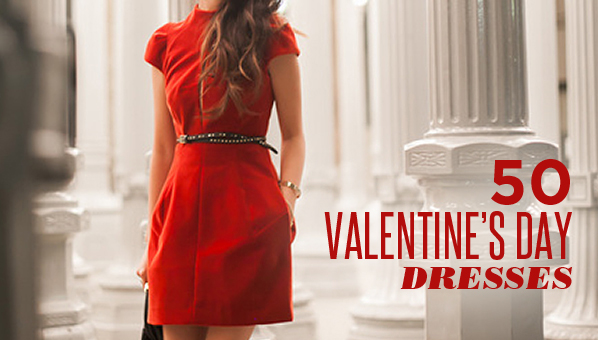 50 Valentine's Day Dresses Under $50
T-Minus 2 weeks until Valentine's Day. You finally lined up a hot date - but now you've got nothing to wear. Don't stress, we've done the work for you and found 50 dresses that are perfect for Cupid's big day. Whether you prefer sweet or sultry, there's a style for everyone and they're all under $50. #Score! Now go check 'em out in the slideshow. For more fashion fun, read about the burglar stripe trend, lucite heels, and the black and white trend.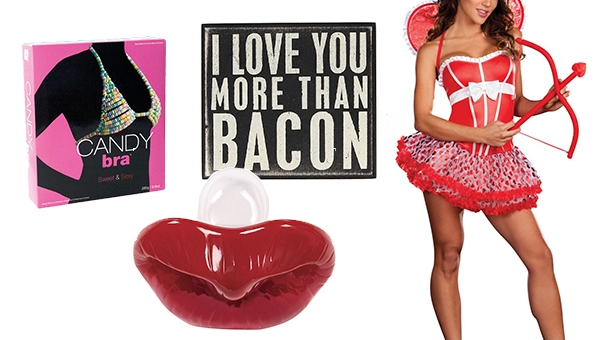 Edible Undies, Pantygrams & More WTF Valentine's Day Gifts
Ah, Valentine's Day. You either love it or you hate it, but no matter your stance you're sure to have a laugh at the #cray Valentine's Day gifts we found on the 'net. From Pantygrams that you can send to your fella to get his engine revvin' to personalized romance novels, we've uncovered the weirdest of the weird. Take a look at the slideshow to see them in all their WTF glory. For more kooky stories, check out breast enhancing gum, the $25,000 t-shirt, and the cremated cat ring.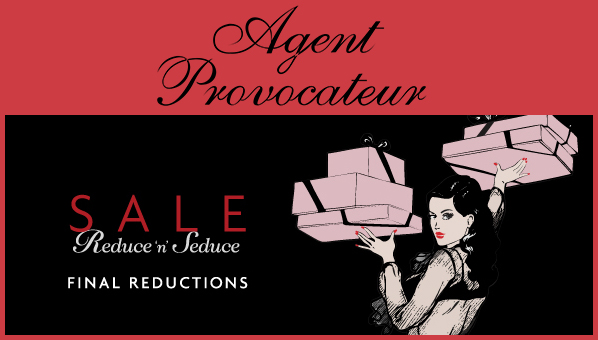 V-Day Prep Starts Now! Stock Up On Pretty Underthings At The Agent Provocateur Sale
Like it or not, Valentine's Day is less than one month away. We've got our fingers crossed that your man has something nice planned for you, so we say it's only fair to repay the favor come February 14. Now before you give us that excuse that V-day is really only for girls, we've got a gift idea that both of you will benefit from: Agent Provocateur lingerie. It's luxurious, sexy and just so happens to be on sale today! And when we say sale, we mean sale. A $190 bra is marked down to just $50 and a $100 thong is now just $30. Crazy, right? The sale ends today, so get to it! Shop the Agent Provocateur Sale Now! For more Valentine's Day ideas, check out Valentine's Day gifts for your boyfriend, plus the lazy girl's guide to V-day.
10 Things To Do If You Think He's Going To Propose
Valentine's Day is one of the most popular engagement days of the year -- and if you've been in a committed relationship for some time, tonight may be your night (!). If you suspect he might be popping the question, make sure you're prepared - this includes a manicured hand, fully charged iPhone and a great attitude: 1. Get a manicure. First stop, the nail salon (unless you're really good at doing them yourself). Your digits are about to be the subject of countless photos and lots of attention. ("Let me see that ring!) Make sure your hand is not a hot mess, and get a mani STAT. 2. Pick out the perfect outfit. Easier said than done, right? Actually we already found the perfect outfit for you. You're welcome. 3. Get a spray tan or facial. Kick your beauty regime up a notch; you want to look your very best (remember, you'll have these photos forever!). If you have trouble skin or acne, hit the spa for a facial, or if you're feeling particularly pale and pasty, a light spray tan may be your best friend. 4. Don't tell anyone. You may be BEYOND excited for the proposal, and dying to tell your best friend or mom -- don't do it. God forbid it's a false alarm (I'm sure it's not) in which case you'll have to do some back-tracking. Plus, you don't want anyone to spoil the surprise. ("Oh, Jim, aren't proposing to Megan tonight?" #fail). 5. Bring your iPhone. You're going to want lots of picture -- especially of your brand-new ring. Bring a fully-charge smart phone, and consider bringing back-up -- like a digital camera or camcorder (just kidding -- sort of). 6. Play it cool. Don't let your  man know you're on to his plan -- he's been working on it for months, let him enjoy thinking that he's catching you completely off guard. Everybody hates a ruined surprise! 7. Don't pick a fight or be impatient. Good things come to those who wait. If he doesn't get on  bended knee right away -- don't lose your cool (see above). He's probably waiting for that perfect moment -- so go with the flow. 8. Don't drink too much. Girlfriend: you want to remember this night, so stop guzzling the champagne and remember to eat something at dinner. Blacking out your engagement is so 2011. (Just kidding, it was never cool). 9. Relax, and enjoy! This is going to be one of the most memorable nights of your life! Don't let nerves get the best of you. Enjoy every moment and don't forget to take a picture or two. 10. Subscribe for the BRIDEfinds newsletter. The girls over at BRIDEfinds are veterans when it comes to everything from finding your gown on sale, to choosing your color scheme, picking your flowers and more! High tail over it there and subscribe to their newsletter now. Oh, and p.s. congrats!
Valentine's Day a Bust? Treat Yourself to One of These…
Not exactly thrilled with your Valentine's Day gift?  Don't worry, you're not alone.  One year my good friend got an iron from her husband while another one got a gift card for Lowe's.  Not exactly romantic, right? So for all you moms out there in the same boat, how about taking matters into your own hands and treating yourself to something special...like any of these gorgeous personalized jewelry for moms ranging in price from $50 and up.  Because you deserve it! Start Shopping >>> (more…)

Top 5: Red Diaper Bags for Valentine's Day
Flowers and chocolates are nice and all, but a brand new diaper bag sounds pretty appealing when you have a baby, right? Especially a red diaper bag...you know, the color of love. Oh, and you can easily find it when you're half awake. Bonus: they're all under $170.  Enjoy! [slideshow] (more…)

The Cutest Homemade Valentine Idea Ever…
Yes, those are Swedish Fish. And, yes they're "swimming" in a fishbowl.  And you probably can't read the text, but it says, "glad we're in the same school". Now raise your hand if you agree that these are the cutest homemade Valentine's Day cards ever.  Have any other fun DIY ideas? Share them in the comments below. (more…)
5 Presents To Send Yourself On V-Day (Flowers Don't Last Forever)
If you, like so many of us, don't have a beau (or so much as a date) lined up for V-Day, there's no reason for you to suffer the holiday alone. Accessories are a girl's best friend, so why not buy some to serve as your boyfriend this Valentine's Day? Our slideshow has some of our most coveted items from all over the web — gift one to yourself as a reminder that you, my lady, are special! (And thus deserve a cashmere scarf and yummy pajama set). Shop our guides to the best pajamas, designer wallets (splurge!), and bath products (if you're lucky enough to have a tub, this is the night for a bubble bath).

Hurry! Free Valentine's Day Cards at Tiny Prints Today Only!
Yes, free!  Just use coupon code FBLOVE at checkout and do it today.  I've already ordered and received my Tiny Prints Valentine's Day cards, and they are awesome.  You will not be disappointed. Get Yours: tinyprints.com (more…)
25 Dresses: What To Wear On Valentine's Day, No Matter What You End Up Doing
Any excuse to dress up... Whether your Valentine's Day date plans are with your super serious BF or just involve a few girlfriends and a bottle of red wine (or vodka — we don't judge), you deserve a pretty new dress to "celebrate" in ... even if it is just a Hallmark holiday. (more…)

Hurry! Tiny Prints Valentine's Day Cards Just 99 Cents
Didn't get around to sending out those holiday cards? Or New Year's cards?  Here's how you can make it up: send a personalized Valentine's Day card instead.  They're on sale at Tiny Prints for just under a buck with coupon code 99GC, and you don't even have to worry about sending it. They'll mail it directly to the recipient for the cost of a stamp. (more…)
Top 5: Creative Valentine's Day Gifts for Dads
It's almost February which means it's almost Valentine's Day which means if you want dad to take care of you, you have to do the same. Now we know shopping for a guy on Valentine's Day isn't the easiest task, but this is your man remember? Here are a few Valentine's Day gifts for dad to get your creative juices flowing... or you could just buy him one of these. Either way, we promise he won't be disappointed. [slideshow] (more…)

Etsy Sunday: Personalized Valentine's Day Tees for Your Love Bug
Sure, you can pick up a generic Valentine's Day tee for your kid at the mall for a few bucks, but why not get your love bug something a little more special? Like one of these sweet Valentine's Day tees on Etsy. (more…)
Don't Even Think About Going to the Drugstore–Tiny Prints Has Valentine's Day Cards That Are Way Cuter!
Is Valentine's Day just another excuse for competition in your kid's class? Well, don't bow out! Show the other moms you know a thing or two about love by arming your little one with a collection of gorgeous, personalized Valentine's day cards from Tiny Prints. You can get 20 for less than $20 and they ship for free with code FREESHIP12 at checkout. [slideshow] (more…)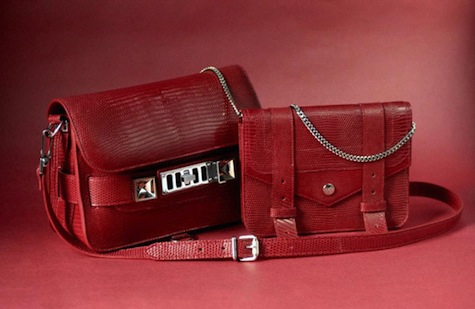 Proenza Schouler's V-Day Collection: Better Than A Box Of Chocolate, If You Ask Us
Proenza Schouler, makers of the cult-status PS1 bag, have just launched some new (Valentine's Day themed!) goodies for us to drool over. (more…)
Valentine's Day Is 1 Month Away–Start Shopping for the Perfect Dress Now!
Thought you'd get a shopping break just because the holidays are over? Wrong! Valentine's Day is just over a month away, which means you not only have to buy dad's gift, but you also have to find the perfect dress for your romantic evening out. So first things first: the dress. Head over to Piperlime where you'll get an extra 15% off dresses that are already reduced up to 60%. That's like 75%! See, it pays to plan ahead. Check out these Valentine's day dresses we promise dad will love: [slideshow] Sign up for our newsletter to get even more finds delivered right to your inbox. Click here to email Jeanine, the author of this post.
Happy Valentine's Day! Celebrate With Betsey Johnson During Her Livestream Fall 2011 Fashion Show
Betsey Johnson's fall 2011 fashion show starts now--watch it live here. It's always a hell of a show, so sit back and relax...and get ready for lots of pink. Have you missed other shows? Check out our livestream coverage of the best of fashion week. Then shop our favorite Betsey Johnson looks from spring now: Check out more on Valentine's Day, from what to wear to what gifts we love best--so what if it's almost over? There's nothing like giving yourself a little gift. Don't miss out on our best sales and deals and calendar of online sample sales, either. Follow the author of this post on Twitter @shefindseileen.
What Are Your Plans for Valentine's Day?
Valentine's Day is a family affair at my house.  Instead of a fancy dinner at a swanky restaurant, we hang out with the kids at home, eat something low-key, and pop in a DVD everyone can enjoy (probably Megamind this year).  And that's the way I like it. Don't feel bad for me—I get spoiled two weeks before V-Day for my wedding anniversary, and my husband treats me like it's Valentine's Day everyday.  Really.  Plus, I'm not a big fan of crowded restaurants or inflated menu prices.  He can take me out another night.  Ha! But I wonder how many other moms out there feel the same way I do.  Is the 14th still all about the romantic Valentine's dinner with roses and chocolate?  Or are you over it already?  Share your Valentine's Day plans in the comments section below. Sign up for our newsletter to get even more finds delivered right to your inbox. Click here to email Farah, the author of this post.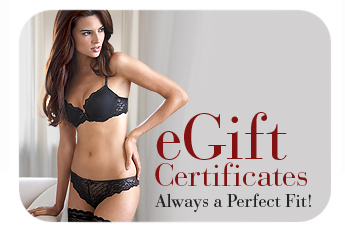 The Lazy Girls' Guide To Valentine's Day. All You Have To Do Is Lift Your Mouse.
OMG, the Valentine's Day hype is almost unbearable--I just saw three engagement ring commercials in a row. Forget all of that: I'm about to make  a hundred times easier for you. Ready? E-Gift cards (!)  Don't run to the mall during your lunch hour--just click and buy a couple of them for whomever you love this year, and then just send it via-email. This will save your ass every holiday, guaranteed. Because we believe you really shouldn't stress about V-Day any more than you already have, here are the best e-gift cards: Check out all of our gift ideas. Shop our guides to the best sexy underwear and the best shapewear to show off. Subscribe to our e-mail list for exclusive updates.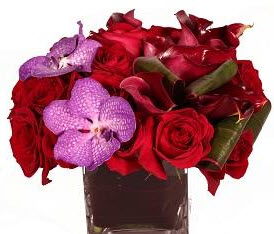 Valentine's Day Roses Are Dead In A Week. Upgrade To A Flower Subscription Instead.
Listen, I love Valentine's Day flowers as much as the next girl, but before you know it, water gets mucky, the stems get gummy...and don't even get me started on the smell. Upgrade to a flower subscription (or send some hints your boyfriend's way) and get a new bouquet every week or month for a year. If you live in NYC or D.C., get one from H.Bloom, our favorite flower gurus, or send one to your mom or your BFF. Awesome, right? It gets better: use the code SHEfinds and get 20% off your first delivery.Which collection fits you best? See the options below: Would you rather have a floral silk blouse or dress? Tucker has the best ones around--get 'em on sale at Piperlime. Check out more of our Valentine's Day gift ideas, plus all of this week's online sample sales.
Bad Breakup Right Before Valentine's Day? Rachel Roy & Man Repeller Can Help
If your boyfriend has ever balked at your harem pants, faux fur vests or peep toe booties, you'll appreciate this. I've been a fan of Man Repeller, Leandra Medine, for quite some time now--her commentary about runway fashion is right-on-the-money: the clothes we covet are the exact opposite of what would attract a man. She's teamed up with Rachel Roy to promote a fun line of  looks that riff on this idea. Lots of confusing layers, a dead bird ring and tie dye turban? Bring it on. Above Rachel and Leandra help a recently-broken-up girl find her way back to being man repellant, just in time for Valentine's Day. Will you be "man-repelling" this year? Here's how to get this look + free shipping on orders over $75: Check out all of this week's best sales and deals, online sample sales and fashion news.
Hurry! Order A New Valentine's Day Dress to Wow Dad on V-Day
Dad just surprised you with news you're going out this Valentine's Day? Quick--you need a new dress! Sure you could wear one you already have in your closet, but Valentine's Day only comes once a year so why not pull out all the stops to show dad just how much you love him? Check out the 4 stunning Valentine's Day dresses below that will arrive in time for the big day with 3-day shipping. Trust us, this is a treat both you and dad deserve. Aidan Mattox Sequin Dress ($295) Ruched Tank Dress ($179) Beyond Vintage Lace Dress ($179) The Wrap Dress ($159) Sign up for our newsletter to get even more finds delivered right to your inbox. Click here to email Jeanine, the author of this post
Found: Sweet Cupcake Bibs and Bloomers for Your Baby Girl
Convinced that your baby girl is sweeter than the sweetest cupcake?  Then she might as well dress the part.  Yes, her closet is probably stocked with pink dresses and baby tutus, but how about finishing off her look with an adorable Cupcake Bib ($14) and Cupcake Bloomers from Mud Pie.  Better yet, skip the baby clothes and outfit baby in just the bib and bloomers (when it gets warmer, of course) and it will make for the best baby photo opp ever. Find more of the best baby bibs and baby booties in our buying guides. Plus, find more celebrity baby news at People.com. Sign up for our newsletter to get even more finds delivered right to your inbox. Click here to email Farah, the author of this post.
There's Still Time to Order Personalized Valentines For Your Kid's Class (Really!)
So you waited until the last minute on those darn cards for the class and now Valentine's Day is just 6 days away. If even completing fill-in-the-blank Valentines seems overwhelming, there's still hope. Order your kid's Valentines online! Yes, there are still sites that will ship your personalized Valentine's Day cards in time for your child to give them out on V-day. Here's where to start--just be sure to order today! [slideshow] Click here for more last-minute Valentine's Day ideas. Sign up for our newsletter for even more finds delivered right to your inbox. Click here to email Courtenay, the author of this post.
Sale Alert! Don't Miss These $5 Lelli Kelly Girls' Slippers
If your daughter has been asking for a pair of Lelli Kelly shoes, here's your chance to really show her you love her on Valentine's Day: 6pm.com has Lelli Kelly girls' slippers for just $5! The slippers come in pretty shades of pink and are embellished with hearts and rhinestones. Could there be a more perfect V-day gift for a little girl? And at $5, it's not bad on your budget, either. [slideshow] Start Shopping: 6pm.com Find more Lelli Kelly shoes in our buying guides. Sign up for our newsletter to get even more finds delivered right to your inbox. Click here to email Jeanine, the author of this post
Last-Minute Valentine's Day Gift Idea: Picture Books About Love!
You tell your kid you love him/her everyday, so why should Valentine's Day be any different, right? I do like the idea of setting aside one day to remind the kiddos just how much you heart, just not with chocolate or (more) teddy bears. So here's an affordable, practical Valentine's Day gift idea I can get behind: picture books about love. We found 5 sweet reads that are perfect to share on Valentine's Day--and everyday afterwards, too! [slideshow] Valentine's Day is almost here--get more gift ideas! Sign up for our newsletter for even more finds delivered right to your inbox. Click here to email Courtenay, the author of this post.
Sale Alert! Save Big at Old Navy's Kids & Baby Sale
Head over to Old Navy's biggest baby and kids sale of the season, with deals starting at just $5.  It's a good time to stock on spring basics such as tees, jeans and sneakers, but how about treating your sweetheart to one of these adorable Valentine's Day baby clothes.  The Love Bug Tutu pajamas are crazy cute, and I've already ordered one for my daughter. Bonus: Save 15% on orders over $50 with code ONDEAL at checkout. Graphic Tutu Sleep Sets for Baby ($12, was $16) Heart-Print Ruffled Dresses for Baby ($12, was $17) "Super Love Bug" Sleep Sets for Baby ($10, was $13) Start Shopping: oldnavy.com Find more of the best gifts for your little Valentine in our buying guides. Plus, find out which celebs are expecting at People.com. Sign up for our newsletter to get even more finds delivered right to your inbox. Click here to email Farah, the author of this post.
Can't-Miss Valentine's Day Deals From Our Sponsors
Let the countdown begin! There are just 10 days left before Valentine's Day, so if you haven't started shopping--or you're worried your man hasn't started--it's time to get serious. We teamed up with a few of our favorite sponsors to help make choosing the perfect gift a cinch. Whether you're thinking chocolates and lingerie or jewelry, our partners are offering can't-miss deals. We've even got cute V-day gifts for babies! So stop procrastinating and start shopping our unbeatable Valentine's Day Deals. Check out these great deals, now!
Can't-Miss Valentine's Day Deals From Our Sponsors
Let the countdown begin! There are just 10 days left before Valentine's Day, so if you haven't started shopping--or you're worried your man hasn't started--it's time to get serious. We teamed up with a few of our favorite sponsors to help make choosing the perfect gift a cinch. Whether you're thinking chocolates and lingerie or jewelry, our partners are offering can't-miss deals. We've even got cute V-day gifts for babies! So stop procrastinating and start shopping our unbeatable Valentine's Day Deals. Check out these great deals, now!
Show Off How Much Baby Loves You in these Sweet "I Love Mom" Baby Clothes
Baby hasn't said her first words yet, but I bet one of the first things your little Valentine will tell you is how much she loves you.  In the meantime, pick up these cheap "I Love Mom" baby clothes from Old Navy that will do the talking for her. Bonus: they're all on sale for less than $10! Ruffled Jersey I Love Mom One-Piece Baby ($8) Koala Bear I Love Hanging Out with Mom Graphic Bodysuit ($6) Animal-Graphic I Love Mommy One-Piece for Baby ($8) Find the best baby shoes and the best baby booties in our buying guides. Sign up for our newsletter for even more finds delivered right to your inbox. Click here to email Farah, the author of this post
3 Sweet Valentine Treats–Without the Sugar–the Whole Family Can Enjoy
Sure, the conversation hearts are fun and the boxes of decadent chocolate are tradition, but these days the Valentine aisle is so cramed with candy it resembles Halloween (except it's pinker). If the family dentist gets enough money from you already, check out these sweet, non-sugary Valentine's Day gift ideas. Because there are ways to show people you love them that don't involve a diabetic coma. These conversation heart pillows ($25) will last a lot longer than the real thing. Plus, they're cuter, too. They come as a set of six so you can divide them up between dad and the kids. Just add some sunshine, water, and a little love to this can of Dahlias ($12) and you'll have a beautiful bouquet in no time. You can also get geraniums, pansies and impatiens, so treat each kids to his/her own bloom. This one's just for you and dad. After the kids are asleep, show him just how you are sweet on him with warm bath bubbling with this luxurious Philosophy Bubble Bath ($16). Sign up for our newsletter for even more finds delivered right to your inbox. Click here to email Courtenay, the author of this post.