5 Wedding Traditions Every Bride May Consider Skipping
The One Thing Brides Forget When Choosing A Veil Length
The One Thing Every Bride Forgets When Picking A Veil
Can You Tell Which Veil Costs 10x As Much As The Other?
Shop our guides to the best strapless wedding dresses, white wedding shoes, and inexpensive wedding dresses.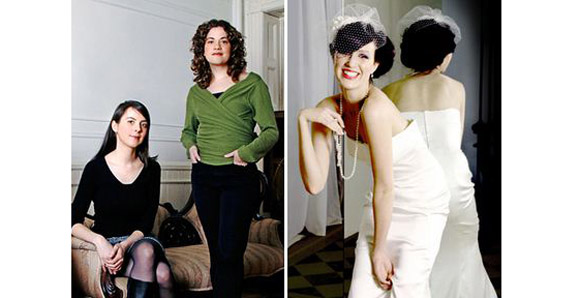 The Ladies Behind Bride's Head Revisited Dish On The Quintessential Bridal Accessory: The Veil
Emily Martin and Alexandra Augustine, the designers behind Bride's Head Revisited, know veils. Both worked at the Costume Institute of the Metropolitan Museum of Art before joining forces 9 years ago. They've worked with thousands of brides over the years, and we recently sat down with them in hopes of learning what veils work best for you. (more…)
The Full Line Of Nina Accessories Is Here – Preorder The Best Pieces Now
I love Nina shoes. They are perfectly priced for special occasions where you may only wear them a handful of times, well-made so you can dance the night away, and always on-trend. So I was thrilled to learn about the full-line of Nina accessories that launched this month. The photos are up, the pre-order is open, and here are our favorites: For more must-have wedding accessories, check our guides to the best inexpensive wedding shoes, wedding veils, pearl wedding jewelry and wedding shoes with bows.
Style Blogger Jordan Reid Shares Her DIY Invitations — Straight From The Photo Booth
Name: Jordan Reid, Style Blogger, Ramshackle Glam. Wedding: Clay Hill Farm, Ogunquit, Maine. Want to have your wedding featured on BRIDEfinds? Submit your real wedding finds to [email protected] Please include: A photo from your wedding day, in which the "best find" item is shown. Your best find price and/or a link to buy it online. Your name, wedding location (venue, city), and a brief quote about why this was such a great find for you. Optional: a link to additional wedding photos, additional "finds" from your wedding. For more great wedding ideas, check our guides to the best wedding veils, inexpensive wedding dresses, and cheap wedding invitations.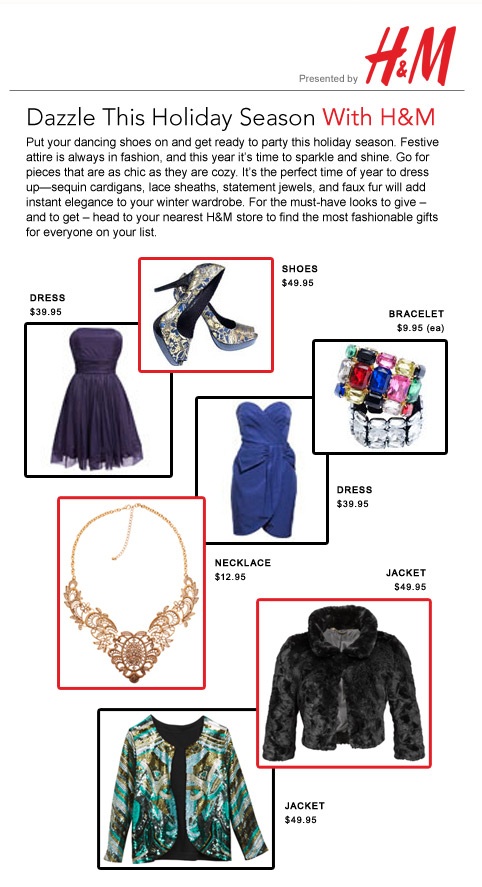 Sponsored Post: Dazzle This Holiday Season With H&M
Never Pay Full Price (Or Go To The Mall) Again—We Show You How
You would think by now hunting down deals online would be second nature. Trouble is, there are so many bargains to be had, it's tough to keep up with all of them. Here's our quick guide to sites to bookmark, clubs to join, sale alerts you shouldn't miss, and more. 1. Sample the Wares Can't police the entire interwebs looking for sales? That's what SheFinds is here for. Check out our daily  deals for what to buy at a discount. 2. Join the club Save up to 75% on top-of-the-line brands with Members Only sites. Merch is typically first come first serve, so make a habit of trawling the sites as you drink your morning latte. Here are a few bookmark-worthy clubs you should be perusing: Beyond The Rack Gilt Groupe HauteLook Rue La La The Top Secret Or just sign up for our newsletter and get a list of the best sales delivered directly to your inbox every Monday. 3. Shop the virtual bargain bins Every online retailer worth its salt has either a sale or a clearance section. At Shopbop and CoutureCandy, you can sort the sale racks by the percentage you want to save. Net-a-Porter set up a whole site, theOutnet.com, for its on-sale goods, and that site has sales of its own. 4. Extra, extra Sign up for your favorite online stores' newsletters and you'll be hip to all kinds of stuff non-subscribers will never know about, like early sale events and codes for free shipping..  (We're always psyched to hear from hip estores like Tobi and YOOX.) 5. Start a bidding war Ebay's a great resource for deal hunters. Bid on new and used merchandise and watch your patience and persistence pay off in the form of unbelievable deals. Check out our many guides to fall fashion, shoes, and more to find amazing bargain picks for the cooler weather ahead.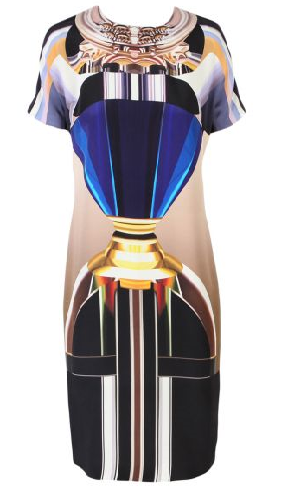 Trompe l'What? The Hot New Trend Not Just For French Speakers
It's official - the couture houses are obsessed with trompe l'oeil. French for "trick of the eye," this art world technique uses prints to create fabrics that are not always what they appear. So far this look hasn't been seen much outside of the runway, but we managed to track down some very wearable alternatives to the designer duds. 1. Mary Katrantzou's perfume bottle inspired dress ($1,115) accentuates -or creates - the sexy curves of the (probably rich and thin) wearer. Accentuate your own curves for less with a Mara Hoffman frock ($297) and look a little like a chandelier while you're at it. 2. Sure, Inside Out's zipper print jean ($310) has the grungy cool look down pat, but Free People's Lace Stencil Skinny Jeans ($98) offer a slightly girlier take on the trend. 3. So far, none of the ready-to-wear brands are making anything similar to Comme des Garçons' blue illusion jacket ($1,240).  We know that Forever 21 is always the first to produce carbon copies inspired imitations of high fashion, so for now we'll have to do with their trompe l'oeil inspired zipper tee ($12.80). Shop our guides for more tees, trendy jeans, and dresses for every occasion.
News: Kate Launches Fourth Fragrance, Vogue Is Pared Down, And more
1. Kate Moss will launch her fourth fragrance, Vintage, this September.  If you need a new scent now, check out our guide to fragrances for every season.  [Now Smell This] 2. Vogue update: revered consulting firm, McKinsey, recently brought in to aid ailing Condé Nast, has had the magazine's receptionists laid off and all newspaper subscriptions canceled.  While we wonder what's next, we'll peruse anything and everything related to the forthcoming September Issue documentary. [fashionologie] 3. Gap has launched their 1969 Premium Denim collection.  Everything is under $100, but we think we can find jeans that are just as good for an even more reasonable price.  [fabsugar] 4. Retailers are looking to Facebook as a new frontier, with 20 businesses, including Sears, opening virtual storefronts on the site over the next two months.  If you're looking for a concentrated online locale with good things to shop, well, look no farther than us.  [Computer Weekly]
Less Shaving + More Tan = Happy Legs
What: Nivea Sun-Kissed Beautiful Legs Shave Minimizing Gradual Tan Moisturizer ($8) Why: Summer is a tough season for me, mainly because my sensitive legs loathe shaving; razor bumps and burn are inevitable. Rather than sporting hippie locks on my legs (shiver) or hiding them in jeans all summer long, I've been treating them to Nivea's Sun-Kissed Beautiful Legs Shave Minimizing Gradual Tan Moisturizer. The formula not only grants an even, glowing tan that doesn't smell like a paper bag, but it also moisturizes and helps to slow hair growth via celandine and DHA so I don't have to shave as often. And the tan ain't half bad, either. Get Yours: amazon.com Find more ways to rock a faux tan, fight sweat, and keep your makeup from melting off.
Tuesday's Sample Sale Scoop: Cynthia Steffe, La Perla, Judith Leiber, And More
Editor's Pick: Cynthia Steffe at Gilt Groupe EOS watches at Editors' Closet Johnny Was clothing and Christian Audigier watches and bags at ideeli FINN and Curtsey clothing at The Top Secret Bed Head pajamas and Fendi eyewear at Beyond the Rack Naot footwear, Judith Leiber accessories, and Antik clothing at Rue La La Robert Rodriguez clothing, La Perla intimates, and Annick Goutal fragrance at Hautelook Don't forget to check out our full list of the week's sample sales, along with our August calendar and helpful buying guides.
Showing Your Thong Is So Y2K – Here's A Modern Solution
What: Hip-T , $19.95 Why: Enough is enough. It's time to lay off the crack. Not only is it bad for your image, but it's hurting your friends, neighbors, and that poor stranger stuck behind you when you bend down to tie your shoes. So staging an intervention are the lovely ladies of Hip-T, a new product that offers lower waist coverage when your shirt falls short of expectations and your pants drop way below average. This cotton wrap, worn around the mid-section, creates a layering effect underneath your favorite shirts. Instead of searching for extra long tees and camisoles that will keep you covered up, Hip-T solves the problem by offering the coverage of a longer tee only where it's needed. And there's a bunch of fun colors and patterns to choose from. I instantly fell in love with mine the minute I put it on. It saved me from embarrassing thong exposure and kept my pants from going south. The wrap is cut on a slight angle that aligns with the hips, so it stays perfectly in place at all times, and in all positions. I firmly believe this indispensable gem should be mandatory for every celebrity in Hollywood. Especially Britney Spears. Maybe she should wear two at a time. And carry a third in case of a crack relapse. But I digress. Just say yes to Hip-Ts and end reverse cleavage forever. That means you, Spears.Get Yours: MyHip-T.com
A Find: Sweet Dreams Are Made of These Bath And Body Finds
What: Bath & Body Works Aromatherapy Sleep CollectionWhy: It doesn't matter how many expensive creams you slather on, how perfect your makeup is, or how new your highlights; if you're not getting enough sleep, you're not looking your best. Like many people I know who work long hours tethered to a computer, settling down for the evening can be a bit of a challenge. Instead of developing a nasty valium habit, I've been combating my insomnia with the naturally soothing effects of lavender and chamomile. Lavender and chamomile essential oils are both prescribed by aromatherapists to aid with sleep; lavender oil is known to soothe and calm, while chamomile extract provides a lulling effect that enhances sleep. A nice, warm bubble bath ($13), followed by luxurious lotion ($13), and a quick spritz of pillow mist ($10), and my day fades away as I drift off to sleep.Find It: BathandBodyWorks.com For more great tips on how to get some rest, check out our Nice Nights Newsletter.
Destroy Bacteria And Dry Skin With This Foot Cream
What: DERMADoctor Feet Accompli Pedicure Cream, $34Why: We know the market is choc full of lotions for every inch of your body, from your face down to your toes. And when winter comes and your skin starts to itch, flake, and drive you absolutely up the wall, you start to wonder which one will actually do its job. Well, here's a cream that goes above and beyond. DERMADoctor's Feet Accompli Ultimate Antifungal Pedicure Cream is a godsend for your feet. Created to treat rough, parched feet and even cure athlete's foot (for those of us who are active – present company excluded) the cream contains a mix of antioxidants and white tea to keep your feet hydrated and fungus free. And because it's non-comedogenic and non-irritating, I wasn't afraid to slab some on my hands and even my face. Feet Accompli is perfect for tossing in your bag on your way to yoga class or for keeping your feet and heels luxurious after a pedicure. Finally a foot cream that will do more than just take up space in your medicine cabinet.Get yours: DERMAdoctor.comCheck out other ways to stay stylish and beat bacteria with our guide to antibacterial beauty products and clothing.
Shopping Help: What to Get Your Super Girly Best Friend
What: The Essential Clutch, $210 Why: The great thing about girly girls is that there are plenty of options when shopping for them. They love lotion, bath salts, the hot new makeup, and nail polish colors. The challenge is finding something special, something that warrants your half of the best friend necklace. This year, my lovely, ultra girly BFF will be getting The Essential Clutch from Therapy Systems. Not only is the bronze woven cosmetic organizer packed to the brim with luxurious makeup, brushes, and the Coffee Cherry Reparative Treatment – a SheFinds fav – it does double duty as a chic clutch. So, my BFF and I will be all set for night out or a night in, doing each other's makeup, slumber party style. Find It: TherapySystems.com
Deal of the Day: Up to 50% Off Designer Clutches at Net-A-Porter
You've probably already attended a holiday soiree or two by now, and we're sure you looked fabulous. Just don't take the same boring old black clutch to every party, promise? Diversify a little bit:Except for the designer's name embossed in tiny script letters on the kiss lock closure, we would have never tagged this monochromatic satin clutch (was $690, now $345) as a Pucci. Still, it's purple, it's Pucci, and it's fabulous. You know how amazing a pair of Jimmy Choos looks on your feet? Now imagine that same chicness dangling from your fingertips. This Carina Metallic Clutch (was $775, now $543) is fun and shiny, and has the added bonus of a built-in handle making it easier to clutch onto. Stand out or add a pop of color to your outfit by embracing the unconventional ochre of this Miu Miu Satin Mini (was $295, now $207). If you can't handle it, they make one in gray too. MORE DEALS: Barneys New York Designer Sale: Save up to 60%.25% off all merchandise at Shoprobertson.com. Use Code: SHEFINDS Take up to 40% off classic jewelry at Wishgiving.
What A SheFinds Editor Wants For Christmas: Jen
As a sufferer of shopaholism, I often find myself browsing online shops and collecting links of items I desperately need, gazing longingly into boutique windows as I walk past, and wracking my brain to try and figure out how a $600 pair of boots could fit into my monthly budget. So, as might be expected, I always have a ready-made list of things I would like for when I just happen to stumble on a million dollars -- or in case someone wants to buy me a Christmas present!1. Santa Maria Novella Rosewater ($28): When I studied in Florence, my art history professor took us to an ancient apothecary that was hidden inside a church called Santa Maria Novella. I tried a bottle of this rosewater and instantly fell in love with the way it kept my skin hydrated and clear. It turns out that the recipe of water infused with rose petals is a great antiseptic and purifier, and it even reduces under eye puffiness and protects the skin against environmental elements. And that's just was it does for your face: Pour it into your bath and it will relieve sore muscles; pour it into your washing machine and it will refresh and disinfect your washables. Of course, at the time I was more interested in overpacking my suitcase with bottles of wine instead of rosewater, so I haven't had any since. I only recently discovered that you can buy it online! 2. Tod's Cindy Jais Ballerinas ($327): A gal can always use a new pair of shoes, and I already have the Tory Burches. These Tod's have elasticized sides so you know they are going to be comfortable, and they're from Italy so you know they are going to be well made. I am really enjoying the stark contrast in color, which gives them a modern look, but the bow detail adds a nice girly touch. Yes, I will definitely be needing these. 3. BCBG Max Azria Quilted Wristlet ($98): I would just love to have one of these gold-chained quilted wristlets...or two or three. They remind me of a Chanel (minus a thousand dollars or so), and the colors are amazing. I think my favorite is the one they call 'Royal Blue,' even though it looks quite purple to me. That whole box clutch thing seems to be coming back into style. 4. Marc by Marc Jacobs Essex Faille Dress ($384): Oh Marc, I could just eat some of your designs up with a spoon, they are so cute. This dress is like a beautiful three-tiered cake! I would probably only be able to wear it like one time, but it'd be worth it. Ahh, who am I kidding -- I'd wear it to the grocery store. 5. Valentino Open-Temple Sunglasses ($340): My favorite accessory, (actually my favorite thing to wear, period), is a killer pair of sunglasses. I like these Valentinos because they have a great shape, the 'V' temple detail is pretty cool, and most likely not a lot of other people I know, if anyone, will have them. A good potential conversation starter. Oh please Santa, can't I just have one of these things? I was so good this year.
Eco-Chic: Wrap Your Presents in Good Conscience
Ladies, with only one week left to shop for Christmas presents, we'd like to make a helpful suggestion to relieve some of the stress. Instead of standing in line forever in department stores waiting to overpay for professional gift-wrapping that will get thrown out anyway, just order some eco-friendly gift wrap and do it on your own. Better yet, toss your gift into a reusable wrapping paper alternative, you'll save yourself from aggravation and the environment from needless waste. Here are some really chic eco-finds: Gift Wrap: 1) 100% recycled wrapping paper from Smith and Hawken that even comes in nature-inspired prints. 2) A festive Hemp Wrap that is printed with vegetable inks and is completely biodegradable. 3) An organic paper that is actually embedded with wildflower seeds. After the presents are opened, the wrapping can be ripped up and buried in the garden (how cool is that?). Eco-Ribbons: 1) Naturally vegetable-dyed hand-twisted ribbon that is made from post-consumer recycled paper. 2) Biodegradable ribbons made from perfectly aligned strands of cotton that are coated with a water-based adhesive and colored with soy ink. 3) Waxed hemp twine that you can use to tie around your gifts in order to avoid using plastic tape. Reusable Gift Bags: 1) If you want to avoid the hassle of wrapping a present, try an Organic Gift Bag from Lucky Crow. Using one of these will help reduce paper waste, so tell your recipient to pass it on the next time she gives a gift. 2) Another pretty option in Christmas red, this satin drawstring bag is great for little stocking stuffer-like gifts. 3) Graphic scarf squares make a great reusable gift wrap. This style of wrapping is actually an ancient Japanese tradition known as 'furoshiki.' Reusable Gift Boxes: 1) A set of three festive gift boxes in coordinating patterns from Smith & Hawken. 2) An ornate cylindrical gift box meant for wine bottles. It is so pretty, you might have to give yourself a bottle of wine for Christmas. 3) A Pop-Up Box with tissue paper already inside it, available at The Body Shop. Gift Tags: 1) An Earth Greetings Christmas Tag from 100% recycled paper that comes in a set with four different designs. 2) Add a personal holiday greeting to this Poinsettia Print Sustainable Gift Tag from Paporganics. 3) This Plantable Holiday Tag is a gift in itself. The recipient can plant it in the ground and grow beautiful wildflowers.
News Updates: Goyard Fakes Hit The Streets, Macy's Goes 24 Hours, And More
Faux Goyard totes take over Manhattan's black bag market. [NYT] Starting December 21, six Macy's stores will stay open 24 hours per day. Maybe 3 am will be the only time to shop in peace. [WWD]Louis Vuitton teams with a fashion editor to create the ultimate travel bag. [FWD] Las Vegas is the first stop for leftover runway looks marked way, way down. [WSJ] Events: This weekend in L.A., a huge warehouse sale with designer names up to 70% off.
Deal of the Day: Up to 50% Off Simply Vera at Kohl's
Just in time for the holidays, practically the entire collection of Vera Wang's Simply Vera is now on sale at Kohl's. Everything from hosiery to outerwear has been marked down to almost half price. Although some of Vera's pieces are a little too bedazzled for us, we have warmed up to her cozy outerwear (okay, and maybe a shiny skirt or two...). At such a great discount, these will make great holiday gifts. Here are some of our top picks: This flashy Tie-Waist Brocade Skirt (was $68, now $34) was made for partying. Pair it with a strapless top and some flirty heels for the perfect New Years outfit, or tone it down with a demure black turtleneck sweater and tights for the annual office soiree. One of our favorite pieces from this collection is the Ginger Orange Single-Breasted Coat (was $158, now $95). The color is so original and surprisingly versatile. It can be ornamented with a glitzy brooch or a colorful patterned scarf to brighten up the winter drear. The outerwear accessories are also a steal, like this colorful Chunky Ribbed Knit Scarf (was $35, now $18). So go ahead and have yourself a merry little shopping spree. At these prices, it's almost mandatory.MORE DEALS:Sweater Sale: Select Styles $29.99 & Up at Ann Taylor LOFT (11/28 - 12/3)Limited Time: Enjoy 15% OFF Your Purchase at Ralph Lauren With Code 15FALL (Select Styles Excluded).One Week Only Sale and Free Shipping with No Minimum Purchase at Folica.com (11/26 - 12/3)
Deal of the Day: Up to 50% Off Tracy Reese Pumps at Piperlime
In case you weren't aware, we love Tracy Reese, and you will love her too when you get a load of these amazing, vintage-inspired pumps (on sale, of course): In a lovely, goes-with-everything shade of taupe, these girly pumps called Tracy Reese Tangos (were $370, now $185) have an adorable adjustable taffeta bow that we bet would look cute tied around the pant leg of your skinny jeans. These Lolita Maryjanes (were $380, now $190) boast a slightly faded ocean blue color plus contrast stitching that makes them look like they were handmade. Although the vintage style evokes that of a fashionable woman in the 1930s, they definitely belong in your own, modern closet. These very unique El Abrazo Kitten Heels (were $335, now $200) are made in Italy from a patterned silk twill and will give your shoe collection a little personality. MORE DEALS:Free Shipping at Fossil.com. Free Mascara Sample Duo with any purchase (code CLASSIC) at Prescriptives.com Save $20 off your purchases of $100 or more at MaxStudio.com (code cj07).
Taste Test: Which Knit Cap Costs Less?
Walking down the street the other day in the freezing cold wind, I had to keep checking that my ears had not fallen off because they were so numb. As much as I've been trying to deny it, I guess winter is finally here. But, at least I get to go shopping for a cool cable knit hat. Which one of these brimmed beauties is the costly cap? Brush up on your style skills with previous Taste Tests.
A Forum Find: Quilted Boots On Sale For Under $20? You Bet.
As much as we pride ourselves on being savvy searchers when it comes to digging up amazing finds, occasionally we might miss a thing or two. Which is why we always need you readers to keep us on our toes and let us know what cool items you discover in your shopping endeavors. A reader recently emailed us:"I'm not sure if this is how you usually receive comments, but I just wanted to say I love reading your newsletter! I also wanted to add that those quilted trendy boots are super cute!" (She is referring to these Taryn Rose Quilted Boots from our Boots Guide.) "I actually found a similar pair on sale at Payless for $22.99!" Thanks reader! Those Savannah Boots look exactly like the Taryn Rose ones. They are even on sale now for $17.99, what a steal! If you have a great find, don't keep it a secret! We would love to hear all about it.
News Updates: Carlson Kressley Returns, Mulberry Loses A Director, And More
Queer Eye queen Carlson Kressley returns as the TJMaxx holiday spokesman and leads an 100-elf march through the streets of Manhattan. Seriously. [PR Newswire]Mulberry loses Katie Grand, the stylist and fashion editor, before she even starts her new job as creative director of the company. [Vogue UK] French Magazine Stiletto pulls some serious strings to create the ultimate charity auction booty. [FWD] Another luxury shopping tower in Tokyo? You don't say! Bulgari celebrates their new Ginza tower just weeks after opening their flagship store in stylish Omotosando. [WWD]Events: So Low is holding at cash-only sample sale Saturday, December 1 with prices cut 80-90%. The sale will be held between 9AM and 5PM, at 2907 Glenview Avenue, Los Angeles, CA 90039.
News Updates: American Eagle Expands, Matthew McConaughey Smells Good, And More
American Eagle announces plans to open new concept stores in 2008. [Pittsburgh Tribune-Review]Dolce & Gabbana select Matthew McConaughey as the face of their new fragrance campaign. [FWD]Topshop to open their first store in the U.S. this coming September in NYC. [WWD] Heidi Montag confirms that she's designer her own fashion line. Take that, LC. [People.com]