PHOTOS: Versace For H&M Cruise Collection (Plus, The Ship Date — Pun Intended)
As a follow-up to the extremely well-received Versace for H&M collection, the brand is releasing a 2012 Cruise Collection -- and we just got our hands on the first photos. The sexy beachwear is hitting stores on January 19th -- but here's the catch: it will only be available in Europe. Hey, there's always eBay #silverlining. Scope out the goods and plot your future eBay order here. Shop our guides to the best inexpensive wedding shoes, wedding costume jewelry, and black bridesmaid dresses.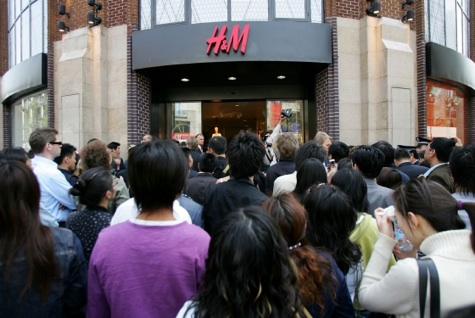 Versace For H&M: Before You Place That eBay Bid, Read This
This morning Elle UK is reporting that H&M is "overwhelmed" by the demand for the Versace for H&M collection, after the collab shut their website down on Thursday, and sold out in China after only 30 minutes. A spokesperson for the brand revealed what pieces are already sold out -- aka what you need to be bidding for on eBay. (more…)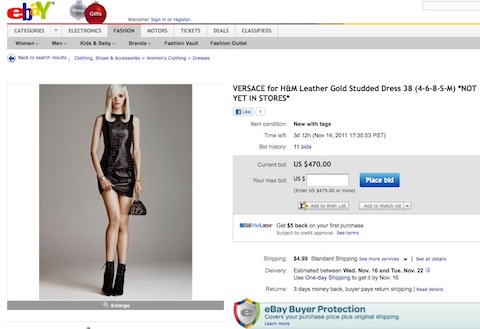 Versace For H&M Is Already On eBay (A Whole Week Before The Collection Hits Stores)
What happened to eBay being a place to sell old stuff? Our friends over at The Cut tipped is off to the curious fact that nearly 50 Versace for H&M items are now available on eBay, despite the fact that the collection doesn't hit stores until a week from today. Obviously, given the anticipation for the line (combined with the fact that you can't yet get it in stores), the prices are far higher than H&M's price points. (more…)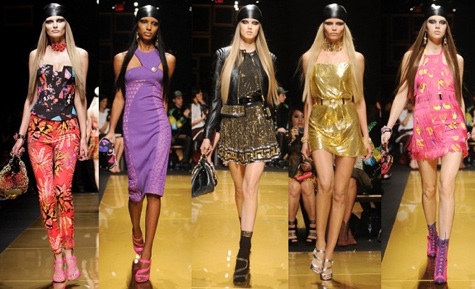 PHOTOS: The Complete, 52-Piece Versace For H&M Collection
Last night, the Versace for H&M collection debuted in New York with a star-studded runway show, topped off with a performance by Prince. If you're wondering whether the 52-piece collection is worth all the bells and whistles -- see below. We've got every last look for you to fawn over: (more…)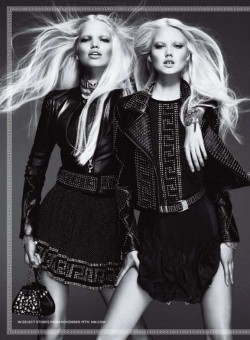 Two Versace For H&M Pieces Cost $299 (I.e. $80 More Than Real Versace Sunglasses)
Remember that gorgeous Versace for H&M dress that Anna Dello Russo was seen wearing during Paris Fashion Week? Well, turns out it will retail at H&M stores for more than $300 after tax. The leather jacket at left will also retail for a whopping $299. Yes - we get it - it's real leather designed by Versace so it obviously comes with a price, but really, almost $300? That's how much I expect to spend at H&M on my whole fall wardrobe AND sparkly New Years Eve dress. WWD tried to quell our shock by telling us the lowest price point was $19.95---for a piece of their costume jewelry. Call me a cheapskate, but this still seems weirdly high (again, this is coming from a girl who's used to spending $3.99 on a 6-pack pair of studs). At the end of the day, obviously I'll still be buying some Versace for H&M when it debuts in select countries November 17th and in the U.S. on the 19th (womp womp), but I'll just start clearing space in my closet for fewer items than I thought. But WAIT---there's one more secret about the line! We'll tell you what it is after the jump: (more…)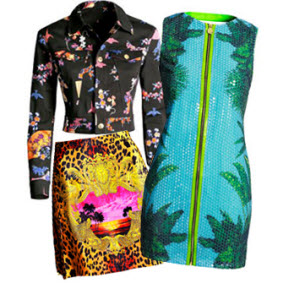 Three More Versace For H&M Photos Have Been Leaked
With only a month to go until Versace for H&M is unleashed on the world, (November 17, peeps!) there are still a few photos floating around of the line. These new Versace for H&M photos (at right) courtesy are proving the line will be a little more confusing than we originally thought. While we were initially picturing lots of sequin bodycon mini dresses, we didn't quite expect these Palm Beach-worthy prints. Guess it's all in how you wear it, though. What do you think so far? [Photos courtesy Stylist UK , via Refinery29]
Leave It To Anna Dello Russo To Wear Versace For H&M Nearly 2 Months Before It's In Stores
Anna Dello Russo in Versace for H&M at the Balmain fashion show Somehow, only people like Anna Dello Russo are able to wear H&M to a Balmain fashion show and get away with it. But Dello Russo's studded body-con dress wasn't just any old H&M number---it is actually a piece from the Versace for H&M line, which doesn't début until late next month. Read: the Vogue Japan Editor At Large got her hands on the line really early, considering we just saw the first photo from the collection a few weeks ago. Ah, it pays to be connected, successful, and Italian, doesn't it? Read up on all of our Versace for H&M news or check out who Target just announced as their next designer...

First Photo: Versace For H&M (With 100% Fewer Chain Links Than We Were Expecting)
Abbey Lee Kershaw in Versace for H&M Although the line won't hit stores until November, we got our hands on a picture of Australian model Abbey Lee Kershaw wearing some pieces of the Versace for H&M collection. (more…)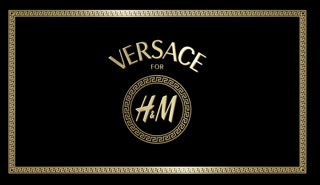 BREAKING: Versace For H&M Collaboration To Hit Stores November 2011
Holy collaboration news! On the heels of the Missoni for Target announcement (coming in September), H&M's really stepping up their game: Versace will be the next designer to create a line for H&M! Following some of our all-time favorite H&M designer collaborations (including Lanvin, Matthew Williamson and Karl Lagerfeld), Versace's line for H&M will hit stores November 17th in 300 stores worldwide.  According to a release, the line will include "iconic Versace pieces for both women and men, in gold, leather and colorful prints. There will be some belts, jewelry and even a few home cushions and bed linen." Versace bed linen? We can't say we're not intrigued. Check out the promo video below where chief designer Donatella Versace explains the collaboration, and actually models one of the dresses from the line (hint: it's leather and studded. Very Versace.) [youtube]http://www.youtube.com/watch?v=P00O0qLeOzA[/youtube] For more news on H&M collaborations and designer collaborations, be sure to sign up for our newsletter.