10 Mistakes Couples Make When Picking The Wedding Band
7 Things To Know Before You Start Shopping For Wedding Bands
Photo: Style Me Pretty.  In the throes of wedding planning, buying your bands may seem like just another item to check off your epic to-do list - but don't rush this decision! You'll be wearing these bands for the rest of your life (though Kim Kardashian's 15 carat "eternity band" certainly isn't getting much wear these days), so this should be a very informed decision. For a quick, but thorough education on buying bands, we consulted 2 industry experts, Zaven "Zee" Ghanimian from Simon G., and Kate Peterson from Palladium. These industry insiders have agreed to share expert tips on what the savvy or less-than-savvy consumer should know before even starting to shop for wedding bands. (more…)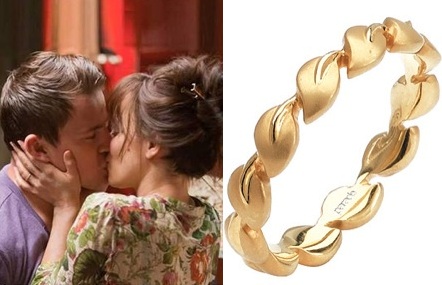 Get Rachel McAdams' Exact Leaf Wedding Ring From Her Upcoming Film 'The Vow'
So you wake up with a wicked case of amnesia, and you don't remember anything from the last two years - or recognize your new hubs, who happens to be stud-muffin Channing Tatum. (Why ask questions? Just go with it.) All you have is a poignant reminder of a promise made, and then forgotten...this charming, nature-inspired Lyria Leaves wedding band ($700) from Parade Designs. (more…)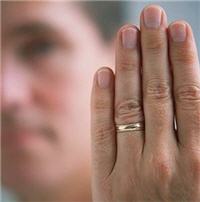 If You Like Him Then You Shoulda Put A Ring On It: Mangagement Rings — Yay Or Nay?
Someone on our Facebook wall just re-posted this retro ABC News article about the "Man-gagement trend" where grooms receive a band or other piece of jewelry to mark their engagement. The trend, which grew out of guys being jealous of their fiance's bling, is kind of like a promise ring, but without that pesky abstinence thing. Even celebrities are on the trend... (more…)
Happy MLK Day: Up To 50% Off Wedding Bands, Invitations, Shoes, More
Whether you have the day off or not, today is a holiday - so you should treat yourself to some MLK day online sales. Everything from wedding dresses, cheap invitations, shoes, wedding bands and more is majorly marked down today. Some of the highlights to get you started: J.Crew: If you need a gorgeous gown, it doesn't get much better than an under-$300 J.Crew sale one. This Silk chiffon Sophia long dress ($298, down from $425) is the answer to your prayers. Carolee Jewelry: Wedding jewelry is always insanely marked up, so it makes us VERY happy to see such well priced baubles today, like this Perfect Petals Crystal and Pearl Necklace ($38.50, down from $55). Waterford: If you're looking for a classy groomsmen gift - or just need to complete your registry - this set of Marquis by Waterford Studio Double Old Fashioned ($49, down from $69) are a great deal. Zappos: If you need sexy pumps for your wedding dress, these rsvp 'Olive' pumps ($57, down from $95) have a hot, high heel and lengthen any leg. William Arthur Stationery: Who doesn't need a little Vera on their wedding day? Don't spend a fortune, though - these Vera Wang Oyster White Invitation Cards (10 for $13.49, down from $27) are half off today. Nordstrom: Another gorgeous sale gown, this Adrianna Papell Rosette Ball Gown ($139.90, down from $238) has a flattering bodice, straps that stay in place, and intricate rose detail in the skirt. Jewelry Vortex: If your man needs a wedding band, get his for 50% off today. This Tungsten Grooved 8mm Band ($139.95, down from $280) is the perfect wedding band find. The Knot Wedding Shop: Who says monogram favors and decor have to be a rip off? Get them on-sale today - like these Personalized Napkins (10 for $32.99, down from $39.99). Looking for more great deals? Check out our guides to the best cheap wedding invitations, cheap bridesmaid dresses, inexpensive wedding shoes, inexpensive wedding dresses.
Latest From MomFinds: Shiloh's Fuzzy Hat, 40% Off Kate Spade, "Green" Undies
Daily Aww: Shiloh Jolie-Pitt The sweet three-year-old was snapped in Venice, while touring the city's sights with her family. We're obsessed with Shiloh's fuzzy bear hat. Find an excuse to snatch up these similar toppers for your favorite little one. (more…)
Sarah Palin's Wizard Of Style Comes Forward
Sarah Palin's "elusive" stylist for the 2008 presidential campaign revealed herself to The New York Times, and no, it's not Rachel Zoe. Lisa Kline usually sticks to dressing high-powered female executives and news anchors, but now she'll be best known for transforming Palin from a country girl into a national attention-grabber. With all the hoopla surrounding the former Alaska governor's recently released "tell-all" book, it's no surprise Kline felt the time was right to set the record straight regarding Palin's rumored $150,000+ shopping spree. Apparently, Sarah didn't do any of the shopping herself, but Kline did enough damage for the both of them. Although I disagree with pretty much everything Palin says, it's hard to disagree with some of what she's worn.  Colorful British brand Boden specializes in politico-worthy clothing (it's even piqued Michelle Obama's interest, a fact we can get on board with) and we like their ravishing ruffle jacket and retro-inspired sixties style. For more Washington-appropriate wear without any Alaskan baggage, check out our guides to the best in Michelle Obama style and pencil skirts. We promise you won't need a Lisa Kline of your own to get the look right.
Jil Sander Will Repeat Her Collaboration With Uniqlo
While the minimalist designer helms Uniqlo overall, she also created a special line, +J, for the store.  Now it seems it's done so well the Japanese retailer wants her to do another, Fashion Week Daily reports. Our only trouble is that we can't get the goods online.  We're rooting for that to change (ahem, Uniqlo) but in the meantime, we recommend copping the crisp style elsewhere (though perhaps not from the Jil Sander line, since it's no longer designed by Jil herself).  We prefer to directly channel Ms. Sander, with the perennially chic blazer and buttondown pairing. For more of the look, try out some of our other favorite blazers and buttondowns (and then top it off with a scarf, for a little hint of color).
A Find: Gear That Gives
What: handmade silk scarf provides 50 cups of food to children who need it, and a gearthatgives.com
Beauty Find: Bi-Curious
What:
Beauty Find: Shield the Skin You?re In
What: Expert-types say shielding lotions help prevent damage to your skin by keeping out all the harsh chemicals that rob your skin of moisture.. I'm not sure I get the science behind it, but after just a few days of using Skin MD Naturals's shielding lotion, I've noticed a huge difference in how my skin feels — and that I can understand. The cream, made with all natural ingredients, goes on smooth, and I've stopped obsessively reaching for my hand lotion 30 times a day. With just one application per day, the previously alligator-esque skin on my arms and legs isn't looking nearly so reptilian, which is a definite good thing, no matter how rebellious you are. Price: $25 Find it:
Beauty Find: Tarte's Rest Assured
What: Sephora.com