Clip-On Hair Extensions: No Judgement, In Fact, We'll Teach You How To Apply Them
Clip-in hair extensions aren't just for mall kiosks and proms. When Jessica Simpson launched her line of Hair Do clip-in extensions and wore them herself, clip-in extensions moved into the mainstream. While it may sound a little crazy, they really do work and can save you thousands of dollars and hair knots from paying for the kind your stylist puts in. (more…)

How To Achieve Kate Middleton's Bouncy Waves With Hot Rollers In 3 Fail-Proof Steps
Have you ever noticed that come rain, shine, or ridiculous hat, Kate Middleton's hair always looks perfect? With locks like that, it's no wonder she decided to wear them down on her wedding day. As former Miss Chattanooga and a career pageant gal, I know my way around a set of hot rollers, and am willing to share my tips with all those Kate-wannabes out there. Step 1: Start with the best set: the Remington Style Envy Ionic Rollers ($19.99). (more…)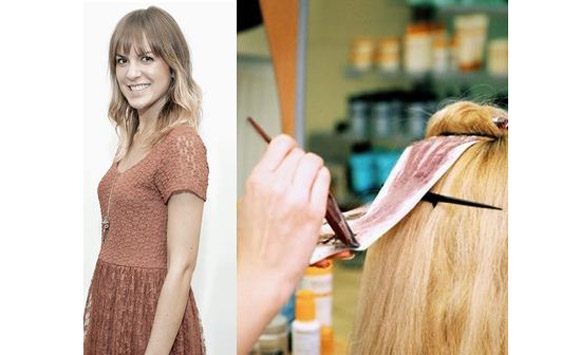 No Streaks Here: Celebrity Colorist Amy Huson Shares Her Tips For Salon-Worthy At-Home Color
Venturing into at-home hair coloring? Or perhaps you already do it but are worried about pre-wedding mishaps? Fear no more. Amy Huson, colorist and resident balayage expert at Marie Robinson Salon (Michelle Williams and Emma Stone are clients) is giving you her best bets for flawless locks, straight out of the box: (more…)
Ask The Expert: Celebrity Stylist Matt Fugate's Tips For Gorgeous Wedding Day Hair
My hair has been perfectly styled for 4.5 years now, and I'm here to share my secret weapon: celebrity stylist Matt Fugate of Sally Hershberger Downtown New York and Los Angeles Salons. He's perfected the locks of Claire Danes, Brooke Shields and our favorite Gossip Girl Blake Lively, and is now dishing to BRIDEfinds on how to achieve fabulous wedding day hair: (more…)
SATC Extra Open Call: A Chance To Walk Back And Forth Behind Carrie Bradshaw
Fashionistas and Sex and the City addicts galore flocked to New York's Chelsea neighborhood today for the chance to strut their strappy sandals alongside the likes of TV's favorite style idol, Carrie Bradshaw. In an announcement that sounds about right for the SATC sequel, producers called for "fashion models, celebrity types, upscale socialites, urban clubgoers, gays and lesbians, "international types," and professional soccer players." We can kind of understand the first six types; it's the soccer player request that has us both baffled and excited at the same time. Although no one on the SheFinds team had the desire to wait on line behind hordes of clubgoers, we do imagine there were plenty of stilettos and trendy totes to go around. Maybe even a harem pant or too. Get ready for the movie by prepping your closet with chic dresses, sky-high shoes, and the latest handbags.
Newsflash: Another Model-Turned-Designer (But Still A Model) Collab
We just learned that ubiquitous model Jessica Stam (of the Marc Jacobs "Stam" bag) is joining forces with the design duo over at Rag & Bone.  No word yet on what the newly formed trio's line will be called, but they were unanimous about the collaboration at a recent party celebrating Rag & Bone's launch at Intermix.  [Style.com] We're betting Stam plus Rag & Bone designers Marcus Wrainwright and David Neville will come up with something pretty great, so we're hoping those clothes will fit more than just willowy 5-foot-9 types.  While the collaboration is still in the cat's whisker stage, we'll try to squeeze into these high-waisted skinny jeans ($242). For figure-flattering options, check out our picks for celebrity-inspired denim, along with some fashion-forward zippers and harem pants.
Thursday's Sample Sale Scoop: Prada Bags, J Brand Denim, Marc By Marc Jacobs Sunglasses, And More
Editor's Pick: Prada handbags and wallets at Beyond The Rack Lois Hill jewelry at Editors' Closet Rebecca Minkoff handbags, J Brand denim, Calvin Klein shoes, Mischen clothing, and Loree Rodkin jewelry at Gilt Juicy Couture sunglasses and Marc by Marc Jacobs sunglasses at The Top Secret AG Jeans and Papa and K belts at Beyond The Rack Hype clothing and handbags and Gwyneth shoes at ideeli Alisha Levine, William Rast denim, Great China Wall, and Terraillon at Hautelook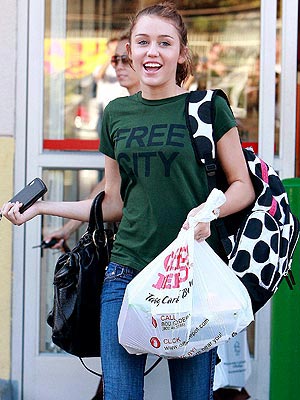 Celeb Fashion: She's Just Being Miley
I confess, I know all the words to the Miley Cyrus hit, "See You Again," and I really want the jeans she was wearing as she shops for school supplies. They're a great medium wash, a flattering low rise and slimming narrow boot cut leg. Her pair of Frankie B's jeans ($173) are dyed just right, fit just right, and would pretty much make anyone want to see me again! Or at least that's what I tell myself, ignoring the fact that I'm at least four inches taller, 20 pounds heavier and a decade older. So here are my picks for similar jeans… that are probably a little easier to wear (and afford!) for us non-celebs.These Roxy Night Owl jeans ($84) are affordable and on-trend for this fall. The legs are a balance between skinny and cigarette, and the rise is a little higher than the whale-tail-low of season's past. The little bit of spandex keeps them fitted without being too tight, which means you can eat!If you thought $84 was good for jeans... you'll love these GByGuess Naomi boot cuts ($49.50) The 33.5" inseam ensures these are ready to be paired with heels, and the narrow boot cut is flattering on everyone, not just Hollywood size 2's.
On Better TV: Geek Chic Accessories For Your Professional Self
Recently on Better.tv, SheFinds showed you some stellar tech-y finds for staying stylishly organized and connected – even if you're not a technology fiend. Data and computing accessories are nearly endless. These are four of our favorites, and we swear they're not that complicated. The DataTraveler Mini Slim ($11-19) is a really, really small USB flash drive that comes with a 2-year warranty and tech support, just in case you need some USB hand-holding. Carry your flash drive around in this Peanut USB Holder ($7) From Built NY, which makes all sorts of other useful things – like laptop cases and wine totes – out of the same cushy, colorful neoprene. The Dane-Elec Digital ZPen ($90) allows you to take notes on nothing, and stores the info you scribble down into the pen, so you can upload it onto your computer later. Way lighter than a laptop when you're traveling to meetings. One definite hurdle to being uber-connected: staying that way on the go. The Tonic Universal USB AC Wall Charger ($30) is only about the size of a box of tic tacs, and can charge BlackBerrys and any other device that uses USB power. When you're all charged up, hook a Jawbone ($130) on your ear to talk hands-free. And if you're working from your laptop off-site, the Q-Link Nimbus ($170), which plugs into your computer, claims to increase energy, stamina and concentration by reducing electromagnetic fields. Of course, staying stylish and sane amidst all the gadgets is always on our mind. Coby Electronics's Digital Photo Frame ($51) lets you gaze at whomever or whatever you want without constantly switching your pictures by hand. If you're a card-carrying corporate American, show some style by using cute BooJee beads ($10-$20) to hold your ID card. And keep all your gadgets clean and sparkly with Weiman E-tronic Wipes ($6), which are quick-drying, streak-free and safe to use on electronics.
Fashion Top Five: Shooties
This shoe-bootie hybrid was really just the next logical step after the ever-shrinking boot shaft hit below the ankle. Shooties work well with skinny jeans or pants and can add a hit of toughness to a sheath dress. But if you're feeling too tame to show off your shooties, slip them under a pair of trousers and no one will be the wiser. This top five wouldn't be complete without at least one peep-toe shootie: I do find the peep-toe bootie/shootie odd, but this STEVEN by Steve Madden pair ($150) might be cool enough to sway me. A big elasticized panel is surprisingly sleek on these Miu Miu patent shoe-boots ($530). These faux-snakeskin shooties ($66) look rich – and even office-appropriate – in dark brown. A graduated heel and streamline styling give this Kenneth Cole pair ($225) retro appeal. These Botique 9 shooties ($150) are entirely season-appropriate in dark grey suede.
The His Is Hers Shirt Makes More Sense Than Taking His
What: Clairidge + King His Is Hers Shirt, $89 Why: Is there anything sexier (for a man, anyway) than a woman wearing his collared dress shirt, padding around the apartment barefoot, too-long sleeves casually rolled up and too-long shirttail just barely covering her bum? Claridge + King thinks not. In fact, they've built an entire business on that supposition. Their foundational product, a made-for-her dress shirt, looks like his, but is modified for her: a softened collar, an additional mid-sleeve button to keep rolled-up cuffs in place, and an extra-long cut to flatter the female form.Get Yours: clairidgeandking.com And check out our suggestions on what to pair with another menswear fave: the boyfriend cardigan.
Solution: Fuller Lashes Without Having To Whip Out The Falsies
I have eyelash envy-- my boyfriend has beautiful eyelashes that are thick and full. His are the kind that I'm always striving for because I have long, thin lashes that disappear without multiple coats of mascara. But I recently discovered a couple of new products that are making my lashes look like his: Revitalash Eyelash Conditioner ($75)I was very skeptical that this product would actually work, but after applying it nightly for about a week, my lashes did indeed look fuller. However, it contains the non-FDA approved lash-plumping drug latanoprost, so be aware. The product was created by an opthamologist for his wife whose lashes were damaged by chemotherapy and a portion of all of the proceeds to go breast cancer research. Benefit Get Bent Mascara ($19)If dropping $75 on questionable lash drugs isn't for you, this mascara is a miracle worker. It's like a push-up bra for your lashes - plumping, curling, and lengthening all at once. Gotta love a product that works that hard all for you. And check out our bargain mascara picks -- great products that work well but won't cost you much.
Contestants Endure Stereotypical Magazine Editor Stares On Stylista
Last night, Stylista premiered on the CW where the contestants compete for a junior editor spot at Elle magazine. In order to achieve that, they will live together, sleep in bunk beds (or on the couch as resident evil girl Megan decided to do), avoid sabotage, endure challenges that would make any temp quit, and see if they can make a good impression on Devil Wears Prada-esque Anne Slowey, the Fashion News Editor of Elle.This show is so over the top, it's hilarious. The contestants' fashion choices are so funny, I almost dropped a glass of wine on the floor watching them. But what makes this a great show is the portrayal of the Elle staff with their withering stares and lack of smiling. When Anne was judging the first challenge where the contestants had to make her breakfast, they were so scared of Anne you could actually hear the trays rattling as she walked by. I do enjoy Anne's wardrobe, though. She had on a YSL necklace with a cluster of stars that I thought was great for her, but a little much for most of us. I would suggest stealing her style with this Graduated Star Bead Necklace ($15) or this Gold and Silver Star Necklace ($38).
What to Wear to the Gym: SheFinds Gets in Shape for Fall
Everyone talks about getting in shape for the Summer, but today I had a revelation: if I keep myself fit right now, I won't have to work so hard to get that bikini body back come April. Plus, the beach isn't the only place a gal hopes to look good; there's also the bedroom, where you want to feel confident there all year 'round. And what about winter getaways to Caribbean countries? To inspire myself for my all-Fall-long, three-times-weekly workout plan, I went shopping for athletic gear that is both functional and cool (because as a particluarly image-conscious ex-boyfriend of mine once so wisely declared, "You gotta have style, baby--even at the gym."). So here are my recommendations for anyone who's ready to get/keep her herself in shape.First you gotta stop the jiggle. This Nike Revolutionary sports bra ($49) may be more expensive than their original Determination model ($35), but its innovative new support system (there's a strap between the cups that increases motion control) keeps me comfortable even at a sprint. For anyone who runs or uses an eliptical machine, this is a must. Save cash and trust these Champion activewear tanks from Target ($9.99). As long as you're not a marathoner or tri-athelete, you don't need any of that high-tech wickaway stuff they try to sell you. A lightweight loose-fitting top will do. These Adidas Essentials capri workout pants ($49.99) will keep you cool throughout your workout, whether in the weight room or on the track. And they're cuter than athletic shorts--you won't look half bad on your way home, either. After I sprained my ankle for a third time back in high school, the kind folks at my local runners' store recommended a superb, little-known brand of sneaker that I've used ever since. Unlike some major companies, Brooks actually takes the particular build of female bodies and joints into account when designing their women's line. My current favorite for jogging is the Axiom 3 ($90), which are lightweight, flexible, and cushy; but for athletes with low arches or a tendency toward rolling ankles, the Adiction ($100) is the sturdy sneaker that finally kept me on my feet as a kid.
Week Of Denim Problem Solving: Obliterating Muffin-Top
The dreaded muffin top is one of the most common – and most obvious – wardrobe faux pas, and it seems to plague just about everyone from time to time. Slightly-too-tight jeans and a clingy top and a dash of compromised judgment are all it takes.But the right jeans or a strategically chosen shapewear item can make all the difference. Jeans that combat this problem simply have higher rises, sitting closer to your natural waist, which tends to be narrower and less cushy than the hips. For a classic-looking pair with a higher waist, try 7 For All Mankind's High Waist Bootcut Jean ($165), which has a 9" rise. A fancier option, Rich & Skinny's Lush jeans ($93, were $187) have a dark wash and a trouser fit, along with an 8" rise. And if you're set on wearing jeans that hit at the hip but want a sleeker look, shapewear can work wonders. For this particular problem, SPANX Hide & Sleek Camisole ($44) is perfect if you have a short- to normal-length torso so it's long enough to tuck in. SPANX High-Waisted Power Panty ($36) is a good choice if you're looking for leaner thighs, too. And peruse our Guide to Your Favorite Denim for other comfortable and stylish options - that you picked out.
Where Can I Find A Monogrammed Tote?
SheFinds Reader Question: I am looking into maid of honor gifts, and I am interested in finding a monogrammed tote. The only ones I've seen and liked are what is featured at Lands End, but I want something a little more stylish than what is offered there (more glamorous than preppy). Do you happen to have any recommendations? Lillian Vernon monograms their totes ($25) for no extra cost, and these leather bags--particularly the black version--are quite sophisticated. If you're looking for something a little more fun, Pottery Barn will personalize their leopard or zebra-striped tote bags ($49) for no additional cost. But here's another idea: pick a stylish tote you love, like this Stella McCartney LeSportsac Everyday tote ($350), and get it monogrammed. It really doesn't matter whether the design includes a special spot for monogrammed initials. You can be creative! Embroidery companies across the country specialize in monogrammed initials onto everything from sheets to bags. I'm sure there's one near your hometown, but just in case, here are a few services to get you started: The Monogram Shop (East Hampton, NY), Amazing Monogramming (Wheatland, WY), A Little Bit of This (Chicago, IL), and Michelle's Monogramming (Cypress, TX).
Week Of Denim Problem Solving: Levi's Remembers We Have Waists
I am a curvy and tall woman. Any of you out there with this body type knows that it's almost impossible for me to find a pair of jeans. My issue is that my hourglass figure makes it hard to find jeans that fit in the waist. Last week, my prayers were answered when I attended a Glam Media event at the Levi's store in Manhattan. I have to admit that I've been a fan of Levi's all my life but wasn't sure that without my straight and thin figure of my 20's that I could fit into a pair of cute skinny Levi's. Boy was I wrong. Ladies, here's a tip for those of us with those tiny waists and fabulous hips: purchase denim with stretch and a tilted waist, but get the next size down so they will naturally settle in the right place when they relax. I love these Levi's Eco Low Skinny 531 jeans (yes, they're skinny and yes, they look amazing) for a lovely $69.50. I also picked up a pair of Levi's Eco Tab Trouser Jeans in Clean Air (a darker, office-friendly rinse) for $78. Not only does each waistline remain put, but the denim is eco-friendly, made from 100% organic and recycled cotton.Have more burning denim questions or want to peruse some other styles? Check out our Guide to Your Favorite Denim.
Solution: If You're Saving Money By Doing Your Own Nails, At Least Do Them Right
Maybe you're a DIY diva or you're simply looking for ways to save a few dollars. Whatever the reason, doing your own French manicures doesn't have to be a time consuming chore. In fact, with a few simple tricks, you may never head back to the nail salon again. Nail tip guides ($3.50) make a DIY Frenchie super easy. After your base coat has completely dried, apply the sticker like guides so the tip of each nail is still exposed. Brush the white polish on the exposed tips, let it dry and then take off the guides. Top your entire nail with a pale pink, like my favorite OPI Sweet Heart, and everyone will be oohing over your salon perfect nails. And just in case you got a little polish where it wasn't supposed to be, this ingenious polish corrector pen ($12) easily removes it. Filled with polish remover, it works like a paint pen, allowing you to wipe away stray smudges without ruining your entire nail. It even comes with extra tips and is refillable.
Drugstore Find: Essence Of Beauty Brushes Won't Shed All Over Your Face
In every CVS, Essence of Beauty brushes are there. But, as with all bargain beauty brands (okay, as with all beauty brands, period), not every brush gives you bang for your buck. So, which should you buy and which should you skip? This handy primer will help you unearth the gems. Buy: Crease Brush Duo ($5) Why: The larger brush's soft hairs give your shadow a smudgy, blended, and natural look in the crease. It's also a perfect shape for use along the outer V. Use the smaller brush for more precise application around the inner corner of the eye. Buy: Kabuki Brush ($10) Why: This soft brush applies mineral makeup and all kinds of powder in a smooth, even fashion, and at $10 a pop, it's much more affordable than its higher-end counterparts. Skip: Synthetic Foundation & Powder Brush ($10) Why: Although the bristles are good for applying liquid foundation, they shed. And there's unfortunately nothing like brush hairs in your makeup for ruining your look. And don't forget to check circulars for your local drugstores – Essence of Beauty is a brand that's often put on sale. Good news for your brush collection and good news for your wallet – what could be better?
Week Of Denim Problem Solving: Jeans That Don't Stretch Out
My pet peeve is finding the perfect pair of jeans— flattering waist, great wash, right amount of flare in the leg— and then discovering they stretch out after about 10 minutes. Sure, you can mist them and pop 'em in the dryer to tighten them back up, but what if you want to wear them out for dinner and plan on sitting down? The solution is finding jeans that are a blend of cotton and lycra. Straight cotton jeans are guaranteed to bag and sag after a short time, but with just a hint of lycra, jeans will stay fitted for multiple wearings. My favorite brand is Citizens of Humanity. They are a perfect blend of elastane (the stretchy stuff) and cotton so they're comfy and fitted all day long. Citizens of Humanity's Ingrid Stretch Jean ($158) provides a slim fit through the hips and thighs with a small flare in the leg. These jeans are sure to keep their shape and fit every time you wear them. And peruse our Guide to Your Favorite Denim for great styles to flatter your figure.
Deal Of The Day: Up To 50% Off Knit Tops At Martin + Osa
These cozy tops will pair well with tailored skirts and slacks for easy, classic work looks.This bateau-neck top ($40 was $59.50) is like a sophisticated tee for cool weather.The slightly unexpected silhouette makes this funnel-neck top ($20, was $39.50) an ideal match for bootcut jeans or trousers – a long chunky necklace would complete the look for work. Feminine details like blouson sleeves and a waist-accenting belt add to the appeal of this cowl-neck sweater ($40, was $69.50). More sales and deals on the web:As seen in the SheFinds forum: 25% off your entire order at Signature Designs by LaNorma Jewelry with promo code AVJC7G. 25% off sweaters and outerwear at Armani Exchange. Get a free tank top with your order at 7 For All Mankind with promo code GIFT4ME. The sample sale scoop – shop these sales today for huge discounts on big brands: Anne Klein at Rue La La Olivia Harris and Temperley London at Gilt Groupe Susan Foster Jewelry at Hautelook
Keep Your Head Warm And French-Looking In A Beret
Now that cold weather has officially arrived, it's time to start thinking about fall accessories. And what wardrobe addition could be better than a beret? They are an easy and fun way to dress up your look, and depending on the style, they can convey very different moods. What's your beret style? ClassicBlack is the easiest thing to pair with everything. This classy beret ($188) will dress up any look - and keep you warm in the process. SexyThis beret is pretty simple; a touch slouchier and less structured than a classic style, but made of 100 percent cashmere in an eye-popping candy apple red ($75). Casual ChicThis chunky, multi-colored beret ($38) is laid back, but cool. Pair it with your favorite flat boots and jeans for the ideal weekend ensemble. Not your style? Here are many more styles to suit your fancy.
What To Wear With: A Sweater Dress
We recently showcased our top five favorite sweater dresses and since then have been asked by many readers just how exactly to wear one. Other than with a solid pair of Spanx (or those ingenious Tight-End tights - or both), there are some simple ways to complement this cozy frock that will bring you easily from the office to after 5 cocktails. Since a sweater dress is classic, you can play around with shoes and accessories - but don't go overboard if you plan to wear to the office. A pair of two-tone Mary Janes and one strong colorful cuff will up the ante on a neutral colored dress. You can add a delicate silver necklace for some sparkle at the neckline. Before heading out for drinks, throw on a winter white mid-length jacket to brighten the look, and toss your evening essentials into a daring compact clutch. Donna Karan Cream Jacket, $1397.50 (Find a more budget-friendly option at Banana Republic) J.Crew Mary Janes, $160 Jade Oval Cabochon Bracelet, $375 Zebra Clutch, $7.50 Dior Oui Necklace, $1125You can also view this set right on Polyvore.com where we welcome all of our readers to join the SheFinds Group and create your own sets, letting us know how you'd wear a cozy sweater dress for fall.
News Updates: Mary J Blige Gets A Scent, JC Penney Brings In Charlotte Ronson, And More…
1. Mary J. Blige will premiere a new fragrance in collaboration with Carol's Daughter. The name and launch date is yet to be revealed. Check out our reviews of Carol's Daughter's great products. [WWD]2. JC Penney will debut a line by Charlotte Ronson that falls within the $20 to $65 range. That's a steal compared to what her collection frocks usually sell for. [NYMag] 3. Some are raising concern over 'manorexia' in the fashion world, especially in London, where they recently deemed health certificates unnecessary for models. [GuardianUK] 4. Pick up Ojon's Pink Ribbon Revitalizing Mist and 20% of sales will go to The Breast Cancer Research Foundation. [Nordstrom]
Latest Blog Posts From MomFinds
Celebrity Find: Matilda Ledger Scoots with Mini Micro Scooter Michelle Williams' daughter, Matilda, has been cruising the streets of NYC with her pink Mini Micro Scooter. Made for ages three to five, with three wheels total, it does for the scooter what tricycles did for bikes: makes them a whole lot easier to ride.Get into the Halloween Spirit with BabyCenter Store's Halloween SaleTake one look around my neighborhood, and you'll know that Halloween is creeping up on us. Get into the holiday spirit and replace your tot's old PJs by picking up some festive Carter's marked down 50 percent at BabyCenter Store. Win it Wednesday: Win a Halloween Costume from Aeromax Toys Halloween is just around the corner. If you're still searching for a cute Halloween costume for your child, fear not. This week one lucky reader will win a Get Real Gear Halloween Costume from Aeromax Toys.
Rain Boots That Don't Look Like Rain Boots
It's that time of year… the air is chilly, the leaves are turning and while snow is (hopefully!) still a few months away, the rain will arrive very soon. And if you're like me, crossing the street on a drizzly day poses a major hazard to my cute fall shooties. For better or worse, funky rain boots have reappeared this season: metallics, stripes, and bright colors galore. But for those of us who don't want to look like we stole our kid sister's galoshes as we ran out the the door, there are plenty of waterproof pairs that are disguised as stylish go-to boots. Here are a few of my favorites: London Fog Wales ($130) have a sleek, sliver wedge heel, a snuggly microfur lining, and completely waterproof construction, which means you don't have to sacrifice fashion for function. This pair of Sperry Top Sider Low Boots ($65) hits on the sock bootie trend we told you about earlier this week. Also totally waterproof and lined with fleece, they're much cuter than other casual rain boot alternatives. And the low anke boot style means they can be worn with most anything. And my favorite, the Avery by Aquatalia by Marvin K ($425). Stylish and funky, they'd look perfect with tight jeans as I dash through the puddles. Gotta love the faux fur and side toggles that make these some grown-up rain boots! Which ones would you get? Tell us in the comment section below… because I think you already know which ones I'll be ordering!
Fashion News: Where's the Vince?
It just got easier to find your Vince fix. The line of "luxe staples" has just launched an e-commerce site, where its men's and women's collections are available. But just in case you like to touch your cashmere before you buy it, Vince will be opening a store in New York this winter, adding to the two stores it recently launched in Los Angeles. Of course, Bergdorf's and Barney's will still be carrying the line as well. I'm in love with the grey colorblock shift dress ($320). It would be the perfect corporate casual outfit for those days when I want to push the dress code just a little bit and still be comfy. And don't forget the admiral coat ($345) paired with ski pants ($235). It puts me in the mood for a stylish winter get away!
Sponsored Post: Score Stellar Designer Deals At Lucky Shops – The Ultimate Shopping Event
Up to 70% off our favorite brands: Foley + Corinna, JBrand, JillStuart, Kate Spade, Rebecca Taylor, See by Chloe, Tracy Reese, Vera WangLavender, and many more! Enjoy cocktails, giveaways, and more. November 7 & 8Metropolitan Pavilion125 West 18th Street, between 6th and 7th Avenues, NYC Tickets on Sale Now!LuckyShops.com
Deal Of The Day: Flats For $10 At Old Navy
These flats are incredibly inexpensive but not cheap-looking, and they're each available in a rainbow of colors. I just bought these bauble ballet flats ($10, were $24.50) in blue; they're so comfy and perfect with jeans that I'm thinking about a pair in this plum color as well. With a block of contrasting color on the toe, these croc-print flats ($10, were $24.50) are a bit more interesting than classic ballet flats. These suede moccasins ($16.50, were $24.50) are the perfect relaxed-preppy pair – definitely still a bargain at $16.50. More sales and deals on the web:As seen in the SheFinds forum: 20% off all fall bags at Tucker Paisley for SheFinds readers. Use code Fall08. 30% off select women's shoes at Steve Madden. Up to 50% off women's active wear at Activa Sports's sale.
Nice Work, Payless – Your Fall Shoes Are Quite Stylish
I always feel compelled to hop into Payless every now and again. Despite some unwearable styles--either due to style or fit--there are plenty of gems to be had, and at the amazingly low prices we have come to love. Here are some of the best of their fall lines that actually fit great and look fabulous.Lela Rose Sanborn Bow Flat ($34): These are just adorable in person; very chic and stylish with a nice quality satin finish. The grey is my favorite, but black is also available. Koko Gilley Pump ($20): Purple suede? Oh yeah! These are four inches tall and pack a whole lot of character. For the price, what's not to love about these? American Eagle Latte Mary Jane ($25): These are surprisingly comfortable and very secure feeling. The chunky heel is so in, and the casual olive green and brown combo makes these look more expensive than they are.
Rachel Zoe Comes Undone, Eye Makeup Remains Intact
It's Wednesday and you know what that means: another review of Bravo's new reality show, The Rachel Zoe Project. This week, we see what stress awards season can place on a top stylist and her crew as Rachel "comes undone" trying to style multiple events. Throw in the loss of a relative and an attempt to plan a cozy anniversary party for her husband and a couple hundred of her closest friends and we get to see a full-on meltdown.Here's what I still don't understand: you see her cry in this episode. A little bough of hope springs forth when she starts to remove her makeup, but she removes everything BUT her eye makeup. Who does that? At this point, I assume there is something under all that liner and mascara that she REALLY doesn't want us to see. I give up. I think watching this show is starting to wear off on me, because I think I want to try a fur vest for fall (faux for me), especially this Gryphon The Pretender Vest ($830). It looks like real fur but I can rock it without enduring judgmental looks from my cat. For a little more Zoe magic, I'll throw on these Accessories and Beyond Sparkle Elastic Bracelets ($88), and this Juicy Couture The Beau Watch ($250).Stay tuned for next week, when we get a behind the scenes look at the Oscars and her assistants flip out yet again.
News Updates: Lifetime's Project Runway For Makeup, The Met Opens Its eDoors, And More…
1. Lifetime's new reality competition series features makeup artists competing for a cash prize and contract with Max Factor. Las Vegas' Vanessa Marcil hosts the show, called Blush, which premieres in November. We wonder if this season's dark lips will be a prominent trend on the show. [TheFashionBomb]2. The Met's Costume Institute has put their entire inventory online for lovers of vintage fashion to peruse whenever they wish. We bet Rachel Zoe will just die when she hears the news. [Shophound]3. There's still time to vote for SheFinds on Divine Caroline and help us win this year's Love This Site! Award for Style. [DivineCaroline] 4. Throughout October, purchase Surgeon's Skin Secret Beeswax Moisturizer Stick, and $1 from every product will go to breastcancer.org. [jamarklabs.com]
Sock Bootie: Strangely Beautiful Or Just Plain Strange?
Thre are times when trends pop up and I just can't decide which side of the fence I stand on. Case in point: the Stella McCartney Sock Boot... et al. This is just one of several that I've seen popping up in stores.There are two versions of the Stella sock boot shown below. They're half bootie/shootie, half grungy ankle warmer. On the left, the Leatherette Ankle Boots ($895), and on the right, the Sock Ankle Bootie ($1195). While I love the bootie portion of the shoes, the sock is somewhat off-putting because I'm not sure what to do with it. At the same time, I think it might look cute if the sock were rolled down over the ankle and you wore them with a pair of fun tights and a sexy dress. What do you think? Would you wear these hybrids? Would you buy your own leg warmers and inexpensive booties to copy the look? Or is this just Stella gone a little kooky for fall? Voice your opinions in the comments section!
Guy Friday: Philosophy's Haunted House Is The Perfect Halloween Gift (If You Need A Halloween Gift)
What: Philosophy's Haunted House Set , $30Why: Halloween is almost here – and this is the perfect fun gift for your man to help spice up the festivities. Philosophy has come up with 3 wonderful flavors – Caramel Apple, Spicy Pumpkin Muffin, and Black Licorice – each wrapped into a high foaming shampoo, shower gel, and most important – bubble bath. Now this sounds like fun now matter how you slice it. Slice it – Halloween - get it? I strongly encourage sharing this product and even carrying the fun over through Thanksgiving. You can buy each gooey bottle individually, although the Haunted House pack gets you all three. Bonus: Each bottle has real holiday cooking/baking instructions on the front. Get Yours: amazon.com
Only 1 Day Left To Win A $500 Shopping Spree From Smashing Darling
Time is running out to enter our Smashing Darling giveaway, where one lucky reader will get $500 to spend on anything at all from the expansive indie fashion site. They stock clothes, jewelry, bags, shoes and more for you, plus oodles of other collections for men and children – though with all of these fabulous options, we're not sure we'd want to share. To enter, just go to SmashingDarling.com, then come back to our original Freebie Friday post and tell us what items you'd most want to buy. But make sure you do it by 11:59 AM tomorrow, because after that we'll be moving on to another fabulous sweepstakes.
News Updates: Sofia And LV Together Again, Levi's Recruits Troll To Sell Their Jeans, And More…
1. Sofia Coppola will be designing a line of handbags and shoes for Louis Vuitton which will launch in Japan first before going global. Sofia and dad Francis Ford were last seen in ads for LV's Core Values campaign. [Shophound]2. A new Levi's 501 e-card campaign is downright scary, featuring an orange-haired troll that jumps out of a pair of 501s. The creepiness of the campaign is causing many to wonder if it's an online hoax. Regardless, you can pick up a pair of classic Levis without the frightening little creature on their website. [Stylelist]3. Kate Winslet is rumored to be starring in a movie about the life of fashion designer Vivienne Westwood. We hope Kate won't turn her sleek 'do neon orange for the part. [MarieClaireUK] 4. Purchase Sabon NYC's Pink Bath Basket ($90) this October and 30% of the proceeds will go to The Breast Cancer Research Foundation. Plus, you get free shipping! [SabonNYC]
October. Love, SheFinds.
We hope you had a lovely September, and are gearing up for full-fledged fall – we know we are. (Booties! Jackets! I can finally stop using my A/C!) Take note of the goings-on below to see what's going on in our world this October – and so you don't forget to catch the Project Runway finale (October 15).Love, SheFindsOctober 1Starting today, you can pre-order designs from Project Runway alum Rami Kashou's latest collection. The clothes are for sale exclusively at Maneater Threads.October 5Clinique launches its latest version of Superfit Makeup foundation today, with a new formula to increase air circulation to the skin and step up its oil-absorbing power. October 6Stop by Urban Apothecary and check out their new Mineral Photo Touch Foundation today – it controls oil and minimizes the appearance of pores.October 13SPA Week starts today in spas across the East Coast, Midwest and Canada: get full-service spa treatments for just $50. Sign up at spaweek.org to find participating spas.October 15Project Runway finale! Since JLo cancelled last minute during fashion week, Tim Gunn will guest judge. October 16A new site where you can score inexpensive bags – we're talking $30 to $80 – just launched yesterday. Check it out at handbagplanet.com .October 20Saks has a whole bunch of new Chantecaille available today, including wet/dry Lasting Eye Shadow, Contour Fill smoothing lip pencil, and iridescent Luminous Eye Liner. October 21Shop Rapunzels just got in the super versatile Fole + Corinna City Clutch in fall's must-have color: eggplant.October 30Activewear retailer Doce Vida launches its tennis collection today – a perfect excuse to get moving before the holidays.October 31It's Halloween. How many Sarah Palins have you spotted?
Deal Of The Day: Up To 44% Off Sophisticated Mary Janes At Piperlime
With high heels and neutral colors, this classic style grows up into an office-appropriate alternative to the pump.Nine West's Ladron shoes ($60, were $89) are a sleek (not to mention elasticized and pinch-free) version of the classic strap-and-buckle style. We featured these Via Spiga Mary Janes ($120, were $215) in our Shoes You Need For Fall guide because they're simultaneously cute and refined. These DRU New York Amelie Mary Janes ($90, were $140) have a heel that's substantial enough to walk around in all day. More sales and deals to check out:Save up to 70% at Bluefly's semi-annual Bluesale. Take an extra 20% off orders at Swimsuitsforall with coupon code SAVE20. Save 20% on ICE.com's best-selling jewelry.
News Updates: Another Hills Designer At Kitson, Project Runway Saga Continues, And More…
1. The Hills' own Whitney Port has launched a clothing line now available on Kitson's website. Let's hope Whitney can hold ground at the LA retailer longer than Lauren Conrad did. [NYMag]2. The Project Runway drama continues as the Weinsten Co. filed an appeal against the court's decision to stop the show from wandering over to Lifetime next season. [WWD] 3. Sole-less shoes appeared on the runway recently at London Fashion Week. And the Brits thought stilettos were uncomfortable. [Stylelist]4. October is National Breast Cancer Awareness Month, so shop for a good cause. This elegant AK Anne Klein bracelet promotes awareness with a stylish pink heart charm. [Dillard's]
Eco-Chic: Deity Of Hair Plant Is Seriously A Conditioner From The Gods
What: Deity of Hair Plant Conditioner For Hair Loss, $10 Why: The gods simply must be crazy, because we've all been spending $30 on fancy conditioner... when all you may ever need is a $10 bottle made in Nepal. Deity of Hair's Plant Conditioner For Hair Loss is a 100% naturally packed punch of detox for your hair and scalp, softener for your strands, and an added dose of shine. It's gentle enough to use on a child and its cleansing properties cut right through grease, leaving your tresses supple and shimmering. And, of course, as its name denotes, it's made especially for those of us who are losing our locks. Get Yours: amazon.com
Week of Personal Style: Corporate Chic
I was in a state of serious denial when I realized my style was corporate-ish American classic - ask anyone who knew me at 13 and I would have rather died my hair black and worn satanic crosses under my uniform at my all-girls Catholic school than have someone tell me I'd be dressing office-appropriately. But after taking a look at recent shopping spree receipts and glancing at the pile of clothes growing on my ironing board, I realized something -- I've gone office chic -- and I'm ok with that. My name is Christine and I work in corporate America. Whew! Glad to get that off my chest.So how do I manage to play up the fact that I have style under strict dress code? I wear a simple black sheath dress with a wide funky croc belt, opaque black tights, and super high oxford peep-toe pumps. Technically I'm dressed just the same as the CEO's secretary only my tights aren't sheer, my belt is 3 inches wider, and my shoes are 3 inches taller. It's like new-age office chic. Take my word for it - get this black knee-length sheath dress ($89). It's the most well-fitting plain black work dress I've bought in years. And buy small if you run between sizes. The belt is detachable and has become my new favorite to wear over grandpa cardigans. No girl can live without a pair of ultra-opaque wool Wolford tights ($52). Kill two fashion trends with one stone (oxfords and peep-toe) and grab these chic 5" oxford peep toe pumps in patent leather ($190). Now, a lesson in looking chic in a cardigan ($70): bright colors are key, and this season, it's purple. Grab a huge oversized beaded necklace in matching hue ($50) and a pair of wide-legged super long houndstooth pants with cute button details ($265).
Taste Test: Which Striped Sweater Will Deplete Your Savings?
Both of these sunny striped sweaters are versatile enough to wear with all the current denim trends – roughed-up boyfriend jeans will look just as lovely paired with these tops as a sharp, dark skinny pair. But which one can you afford even on a tight budget? Click on the images to see what they really cost. Test your fashion IQ with our other Taste Tests.
Designs For Count Me In: Clothes On The Line
What: Bordado Gray Purse Why: This handcrafted bag is made within the indiginous native villages in Central America. Material is 100% all natural wool. Wool is still in the raw state. Fully lined with 100%cotton. Button closure on top. Three embroidered flowers run along the front side. The 45" shoulder strap may be adjustable for your preference. Inner zipper pouch for personals. Due to natural wool material, color may vary. Bag size measures 11"x14". Products purchased help contribute to the community that hand weave the fabric for these bags.About the Designer: Julie Acevedo, founder of Clothes on the Line, had traveled to small towns in Central America and could not help but notice the native women still weaving cotton and wool by hand. The tradition still exists today and great products are produced by hand, pesticide and chemical free.Proceeds to be Donated: 15%Get Yours: $54.99 @ clothesontheline.com Count Me In promotes the growth of women owned businesses and is the leading national not for profit provider of online business loans, resources, and community for women entrepreneurs. Beginning in September and continuing through Jan 1st, SheFinds will feature original accessories by independent designers. A portion of each sale will go to Count Me In. With each purchase, you are contributing to the development of women in business.
Gossip Girl On The Catwalk: The Bubble's Back
This week's Gossip Girl was an extra special treat for us fashion followers -- a fashion show at Bryant Park, our favorite bad girl turned good girl and back to bad again Serena on the catwalk, and cameos from fashion designer Michael Kors and fashionista/socialite Tinsley Mortimer. NYC hasn't seen anything this exciting since the real Fashion Week. But before I continue to ramble on and give you a full recap (which you don't need because you know you watched it) -- how fabulous was the dress Serena wore as 'Eleanor's' finale piece on the runway?We're left to wonder -- can GG bring the bubble back? Did it ever go away? Apparently not. Want Serena's style (a little less runway-ish) for your next cocktail party? You've got it... The olive green strapless taffeta bubble hem dress is on sale for $147 by Laundry by Design. The middle black Marc by Marc Jacobs dress is a slightly voluminous skirt detailed with a half bow extending from one side and finished with a softly bubbled hem for $238. The graphic burnout organza strapless dress with sashed empire waist and a flared A-line shape is $218.Want the whole look? Get a pair of pointy toe gold pumps like Serena wears on the runway:
Week Of Personal Style: I Guess I'll Go With Vintage Modern?
Defining my own style is no walk in the park for me. But since the SheFinds staff is reflecting upon our personal styles this week, I figured what better time than to face it head on and figure out what the heck I look like everyday. Various friends and colleagues have defined me as everything from classic to eclectic - which doesn't help much. So, after scouring my closet, I came up with Vintage Modern. An oxymoron? For sure. But definitely me. For the office, I like to pair billowy separates like this vintage-style Secretary Blouse ($110) and Crawford Wide-Leg Pant ($285) with chunky modern accessories. This Marni Bracelet ($320) adds some color to the black and white. My LBD comes out for evening, and always looks great with a one-of-a-kind statement piece. A vintage bib necklace (there are plenty on eBay) looks stunning against this sleek DVF Jacinta Dress ($345). And my shoe of choice come fall is most definitely the bootie. These Bonnie Booties ($130) go with pretty much anything.
Designs For Count Me In: TheBrassHussy
What: Vintage Style Brass Earrings Why: These earrings each have a lime green fresh water cultured pearl, bright blue czech glass beads, brass filigree flower bud, and stamped brass tag that says 'believe'. The leverback earwires are 100% brass and not plated. The total length of the earring is just under 2 inches. About the Designer: My inspiration for creating jewelry is often from the gemstones themselves. Their beauty inspires me to create around their shapes and colors so that I accentuate their beauty. - Debbie Brown, founderProceeds to be Donated: 50%Get Yours: $25 @ etsy.com Count Me In promotes the growth of women owned businesses and is the leading national not for profit provider of online business loans, resources, and community for women entrepreneurs. Beginning in September and continuing through Jan 1st, SheFinds will feature original accessories by independent designers. A portion of each sale will go to Count Me In. With each purchase, you are contributing to the development of women in business.
Whose Work Week Style Would Fit In At Your Office?
Dressing for work these days is hardly a cookie cutter endeavor – it's a good thing our writers are spread out among all sorts of office environments to help navigate wildly different dress codes. Below are some of their professional picks.At the offices that house some major fashion magazines, SheFindsChristine chooses pencil skirts and blouses to look fashionably professional . When I'm working from home, comfort is key, but so is actually getting dressed. An empire waist dress usually does the trick. In corporate America, SheFindsKristin sticks with reliable investment pieces like this Theory blazer. To hit the books without looking like she's underage, SheFindsTara goes to grad school wearing jeans with a sharp blazer and grown-up accessories.
Week Of Personal Style: New England + NYC = Urban Preppy
I honed my becoming-an-adult style in a place where half the men wear pastel popped-collar polos, and the other half wear two pastel popped-collar polos to parody the first half. The preppy influence was hard to avoid.These days, my style retains significant nods to country-club chic, with a dose of "no really, I'm laughing at me too." (See headband below.) And now there's more black than back in college.Last Saturday night's outfit was a particularly urban-preppy case-in-point. I started with a Theory dress ($375) – fitted bodices with fuller skirts are a favorite – and added a somewhat ridiculous headband; faux jewels or big fabric flowers like the ones on this headband from J. Crew ($20) should achieve the joking-but-not-joking look nicely. With such a loud accessory at eye level, I'd just add a silver bracelet watch ($395) and keep other jewelry quiet. Dusty pink shoes ($67) that aren't too sweet complete the ensemble. My most valued accessory to wear with this look? An attitude that says "Yes, I enjoy stomping on peanut shells in my fabulous shoes and no, I'm not too dressed up for this dive bar."
Blog Round-Up: Heard On The Web This Week
A cashmere sweater for under $100 grabs Girlawhirl's attention. SeenON! shows you the lovely jewelry styles seen on Lipstick Jungle SheFinds gets excited to take home some Sex and the City. Which trends from the movie stuck around in our closets? Smarter Fashion shows us how to get a Marc Jacobs Fall 2008 look for less! The StyleBakery editors share their top 10 must-buys for fall. The Beauty Brains cut through the cosmetic crap and tell you the truth about how oil free moisturizers work. With both the eco-craze and a new season to back this up, Top Button adores Ashley Watson's recycled leather Plover bag.
Week In Review: Back Into The Lipstick Jungle And The Bag Oprah Wants
Must-Reads:• Get the look of the Lipstick Jungle premier: purple dresses and lots of pearls.• See the Stella McCartney for LeSportsac bag that turned Oprah into a swag-hungry fan. • See what to wear with one of the season's classy trends: the lace dress.Steals and Deals: • 50% off tanks at Tobi • 30% off sweater dresses at Banana Republic • 55% off white shirts at Martin + Osa Taste Tests:• Which herringbone blazer is the better buy? • Which peacoat's price tag will leave you less gloomy? Thanks, Advertisers:• We want to say thanks to this week's advertisers, Lux Green Living, Fragrance Net, and Ideeli. To find out how to advertise on SheFinds, click here .