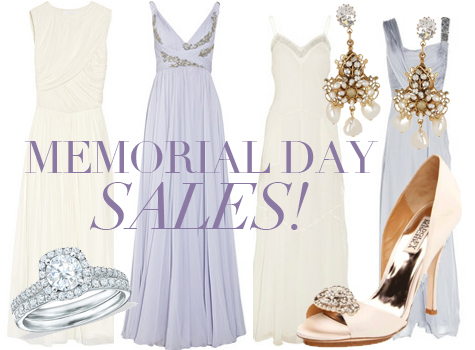 50 Memorial Day Sales Brides Can Shop NOW!
Brides, if you're going to stick to that carefully itemized wedding budget, you really have to squeeze the most out of big sale weekends. If you're on the hunt for your dream dress, your ideal wedding pumps, or the perfect wedding programs - then prepare for some serious savings. We've rounded up the best Memorial Day sales for brides right here. Rather than hit the malls, just grab a comfy chair and get clickin'. (more…)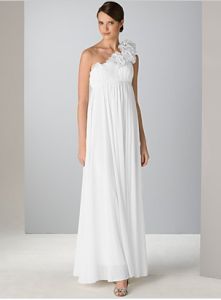 30-65% Off Of Wedding Dresses At Bloomies: Nicole Miller, Tadashi Shoji, More
Every city girl knows that a sale at Bloomies is something to cherish...fortunately, thanks to the power of the interwebs, you can still get in on the hot clearance action, even if you're trapped in the deep dark depths of suburbia, or stranded on a farm somewhere. There's a gorgeous selection of wedding gowns that city girls and country girls alike can save BIG on right now during Bloomingdale's Winter Sale & Clearance. (more…)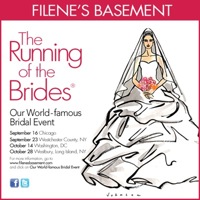 JUST IN: Filene's Basement 2011 'Running Of The Brides' Dates & Cities
Filene's Basement just released their Fall 2011 "Running of the Brides" dates and cities. If you've been living under a rock, this is the most infamous wedding dress sale on the planet. If you're up for it (brides can get vicious), the sale features designer gowns on sale for literally pennies on the dollar. Just don't forget to bring your game face. (more…)

Vera Wang For $300? We Think Not. How To Avoid Getting Scammed By A Fake Dress Site
A retail store that sells counterfeit wedding dresses might be deemed reprehensible enough to get called out in a Hall of Shame video, but online retailers? It's a little tricky; with so many sites out there, it's really up to consumers to know the signs of a fishy deal. Here are some tips to go by if you're shopping for your dress online: 1. If it sounds too good to be true, it probably is. Sites marketing gowns that the designer sells for upwards of $1000 for way, way lower are probably leaving out an important detail: the dress is either a replica or simply "inspired by" the original. This can mean different material, workmanship, and fit -- not by any means the same dress. 2. If the site tells you you're buying "direct from the factory," think twice. No retailer selling legit designer wedding gowns would offer them wholesale online, especially if the price is way below market value. 3. Avoid sites based out of China -- these are a hotbed for faux designer dresses. (more…)
eDressMe Has Liz Fields Gowns On Sale — Act Fast
Bride and bridesmaid collections from dress designer Liz Fields have been popping up in bridal stores across the country. Both graceful and feminine, her gowns are an effortless choice for many -- especially when they're as affordable as they are right now at edressme.com's Lo-Ve-La by Liz Fields wedding dress sale. (more…)
Bookmark Our Weddings Sample Sale Calendar For Daily Deals On Gowns, Honeymoons, More
Introducing the BRIDEfinds Weddings Sample Sale Calendar (bookmark it now!): a one-stop-shop for amazing deals on honeymoons, designer gowns, fine jewelry and more. Impress your husband-t0-be by saving on the big ticket items that are blowing your wedding budget. With destinations such as the Bahamas, British Virgin Islands, and Europe, and designers like Vera Wang, Oscar de la Renta, and more, the options are endless. You can thank us later. Check today's best sales >> Want more inexpensive finds? Shop our guides to the best inexpensive wedding shoes, wedding costume jewelry and black bridesmaid dresses.
Oh, Happy Day: Absurdly Low-Priced Wedding Gowns Are On Sale At Bridal Boulevard
With its classically feminine fit, the A-line gown is one of the most popular choices for brides. Bridalblvd.com's current sale has dozens of A-line options, with dresses starting as low as $74.99 right now. Take a peek at some of our favorites, then hit the sale and find yours! (more…)
Planning A Big Indian Wedding? Shop Lenghas, Jewelry & More On Sale At Exclusively.in
Indian brides, rejoice! If you already love members-only shopping sites like Gilt Groupe and Rue La La, you'll adore Exclusively.in, a new sample sale site with everything from bridal lenghas to traditional Indian jewelry, scarves, hats, and more. Register for free now and enjoy sales on Jamini Ahluwalia jewelry, Zoya, D.M. Shrimali, Sonia Malhotra jewelry, Payal Luthra scarves, Sangeet bags and jewelry, Twisha Alisha bags and Divya wines. We're especially loving the gorgeous Garden Party sale: A selection of saris in fresh, spring colors, all incredibly chic, and the oh-so-charming Ganesh charm bracelets by Gem Palace. But you have to be in it to win it, so register now. Brides of all kinds can benefit from our shopping guides: check out ideas on everything from bridal hair accessories to designer wedding shoes.
7 Flirty Reception Dresses To (Actually) Eat, Drink, And Be Merry In
There's a gown you can take beautiful pictures in, and there's a gown you can actually dance, eat and move in. And these gowns were not created equal. So kick off your heels, un-tie yourself from the corseted princess gown, and slip in to one of these sexy, wearable reception dresses: Looking for more wedding dress ideas? Visit our guides for the best outdoor wedding dresses, inexpensive wedding dresses, and short wedding dresses.
Sample Sale Scoop: Nicole Miller Gowns, Honeymoons To Bali, More
ideeli: Ready, Set, Wed!: Big Day Dresses, Sweet Nothings Lingerie, Wedding Gifts, Badgley Mischka, Belargo, Jessica McClintock Modnique: Engagement Rings, Crystal Jewelry, JaQu De Lili, Silver & Pearl Jewelry, Boma Honeymoon Alert: Hautelook: Ace Hotel & Swim Club in Palm Springs, Martinhal Beach Resort & Hotel Portugal, Le St. Martin Hotel Montreal, El Cid Marina Beach Hotel Mazatlan, Villa Luxe Puerto Vallarta Mismaloya, Villa Luxe Punta Mita Porta Fortuna Gilt's Jetsetter: Santa Barbara Beach Club, Cheeca Lodge in the Florida Keys, Alta's Rustler Lodge in Utah, Moon Dance in Jamaica, Aqua Nicaragua, Paris' Hotel Lutetia, Vienna's Hotel Das Triest, Six Senses Jordan, The Bale in Bali, The Omphoy in Palm Beach For even more sales, check out the SHEFinds calendar of online sample sales. Shop our guides to the best strapless wedding dresses and the best inexpensive wedding dresses. Sign up for the BRIDEFinds newsletter.
Act Fast: All The 60%-Off J.Crew Wedding Dresses Are Selling Out
J.Crew has become an established brand in the bridal market for clean and elegant dresses at manageable prices. Now, J.Crew's exclusive online bridal sale, which runs through Thursday, marks down select dresses from the collection by as much as 60% off. If simple and chic is what you're after, don't wait another minute to grab one of these great finds: Let your inner Grecian goddess shine in this Silk Chiffon Whitney Gown ($200, down from $425), the perfect choice for a laid-back bride. For a little more pop, the floor-grazing Organza Banded Gown ($1,100, down from $2,800) has subtle boxed pleats on the skirt and an attachable floral adornment. You really need to zoom in close on the Metallic Rose Madison Gown ($400, down from $1,000) to see the beautiful and intricate detail of its woven fabric (and bonus side-pockets!). For more obvious embellishment, the Silk Dupioni Rosette Gown in warm blush ($800, down from $2000) has delicate appliquéd rosettes and a stylish, structured fit. Still undecided? Get tips on a variety of wedding dress styles, including strapless wedding dresses, short wedding dresses, and even more simple wedding dresses in our guides.
Happy MLK Day: Up To 50% Off Wedding Bands, Invitations, Shoes, More
Whether you have the day off or not, today is a holiday - so you should treat yourself to some MLK day online sales. Everything from wedding dresses, cheap invitations, shoes, wedding bands and more is majorly marked down today. Some of the highlights to get you started: J.Crew: If you need a gorgeous gown, it doesn't get much better than an under-$300 J.Crew sale one. This Silk chiffon Sophia long dress ($298, down from $425) is the answer to your prayers. Carolee Jewelry: Wedding jewelry is always insanely marked up, so it makes us VERY happy to see such well priced baubles today, like this Perfect Petals Crystal and Pearl Necklace ($38.50, down from $55). Waterford: If you're looking for a classy groomsmen gift - or just need to complete your registry - this set of Marquis by Waterford Studio Double Old Fashioned ($49, down from $69) are a great deal. Zappos: If you need sexy pumps for your wedding dress, these rsvp 'Olive' pumps ($57, down from $95) have a hot, high heel and lengthen any leg. William Arthur Stationery: Who doesn't need a little Vera on their wedding day? Don't spend a fortune, though - these Vera Wang Oyster White Invitation Cards (10 for $13.49, down from $27) are half off today. Nordstrom: Another gorgeous sale gown, this Adrianna Papell Rosette Ball Gown ($139.90, down from $238) has a flattering bodice, straps that stay in place, and intricate rose detail in the skirt. Jewelry Vortex: If your man needs a wedding band, get his for 50% off today. This Tungsten Grooved 8mm Band ($139.95, down from $280) is the perfect wedding band find. The Knot Wedding Shop: Who says monogram favors and decor have to be a rip off? Get them on-sale today - like these Personalized Napkins (10 for $32.99, down from $39.99). Looking for more great deals? Check out our guides to the best cheap wedding invitations, cheap bridesmaid dresses, inexpensive wedding shoes, inexpensive wedding dresses.
No More Pushy Salespeople: Designer Gown Site The Aisle New York To Open Jan. 3rd
Busy brides everywhere are about to let out a collective sigh of relief. On January 3rd, the click-to-buy designer gown void will be filled:  The Aisle New York, a membership bridal site, will carry all the bridal names you love - Oscar de la Renta, Monique Lhuillier, Amsale, Marchesa, and many more - as well headpieces and other accessories. Not only will the site feature amazing deals (up to half off), but proceeds of some sales will go to charity. So, no more bitchy saleswoman, florescent lights or awkward mother-daughter moments. Pre-register now. Looking for more great deals on cheap gowns and accessories? Check our guides to the best inexpensive wedding dresses, inexpensive wedding shoes and cheap bridesmaid dresses. For non-wedding sales, check SHEfinds' online sample sale calendar. Follow the author of this post on Twitter @bridefinds.
Trend Spotting: Safari Inspired Canvas Totes For Spring
Technically--and despite what Punxsutawney Phil predicts--we're probably in for another good six weeks of winter. But that doesn't stop a girl from jonesing for some lighter, more airy spring pieces like canvas totes. Plus, these are just in time for all of you lucky ladies planning to pull out your resort wear for a spring vacation. Fossil tends to gravitate towards earthy inspired leather goods, which is why this Vanessa Fabric Tote ($118) fits right in with the rest of these pieces. It's neutral, but with a pop of color, while still offering all of the functionality you need in a core spring bag. Simple, yet stylish, this surprisingly cool Spiegel Bead-Trimmed Metallic Canvas Bag ($39) screams boho chic at a totally affordable price. Penny pinchers will also love this Relic Bree Giraffe Canvas Shopper ($33); the fun print offers a nice alternative to spring neutrals, while the brass hardware and canvas handle give it an authentic safari feel. From Kooba, you can take this Elena Animal-Print Canvas Tote ($245) from spring all the way through to fall, year after year. It's hyper stylish and goes with just about every casual ensemble. Fulfill your handbag cravings with our guides to inexpensive handbags, eco-friendly finds, and the best in spring bag shopping. Also, check out what you need to wear this season with our spring trends.
Round-Up: Heard On The Web This Week
SheFinds can't wait to don a new denim jacket this fall. The Real Simple's Simply Stated wants to know, how big is your bag? 55 Secret Street is having a hissy fit and it's a good thing. StilettoJungle found a fall-perfect moto jacket at a steal price. Allie is Wired has Holly Madison's plastic surgery before-and-after pics. Bagsnob thinks the Marni Alpaca Tote is a furry mess. BeautySnob says to grow lashes and fight autism with MD Lash Factor. Fashion Pulse Daily found great denim picks for fall, under $50. I'm Not Obsessed shows you how to get three different Sienna Miller looks. SecondCityStyle show you how to apply flirty faux lashes. Shopping and Info bought a great watch with pyramid studs for fall. Stylehive is craving rich hot chocolate and mocha-hued makeup for fall...Starbucks run, anyone? TheBeautyStop test drives the dark green nail polish trend with OPI. The Jet Set Girls check out Maria Sharapova's collection for Cole Haan and Tiffany's collaboration. The ShoeGoddess loves Report Signature's interpretation of the zipper trend. Eye4Style reviews Coco Before Chanel and recreates one of the iconic looks in the film.
SheFinds Lip Gloss Solution: The Unsticky, The Invigorating and the Gotta-Have Color
The hunt for the perfect lip gloss is a little like the hunt for the perfect jeans… It's never ending and you definitely have to have a multiples so that you always have the perfect one when you need it. Lately, my obsession has been paying off. Jelly Pong Pong Lo-Lip-Pop Gloss $12Miraculously, this high-shimmer lip gloss isn't sticky. It goes on smooth and stains lips with a flirty, sheer color that shines and shines with a plastic-like sheen. Tarte Double Dose Berry Boost & Gloss $21The inner berry boost— extracts of goji and acai berries, maracuja, acerola and pomegranate fruits—promote cell regeneration, smoothing and plumping. The outer gloss is super shiny, resulting in a rich color that rejuvenates your lips. Paul & Joe Lip Gloss ₤14This shiny, shimmery pink boosts your natural lip color without feeling heavy like an opaque lipstick. It also plumps and leaves lips feeling smooth... worth the shipping or a trip to London!
Ask SheFinds: How Do I Keep Suede Boots Safe In The Winter?
A reader recently asked us a really, really good question that couldn't be more appropriate for this time of year: I just bought a pair of cute suede boots--so cute, in fact, that I never even stopped to consider that snowy streets would probably ruin the suede. How can I winterize my boots? We totally feel you on this one. For even in all our wisdom, SheFinds sometimes falls for the "too cute for practical concerns" purchase. Case in point: last month I ordered the Minnetonka Moccasins boots ($80) only to realize they wouldn't make it through a nasty New York winter without disintegrating in the salt and slush. Fortunately, there are ways to minimize--though not entirely eliminate--the possibility of damage from brutal weather. First order of business is waterproofing the boot. Try ReviveX Nubuck Suede and Fabric spray ($7). Since it's made especially for porous fabrics like leather and Gore-Tex, it won't darken or stain the fabric. Spray from about 12 inches away, wait for the boot to dry (about five or six hours), then spray again. That's a double coat, ladies--don't scrimp on this detail. To make sure your tootsies stay not only dry but warm, get some fleece insoles ($9), which will immediately make your boots feel more cozy. Have a question for SheFinds? Post it in our forum, and we'll get on the case!
Bizarre Beauty Treatments: Which One Is The Most Out There?
Inspired by the recent US arrival of fish pedicures, we rounded up the weirdest, most bizarre, and flat-out nonsensical beauty treatments to let you decide which ones you think actually work and which ones are just in it for the wow factor (or ewww factor in some cases). Several beer baths have popped up in Europe, claiming to aid in detoxification. That's a joke, right? In need of some vaginal rejuvenation but just don't know where to go? Well, lady, it's your lucky day. (And we're not talking about Cornelia.) If your last diet failed and you don't have the motivation to hit the gym, try piercing your ear to lose weight. But watch out, it's gonna hurt. No matter how good it felt, we don't think we'd ever allow snakes to be placed on our naked backs. Unless they were Gummy Snakes and it was a different kind of massage (see Cornelia above).
Soak 2008 Away In A Nice, Long Bath
With the economy going down the tubes and holiday stress looming over us like a big Grinch, a luxurious bath is a rare treat. With all the bath products out there, we've done the homework and suggest the following cost-effective products to help make your bath time work a little overtime. If you have muscle soreness from working off that Xmas meal or hauling toys to the car, this Aromafloria Ocean Mineral Muscle Soak Bath Salts ($14) will change your life. With eucalyptus, peppermint, and lemongrass to soothe the aches and your senses, watch that your guy doesn't steal it. Partying a little too hard or just have skin that is environmentally whiplashed? MD Skincare's Beauty In: Toxins Out Detox Duo ($55) is a product that will show your skin some love by exfoliating, boosting immunity, removing toxins, and relieving tension. If you just kicked on the heat in your place, this is worth every dollar. Just want to relax and soothe your soul in a mountain of bubbles? The Lush Temple of Trush Bubble Bar ($5.85) is an inexpensive way to relax your mind and body with heaps of bubbles and a light earthy smell. Plus, it's vegan. Need a better night's sleep? Boots Lavender Bath Milk ($10) has a soothing scent, moisturizes, and is tried and tested to knock you right out.
Sponsored Post: Add To Your Intimates Drawer With Fruit Of The Loom
We've all been there a few times: you need to re-stock your intimates drawer with a bunch of everyday panties without breaking the bank. Fruit of the Loom has the perfect solution in their colorful Cotton Stretch collection. They're made of 95% cotton, plus just enough stretch to keep you comfy all day. In various sizes and colors, you're bound to find one you'll want to buy in multiples.For more information on Fruit of the Loom intimates, visit fruitforher.com.
Plan A Staycation For The Holidays. You Can See The Fam Next Year
Crowded airports. Over-the-top airline ticket prices. The threat of having to listen to Christmas carols on continuous loop during an eight-hour car trip. Do the hassles of holiday travel have you breaking out in hives this holiday season? You're not alone—people the world over are batting down the hatches and staying put this winter, choosing staycations over vacations, even if it means missing out on family time. House-bound staycationers are using home videos to keep in touch with loved ones. A tiny point-and-shoot camcorder like the Flip Video Ultra ($130) allows you to shoot your live holiday greetings (or covert footage from your office party) and upload them to your computer in a snap via a USB port. A single candle can make your home smell like a cozy ski lodge at Christmas. We featured our favorites a few weeks ago, one of which is this Leaves Candle from Slatkin & Co. ($22). Since the best part of a staycation is that you don't have to put forth the effort to go anywhere, indulge in a soft cashmere robe ($230, was $398) and aloe-infused socks (3 for $15) to wear around the house - all week if you desire.
Sponsored Post: What To Wear To Bed? Fruit Of The Loom Has The Answer
Looking cute and staying comfortable when you turn in for the night can present quite the challenge. For an easy outfit that works every time, try any of the great colors and styles of A Fresh Collection Sleepwear by Fruit of the Loom. They're totally comfortable, casual, and stylish. For more information on Fruit of the Loom, visit fruitforher.com.
Vivienne Tam's Digital Clutch Is The Only Laptop We Actually Want To Lug Around
What: Vivienne Tam Digital Clutch, $700Why: When I first eyed the Vivienne Tam Digital Clutch on the runway of her Spring 2009 show, I wanted it immediately - as an evening bag. When realized it was actually a fully functioning mini laptop, it jumped to the top of my hoiliday wish list, as well as our annual Sold Out Guide. Unfortunately the clutch was only available for pre-order on the hp website. Until now, that is. Finally, you can order the poppy colored wonder at hp.com and have it in time to either surprise that special someone at Xmas or treat yourself to a well-deserved, and ridiculously chic, gift.Get Yours: hp.com
Sponsored Post: Tory Burch's Holiday Collection Might Be More Fun Than Your Holiday Parties
Inspired by the designer's childhood in Valley Forge and by Truman Capote's 1966 Black And White Ball at the Plaza, Tory Burch's Holiday '08 collection is sparkly but sophisticated. In a classic black, white and grey with pops of fuchsia, these are the sorts of classy pieces that fit right in at holiday parties. Play on the retro appeal of the Grania Dress by adding round-toe pumps, or make this embellished silk sheath look edgier with a pair of booties, like by Brylyn Bootie, a perfect peep-toe alternative to pumps for evening. If it's a glam day-to-evening bag you're after, the Green Patent Anna Satchel is a bold option in a shape that's new to the line. Wear it with a Rihannon Cardigan for a classic laid-back, pulled-together look – something like the ladies who partied at the Plaza back in the '60s.
Urban Decay Would Be The Perfect Gift For Your Uptight Mother-In-Law
Do you secretly wish you were just a smidge edgier? Check out my new favorite finds from Urban Decay for some sinfully hot new beauty products that will bring out the rock rebel in you this holiday season. Or give to someone else who needs a little loosening up. Their Limited Edition Lipstick Cap ($15) will really get tongues wagging at the holiday party. The gorgeous case looks like a Gothic tinted window and can house any of the Urban Decay Lipsticks ($22). Looking to kiss someone before the night is over? Don't worry about heading to the bathroom. This Stoned Poison Ring ($50) opens up to house any one of three universal shades contained in the bottom drawer of its ring box. Just pop one in and lacquer up before your close-up. If you or someone you love has a thing for eyeliner (who doesn't?), the 24/7 Travel Sized Sets of Five ($29) are perfect purse stashers for nights out. Long nights used to smudge your eye makeup but no more! Award-winning Eyeshadow Primer Potion ($16) goes on smoothly under eyeshadow and keeps eyes looking smooth and crease-free. Plus, the shadow stays put until you say so.Don't let the attitude fool you. Urban Decay doesn't test on animals so you can use the products without fear. Take these little gems with you this holiday season and turn up the volume on your makeup routine.And check out our Invitation Translation Guide for what to wear with your festive new makeup palette.
Freebie Friday: Win A $500 Shopping Spree At Palm Beach Jem
What: $500 to spend at PalmBeachJem.com Why: You could buy a whole little jewelry wardrobe with this prize – not to mention the selection of interesting but totally wearable pieces that are available. From big-name favorites like Alexis Bittar and Kenneth Jay Lane to lesser-known brands like Jennifer Zeuner, there's a ton of unique jewelry to choose from. We thoroughly enjoyed clicking through the collections for a full hour last night.While you could also spend it all on one standout piece, we'd rather spread the wealth and build a little collection.We'd start with an everyday necklace by Jordann Jewelry like this simple pendant in sterling silver, and a glamorous pair of earrings from Alexis Bittar – gorgeous with a turtleneck dress and a ponytail, and equally stunning with a white tank in the spring. Next, we'd add a fun cocktail ring to add the right amount of color to our black go-to party dresses. Even with three great items in our cart there'd still be enough left over to snag an 11-bangle bracelet set from Amrita Singh. And voila – a bunch of new looks for our winter wardrobe. How to enter: Read the rules, then go to PalmBeachJem.com and pick out what you'd buy with the $500 prize. Then come back to this post and tell us what you chose, and we'll enter you for a chance to win the shopping spree – and, if you don't change your mind, all that stuff.And don't forget to check out the 12 Days of Giveaways at Momfinds – today, you can enter for a chance to win a Skip Hop Studio Diaper Bag. 1. Post in the comments section about what you'd buy with $500 from PalmBeachJem.com.2. You must supply us with a valid email address and sign up for the SheFinds newsletter.3. The contest starts now and entries must be date stamped by our server no later than Friday, December 12th, 2008 at 11:59 AM Eastern Time to be eligible.4. One winner will be selected during a random drawing and will be announced in the December 16th SheFinds newsletter. The winner must reply via email as instructed in the newsletter to claim the prize.5. No prize substitutions.6. You must be 18 years old or older to enter and a resident of the USA.7. No purchase necessary.8. Void where prohibited.9. Click here for the full rules.
Today on Better.tv and SheZoom: Beauty Multitaskers That Save Time, Space, And Much-Needed Cash
On today's Better.tv and SheZoom segments, SheFinds shows you some of the best 2-, 3-, and 20-in-1 beauty products out there. Read and watch below for our finds. Since we're always big on lip balm this time of year, we found a few balms that do double duty. Kiehl's Lip Balm #1 ($8.50) is always a favorite for lips, but you can also use it on cracked hands and dry cuticles – just a tiny bit goes a long way. If you buy this version, Kiehl's will donate 100% of net profits to HIV/AIDS charities. Philosophy's Hope in a Tube ($33) helps to soothe and hydrate lips while firming and reducing the appearance of fine lines – which is why you can use it on eyes, too. And Revolution Organics All-Over Body Balm ($28) has over 22 uses; smooth it on lips, hands, feet or even stretch marks or unruly eyebrows. Even more ways to get all-over moisture: Josie Maran Argan Oil ($48) is totally organic, and can be used to moisturize everything from cuticles to split ends. Palmer's Cocoa Butter Formula ($4.40) also manages flyaways and dry skin, plus it helps treat stretch marks and scars. A retro option, Elizabeth Arden 8-Hour Cream ($17) has had the same formula since 1930. Use it anywhere you need heavy-duty softening, or mix it with powder eye shadow for a creamy formula with a pretty sheen. Multitasking makeup is ideal for travel, or to just to remedy an overstuffed makeup bag. ModelCo's Luminosity Shimmer Stick ($28) can be used as an allover highlighter on eyes, lips, cheeks and décolletage. Avon's Be Blushed stick ($8) is particularly budget-friendly, and comes in eight sheer colors appropriate for lips and cheeks. Another convertible product for eyes and lips: Youngblood Crushed Mineral Eyeshadow ($18) – the highlighters in particular – can be mixed with clear lip gloss for a shimmery lip color, or even a sheer cheek tint.
News: Jerry To Pose For Chanel, Lindsay's Leggings Are A Must-Have If You Can Afford Them, And More
1. Jerry Hall will star in the latest ad campaign for Chanel handbags. Maybe Karl Lagerfeld will stick her in those jester-like two-tone tights. [CatwalkQueen]2. Lindsay Lohan's 6126 leggings have remained a hot seller this holiday season despite their steep prices. We even suggested hers as a milder alternative to liquid leggings. [NYDailyNews]3. Abercrombie & Fitch still refuses to cut prices or offer any discounts on their clothing. This is why they will never have the honor of being featured in our Deal of the Day. [WSJ] 4. Shop designs for Count Me In and support women entrepreneurs. Purchase a clutch from LMB Designs or a necklace from Jamie Diane. Enter MomFinds 12 Days of Giveaways. Today's prize: $100 Shopping Spree at giggle.com.
Taste Test: Which Grey Turtleneck Dress Is Recession Friendly?
The exciting news broke this week that we are actually in a recession, but even after two quarters of negative GDP growth, a $35 dress still seems pretty reasonable. Add a pair of tights and a belt you already own, and you're good to go with a new daytime ensemble. So which one is the bargain? Click on the images to find out what they cost. Play more Taste Tests and find even more look-alikes for less.
Sponsored Post: Bare Necessities Knows The Waist Is Not Always A Girl's Best Friend
Many women can relate to having their problem area only in their mid-sections. A waist cincher is supposed to reduce your waist measurement by an inch or two. But the real purpose is to shape your mid-section and give you that hour-glass shape. If the waist cincher you currently own is not doing the job, try a smaller size or a firmer control garment like the Miraclesuit Inches Off Waist Cincher. Another pick is Flexees Instant Slimmer® Firm Control Long Torso Waist Nipper, which is a long torso waist nipper that provides firm control. It targets your tummy to waist and is super comfortable because it is constructed of microfiber.Get Yours: barenecessities.com
Deal Of The Day: 20% Off Holiday Frocks At Shopbop – Last Day!
Forget the little black dress this holiday season and go for something merry and bright instead. These dresses will stand out from the endless sea of dark-colored cocktail frocks. Enter SNOWDAY at checkout to get the discount. It's sexy, it's sophisticated, and the smocked diamond detail at the waist makes the Black Halo Keyhole Diamond Minidress ($260, was $325) a flattering choice for almost anyone. The color of Lauren Conrad's Nora Dress ($208, was $260) gives the Grecian goddess look a mod twist. This Milly Chain Dress ($320, was $400) is very Jackie O., and perfect for transitioning from the office to the office holiday party.More sales and deals on the web:At Pink Mascara, get 25% off full-priced items with coupon code gift25, and 20% off all sale items with code 20offsale. Save 20%-40% at Paragon Sports's sale.Save an extra 20% on cashmere at Bluefly, today only The sample sale scoop - shop these sales today for huge discounts: Rachel Pally at Hautelook Botkier and M Missoni at Gilt Groupe Kooba and La Perla at Rue La La Inge Christopher at Editors' Closet
Want Lindsay's Timeless Glamour? Just Buy Her Expensive Leggings
Apparently, word of the recession hasn't reached Lindsay Lohan and her minions, because, according to this Daily News article, her pricey leggings are selling like mad. Some of them - like the Dom Leggings ($135) and the Mr. President Leggings ($139) with quilted leather knee patches - are cute, but I still don't think I'd drop a Benjamin on them. Others seem destined for the clearance rack. At least, I hope they are. The number of people who look good in skin-tight animal-print stirrup pants surely doesn't number into the double digits.Lohan's publicist Ali Brubaker says that they are "building a lifestyle brand that represents timeless glamour." Yes, because that's what springs to mind when I think of Lindsay Lohan. Would you spend over $100 on a pair of leggings? Let us know your thoughts in the comments section below.
What To Wear To A Funeral, Courtesy Of Gossip Girl
Last night's Gossip Girl was a somber affair, with the death of Chuck's father and Chuck, to quote Rachel Zoe, coming "undone." However, we got a look at the funeral chic of the Upper East Side gang and we have to say, who wears a one-shoulder evening dress to a funeral...Serena? S did look spectacular covered up, however, dressed head to foot in Burberry, Chanel, and Sigerson Morrison. But with this economy, you have to watch your dollar and come up with a more cost-effective ensemble. This Bebe Studded Long Trench Coat ($279) is a hot alternative to the Burberry trench and a gorgeous solution for covering up a holiday dress. If it's a quilted bag you seek, this Rebecca Minkoff Stud Clutch ($210) transitions effortlessly from day to night. Just pull it out of your tote and you're ready to go. Black pumps are one of the hardest working items in any wardrobe, and this pair of BCBG Max Azria Black Patent Jewel Platform Pumps ($170) will keep you stylish and comfortable.
Heels Getting Higher As The Economy Dips? Your Feet Will Hate You Less In A Platform
Historically, heels get higher when the economy is good and lower when the economy is at a decline. Well, you only have to look at the red carpet and your own recent purchases (including a possible trip to the chiropractor) to prove that this is obviously not the case right now. As we reported earlier, when the going gets tough, the heels skyrocket.So how do you wear high heels but minimize suffering? Platforms, of course! The platform underneath the ball of the foot gives you some additional stability and prevents the pad of the foot from continuously striking the ground. Here are some options if you want to reach for the sky: Cash: These French Connection Jelena Heels ($70) are stylishly studded and have the platform already built into their office-to-evening style. ATM: A cross between gladiator and the bootie style, these Pour La Victoire Bianca Leather Cut Out Heels in Black ($288) are super hot and could be worn with tights for colder nights. Credit: Invite us along on your private jet when you step out in these Christian Louboutin Satin Platform Sandals ($519), which will bring you years of happiness along with stares of envy.
Week In Review: VS Brings The Harness Back, What's Happening In December (Besides Xmas), And More…
Must-Reads:This year's Victoria's Secret Fashion Show was chock full of leggy supermodels, giant wings, harnesses, and glimpses of buyable lingerie. December is here, and believe it or not, there's more going on in the retail world than Cyber Monday and December 25th. Guess may be all about the flashy logo, but we found some chic shoes untainted by the metallic G. Sales and Deals:Up to 40% off walkable riding boots at EndlessTanks and tees for $7 at J. Crew Up to 70% off (!) little black party dresses at SaksTaste Tests:Which is the costlier brown bag?Which toggle coat is the ultimate bargain find? Thanks, Advertisers:We'd like to send a giant thank you to this week's advertisers: Bare Necessities, Izea, Lucky Brand, Sephora, Think Her!, Deckersbrand.com, Lucy, Yumi Chen, John Varvatos, NARS, Games for Dames, VMV Hypoallergenics, Mobile Edge, Melissa Joy Manning, Urban Minx, eLuxury, Tucker Paisley, Burkedecor.com, KimMarie Designs, Manhattanite, Luxual Boutique, Hatley, Lanikai, Aria Boutique, and Avelle. Click here to find out how to advertise with SheFinds.
Bagels, Updos, And Robert Verdi. Courtesy Of TRESemmé
SheFinds recently attended a holiday expo at celebrity stylist and lifestyle guru Robert Verdi's Lifestyle Lab, a gorgeous rooftop space where he introduces us to everything that's new and noteworthy. This time, it was a brunch and hairstyle makeovers courtesy of TRESemmé who just launched their new lifestyle site StyleSeeker. Want to try something new on your hair for the holidays? Here are the hot new products you'll want to use: Before you grab that flat iron, spray on this TRESemmé Thermal Creations Heat Tamer Protective Spray ($4.75). It works on both wet and dry hair and uses the heat from styling tools to condition while protecting from the heat. Smoothing rebellious hair for a classic updo or a sleek new look requires some pomade and this Anti-Frizz Secret Smoothing Crème ($4.75). This European Tres Two Extra Hold Hair Spray Climate Control Formula ($4.35) will become your new secret weapon, protecting against winter's dodgy temperatures. (It held our style in a rainstorm.)Thanks so much for the sneak peek at all the cool TRESemmé products! We're officially hooked.Shop our Hair Tools Guide for more ways to keep your mane in check.
News: Wear Your Mimosa With Pride In 09, Madonna Dons Fishnets And Feathers For LV, And More…
1. Mimosa has been named the Color of the Year for 2009. Celebrate the win with a new sunny coat and appropriate drink in hand. [VogueUK] 2. The first few images of the Madonna for Louis Vuitton ads shot by Steven Meisel have been released. We wonder what fishnets and feathers says about Madge's mood. [WWD]3. Rachel Zoe is set to return to Bravo for a second season of her reality show. Check out our coverage of last season's crazy antics and even crazier fashion. [LATimes]4. Shop designs for Count Me In and support women entrepreneurs. Purchase soap from Lindsay's Candles & Stuff or a bracelet from Karen's Kitsch. Enter MomFinds 12 Days of Giveaways! Today's prize: Skip Hop Studio Diaper Bag
Blog Round-Up: Heard On The Web This Week
Pinching your pennies this holiday season? StyleBakery found 75 chic gift ideas under $50! SheZoom goes behind the scenes with Heidi Klum at Victoria's Secret new store opening. Smarter Fashion features some more great online coupon codes for clothing and accessories stores from CouponMountain.com. SheFinds wants to take Madonna shopping to help her out of her current sartorial slump. Girlawhirl finds the coolest sci fi gifts for the holidays. SeenON! is giving you 50 % Off all Lauren Conrad Collection at the SeenON! Boutique. At Real Simple's Simply Stated, we seek out multi-tasking beauty products that give you more bang for your buck.
How To Give Gifts To Your Co-workers (Without Losing Friends And Alienating People)
Ok, so office gift-giving is a little dicey this year: second-year banking analysts aren't getting bonuses that are five times my salary, some companies are closing (RIP Te Casan), others are downsizing and lots of people seem sad. All of which could make the already-awkward co-worker gift exchange a whole lot more awkward.Here are a couple of tips (with gift ideas, obvi) to make sure nobody's more uncomfortable than they have to be.1. Be ModestEven if you can afford to go all out, now's not the time. It could get co-workers thinking about how much more you make, or about how secure you are in your job. This holiday season is a good opportunity to be thoughtful instead of lavish – because nobody could reasonably expect lavish anyway. If a woman you work with loves the color yellow, try tying this set of three enamel bangles ($5) with a yellow ribbon, and pairing them with a simple card. 2. Go Green (Or Charitable)Eco-friendly or charitable gifts take the excessive slant off holiday gifting – there's something positive to think about other than your personal enjoyment. Envirosax makes cute, affordable bags ($8) that can hold up to 44 pounds – the perfect re-usable grocery tote, and it rolls up small enough to keep in a desk drawer. 3. Keep It G-RatedMaybe PG. But definitely don't give a personal or controversial gift to a colleague you only see at work. Use this rule of thumb: if you'd be uncomfortable discussing the gift in front of another co-worker, best to opt for something safer. Candles can be bland…but who doesn't love candles? These cinnamon stick candles ($8.49-$10.39) are holiday-appropriate, but not in a cheesy way. 4. Don't Fear The Gift CardThere's been a lot of talk about staying away from gift cards, which usually become valueless if a company folds. But if you plan to buy your card from a corporate behemoth that you know is not teetering on the edge of Chapter 11, go for it.Because coffee drinkers love Starbucks cards, readers love Barnes & Noble cards, and everyone loves Target. And those companies will still have branches after the New Year.
Deal Of The Day: Up To 40% Off Walkable Riding Boots At Endless
Riding boots are the fall/winter answer to summer's bare flat sandals; wear them on the weekend to looke more put together than you would in sneakers or UGG boots, or to a casual office when you can't stand the sight of heels.The small heel on these STEVEN by Steve Madden boots ($120, were $200) offers a bit of height, but you'll still feel like you're in a flat. Sudini's Prestige Boot ($181, were $230) is a classic take on the style, and is available in sizes 4-13. Wear these unembellished boots ($158, were $190) with jeans tucked in, a relaxed skirt, or even a light dress plus lots of layers. More sales and deals on the web:20% off all fine jewelry at Netaya with coupon code HSALE8. Up to 80% off at LuggageGuy.com's holiday sale. Get 15% off your entire order at Chadwick's with promo code CH15. The sample sale scoop – shop these sales today for huge savings: Tahari, Burning Torch, and Mre Jewelry at Hautelook Fendi Handbags and Versace Handbags at ideeli. Use invite code shefinds.com. Cynthia Vincent Shoes at Gilt Groupe Magaschoni at Rue La La
Only 1 Day Left To Win A $200 Shopping Spree At Anonymous Venice
This week we're giving away a $200 shopping spree Anonymous Venice, hip purveyor of clothes and accessories with West Coast style. You'll find relaxed tees and swingy dresses in the virtual aisles at Anonymous Venice, but you'll also find dark jeans, sharp jackets and lots of cool inexpensive jewelry. Basically, you can get your high-school-aged cousin something she'll love, and still have plenty left over to do some winter shopping just for you. So hurry up and enter – the contest ends at 11:59 AM tomorrow. Just click on over to this post to read about the contest, then go to Anonymous Venice, pick out what you'd buy with your prize, and come back to SheFinds to tell us in the comments section. Yup, it's that easy.
Deal Of The Day: Tanks And Tees For $7 At J. Crew
To get the prices listed, enter EXTRA30 at checkout – you'll get an extra 30% off sale items until midnight.The ringspun v-neck tee ($7, was $32.50) is long and light, great to wear under a casual blazer or an open vest. Also, it's 78% off. The perfect-fit tank ($7, was $18), a J. Crew classic, at a price you can afford to pay for a layering piece (or three). Currently available in four neutral colors, you'll be able to wear the perfect-fit short-sleeve crewneck ($5.62, was $19.50) year-round. More sales and deals on the web:Save an extra 20% on all cashmere today at Bluefly. Buy one get one half off all shoes at Payless through 12/21. You can still get 20% off almost everything at Singer22 – enter coupon code CYBER20 at checkout. This offer lasts until Sunday. The sample sale scoop – shop these sales today for huge savings: Stila, Spiewak Uniform Workwear and Development by Erica Davies at Hautelook Rich & Skinny and Rebecca Minkoff Handbags at Gilt Groupe James Perse and Judith Leiber at Rue La La Candace Ang Jewelry at ideeli. Use invite code shefinds.com.
The Victoria's Secret Fashion Show: Harnesses, Wings, And Lingerie Somewhere Underneath It All
So, we watched the Victoria's Secret Fashion Show broadcast last night and we have just one question: when did showing zero-fat supermodels walking the catwalk in their underwear, harnesses, and wings become quality programming? We know the show is primarily for the guys but we're the ones who have to wear this stuff. Frankly, watching models that must wax from the neck down is not exactly a sexy-time inducing activity. Our other gripe is that you couldn't really see the cute lingerie underneath all the harnesses and belts. Who wears a belt with a bra and panties? We'd like to suggest some options from VS that are plenty sexy by themselves, without the extra help of six-foot sequin bow. Put this Very Sexy Demi Push Up Bra and matching Cheeky Panty ($58 and $28) under your holiday outfit and we can almost guarantee your significant other will want to unwrap you. For the girls who have a little more to hold up and in, this Very Sexy Plunge Demi Bra with matching Garter Skirt with Thong ($45 and $28) will definitely do the trick. Just want some sleepwear? If you want demure, grab this gorgeous Pleated Swingy Slip ($58). If you are looking for cozy and comfortable, how about kicking it up just a little with this Flowy Cami and Pant Set ($49)? Comfort doesn't have to be sloppy.If you buy these for yourself or someone else you love, just remember that sexy starts in your own skin. We're pretty sure that's really Victoria's little secret. And check out our guides to the best bras , underwear , and shapewear while you still have lingerie on the brain.
MAC's Retro Glam Makeup Means You Won't Need A New LBD (Since Everyone Will Be Focused On Your Face)
I recently attended a MAC Cosmetics seminar, and I'm happy to report the retro diva look is in full swing (think Mad Men après five). Leading makeup artists instructed eager students in recreating the glamorous Hollywood look that Jayne Mansfield and others popularized - just in time for holiday festivities. Begin by arching and filling in your brows, keeping them on the thinner side. A mechanical pencil ($14.50) gives the most precision for this detailed job. After priming your lids, apply an eye color that's close to your skin tone, perhaps one shade lighter. Try Mineralize Eye Shadow in Word Of Mouth ($17.50), which you will also use to highlight under your brow bone. Shade in the crease using the copper that comes in the trio and sweep that same copper under your bottom lashes in a neat line that you softly smoke out. Boldly line your upper lashes in black – gel liners like Fluidline ($15) were made for this. Then top your lashes with a nice coat of black mascara, concentrating on the upper lashes but lightly touch the bottom lashes too. Although the lips are the last step in this process, the classic red lip color is the key to this look. A medium blue-red such as Red She Said ($14) will work for many skin tones.Get Yours: nordstrom.com
Madonna Should Take Us Shopping
In yesterday's UK Daily Mail, columnist Liz Jones wrote that by looking at a woman's clothes, you can tell a lot about her current emotional state and she claims Madonna is out of touch with her age, devastated by her divorce, and completely unaware of who she is. Jones focuses in on outfits like the Jolly Green Feathered ensemble from a recent Gucci party to an outlandish bowtie dress. Considering that she's still got the body of a 25-year-old dancer and she's taking great pains to maintain some semblance of youth, I say let Madonna bring the crazy until she just doesn't feel like it anymore - with some minor exceptions, like wearing pants with the Jolly Green Feathered tunic. I would also cut down the excess exposure of her body. Sometimes the best way to show how great your body looks is to simply wear clothes that fit well. I personally would advise something hot like this Alice + Olivia Open Seamed Lace Yoke Dress ($440) or even this Issa Print Dress with Tie ($658) to show off those legs.Madge, make you a deal: you take us on a workout and we'll take you shopping. Yes?
News: Obama Bling Ring Looks Like A No-Go, Siriano Soon To Make A Hot Mess Of Our Feet, And More
1. Rumors that President-elect Obama intends to purchase a $30,000 rhodium ring for his wife have grown increasingly suspect. We'd hope style-savvy Michelle would never okay something so garish. [Gawker]2. Christian Siriano is set to design a line of shoes and handbags for Payless. Thankfully, they won't be nearly as expensive as his Bluefly collection. [PeopleStyleWatch] 3. Designer discount retailer Century 21 is now offering mobile alerts for each of its departments. Unfortunately there's no ecommerce, so stick to our Deals of the Day for steep discounts without leaving home. [Racked] 4. Shop designs for Count Me In and support women entrepreneurs. Pick up lavender lotion from Bath-a-holic or a clutch from Faite Designs.
Freebie Friday: Win A $150 Shopping Spree At Kolobags.com
What: $150 to spend at kolobags Why: When browsing this site, you'll find stylish laptop bags – and you'll find them quickly and easily, because the ingenious Laptop Bag Finder allows you to narrow the selection by price, style, screen size and more. As a woman with a strong preference for totes and a mid-sized computer, I used the tool to help surface these two stylish bags:The Metrochic Paris Laptop Bag (left) would look totally in place next to tailored work clothes and smart black dresses, while the Samsonite Verana Leather Computer Tote is the perfect color for spring and summer. You can also browse the huge collection of laptop briefcases, laptop backpacks, and adorable luggage – plus many more computer-carrying options. We were drawn to the cheery printed overnight bags, like this dotted one, for just $35 each. How: Go to kolobags.com, browse around a bit, and pick out what you'd want to buy if you won. Then come back to this post, and leave a comment about your finds, and we'll enter you for a chance to win the $150 credit. Can't wait to win? Shop now and take advantage of the flat shipping rate – you can stock up on gifts for laptop-toting friends (or for yourself) and pay only $5.95 for shipping.And stop by MomFinds for a chance to win a $100 holiday card shopping spree at Minted.com. 1. Post in the comments section about what you'd buy with $150 from kolobags.com2. You must supply us with a valid email address and sign up for the SheFinds newsletter.3. The contest starts now and entries must be date stamped by our server no later than Friday, November 21st, 2008 at 11:59 AM Eastern Time to be eligible.4. One winner will be selected during a random drawing and will be announced in the November 25th SheFinds newsletter. The winner must reply via email as instructed in the newsletter to claim the prize.5. No prize substitutions.6. You must be 18 years old or older to enter and a resident of the USA.7. No purchase necessary.8. Void where prohibited.9. Click here for the full rules.
Clinique & Trina Turk Actually Give You More Than You Pay For Until November 22
With everyone watching their pennies these days, it's great to know you can get freebies with your new recession red lipstick. Clinique has partnered with Trina Turk on a free gift available with any $25 Clinique purchase at Nordstrom until November 22. She's designed a makeup bag exclusively for Clinique and filled it with her favorite essentials from the timeless beauty and skincare line. The stunning silver and white makeup bag is chock full of incredible products from Rinse-Off Foaming Cleanser to Colour Surge Eyeshadow. The pink, plum, and coral shades of makeup were a little summery for my taste, but I love the makeup bag. And if you're wondering which Clinique products you absolutely need, we recently featured the Moisture In-Control face lotion ($38) as an Oprah pick and the Advanced Concealer ($14) as a Cosmo beauty secret.
News: Hayden-Harnett Could One Up Anya, Palin Wants That Manicure But Probably Shouldn't..
1. Images for Hayden-Harnett's line for Target have just been released. The collection debuts December 28th, and we hope it can live up to Anya. [Racked]2. Sarah Palin will head to a Miami press conference that will also offer a 'Day of Beauty' for Republicans to relax and unwind. We think she should instead opt for a cheap tube of lipstick to get her mind off the election. [TelegraphUK]3. The debut of Kate Moss for Topshop at a Hong Kong Lane Crawford store caused a serious ruckus this week. Not surprising - her Xmas collection sold out in 15 minutes online. [CatwalkQueen]4. Shop designs for Count Me In and support women entrepreneurs. A pendant necklace from H. M. Mills or charm necklace from Beth Ann Designs will make great gifts for the holidays.
Deal Of The Day: Up To 48% Off Basic Sweaters At The Gap
You can rely on these simple sweaters when you "have nothing to wear" - they'll work with jeans, trousers or skirts, and are incredibly easy to accessorize.We like the way the turtleneck on this lightweight sweater ($23, was $44) can be scrunched down in an uncalculated kind of way. The twisted neckline on this V-neck sweater ($23, was $44) provides feminine detail and a flattering silhouette. This crewneck sweater ($37, was $48) is shaped like a tee, but substantial enough to stand alone; zipper detail in the back adds interest. More sales and deals on the web:As seen in the SheFinds forum: 20% off Orla Kiely items at Ped Shoes with coupon code [email protected] Take an extra 15% off your order at Irv's Luggage Warehouse with coupon code HOLIDAY15. 30% off everything at Armani Exchange now through Sunday. The sample sale scoop – shop these sales today for huge discounts:Vince at Rue La La Walter, True Religion, Malia Mills and Lisa K at Hautelook Alvin Valley and Made Her Think at Gilt Groupe Dana David Jewelry and Junior Drake bags at ideeli. Use invite code shefinds.com.