Um, There's A Naked Wedding Dress & It's Actually Insane
Who is Inbal Dror? Here's Everything We Know About Meghan Markle's Dress Designer
All eyes have been on Meghan Markle and Prince Harry since their engagement was announced last month. Although few details about the wedding have been released - save the date and venue - people have already started speculating about the ins and outs of the ceremony. And now, fans are going crazy over leaked sketches of wedding dress options from Israeli designer Inbal Dror. Dror confirmed yesterday that the royal family did contact her about possibly making Meghan's wedding dress. Naturally, this news had us eager to learn more about the up-and-coming designer. Here, we're revealing everything you need to know about Meghan's potential "fairy godmother" in the lead up to the amazing ceremony! Dror graduated from the prestigious Shenkar Fashion Academy in her home country and started her own line of bridal gowns in 2014. Since then, her looks have taken the bridal world by storm, appearing on countless Fashion Week runways and receiving coverage from the likes of Vogue. Love on top . . . . #inbaldror #inbaldrorofficial #inbaldrorbridal #bride #brides #bridal #bridetobe #bridedress #bridegown #white #beautiful #stunning #amazing #unique #unforgettable #wedding #weddinggown #weddingdress #weddingday #perfect #new #collection #nybfw #2018 A post shared by Inbal Dror (@inbaldrorofficial) on Nov 28, 2017 at 3:46am PST Her style is defined by elegant fabrics and form-fitting shapes. "I truly believe that a bride must, first and foremost, be comfortable with her dress choice," she told Brides in 2015. "A wedding is such a significant event in a woman's life, and it's how she feels wearing the dress that emphasizes her features, and can make her feel like the queen of the night!" While her designs often feature plunging necklines that trail to the bride's waist, Meghan's own sketches are a bit more conservative without losing Dror's trademark flair - like lace accents and cinching at the waist. Two of the options feature curve-hugging mermaid silhouettes, while the third option more closely mirrors Kate Middleton's dress with an A-line construction. This isn't the first time Dror's designs have been worn by the elite, however. Beyoncé stunned in a crocheted, lace-paneled dress from Dror's fall 2016 bridal runway show at the Grammys this past year. Naomi Watts is also a fan of the Isreali designer's stunning creations. If you're now eager to get your hands on one of these exquisite frocks (wedding or no wedding), you'll probably want to start saving now. Her dresses typically sell for between $8,000 and $10,000 - and there's no telling how much a royal version could cost! A girl can dream right? [Photo: Splash] While you may have to live vicariously through Meghan on her big day, in the meantime, check out What Will Meghan Markle's Wedding Gown Look Like? Here Are Some Clues to curb your royal fever. And keep coming back here for more updates about the wedding! [Photo: Splash]
5 Totally Unexpected Fall Bridal Trends This Year
6 Things Every Bride Forgets When Choosing A Lace Wedding Dress
7 Stunning Wedding Dresses For The Non-Traditional Bride
5 Wedding Dress Trends That Are Out For 2017
Alfred Angelo Filed For Bankruptcy, And Brides Are Absolutely Freaking Out
Once you say "yes" to the wedding dress of your dreams, anything standing in the way of you wearing it down the aisle on your big day is just flat out inexcusable. Or, at least so we thought. Until now. After beloved bridal designer Alfred Angelo announced it was filing for bankruptcy and closing all stores, many brides are now left without wedding and bridesmaids dresses right before they're set to tie the knot. On July 16, Alfred Angelo posted a short, sweet, and to the point bankruptcy notice on its website, and announced that the company was closing all 62 locations. The notice listed contact information for brides to check on their order statuses, and the Florida-based brand said they would provide updates on pending orders on their website as soon as they received information. Sounds promising! They also never gave any specific information about what led to the bankruptcy. [Photo: Instagram] For brides and bridesmaids, the most stressful part of the situation is that they already paid good money for their dresses, and they might never get to actually see them. Alfred Angelo brides now have to struggle to find replacement gowns, which means dropping even more moolah. Not only this, but hundreds of employees also unexpectedly lost their jobs. Maggie Klaysen is the maid of honor in her best friend's wedding this October. She placed an order for her bridesmaid dress from Alfred Angelo in May, and the rest of the bridal party ordered theirs before her in March and April. On July 15, Klaysen says the bride received an email from Alfred Angelo at 2:30 p.m., saying that they were closing their doors for good at 8:00 p.m. that day, and that all customers had to come pick up their dresses by then if they were ready in the store. [Photo: Instagram] "I had many friends who had to leave work early and drive hours to go and pick up their dresses to get them in time," says Klaysen. "My dress wasn't in store yet, so we were kind of at a loss as to what that meant. The bride got ahold of someone and they told her my dress was already in manufacturing, so I was ok and it would be shipped out August 8." But, after a few days, Klayson received a claims notice from the company in the mail, which meant that she actually wouldn't get her dress, and she could file a claim to try to get her money back. She says she reached out to Alfred Angelo multiple times via both phone and email, and never got a clear response as to whether her dress was getting shipped to her or not. She's the only member of the bridal party without a dress. "Now, I'm kind of in a scramble trying to get a bridesmaid dress by October," says Klayson. [Photo: Instagram] So, what's a bride or bridesmaid to do in this situation? Many women sell their bridesmaid or wedding dresses, so brides impacted by the bankruptcy should check used clothing websites like Poshmark or even eBay. Klayson looked online to find used or returned Alfred Angelo dresses in her size and in the color she previously ordered, but she says it wasn't easy. The bride even considered getting Klayson a different color or style since she's the MOH, but Klayson says it's hard to pick a new color without seeing the dress in person. She eventually found a dress in a boutique in Virginia that matches the color of the bridal party dresses, but has a different style. It's still unclear whether her dress will actually come August 8, so she didn't want to risk not having a dress in time. She ended up having to pay for two bridesmaid dresses. [Photo: Instagram] It's not looking promising for Klayson's Alfred Angelo dress. The company's attorney, Patricia Redmond, said that dresses shipped after June 24 are allegedly stuck in a port in California, according to NBC. But, there is one silver lining. Certain retailers and boutiques are taking pity on brides stuck without a dress from the Alfred Angelo disaster. Klayson says she talked to David's Bridal, and they're offering 20-30 percent off for brides and bridesmaids who show their Alfred Angelo receipt. If you're a victim of this situation, stay positive, and remember that not all hope is lost! If you didn't receive your dress, we recommend that you follow up with the company repeatedly through their bankruptcy trustee, Margaret Smith, via email at [email protected] Smith has actually filed a motion for the company to resume certain business functions in order to help customers, according to the South Florida Business Journal. This motion also means that you can potentially ask your credit card carrier to remove the dress charge and refund you if you think your order won't be completed. Regardless, whatever happens, you're still going to look just as beautiful on your wedding day. [Photo: Shutterstock]
7 Things Brides Should Never Do When Wearing Their Wedding Dresses
You Have To See This Wedding Dress That's Made With 500,000 Swarovski Crystals!
PHOTOS! Stunning Celebrity Wedding Dresses
This Genius Product Will Save You From A Bathroom Disaster On Your Wedding Day
If you've ever gotten married or been a bridesmaid at a wedding, then you know one of the major issues a bride faces is going to the bathroom in her gown. Since the bride (usually) can't lift the gown herself in order to use the toilet, her bridesmaids put on a happy face and keep her gown off the ground until she's finished her business. Well, that's all about to end thanks to this genius product called Bridal Buddy. This product basically does the job of your bridesmaids except you don't have to look anyone in the face while peeing. Check it out below! [youtube]https://www.youtube.com/watch?v=NUV8khl610U[/youtube] Don't miss 8 wedding expenses you should never pay for and find out what your wedding bouquet says about you! [Photo: Bridal Buddy]
VIDEO: Watch 100 Years Of Wedding Dresses In 3 Minutes
As we all know, fashion changes through the years. This is especially the case when it comes to wedding dresses. Watch the video below as model Lolly Howie perfectly pulls off 100 years of wedding dress styles. There's everything from flapper-style to puffy sleeves to jeweled belts, and, of course, tons of lace. Each decade certainly has its own style. [youtube]https://www.youtube.com/watch?v=rKegRnTimFs[/youtube] Don't miss 7 tips for changing your last name once you get married and 9 mistakes brides make when planning a rustic wedding! [Photo: YouTube]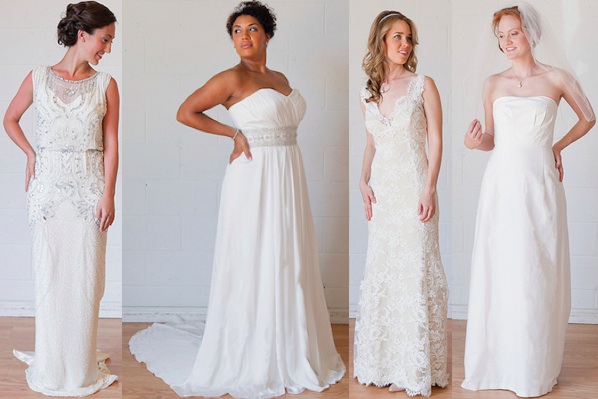 Borrowing Magnolia Lets You Rent The One Dress You Really Will Never Wear Again
Every girl dreams of her future wedding and what dress she'll be wearing to walk down the aisle. While we all wish we could wear designer gowns like Jessica Simpson in Carolina Herrera, or Kim Kardashian in Givenchy, it would put our bank accounts in serious danger. Well, thanks to creators Ashley Steele, Cali Brutz and Stephanie Olvey, you can get that dress of your dreams. Their launch of Borrowing Magnolia, an online bridal boutique that collects worn designer wedding dresses lets you either borrow the dress for your big day or buy it. Feeling nervous about renting a dress that might not fit? The site lets you select 3 gowns to be sent home to try on for only $99. If you already had your wedding and don't know what to do with that $3,000+ dress that's stuffed in the back of your closet, you can sell it to Borrowing Magnolia. Pretty cool, right? Not only will you be able to wear a designer wedding dress for less than half the price, you'll be able to splurge on other things like shoes or an awesome honeymoon getaway! The possibilities are endless. SHOP BORROWING MAGNOLIA NOW Be sure to check out: the Net-A-Sporter launch, 7 July collaborations you'll want to know, and Ellen DeGeneres's new lifestyle brand. [Photo: Borrowing Magnolia]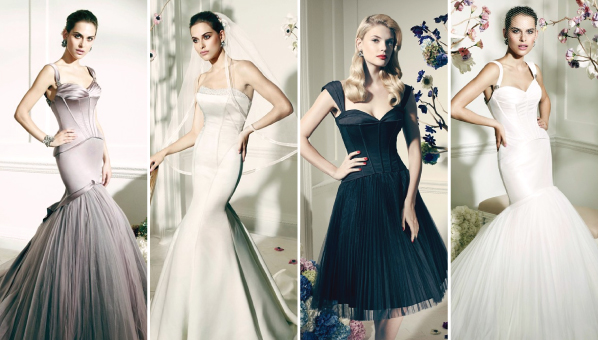 Zac Posen's Collection For David's Bridal Is Here, And There's Accessories Too!
Last summer we told you Zac Posen was designing a line for David's Bridal, and now it's finally here! The Truly Zac Posen collection includes six wedding gowns and six special occasion (bridesmaid!) dresses with lots of satin, lace and tulle. There's fit-and-flare gowns, mermaid silhouettes and bustier detailing. Basically, just like we predicted, the styles are as delicate and feminine as Posen's namesake collection. Now we can finally get a stunning dress just like the one Posen designed for model friend Coco Rocha. Plus, there's also accessories gorgeous crystal accessories for the bride to be, from headbands and earrings to a stunning floral bracelet. Prices range from $850 to $1,350 for gowns, $195 for cocktail dresses and $225 for evening gowns. Click the slideshow to shop Truly Zac Posen now! How do you think Truly Zac Posen compares to Vera Wang's hugely successful David's Bridal collection? Which do you like better? Let us know in the comments below! And don't forget to check out: our exclusive ASOS promo code, the best stretch back boots and everything you need to know about Lorde [Photos Vogue U.K.]
6 Things Every Bride Needs To Know About Finding Her Dream Wedding Dress
After you get engaged, set a date and book a venue, the next most important thing on your wedding to-do list is finding a dress. All eyes will be on you, so it's important that you look great, but more importantly, feel comfortable and confident in your wedding gown. Now if you're not a crazed shopaholic, finding "the one" can seem daunting, but remember this is supposed to be fun. So before you ever step foot in a bridal salon, trunk show or sample sale (more on that later), make sure you understand what you're getting into--and what you should be looking for--with the helpful wedding gown shopping advice in the slideshow below. Newly engaged? You should read 10 things you shouldn't do as soon as you get engaged, 10 things to do as soon as you get engaged and 10 things you should know about engagement rings. [Photo: Amsale]
Target Launches A Bridal Line; Get Your Wedding Dress In The Same Checkout As Your Toilet Paper
It's official: You can buy everything at Target. The mega-store just launched an in-house bridal collection, meaning you can now order your wedding dress and a new blender at the same time. The collection, named Tevolio (inspired by the Italian phrase for "I love you"), is available at target.com and features dresses ranging in price from $69.99 to $129.99. It includes 4 styles for brides, 10 styles for bridesmaids and 2 styles for flower girls. The simple, no-fuss wedding dresses are guaranteed to appeal to the masses. We are all for cheap bridesmaid dresses, but we aren't sure we'd want a Target brand wedding gown. Click below to check out the collection and let us know what you think: Would you wear one of Target's new bridal gowns to your wedding? SHOP TARGET'S BRIDAL COLLECTION Brides, don't forget to check out ideas for what to do between the ceremony and reception and 8 ways to make you wedding more fun.
Don't Buy A Dress You'll Regret–10 Wedding Gowns That Never Go Out Of Style
As fun as planning a wedding can be, it also comes with its fair share of stress-inducing decisions. Who to invite? Where to have it? And of course, what to wear? Finding the perfect wedding dress is exciting, but it's also one of the most difficult parts of planning your wedding. After all, you have to choose a style that won't make you cringe with regret when you flip through your wedding album twenty--or even two--years after the big day. Your instinct is probably telling you to follow the current trends, but think of that feeling you get when you look at your mom's ultra-puffy, totally '80s dress. Don't let that be you. Instead, refer to this simple guide of the 10 wedding dress styles that are absolutely timeless--meaning you'll still love the way you looked on your wedding day years from now. And hey, who knows, maybe your daughter will even want to wear the dress when the time comes--with no intention of taking the scissors to it. Click through the slideshow to see (and shop) 10 wedding dresses that will never go out of style. For more wedding style, check out 10 shoes you can actually dance in, how to match your dress to your venue and accessories we're obsessed with.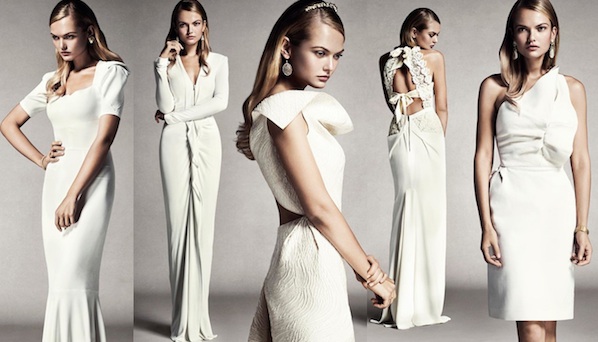 Roland Mouret's Debut Bridal Collection Is Now Available Exclusively On Net-A-Porter
The White Collection, Roland Mouret's first-ever bridal line debuted exclusively on Net-A-Porter today, and the sexy, curve-hugging designs have us wanting to walk down the aisle. The iconic fashion designer expanded into bridal in order to offer brides something "a bit sexier." He told Vogue UK: I wanted to create something that is about you and your partner, a one-to-one private relationship with the dress - not just something to please friends and family. Indeed! With open-back details and feminine silhouettes that leave just enough to the imagination, these gowns will make any groom's jaw drop. But before you buy, be sure to read the 10 things you need to know before saying "yes!" to your dress, and check out the lazy bride's guide to getting married and 10 tips for picking a wedding venue.
CONFIRMED: Jessica Biel Wore A Pink Giambattista Valli Wedding Dress
Update: A rep for Giambattista Valli just confirmed that Jessica Biel did in fact wear a gown, veil, shoes as well as 4 pre-wedding looks by the designer. The strapless gown of silk mousseline and silk organza consisted of a light pink floral motif and ruffles. The veil, which consists of Biel's' heirloom pearls, was also created for her by Giambattista Valli. All women in the bridal party, including both the mother of the bride and mother of the groom wore Giambattista Valli Haute Couture gowns to the ceremony. Jessica wore four looks with shoes and clutches from the Giambattista Valli SS13 collection to events leading up to the ceremony. Us Weekly, stylist Bobbi Thomas and other news outlets are now reporting that Jessica Biel wore Giambattista Valli -- not Elie Saab as previously reported -- to wed Justin Timberlake last weekend. Biel, 30, wore a pink and white dress in a "princess-like silhouette" for the ceremony at Italy's posh Borgo Egnazia hotel, then switched in to a less formal dress for the reception. The former N'Sync'er and his groomsmen sported Tom Ford suits. Pink is having quite a moment for celebrity wedding dresses: Anne Hathaway wore a pink dress earlier this month, as did Reese Witherspoon last year. The color was also very popular at the Fall 2013 runway shows. According to further reports, the pink dress was just one of many non-traditional aspects of the wedding. During the reception, Timberlake, no stranger to a good love song, serenaded his bride with a tune off his new album. Questlove, who deejayed Amber Tamblyn's wedding recently, then leaked all those photos on Instagram, was entrusted to deejay the reception. Prior to the wedding, the Total Recall actress and her groom celebrated in Southern Italy for an entire week of events, finally surprising guests with a secret wedding ceremony on Friday evening. Guests didn't even know where exactly the ceremony would be, since they were first flown to Germany and then to Italy. If you love the idea of being pretty in pink like Jess and Anne, check our slideshow above so the best blush to pale pink gowns on the market. Not only did Jessica opt for a Giambattista Valli wedding day look, she wore 4 looks from his SS13 collection during the pre-wedding events leading up to the nuptials -- presumably for events like the rehearsal dinner. There are no photos yet, but here's what we'd style brides in from the collection: Giambattista Valli SS13 collection, courtesy of style.com. 
Get Actress Sarah Wright's J.Crew Wedding Dress, Espadrille Wedges & More Now
NCIS actor Eric Christian Olsen wed fellow actress and longtime girlfriend Sarah Wright over the weekend, and unlike most high-profile weddings, you can actually shop the House Bunny stars's dress and accessories now! (more…)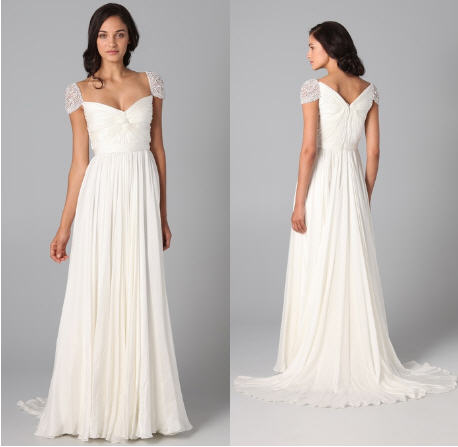 Going Going Gone: There's Only 3 Of These Beaded Cap-Sleeve Reem Acra Gowns Left On Shopbop
We'd really hate for you to miss out on this gorgeous Reem Acra Twist Front Gown with Jeweled Sleeves ($5,950) which is almost completely sold out on Shopbop. Whether you've been drooling over the jeweled cap sleeves for months (but weren't 100% on pulling the trigger), or you've never seen it before in your life, it's truly a work of art and worth ordering (if you can). There are exactly 3 gowns left as of print time, so high tail it over there. (more…)
Vera Wang's Latest David's Bridal Collection Hits In A Few Weeks: Stalk The Gorgeous Gowns Now
Vera Wang continues to blows our minds. From her all black and all red bridal collections, to her not one, but two engagement ring collections, to that line of tuxedos for Men's Warehouse, the woman is not happy just being the most famous bridal gown designer in the world -- she wants to put her name on every part of the planning process. And we're just glad designing affordable dresses is one of them. Her hugely successful White by Vera Wang collection for David's Bridal is on its 4th collection, and we just got our hands on the Fall 2012 lookbook (which hits DB stores in July). Late summer and fall brides NEED to see it; the 7 new gown styles are simply stunning, and going to be a hot commodity once they hit next month. (more…)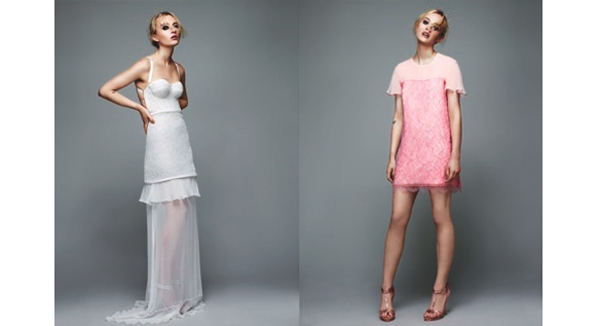 More Details On Topshop's 'Blushing Bride' Collection — Including The U.S. Launch Date!
Topshop just released the rest of the lookbook images and more info (inluding the launch date!) for their much-anticipated, first-ever bridal collection. (more…)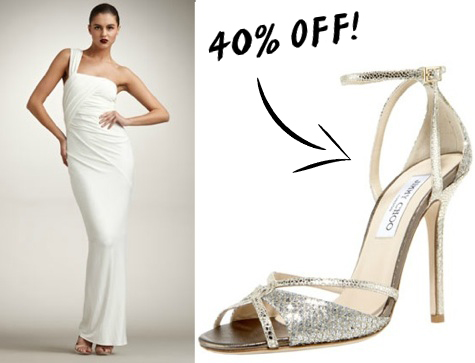 Bergdorf Goodman's Designer Sale Is The Real Deal: 40% Off Jimmy Choo, Miu Miu, More
Some sales can be bogus, with a weak sauce selection of product you would never buy at any price (who cares if it's 75% off?!), but Bergdorf Goodman's designer sale is NOT one of them. The upscale department store is delivering the goods: get 40% off (or more) on the designers you're obsessed with (hello, Jimmy Choo) and gorgeous gowns, like this Donna Karan Twist One-Shoulder Gown which is now $1,317 (down from $2,195!), designer clutches, and more. Shop now! (more…)
PHOTOS: See The Entire Richard Nicoll For Topshop Bridal Collection
Last month, Topshop fans and budget brides were delighted to learn that the fast-fashion store would be putting out its first bridal collection with designer Richard Nicoll. Now, Vogue UK just released photos of the complete lace and silk Tie The Knot! collection, which hits Topshop stores and online in June and retails for $120-$550. (more…)
We're Obsessed With Priscilla Chan's Claire Pettibone Gown: Shop Look-Alikes From $150
Grazia UK just released additional photos from Mark Zuckerberg's weekend wedding to med student and longtime love Priscilla Chan -- and confirmed that her gorgeous illusion neckline gown was designed by Claire Pettibone, and retails for $4,700: (more…)
Christian Siriano Just Released Another Bridal Gown From His Nordstrom Collection!
Gowns from Chrisitan Siriano's fierce first wedding collection have been slowly trickling in to Nordstrom, and today we just noticed a brand-new style on the site: this Christian Siriano Ruffle Chiffon Strapless Gown ($2,280) is already sold out in most sizes -- so snag one of these gorgeous ruffled trumpet gowns before they're all gone. (more…)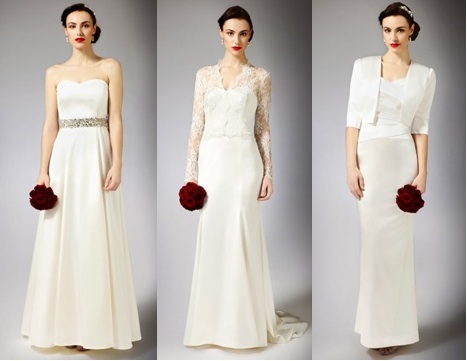 Coast London's New U.S. E-Commerce Site Features Kate Middleton Dress Replicas! #Duh
Kate Middleton's favorite High Street brand Warehouse just launched its first U.S. e-commerce site today, and with it sites for 2 other uber-popular British brands: Coast London and Oasis. If you remember her post-wedding days, Kate stocked up on dresses for her honeymoon there, and now the British retail chain is paying homage to the Duchess by including replicas of her wedding and reception dress on Coast London's bridal site. (more…)
High Slit Wedding Gowns Are Glamorous And On-Trend: Shop Now!
We predicted that high slit gowns would be BIG in 2012 - and that was before we knew Angelina Jolie was tying the knot. Sure enough, they've made a repeat appearance on the runways for Spring 2013 - so we can safely say high slits are here to stay. (The designer gowns pictured above are, from left to right, Angel Sanchez, Monique Lhullier, and Maggie Sottero.) We found a fresh batch of sexy high slit gowns on some of our favorite bridal sites - so if you're looking to flaunt those fab gams on your big day, check 'em out! Shop our guides to the best simple wedding dresses, designer wedding shoes, and unique wedding invitations!
Say Yes To An Alfred Angelo Dress, Get A Free Custom Sketch (Only Until Sunday!)
While many bridal ateliers will offer you and your bridesmaids a glass of champagne to toast the moment you choose your wedding dress, Alfred Angelo is starting a whole new trend that immortalizes your dress forever, but the promotion only lasts through Sunday. If you've been procrastinating, this could be just the thing to get you hunting... (more…)
Ruche Just Launched Bridal! Shop The 'Modern Vintage' Collection From $72.99
Is Ruche on your fashion map? This boutique indie e-tailer has a darling selection of affordable frocks, separates, shoes and accessories, and they've just introduced an equally affordable line of vintage-inspired wedding gowns, b-maid dresses, and more. (Check out their kitty-riffic lookbook here!) Whether you crave the feathers and fringe of 1920's,  "Boardwalk Empire"-esque bridal styles, or you want something a little more mod and "Mad Men", you're in luck! Gorgeous, full-length gowns start at just $250, and sassy casual/reception dresses are as little as $72.99. Plus, their selection of veils, bridal headpieces, and dainty little extras are simply divine! (more…)
Polka Dot-Themed Weddings Can Be Preppy, Whimsical Or Just Pretty — Your Pick
It all started with this gorgeous, polka-dotted J.Crew gown. Then we moved on to polka dot save-the-dates, polka dot veils - and soon enough it was all out, Pinterest polka dot love fest. Now we're sharing our new obession with the world, because we know that polka dots are gonna be BIG this spring and summer. (more…)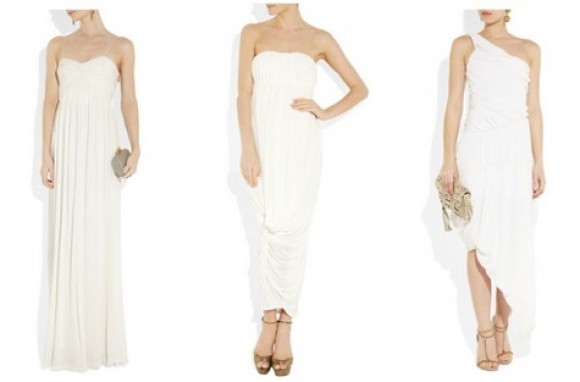 You Will Want To LIVE In Sophia Kokosalaki's Draped, Crepe-Jersey Gowns
Greek designer Sophia Kokosalaki cut her teeth designing Olympic uniforms when her home country hosted in 2004, but it's another important event that she's making waves designing for: weddings! Sophia, who is conveniently known for Grecian-style draping in her dresses, just released an exclusive collection of bridal gowns for Net-A-Porter that we are obsessed with. (more…)
If The Drapers Had A Proper Wedding, This Is What Megan Would Wear #MadMen
"Mad Men" is finally BACK, after a whopping 17 month break - and the fashions are already buzzworthy. This season takes place in 1966, so the full skirts and crinolines have been traded in for sleek, sexy mini-dresses. Sadly, the wedding of Don and Megan took place off-screen, but there's still plenty of wedding inspiration to glean from all the swanky, 1960's party fashions. If you're having a mod-themed wedding, prepare to swoon! We've rounded up all the "Swingin' Sixties"-inspired wedding dresses we could find! (more…)
No, It's Not A Mirage: The Illusion Neckline Trend Is Very Real (And Very Pretty)
Get this exact Tadashi Shoji gown ($548), as seen on Style Me Pretty. Last fall, we fell in love with illusion necklines, and the elegant trend has come back this spring bigger and badder than before.   This season's batch of illusion neckline gowns have even Case in point: this gorgeous Tadashi Shoji gown we fell in love with from real Australian wedding on Style Me Pretty -- which has not only an illusion neckline, but illusion side cut-outs and back: (more…)
Get This Embellished BHLDN Gown (Which Was Featured On Style Me Pretty) Now!
This morning, while day-dreaming (aka Pinterest surfing) for embellished wedding dresses, I came across this gorgeous wedding shoot from Style Me Pretty. The bride donned a bronze-sequined dress with a tiered skirt -- simply perfection. You can imagine my excitement (squeal!) to discover that the exact dress is still available online -- at BHLDN, specifically. (more…)
Bebe's Bridal Collection Is Here! Shop Rami Kashou-Designed Gowns, Veils & More
Last December, we gave you advance warning that Bebe was venturing in to the world of bridal. The early sneak peaks looked promising - Bebe tapped "Project Runway" All-Star Rami Kashou to design their premiere wedding dress line. Well Spring 2012 has sprung, and Kashou's line is finally here! (more…)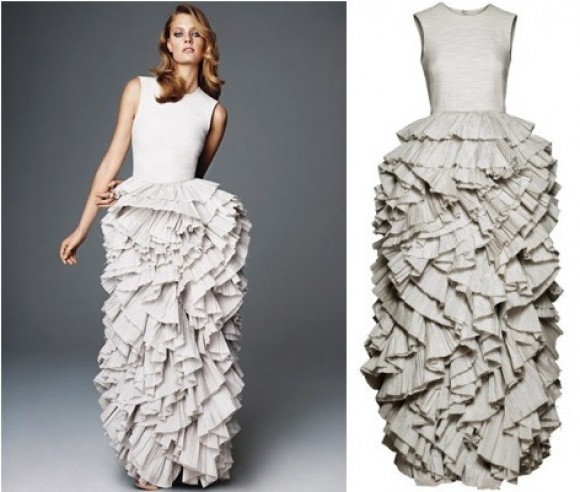 Shop H&M's First Eco-Friendly Wedding Dress! (You'll Never Guess How Much It Costs)
Another one of your fave mall destinations is adding wedding attire to their affordable fashion roster. Just last week, we gave you a sneak peak at Bebe's brand new bridal collection. Now, H&M is introducing formal attire as a part of their annual "Conscious Collection" - including a gorgeous $299 wedding dress. This affordable, earth friendly gown boasts a sculpturesque, raw-edged ruffled skirt, and a sumptuous silk and organic cotton construction. (more…)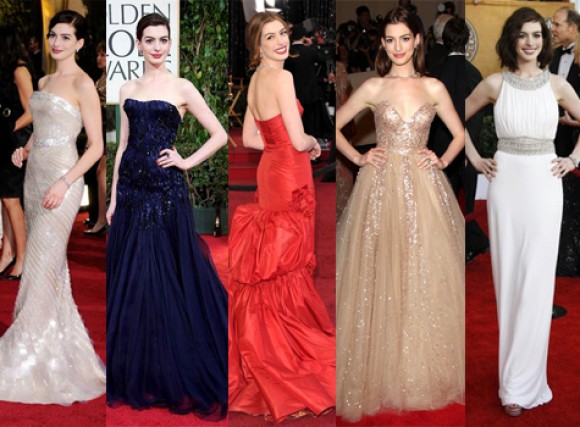 How Will Rachel Zoe Style Anne Hathaway On Her Wedding Day? A Red Carpet Analysis
Rachel Zoe has styled some of Anne Hathaway's most successful red carpet looks - including 8 dresses in 1 night during Anne's gig as Oscar host last year. But, the real question is: how will she style Anne on her wedding day? We've already seen Zoe's other client Molly Sims walk down the aisle, and Anne's upcoming wedding to Adam Shulman is another opportunity for the pin-thin designer to show off her bridal chops. She is launching a bridal line, after all! In fact, a new style was just added to Shopbop. (What do you think of it?) We digress. Everybody's buzzing about what Anne will wear on her big day, but we're taking a walk down red carpet memory lane, to see which silhouettes are best for her. We think we nailed it on the head! (more…)
Get Up To 70% Off Designer Gowns, Shoes & Accessories From Shopbop's Wedding Boutique
Shopbop.com has just made new markdowns on hundreds of items, like gowns, shoes, and jewelry that would be PERFECT for your wedding. Get steep discounts on blush gowns, drop earrings, and designer pumps, like these beautiful Badgley Mischkas! Prices have been knocked down 30, 50, even as much as 70% off! Go ahead, take a gander, and find yourself a shiny little something. (more…)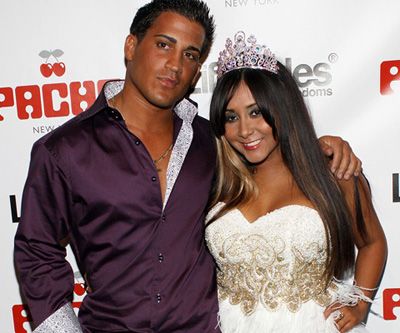 A Snooki Wedding Is Happening, People. We Found 10 Jersey-Worthy Dresses For Her.
You've probably heard by now - the great Snooki is engaged! Also, she's pregnant! And while we know she and her Jersey-tastic fiance "Jionni" haven't set a date yet, we wanted to pitch her a few post-preggers wedding dress options that we think are particularly Snookilicious. There are super low necklines, cut-outs, miniskirts, animal prints, sequins - all the things a Snooki loves! (more…)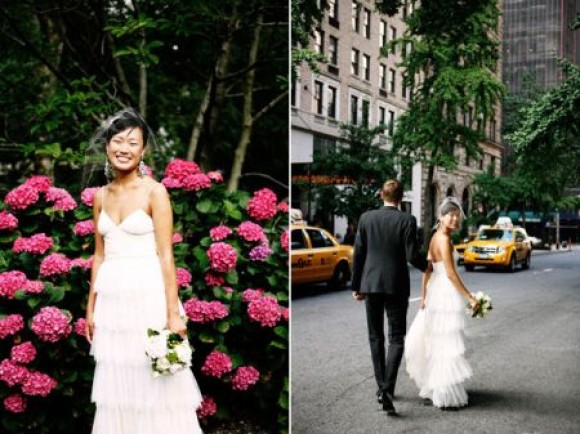 PHOTOS: J.Crew's Director Of Wedding Design Just Tied The Knot!
If you've snagged the coveted title of Director of Wedding Design at J.Crew - people probably expect you to really throw down when it comes to your own wedding - and this designer did not disappoint. We were totally exasperated by all of the classic New York City loveliness at Molly and Alex's wedding. Their Gramercy Park Hotel nuptials had all the style you'd expect from a bride who'd already ascended the ranks of J.Crew's Design department. (more…)
Did Model Caroline Trentini Channel Kate Middleton On Her Wedding Day?
It's Duchess deja vu! Frequent Vogue cover girl Caroline Trentini tied the knot with her photographer beau this past weekend in Brazil. As you can see, her dress bears a striking resemblance to a certain rather notorious wedding dress style from last year. The Brazilian-born model has worked for top designers like Louis Vuitton, Marc Jacobs, Gucci, and Oscar de la Renta - but Caroline's gown was seemingly inspired by the Royal Wedding. (more…)
The Ultimate Guide To Dress Shopping: From Vera Wang To Outlets (And Everything Between)
So, you've recently gotten engaged, and you're serious about finding the perfect dress? You've come to the right place. You never miss a sample sale, have all of your fave gowns already bookmarked and you know your fair share of designer names and runway lingo, but after browsing through a few bridal mags, you get the sense that the world of wedding dress shopping is a little...different. You're totally right. Wedding dress shopping is a totally unique and wonderous shopping experience. And it can be a tad overwhelming. But don't fret, dear bride-to-be! First, it's important to narrow down what you want, and we're here to help, with secret tricks and tips from the bridal experts to boot. (more…)
Is Rachel Zoe Launching A Bridal Line?
We think yes! Whether she has a full-blown collection in the works or not, this Rachel Zoe 'Elle' Empire Petal Gown ($695), which is now available for pre-order and has "limited quantities," is absolutely a wedding gown. Rachel does love to style her clients in white on the red carpet, but what purpose would a regular person have for a white gown other than to get married in it? (Or a black-tie white party on the Hamptons). (more…)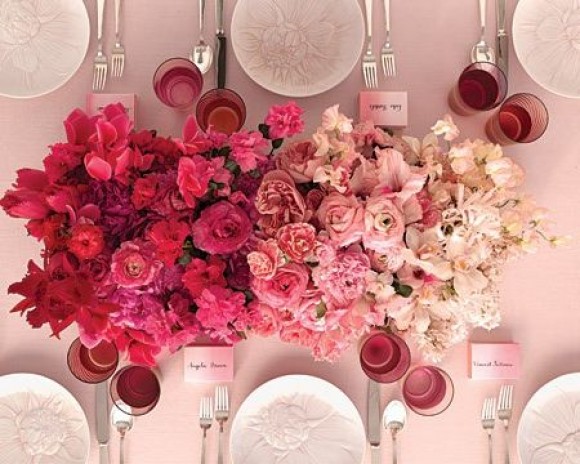 Ombre Wedding Decor: If You Can't Pick Just 1 Shade, Go With The Whole Spectrum
We've drooled over ombre wedding cakes before, but now it's time to turn our eye to ombre everything else! There's plenty of ombre dresses, decor, and wedding stationery to obsess over. If you're considering this colorful theme for your wedding, be sure to check out our fave ombre picks! (more…)
Rooney Mara's White Givenchy Gown Is Ready-Made For Brides: Shop Look-Alikes Now
There were more than a few gorgeous white gowns on the red carpet last night, but we were absolutely captivated by Rooney Mara's stunning Givenchy selection. Will this form-fitting, architecturally-inspired style be big for bridal? We think so - and if you're a bride-to-be in love with Rooney's look, you're in luck! We've found half a dozen off-the-rack wedding dresses that emulate her edgy, Oscar-worthy style, like this gorgeous Peter Langer gown (above). (more…)
Get 25% Off Of Sleek & Sophisticated Wedding Dresses From Ann Taylor, Plus FREE Shipping!
Did you know Ann Taylor has a wedding line? As you might expect, their gowns are super classy, and for a limited time, they're 25% off. You heard us. That's hundreds of dollars off - PLUS you get free shipping. Is this a dream?! So if you haven't been introduced to Ann Taylor's "Weddings and Parties" section, it's time to get acquainted. There's lots of lady-like lace, fluttery details, and sleek, modern silhouettes to take in. To claim your discount, just use the coupon code "GORGEOUS"! (more…)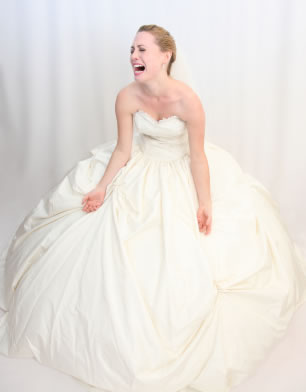 10 Signs You Picked The Wrong Wedding Dress
In case no one has told you yet - when you enter a bridal salon, you must leave any expectations at the door. Your "street" size is not going to be your wedding dress size (sorry, ego, but if you think you're a 6, you'll probably be an 8 or 10), and the styles you love, or think you love, may not work for your body type. It's just reality. We don't want you to have buyer's remorse over, quite possibly, the most important dress you'll buy in your lifetime, so we've rounded up the tell-tale signs that you're about to buy the wrong dress. (more…)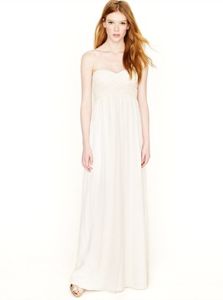 50% Off Tulle, Beaded & Silk Wedding Gowns At J.Crew's Seasonal Sale #Nice
If you haven't perused the FINAL SALE section at J.Crew lately, you're missing out. Right now, you can get half off of gorgeous gowns from their "Weddings & Parties" collection - that's literally a savings of thousands of dollars on select styles! There are some seriously drool-worthy wedding dresses and reception dresses in this sale. Wanna see a few of our favorites? (more…)