7 Mistakes Couples Make On The Wedding Favors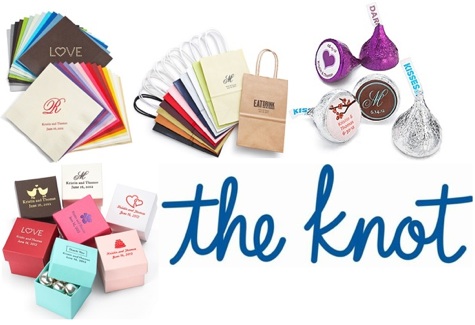 Only 1 Day Left To Get 75% Off Favors & Decor Basics At The Knot's Wedding Shop
If you need last-minute essentials -- like favor bags, cocktail napkins, favor boxes, small, sweet favors and more -- today is the day to stock up. Seriously, The Knot's Wedding Shop has 75% mark downs on all of the above. The sale ends today -- so act fast, lady! (more…)
DIY Mini Fresh Flower Bouquet Favors With Help From Michaels®!
I'll be honest – I'm not especially handy with a glue gun. Like most of you, I love all things handmade, and I love shopping at Michaels, but I'm not super confident in my ability to undertake complicated craft projects. These little bad boys, however, were shamefully simple. I grabbed a few favors and embellishments from Michaels Wedding Department, and whipped it all together in minutes – no glue gun, no mess. My inspiration was this succulent wedding favor project – I made my own interpretation using fresh flowers. Here are the other things you'll need: (more…)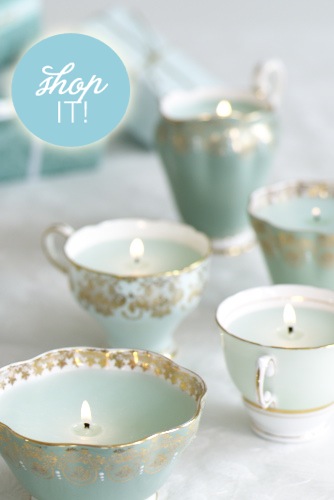 Shop Tea Cup Candles: Perfect For Garden Weddings, Tea Party Bridal Showers & More
Brides: bask in the sheer gifting potential of these fancy tea cup candles -- or how they could light up your tables in the prettiest, primmest way possible. Need decor for an elegant, "Downton Abbey"- inspired affair? Throwing a garden party-themed wedding? These elegant candle saucers are so pretty you're guests will just light up (literally). Bridesmaids: throwing a tea-party themed shower? Slip on your white gloves, and scatter these candles all over tables for an instantly polished and girly scene. Or send guests home with them -- they make great favors, too. If you're a crafty little minx, you could even try and DIY these tea cup candles yourself  - OR you could just snag the ones we found online: (more…)
Recreate These Succulent Favors That Are Trending On Pinterest — For Just $1 Each
What could be more sweet and thoughtful than individually potted plants? (It's not like you're ever actually gonna get around to making your own homemade jam, right?) When these little cuties popped up on our Pinterest feed (and popped up again... and again), so we knew you'd have to have 'em! (more…)
Tackle That To-Do List NOW: 10 Things You Can Buy For Your Wedding Today
You don't need to schedule an appointment. You don't need to brace yourself for a price quote. If you're feeling overwhelmed by that monster to-do list -- just start tackling it with these 10 easy steps. Yes, they require a credit card -- but you don't have to spend a small fortune to cross a bunch of items off your list today. Here are 10 no-brainer items (like straws!) you can buy NOW: (more…)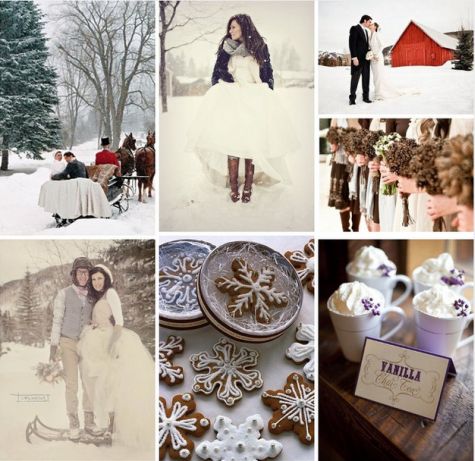 Hand Warmers, Ornaments, Gingerbread Cookies & More Cozy Decor For Your Winter Wedding
Winter weddings are always a special treat - but all that seasonal splendor and winter romance will be wasted if you can't keep your wedding guests nice and cozy. We've found a wide selection of winter-ey wedding decor, favors, and gifts that will keep hands and hearts warm all around. (more…)
Printed Tote Favors: Canvas Bags So Pretty You Could Frame Them (But You Won't)
Wedding favors should be as fun and thoughtful as every other carefully plotted detail of your wedding. One couple gifted these colorful raccoon totes  to everyone at their awesome barn wedding celebration - adorable! We're declaring customized tote bags one of THE hottest new wedding favor trends. (more…)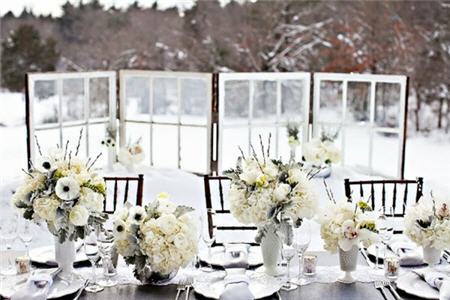 Winter Tablescapes So Pretty, You'll Wish Christmas Would Come Early
These week on Pinterest we're fawning over gorgeous winter and fall tablescapes (follow us if you're not already!). Behold, 15 of our favorite seasonal table settings -- plus the decor you'll need to execute the look. (more…)
10 Cozy Fall Wedding Favors: Candy Apples, Maple Syrup, Pumpkin-Scented Candles, More
We're sad to see summer go, but who can resist the fabulous fall weather filled with burnt orange, sunshine yellow, and  chocolate brown colored hues? We sure can't, which is why we've rounded up some of our favorite fall favors to shop now, including candy apples, caramel popcorn, pumpkin scented candles, and more. (more…)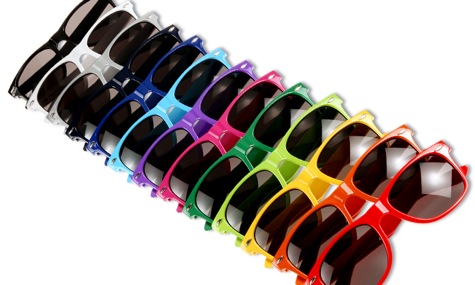 Give Guests Sunglasses And Be A 'Cool' Bride — Trust Us, The Photos Are Awesome
In college, as T-shirt chair of my sorority (I know, whoa), I had neon Nascar sunglasses made up for the football games, with our sorority on the arm (Go Pi Phi!). The girls and their dates LOVED them; sunglasses just make you feel cooler -- it's a law of nature. For my wedding, I went a step further: seeing my little great Aunt Millicent wearing hot pink Wayfarers on the dancefloor was priceless. Do it yourself: Step 1: Stock up on shades -- at wholesale price. Try colorful faux Ray-Bans. We got ours at a wholesale price ($14 for 12-pack) from Canal Stop. Yep, where the NYC street vendors get theirs. (more…)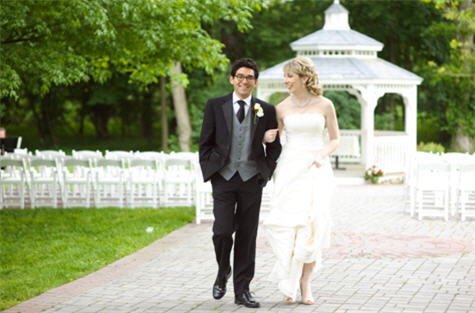 Real Wedding Finds: Chocolate Favors, Cinderella-Worthy Shoes, More
Phillip & Lisa Van. June 4, 2011, Chateau Hathorn, Warwick, NY. Shot by Julia Newman. (more…)
Dylan Lauren Throws A Dylan's Candy Bar Themed Wedding Reception – You Can Too!
Although we still haven't haven't laid eyes on the first wedding photos of Dylan Lauren's  wedding dress, we know it's going to be insanely gorgeous since her dad, Ralph Lauren, designed her gown with the help of Vera Wang. What we do know: Dylan, fashionista and owner of Dylan's Candy Bar, threw herself a lavish candy-themed bridal shower last summer. We've learned that she also had an elaborate offering of custom treats from Dylan's Candy Bar at her wedding reception - we can only imagine it looks more delicious than the shower (pictured above). Check out our favorite wedding-worthy treats from her very own store now. (more…)
Paper Crowns, Wedding Slingers, More: Welcome Bag Gifts That Set The Tone For A Good Time
Welcome bags are a great way to kick your wedding weekend off right: guests get a present the second they check in, and you can set the tone for the whole part. While most folks rely on tried and true favors like maps, fans, and snacks, why not throw a totally random but awesome favor in there, like Hello Lucky's Creative Director Eunice did with animal cut-outs (above). We think its a damn good idea. (more…)
Sparklers, Sunglasses, And More: 6 Warm-Weather Guest Favors Just In Time For Summer
There's nothing quite like summer: the tans, barbecues, bikini tops, and shades that all come and go in three fleeting months... no wonder it's the most popular season to say "I do!" Give your guests something to remember the wedding of the season -- any of these fun favors would make a great summer wedding send-off: (more…)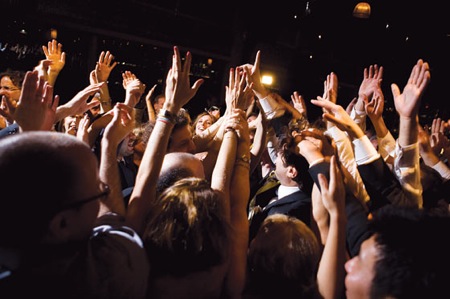 Booze-Themed Guest Favors: Because The Party Doesn't Have To End When The Wedding Does
If your crowd is a hard-partying one, why not send guests home with a booze-y reminder of your special day? Whether it's a pair of monogrammed shot glasses or a cocktail mix packet, your guests will be happy to re-live your wedding every time they throw back a cold one. It sure beats a mini picture frame they'll throw out before they even get home. (more…)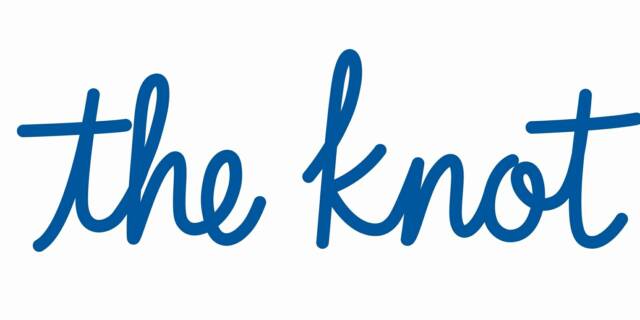 75% Off Favors And Decor At The Knot's Wedding Shop Today
Today, The Knot's Wedding Shop is having a major blow-out sale: get 75% off tons of favors, decor, bridal party gifts, and more, plus even more incentives (like 20% off orders of $150 or more with code TK3D20). (more…)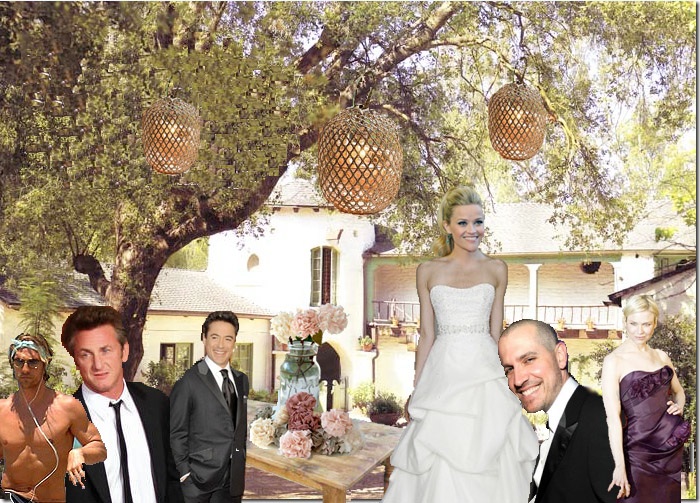 Get The Scoop On Reese Witherspoon's Wedding: Celeb Guests, Rustic Decor, More
Reese Witherspoon married agent Jim Toth at her Ojai Ranch this weekend, and details of the big day have just emerged. Celeb guests included Sean Penn, Scarlett Johansson, Renee Zellweger, Tobey Maguire, Robert Downey Jr., Matthew McConaughey, Alyssa Milano, Isla Fisher and Sacha Baron Cohen. Rustic, farm-style was the theme. The decor included lanterns, mismatched antique chairs, leather sofas, jute rugs, wagon wheels and Turkish textile pillows, according to Us Weekly. White, blush and lavender flowers were set up on each table in mason jars, fish catcher lanterns and antique pots. (more…)
Not Too Shabby: Etsy's Shabby Chic Decor Could Romanticize Any Wedding
From milk vases to vintage tins to hand stamped save the dates , we've picked our favorites that will turn your wedding into gorgeous French shabby chic affair. All you need to do now is master creme brulee! (more…)
Real Wedding Find: Flip Cam Favors & Flowers Create An Elegant Adirondack Setting
Name: Alexis & Jon Schaill Wedding: The Sagamore, Bolton Landing, New York. (more…)
Real Wedding Find: Sweet Treats & Practical Favors That Keep Guests Happy
Name: Margaret & Todd Muhlfelder Wedding location: Abigail Kirsch at Tappan Hill, Tarrytown, NY Best finds: Pink pashminas and flips flops to keep guests warm and comfortable; candy-filled mason jars with custom labels. (more…)
Latest From MOMfinds & BRIDEfinds: Maternity Maxi Dresses, Etsy Wedding Favors, More
Etsy's Garden Wedding Favors & Decor You want 'em. We got 'em. Maternity Maxi Dresses Whather you're preggo or just fat. For more awesome finds, check out this cool Madewell bag we found (looks like Mulberry for half the price!), this hilarious Tory Burch "drug rug," and the Olivia Palermo-approved orange trend.
Must-Reads: Drive-Thru Weddings, Flapper Themed Favors, More
Party like it's 1929 with flapper themed wedding favors from Etsy, like this Vintage Shower Invitation ($1.75) from seller The Original Pear. Sometimes when it comes to your wedding, you just need someone to tell you like it is. A guest blogger on Every Last Detail this week is a wedding planner who does just that and more. Be REAL about your wedding! Are you nervous you'll never use the china you're registering for? Check out this idea on Honey Living and start shooting that registry gun! Do you suffer from harried hostess syndrome? Fear not - Robin is sharing her top tips for staying cheerfully zen through the whole party process, on The Broke-Ass Bride. Get your baby fix over at On to Baby. The newest addition to the Wedding Chicks. Share in this couple's fun and spontaneous wedding over on bWed Exclusive today! They said I Do via Drive Thru. (From Brilliant Imagery Photography).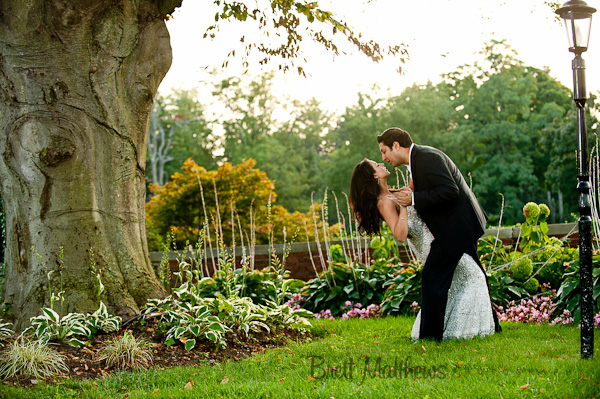 Bridal Must-Reads: Cheap DIY Projects, Celebrity Chef-Approved Wedding Favors, More
Send The Trend CEO (and Christian Siriano BFF) Divya Gugnani shared her favorite garden party wedding favors. This eclectic wedding featured on Every Last Detail has some awesome details, including some gorgeously affordable bottle centerpieces! Would you wear a non-bridal dress to your wedding? Check out this gorgeous selection on Honey Living for a bunch of dresses fit to wed. This rustic gem engagement shoot on bWed Exclusive (featuring the cutest high school sweethearts) is sure to put a smile on your face. Just in time for Valentine's Day! Mallory's photo-calendar guestbook is one of several easy + cheap wedding DIY projects this week on The Broke-Ass Bride. Get your craft on, and never miss a loved one's birthday again! Get your French fix with this Amélie inspired engagement shoot on The Wedding Chicks. The perfect shoot to get your romantic side inspired. Looking for more wedding dress ideas? Visit our guides for the best outdoor wedding dresses, inexpensive wedding dresses, and short wedding dresses.
Theme Thursdays: Winterize Your Wedding (Minus The Chill Factor) With These Etsy Finds
If you're looking for winter wedding ideas, the search is over. We've found some of the best ideas and props that will keep everyone warm and fuzzy on the inside all night long. Interested in other themed wedding ideas? Check out our guides to Vegas Themed Weddings, Mardi Gras Themed Weddings, and Western Themed Weddings.
Theme Thursdays: What Happens In Vegas… Can Happen At Your Wedding
Why fly your wedding party out to Las Vegas for a casino themed wedding when you can bring it directly to your guests? We've rounded up the best poker and casino inspired finds that will bring everyone's "Poker Face" to life. Looking for more reception ideas? Check out our guide to Western Favors, Useful Monogram Wedding Favors, and Customized Wedding Favors.
Bridal Blog Roundup: Wedding News From Around The Web
We found monogram wedding favors that are actually cool - no cheese factor here. The Broke-Ass Bride is sharing how creativity and hilarity (and wine & crafts) collide in this DIY for delicate tissue paper flowers. Brighten the snowy mood and check out this black, white and yellow engagement party on Honey Living. Take a sneak peek at Forever 21's new bridal accessories line on Save the Date. You're welcome. Every Last Detail found a great and fun alternative to a wedding guest book! Are you registering this weekend? Before you lay a hand on that scanner gun, check out Brooklyn Bride's Modern Champagne Glass roundup - we especially adore number 8. Green Wedding Shoes treats us to an incredibly gorgeous rustic Malibu wedding (love that combination!) complete with a chandelier at the outdoor ceremony and all the ladies in leather boots. Wedding Chicks rounded up their top 10 posts of 2010. Slip Aisle Dash's Grooming Guide for the Groom into your fiance's sports section this weekend. And of course, check out all our Shopping Guides and Sales and Deals for inspiration for your wedding.
Theme Thursdays: Western Favors That Don't Scream Coyote Ugly
You've decided on a western themed wedding, so what's next? We've searched high and low for the coolest ideas to make your wild, wild west dreams come true! Need more wedding favor inspiration? Check our guides to the best customized wedding favors, wedding centerpiece favors, and cake toppers.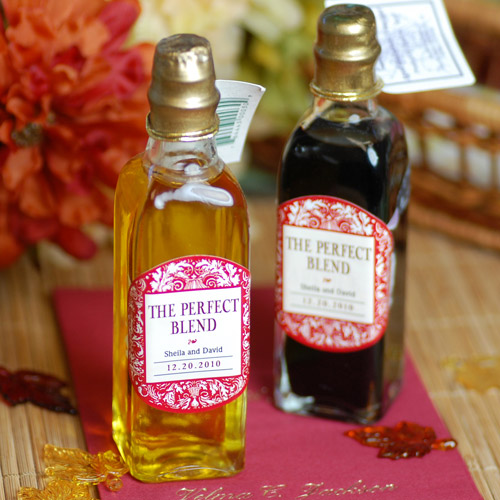 Actually-Cool And Useful Monogram Wedding Favors (No Cheese Factor Here)
How many times have you walked out of wedding with a throw-away favor that ended up in the trash or junk drawer? Don't skimp your guests with monogrammed mint tins or tissues: give them something more substantial, usable, and well, cool.  These quirky finds may be a tad bit pricier, but what better way to say thanks? I use oil and vinegar practically everyday, so why not send your favorite friends away with these adorable mini oil & vinegar bottles with personalized labels ($5.25 per bottle). They'll surely reminisce your fabulous wedding day over meal after meal. Give everyone a taste of "that little blue box" to walk away with. This Old Naples Chocolate Truffle Set ($5.50) includes two delicious truffles (choose from many flavor options) and allows you to print your monogram, wedding date and more! The Illume Monogram Candle ($10) burns the scent of red cedar for 20 hours and will remind them of all all the fun memories each time they light it. Chocolate never gets old.  These Hershey's Personalized Chocolate bars ($2.65 each) are printed with "HERE THEY ARE," along with the bride's and groom's first names and last name. Mini's also available ($.75 each). Pass around these Mini Wine/Champagne Favors ($149.95 for 24) for the champagne toast, or leave them on the exit tables for a take-away toast. Either way, these mini's will be an ultimate crowd pleaser. Champagne, red and white wine available. Cherish your wedding day memories AND wine with this Personalized Heart Wine Bottle Stopper ($14.95 each). Personalize it with your names and wedding date - a gift that will be reused quite often (especially for wine lovers). Looking for more wedding day gift ideas? Check out these guides for Winter Wedding Favors, Customized  Wedding Favors, and Designer Bridesmaid Gifts. Follow the author of this post on Twitter @primpandproper
Reception Props So Fun You'll Have To Kick Your Guests Out At The End Of The Night
Here's the problem - you have a bunch of guests at your reception and don't have time to entertain each and every person. The solution? Interactive props! These fabulous finds will urge guests to mingle and have loads of fun while you trot around taking care of your newlywed duties. Mustaches on a stick are a top trend at receptions right now. They provide hours of fun and laughter, and add tons of personality to wedding photos. Stay in trend this season and add a bit of hair to the mix with these great Mustache Props ($55, set of 6). A favorite of all ages, photo booths offer hours of fun - especially when they come with a box of costume props such as wigs, hats, feather boas and glasses. CI Photobooth (starting at $950 for 3 hours) offer memorable guestbooks with images as well. Masks always liven up the crowd and we found this great Mega Mask Assortment ($49.99 for 50 pieces) that won't put you over your wedding budget. Give guests the option of disguising themselves before showing off classic dance moves like the electric slide. They say a picture is worth a thousand words, and we couldn't agree more - especially when it's a Polaroid 300 Instant Camera ($89.99) taking the pics. Place a few of these on reception tables and let guests play paparazzi for the evening. Karaoke is out of the question (too many wannabe-Celine Dions), but with the help of a few inflatable instruments guests can play the air guitar and lip sync to reception tunes. Inflatable Rock Band Instruments ($7.99 for 4) are a great way to keep the kids entertained while adults are breaking it down. Let guests have freedom of speech with the awesome Chalkboard Speech Bubbles ($29 each, chalk included). They make great props and encourage everyone to take photos as they create quirky and memorable sayings, and wish the bride and groom happiness ahead. Looking for more great ways to impress your guests? Check out the guides for Best Centerpiece Decorations, Best Winter Wedding Favors and Best Hotel Welcome Bag Products. Follow the author of this post on Twitter @primpandproper
Road Test: Start Your Makeup On A Blank Canvas With Face Primer
What: Korres Face Primer ($9-$28, depending on size) Why: Powders, concealers and foundations are all designed to make our faces look flawless, but lots of times, they seep into little wrinkles and pores, making those little imperfections even more obvious. Instead of caking that makeup on to reverse the creasing effect, take a cue from the masters of fine art and prime before you paint. (more…)
Trend Spotting: Get Pretty In (Coral) Pink
Along with these spring trends, we're also looking to usher more color back into our warm weather wardrobes. On the top of the list is vibrant coral--seen everywhere from flirty dresses to jewelry and accessories. It looks fresh up against bright whites and neutral beige, but also paired with gold and bronze accents. Here are a few picks that you can buy now, wear now, and transform later to wring the most use out of each piece. Made of soft cotton jersey, this Aerie Ruffle Dress ($30) is a sweet addition to your resort collection at a meager price. To wear it now, just layer it under a cropped blazer with tights and booties. In such a soft fabric, this J. Crew Tissue Garland Tank ($42.50) is hard to resist, particularly with the whimsical ruffle embellishment along the neckline. Contrast the softness with a cardigan, skinny jeans, and cage booties during winter and wear it with a short full skirt in summer. Regardless of the weather these Lauren Multi Bead Teardrop Earrings ($46) go great with any outift when you need a little cheery pick-me-up. The White + Warren Open-Front Cardigan ($125) is an all-cotton drape sweater that you can layer on now for extra warmth at work or wear when the weather heats up to keep from getting chilled on a cool night. See the rest of our trend forecasts, plus, our guides to the best cardigans and spring trends.
Chain Reaction: We're Lusting Over These Chanel-Inspired Spring Shoes
Inspired by Chanel's classic chain strap purses, the gilded trend has traipsed down to the feet. Lucky for us there are so many gorgeous styles of souped up chain sandals, boots, and pumps from which to choose. These are just a few of our favorite picks from this trend where the iconic chain takes center stage. Giuseppe Zanotti's luxurious Chain Cutout Sandals ($675) wrap around the foot like a glove in a quasi-d'Orsay style that features soft navy leather and tough-looking chain embellishment. Kate Spade makes chains look pretty, not punk, with these bow-tipped, peep-toe Glamour Sandals ($165) in rich taupe suede. Ride out the bootie trend through spring and get the full-on chain look going with these very chic Dolce Vita Flash Multi Chain Booties ($189). Once the weather warms up, take these Michael Antonio Women's Dovet Flat Sandals ($37) out for a luxurious stroll on the boardwalk, and have money left over for a new bathing suit. Don't miss these favorite shoe trends, our ultimate shoe guide, and today's top trends.
LC Lauren Conrad for Kohl's: Half Good, Half Really Not Good
Lauren Conrad's line for Kohl's, LC Lauren Conrad, launched today. For some reason, we didn't get the barrage of press releases that usually accompany such a debut. Maybe the Hills star doesn't want anyone to know? At any rate, while some pieces in the collection probably won't look good on anyone (baggy shirts in questionable prints), there are a few distinctly wearable key items. I like the LC Lauren Conrad Striped Boyfriend Cardigan ($44) because it looks like something from J. Crew, only cheaper.  The color is a good warm weather/cool weather tone, too. This brushstroke dress, which also comes in teal, is more Alexander Wang than than The Hills.  For fifty bucks, it qualifies as a bona fide steal. Guess LC knows about the whole dolman sleeve trend.  We like the v-neck fit on this one ($28). Whether Lauren Conrad's got your style down or not, cop trends like these with our guides to v-neck sweaters, cocktail dresses, and cardigans.
Taste Test: Which Tote Will Leave You With Cash To Carry In It?
Test your fashion IQ with our other Taste Tests. And shop our guides for more stylish totes, roomy overnight bags, and attractive evening clutches.
Fashion Show Recap: Honoring Fashion Greats Dishonors A Few
How much do you know about historical fashion houses? That was the task designers in episode 8 of Bravo's The Fashion Show had to face in this week's mini-challenge. The trivia competition whittled down the group to Anna--go figure, she's a teacher--whose prize was to assign each designer one of the legends. Their main challenge? Create a garment in the aesthetic of their designer. Obviously, Anna gave her friends choice assignments--Haven got Yves Saint Laurent, Johnny had Versace, and Anna took Chanel. She purposely gave Halston to Reco, who didn't know the label at all and who made the mistake of putting one of his signature corsets on what should have been a simple, flowing dress. Haven's terrible brown wool pant suit was a fail as well, but she should have known better since she was well-versed in YSL style. This was egregious enough to send her home. Johnny and his Versace-inspired mini-dress got rave reviews from the audience and the judging panel. Although he used faux leather in an attempt to be environmentally friendly, he still captured the fit, gold bling, and sensuality of the designer's intent. Buy the racy little cocktail dress on Bravo's website ($195). Versace in its newest incarnation is still fierce, but slightly softer. This Versace Star Back Cocktail Dress ($2,380) is still sexy but not hard. The flowing silhouette is matched with a deep V front, and a suggestive sheer back. Or for a more budget-friendly option, try this v-neck dress by Twelfth Street. ($130).
Fit Fixers For All Those Clothes That Are Almost Just Right
Whether you've gained weight, or shrunk an inch, have wandering bra straps or just can't seem to get your sandal straps to stay in place, SheFinds found the solution. Watch the segment on Better.tv to see all sorts of products that can help your clothes fit just right, right now.It may seem like a lot of nipping and tucking, but trust us, these fit-fixing solutions are an extra 90 seconds very well spent.Making Stuff BiggerJeans not quite too tight, but you could use an extra inch or so in the waist? A waistband stretcher ($30) can let you dig those skinny pants out of the back of your closet. Just we the waistband of a cotton skirt or pair of pants, and use the stretcher to add an inch…or three…in the waist.If your shoes are too snug, the same principle applies: use this adjustable shoe stretcher ($50), specially made for women's shoes, to stretch those stilettos until they don't pinch your toes. Making Stuff SmallerFor the opposite shoe problem – footwear that's a bit too big for your foot – choose from any number of shoe pads to cushion your feet and get rid of extra room. AirPlus makes pads for every part of your foot, like these Heel Savers ($8). To remedy too-long pant hems when you're not wearing those heels, pick up a pair of cityclips ($30-$35), which let you cuff trousers so you won't step on them during the commute. Keeping Things In PlacePerhaps the most annoying fashion woes stem from clothes that look great when you put them on, but just won't stay where they should. Case in point: tucked-in jeans that bunch up around the tops of your boots. Solve the problem with equestrian-style stirrups ($8) that grip the hems of your jeans. Smartest thing we've seen all week.When you ditch the boots for sandals, use Foot Petals Strappy Strips ($7) to prevent the straps from sliding all over your foot. And speaking of straps, make sure they're not showing if they shouldn't be: slide this simple device from Embrace ($8.50) between your bra straps, and they'll stay in the center of your torso, racerback-style, until you decide otherwise. When you're low-rise jeans, try these two solutions to fake a perfect fit: sticky BUTTerflies ($10) keep undies in place so they won't start peeking out above your waist band, and a zipholder ($5.50 for 3) will keep your fly from gaping at the top. We're always on the lookout for fashion solutions – check out some more we've found here.
Fashion Week Diaries: SAFE by Rebecca Turbow..Lots Of Grey Clothes And Pornographic Cereal Boxes
Monday we ventured "off-campus" to witness the hipster/goth model explosion that was SAFE by Rebecca Turbow. Shown in a gallery that has VERY provocative art on the walls (we can't show you any of it close up but think cereal boxes using extremely, um, stimulating imagery), we were thrown into a grunge, underground art explosion filled with a crowd of very moody artsy types drinking boxed wine out of plastic cups. We consider ourselves pretty creatively open but even we couldn't get past what they did to poor old Cap'n Crunch on that wall. Once I gained focus, I realized I actually dug the clothes. Rebecca's got quite the knack for tailoring and showed in a palette of almost entirely grey, silver and black. The models hung out on white cubes in front of the art and managed to achieve the perfect hipster slouch paired with slightly disgruntled facial expressions - so perfect, in fact, we had a hard time distinguishing them from onlookers dressed in similar shades of black and grey. The trends at this show? Well, other than copious amounts of eye makeup (on both sexes), we can honestly say that we've never seen so many black peacoats in our lives. The ubiquitous Army/Navy store piece is firmly entrenched in the hipster culture here in New York and we think it's something worth borrowing. We're particularly fond of this Indya Hoodie Peacoat ($159) which is warm enough to fight off the elements but cool enough to dress up denim or toughen up a pretty dress. And if you want to mimic the caped grey look SAFE was showcasing, we suggest this Soia & Kyo Cape Coat ($207, was $413).So, we're back to the tents again and we can definitely say the next time we haul our 4" heels off-site, we'll be sure to bring extra mascara just in case.
Freebie Friday: Win A Game For Dames And Make Your Own V-Day Fun
What: Three Games for Dames , one each for three lucky winnersWhy: With Valentine's Day fast approaching and many of us becoming increasingly annoyed with all the sparkly hearts adorning our favorite take-out place (is that just me?), Games for Dames has the perfect antidote: the old-school-style board game What's A Dame To Do.The game requires minimal setup (wine not included) you won't have to argue over which nightspot to go to. You can play with up to eight female friends, so it's great for hosting a single-gals get-together or getting back in touch with attached friends who've jumped the social ship.How: To enter (and for a preview of how fun this game can be), post a "what's a dame to do" moment in our comments section: Did you and your significant other accidentally leave the shades open on V-Day last year? Ever clogged a toilet at a party? Was the last time you saw your ex on an early-morning walk of shame? Spill your embarrassing moment below for a chance to win.And don't forget to check out MomFinds for a chance to win a $150 shopping spree at Bare Necessities. 1. Post in the comments section about an embarrassing moment.2. You must supply us with a valid email address and sign up for the SheFinds newsletter.3. The contest starts now and entries must be date stamped by our server no later than Friday, February 6th, 2009 at 11:59 AM Eastern Time to be eligible.4. One winner will be selected during a random drawing and will be announced in the February 10th SheFinds newsletter. The winner must reply via email as instructed in the newsletter to claim the prize.5. No prize substitutions.6. You must be 18 years old or older to enter and a resident of the USA.7. No purchase necessary.8. Void where prohibited.9. Click here for the full rules.
Fill Your Gym Bag With Stuff That Makes You Look Good After Sweating
Everyone who has already dropped their New Year's resolution to get to the gym more, raise your hand. Hey, a lot of people have dropped out by now because the hassle of getting re-dressed and re-applying makeup can be a total pain. Well, we want you to reach all your goals this year, so dump out all your toiletries and pack these small, light essentials to get you from the gym to gorgeous in no time flat. If your gym doesn't have shower toiletries, take the Bliss Sinkside Six Pack ($22) into the shower with you. It has face wash, soap, body wash, shampoo, conditioner, and body butter in a package that fits into your hand. A mascara eye and bold lip complements the flush in your skin after a workout. This Urban Decay Trifecta Makeup Kit ($22 ) contains eye primer, mascara, and liner to get a perfect post-workout wink. Now, if you're truly in a hurry and don't have time to even wash your hair (and those of us who have been paged into a meeting during a sweat session know what I mean,) these Ted Gibson Hair Sheets ($17 for 10) are a godsend. Run them over your hair and hit your mane with a cool blast from the dryers provided. Keep this light and travel-friendly Sedu Revolution Shortie Mini Styler ($50) at the bottom of your bag. It heats up quickly, works like a dream using tourmaline ionic plates, and best of all, comes with its own heat-resistant carrying case which doubles as a protective surface!Here's another trick: keep all of your toiletries in a lingerie bag like the ones you use to wash your delicates. You can hang it in the shower and it drains dry. Just place the wet bag on a towel while you're getting ready and throw it in your gym bag when you're ready to go. You'll never have moldy gym things again!Check out our Guide to Cheap Workout Gear for stuff to wear to the gym that won't break your budget.
The Fringe Trend: Tendency To Get Tangled, But We Like It Anyway
Western, prairie-inspired, cowgirlesque ... whatever they're calling it, fringe is still going strong this winter with appearances on everything from shoes and dresses to handbags and jewelry. Your only concern will be how much you want to commit to the craze, since it's sure to carry on through spring. There's still time left in the season to grab yourself a pair of fringe boots like these Sam Edelman Ursula Boots ($100, were $159). Then when the weather warms up, opt for fun purple Fringe Pumps ($22.80). I love the subtlety of these Fringe Earrings ($34), which embrace the spirit, but will definitely get wear well beyond the trend. Or you could try this Bright Things Shakey Necklace from Nine West ($110) for a more fashion-forward look. The silvery Shimmy Fringe Tank in Smoke ($30) is a fun piece that works for both day and evening. One of my favorites, though, is the gorgeous Foley & Corinna Ombre Fringe Dress ($495). It's an investment piece, but manages to stay modern without looking too Roaring 20s. The Cleobella Kyler Fringe Bag ($418) is a veritable sunburst that just makes me happy to look at. A slightly less expensive but no less stylish choice, I also couldn't resist the Melie Bianco Double Fringe Hobo ($60, was $84) that combines fringe and a casual, slouchy design.
Wow, Katie Looks So Cool In Her $400 Mauled Jeans
The distressed skinny jean trend has me torn (yes, I said it) because it speaks to two dueling sensibilities of mine. While I adore the carefree rock 'n' roll vibe, my preppy streak dictates that leaving the house in torn up clothing is just never going to happen. At least celebs like Katie Holmes (shown here in PRPS Dart skinny jeans, $360) know how to make the trend work. As always, it's about balance—keep your top half subdued to avoid looking like the cat went ballistic in your closet. But what we can't figure out is why one would shell out nearly $400 for a pair of jeans that are basically falling apart. While these Current/Elliotts ($216) are not as pricey as Katie's skinnies, they're still over the $200 mark. And bebe's Rolled and Destroyed Skinny Jean ($139), while fun in that 80s throwback kind of way, still hits triple digits. Why not put some scissors and sandpaper to good use on a pair from the back of your closet? What do you think of this new trend? Let us know your thoughts in the comments section below.
Good Stuff From Mall Stores: Motorcycle Boots At Naturalizer
What: Naturalizer Radcliff Boots, $100Why: Last winter I followed a very well-dressed young lady into Naturalizer purely out of curiosity. I had always assumed this store was for working women who cared more about a comfortable commute than fashion-forward shoes. I was dying to see why this little trendster was making a point to browse their shoe selection. And to my surprise, there was a stylish array of boots on display, including booties, snow boots and mid-calf styles. I picked a pair of retro-inspired slouchy boots that reminded me of Ali MacGraw. This winter, I returned to find these motorcycle boots that work perfectly with leggings. And of course, Naturalizer hasn't sacrificed on comfort - which is what they do best. The store is still full of the old school clientele - but now they have to make room for pushy fashionistas. There's a sale going on right now too - get up to 70% off boots, shoes, and handbags. Get Yours: naturalizer.com
Deal Of The Day: Up To 75% Off Silky Tops At Banana Republic, Stila's On Sale At Rue La La
Today until 2/1 at Banana Republic, save an extra 30% on sale items with coupon code SAVE30. The prices listed reflect the extra discount.This fuschia cowlneck top ($17.50, was $69) will add brightness to your workday neutrals. The cheery color, pretty print and ruffled neckline on this silk top ($24.50, was $69) are unabashedly feminine and spring-y. This silk shell ($35, was $68) is just the sort of top that works perfectly under a jacket for day, and looks alluring by itself at night. More sales and deals on the web:Today through Sunday, score Franco Sarto shoes for under $25 at 6pm. Up to 60% off at Brooks Brothers' sale. 10% off plus free shipping at Road Runner Sports. The sample sale scoop – shop these sales today for huge savings:Stila and Matt & Nat at Rue La La Judith Ripka and Charlotte Ronson at Gilt Groupe Nicole Khristine jewelry at Hautelook Bajra Cashmere and Silk at Editors' Closet
How To Buy: Swimsuits for Bootyliscious Babes
Picking the right bathing suit style for your shape can seem like an insurmountable task. Should you pair a dark-colored top with a light-colored bottom? Should you match a patterned tankini top with a solid-colored sarong? Should you just scrap the whole summer and stay indoors? With more and more designers throwing their hats into the swimwear ring, and with good old technology brining us figure-fixing fabrics galore, it's tough to feel like you're making the most informed decision. So let SheFinds break it down for you, with a list of shopping goals, shape-enhancing solutions, and a few foolproof picks of our own. Today, we'll focus on the pear shaped ladies out there. If you're smaller on top with a little extra padding around your hips and bottom, you're considered pear shaped. When picking a figure-flattering and confidence-boosting swimsuit, consider these goals: • Balance out your proportions • Give your bust a boost • Cover up without going overboard Solution 1—Let their eyes play tricks on them: There are a few illusion-creating tricks to making your top half match your bottom half proportionally. First, you could choose a suit with a high, horizontal neckline. This will make your shoulders appear broader. ShapeFX's high-neck tank ($39) pulls a double whammy of widening your top half and minimizing your lower half with a slimming white and black contrast. You can also be strategic in pattern-picking. Keep the eye moving by pairing a busy patterned top with a darker, solid colored bottom, or opt for vertical stripes that create the look of an hourglass figure. Gottex's Iris one piece ($168) is a veritable optical mastermind: bright, busy violet-colored flowers draw the eyes upwards, while slimming stems come down and to a point, giving the illusion that you're actually an inverted triangle shape. Get a little extra coverage from Gottex's matching Iris pareo ($158), a lightweight option that won't weigh your look down. Solution 2—Pump up the volume up top: Have you always yearned to use the line "Um, my eyes are up here"? Give the girls a lift with help from the bust-boosting masters at Victoria's Secret. Mix-and-match their Miracle Bra push-up tankini top ($44) in a bright, eye-catching scroll pattern with booty-downplaying high-waist bottoms ($28) in solid chocolate. Or make the most of your minimal chest: wear a bandeau top that more top-heavy girls couldn't dream of pulling off. Calvin Klein's yarn dyed striped bandeau ($68) adds virtual volume by stretching horizontal stripes straight across your chest, while matching Perfect Fit bottoms ($52) in basic black downplays your derriere. Solution 3—Balance concealing and revealing: Finally, you may feel most comfortable with a little extra fabric to hide your figure flaws. But that doesn't mean you have to wear a bulky, old-fashioned swim dress a la grandma. Pick something with a retro vibe and just enough coverage, like Anne Cole Swimwear's Mio one-piece ($118). It covers your rump enough to keep you from feeling over-exposed, but it doesn't attract attention where you don't want it. Remember: more fabric equals more volume, so frilly skirts or boy-cut bottoms aren't a good idea. Check out Spanx new line of swimwear, then see other bathing suit styles that will work for your figure.
Solution: Soothe Your Itchy, Dry, Sunburnt Skin
There are hundreds of folk remedies for dealing with sunburn, and everyone you encounter seems to have a tried-and-true favorite that trumps the rest. But one thing everyone can agree on is that once you take the initial sting off, moisturizing is of the utmost importance. Use one of these heavy duty body creams rich in soothing ingredients to keep redness to a minimum, prevent painful tightness, and stave off that icky peeling phase for as long as possible. Best for Always-Outdoor Divas: Though it may sound more like a pizza than a prettyfier, Mega-Mushroom Body Cream by Dr. Andrew Weil for Origins ($45) means serious business. Packed with a signature blend of exotic mushrooms (try saying "hypsizygus ulmarius," "reishi" and "cordyceps" five times fast!) and skin-imitating lipids, this cream from the Plantidote line combats all the outdoor toxins that are at war with our skin. Slather this on and say adios to damage caused by sunlight, pollution, weather, detergents, perspiration and friction. Best for Exotic Eco-Friendlies: The best thing about Shea Terra's all-natural body products is that the entire lush line serves a double purpose. The rich, silky Miombo Mango Indigenous Silk & Shea Butter Lotion ($18), for example, soothes your burn with sweet-smelling mango from the Miombo forest in Central Africa. Sales of the indigenous mangos are keeping the forest—home to endangered elephants and exotic birds—from being torn down by foreign logging. Win win! Best for Bargain-Minded Burners: In that long list of household items that soothe sunburn, milk is almost always at the top. Why not pull a double-whammy on your bummer of a burn by hitting it with milk and moisture in one fell swoop? SkinMilk Body Cream ($6) comes in a huge tub and is packed with skin-softening vitamins A, D and E on top of real milk proteins. As the saying goes, milk does a body good, and that includes your sunburnt skin, too. Avoid the scorching sun altogether with products from our Guide to the Best Self Tanners.
Carasol Parasol Saves You From The Sun – But Do You Have The Guts To Walk Around With One?
We all know them. The tanorexic. They're slightly orange and never too far from a tanning booth. And as middle age approaches, that sun worship turns their once admirable complexions to a leathery debaucle. At best, they have more wrinkles than their sun-screened counterparts. At worst, they develop skin cancer.But now a new sun-saving alternative has hit the market. Straight from period films and Gone with the Wind, the Carasol Parasol is a throwback to the days when pale skin connoted high economic status and desirable beauty. Now, it mainly just denotes someone who is willing to stand out in their attempts to avoid UVA and UVB rays.The Carasol Parasol is designed with UV blocking fabric in ultra-girly styles. Stylish and smart? Definitely. Really something I'd ever use? Probably not.Because, frankly, while I think this is a good idea... I couldn't actually imagine using it regularly. As I took it out for a spin in the city, numerous people turned their heads upward, looking for the imaginary rain. Others stared. I felt awkward and kind of weird. Maybe on a beach or on a vacation... but on the streets of New York, the Carasol Parasol made me feel a tad out of place. For those of you who are braver than me, the Carasol Parasol is available at www.carasolparasols.com and costs between $85 and $325.What do you think of this new way to battle the sun's rays? Would you sport a parasol around town? Let us know your thoughts in the comments section below.
News Updates: Siriano Pops Up At Bluefly, Hayden-Harnett Next At Target?, And More..
Christian Siriano's first collection arrived at Bluefly.com yesterday. Shop the fierce designer's duds now, and check back in with SheFinds later today for our review of the line. [Racked]Rumors are circulating that accessories brand Hayden-Harnett will be the next designer to collaborate with Target on a discount line. Shop Target now for the much anticipated Botkier bags (although we didn't think they were so hot). [WWD]Jessica Simpson is adding a dress collection to her massive apparel brand, which already includes shoes, accessories, swimwear, and lingerie. What do you think of the Jessica Simpson line? [CatwalkQueen]According to a report from DeBeers, diamond sales for the first half of the year grew significantly. Could the diamond be recession-proof? [Portfolio]
Only 1 Day Left To Win A $200 Shopping Spree At Julia Bristow Jewelry
Sure, it's nice to pine over astronomically priced, luxury designer accessories, but we all know most of us will never be able to afford them in our lifetimes. And when we find amazing boutique designers like Julia Bristow, we think, why would we want to spend all that money anyway when we can own unique and beautiful gems for a fraction of the price. Or even for free! This week, SheFinds is giving away a $200 shopping spree at Julia Bristow Jewelry. To enter, go to the site, pick out what you'd buy if you won, and then come back to SheFinds and post about it. So far, our readers love the Pink Quartz necklace, the Fertility bracelet, and the entire Nature's Presence collection. You have one more day left, so let us in on your favorite for a chance to win.
Be Sporty, Look Good, And Protect Your Skin When Working Out In The Sun
I'm a runner and there is no better time than summer in Chicago to put the miles in outdoors. However, leaving the treadmill behind means I need to upgrade my athletic routine to include a few more things. Here are my favorites for getting the most from my outdoor workouts. IM Active Hair Accessories: I love the Activehold Tough Tread Head Wrap ($8) and the Activehold Sport Clips ($6) because they don't slip out of my fine hair. Each has a tactile rubber tread that gently grips hair to prevent slipping but doesn't pull. Beyond Coastal SPF 30 Lip & Face Screen ($7): Here's another water resistant product that will protect your lips while hydrating and moisturizing. It goes on clear, unlike some of the other heavy SPF lip balms that leave your lips white. Oakley Polarized Ravishing Sunglasses ($177): The glasses are a perfect blend of fashion and function, ensuring that you aren't sacrificing style for science. The oversized lenses are polarized and tinted to protect your eyes by blocking out 100% of UVA, UVB and UVC light, while still giving you celeb-ready coverage.Also check out our review of the Footloose Running Dress for a chic alternative to shorts and a tank.