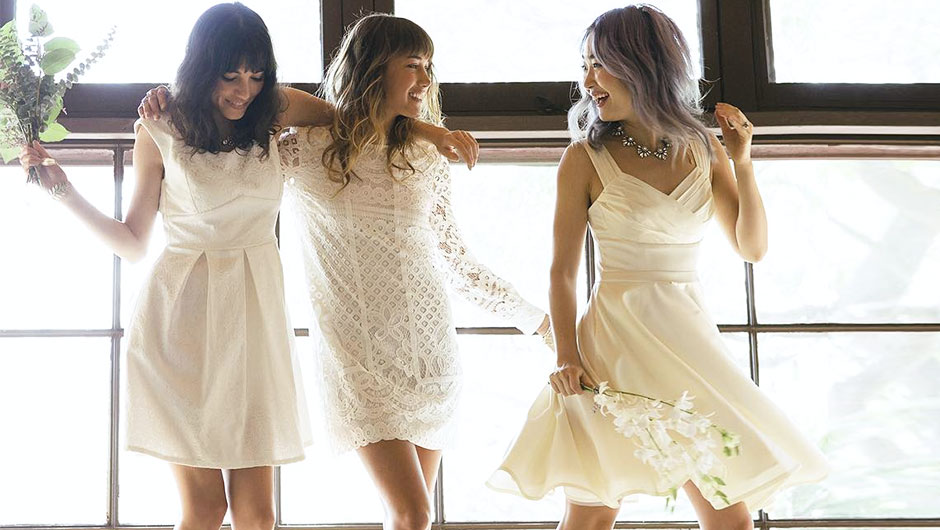 ModCloth Just Launched A Bridal Line With Gowns Starting At Just $150
Calling all brides-to-be! ModCloth launched a brand new bridal line and it's all sorts of wonderful. Plus, it's really affordable, with dresses ranging from $150-$415. In addition to bridal dresses, there are accessories, shoes, intimates and much more. "Couples want their weddings to reflect their personal style and relationship — they aren't just checking off a list of trends," ModCloth's Fashion Director, Lizz Wasserman, told HelloGiggles. "We are a one-stop resource for brides whether she's picking out her beautiful wedding dress, a great reception dress, or mix-and-match looks for all of her unique bridesmaids. Our fun take on accessories and decor also totally help her fill in the blanks to make her day truly special!" The wedding collection features ModCloth label dresses made in-house, in addition to select style from their parents. You can expect high-quality fabrics, delicate lace and perfect fit. What's more, these dresses are perfect for a woman of any size. SHOP THE ENTIRE COLLECTION Find out what your wedding bouquet says about you and what to wear to an outdoor wedding! [Photos: ModCloth]
The End Of White Wedding Dresses? Why Some Insiders Think So.
What Vera Wang says usually goes. A leader in the bridal industry, and always two steps ahead of the pack, Vera has been sending colorful wedding dresses down the runway since fall 2010. Not close behind, were other premiere designers like Oscar de la Renta, Reem Acra and Romona Keveza, and celebrity brides like Reese Witherspoon, who wore a blush Monique Lhuillier gown to her 2011 wedding. Vera even showed an entire black collection for 2012, and all red for 2013. But the question remained: when, if ever, would real brides take to the trend? According to a recent article in the New York Post, it has already happened. (more…)
Drooling Over The Bow-Back Detail On This Style Me Pretty Gown? We Found It Online!
We adore this Style Me Pretty bride's romantic bridal style - and if you want to emulate it exactly - we've already done the shopping for you. You can get this Nicole Miller Knot Front Double Silk Face Gown ($1100) from Nordstrom - one of our top 10 online retail destinations for wedding dresses.  Just "add to shopping bag" and you're all set! Are you a little obsessed with bows? So are we! Check out even more pretty bow wedding inspiration here. (more…)
High Slit Wedding Gowns Are Glamorous And On-Trend: Shop Now!
We predicted that high slit gowns would be BIG in 2012 - and that was before we knew Angelina Jolie was tying the knot. Sure enough, they've made a repeat appearance on the runways for Spring 2013 - so we can safely say high slits are here to stay. (The designer gowns pictured above are, from left to right, Angel Sanchez, Monique Lhullier, and Maggie Sottero.) We found a fresh batch of sexy high slit gowns on some of our favorite bridal sites - so if you're looking to flaunt those fab gams on your big day, check 'em out! Shop our guides to the best simple wedding dresses, designer wedding shoes, and unique wedding invitations!
Say Yes To An Alfred Angelo Dress, Get A Free Custom Sketch (Only Until Sunday!)
While many bridal ateliers will offer you and your bridesmaids a glass of champagne to toast the moment you choose your wedding dress, Alfred Angelo is starting a whole new trend that immortalizes your dress forever, but the promotion only lasts through Sunday. If you've been procrastinating, this could be just the thing to get you hunting... (more…)
No, It's Not A Mirage: The Illusion Neckline Trend Is Very Real (And Very Pretty)
Get this exact Tadashi Shoji gown ($548), as seen on Style Me Pretty. Last fall, we fell in love with illusion necklines, and the elegant trend has come back this spring bigger and badder than before.   This season's batch of illusion neckline gowns have even Case in point: this gorgeous Tadashi Shoji gown we fell in love with from real Australian wedding on Style Me Pretty -- which has not only an illusion neckline, but illusion side cut-outs and back: (more…)
Bebe's Bridal Collection Is Here! Shop Rami Kashou-Designed Gowns, Veils & More
Last December, we gave you advance warning that Bebe was venturing in to the world of bridal. The early sneak peaks looked promising - Bebe tapped "Project Runway" All-Star Rami Kashou to design their premiere wedding dress line. Well Spring 2012 has sprung, and Kashou's line is finally here! (more…)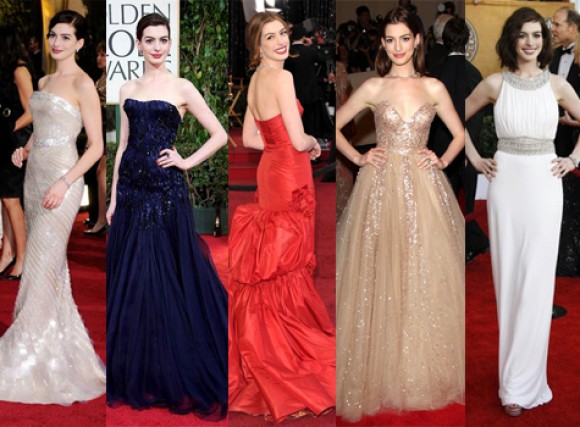 How Will Rachel Zoe Style Anne Hathaway On Her Wedding Day? A Red Carpet Analysis
Rachel Zoe has styled some of Anne Hathaway's most successful red carpet looks - including 8 dresses in 1 night during Anne's gig as Oscar host last year. But, the real question is: how will she style Anne on her wedding day? We've already seen Zoe's other client Molly Sims walk down the aisle, and Anne's upcoming wedding to Adam Shulman is another opportunity for the pin-thin designer to show off her bridal chops. She is launching a bridal line, after all! In fact, a new style was just added to Shopbop. (What do you think of it?) We digress. Everybody's buzzing about what Anne will wear on her big day, but we're taking a walk down red carpet memory lane, to see which silhouettes are best for her. We think we nailed it on the head! (more…)
Get Up To 70% Off Designer Gowns, Shoes & Accessories From Shopbop's Wedding Boutique
Shopbop.com has just made new markdowns on hundreds of items, like gowns, shoes, and jewelry that would be PERFECT for your wedding. Get steep discounts on blush gowns, drop earrings, and designer pumps, like these beautiful Badgley Mischkas! Prices have been knocked down 30, 50, even as much as 70% off! Go ahead, take a gander, and find yourself a shiny little something. (more…)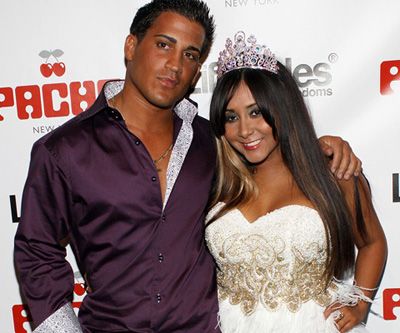 A Snooki Wedding Is Happening, People. We Found 10 Jersey-Worthy Dresses For Her.
You've probably heard by now - the great Snooki is engaged! Also, she's pregnant! And while we know she and her Jersey-tastic fiance "Jionni" haven't set a date yet, we wanted to pitch her a few post-preggers wedding dress options that we think are particularly Snookilicious. There are super low necklines, cut-outs, miniskirts, animal prints, sequins - all the things a Snooki loves! (more…)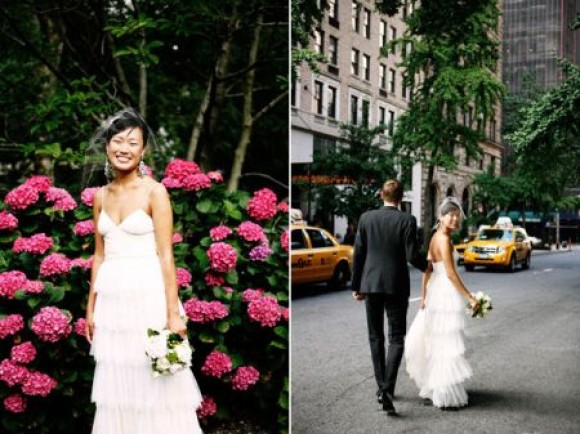 PHOTOS: J.Crew's Director Of Wedding Design Just Tied The Knot!
If you've snagged the coveted title of Director of Wedding Design at J.Crew - people probably expect you to really throw down when it comes to your own wedding - and this designer did not disappoint. We were totally exasperated by all of the classic New York City loveliness at Molly and Alex's wedding. Their Gramercy Park Hotel nuptials had all the style you'd expect from a bride who'd already ascended the ranks of J.Crew's Design department. (more…)
The Ultimate Guide To Dress Shopping: From Vera Wang To Outlets (And Everything Between)
So, you've recently gotten engaged, and you're serious about finding the perfect dress? You've come to the right place. You never miss a sample sale, have all of your fave gowns already bookmarked and you know your fair share of designer names and runway lingo, but after browsing through a few bridal mags, you get the sense that the world of wedding dress shopping is a little...different. You're totally right. Wedding dress shopping is a totally unique and wonderous shopping experience. And it can be a tad overwhelming. But don't fret, dear bride-to-be! First, it's important to narrow down what you want, and we're here to help, with secret tricks and tips from the bridal experts to boot. (more…)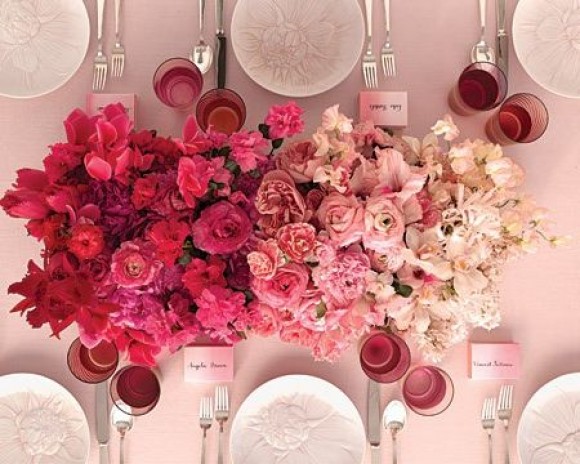 Ombre Wedding Decor: If You Can't Pick Just 1 Shade, Go With The Whole Spectrum
We've drooled over ombre wedding cakes before, but now it's time to turn our eye to ombre everything else! There's plenty of ombre dresses, decor, and wedding stationery to obsess over. If you're considering this colorful theme for your wedding, be sure to check out our fave ombre picks! (more…)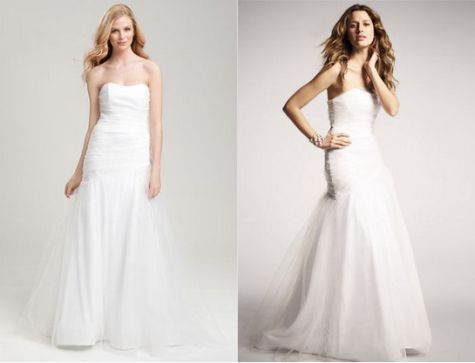 New Christian Siriano Bridal Just Hit Nordstrom: Just In Time For A #Fierce Spring Wedding
We told you several weeks ago that everyone's favorite Project Runway alum had maybe accidentally leaked news of his collaboration with Nordstrom a tad too early - well his first dress has now officially hit stores! This Christian Siriano Draped Tulle Gown ($1,920) has a simple, flowing silhouette and a breathy tulle and crinoline construction that makes it totally perfect for spring and summer brides. (more…)
Rooney Mara's White Givenchy Gown Is Ready-Made For Brides: Shop Look-Alikes Now
There were more than a few gorgeous white gowns on the red carpet last night, but we were absolutely captivated by Rooney Mara's stunning Givenchy selection. Will this form-fitting, architecturally-inspired style be big for bridal? We think so - and if you're a bride-to-be in love with Rooney's look, you're in luck! We've found half a dozen off-the-rack wedding dresses that emulate her edgy, Oscar-worthy style, like this gorgeous Peter Langer gown (above). (more…)
Designer Wedding Gowns Are Now 30-50% Off On Shopbop: Catherine Deane, Marchesa, More
We've been lusting over some of these beautiful designer wedding dresses for MONTHS - and at long last, they're finally on sale! But a word of warning - there are only select sizes left. Snatch 'em up fast, before your size sells out. Check out Shopbop's Wedding Boutique, tout suite! (more…)
Get 25% Off Of Sleek & Sophisticated Wedding Dresses From Ann Taylor, Plus FREE Shipping!
Did you know Ann Taylor has a wedding line? As you might expect, their gowns are super classy, and for a limited time, they're 25% off. You heard us. That's hundreds of dollars off - PLUS you get free shipping. Is this a dream?! So if you haven't been introduced to Ann Taylor's "Weddings and Parties" section, it's time to get acquainted. There's lots of lady-like lace, fluttery details, and sleek, modern silhouettes to take in. To claim your discount, just use the coupon code "GORGEOUS"! (more…)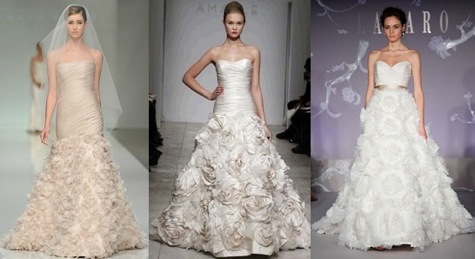 Dust Off The Garden Gnomes: Flowers Are Everywhere For Fall With Appliqués Abound
Autumn brides, rejoice! Embroidered blooms have been popping up all over bridal runways; from Romona Keveza, to Amsale and Lazaro (L to R) designers are insisting that florals aren't just for spring. Want to rock this soft and romantic wedding look during your fall nuptials? Feast your eyes on these choice floral picks: (more…)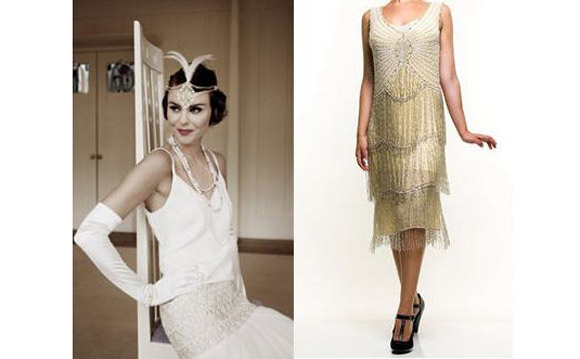 Retro Wedding Dresses For Flappers, Bombshells, Mods And More: What Decade Are You?
If you're channeling Jean Harlow, Doris Day, or Twiggy with your wedding look, then check out these timeless wedding dresses that take their inspiration from the best of every decade. 1920s: Beading, flappers and cheap frills Loads of fringe, drop waists, and bare calves were de rigueur for the sassy ladies of the 1920's. For a speakeasy sexy look, try this Unique Vintage Beaded Reproduction Flapper Dress ($198). (more…)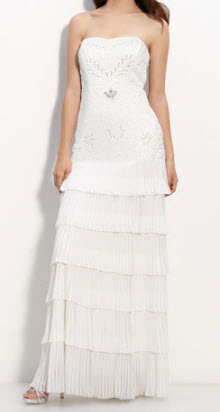 Can You Tell Which Tiered, Strapless Gown Costs $172 Less Than The Other?
Shop our guides to the best flat wedding shoes, inexpensive wedding dresses, customized wedding favors, and wedding bands.
Can You Tell Which One-Shoulder Gown Costs $821 More Than The Other?
Shop our guides to the best wedding jewelry, lavender bridesmaid dresses, and outdoor wedding dresses.
Kim Kardashian Can't Find A Wedding Dress: 4 Form-Fitting Options (Take Note, Curvy Girls)
We know you love those form-fitting gowns, and body-con/booty-con minidresses, so let us make your wedding dress shopping a little easier. Here are some of our top wedding gown picks for Kim and any bride who adheres to that time-honored adage: "flant it if you got it". (more…)
Midday Catch Up: Kate Moss Modeled Bridal At Age 17, Pink Welcomes New Baby, More
From left: 17-year-old Kate Moss, and Pink with husband Carey Hart See The Pictures Of 17-Year-Old Kate Moss Modeling Wedding Dresses And now, 20 years later, Kate won't just be modeling wedding dresses, she'll be wearing her own! Pink Welcomes Daughter Willow Sage Hart Into The World The 31-year-old singer gave birth to her baby with motorcycle racer Carey Hart this past Thursday. For more non-bridal, non-baby-related news, be sure to check out Heidi Klum's new line of sneakers for New Balance or shop our favorite little white dresses on sale.
Lazy About Selling Your Wedding Dress? eDrop-Off Will Measure, Photograph, And List It For You
The nice thing about wearing designer on your wedding day (besides feeling like a total rockstar) is the promising re-sale value you'll get on that gown or accessory later on. But if you're not an eBay maven, or don't have the time to list the dress everywhere online, you could miss out on getting the most for your merchandise. Cue eDrop-Off: a portal for selling designer wedding dresses, shoes, and accessories with the help of a professional, titanium power seller-ranked team. eDrop-Off does a personal evaluation of your goods, measurements, photographs, and even writes the product description. All eBay processing and shipping fees are covered by the service and potential buyers who live near an eDrop-Off location can even come in and look at the items in person. Still in the market for that designer gown? Shop our guides on all styles: simple wedding dresses, outdoor wedding dresses, short wedding dresses, and beyond.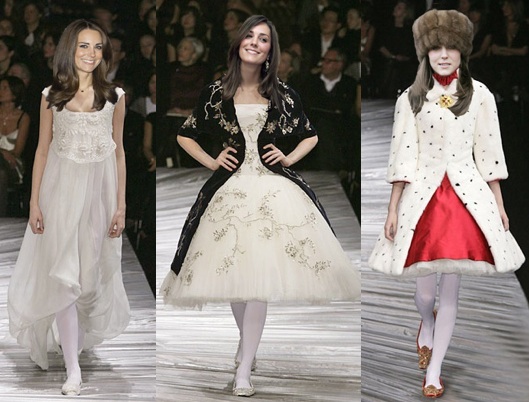 What Would A McQueen For Kate Middleton Dress Look Like?
The rumor mill is swirling with news that Alexander McQueen designer Sarah Burton will be designing Kate Middleton's dress. We think a McQueen royal wedding dress is a fabulous idea, and went so far as to Photoshop how Miss Middleton might look in one of his designs: (more…)
Top 5 Sweetheart Dresses: The Neckline That Looks Good On Pretty Much Everyone
A classic strapless dress is always gorgeous, but, on your wedding day, you're going to want to bring your A-game which, for us, means a sexy, and flattering sweetheart neckline dress. The beauty of sweetheart dresses are that they look good on nearly every figure and bust size. Here are our top 4 picks: The Temperley London Long Liviana silk-chiffon gown ($2,200) will make you feel like a Greek Goddess. The golden bead embellishment accentuates the sweetheart neckline; pair with gold heels and a gold cuff. Pair an tailored corset and sweetheart neckline with a layered skirt for a contrast that's oh-so right. The J.Crew Tulipe Bustier Gown ($1,800) is silk taffeta on top and French tulle in the skirt for a romantic, yet crisp design. This ivory Laundry by Shelli Segal Beaded & Twisted Sweetheart Chiffon Gown ($365) features a twist front detail in the bodice and beading detail that takes it over the top. At this price, you'll have plenty of extra sash for jewelry, fabulous shoes and a breathtaking veil. This ABS Strapless Floral Skirt Dress ($380) is the perfect reception dress. It features a sweet, tailored bodice and a rosette skirt. For more great wedding day looks, check out our best bridal hair accessories, designer wedding shoes, and mother of the bride dresses.
Got The Ring? Now Get The Rest At BRIDEfinds: Introducing Our New Bridal Site
When you're not scouring SHEfinds for great sales and deals, we know you're busy having a real life -- say, finding a man, settling down, and inevitably getting the ring. We don't want to leave you high and dry when it comes to all those important details - the wedding dress, the shoes, the jewelry and more. Introducing BRIDEfinds.com, our click-to-buy bridal site filled with all the solutions you need for planning that dream wedding - one sparkly stiletto at a time. Sign-up for our BRIDEfinds newsletter for sales on wedding dresses, stationary and more, delivered straight to your inbox. Follow us on Twitter, too, @bridefinds. Latest from BRIDEfinds: 60% Off Wedding Dresses At Nordstrom Tadashi Shoji, ABS Allen Schwartz, Sue Wong, and more. Get Kate Middleton's Engagement Dress & Ring Now Hot Prince not included. Pantone Announces The Official Color For Spring Coming to a bridal party near you.
Fashion Math: What's It Worth To Look Stylish While You Sweat?
Even if you wouldn't call yourself a "gym rat," how much time would you say you spend in spin class, on the treadmill, or in downward dog? Be honest. Now ask yourself what you normally wear. If old sweats and faded T-shirts come to mind, maybe it's time for an upgrade. No more excuses; the fashion math adds up when you consider the stylish appeal of Stella McCartney's gym line for Adidas: The performance hooded top ($100) shown here in energizing fuchsia is a beautiful reminder to get your bum over to the gym, plus, it will boost your confidence to have something new in your sports attire repertoire. Best yet, the more you go to work out, the more bang for the buck you'll get from your monthly dues. Can you really put a price on a tight body? For more deep thoughts on the worth of fashion, check out the fashion math archives. You might also like to save on cheap workout gear, our favorite workout gear, or these awesome gadgets to help shed pounds minus the sweat.
Fashion Math: Is a DVF Wrap Dress Really Worth More Than Three Months of Weekly Manicures?
Whether you have an important business meeting, a job interview where first impressions are key or a hot date with a guy you really like, there's one iconic dress that's perfect for all occasions: a Diane von Furstenberg wrap dress. Equal parts sophisticated and sexy, the wrap dress is there whenever you need it. This graphic black and white DVF wrap dress is the perfect example of just how versatile the silhouette can be when the print is right. The price, however, may seem a little wrong at first glance. You see, this dress is $365, which is more than you'd pay for three months worth of manicures. But with a little Fashion Math, you'll see why the dress is the better buy. If you wear your wrap dress just once a month for the next five years, it will cost you less every time you wear it than you probably pay for lunch. And yes, you really can wear this dress for five years. Longer than that, in fact. The colors and silhouette will never go out of style and DVF dresses are such good quality you'll be able to pass them down to your daughter. That's certainly more lasting than those manicure that require weekly maintenance. Shop more wrap dresses, plus great black dresses and party dresses in our buying guides.
Sponsored Post: Head To Ideeli Now To Win This Gemma Redux Necklace
What: The gorgeous Gemma Redux necklace above, which our editors hand-selected for this giveaway. Why: We wear a lot of black, a lot of sheath dresses, and a lot of simple tees and blazers - this necklace is the perfect way to add a little color and a little more edge to any of those basics, without veering into a totally different style. We love it, and we picked it out specifically for you to win at ideeli. How: Head to ideeli starting now, and enter to win any time before 9 p.m. EST. Good luck - we'll be a little jealous if you win.
Best Find Of The Day: Tory Burch Jellies
We're flat-out obsessed with these Tory Burch Jelly Reva flats--a mixture of our favorite classic ballets and our beloved childhood jellies. In magenta, turquoise and black,  for under $100, they're more affordable than the leather version of these classic shoes, and a whole lot more fun. They're waterproof, too, so stock up for a rainy day or two. We love these shoes to commute in, or just to mix up your wardrobe. See more fabulous flats, our guide to ultra chic rain boots is saturated in style--plus, see our roundup of the best rain gear so cute you'll be happy to see the storms coming.
Tuesday's Sample Sale Scoop: Amrita Singh, BCBG, Michael Kors, And More
Our pick: Amrita Singh at The Top Secret L.A.M.B., Matt & Nat, Completely Bare, Janice Girardi at Rue La La KORS Michael Kors, Stella McCartney, James Perse, Laura Geller, Eccolo, Nancy Cohen and Linda Levinson at Gilt Groupe Kova & T, Generra, and Qi Cashmere at Gilt Fuse Noir jewelry at The Top Secret BCBG Max Azria, Dwell Studio, Improvd, Assael International at Hautelook Ted Baker London, Mystique, Jessica Simpson, Guido & Mary, Michael Kors sunglasses at Beyond the Rack Fatboy at Editor's Closet Heys USA at RowNine Get the lowdown on all of these weeks sales with our online sample sale calendar. Also checkout who looked fierce at the Golden Globes with our Top 5: Best Dressed at the Golden Globes.
Latest From MomFinds
Top 5: Best Dressed Moms On The Golden Globes Red Carpet We stayed up to watch the festivities and are here to give you a quick recap of the best dressed moms on the red carpet. And if you're preparing for an upcoming black-tie event of your own, take some inspiration from their looks with our lookalike picks you can buy online now. Beauty Find Of The Day: DIY Eyebrows Whether you tweeze, wax or thread, brow maintenance can be costly. But it doesn't have to. Brow maven Christi Harris offers a DIY kit for less than $40 that rivals the best aestheticians in the business. The secret is the expert-quality tools and a comprehensive DIY booklet. Daily Aww: Zuma Rossdale Some things are just so darn cute they make you ooh and aww out loud. Case in point: Zuma Rossdale sleeping peacefully in mom Gwen Stefani's arms.
Best Find of the Day: A Statement Necklace That Says Simply Gorgeous
Ann Taylor's Mixed Media Statement Necklace ($128) is an elaborate amalgam of peach, pyramid-cut stones and sparkling cubic zirconia all strung together on a chunky gold chain. The combination of oversize, geometric gems in a subtle color palette make the necklace very "now," yet timelessly distinctive. The beauty of this necklace, aside from the obvious, is that it doesn't need much in the way of a supporting cast. Simply pair it with a neutral ensemble to let it be the centerpiece of your outfit; a gray sheath dress, a beige cashmere sweater, or a a camel colored top all fit the bill. For an even bigger punch, wear it at night with an LBD to let it really pop. And while you are shopping at Ann Taylor, use code SAVE40 to take 40% off one regular priced item, plus get free shipping on purchases of $150 or more. If you like this find of the day, go to our top 5 list of statement necklaces, find out what your statement necklace says about you, or if you are still new to the trend, see our guide on how to wear a statement necklace. We also have more information on other types of jewelry, from brooches to cocktail rings.
Charitable Style: How to Help Haiti Through Fashion
The situation in Haiti prior to Tuesday's 7.0-magnitude quake was already one of the worst in the developing world. Now it's likely that things will become much worse. What can we do to help? The best relief we can provide is money. Yes, you heard right. Cold hard cash is what the devastated island nation needs more than anything; more than used clothes, toys, or any other donation you may be considering sending, which while thoughtful, is not always the most useful. There are many ways to offer money. Your favorite charity is a good place to start (UNICEF, CARE, WFP, etc.), but if you don't normally contribute to a charity organization, texting is the fastest way to get money from your pocket to those in need. Just text "HAITI" to 90999, which automatically charges your credit card $10 to give to the Red Cross. Or text "YELE" to 501501 to donate $5 via Wyclef Jean's Yele Haiti organization. If you want to reap a reward from your generosity, we have a few shopping-centric ideas that you might like. Philanthrofashion.com is donating 100% of profits (or 50% of revenue, whichever is greater) on all purchase made through the end of the business today, Friday, January 15. These on-trend Indigenous Designs Urban Fingerless Gloves ($18) are just one option to help put clothes in your closet and cash in Haiti's coffers. For tee-shirt lovers, Kid Dangerous Grime Couture has designed a simple, but useful "HELP HAITI" tee ($35). Proceeds will go to the One Dome At A Time Emergency Fund to rebuild houses in Port-au-Prince. Erica Simon, a boutique jeweler has announced that proceeds from her Diyite Collection (from the Haitian word for dignity) will go straight to Sustainable Organic Integrated Livelihoods (SOIL), a non-profit that works to sustain soil resources, empower communities, and promote public health. You can buy one of these Peonia Necklaces handmade from seeds collected by women on Haiti ($16). Cafe Press is selling tees, tops, water bottles, mugs, and more, and is sending a portion of the proceeds to UNICEF. This Haitian Child Watercolor canvas tote bag ($16) is not only pretty, but would make a great reusable shopping bag. Over at Etsy, the ultra-fashionable Peace Images is sending 25% of proceeds to Wyclef's Yele Earthquake Relief Fund. I can't resist these Peacock Feather Earrings ($27) with gold accents, along with many of the other jewelry pieces. Have another great idea about how to use fashion to help Haiti? Leave a comment to let us know. For more from SheFinds about doing good, check out how to shop eco-friendly, where to get the best vegan fashions, eco-friendly undies, and our favorite reusable shopping bags.
Sneak Peek: Zac Posen For Target's 90201 Inspired Collection
We've always been fans of Zac Posen's effortlessly glamorous dresses, so we were super excited to hear we actually might be able to afford one when Posen releases his line for Target, starting April 25th. Target released photos to Fashionista today--here are our top picks worth lining up for--which eerily remind us of stuff Kelly and Brenda from the original 90210 would have worn: th This red tulle prom dress is sure to sell out first--it kind of reminds us of Brenda's own prom dress--they're both totally '90s--except we doubt anyone in Beverly Hills at the time wore matching socks with theirs. A tuxedo dress is reminiscent of Brenda's snatched-from-Brandon's closet menswear style, and the red leather-like jacket is definitely something that would have spent some time at the Peach Pit After Dark. The body conscious off the shoulder dress is something we definitely remember Kelly wearing--and the model even bears a striking resemblance. Gotta love the scrunched red socks and sunglasses. What do you think? Could Brenda have been Zac Posen's muse? Tell us in the comments. Don't be shy! Then check out our guide to party dresses.
Latest From MomFinds
Beautiful Baby Shower Gifts You Don't Need To Wrap Sometimes--especially at baby showers, where people are watching--the way you wrap or present a baby gift makes as much of an impression as what you've chosen. Here are some companies who have done the pretty part for you, giving you more time to bask in compliments of your cleverness. Four Easy Ways To Stay More Organized The holidays have a way of making us scatterbrained - and the piles of wrapping paper left around the house don't help any. MomFinds helps you get back on your game. Haiti's Earthquake: How You Can Help It's difficult to sit and watch all the destruction and despair from the Haiti earthquake without wanting to do something to help.  You can help, and it's as easy as clicking on a link.  Here's a list of humanitarian organizations that are mounting relief efforts and accepting donations.
Would You Rather: One Luxury Leather Jacket or a Closet Full of Cognac Leather?
Let's play a fantasy fashion game: you have $1000 to spend, but you can only choose one of the options below. Either you blow it all on a fashion-forward, luxury brand item or you rack up several small "mall brand" items with green to save. This begs the question, Which would you rather? Leave a comment a let us know which you'd prefer. This D&G Polished Lambskin Leather Bomber Jacket? Or these all of these four leather goods: a Fossil Castille Ring Satchel, a Roxy Must Have Bomber Jacket, Steve Madden Intyce Cognac Leather Boots, a Rachel Leigh Snakeskin Cuff Bracelet, and enough left over to take a weekend trip? See more Would You Rather to see what you can get for your money, then check out the best rain boots and leather jackets. And if you choose the four items over the one, check out our Sales and Deals page as well as our Taste Tests to get more fashion for the buck.
Best Find Of The Day: Forgiving Slouchy Skinny Jeans
We've seen a lot of incarnations of skinny jeans of late (including denim leggings) , but we have to say, we're impressed by Banana Republic's newest denim invention: slouchy skinny jeans. They're kind of the effortlessly cool jeans that aren't trying too hard--with a little bit of distress, they're even more laid back, but not quite into boyfriend jean territory. The vintage wash slouchy skinny jean is classic enough to go with everything in your closet. Or try something new for spring (and wear into summer) with the light distressed slouchy skinny jean. The idea behind them is that they have a perfectly engineered slouchy fit so they're not clinging to your thighs the way all other pairs of skinny jeans do. They still have a skinny leg, though. This morning at Banana Republic's press preview, I chose to go home with a pair of Ultimate Skinny jeans because I liked the stretch, so if you're like me, you might try on a pair of those, too.
Sneak Peek: Leave It To Victoria's Secret To Make Shapewear Sexy
Victoria's Secret has a knack for making anything sexy--and shapewear is no exception. We love the fit of their bras and underwear, so we can only imagine their new shapewear collection, Secret by Victoria's Secret (debuting tomorrow) will feel just as good. Here's a sneak peek: This mini skirt with thong, Cheek A Boo from the Confident & Curvy line (with stitched panels for extra support), is great for smoothing everything out so you can wear cinched pencil skirts or sweater dresses without feeling self-conscious. Here's the Cheek A Boo from the Seamlessly Sexy line, for a seamless look--great under your slinky party dress. It seems there's a reason they've waited this long to get into the shapewear game  because they were trying to perfect it--their version will have different levels of control: light, medium, and firm. So whether you need a little help, or a lot, you're covered--from push-up shaping slips, and camis to high-waist panties and thigh slimmers. See our guides to more of  the best shapewear, plus shirts to hide your tummy.
News: Margiela's Resurrection, Stella McCartney Designs For Disney, And More
1. 1stdibs.com , along with vintage clothing retailer Resurrection will present  "Resurrection's 20 Years of Martin Margiela (1989-2008)" — an exhibition and sale of about 1,000 Maison Martin Margiela pieces. We're really excited, but you'll need something to wear there--luckily, we've got just the right party dress. [WWD] 2. On the heels of her collection for Gap Kids, Stella McCartney's teaming up with Disney to do a jewelry collaboration centered around Alice in Wonderland, and we hear there'll be Mad Hatters. See our guide to jewelry to find out what's worth the investment. [Elle UK] 3. UK label George for ASDA has created the ultimate dream dress--with built-in shapewear to nip an inch and a half off your waist. A Telegraph editor testdrives. Stateside, see our guide to the very best shapewear, and 5 dresses that work for every shape. [Telegraph] 4. Gossip Girl's stylist, Eric Daman, launched his new style book, giving you secrets from the coveted closet. The title is called You Know You Want It, which is true about the book, and also a new pair of party shoes to rival Blake Lively's. [InStyle UK]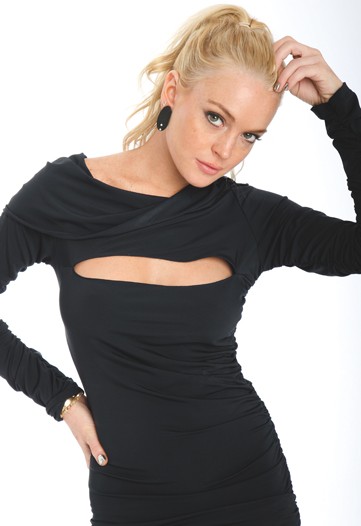 News: LiLo Advises Ungaro, Marc Jacobs Makes Skateboards, And More
1. Well, it's confirmed: Lindsay Lohan is an "artistic advisor" for Emanuel Ungaro, a job she was rumored to get a few months back.  We still find this odd, and we'll stick with celebrity looks, not celebrity designs.  [WWD] 2. The prolific Marc Jacobs has expanded into new territory: skateboards.  The decks have pretty interesting designs; though we don't skate, we'd don a denim jacket to ride one if we did.  [HypeBeast] 3. Oprah will co-host next year's biggest fashion event, the Met Ball, with Anna Wintour.  We wonder if Oprah's seen The September Issue and knows what she's in for. [Yahoo News] 4. Sex and The City star Kristin Davis has canceled her upcoming clothing line, which was supposed to debut at New York Fashion Week this month and be sold at Belks department stores.   In case you still want to dress in clothing that Davis would approve of, we'd recommend getting a pair of fashion-forward ankle booties.  [The Cut]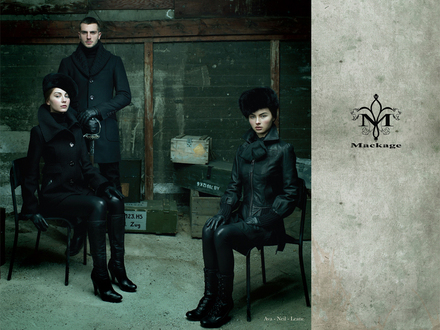 Wednesday's Sample Sale Scoop: Mackage, Smashbox, Christian Lacroix, And More
Editor's Pick: Mackage outerwear at ideeli Jay Godfrey clothing, Lacoste watches, Herve Leger dresses, Alexander McQueen clothing, mixed designer fragrance sale, and Smashbox cosmetics at Gilt Groupe Charlotte Ronson clothing and Stitch's Denim at Billion Dollar Babes Lauren Merkin handbags at Luxe Club One Timbuk2 bags at Editors' Closet Christian Lacroix scarves and Victorinox sportswear at ideeli Kowalski footwear and Puma watches at Beyond the Rack Cara jewelry, Stitch's Denim, and Bedhead Pajamas at Hautelook Portolano cashmere, Loomstate clothing, and Paul Morelli jewelry at Rue La La Don't forget to check out the online sample sales going on all week.  And look sharp for fall with a new work dress and a pair of oxford shoes.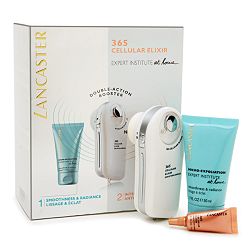 Geeky Beauty Gadgetry That Actually Works
What: Lancaster 365 Cellular Elixir Expert Institute At Home ($129) Why: They say that guys love high-tech gadgetry, but I have to say: When it comes to beauty devices, the more tech-y, the more enticed I am. The newest gizmo-enhanced kit from Lancaster pairs the company's DNA-repairing 365 Cellular Elixir serum and Micro-Exfoliation Cream with a battery-operated "Beauty Accelerator" that vibrates, sending micro-currents into the skin. You attach a handy, easy-to-clean sponge on one side of the accelerator, apply the cream, switch the gadget to Micro-Exfoliation function, and go to town polishing your skin. Then you apply the serum, flip the gizmo over, switch on the 365 Cellular Elixir function, and massage the smooth, metal surface against your skin. Though it all sounds rather confusing, it's an extremely easy—and, I must admit, fun—at-home treatment that has markedly decreased the furrow that has taken up residence between my brows.  Get yours: drugstore.com
An All-Weather Friend That Doesn't Secretly Hope You Age Poorly
What: Prescriptives All-Weather Friend ($26.50) Why: I used to flock towards the sun in the summer like a moth to a massive, fiery flame - whether it was shining down on me at the beach or in the form of fluorescent lights inside a New Jersey tanning bed. It didn't matter; a tan was totally hot. But now, past the age of 25, that same tan makes me look wrinkly, or will in a few short years. Therefore, my new best bud from July through August is Prescriptives' All-Weather Friend, which provides a hefty dose of SPF 40 and manages to make my skin look insanely good. I even slather it on at night. Just in case that reading lamp has the potential to give me crow's feet. Get Yours: nordstrom.com Browse more beauty options in our guides to acne treatments, lip balms, and favorite mascaras.
Solution: Get Past The TSA Without Making Your Skin Pay For It
What: L'Oreal Skin Genesis Micro-Smoothing Wet Cleansing Towelettes, $7.59 Why: I travel all the time and my skin suffers. And since my favorite Origins Organics face wash doesn't come in a TSA-friendly size, I decided to try L'Oreal's wet cleansing towelettes... and I love them. They come in a handy, metallic bag that has a resealable closure, and because they aren't a liquid, they can go through security in your carry-on. Each textured towelette gently removes makeup— even eye makeup— and leaves your skin feeling fresh and clean, without drying it out. Get Yours: drugstore.com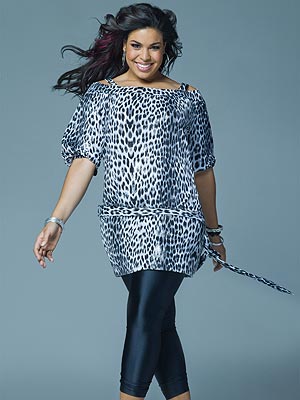 Celebrity Fashion: More Good Stuff from Cheesy Mall Stores: Wet Seal
Who ever would have thought that Ashlee Simpson-Wentz and Jordin Sparks would have more in common than just singing? Well, it appears that both have now officially "designed" for that urban mall mainstay, Wet Seal. Ashlee went the celebrity t-shirt route a while back, but Jordin has launched a line of holiday dresses called "Sparks" that will hit stores just before Thanksgiving. Later the line will expand to include accessories and casual apparel. So being the curious girl that I am… I checked the new dresses out online and shocker! They're kinda cute! Sure, they are aimed at the teen set, but there were definitely possibilities that I'm going to go try on this weekend. All of the dresses come in sizes small to extra-large, and top out at $55, which means you can afford to get yourself something fun when you're the +1 to someone's holiday party. Jordin's cheetah print dress is just $30, but my favorite is this dolman sleeved dress. It has a flattering deep v-neck and side tie belt, which will accent your waist. The shiny golden color is not only festive but will stand out in the sea of holiday red. It too is a steal at $29.50. What do you think? Would you buy one? Tell us in the comment section below!
Until They Come Out With A Wii Eco, We'll Have To Settle For These Earth-Friendly Gifts
You may love the holidays (who doesn't enjoy gifts, decorations, family celebrations?) but they're not always Earth-friendly. Think about all that wrapping paper, Christmas trees, and highway and air travel back to the ancestral home--that stuff hurts the environment. Badly. But since there's little you can do about the trappings of gift-giving, focus your efforts on making your purchases as eco-friendly as possible. Here are a few green gifts we really like. EcoTools Bamboo Five-Piece Brush Set ($11) includes tools for applying eyeliner, blush, shadow, and lip color - each with sustainable bamboo handles and cruelty-free synthetic hair bristles. At 15 inches wide and 7 inches deep, this Heather Heron Acacia Clutch ($375) holds all of your essentials while maintaining a sleek, modern look. And, don't tell, but it's made of European hemp, a favorite fabric of not only earthy kook Woody Harrelson but also of everyone who knows anything at all about green fashion. As the first cosmetics company to receive USDA organic certification, Origins knows something about eco-friendly bath and body care. Their products are made from organically-grown farm products, which means there's no toxic chemicals or pesticides in the stuff you're smearing all over your face. The Alternative Roots gift set ($48.50) contains ginger body products that offer an unexpected and refreshing scent for the holidays.
Shade Clothing Knows A T-Shirt Needn't Be An Investment Purchase
If you're like me, you can never have too many of that perfect white scoop neck or the fitted cami that goes under everything. But I'm not willing to empty my shoe fund for the basics that are the foundation of my wardrobe. My search for affordable styles that I could layer has finally ended at Shade Clothing, which has great basics at even better prices. And that's good news considering the current state most of our retirement funds are in! I love the cap sleeve t-shirt enough that I have a couple of them ($17.50, 2 for $29). They have just a little spandex blended with cotton so it hugs my curves without being too tight. I can't live without the half-sleeve turtleneck ($15), which can be dressed up for work or thrown on to just sit around watching tv. But before you think Shade Clothing only does basics, check out this bell sleeve overcoat ($24) that's a stylish alternative to a sweatshirt. The best part is everything is machine washable and won't require you to wrack up any dry cleaning bills. Bonus: Receive free shipping from now until December 15th on all orders at shadeclothing.com.
Freebie Friday: Win A $200 Shopping Spree At Anonymous Venice
What: $200 to spend at AnonymousVenice.com Why: With wares inspired by the fashion-forward locals in Venice Beach, CA, Anonyous Venice bills itself as the place "where LA style is born." But whether you're a surfer gal or more of a classic dresser, you'll find something fabulous at this extensive online store.How: Go to AnonymousVenice.com and shop around for $200 worth of items you love. Then come back to this post and leave a comment about what you'd buy, and we'll enter you to win.And at prices this reasonable, you could build a whole new outfit for $200, but we'd focus on the great jeans, jackets and simple jewelry.We'd snatch up the Yag Double Breasted Jacket, because this cotton coat is the kind of piece we're always looking for during 'in-between' weather – and it's a steal at $60. Then we'd get a pair of the Samantha Trouser Pocket Jeans; they're just what office-appropriate denim should look like. After adding a Domed Metal Ring and a silver metal cuff to our cart, too, we'd still have $12 left over! Your turn: tell us what you'd buy below for a chance to win.Can't wait to win? Shop Anonymous Venice's gift guide by price or b your relationship with the recipient.And don't forget to check out MomFinds for a chance to win a $50 Macy's gift card and a $50 Borders gift card from Aleve. 1. Post in the comments section about what you'd buy with $200 from AnonymousVenice.com.2. You must supply us with a valid email address and sign up for the SheFinds newsletter.3. The contest starts now and entries must be date stamped by our server no later than Friday, December 5th, 2008 at 11:59 AM Eastern Time to be eligible.4. One winner will be selected during a random drawing and will be announced in the December 9th SheFinds newsletter. The winner must reply via email as instructed in the newsletter to claim the prize.5. No prize substitutions.6. You must be 18 years old or older to enter and a resident of the USA.7. No purchase necessary.8. Void where prohibited.9. Click here for the full rules.