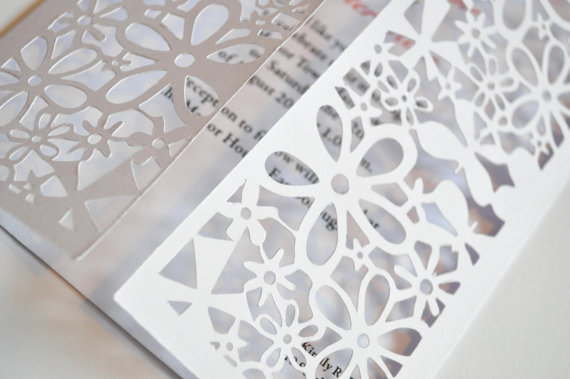 Forget Letterpress: Laser Cut Invitations Are The New Stationery Status Symbol
One of the biggest trends we see coming in 2013 is laser cut lace, an updated, modern version of traditional lace. We saw it in dresses at Bridal Market 2013 by THEIA and Ivy & Astor. Even Nicole Richie used laser cut quite a bit this year in her Harlow and Winter Kate lines. It's moving into wedding decor, with invitations being the first area. Laser cut is the perfect compromise between liking lace but not wanting everything to look too precious or like a doily. Check out our slideshow of laser cut wedding invitations for pretty much any budget or theme. Check out more wedding planning tips, such as 13 wedding trends for 2013, 15 non-floral bouquets and Monique Lhuillier engagement rings. [Photo: Etsy]
It's The Last Day To Get 25% Off Your Invitations At Wedding Paper Diva's Summer Sale
There's only 1 day left to save (substantially!) on your wedding invitations and save-the-dates at Wedding Paper Diva's summer sale. We'd suggest you act fast if you want to get in on the sweet sale action; not only is WPD one of the top 5 places to buy wedding stationery online, but they've just introduced a new line of "Custom Type" invitations that will blow you away. These new exclusive designs, like this Fresh Embellishment invitation (above), are customizable down to the last letter; a WPD designer works one-on-one with you until the font, color and text treatment are perfect. If only every aspect of planning were that easy! #wishfulthinking (more…)
Throwing A Nautical Or Beach-Themed Wedding? Step One: Get Preppy, Navy Invites
If your wedding will be nautical or destination or beach themed, you're going to need invitations that get guests on board from the get-go (sorry for the pun). The ideal nautical invitations are beach-y, yet still classic, preppy and navy, gold or red. Stripes are always key -- and we're loving this added rope detail, courtesy of The Perfect Palette. (more…)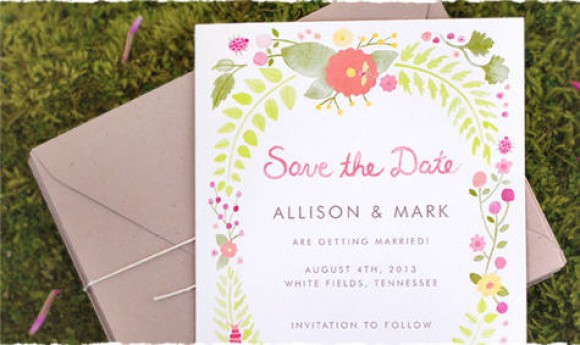 Save 15% On Spring-tastic Invitations From Hello! Lucky (The Stationery Authority On Whimsy)
One of our absolute favorite wedding stationery e-tailers is offering a special discount on invites and save-the-dates, just in time for spring. Hello! Lucky recently rolled out a lovely new line of fresh, seasonal designs - flowers, birdies, and whimsy abound. Click through and find out why Hello! Lucky made our list of the best places to buy wedding stationery online. (more…)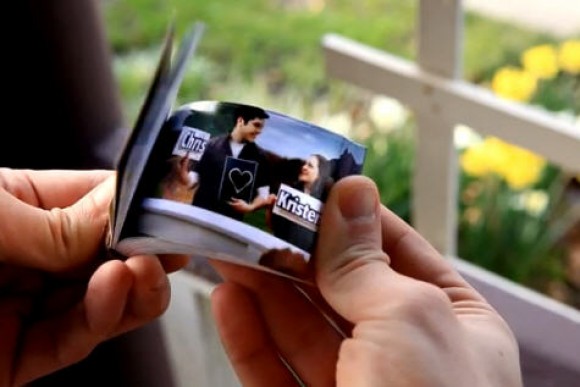 Remember Those Flipbooks You Loved As A Kid? They're Making A Comeback As Wedding Invites
Recently, some chick turned us on to this super fun flipbook wedding stationery trend. Ok, it was Martha Stewart. But the lady knows her stuff! After a little digging, we also found this awesome video on Flipbook Save The Dates. Now, our creative juices were really flowing. Flipbooks were the coolest when we were kids -- so how did we not think of using them as wedding stationery sooner? (more…)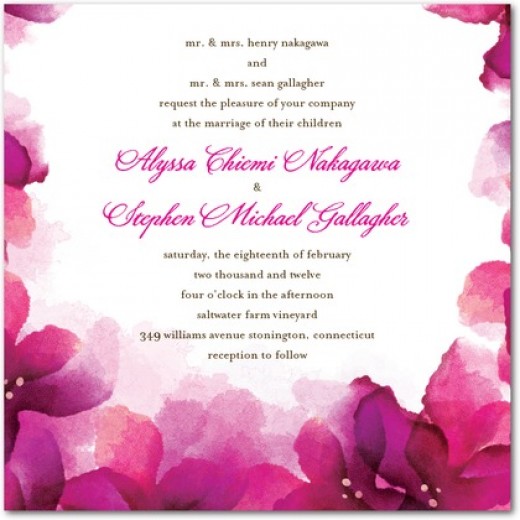 30% Off Gorgeous Invitations & Save-The-Dates At Wedding Paper Divas' Sitewide Sale
Wedding Paper Divas is celebrating six years in the stationery biz with a very special promotion - they're offering everyone a whopping 30% off on any order! We recently declared Wedding Paper Divas one of the Best Places To Buy Wedding Stationery Online, and sales like this are the very reason WDP made our list. If you've already been pining over their adorable photo save-the-dates and luxe letterpress invites, now is the time to pull the trigger and add to cart! (more…)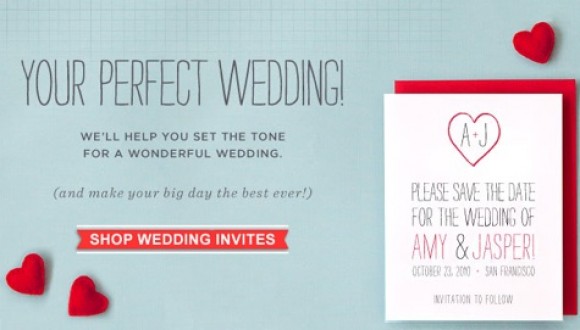 The Best Places To Buy Wedding Invitations Online: From Printable Kits To Letterpress
They say your wedding invitation sets the tone for your entire event, but really, every piece of stationery you slap a stamp on should be emblematic of your wedding vision. If you've just begun your search for cute/elegant/modern/quirky wedding invitations, we're here to assist. We're giving you the shortlist of our favorite stationery destinations.So whether you need engagement announcements, wedding invites, save-the-dates, or thank you cards - check out these bride-approved (and BRIDEfinds approved) online stationery retailers. (more…)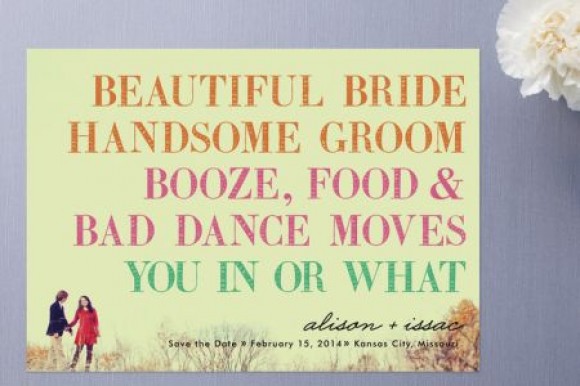 10% Off All Wedding Stationery (Including This Awesome Save-The-Date) At Minted!
We are having a stationery-induced SWOON-fest over here. Minted has a fresh new batch of thoroughly modern new wedding invite designs which we heart big time. PLUS they're giving brides-to-be an extra 10% off of ALL wedding stationery! Between save-the-dates, wedding invitations, RSVP cards, thank you notes, and other goodies like reception cards, place cards, and menu cards - the savings add up fast! (more…)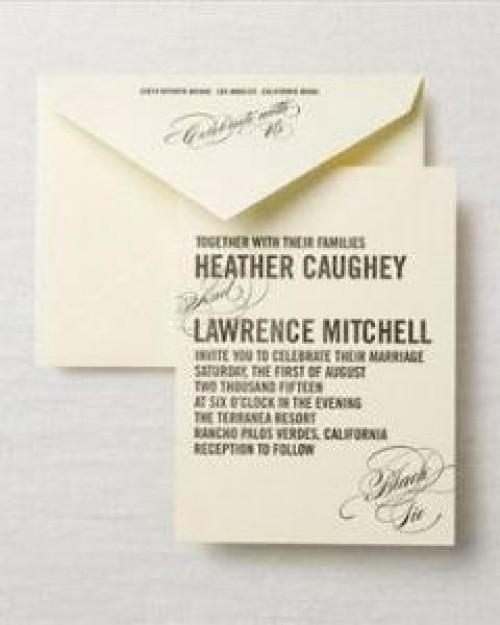 Get A Third Of Your Wedding Invitations For Free On Crane & Co. Today (Yes, Even Letterpress)
Crane & Co just rolled out a ridiculously cute new line of letterpress invites, and to celebrate, they're offering brides a sweet deal on wedding invitations and save-the-dates! For a limited time only, you can get an additional 25 sets of stationery whenever you order 75 or more! To those starry-eyed, newly engaged gals who've just meandered over to our humble web abode for the first time - welcome, and congrats! We suggest you throw yourself an engagement party tout suite! (more…)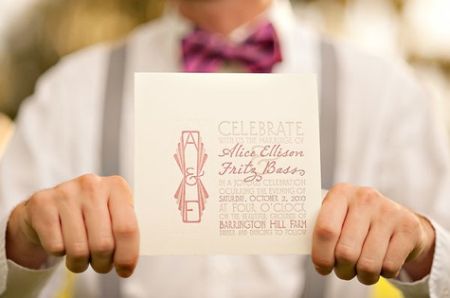 Transport Your Guests To Another Era With These Art Deco Invitations From Etsy & Beyond
Everything old is new again! Have you noticed? Our latest vintage obession: all things Art Deco. The typefaces, the architecture, the dapper gents and swooning dames,  the Hollywood glamour... And like all truly fabulous trends, Art Deco is creeping into every aspect of decor -- particularly stationery. There's a plethora of beautiful Deco-inspired  invitations and save-the-dates available on Etsy and some of our favorite wedding stationery sites - so many in fact, that we knew we just had to share. (more…)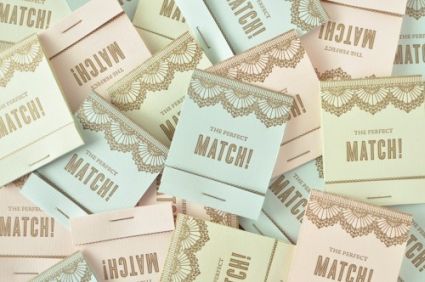 Forget Magnets, We're More Attracted To These 8 Memorable Save-The-Dates
We'll admit it - in terms of memorability, magnets are hard to beat. They're bound to adorn your loved ones' refrigerators for all of eternity. But we've found a bevy of totally unique save-the-date ideas that'll get your friends and fam especially excited. From "Minibooks" to matchbooks, from postcards to pop-ups...your wedding guests won't just be thinking of you before and after they reach for a snack - they'll be raving about your ingenuity for weeks! (more…)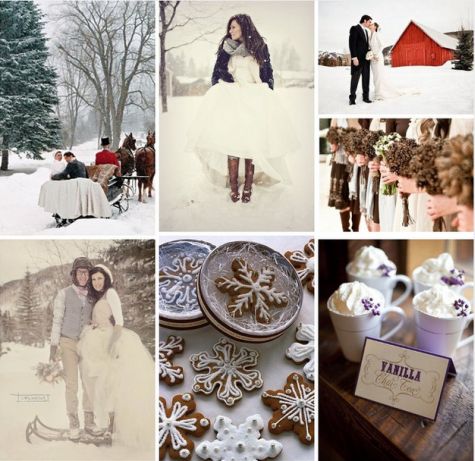 Hand Warmers, Ornaments, Gingerbread Cookies & More Cozy Decor For Your Winter Wedding
Winter weddings are always a special treat - but all that seasonal splendor and winter romance will be wasted if you can't keep your wedding guests nice and cozy. We've found a wide selection of winter-ey wedding decor, favors, and gifts that will keep hands and hearts warm all around. (more…)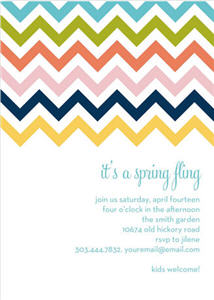 If Zig-Zags And Stripes Had A Love Child The Result Would Be These Colorful Chevron Invites
We've already professed our love of all things striped, and now we bring you the love child of stripes and zig zags: the chevron print. Absolutely perfect for spring brides who love color, chevron invitations are like little pieces of joy delivered to your guests in box. We've rounded up the best and the brightest; shop this colorful batch of chevron-printed stationery now. (more…)
Tartan, Lace, Linen & More: Fabric-Inspired Invitations Rule For Spring
Fabric-inspired wedding invitations have become a ever-so-popular this season (so says Martha, dictator of all things proper), and we couldn't be more excited. From damask to tartan, and even linen and quilted inspired invitations, we've found 10 gorgeous styles from around the web that you can scoop up now. (more…)
The Hipster Wedding Handbook: You Bet Your Ass We've Got Mustaches
If you live in a 50-mile radius of a hipster neighborhood, you know what it's all about: ironic mustaches, vintage T's, tattoo sleeves, and that signature "too cool for school" attitude that hipsters pride themselves on.  I'm not knocking the scene by any means (I happen to have a few in my family), and am actually paying homage to it with these very retro, hipster-worthy wedding finds. (more…)
A Cute Invitation Idea For Couples With Kids (Courtesy Of Gene Simmons, Of All People)
After 26 years of dating, rock legend Gene Simmons and former playmate Shannon Tweed will tie the knot at the historic Beverly Hills Hotel this fall. The couple, who have 2 adult children, just released details of their October 1 nuptials to People, including a surprisingly sweet invitation which names their children (rather than parents) as the hosts. We love this idea for blended families or couples with kids. Their daughter Sophie wrote a poem and son Nick drew a sketch for the invitation as well: The Simmons-Tweeds inspired us to find even more clever wedding stationery: For more clever wedding stationery, check out these Will You Be My Bridesmaid? cards, then check out our guides to the best cheap wedding invitations, destination wedding invitations and unique wedding invitations.
You Can Thank Kim Kardashian For Bringing Black & White Damask Back In A Major Way
Kim Kardashian's wedding last week was dripping in ornate black and white patterned everything -- from the invitations to the aisle runner. Also known as "damask," this style was all the rage about 5 years ago. If you love the swirly, fanciful pattern, then rejoice: thanks to Mrs. Humphries, it will come back in a major way this fall. Shop our damask picks now. (more…)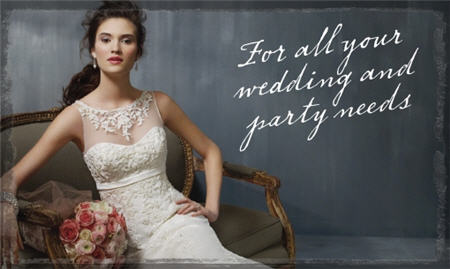 Alfred Angelo Introduces Invitations And Decor: Plus, A Tool For Matching Your Color Scheme
Dress designer Alfred Angelo just announced that he's expanding his bridal offerings to wedding invitations, party decor and more planning essentials on a new site that even allows you to browse products based on your color scheme. (more…)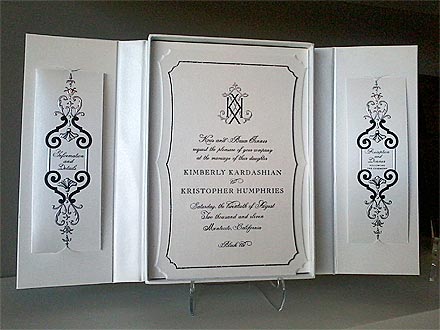 Kim Kardashian's Wedding Invitation Confirmed — Shop Look Alikes Now
Whoops - after speculating that Kim Kardashian's leaked wedding invitation might be fake, we can confirm that it is in fact real. (more…)
Lemon & Lime Invitations Set The Stage For A Colorful Outdoor Wedding: Shop Now
Bright yellows and greens are a popular color pairing for weddings this year, and you can see why -- just look how bright and cheery even subtle accents are. Thinking of trying the trend on your big day? Any of these lovely invitation sets in the vibrant color combo would make a great start: (more…)
Your Daily Dose Of Eye Candy: Circus-Themed Invitations And Robert Pattinson
Let's let Robert Pattinson be our royal wedding distraction today. If you haven't seen Water for Elephants yet (filmed partly in my hometown of Chattanooga!), tell your fiance you are going for inspiration. The vintage themes, the bright colors, and those swirly big-top posters inspired me to find some circus-themed (but not too over-the-big-top) invites: (more…)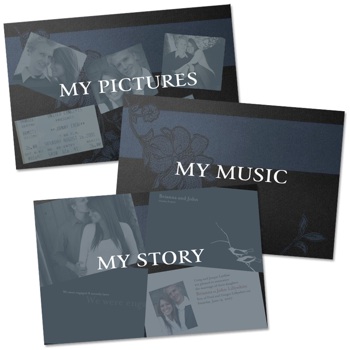 The Only Wedding Invitations That Are Truly Eco-Friendly Are Paperless: Go Digital Now
If you're trying to make your wedding as green as possible - you have to consider MyInvitationLink.com, an eInvitation site with more than 30 customizable templates to choose from. As a greenie, I love the idea of a wedding invitation that saves trees and money. If you'd prefer formal paper wedding invitations, consider these for your save the dates or invites for engagement parties, showers or bachelorettes. (more…)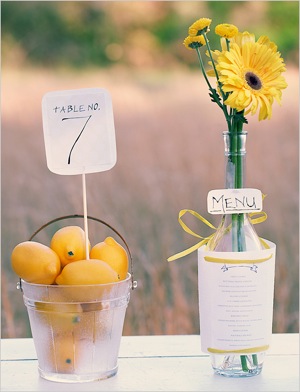 Get Inspired: DIY Menus, Striped Invitations, Lace Wedding Shoes, More
Thanks, Wedding Chicks and Hilton Pittman for such an inspired DIY idea. Loving Spring's colorblock trend? BRIDEfinds has the wedding version: striped wedding invitations. Every Last Detail is at it again with the "5 Things To Know About..." series. This week's post was all about invitations and definitely has things you should know before ordering yours. The Bouquet and Garter Toss: A brief history, musings on why some brides opt out, and a sweet alternative dance to do instead is all on bWed Exclusive this week! Easy DIY Wine Bottle Menus and a free download by Hilton Pittman on Wedding Chicks. Tips on choosing bridesmaids dresses (That Make Everyone Happy!) from Ok, Now What? Bride. Check out Honey Living's favorite finds this week from around the bridal world. Love lace and affordable shoes? Who doesn't?! Love them together in this week's Can't Afford It/Get Over It, lace-covered pumps edition, on The Broke-Ass Bride.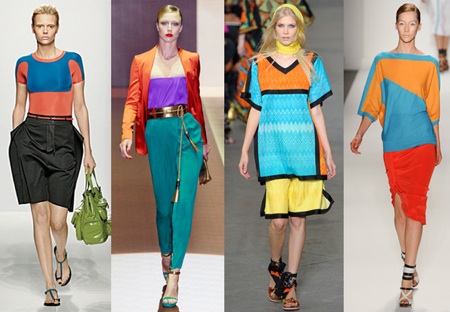 The Answer To Spring's Geometric And Colorblock Trends? Striped Wedding Invitations
Remember the kid in your elementary school that never quite seemed to match? Thanks to spring's colorblocking trend--putting solid complementary colors together--we've found a bevy of spring invites that are bright, colorful and feature the geometric pattern trends that are storming the runways. (more…)
Crane & Co.'s Peter Hopkins Reveals The Invitation Etiquette Every Bride Should Know
Crane & Co.'s Peter Hopkins knows a thing or two about selecting the perfect wedding invitation, save-the-date etiquette and seasonal trends. As an invitation historian, Peter knows his stuff -- and with his 5 essential tips for brides, you can, too: 1. Mail Save-The-Dates 6-10 Months Before The Big Day. "Give guests enough time to manage their calendars," Hopkins says, "6-10 months before the wedding date should be find." Peter's favorite? These Pearl White Embassy Printable Invitation Cards ($25 for 13). (more…)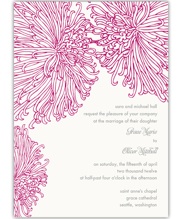 Cheap Wedding Invitations: Save Your Money For The Big Ticket Items
If your wedding budget is as tight as a pair of Kim Kardashian jeggings, don't overspend on your invitations - that is definitely one area where you can find inexpensive options without telling the difference. We've been on the case for some time, and are delighted to bring you our expert-picked cheap wedding invitation guide. Like these expensive-looking Old World Elegance Wedding Invitations ($119.95 for 100) which cost just a dollar per invite. Top 9 cheap wedding invites >> Check out our guides to the best simple bridesmaid dresses, long bridesmaid dresses and satin wedding shoes.
A Spring Stationery Trend We Love: Ribbon Wedding Invitations
The Knot released its top invite trends for 2011--and invitations with ribbon finish topped the list. We're loving this idea - especially since you can use colorful ribbon to match any color scheme. Wrap up your pretty spring invites with these choices. (more…)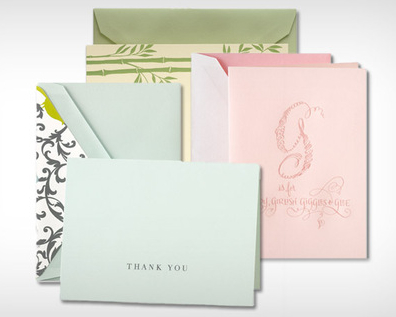 Wedding Sample Sale Scoop: 50% Off Personalized Invitations From Crane's
For those of you in the market for the perfect wedding invitation, look no further than today's ideeli sale. Ending Friday, you can purchase $80 worth of Crane.com invites for only $40. Choose from monograms, thank you notes, and other personalized stationery to make your wedding unforgettable. Don't forget to check our calendar of online sample sales and shop our editor-picked Crane & Co guide. Also on sale today: Gilt Groupe: Corso Como, Embrace Lace, Bruno Frisoni, Chamak Jewelry, Laila Azhar Modnique: Kelsi Dagger, Della Riva, Lancaster, Lorenzo Shop our guides to the best simple wedding dresses, strapless wedding dresses and white wedding shoes now.
Puzzles, Passports, And More: Clever Invitation Designs That Are Anything But Square
If you've always been creative at heart, a traditional wedding invitation may not feel like the best fit. Wedding invites don't have to come in square packages -- check out these invites in special shapes and unique themes. (more…)
Don't Overspend On Pretty Invites; Up To $80 Off At Wedding Paper Divas Today
Wedding Paper Divas is on a mission to give all your wedding-attendees-to-be some mailbox love in the very near future. Their current wedding invitation deal gives you up to $80 off your order (code 80MARCH11). Even better? All our picks below start at just $1.69 each -- and each invitation is special in its own way. (more…)
From Robin's Egg to Midnight– Pretty Blue Wedding Invitations For Any Season
If your wedding color scheme include any of the marvelous shades of blue, there's a wedding invitation to complement it. From floral to elegant, blue is an eye-pleasing color that even your fiancé can agree on. (more…)
Vera Wang, Kate Spade, More: Designer Invitations As Glamorous As Your Gown
If you're having a high-class event, you'll need designer wedding invitations. Luckily, Kate Spade, Vera Wang and Martha Stewart have all added wedding paper to their lists of stylish offerings. If you're the type that turns over the invite to see what the "label" says - these designer ones are for you: For more designer buys, visit our guides to simple wedding dresses, best wedding jewelry, and designer wedding shoes.
Style Blogger Jordan Reid Shares Her DIY Invitations — Straight From The Photo Booth
Name: Jordan Reid, Style Blogger, Ramshackle Glam. Wedding: Clay Hill Farm, Ogunquit, Maine. Want to have your wedding featured on BRIDEfinds? Submit your real wedding finds to [email protected] Please include: A photo from your wedding day, in which the "best find" item is shown. Your best find price and/or a link to buy it online. Your name, wedding location (venue, city), and a brief quote about why this was such a great find for you. Optional: a link to additional wedding photos, additional "finds" from your wedding. For more great wedding ideas, check our guides to the best wedding veils, inexpensive wedding dresses, and cheap wedding invitations.
Forget This Crappy Weather With Preppy Poppy Wedding Invitations
The weather outside is oh-so-frighteningly cold and gross, especially if you're trying to plan a warm and sunny spring wedding. We've got spring fever like crazy and have been eyeing cheerful poppy themed wedding invitations all week. Here are a few of our favorites: Looking for more wedding invitation ideas? Check out our guides to Destination Invitations, Peony Invitations and Cheap Wedding Invitations.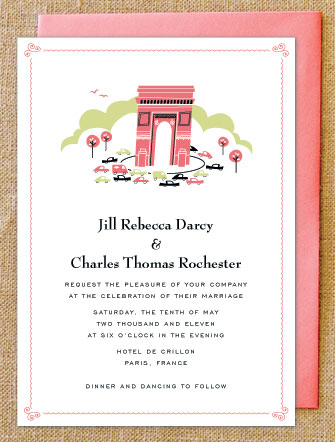 Pack Your Bags, Book Your Tickets — And Don't Forget The Destination Wedding Invites
If you and your husband-to-be have fallen in love with a special place, why not get married there? From the beach to the big city, find a destination wedding invitation that matches the spirit of your locale of choice. If you've said oui to a Parisian fete, choose this Vintage Paris Destination Wedding Letterpress Invitation ($373.75 for 50). I love the simple elegance of the square Seashell Sketches invitation ($109.50 for 50). Leave your postmark with this Postmark Sealed Card ($204 for 50). The tri-fold card gives you extra space for printing--perfect if you are hosting a post-wedding brunch or golf event. Just you and your groom in the sun and sand--if you've planned a beach wedding, the Beach Wedding Couple invitation ($99 for 50) is romantic and whimsical. Take personalization to the next level with this Photo Card ($195 for 50) from Crane's. Sticky strips on the front allow you to affix the photo of your choice. If you have several favorites, send different photos to guests for an invitation that's truly unique. Looking for more great invitations? Check out our guides for best cheap wedding invitations, best wedding invitations and wedding decor.
Something For Spring Brides: 5 Peony Invitations That Really Pop
I'm getting married in June, and so a floral theme and wedding invitations just made sense. I love peonies and they really are the perfect wedding flower: the bright, wide pink bloom lights up any bouquet, table setting or invite. I opted for this Martha Stewart Peony Save the Date and Invitation, but here are the other close runner-ups as well: Check our guides to the best cheap wedding invitations, best wedding invitations and wedding decor.
Not Your Grandma's Homemade Stationery: 5 Ways To Make A Mark With Wedding Invitations
A plain and simple wedding announcement? We're over it. Save the dates are meant to be memorable -- you've got to grab your guests' attention so they'll mark their calendar and prepare to dance 'til dawn. This Jet Set Save the Date from FineStationery.com ($180 for 50) is customizable in 28 type styles, 21 ink colors and your choice of monogram. These Lanvin bridal greeting cards by designer Alber Ebaz ($55 for six) on Net-A-Porter are the perfect cards for the label-obsessed bride, and feature a romantic Parisian proposal scene. Include a personal message or print a save-the-date greeting on the inside. This Monte Carlo Save the Date from FineStationery.com ($138 for 50) lets you play a winning card. Perfect if the bride or groom who loves poker, but isn't getting married in Vegas. You aren't too proud to beg -- and this Heartfelt Words save-the-date (50 cards for $79.50) from WeddingPaperDivas.com lets your guests know just how important they are to you. The bold, colorful palette is customizable in three color styles. The Restored Calendar magnet ($119.50 for 50 magnets) from WeddingPaperDivas.com has a stylish vintage feel. If you prefer the paper form, that's available too ($64.50 for 50 cards). Looking for more great deals on cheap gowns and accessories? Check our guides to the best cheap wedding invitations, best wedding invitations and wedding decor.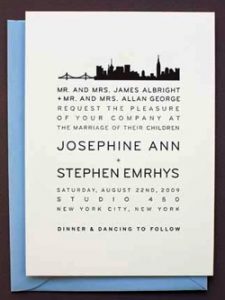 Invite Guests to More Than Just Your Wedding–Invite Them to Your City
If your guest list includes lots of out of town guests, why not use your wedding invitation as the first intro to your city? Hello! Lucky makes these awesome skyline wedding invitations that are not only totally modern and chic, but also very personal. New Yorkers will no doubt love the iconic NYC skyline design, but they also offer motifs for Las Vegas, San Francisco, London, L.A., Chicago and Paris. If your city isn't available, Hello! Lucky also offers custom designs so you can choose your favorite setting in your wedding city and the team will create a masterpiece. Get Yours: hellolucky.com Find more wedding invitations in our shopping guides.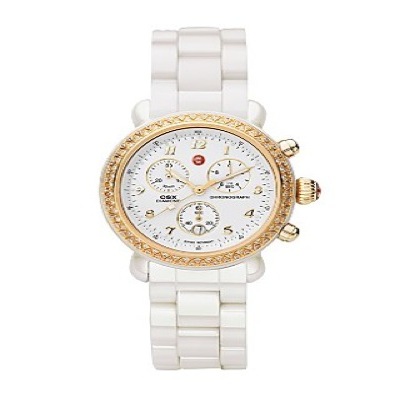 Taste Test: Which Chunky Watch Doesn't Have A Fat Price?
Show us your fashion expertise by taking more taste tests, and head over to our guide to women's watches to find a watch to fit your every mood.
Innovative Beauty Products (That Actually Work)
If you're in the market to upgrade your cosmetics bag this month, may I humbly suggest you read the following. These five products will make the dreary winter weeks ahead that much more bearable--and beautiful. Longer lashes, especially when they are natural, are priceless. For those who haven't hopped on the Latisse bandwagon yet, there's Tarte's new MultiplEYE Lash Enhancing Mascara ($32). A multi-tasking spin-off from the original MultiplEYE Lash Enhancer ($65), this number helps lashes grow with amino acid proteins, while strengthening them and giving you a faux boost in the meantime. Dry air, a winter trademark whether you are outdoors or in, can wreak havoc on your skin and magnify the appearance of fine lines and wrinkles. Treat your skin while you sleep and see the results resonate throughout the day with Clinique's Youth Surge Night Age Decelerating Moisture for Dry Combination Skin ($48.50). Cult favorite, NARS Orgasm Blush, can only be matched by NARS' new hit, the Orgasm Illuminator ($35). Forgo bronzer and use a dab of this in your foundation to get a perfect finish that hides drab winter skin. If the packaging alone doesn't get your attention with its mini mirror and futuristic styling, listen up: the Rouge G de Guerlain Le Brillant Jewel Lipstick Compact ($53) is made with shimmering ruby and mother-of-pearl powder all while being creamy and moisturizing. Don't forget your coif. With humidity down hair can look flat and limp. Maximize your cut (whether you have a bob, long layers, pixie, or blunt cut) and minimize the time spent styling with HerCut, a product meant to work with your hair's style to make strands behave exactly as they should. Get more advice on beauty products to help you beat the winter, including our guide to the best lip balms, heavy moisturizers, and even self-tanners to start prepping for your spring break escape.
Today's Good News & Bad News: Yamamoto Shutters, Red Carpet Predictions and More
First, let's get the bad news out of the way: A sad day for an amazing Japanese label--Yohji Yamamoto has closed both of its New York City stores, leaving us to hope at least the company will continue to survive. [Vogue UK] And on to the good news: Excited for red carpet season? Style.com picks the gowns it hopes the actresses will wear--see if your favorite styles made the cut. [Style.com] David Beckham, Jeremy Scott and Kazuki Kuraishi are re-interpreting classic Adidas pieces for Adidas Originals by Originals. Sportswear just got that much more exciting. [Elle] Barbie's reinvented her self millions of times--but now she's going high art. The modern beauty we all love gets styled into iconic pieces of art for a fascinating series. We never imagined Barbie could give Coco Chanel and Helmut Newton quite the extra edge. [Refinery 29] Get a red carpet worthy party dress, or go refined in a little black dress Chanel would approve of.
Freebie Friday: Win One Of 3 Copies Of Shoptimism, The New Book About Shopping In America
What: Shoptimism, Lee Eisenberg's investigation into why and how Americans shop. Why: A genuinely informative read, this book is packed with insights and research into why we shop the way we do: why "women shop and men buy," why we're so into our credit cards, and why, basically, we love to shop. We promise, it doesn't tell you to stop shopping - Eisenberg just arms readers with information. And ultimately, he agrees with us: There are some legitimately good reasons to go shopping. How: To enter, sign up for our newsletter, then comment below about what kind of shopper you are (get some ideas from our shopping poll). Three readers will win a copy of Shoptimism. 1. Post a comment below about what kind of shopper you are. 2. You must supply us with a valid email address and sign up for the SheFinds newsletter. 3. The contest starts now and entries must be date stamped by our server no later than Friday, January 15th at 11:59 AM Eastern Time to be eligible. 4. Three winners will be selected during a random drawing. The winners will be contacted and must reply via email as instructed in the newsletter to claim the prize. 5. No prize substitutions. 6. You must be 18 years old or older to enter and a resident of the USA. Residents of the state of Florida are not eligible to enter; entries from the state of Florida are void. 7. No purchase necessary. 8. Void where prohibited. 9. Click click here for the full rules.
Best Find of The Day: Mittens That Won't Leave Your Fingers in a Bunch
We've all been there; it's freezing, you're afraid to remove your gloves for fear that hypothermia might cause your fingers to fall off, but you just must send this an important text. With most ordinary gloves you would be hard pressed to spell half the message correctly, but not so with these Juicy Couture 'Iconic' Pop Top Mittens ($40.90). Cute-as-a-button and practical, too, these fingerless gloves and quasi-mittens made of luxurious rabbit hair and cashmere let you function like a normal, 10-fingered human being, without having to suffer from the cold. To boot, they are long enough to keep your wrists shielded from the wind. For more cozy finds for the cold months check out our buying guides to Winter Fashion.
Would You Give The Cold Shoulder (Jewelry) Trend A Whirl?
We love weird trends, so we couldn't help but look twice when we saw this  jewelry to adorn our bare shoulders, which gives the phrase "cold shoulder" a whole new meaning. Would you wear it?  We couldn't help but wonder what will be next: elbow earrings, or knee bracelets, perhaps? Strangely enough, the shoulder jewelry line, Babette Epaulette, was inspired by a certain pop star the designer once worked with. Post your guesses who inspired the cold shoulder trend in the comments, and tell us if you'd wear it. [Photos courtesy Babette Epaulette] Tell us in the comments if you'd wear it, and which pop star you think inspired this look, plus check out our guide to the best one-shoulder dresses, shoes, and jewelry.
Top Five: Snoods (No, Not That Irritating Computer Game)
The snood, not to be confused with the ever-popular infinity scarf, is the latest in chic outwear. The best part of this British-inspired trend? You can pull your snood up over your head for extra warmth and a bit of a Babushka look. After all, who doesn't love a Babushka in skinny jeans and over the knee boots? Check out our top five snoods for a stylish winter. In a cool rendition of an argyle print, this wool-cashmere blend Burberry snood ($325) is all luxury. For a casual knit that'll keep your neck and head fashionably warm this winter, choose American Eagle's circular scarf ($29.50) in white, gray or navy. With a festive winter pattern and oversized shape, Aubin & Wills' cashmere design ($195) is a cozy addition to your favorite coat. Delicate open knit styling makes this pretty snood ($34) perfect with slinkier dresses and slimmer pants. Not satisfied with our scarf selection? You can knit one yourself with the fine (ethically sourced) Peruvian wool that comes in this handy snood kit. And for those of you who are needle and thread challenged, stick with our guides to heavy scarves and hats.
Wednesday's Sample Sale Scoop: Steve Madden Outerwear, Laundry, Tibi, And More
Editor's Pick: Steve Madden outerwear at The Top Secret Upper Echelon shoes and Laundry clothing at Gilt Fuse Vivienne Tam clothing, Malo clothing, La Fiorentina clothing, LAI Luxury Accessories International, NuFace, and Loree Rodkin jewelry at Gilt Groupe Rapz jewelry, Z. Bigatti, and Technomarine watches at Billion Dollar Babes Ellen Tracy clothing, Hugh Puppies handbags, Jessica Howard clothing, and Police watches at Beyond the Rack Gerard Yosca jewelry, Enza Costa Rogue clothing, and Victorinox Swiss Army watches at ideeli Tibi clothing, Magaschoni cashmere, Fendi sunglasses at Rue La La Amrita Singh handbags and Autumn Cashmere at Hautelook Heys watches at Editors' Closet Don't forget to peruse the online sample sales happening all week, and then check out heavy scarves and fingerless gloves to complete your look for winter.
Deal Of The Day: Up To 65% Off Trendy Wool Coats At SmartBargains
Why wait until you step outside and your blazer blows off to prep for winter? Especially when there's such stylish outerwear already on sale. Warm up early with one of these sophisticated coats from our favorite cold weather designers. Try this classic wool blend coat ($15o from $300) - it features adorable toggle enclosures, a raccoon fur trimmed hood, and a flattering a-line shape. Everyone needs a sporty black jacket they can move and shake in this winter. We like this discounted Larry Levine design ($80 from $250) with peacoat styling and a useful hood. Nothing exudes elegance like a houndstooth print. Spice up this perennial pattern with Tahari's regal, cape-inspired coat ($100 from $220). Winter is just around the corner, but don't fret, just pick up the latest in coat trends, cashmere, and gloves. More Sales and Deals: SkinCareRx: 20% off fall beauty Steve Madden: Up to 40% off fall shoe tyles Blissworld: 50% off fitness footwear
Sponsored Post: Only In A Woman's World…
The phrase "personal style" can be a bit intimidating, like something you're supposed to have and embody, but only you can figure out what it is. And sometimes you just don't know. We say, take a cue from the women in A Woman's World and let your lifestyle dictate your personal style. Take the quiz at AWomansWorld.com and find out who you're most like – then take a cue from her habits. Creative and spontaneous like Nikki? Make sure you're always ready to go out straight from work with a sparkly accessory and a spare pair of heels. Retail-obsessed like Maya? Find pieces with interesting patterns and cuts so you won't get bored of them. And if you're content without defining your fashion sense, we're content right along with you. Labels are overrated when it comes to fashion, anyway. This post has been brought to you by Only In A Woman's World.
Blog Round-Up: Heard On The Web This Week
SheFinds seeks out all the best sandals to finish out the summer. Second City Style interviews head colorist Ted Gibson to see if high-end, at-home hair coloring is worth the bucks. FocusOnStyle is starting a how-to video series at Barneys with tips on how to wear a scarf. Girlawhirl compiles her top summer beauty essentials. Style Bakery rates this season's best heels. The Beauty Brains are sick of being lied to and demand Photoshop-free beauty ads. SmarterFashion loves Lily Allen and can't wait for her new jewelry line. Get rehab for roughed-up feet from Real Simple's Simply Stated.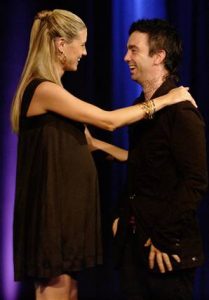 News: Major Players Return For Project Runway, Ulta Gives Sephora Something To Worry About, And More
1. Daniel Vosovic and Jeffrey Sebelia are two of the Project Runway contestants who will return for Project Runway: All-Star Challenge.  The show airs on August 20th, so we'll be making due with following the last season's winner, Leanne Marshall, in the news until then.  [People] 2. Beauty chain Ulta is slowly gaining on Sephora's territory in the U.S.  Before you hit the store, make sure you're up on all the best and latest products.  [NYT] 3. Online sample sale favorite Gilt Groupe will be launching a spinoff, Gilt Fuse, next month. Until then, visit the original site and all the other online sample sales out there.  [Racked] 4. Amazon is buying Zappos for $847 million, which is a whole lotta shoes.  If you need your footwear categorized a little less broadly, we can offer some guidance.  [BITS]