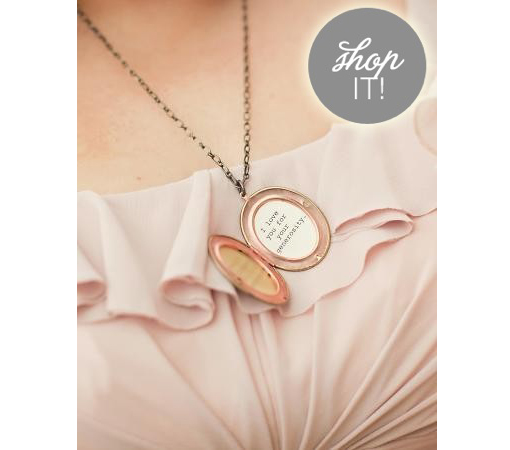 SHOP: Engraved Lockets Your Bridesmaids Can Wear On The Day-Of, Or Long After Your Wedding
We spotted this adorbs bridal party gift idea on Pinterest (originally from Martha Stewart Weddings) - engravable lockets! This bride put a few sweet words inside each little locket gift - precious. If you want to steal this idea, we've got a few suggestions for you... (more…)
Kate Middleton's 'Diamond & Pearl' Jubilee Earrings Cost Just $75 And Were CZ's (!)
Over a year after her wedding to Prince William, Kate Middleton is still providing major inspiration for brides. The class act wore what appeared to be diamond and pearl drop earrings at a Jubilee event at St Paul's Cathedral over the holiday weekend, but it turns out they were $75 CZ's! The Duchess spent just £48 on these 'Pearl and Diamond' earrings from Heavenly Necklaces.  (more…)
Nina Shoes Now Makes Under-$100 Jewelry & Accessories: Shop Here
Your wedding shoe go-to Nina Shoes has been expanding their bridal offerings in the last year or so to under $250 veils, 'Design Your Own' wedding shoes, and now gorgeous under-$100 jewelry & accessories. Budget brides will be psyched to learn that the crystal jewelry, brooches and hair accessories are now available on Nordstrom -- so you can tack them on to your other Nordstrom orders (like bridesmaid or reception dresses, or their Half Yearly Sale). (more…)
The 25 Best Wedding Earrings: Gorgeous Studs, Drops & Hoops From $20 To $2,000
Hoops, studs, chandeliers - what's your earring personality? Whether your preference is pearls, diamonds, or gorgeous topaz, there's something for every bridal style in our ultimate guide to wedding earrings. And in case you missed it, check out our top picks for wedding pumps! (more…)
SHOP NOW: How Pretty Is This Multi-Strand Necklace From Pinterest?!
We love a bride in a bold statement necklace. Recently, this intricate woven necklace caught our eye when it popped up in our Pinterest feed. With its intertwining strands of cream, gold, and bridal white beads, it's a fashion-forward substitute for your everyday string of pearls - and we found it for you on Thirty One Bits - a company that buys their gorgeous handmade beads from independent lady artisans in Uganda. (Instant wedding karma!) (more…)
Here's An Idea: Give Your Bridesmaids Pretty Necklaces They Can Wear TO The Wedding
Want to add some seasonal pizzazz to the tried-and-true strapless b-maid dress? Gift your favorite ladies eye-catching beaded necklaces! It's a kill-two-birds-with-one-stone situation: you'll get their bridesmaid gifts out of the way, while also accessorizing them exactly like you want. This season, beaded, statement necklaces rule: we've found a gorgeous selection of earth gemstones, shiny lucite, bold turquoise and more. (more…)
Colorful Wedding Earrings Are Giving Diamonds A Run For Their Money: Shop Now
Diamonds might be a girl's best friends, but gemstones are definitely who you call when you want a little more substance than flash. We're in love with the idea of a bride in dangling gemstone earrings, and if you are too, you're in luck! We've found a stunning, semi-precious selection of colorful danglers for any budget! (more…)
Tackle That To-Do List NOW: 10 Things You Can Buy For Your Wedding Today
You don't need to schedule an appointment. You don't need to brace yourself for a price quote. If you're feeling overwhelmed by that monster to-do list -- just start tackling it with these 10 easy steps. Yes, they require a credit card -- but you don't have to spend a small fortune to cross a bunch of items off your list today. Here are 10 no-brainer items (like straws!) you can buy NOW: (more…)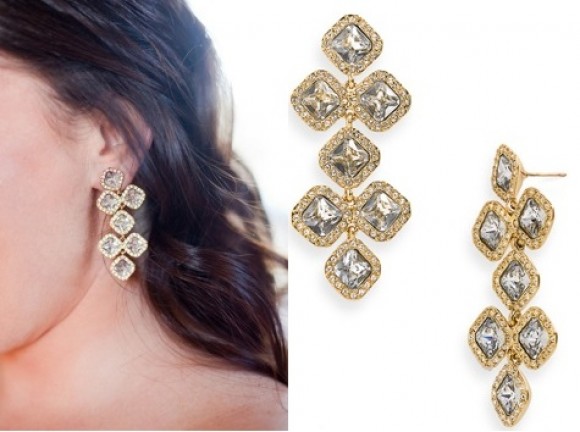 Shop The Pin: Get These Gorgeous Kate Spade Drop Earrings From Style Me Pretty Now
We just came across this gorgeous Pinterest pin (courtesy of Style Me Pretty!) of a real bride rocking these kate spade new york pavé chandelier earrings ($128). We love the shape and color of this drop style -- it is absolutely perfect for spring, summer or fall brides -- so you can cross "Buy Wedding Jewelry" off your list today. And for less than $150! #score (more…)
Get Up To 70% Off Designer Gowns, Shoes & Accessories From Shopbop's Wedding Boutique
Shopbop.com has just made new markdowns on hundreds of items, like gowns, shoes, and jewelry that would be PERFECT for your wedding. Get steep discounts on blush gowns, drop earrings, and designer pumps, like these beautiful Badgley Mischkas! Prices have been knocked down 30, 50, even as much as 70% off! Go ahead, take a gander, and find yourself a shiny little something. (more…)
Raid Macy's One Day Sale For Wedding Jewelry (Diamond Studs, Tennis Bracelets, Etc)
Attention fiances! Question: Does your lady like all things sparkly? Answer: Yes, yes she does. And you're in luck, because Macy's has just slashed their prices on hundreds of lovely baubles that would make perfect gifts for your betrothed! There's a stunning diamond something-or-other to suit every type of bride (and every type of budget) in this sale. Don't know where to start? (more…)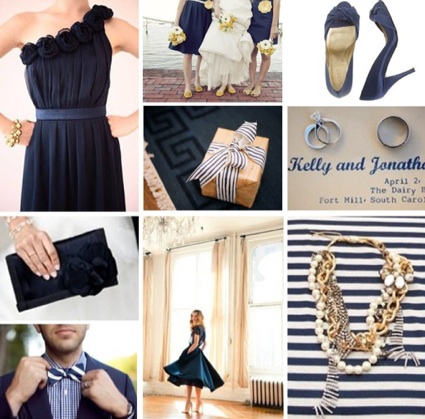 Forget The Baby Blues, Navy Is The Most Sophisticated Way To Do "Something Blue"
Arrivederci, baby blue taffeta bit of tacky. You've been dethroned as the "something blue" du jour by NAVY. It's bold, complex, and so sophisticated. It's everything we want our boys, uh, we mean blues, to be. Looking for a refined and polished way to add a pop of navy into your wedding day (and maybe wedding night) look? We have a few rather brilliant ideas... (more…)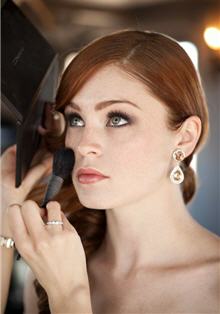 Time To Get Those Ears Pierced: Doorknocker Drop Earrings Are The "In" Statement Jewelry Piece
If statement necklaces are too flashy for your taste, there are other ways you can make a statement with your wedding jewelry. Right now we're loving the oversized drop earrings that are everywhere -- from Kenneth Jay Lane's Kim Kardashian-esque pave drops to more subtle chandelier styles. Luckily, we found 9 wedding-worthy pairs -- most under $200. (more…)
Something Blue's That Don't Suck: Sky High Pumps, Sexy Lingerie & Jewelry That Pops
When you hear "something blue", do you picture something tired, taffeta, baby blue, and chintzy? Why is "something blue" so often synonomous with "something lame"? Use your "something blue" in an unexpected and contemproary way. We've found a full spectrum of beautiful blue wedding accents to complete your bridal look  - in beautiful, bold shades of turquoise, cobalt, robin's egg, and azure blue. Go ahead, indulge yourself! (more…)
7 Statement Necklaces That Prove Bigger Is Better When It Comes To Wedding Jewelry
Statement necklaces are definitely enjoying a moment in the bridal spotlight. More and more brides are choosing strands of big baubles to add an unexpected touch of glitz and personality to their wedding day. As you can imagine, we're kind of obsessed with this trend - none of the styles are overtly bridal, so not only is it a way to show off your sense of style, it's also a sneaky way to get that pricey statement necklace you've been eying. Take a look at some of our favorites after the jump. (more…)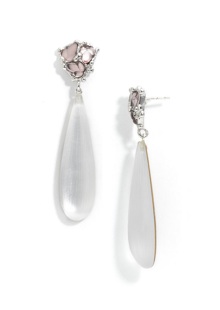 40% Off Diamond & Crystal Wedding Jewelry: Alexis Bittar, Kwiat, Nadri, More
Diamonds are a girl's best friend, and you're going to want your best friend at your wedding (duh), so you'll either need to start saving now for that pair of diamond studs, or just shop Nordstrom's jewelry sale. They have real diamond jewelry, from the likes of Kwiat, to faux, crystal pieces from Alexis Bittar and Nardi. (more…)
50% Off Fine & Costume Jewelry At Bloomies: Crystal Cuffs, Amethyst Earrings, More
If jewelry is still on your wedding to-buy list, consider shopping Bloomingdale's seasonal sale today -- they've got fine jewelry and costume jewelry for up to 40% off. We found gorgeous pieces starting at literally $24, amethyst drop earrings, already-cheap Nadri CZ jewelry for even less, and more. (more…)
30% Off At Kate Spade — Including Her Belles & Whistles Bridal Collection
Whether you're BFFs with Kate Spade or not, you're actually entitled to her Friends & Family Sale this week -- which gets you 30% off everything, including her Belles & Whistles Wedding Collection. We found the most gorgeous reception dresses, "Something Blue" wedding shoes, and sparkly jewelry for literally hundreds of dollars off. (more…)
35% Off Jewelry & Accessories: Pearl Studs For $15, Cashmere Wraps For Fall, More
The final few weeks before a wedding is a mad dash of favor-bag-stuffing, last-minute DIY projects, final dress fittings, and - unfortunately - check signing. If money is flying out of your pocket like its got somewhere to go, save where you can. Like on jewelry and accessories; today, get 30% off wedding accessories like pearl studs and cashmere wraps (a must for fall and winter brides). (more…)
Nina Adding Earrings To Their 'Design Your Own' Accessory Platform In October
If you hadn't heard, earlier this year Nina Shoes launched a Design Your Own Shoes collection where brides can choose from 19 popular Nina styles, and mix and match the heel, sole, upper and more embellishments in 19 different color options. (more…)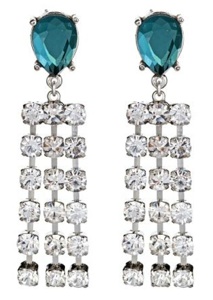 50% Off Vintage-Inspired Jewelry: Antiqued Crystal Earrings, Pearl Strands, More
Brides looking to throw a vintage-esque wedding should think lace table linens, antiqued silverware, retro bridesmaid dresses -- and of course, vintage inspired jewelry for themselves. Luckily, Thomas Laine has gorgeous vintage jewelry for 50-60% off -- including antiqued crystal drop earrings, strands of vintage pearl, and more. (more…)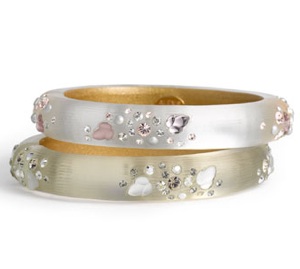 35% Off Guilt-Free Costume Jewelry: Alexis Bittar, Kate Spade, More
If you didn't inherit any family jewels, or just don't have the budget for real diamond jewelry, opt for the next best thing: costume jewelry that looks real. Luckily, these faux finds are 35% off on Nordstrom - including designers you love like Alexis Bittar, Kate Spade, and more. Editors' pick: this Alexis Bittar Small Hinged Bangle ($196.90, down from $295), which you can wear long after your wedding. (more…)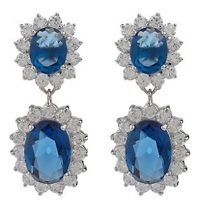 50% Off Kenneth Jay Lane Jewelry — Including Kate Middleton Replicas
It may surprise you that costume jewelry designer Kenneth Jay Lane has been designing pieces for the royal family for decades -- mostly because you'd assume they'de be dripping in real diamonds and gemstones. But indeed, he is "tight" with the royals, and so his KJL collection of royal wedding-inspired pieces -- including Kate Middleton's infamous drop earrings -- was a no brainer. Now, the piece are 50% off, including these KJL Princess Simulated Sapphire Drop Earrings ($49, down from $70). (more…)
Kate Middleton's Engagement Earrings Are Available For Re-Order
Yesterday, replicas of Kate's diamond drop wedding earrings were re-issued on QVC by Kenneth Jay Lane, and today, for you Kate Middleton-jewelry-lovers, we have even more good news: join the waiting-list for her exact Links of London engagement earrings through us and enjoy these white Hope egg earrings in sparkling topaz. (more…)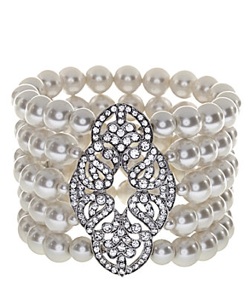 Can You Tell Which Pearl Stretch Bracelet Is Real, And Which Is Just $50?
For more gorgeous bracelet styles, check our guides to the best wedding bracelets, best wedding jewelry sets, and the best pearl wedding jewelry.
You Don't Have To Sign A Waiver To Shop At Kleinfeld Anymore: Introducing The Online Shop
Best news ever: you don't have to sign a waiver OR live in New York City to shop at Say Yes To The Dress boutique Kleinfeld anymore. The holy grail of wedding stores has just launched an amazing line of jewels that are available online, and affordable. (more…)
First Photos: Vera Wang For David's Bridal Shoes And Accessories!
You've already feasted your peepers on the brand-new bridesmaid collection from Vera Wang for David's Bridal, and today we're crushing on her complete line of accessories - from crystal hair clips to platform pumps and veils. Check them out now! (more…)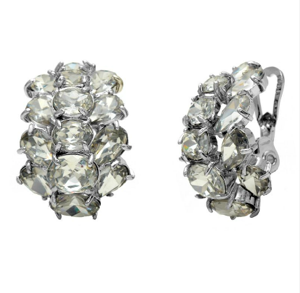 Diamonds Are A Girl's BFF, Especially When They're Half Off At Macy's
With all the talk about Kim Kardashian's blingin' 20.5 carat ring, us gals can't help the fact that we have diamond envy. Luckily, Macy's is having a huge jewelry sale with up to 50% off so you can drip from head to toe on your big day with sparkly diamonds. We've picked our favorites, so shop away: Need a dress to go with your bling? Shop our guides to inexpensive wedding dresses, short wedding dresses, and simple wedding dresses now.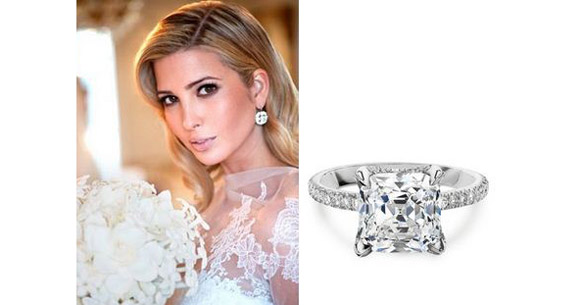 First Photos: Ivanka Trump's Totally Sustainable Bridal Collection
Even if you're not a fan of the Donald, you will love his daughter Ivanka for this one. The mini-Trump just launched a bridal collection under her Fine Jewelry label that is made from entirely sustainable diamonds and recycled platinum. Ivanka, who was recently a bride herself, told WWD, ""Social responsibility is a core value of the Ivanka Trump Fine Jewelry brand. It has been an integral factor of what has fueled growth since the collection launch." You go girl. (more…)
Lee Angel Jewelry And A Boatload Of Beautiful Gowns Are Up To 70% Off On The Outnet
I live for The Outnet's Just In section where designer sales come to live, and this week it's a bridal goldmine. From pretty Preen and Badgley Mischka reception dresses to stunning bridesmaid gowns and Lee Angel jewelry for all, it's a wonderland for you and your bridal party. Shop our guides to the best strapless wedding dresses, white wedding shoes, and inexpensive wedding dresses.

The Non-Engagement Ring Ring: Would You Say 'Yes' To This?
I just came across this adorable Solange Azagury-Partridge Marry Me 18-karat gold ring ($1,500), but maybe I think it's "adorable" because I got a real diamond from my beloved and this seems like a novelty.  Surely there is a demand for these non-traditional rings if Net-A-Porter is selling them, but it begs the question: would you want an engagement ring that actually spells out his intentions. Or maybe this is the equivalent of a "push present" - something you get on the side for saying "Yes." Leave a comment. (more…)
90% – Yes, Nine Zero – Off Designers Like Valentino And Roberto Cavalli At YOOX
Holy mother of majorly marked down designer duds: YOOX has up to 90% off Valentino, Chloe, Badgley Mischka, and much, much more. The sale ends today, so high tail it over there and score your reception dress, wedding shoes, and more, on super-sale. Shop our guides to the best strapless wedding dresses, white wedding shoes, and inexpensive wedding dresses.
This Woman Knows Jewelry: Get Your Questions Answered By Charm & Chain's Ali Galgano
Ali Galgano has always believed that the right jewelry can transform a basic wardrobe into something spectacular. That's why in 2008 she started global online luxury jewelry destination Charm & Chain, which showcases the styles of over 60 jewelry designers. Here's her advice on how to go about selecting wedding day jewelry that will take your look up a notch. (more…)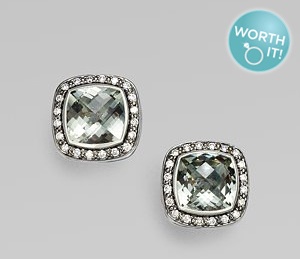 One Diamond Isn't Enough: Splurge On David Yurman Pave Earrings, And Thank Us Later
So we know you already got the ring--but would it be so wrong to ask for these David Yurman diamond, prasiolite & sterling silver earrings ($1,750) as the perfect complement to a gorgeous dress and engagement ring on your wedding day? This Worth It item has more than a half-carat of diamonds and the center stones are sparkling prasiolite. Not only will these be stunners on your big day - but they'll become a bit of a family heirloom. Show off your shopping smarts with our guides to inexpensive wedding dresses, cheap wedding invitations and cheap bridesmaid dresses.
40% Off Pearl, Crystal, And Gold Wedding Earrings (Kate Spade, Alexis Bittar, More)
Since most brides opt for a bare neckline, the earrings are where wedding jewelry can really pop. If you don't have the budget for 4-figure jewelry, Nordstrom has so many great costume pieces on sale today, from Kate Spade, Alexis Bittar, Juicy, Judith Jack, and more. Shop the best simple bridesmaid dresses, long bridesmaid dresses, and satin wedding shoes now.
Even Better Than The Real Thing: Costume Jewelry That Doesn't Break The Bank
As long as the ring is real, the rest doesn't have to be. That's why we have rounded up the best wedding costume jewelry (shop now!). Some highlights: the Nadri 'Byzantine' Butterfly Necklace ($298), Givenchy Baguette Crystal Hinged Bangle ($33.90, down from $68), Carolee Lux Pave Stone Drop Earrings ($38), and Nadri Micro Pave Bangle ($98). While we might occasionally give you some tips on breaking the bank (see our Worth It! ideas), the ever-looming tax day has us budget-minded! For more thrifty, yet totally awesome ideas, visit our guides to inexpensive wedding dresses, cheap bridesmaids dresses, and inexpensive wedding shoes.
50% Off Wedding Jewelry You Really Want (Givenchy, Kate Spade, More)
If jewelry is what you want, need, and love, you need to high-tail it over to Nordstrom today, because we found 50% off designer wedding jewelry from the likes of Givenchy, Kate Spade, Alexis Bittar, and more. Don't have the time to peruse the whole lot? We narrowed down the best picks: (more…)
Didn't Inherit Any Family Jewels? Shop Under-$50 Wedding Necklaces & Earrings
As is true with any outfit, the right accessories are key to your overall wedding day look. Even if you're working with a tight accessory budget there are plenty of options to please your wallet and taste. Just check out some of these great items currently on sale at Dillards.com, all at less than $50 a pop! (more…)
Latest From MOMFinds & BRIDEfinds: Trump Jewelry, Victoria Beckham Baby News, More
Melania Trump for QVC Shop the expensive-looking baubles now. Victoria Beckham Is Having A Girl Finally! 'Worst Dress of the Week' Caption Contest Enter to win some sweet beauty swag. For more hot news, check out the latest Target's Go International collaboration, Lindsay Lohan's courtroom style, and Marc Jacobs 10th anniversary collection.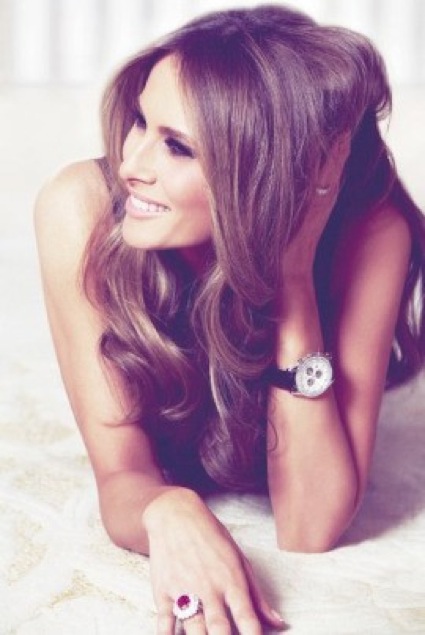 Sparkle In Melania Trump Designed Baubles Without Going Over Your Wedding Budget
When we heard that Melania Trump had her own jewelry line for QVC, Melania™ Timepieces & Fashion Jewelry, we assumed the collection would be over-priced. Imagine our surprise to find that the under-$200 necklaces, earrings, bracelets and rings are actually affordable. Turns out you can still be spoiled with Melania-worthy pieces, even if you're not married to the richest man in New York: (more…)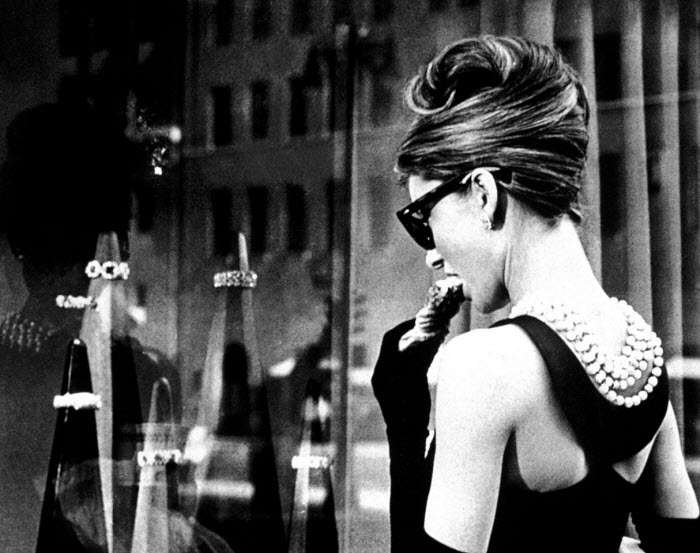 Eat Your Heart Out, Audrey Hepburn: Pearls Never Looked So Good
When Prince sang about diamonds and pearls, he was on to something. Mixing pearls with diamonds, silver and gold gives them a modern twist - and makes matching your wedding day jewelry even easier. Pearls have come a long way since Audrey Hepburn wore a string of them in Breakfast at Tiffanys. Shop now: (more…)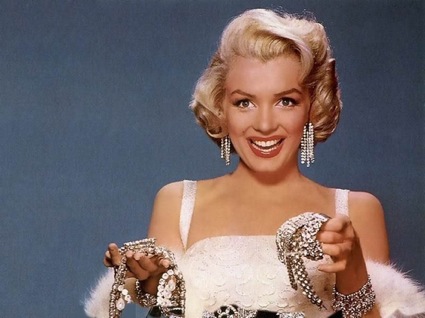 Under-$50 Wedding Jewelry — You Don't Have To Marry Rich To Look This Good
If you're budget is max'ed out, but you haven't even made it to the jewelry - no need to stress. There are literally thousands of inexpensive wedding jewelry options out there - from wedding costume jewelry, to pearls, faux diamonds and more. We shopped the lot, and bring you some of the best: (more…)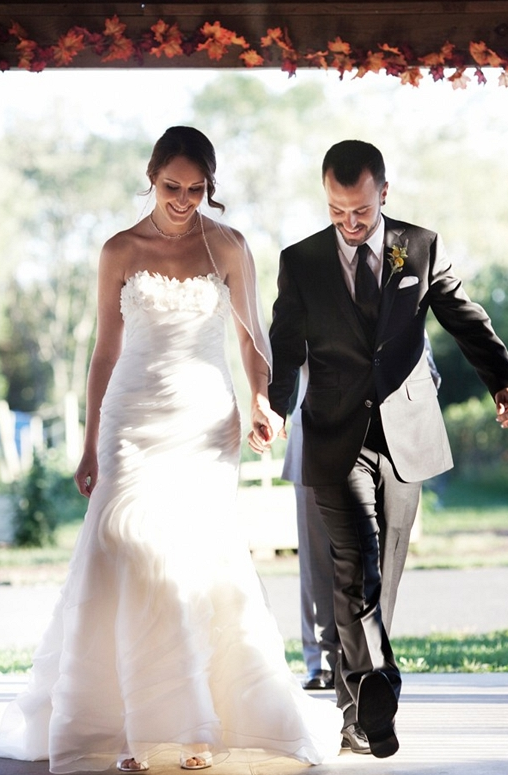 Real Weddings: A Savvy Bride Saves On Everything From Her Dress To Rustic Farm Decor
Name: Ben & Adrienne Preuss Wedding Location: Queens County Farm, Floral Park, NY (more…)
Don't Act Like You're Not Impressed: 9 Gorgeous Wedding Jewelry Staples
If your wedding is nigh, and you have the dress, shoes, and groom - but still need the bling - you've come to the right place. Our guide to the best wedding jewelry is chalk full of editor approved wedding necklaces, bracelets, and even cheap wedding jewelry, like this stunning Adriana Orsini Oval Pavé Bracelet ($180). Don't act like your not impressed! Shop our 9 best picks >> Looking for fabulous dresses, not jewelry? Check our guides to the best lavender bridesmaid dresses, outdoor wedding dresses, simple bridesmaid dresses.
Get Up To 50% Off Thomas Laine Wedding Jewelry (Or Just A V-Day Gift For Yourself)
Not every bride wants to be dripping in diamonds on her wedding day, especially if your look is a bit more casual chic. If you're in need of accessories to flatter a simpler gown, hit the Thomas Laine sale today for some of these beauties: This brass chain necklace by Gerard Yosca ($52.50, down from $105) is the perfect accompaniment to a breezy off-white gown. Match it up with Yosca's Pearl and Crystal Button earring set ($73.50, down from $105) to keep things classicly simple. These stunning Oxidized Brass Crystal and Pearl Drop Earrings ($136.50, down from $195) will be a favorite pair long after your wedding day. If you'd prefer a statement necklace, this gunmetal and crystal Ben Amun ($77.50, down from $155) is an inexpensive front-runner. After you hit the sale, keep the momentum going with our guides on best wedding jewelry, simple wedding dresses, and white wedding shoes.
Planning A Big Indian Wedding? Shop Lenghas, Jewelry & More On Sale At Exclusively.in
Indian brides, rejoice! If you already love members-only shopping sites like Gilt Groupe and Rue La La, you'll adore Exclusively.in, a new sample sale site with everything from bridal lenghas to traditional Indian jewelry, scarves, hats, and more. Register for free now and enjoy sales on Jamini Ahluwalia jewelry, Zoya, D.M. Shrimali, Sonia Malhotra jewelry, Payal Luthra scarves, Sangeet bags and jewelry, Twisha Alisha bags and Divya wines. We're especially loving the gorgeous Garden Party sale: A selection of saris in fresh, spring colors, all incredibly chic, and the oh-so-charming Ganesh charm bracelets by Gem Palace. But you have to be in it to win it, so register now. Brides of all kinds can benefit from our shopping guides: check out ideas on everything from bridal hair accessories to designer wedding shoes.
It's Your Last Valentine's Day As A Single Girl: Make Your Fiancé Go All Out
Valentine's Day is the perfect time to ask your fiancé for something you'd never open in front of your mother. While my husband refused my request of Jared Leto for Valentine's Day, these gifts are actually mail order-able and a perfect way to commemorate the the last February 14 before your big day. For more great gift ideas, visit our guides to the best wedding jewelry, chic hair accessories, and designer wedding shoes.
Good News, Brides: Nina Launches Accessories, Vera Wang For Zales Diamonds
Wedding go-to Nina Footwear is launching a full line of bridal accessories - including veils, jewelry, hair accessories and more. These affordable, stylish wedding shoes are one of our favorites, so this is very good news. Vera Wang already has mattresses, invites and a Vera Wang for David's Bridal collection.  Next stop? Engagement rings. The designer is supposedly about to sign a major deal with Zales. To celebrate all the good news, here are some fabulous Nina shoes on-sale from Zappos: For more must-have wedding accessories, check our guides to the best inexpensive wedding shoes, wedding veils, pearl wedding jewelry and wedding shoes with bows.  ine
Shopbop Is Launching A Bridal Boutique (!) Sign Up Now And Shop Your Face Off Later
Shopbop is my favorite online retailer. At least once a day I'm on there, perusing the "What's New" and sale sections, creating endless wish lists for things that I can't by because I'm saving for the wedding. So when I was prompted to pre-register for their upcoming wedding boutique - I was ecstatic. Now I can spend my life savings on pretty shoes and jewelry, and justify it as a "wedding expense." Whatever helps me sleep at night. If you can't wait until mid-March when the full boutique opens, here are some bridal finds already on the site: For more great wedding ideas, check our guides to the best wedding veils, inexpensive wedding dresses, and cheap wedding invitations.
Happy MLK Day: Up To 50% Off Wedding Bands, Invitations, Shoes, More
Whether you have the day off or not, today is a holiday - so you should treat yourself to some MLK day online sales. Everything from wedding dresses, cheap invitations, shoes, wedding bands and more is majorly marked down today. Some of the highlights to get you started: J.Crew: If you need a gorgeous gown, it doesn't get much better than an under-$300 J.Crew sale one. This Silk chiffon Sophia long dress ($298, down from $425) is the answer to your prayers. Carolee Jewelry: Wedding jewelry is always insanely marked up, so it makes us VERY happy to see such well priced baubles today, like this Perfect Petals Crystal and Pearl Necklace ($38.50, down from $55). Waterford: If you're looking for a classy groomsmen gift - or just need to complete your registry - this set of Marquis by Waterford Studio Double Old Fashioned ($49, down from $69) are a great deal. Zappos: If you need sexy pumps for your wedding dress, these rsvp 'Olive' pumps ($57, down from $95) have a hot, high heel and lengthen any leg. William Arthur Stationery: Who doesn't need a little Vera on their wedding day? Don't spend a fortune, though - these Vera Wang Oyster White Invitation Cards (10 for $13.49, down from $27) are half off today. Nordstrom: Another gorgeous sale gown, this Adrianna Papell Rosette Ball Gown ($139.90, down from $238) has a flattering bodice, straps that stay in place, and intricate rose detail in the skirt. Jewelry Vortex: If your man needs a wedding band, get his for 50% off today. This Tungsten Grooved 8mm Band ($139.95, down from $280) is the perfect wedding band find. The Knot Wedding Shop: Who says monogram favors and decor have to be a rip off? Get them on-sale today - like these Personalized Napkins (10 for $32.99, down from $39.99). Looking for more great deals? Check out our guides to the best cheap wedding invitations, cheap bridesmaid dresses, inexpensive wedding shoes, inexpensive wedding dresses.