It's The Last Day To Get 25% Off Your Invitations At Wedding Paper Diva's Summer Sale
There's only 1 day left to save (substantially!) on your wedding invitations and save-the-dates at Wedding Paper Diva's summer sale. We'd suggest you act fast if you want to get in on the sweet sale action; not only is WPD one of the top 5 places to buy wedding stationery online, but they've just introduced a new line of "Custom Type" invitations that will blow you away. These new exclusive designs, like this Fresh Embellishment invitation (above), are customizable down to the last letter; a WPD designer works one-on-one with you until the font, color and text treatment are perfect. If only every aspect of planning were that easy! #wishfulthinking (more…)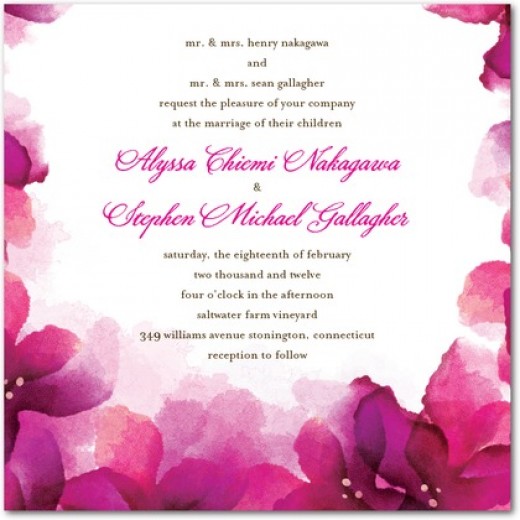 30% Off Gorgeous Invitations & Save-The-Dates At Wedding Paper Divas' Sitewide Sale
Wedding Paper Divas is celebrating six years in the stationery biz with a very special promotion - they're offering everyone a whopping 30% off on any order! We recently declared Wedding Paper Divas one of the Best Places To Buy Wedding Stationery Online, and sales like this are the very reason WDP made our list. If you've already been pining over their adorable photo save-the-dates and luxe letterpress invites, now is the time to pull the trigger and add to cart! (more…)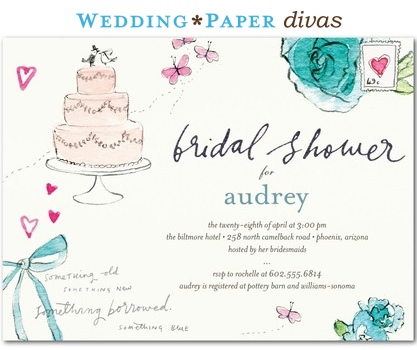 Win $500 Of Stationery From Wedding Paper Divas – Think Shower Invites, Save The Dates, More
Let's be honest. Choosing (and paying for) all of the stationery you need for your various wedding events is time consuming and pricey. Let us make it easy on you. Our friends at Wedding Paper Divas have the most chic wedding stationery on the web, hands down. They offer a wide array of exclusive designs from the industry's most coveted stationery artists. Getting those rehearsal dinner invitations finished on your lunch hour is a snap with their easy website layout. You can literally customize your fonts types, sizes and colors - and preview everything before ordering. This week, we're giving one lucky BRIDEfinds winner $500 to use at Wedding Paper Divas - you can choose from their gorgeous array of wedding invitations, rehearsal dinner invitations, save the date cards, pocket folds and more. To enter for your chance to win visit Wedding Paper Divas and tell us how you'd spend your $500 in the comments below. Don't forget, you'll need to sign up for our newsletter to be eligible to win! (more…)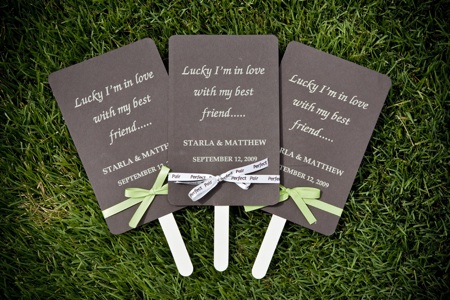 Classic, Romantic, Modern: We Found Programs For Any Wedding Style
Reading down your wedding checklist, you'll probably find your wedding program dead last. "I'll print it at the last minute," you'll say. Hold the presses, sister! It's time to re-think your wedding program: it's a beautiful keepsake that should reflect your wedding style/tone. We're in to these sorts of things, and found programs for all types of events: (more…)
Your Daily Dose Of Eye Candy: Circus-Themed Invitations And Robert Pattinson
Let's let Robert Pattinson be our royal wedding distraction today. If you haven't seen Water for Elephants yet (filmed partly in my hometown of Chattanooga!), tell your fiance you are going for inspiration. The vintage themes, the bright colors, and those swirly big-top posters inspired me to find some circus-themed (but not too over-the-big-top) invites: (more…)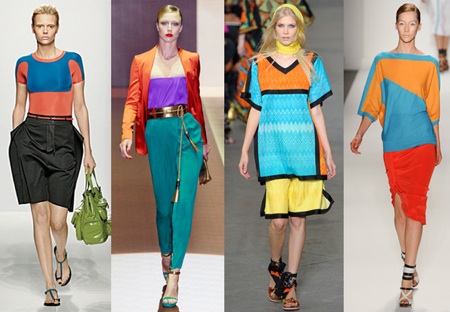 The Answer To Spring's Geometric And Colorblock Trends? Striped Wedding Invitations
Remember the kid in your elementary school that never quite seemed to match? Thanks to spring's colorblocking trend--putting solid complementary colors together--we've found a bevy of spring invites that are bright, colorful and feature the geometric pattern trends that are storming the runways. (more…)
Don't Overspend On Pretty Invites; Up To $80 Off At Wedding Paper Divas Today
Wedding Paper Divas is on a mission to give all your wedding-attendees-to-be some mailbox love in the very near future. Their current wedding invitation deal gives you up to $80 off your order (code 80MARCH11). Even better? All our picks below start at just $1.69 each -- and each invitation is special in its own way. (more…)
From Robin's Egg to Midnight– Pretty Blue Wedding Invitations For Any Season
If your wedding color scheme include any of the marvelous shades of blue, there's a wedding invitation to complement it. From floral to elegant, blue is an eye-pleasing color that even your fiancé can agree on. (more…)
Innovative Beauty Products (That Actually Work)
If you're in the market to upgrade your cosmetics bag this month, may I humbly suggest you read the following. These five products will make the dreary winter weeks ahead that much more bearable--and beautiful. Longer lashes, especially when they are natural, are priceless. For those who haven't hopped on the Latisse bandwagon yet, there's Tarte's new MultiplEYE Lash Enhancing Mascara ($32). A multi-tasking spin-off from the original MultiplEYE Lash Enhancer ($65), this number helps lashes grow with amino acid proteins, while strengthening them and giving you a faux boost in the meantime. Dry air, a winter trademark whether you are outdoors or in, can wreak havoc on your skin and magnify the appearance of fine lines and wrinkles. Treat your skin while you sleep and see the results resonate throughout the day with Clinique's Youth Surge Night Age Decelerating Moisture for Dry Combination Skin ($48.50). Cult favorite, NARS Orgasm Blush, can only be matched by NARS' new hit, the Orgasm Illuminator ($35). Forgo bronzer and use a dab of this in your foundation to get a perfect finish that hides drab winter skin. If the packaging alone doesn't get your attention with its mini mirror and futuristic styling, listen up: the Rouge G de Guerlain Le Brillant Jewel Lipstick Compact ($53) is made with shimmering ruby and mother-of-pearl powder all while being creamy and moisturizing. Don't forget your coif. With humidity down hair can look flat and limp. Maximize your cut (whether you have a bob, long layers, pixie, or blunt cut) and minimize the time spent styling with HerCut, a product meant to work with your hair's style to make strands behave exactly as they should. Get more advice on beauty products to help you beat the winter, including our guide to the best lip balms, heavy moisturizers, and even self-tanners to start prepping for your spring break escape.
How To Wear A Black Dress In A Summer Kind Of Way
Yes, there is totally such a thing as a black summer dress, and not only that, but it can look light and colorful when dolled up with good shoes and fun accessories. Start with a slip-on black dress (no complicated infrastructure) made from a lightweight, swingy jersey to keep things cool.  Add in a colorful bag and charming earrings, which add summery details.  Finish off the outfit with neutral-colored peep toes and an architectural-looking cuff bracelet that will pull everything together in the chicest possible way. Smocked ruffled black jersey dress ($98) Nine West peep-toe heels ($89) Lauren Merkin Cecilia Bag ($402 from $525) Victorian hippie chain gemstone earrings ($180) CC Skye wooden cuff ($59) Be sure to check out more summer dresses, including fun floral options and choices for any weddings on the horizon.
News: The Times Loses Their Brows, Size 6 Model Makes It Onto Mag Covers, And More
1. The New York Times notes the new prevalence of eyebrow-less-ness.  We'd prefer just to keep ours perfectly groomed, thank you.  [NYT] 2. Are we finally, finally going to see some real-sized models?  Lara Stone is suddenly a size 6, and we're thrilled that clothes just might reflect that shift.  [fashionologie] 3. Retailers like Gap and Guess are betting big on a return to denim looks for fall.  We always knew this was the case.  [WWD] 4. Cable network Starz is developing an hour-long TV drama focused on the fashion world.  Sounds good, but we like to watch the real thing.  [Variety]
News: Zoe In Your Inbox, Fashionable Cities According To Forbes, And More
1. Gwyneth's GOOP has got some competition, as Rachel Zoe will be launching an email newsletter, The Zoe Report. We remain partial to our fashion-forward weekly buying guides.  [Racked] 2. Forbes has released their list of the most stylish cities, with Paris at number one, of course.  New York may be third, but we still appreciate those ladies' style. [Forbes] 3. The trailer for Coco Before Chanel, the biopic on Coco Chanel, is now available online.  September is going to be a big month for fashion films.  [Elle] 4. Pop artist Peter Blake is collaborating with Stella McCartney on cute cloud designs.  Our favorite artist design on clothing is still that of Stefan Marx, though.  [NYT]
Sweepstakes / Freebie Fridays
Ladies, Each Friday we give away a product we love.  Click here to see this week's FIND that you could get for FREE. Complete rules below. OFFICIAL SWEEPSTAKES RULES Limitations on Eligibility/Availability of Sweepstakes This sweepstakes is void where prohibited by applicable law. Must be 18 or older to win. Winners may be required to sign an Affidavit of Eligibility as a condition to the delivery of the applicable prize. Employees (and their immediate families or household members) of White Cat Media Inc. and their respective parent companies, affiliates and subsidiaries are not eligible to enter the Sweepstakes. Sweepstakes is open to persons who are at least eighteen (18) years of age at the time of entry and who are a legal resident of the fifty (50) United States and the District of Columbia. VOID OUTSIDE THE 50 UNITED STATES, AND WHERE PROHIBITED. How to Enter No purchase is necessary to participate in the Sweepstakes. One entry per person. Duplicate entries will be void. By registering for the Sweepstakes you will be agreeing that your registration and any other information collected in connection with the Sweepstakes may be used by White Cat Media Inc. in accordance with our Privacy Policy (please see our privacy policy for more information) and may be shared with their affiliated business entities, and that you automatically opt-in to receive email, text messages or other communications from White Cat Media Inc. You may subsequently opt-out of the receipt of such email or communications by following the directions in the email, communications or by contacting White Cat Media Inc. directly. All online entries must include entrant's valid email address.  The sweepstakes for Freebie Friday giveaway will begin at approximately Friday MAy 22nd and entries must be date stamped by our server no later than May 29th 2009 11:30 PM Eastern Time. The email address provided by online entrants will be the identity of the entrant and, if selected for a prize, the identity of the winner. No copies, facsimiles or mechanical reproductions of entries will be accepted. We expressly reserve the right to disqualify any entries that we believe in good faith are generated by a so-called spam or automated e-mail program or via scripts and automated submission. By participating, all entrants agree to abide by these Official Rules. The winner of Freebie Friday will be announced in the SheFinds newsletter. The winner must reply via email as instructed in the newsletter to claim the prize. Prizes 1 winner of Freebie Friday will be chosen at random. All prizes will be awarded. No substitutions (including for cash) are permitted, except that White Cat Media Inc.reserves the right to substitute a prize of equal or greater monetary value for any prize. Winners shall be responsible and liable for all federal, state and local taxes on the value of their prize. The winning comment will be chosen at random. The number of eligible entries received determines the odds of winning. In the event of a dispute regarding the identity of the person submitting the entry, the entry will be deemed to be submitted by the person in whose name the e-mail account is registered. All drawings will be conducted under the supervision of White Cat Media Inc. The decisions of White Cat Media Inc. are final and binding in all matters relating to this Sweepstakes. The winners will be notified by email; White Cat Media Inc. reserves the right to determine the method of notification. Winners must claim their prize within three (3) business days after the date of notification of such prize. A Sweepstakes winner's failure to respond to the prize notification within the specified three (3) business days will be considered such Sweepstakes winner's forfeiture of the prize and an alternate winner may be selected from the pool of eligible entries. If an entrant is found to be ineligible, an alternate winner may also be selected from the pool of eligible entries. White Cat Media Inc. reserves the right to ship prizes directly to the mailing address provided by winners during their entry to the Sweepstakes. Each comment submitted in response to the contest and in accordance with the rules will constitute an official entry. One entry per person. Duplicate entries will be void. All entrants agree to abide by these Official Sweepstakes Rules. All entries become the property of White Cat Media Inc. General Conditions and Releases An entrant or winner may be disqualified from the Sweepstakes if he or she fails to comply with each provision of these official rules, as determined in the sole discretion of White Cat Media Inc. White Cat Media Inc. shall not be liable for 1) failed, returned or misdirected notifications based on inaccurate information provided by the winner on the sweepstakes entry form, 2) entries and responses to winner notifications which are lost, late, incomplete, illegible, unintelligible, postage-due, misdirected, damaged or otherwise not received by the intended recipient in whole or in part or for computer or technical error of any kind, 3) any electronic miscommunications or failures, technical hardware or software failures of any kind, lost or unavailable network connections, or failed incomplete, garbled or delayed computer transmissions which may limit an entrant's ability to participate in the Sweepstakes, 4) any technical malfunctions of the telephone network, computer on-line system, computer equipment, software, program malfunctions or other failures, delayed computer transactions or network connections that are human, mechanical or technical in nature, or any combination thereof, including any injury or damage to entrant's or any other person's computer related to or resulting from downloading any part of this Sweepstakes or 5) any warranty of fitness or merchantability of any prize or the function or operation thereof, which shall be the sole responsibility of the manufacturer of the prize. Unless prohibited by applicable law, entry constitutes permission to use an entrant's name, photograph, likeness, voice, address (city and state) and testimonials in all media, in perpetuity, in any manner White Cat Media Inc. deems appropriate for publicity purposes without any further compensation to such entrant. By entering or accepting a prize in the Sweepstakes, winners agree to be bound by these rules. Winner may be required to furnish proof of identity, address and birth date in order to receive prize. >By entering, an entrant agrees to release and hold harmless White Cat Media Inc. and its parent, subsidiary and affiliated entities, directors, officers, employees, attorneys, agents, and representatives from any damage, injury, death, loss, claim, action, demand, or other liability (collectively Claims) that may arise from their acceptance, possession and/or use of any prize or their participation in this promotion, or from any misuse or malfunction of any prize awarded, regardless of whether such Claims, or knowledge of the facts constituting such Claims, exist at the time of entry or arise at any time thereafter. Any person attempting to defraud or in any way tamper with this Sweepstakes will be ineligible for prizes and may be prosecuted to the full extent of the law. White Cat Media Inc. reserves the right to modify the rules of the Sweepstakes in any way or at any time. White Cat Media Inc. reserves the right, in its sole discretion, to cancel or suspend this Sweepstakes should viruses, bugs or other causes beyond their control corrupt the administration, security or proper play of the Sweepstakes. This Sweepstakes shall be governed by New York law. By participating in this sweepstakes, entrants agree that New York courts shall have jurisdiction over any dispute or litigation arising from or relating to this Sweepstakes and that venue shall be only in New York, NY.
Taste Test: Which Satin Dress Is A Wiser Buy?
One of these so-chic brown satin dresses (okay, one is technically military green) is worth more than its weight in gold—about $1,400 on sale!. The other, also a designer piece, costs about half that. Click on the frock you think is the more affordable find to test your splurge vs. steal savvy, then click on over to our Taste Test archives to earn your gold star in deal-spotting.
Cool Boots – And Comfortable, Too! Shhh…They're Aerosoles
OK, I know I posted about this same topic, with some chagrin, almost a year ago. But I'm going to do it again, because in these past several months, I've become an even bigger Aerosoles fan than before. Winter's on its way, and you all know what that means: BOOTS! I recently hit up an Aerosoles store to see what their surprisingly adept designers are offering for autumn. These suede Sarasota Flats ($160) come with the requisite trappings of comfort: flexible rubber sole, extra foot cushioning, and a flat-but-not-too-flat 1-inch heel. But don't let that stop you from buying them. Check out that three-buckle detail. And all those funky colors. These 3" wedge Gather Round Boots ($120) are exactly the same as last season--and for good reason! I bought my chocolate brown beauties at the end of last winter, and fell so hard in love with them that I wore them well into spring. Get Yours: Aerosoles.com
Designs For Count Me In: KimMarie Designs
What: Count Me In Drop Why: Black pearls, Chalk Turquoise and Sterling silver are combined for the "Count Me In" drop from KimMarie Designs. The drop also boasts a Sterling silver tag embossed with the Count Me In logo! The drop can attach to one of our Sterling silver chains or use your own. It attaches with a simple Sterling silver spring ring. This drop was designed as part of the échange™ jewelry line for KimMarie Designs, handcrafted interchangeable drops and swags that attach to Sterling silver or Gold filled chains.About the Designer: Kim Donaldson is a successful designer of artisan jewelry worn by women worldwide. Proceeds to be Donated: 20% Get Yours: $35 @ kimmariedesigns.net Count Me In promotes the growth of women owned businesses and is the leading national not for profit provider of online business loans, resources, and community for women entrepreneurs. Beginning in September and continuing through Jan 1st, SheFinds will feature original accessories by independent designers. A portion of each sale will go to Count Me In. With each purchase, you are contributing to the development of women in business.
News Updates: The Row Gets Manly, Topshop Keeps Us Waiting, And More…
1. Mary Kate and Ashley will add a menswear collection this fall to their high-end, overpriced line, The Row. Shop their women's designs now if you're just dying for a $1500 sweater dress. [NYMag]2. Topshop's much anticipated NY store opening has been pushed back to March due to construction issues. For now, customers will have to placate themselves with the US ecommerce site. [WWD]3. No matter what looks are walking down the runway, it seems like the Goth trend will always be roaming the halls of a high school near you. [NYTimes]4. In addition to her leggings line, Lindsay Lohan is planning a whole brand development company, which will include a self-tanner and.... more leggings. [Jezebel]
Recession Beauty: Good Shampoos Under $10… Because It Goes Down The Drain Anyway
Shampoo hangs out on your head for but a moment, then it goes swirling down the drain. Don't send your rent money down with it. Get one of these budget-friendly bottles instead. Best for everyone: Chemistry Salon Labs Daily Cleanse ($8) is gentle and moisturizing without being heavy (plus it's sulfite and paraben free). And can we just talk about the bottle? Aside from being really cute in the shape of a science lab beaker, the pump is fantastic, and the wide base means it doesn't topple over and slide around in your shower. Best for color-treated hair: After my highlights, my colorist told me to get shampoo formulated for color-treated hair. I expected him to recommend a fancy-schmancy brand (and then sell it to me), but instead he said, "It really doesn't matter. Cheap is fine." He was right. Suave Professionals Color Care Shampoo ($3) does the job, leaving my highlights light and my wallet heavy. Best for women of color: SheFindsKristin gives Pantene Relaxed and Natural Intensive Moisturizing Shampoo ($5) high praise for adding moisture to the hair and scalp. Her hair is "noticably softer out of the shower and it stays that way." Best for girls on the go: Even if you're buying cheap-o drugstore brands, travel-sized shampoos are a serious rip-off; the price per ounce is jacked up in exchange for that cute little bottle. Lush's Godiva Solid Shampoo ($9.25) delivers as many washes as a standard bottle, smells dreamy, and leaves hair super soft. And since it's solid, it neither spills nor bogarts the space in your FTA-approved Ziploc baggie.Looking for more beauty bargains? Check out our picks for the best wallet-friendly mascaras out there.
Freebie Friday: Win Everything You Need For A Gorgeous Smile…And A Camera To Capture It
What: A prize pack from Crest and Oral-B that includes Crest Pro-Health Whitening Toothpaste, an Oral-B Pulsonic toothbrush, a year's supply of Oral-B Advantage Floss Picks, Crest Whitening Expressions toothpaste, and a Polaroid camera to shoot that gorgeous white smile. Why: Don't you hate running out of toothpaste? There's not really a substitute, and you have to use it every day (twice a day). And regular floss is annoying (these advantage things are handy little one-use flossers you don't have to wrap around your fingers). And have you tried an electric toothbrush yet?? They're way better than the manual kind. Last but not least: we all miss Polaroids. Click here for more information about the goods in the package (which is valued at $130...not too shabby). How: Just leave a comment below and tell us why you want this package of prizes, and two lucky readers will soon have a bathroom drawer full of the latest dental care products from Crest and Oral-B – and a cool new camera.And remember to click on over to MomFinds for a chance to win a $100 shopping spree at Tea Collection. 1. Post in the comments section about why you want to win the Crest/Oral-B prize package2. You must supply us with a valid email address and sign up for the SheFinds newsletter.3. The contest starts now and entries must be date stamped by our server no later than Friday, September 19th, 2008 at 11:59 AM Eastern Time to be eligible.4. One winner will be selected during a random drawing and will be announced in the September 23rd SheFinds newsletter. The winner must reply via email as instructed in the newsletter to claim the prize. 5. No prize substitutions.6. You must be 18 years old or older to enter and a resident of the USA.7. No purchase necessary.8. Void where prohibited.9. Click here for the full rules.
Repair The Damage: Urban Detox Is More Important Than Cab Fare If You Live In The City
What: Bioelements Urban Detox, $37 Why: Because I live in a city where I get dirty just leaving my apartment and walking to the subway. Because I feel the need to wash my face the minute I escape the urban jungle at the end of the day. And because everyone needs to detox -- country and city-dwellers alike. Bioelements Urban Detox protects your face against damage caused by the environment - specifically a bustling one. It creates an extra barrier against smog, dirt, and all the nasty stuff that just seems to sit in the air in the city, and can also reverse some damage already caused. Plus Urban Detox 'boosts the efficiency of your sunscreen'. Now I don't know if that's true, but it couldn't hurt to add an extra layer between the sun and my face. Bonus: Put in the fridge and then use under your eyes as a cooling eye gel. Amazing. Get Yours: amazon.com
Runway Recap: Pinstripes Will Get You Nowhere In Life
Here's the latest from SheFinds reader Kate: This week's Project Runway was – in a word – blah. Any excitement? Not really. Did the outfits "wow"? Not really. Did even the participants provide some excitement? Nope. The challenge was for the designers to create a "total makeover" – both outfit and hairstyle - for several recent college grads as they entered the work force. To provide a twist, they came with their mothers, who had lots of opinions for what their little dolls should be wearing. Let's start with our favorite little narcissist, Kenley. She was paired up with Anna – a future fashion buyer -- and her Mom Nancy. Kenley squealed with glee at her pairing with Anna, thinking she had scored a little "mini me". For Anna, she designed a floral dress with this odd vest/belt combination that certainly didn't wow us. As Tim made his rounds, he suggested losing the tulle (and we quite frankly agreed). In the end, Anna ended up with a dress that looked (to us at least) like Minnie Mouse in a Disney Parade. The judges loved it. Us? Not so much. We really LIKED Jerell's design for Caitlin, an artists assistant - and so did the judges because he was this week's winner. Were we madly insanely in love like last week? Not so much. The skirt didn't fit her right, but we did once again adore the mixed texture with the sweater and the satin. One question though – what was that feathered hat on his head? Third person speaking Suede was once again on the chopping block and barely made it. His coat was completely out of proportion with the dress. The print had no connection to the poorly constructed jacket. Did the ensemble belong on a future photographer? Not so much. We really liked Korto's iconic wrap dress for Megan, who will spend her career in a lab as an assistant. The dress was young and tailored and perfectly suited for a 20-something. Megan glowed as she strutted down the runway. Clap hands for Korto – who truly deserved the "runner up" position this week. When Leanne did her first fitting with Holly, there were lots of complaints – and it didn't get better from there. Holly's mother complained that the dress "flattened her out" (nice to have a Mom who is concerned about the positioning of your rack), and Holly felt it wasn't flattering at all. Well, Holly – it wasn't flattering or youthful and the outfit certainly wouldn't be applicable for an elementary school teacher. Although the outfit was poorly designed, Leanne still gets to stay "in" for this week. And the big loser – Joe. We knew that Joe was done for when he thought a pocket square would be a great addition to his design. Oh, Joe, Joe, Joe. You created this mess for Laura, a graphic designer. And what was it about this design that was so bad? Was it the poor construction? The fact that it aged her by a decade and made her look like an unmade bed? That it completely missed the boat because no one wears suits anymore, let alone a graphic designer? That it was just, well, ugly? So now we're down to five. Catch next week -- it looks like Kenley may get what's coming to her....Click here for last week's Runway Recap.
Repair The Damage: My Hair Hurts
We're all hard on our hair… we use products that leach its natural oils, we highlight every six weeks, we get blowouts and use straightening irons all too frequently and some of us even throw it up in a rubber band occasionally. All of this abuse can take a toll on your hair, but repairing the damage really isn't that hard. For the past few weeks I've been testing products that promise to give my hair a little extra TLC. Here are my favorites: Warren Tricomi Repair Collection: This line of shampoos, conditioners, and treatment products promises to restore, renew, and revitalize weak, damaged strands. After just a few days of using the Restoring Shampoo ($24) and Conditioner ($26), my hair was shinier and felt softer. It also held its style better, cutting down on the amount of product and styling I had to do in the morning. Both use natural healing ingredients like aloe, chamomile extract, wheat protein, and lavender—which also leave your hair smelling fantastic! H2O Sea Marine Revitalizing Shampoo and Collagen Conditioner: The shampoo cleanses oils and product residue while strengthening each strand, and the conditioner replaces moisture, helping hair hold onto its natural vitality. I have hard water and sometimes it's tricky to find products that leave my hair feeling soft and manageable, but this shampoo ($20) and conditioner ($22) did the trick. My hair definitely loves the hydrating marine botanicals in both of these products!
Solution: Space-Savers For Your Purse
We spend hundreds, sometimes thousands, of dollars on the perfect handbags. We drool over the latest styles toted by celebrities and Gossip Girls. Some of us even construct entire wardrobes around the perfect bags. With all the effort and affection we put into the outsides of our bags, shouldn't we focus a little on the insides, too? There are plenty of things we have to have—wallet, checkbook, phone... But when purse space is at a premium, we have to be smart about the extras we allow to float around in our little portable worlds. Smartest Swap: Ditch the bulky pack of gum (and the unsightly habit of chomping away after lunch) and swap it with a triple threat. Bella Il Fiore's Sweet Talk Tin ($16) is smaller than a deck of cards and holds spicy cinnamon mints and a tube of lip gloss. Plus, the kit comes with a compact mirror built right in. Safest Spritz: Don't risk ruining a fabulous handbag by spilling pungent perfume in the bottom. Invest in a travel sized scent, like elizabethW's Eau de Parfum ($20), with a stay-tight top and leakproof spritzer. The eau de parfum comes in not-too-overbearing scents like Sweet Tea, Lilac, Lavender, and Citrus Vervain. Little Lifesaver: Avoid embarrassing deodorant marks and other oopses (think toothpaste drool and loose powder splatter) by keeping a Skid Out Sponge ($5 for two) tucked away. The spongy discs take up almost no room, can be used without water, and take only a few seconds to spring into stain-busting action. Footwear Fighter: We keep a veritable makeup counter's worth of cosmetics in our purse, but what about the times when it's not our faces that require touch-ups? Stash a Foot Petals Perfect Polish Pen ($35 for a set that also includes cushions) in your purse to instantly do away with scuffs on your shoes, belt or bag.
Deal Of The Day: Up To 70% Off Beltable Dresses At Pink Mascara
I'm finally learning how to jump (or crawl slowly) on the belting bandwagon. I've discovered that dresses are safer than separates – your body isn't cut up as definitely, allowing for more figure-flattering leeway. Especially for those of us with torsos the length of a baby carrot. A skinny patent belt would look polished around the waist of this silk dress ($155, was $310). I know, this Graham and Spencer dress ($105, was $350) looks a little hospital-gown-ish the way it's [not] styled here, but cinch the waist and it's a comfy work option. Velvet's Habotoi Dress ($87, was $174) would be great for going out, paired with tights and a pair of flats. More sales and deals on the web: Rogan and Kotur sales start today at Gilt Groupe. The Suzi Chin boutique at Rue La La opened today. Take 20% off your entire order at Steve Madden with coupon code SAVE20. 20% off clearance items at Wet Seal.
News Updates: Bullseye Bodegas Will Leave On A High Note, Who Showed At Project Runway?, And More…
Posh's Poxie – Now She Has A Gorgeous Husband And A Great Haircut
There are a lot of reasons to envy Victoria "Posh Spice" Beckham: fabulous wardrobe, a shoe collection to die for, cute kids, and she gets to curl up with David Beckham every night. Well, the pint-sized fashionista has given us something else to envy - her new haircut. Posh debuted her new gamine pixie 'do at Marc Jacobs show this past Monday during Fashion Week and immediately set the AP wire afire with everyone talking about the new haircut, with MTV's UK site calling it "The Poxie". It's considerably shorter, it's back to her natural hair color (dark brown/black) and personally, I love it. It takes a certain facial structure to wear a short cut like this. I would look like a Jack-O-Lantern but I adore it on Victoria. Think you want to try The Poxie or something similar? Haircuts this short might be low-maintenance but you'll want to make sure that your styling products keep it that way. In order to get Posh's piece-y look, get yourself some Korres Yucca Soft Shine Wax ($17.50), a sleek botanical styling product that will hold without tremendous build-up and is alcohol-free to prevent dryness. Just take a section of hair, coat your fingers with the product, and bend it like Beckham. Posh, love that you've ditched the longer locks. If you decide to get rid of David, give me a call.
Sarah Palin Wigs – Yes, It's Come To That
Want to know Sarah Palin's deep, dark secrets? Just ask the ladies of the Beehive Salon in Wasilla, Alaska where Palin has been getting her hair done for a mere $30 ($75 for those really subtle highlights). The salon was showcased in a recent story in the NY Times, touted as a "modern" day equivalent to Dolly Parton's digs in Steel Magnolias. So? As Gawker points out- this constitutes a feature story in the Times? Oy. Not only has Palin's hair become a topic of conversation as of late, it has also spawned copycats. Salons have reported a spike in customers asking for Sarah's do. (Heck, we even offered some product picks to get that back to the 80s look). But the most outlandish request thus far? Palin wigs. Yes, there has been an upsurge of Palin wig requests -- believed to be because of Halloween approaching next month. Want to get yours in time to plan the whole costume (Tina Fey glasses and all)? Wigsalon.com insists their Raquel Welch Valentine Wig is an exact match in color and cut - all you have to do is pin back the crown and add some hairspray. What do you think? Is Sarah Palin a good Halloween costume or will she be old news by the time the 31st rolls around?
Designs For Count Me In: Payson & Co
What: Believe In You Necklace in 14K Gold and Believe In You Sterling Silver Necklace Description of 14K Gold Necklace: In solid 14K Gold (your choice of color) with a 14K Ball Chain (your choice of lengths) this pendant measures 15 mm(0.60 inches) and is 1.75 mm (0.07 inches) thick. Description of Sterling Silver Necklace: In solid sterling silver with a sterling ball chain (your choice of lengths) this can either be antiqued (giving a dark appearance to the lowered portions of the design or left in its bright state in which case the design will be slightly less noticeable - basically only to those who look closely. The pendant measures 15 mm(0.60 inches) and is 1.75 mm (0.07 inches) thick.About the Designer: "My name is Payson Cooper. One of my passions is creating beautiful, unique and sparkling jewelry! I also love working with individuals to design one of a kind pieces. I find it particularly inspiring to create jewelry with someone else, it is so amazing to me what is possible when two people are working together - the mix of creates something completely different than what I would normally come up with on my own. So, I invite you to contact me if you are interested in creating something special, for a wedding band, to celebrate a special anniversary or occasion, or just because you want to and you deserve it (which you do!)." Proceeds to be Donated: 20%Get Yours: $695 (gold), $95 (silver) @ transformationaljewelry.comCount Me In promotes the growth of women owned businesses and is the leading national not for profit provider of online business loans, resources, and community for women entrepreneurs. Beginning in September and continuing through Jan 1st, SheFinds will feature original accessories by independent designers. A portion of each sale will go to Count Me In. With each purchase, you are contributing to the development of women in business.
Terms
PLEASE READ THE FOLLOWING TERMS AND CONDITIONS CAREFULLY.The SheFinds web site (later referred to as the "Web Site," or "SheFinds") is provided by White Cat Media LLC ("SheFinds") and/or its affiliates and subsidiaries for your and others' personal, non-commercial enjoyment, subject to the terms of these terms and conditions of use and all modifications thereto ("Terms and Conditions"), and any rules that may be published from by SheFinds. By using this site, you are deemed to have agreed to these terms and conditions of use. SheFinds may change the Terms and Conditions at any time, and without actual notice to you. All such changes to these Terms and Conditions will appear on SheFinds. By using this site after we post any changes, you agree to accept those changes, whether or not you have reviewed them. If at any time you choose not to accept these Terms and Conditions of use, please do not use this site. Restrictions On Use of Material The content on this Web Site is intended for entertainment purposes only. Except as expressly permitted, you agree not to use the Web Site for sale, trade or other commercial purposes, and, you may not modify, copy, publish, display, transmit, adapt or in any way exploit the content of the Web Site. Only if you obtain prior written consent from us -- and from all other entities with an interest in the relevant intellectual property -- may you publish, display or commercially exploit any material from the Web Site. To seek our permission, you may write to us at our address provided below. If permission is granted by us and by all other entities with an interest in the relevant intellectual property, you may not change or delete any author attribution, trademark, legend or copyright notice. You must abide by all additional copyright notices or other restrictions contained on the Web Site. Unsolicited Materials SheFinds does not solicit nor does it wish to receive any confidential, secret or proprietary information or other material from you through the Web Site or SheFinds mail and email addresses, or in any other way. Any information or material submitted or sent to SheFinds will be deemed not to be confidential or secret. By submitting or sending information or other material to SheFinds you represent and warrant that the information is original to you and that no other party has any rights to the material. User's Grant of Limited License By communicating with SheFinds, including submitting or sending Content, a Contribution or other information or material to SheFinds, you grant SheFinds the royalty-free, unrestricted, world-wide, perpetual, irrevocable, non-exclusive and fully sub-licensable right and license to use, reproduce, modify, adapt, publish, translate, create derivative works from, distribute, perform and display such Content (in whole or part), including any information, suggestions, ideas, drawings or concepts contained in such Content, worldwide and/or to incorporate it in other works in any form, media, or technology now known or later developed. Such license includes incorporating a Contribution, in whole or in part, into a SheFinds feature. You will remain responsible for the accuracy, copyright compliance, legality, decency, or any other aspect of such submitted material, including any Contribution or part thereof, or other communication to SheFinds. You also warrant that any "moral rights" in posted materials have been waived. Linked Sites You may be able to link to third parties' Web Sites ("Linked Sites") from the SheFinds Web Site. Linked Sites are not, however, reviewed, controlled, or examined by SheFinds in any way and SheFinds is not responsible for the content, availability, advertising, products or other materials of any such Linked Sites, or any additional links contained therein. These links do not imply SheFinds's endorsement of or association with the Linked Sites. It is your sole responsibility to comply with the appropriate terms of service of the Linked Sites as well as with any other obligation under copyright, secrecy, defamation, decency, privacy, security and export laws related to the use of such Linked Sites and any content contained thereon. In no event shall SheFinds be liable, directly or indirectly, to anyone for any loss or damage arising from or occasioned by the creation or use of the Linked Sites or the information or material accessed-through these Linked Sites. You should direct any concerns to that site's administrator or webmaster. SheFinds reserves the exclusive right, at its sole discretion, to add, change, decline or remove, without notice, any feature or link to any of the Linked Sites from the Web Site and/or introduce different features or links to different users. SPECIAL NOTICE: THE LINKED SITES MAY CONTAIN CONTENT AND GRAPHICS THAT CONTAIN SEXUALLY EXPLICIT MATERIAL UNSUITABLE FOR MINORS, OR THAT MAY OTHERWISE BE OFFENSIVE. IF YOU ENTER THESE LINKED SITES, YOU ASSERT THAT YOU ARE OF LEGAL ADULT AGE IN YOUR JURISDICTION TO VIEW SUCH MATERIALS AND THAT THE VIEWING, READING, AND/OR DOWNLOADING OF CONTENT FROM THESE LINKED SITES DOES NOT VIOLATE THE COMMUNITY STANDARDS OF YOUR LOCALITY, CITY, TOWN, COUNTY, STATE, PROVINCE, COUNTRY OR OTHER COMMUNITY TO WHICH YOU BELONG, AND/OR FROM WHICH YOU ACCESS THESE LINKED SITES. Permission must be granted by us for any type of link to SheFinds at [email protected] To seek our permission, you may write to SheFinds. We reserve the right, however, to rescind any permission granted by us to link through any type of link, and to require termination of any such link to the Web Site, at our discretion at any time. Contests, Promotions, Simulations or Games Periodically, SheFinds may offer as part of the Services, either on or through the Web Site, contests, promotions, simulations or games (collectively, "Games"). To participate in Games, players may be required to complete a registration form. Upon submission, all registrations become the exclusive property of SheFinds. Registered users (each, a "Registered User") are permitted only one account. Registered Users with more than one account are subject to immediate disqualification from any Game, unless the description of the Game expressly invites a user to register multiple times. SheFinds, at its sole discretion, may suspend or revoke the registration of any Registered User. Registered Users agree to release SheFinds and its agents, advertisers, sponsors or promotional partners, from all liability arising from participation in any of Game located on, or accessed through, the Web Site. SheFinds is not responsible for technical, hardware or software failures of any kind, lost or unavailable network connections, or failed, incomplete, garbled or delayed computer transmissions which may limit any Registered User's ability to participate in any Game. Each Registered User agrees to be bound by the rules of any Game and by the rules of fair play and consideration of fellow Registered User. A Registered User who violates any of the rules or guidelines for behavior published on the Web Site, or the site where the Game is conducted, are subject to immediate disqualification and revocation of their registration. SheFinds is under no obligation to award any prize to any Registered User who violates a published rule or guideline. Some Games may offer prizes to Registered Users. All prizes are subject to the official game or contest rules published with that Game. SheFinds reserves the right to cancel, terminate or alter any Game or the rules thereof at any time without prior notification. Intellectual Property Rights All materials contained in this Web Site are the copyrighted property of SheFinds and its affiliates or licensors. As between SheFinds and you, SheFinds is the sole owner of all content on the Web Site, including without limitation, all applicable U.S. and non-U.S. copyrights, patents, trademarks, and trade secrets, and other intellectual property rights thereto. Except as otherwise specifically provided in these Terms and Conditions, you may not download or save a copy of the Web Site or any portion thereof, for any purpose. You may, however, print a copy of individual screens appearing as part of the Web Site solely for your personal, non-commercial use or records, provided that any marks, logos or other legends that appear on the copied screens remain on, and are not removed from the printed or stored images of such screens. All title and intellectual property rights in and to the content of the Linked Sites is the property of the respective content owner and may be protected by applicable copyright or other intellectual property laws and treaties. User Conduct This Web Site and any communications service, including the capability to contribute material through the contribution form (each such submission, a "Contribution"), chat room, message board, newsgroup, or other interactive service that may be available to you on or through this site (collectively, the "Services") are provided to you solely for entertainment purposes. By using the Web Site and Services you agree: (a) to provide true, accurate, current and complete information about yourself as prompted by the subscription form, contribution form and any registration form. If any information provided by you is untrue, inaccurate, not current or incomplete, SheFinds reserves the right to terminate your subscription and refuse any and all current or future use of the Services. Without limitation of the foregoing, you agree to not use the Web Site or Services to: Upload, post, publish, email, reproduce, distribute or otherwise transmit any information, data, text, music, sound, photographs, graphics, video, messages or other materials, including any Contribution, (collectively, "Content"), that is unlawful, harmful, threatening, embarrassing, abusive, harassing, tortious, defamatory, vulgar, obscene, libelous, deceptive, fraudulent, contains explicit or graphic descriptions or accounts of sexual acts, invasive of another's privacy, or hateful; "Stalk" another; Upload, post, publish, email, reproduce, distribute or otherwise transmit any Content that victimizes, harasses, degrades, or intimidates an individual or group of individuals on the basis of religion, gender, sexual orientation, race, ethnicity, age, or disability; Harm minors in any way; Impersonate any person or entity, including, but not limited to, a SheFinds official, or falsely state or otherwise misrepresent your affiliation with a person or entity; Forge headers or otherwise manipulate identifiers in order to disguise the origin of any Content transmitted to or through the Web Site; Upload, post, publish, email, reproduce, distribute or otherwise transmit any Content that you do not have a right to transmit under any law or under contractual or fiduciary relationships (such as inside information, proprietary and confidential information learned or disclosed as part of employment relationships or under nondisclosure agreements); Upload, post, publish, email, reproduce, distribute or otherwise transmit any Content that infringes any patent, trademark, trade secret, copyright or other proprietary rights of any party; Upload, post, publish, email, reproduce, distribute or otherwise transmit any unsolicited or unauthorized advertising, promotional materials, "junk mail," "Spam," "chain letters," "pyramid schemes," or any other form of solicitation; Upload, post, publish, email, reproduce, distribute or otherwise transmit any material that contains software viruses, Trojan horses, worms, time bombs, cancelbots, or any other computer code, files or programs designed to interrupt, destroy, or limit the functionality of any computer software or hardware or telecommunications equipment or any other similarly destructive activity, or surreptitiously intercept or expropriate any system, data or personal information; Act in a manner that negatively affects other users' ability to engage in the Web Site or Services; Engage in any activity that is contrary to or which would adversely affect the purpose or intention of the Web Site or Services, including but not limited to, actually or attempting to manipulate, corrupt or otherwise affect the outcome of the Services, in whole or part, by, among other methods, subscribing another party without their authorization or registering multiple subscriptions under the same or different names; Interfere with or disrupt the Service or servers or networks connected to the Service, or disobey any requirements, procedures, policies or regulations of networks connected to the Service; or Intentionally or unintentionally violate any applicable local, state, national or international law. You also agree that you will not harvest, collect or store information about the users of this Web Site or the Content posted by others on this Web Site or use such information for any purpose inconsistent with the purpose of this Web Site or for the purpose of transmitting or facilitating transmission of unsolicited bulk electronic mail or communications. You acknowledge that SheFinds is not responsible for material submitted to SheFinds or posted to the Web Site by users. SheFinds does not pre-screen, monitor, review or edit the Content posted by users. However, SheFinds and its designees have the right (but not the obligation) at their sole discretion to refuse or remove any Content, in whole or part, that, in SheFinds's judgment, does not comply with these Terms and Conditions or is otherwise undesirable, inappropriate or inaccurate. SheFinds is not responsible for any failure, non-failure or delay in removing such Content. You will remain responsible for the accuracy, copyright compliance, legality, decency, or any other aspect of such submitted material, including any Contribution or part thereof, or other communication to SheFinds. You agree to immediately notify SheFinds of any unauthorized use of the Service or any other breach of security known or suspected by you. You acknowledge and agree that SheFinds may preserve Content and may also disclose Content if required to do so by law or in the good faith belief that such preservation or disclosure is reasonably necessary to: (a) comply with legal process; (b) enforce these Terms and Conditions; (c) respond to claims that any Content violates the rights of third-parties; or (d) protect the rights, property, or personal safety of SheFinds, its users or the public. You understand that the technical processing and transmission of the Web Site, including your Content, may involve (a) transmissions over various networks; and (b) changes to conform and adapt to technical requirements of connecting networks or devices. SheFinds assumes no responsibility for the deletion or failure to store postings, Contributions or other information submitted by you or other users to SheFinds. Any or all Content on the Web Site may be purged periodically in SheFinds's sole discretion. You acknowledge and agree that Content you view, submit or post is at your own discretion and risk, including any reliance on the accuracy, completeness, or usefulness of such Content. You acknowledge that you may not rely on any information, data, text, music, sound, photographs, graphics, video, messages or other materials created by SheFinds or submitted to SheFinds, including Content. You further acknowledge and agree that the views expressed on the Web Site do not necessarily reflect the views of SheFinds, and SheFinds does not support or endorse Content (including any Contribution, whether or not edited by SheFinds or its designee or presented on the Web Site edited or unedited, in whole or in part, or alone or with other content) posted or submitted by you or any User. Parental Permission This Web Site is not intended to be a children's site, therefore, some of the available information may concern certain topics that may not be appropriate for children. SheFinds may, at its discretion, require users under 18 to obtain the consent of a parent or guardian to view certain content, and SheFinds may limit access to certain content to users above a specified age. You agree to abide by any such restrictions, and not to help anyone avoid these restrictions. Privacy Policy We are committed to protecting your privacy and security. We urge you to read our privacy policy for more details. Disclaimer of Warranties THE WEB SITE AND SERVICES ARE PROVIDED "AS IS," "WHERE IS" AND "AS AVAILABLE," WITHOUT WARRANTY OF ANY KIND, EITHER EXPRESS OR IMPLIED. WITHOUT LIMITATION OF THE FOREGOING, SheFinds SPECIFICALLY DISCLAIMS ANY AND ALL WARRANTIES, INCLUDING, BUT NOT LIMITED TO: (i) ANY WARRANTIES CONCERNING THE AVAILABILITY, ACCURACY, APPROPRIATENESS, RELIABILITY, TIMELINESS, USEFULNESS, OR OTHERWISE OF THE CONTENT OF THE WEB SITE OR SERVICES; AND (ii) ANY WARRANTIES OF TITLE, WARRANTY OF NON-INFRINGEMENT, WARRANTIES OF MERCHANTABILITY OR FITNESS FOR A PARTICULAR PURPOSE. THIS DISCLAIMER OF LIABILITY APPLIES TO ANY DAMAGES OR INJURY CAUSED BY THE WEB SITE, INCLUDING WITHOUT LIMITATION AS A RESULT OF (1) ANY ERROR, OMMISSION, DELETION OR DEFECT IN THE CONTENT, OR (2) ANY FAILURE OF PERFORMANCE, ERROR, OMISSION, INTERRUPTION, DELETION, DEFECT, DELAY IN OPERATION OR TRANSMISSION, COMPUTER VIRUS, COMMUNICATION LINE FAILURE, THEFT OR DESTRUCTION OR UNAUTHORIZED ACCESS TO, ALTERATION OF, OR USE OF RECORD, WHETHER FOR BREACH OF CONTRACT, TORT, NEGLIGENCE, DEFAMATION OR UNDER ANY OTHER CAUSE OF ACTION. SheFinds DOES NOT WARRANT OR GUARANTEE (1) THAT ANY PORTION OF THE WEB SITE WILL BE FREE OF INFECTION BY VIRUSES, WORMS, TROJAN HORSES OR ANYTHING ELSE MANIFESTING CONTAMINATING OR DESTRUCTIVE PROPERTIES; OR (2) THAT ACCESS TO THE WEB SITE WILL BE UNINTERRUPTED OR ERROR-FREE. SheFinds DOES NOT WARRANT OR MAKE ANY REPRESENTATIONS REGARDING THE USE OR THE RESULTS OF THE USE OF THE MATERIALS IN THIS WEB SITE. YOU (AND NOT SheFinds OR ANY OF ITS AGENTS) ASSUME THE ENTIRE COST OF ALL NECESSARY SERVICING, REPAIR OR CORRECTION. APPLICABLE LAW MAY NOT ALLOW THE EXCLUSION OF IMPLIED WARRANTIES, SO THE ABOVE EXCLUSION MAY NOT APPLY TO YOU. Limitation of Liability IN NO EVENT WILL SheFinds, ITS OFFICERS, DIRECTORS, EMPLOYEES, AGENTS, SPONSORS, ADVERTISERS, PARENTS, AFFILIATES, SUCCESSORS OR ASSIGNS, BE LIABLE TO ANY PARTY (i) FOR ANY INDIRECT, SPECIAL, PUNITIVE, INCIDENTAL OR CONSEQUENTIAL DAMAGES OR ANY OTHER DAMAGES ARISING IN ANY WAY OUT OF THE AVAILABILITY, USE, RELIANCE ON, OR INABILITY TO USE THE WEB SITE, EVEN IF SheFinds OR ITS AGENTS SHALL HAVE BEEN ADVISED OF THE POSSIBILITY OF SUCH DAMAGES, AND REGARDLESS OF THE FORM OF ACTION, WHETHER IN CONTRACT, TORT, OR OTHERWISE; OR (ii) FOR ANY CLAIM ATTRIBUTABLE TO ERRORS, OMISSIONS, OR OTHER INACCURACIES IN, OR DESTRUCTIVE PROPERTIES OF THE WEB SITE. BECAUSE SOME STATES OR JURISDICTIONS DO NOT ALLOW THE EXCLUSION OR THE LIMITATION OF LIABILITY FOR CONSEQUENTIAL OR INCIDENTAL DAMAGES, IN SUCH STATES OR JURISDICTIONS, MIMIASTYLE'S LIABILITY SHALL BE LIMITED TO THE EXTENT PERMITTED BY LAW. Indemnification Upon a request by SheFinds, you agree to defend, indemnify and hold SheFinds, its affiliates, officers, directors and employees harmless from any and all claims, liabilities, costs and expenses, including reasonable attorneys' fees, arising in any way from your use or misuse of the Web Site or Services, or the uploading, posting, publishing, emailing, reproduction, distribution or transmission of any Content or other materials by you or users authorized by you or any violation of these Terms and Conditions by you. SheFinds reserves the right, at its own expense, to assume the exclusive defense and control of any matter otherwise subject to indemnification by you, in which event you will cooperate with SheFinds in asserting any available defense. Copyrights We respect the intellectual property rights of others, and require that the people who use the SheFinds Web Site do the same. If you believe that your work has been copied in a way that constitutes copyright infringement, please forward the following information to us at [email protected]: Your username, address, telephone number, and email address; A description of the copyrighted work that you claim has been infringed; A description of where the alleged infringing material is located; A statement by you that you have a good faith belief that the disputed use is not authorized by the copyright owner, its agent, or the law; An electronic or physical signature of the person authorized to act on behalf of the owner of the copyright interest; A statement by you, made under penalty of perjury, that the above information in your Notice is accurate and that you are the copyright owner or authorized to act on the copyright owner's behalf. Applicable Laws / Jurisdiction You agree that the laws of the State of New York, excluding its conflicts-of-law rules, shall govern these Terms and Conditions. Please note that your use of the Web Site may be subject to other local, state, national, and international laws. You expressly agree that exclusive jurisdiction for any claim or dispute with SheFinds or relating in any way to your use of the Web Site resides in the courts of the State of New York, and you further agree and expressly consent to the exercise of personal jurisdiction in the courts of the State of New York, in connection with any such dispute and including any claim involving SheFinds or its affiliates, subsidiaries, employees, contractors, officers, directors, telecommunication providers and content providers. We control and operate this site from our offices in Ardsley, New York. We do not represent that materials on the site are appropriate or available for use outside of Ardsley, New York. Persons who choose to access this site from other locations do so on their own initiative, and are responsible for compliance with local laws, if and to the extent local laws are applicable. Any inquiries concerning these terms and conditions of use should be directed to [email protected] Provisions Unenforceable or Invalid If any part of this agreement is held invalid or unenforceable, that portion shall be construed in a manner consistent with applicable law to reflect, as nearly as possible, the original intentions of the parties and the remaining portions shall remain in full force and effect. Assignment You shall not transfer, assign, sublicense nor pledge in any manner whatsoever, any of your rights or obligations under this Agreement. SheFinds may transfer, assign sublicense or pledge in any manner whatsoever, any of its rights and obligations under this agreement to a subsidiary, affiliate, or successor thereof or to any third party whatsoever, without notifying you or receiving your consent. If you have any questions about this policy or our site in general, please contact us at [email protected]
Privacy
This policy was last updated April 2015. Your privacy is very important to us. This privacy policy describes the information we gather, how we share that information and what we do to protect your information. Personal Information SHEfinds requires your e-mail address when you subscribe to our newsletters, when you sign up for sweepstakes, and when you take advantage of other services our website offers. To provide you with the best possible service, we also require some basic personal information when you sign up. Those items are marked with an asterisk (*). Furthermore, we ask for some optional information on our sign-up page and in periodic opt-in surveys. We use this basic and optional information, to further tailor our content to your interests. Upon request, we will provide you with the information that we maintain about you. Demographic Information We may use aggregate data such as income, age and geography to further customize our content and enhance our services. We may share this information with advertisers and the media. Likewise, we may share this information with another company in the event that we merge, are acquired or participate in a joint venture with another company, or if we conclude that we are required by law to share it. All aggregate data will be shared without any personally identifiable information about our individual subscribers. Cookies We and some of our partners may make use of cookies (small text files placed on your computer's hard disk by our server). They are used to collect traffic information such as the number of visits to our site and pages visited. This information will be used to assess how visitors are using our services. This data will also allow us to manage the functionality of the site. You can disable cookies at any time if your browser permits. Web Site Usage Information We and our partners also may make use of pixel tags which also collect traffic information regarding the behavior and usage patterns of users of our site.   Pixel tags allow us, or a third party who provides the pixel tag, to set, read, and modify cookies on, and to transfer other data to, the browser used to view the Web page or other document. Pixel tags may also be used to obtain information about the computer being used to view that Web page or other document, including the sites the users of that computer visit.. The entity that provides the tag can view the IP address of the computer that the tag is sent to, the time it was sent, the user's operating system and browser type, and similar information.  Our partners may use this information to display advertisements and other content that targeted to you.  We may also use other technologies that permit data gathering. You may chose not to accept a pixel tag by taking one of the following three actions: First, you can opt-out using our partner Blue Kai's opt-out process, which is explained here  http://www.bluekai.com/optout.html. Second, you can also opt-out by using the NAI's opt-out tool, which is explained here http://www.networkadvertising.org/managing/opt_out.asp These two options require you to accept cookies, and they will only function if your browser is set to accept third-party cookies. If you delete an opt-out cookie from a browser's cookie files, the pixel tag will be installed until an opt-out cookie is reset on that browser. The third way to block pixel tags is to block third-party cookies on your browser.  If you block third-party cookies from being set on your browser, you may not be able to enjoy some features or functionality of, and you may see the same content and advertisements repeatedly on, some Web sites. Linked Sites Although SHEfinds may provide links to third party sites, and advertisements from third parties, we are not responsible for the content that appears on those sites nor do we endorse these sites. Please review each site's privacy policy to determine their use of information. Advertisers To support our efforts we sell sponsorships of SHEfinds mailings and on the blog to advertisers who we think you'd like to know about. Collection, use, disclosure and security of information collected by advertisers are subject to the privacy policies of those advertisers. Agents From time to time, we may use the services of third-party companies to help facilitate our business activities. These include affiliate or incentive program providers, customer service organizations, e-mail and postal mail brokers, and marketing service providers. These companies are subject to confidentiality agreements with us and are prohibited from using the information we provide for any reason except to perform the functions that we have outlined for them. Opt-out / Unsubscribe If we ever send you an email that you did not expressly request, we will provide you with an email address by which you may request to receive no future notices. Changes to Privacy Policy SHEfinds may change this privacy policy. Any changes will be reflected on this privacy policy page. If you are concerned about how your information will be used, you should check back at this privacy policy page periodically. Children We do not intentionally collect any information from children. Contact If you should have any questions about our privacy policy, please contact us at [email protected] This policy was last updated April 2015. White Cat Media, Inc. 109 West 27th Street #5A New York, NY 10001
Deal Of The Day: 45% Off Evening Clutches At Endless
While I'd probably shell out a good bit of cash for The Perfect Handbag (i.e. one that holds my laptop and all my other crap, looks cool and doesn't hurt my shoulder), I'm much more thrifty about evening bags – my theory is, buy them on sale or borrow them from your grandma. Grandmas always have gorgeous beaded clutches.Accessorize a LBD with this red clutch ($71.50, was $130) and gold heels for a more festive look. Instead of a cocktail ring, carry a jeweled clutch ($134.75, was $245). The gathering on this gold silk clutch ($71.50, was $130) makes it look relaxed enough to pair with jeans and a black tank. More sales and deals on the web:As seen in the SheFinds Forum: 20% off designer denim at UrbanMinx.Use the Spanx coupon code spanxanniversary at Spanx.com and receive 30% off your offer through September 14. At Rue La La, you can score Laundry dresses at sample sale prices until Saturday. Save up to 75% on select styles at Shoes.com this Saturday.
Runway Recap: Signs, Signs, Everywhere There's Signs
Here's the latest Runway review from SheFinds reader Kate:The designers were tapped to create an avant-garde ensemble based upon the zodiac signs and were forced to team with designers who were 'auf viderseigned' earlier this season. Usually team challenges prove spicy with the usual personality clashes, and this episode had its share of fireworks. What's going to be exciting in coming episodes will be the future clash between Kenley and pretty much every other designer on the show. She's a crying Jeffrey in Bettie Page drag. We're taking bets now for a showdown between Kenley and LeAnn. Who will come out on top in that cat fight? Stay tuned! As usual, in the midst of design and production – there's a wrinkle! In the middle of the frenzy of creating the garment, Tim arrives and tells the designers that they will be swept away to the Museum of Natural History to meet up with Heidi and PR alumns who will judge the garments. And then the big bomb is dropped -- not only will there be no more "immunity' granted, but TWO designers will be "aufed" this episode. So enough with the back story – on with the show! And the winner is…Jerrell! He worked with Jennifer and his design of Sagittarius was fabulous. We loved the mixed mediums of tweed and the feathers, and thought the long pencil skirt was just divine. The losers? BLAYNE. We thought his outfit for Libra belonged on a float at Carnival. When Michael Kors talks about human excrement to describe your design ("your model is pooping fabric!"), you might as well just walk off the runway right then and there. The other loser was Terri. Her original design for Leo had a fur wrap and she was smart enough to drop it before the runway, but, alas, it wasn't enough to save this dress, which looked like something She-Ra would wear before going to slay Skeletor. Kenley's design for Aquarius looked like something out of Alice and Wonderland. All of us think her days on the runway are numbered, as she got pretty cocky and argued with Nina during judging. Honey, don't mess with Nina.Korto's design for Aquarius was – in this judges opinion – quite lovely. I wouldn't wear it, but can definitely appreciate the construction and how it draped and flowed on the runway. It wasn't a winner, but definitely not a loser. Leann's depiction of Scorpio was not our cup of tea, as we'll go on record as saying we strongly disagree with the judges and Tim who just "oohed" and "ahhed" over her hooded asymmetric dress. It looks like something a couture vampire would wear. We absolutely loved Joe's design for Aries. The mixture of colors and textures is fantastic. Finally, there is Suede. Third person speaking Suede – the Bob Dole of Project Runway. His depiction of Libra was an epic disaster, and although he was on the chopping block, he didn't get the final cut. Harem pants? Enough said. So stay tuned for next week! We're now down to six. Make it work! And catch up on our reviews of past episodes.
Designs For Count Me In: Sophisticated Beads
What: Yellow Turquoise and Swarovski Crystal Earrings Why: Add sparkle to your look with these Yellow Turquoise and Austrian Swarovski Crystal earrings that dangle from sterling silver French earring wires. Crystal clear earring back protectors included. About the Designer: The Sophisticated Beads collection provides authentic pieces of jewelry that are well-crafted, elegant, hip and fashion-flexible. Designs include bracelets in which part of the proceeds go to the Susan G. Komen for the Cure - Oregon and SW Washington Affiliate, Jessica's Hope for Ovarian Cancer Awareness/Research and the Leukemia & Lymphoma Society. We also design a line of jewelry that helps support Nairobi tribal women in Kenya by purchasing their beads.Proceeds to be Donated: 15%Get Yours: $30 @ sophisticatedbeads.com Count Me In promotes the growth of women owned businesses and is the leading national not for profit provider of online business loans, resources, and community for women entrepreneurs. Beginning in September and continuing through Jan 1st, SheFinds will feature original accessories by independent designers. A portion of each sale will go to Count Me In. With each purchase, you are contributing to the development of women in business.
Freebie Friday: Tell Us What's In Your Bag, And Win A Big Bag Of Beauty Loot
For the last week, we SheFinds writers have been divulging our the secrets of our handbags – mystery lip gloss, wine-stain-fighting gum and all. Now it's your turn: list your handbag's contents in the comments section below, and we'll enter you for a chance to win a box full of beauty products – probably more than you could ever carry around all at once, even in a really big bag. And for the record, while SheFindsBrynT may claim to carry around an empty hobo all the time, I watched her pull a bottle of Mondavi out of that thing earlier this week (ok, it was right around her birthday and it was a gift…). I sort of envy her light-packing prowess; with the laptop, charger, scarf, glasses, and flavored seltzer I lug during the week, my big bags probably wouldn't appreciate a visiting bottle of vino jostling for space.So what's in your bag? Contacts? Tweezers? A small dog? Tell us below for a chance to win! And don't forget to check out MomFinds for a chance to win a bunch of back to school goodies from Crayola.1. Post in the comments section about what you carry in your handbag.2. You must supply us with a valid email address and sign up for the SheFinds newsletter.3. The contest starts now and entries must be date stamped by our server no later than Friday, September 5th, 2008 at 11:59 AM Eastern Time to be eligible.4. One winner will be selected during a random drawing and will be announced in the September 9th SheFinds newsletter. The winner must reply via email as instructed in the newsletter to claim the prize. 5. No prize substitutions.6. You must be 18 years old or older to enter and a resident of the USA.7. No purchase necessary.8. Void where prohibited.9. Click here for the full rules.
News Updates: Ann's Fundraiser Sure To Be A Hit, Moschino Goes Dancing, And More…
The upcoming Obama fashion fundraiser (whose invites notoriously misspelled Anna Wintour's name, calling her Ann) promises to be quite a spectacle, with SJP as the co-host and a fashion show including designs by DVF and Zac Posen. [NYMag]Moschino has collaborated with Repetto to design a pair of "Zizi" dance shoes for The Repetto Foundation. The foundation supports educational dance programs for children. Can't dance but still in the mood for designer shoes? Check out Nordstrom's latest shoe sale. [FWD]On the last night of the DNC, Michelle Obama appeared in a dress by Thakoon (who is scheduled to be the next Target designer). Whatever she shows up in, Michelle always looks fashionable in our eyes. [NYObserver]Style.com launched its own beauty blog called Beauty Counter which will showcase high-profile makeup artists as well as must-have products. As far as the latter, we already do that. [Racked]
Week In Review: Michelle The Style Icon, Bad Hair Day Cured Before The Common Cold, And More…
Must-Reads:After showing up at the DNC in a classy Mario Pinto sheath, some say Michelle Obama could be the next Jackie O. Have German scientists found the solution to bad hair days?This week's Project Runway had designers creating seatbelt couture.Sales and Deals:Up to 65% off Theory at Bloomingdale's40% off patent flats at NordstromUp to 45% off silk tops at Singer22Test your Fashion IQ: Which silver tank will leave you enough for a tank of gas? Which grey dress is the more exorbitant indulgence?
Forget The Beach: Just Stay Home And Shop This Labor Day Weekend
Missing the last beach weekend of the season? Go shopping instead -- from the comfort of your own home. It's supposed to rain anyway. (Ok, we don't really know that, we're just trying to make you feel better if you really had wanted to go to the beach but couldn't.) Old Navy's Fall for You Sale offers classic button-downs and sporty polos starting at $10. Pick up a transitional summer-to-fall dress at Macy's Labor Day Sale. Tanks are up to 75% off at C&C California's Summer Clearance Sale. These are perfect for layering under fall sweaters. Buy next year's thong sandal now at Banana Republic's Labor Day Sale - footwear is up to half off. Gap's Semi-Annual Bra Sale offers great discounts on bras , undies, and swimwear.
Designs For Count Me In: Myra Elizabeth
What: Crystal Infinity Necklace Why: A beautiful array of citrine, olivine, indicolite, black diamond and smoky quartz Swarovski crystals, inspired by the color palette for Count Me In, are individually wrapped around a sterling silver ring, which is topped by a fancy silver bead and attached to a fine silver chain. Each group of crystals symbolizes the support women entrepreneurs (represented by the center silver bead) must receive to be successful in both our business and personal lives: family, community, fellow business associates, organizations supporting small businesses and independent designers and educational institutions. This sparkling handcrafted crystal infinity necklace is available in two sizes.Who: Jewelry Designer Myra Elizabeth is known for her elegant and feminine handcrafted designs, created with beautiful combinations of semi-precious gemstones, freshwater pearls, Swarovski crystals and precious metals. As an independent designer, she feels the support of organizations like Count Me In are vital to the success of small business owners and women entrepreneurs around the world. Proceeds to Be Donated: 50% Get Yours: $42 to $52 @ MyraElizabeth.comCount Me In promotes the growth of women owned businesses and is the leading national not for profit provider of online business loans, resources, and community for women entrepreneurs. Beginning in September and continuing through Jan 1st, SheFinds will feature original accessories by independent designers. A portion of each sale will go to Count Me In. With each purchase, you are contributing to the development of women in business.
What We Stash In Our Bags
This week, our writers revealed what they keep stashed in their handbags. From flip-flops to hair clips to the occasional Diet Coke, we're ready for anything. Which bag most mirrors your on-the-go arsenal? SheFindsSuzelle keeps it travel-friendly, toting products in sizes that are FDA-approved so she can jump on a jetplane at a moment's notice. For evening, SheFindsRebekah goes minimilast - a welcome break from daytime laptop lugging. Hoofing it to the office without ruining her heels (or killing her feet) requires SheFindsCatesby to pack flip-flops in her bag for the trek. SheFindsBrynT's massive hobo is as flat as a pancake. Maybe she should explore the wonderful world of clutches.And don't forget to enter our Freebie Friday this week - let us know what products you stash in your handbag for a chance to win a box of loot from our beauty closet.
Blog Round-Up: Heard On The Web This Week
The long slim cardigan is sure to become the single most important piece in Girlawhirl's Fall 08 wardrobe. SheFinds wonders if Urban Outfitters could become the next Target GO International. Smarter Fashion shows us how to get a Cynthia Rowley Whim collection look for less! StyleBakery.com has the scoop on Fall's Top 10 Trends including over 200 must-buys for every budget. Not for the squeamish: The Beauty Brains talk about Man Junk, a new product to keep your man clean down THERE. Real vs. Costume Jewelry : At Real Simple's Simply Stated, we ask which one would you choose?