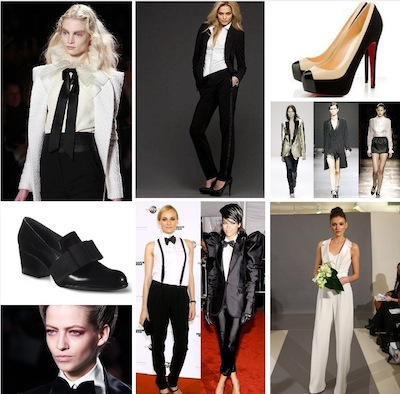 Tuxedo-Inspired Womenswear: A Sexy, Modern Alternative To Puffy Ball Gowns
This week at Bridal Week one of our favorite designers THEIA showed a silk crepe tuxedo-lapel jumpsuit that was to die for. The menswear-inspired look got us thinking about how sexy and modern tuxedo embellishments are for women. What sealed the deal for us? These fierce Christian Louboutin tuxedo pumps. #Need (more…)
We Love Nancy Shevell's Stella McCartney Dress: Get The Look For Your Town Hall Wedding
Yesterday, Paul McCartney wed wealthy American and New Jersey-ite Nancy Shevell in North London. The bride wore a modest long-sleeve, knee-length Stella McCartney dress to the Town Hall ceremony, and a flower in her hair. She looked so lovely and low-key, we encourage the look for anyone else (more…)
Michael Kors Is Married! Plus Ways To Dress For Your Own City Hall Wedding
Designer Michael Kors just revealed that he married his longtime partner (and form intern!) Lance LePere at the City Clerk's Office in Manhattan on August 3. "Lance and I are very excited to finally be able to have the opportunity to marry in our home state after many years together," said Kors. (more…)
4 Bridal Looks To Steal From The CFDA Red Carpet (No, Lady Gaga's Is Not One Of Them)
Last night the fashion elite commenced for the CFDA Awards, where top honors for Womenswear Designer of the Year (Proenza Schouler), Accessories (Alexander Wang) and more, were doled out. The winners in our mind were the fashionistas, from Whitney Port to Kerry Washington, who wore white - thus setting the bar for fall 2012 bridal trends: (more…)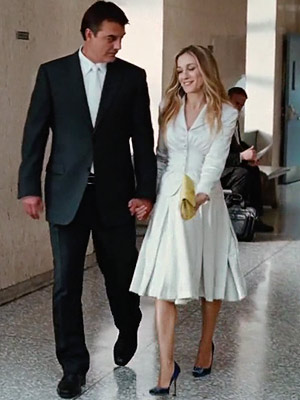 The Tailored Wedding Suit: Carrie Bradshaw Did It, And So Can You
Remember when Carrie Bradshaw turned down Vivienne Westwood for a gorgeous white suit and happily ever after? The same thing can happen to you -- choose a gorgeous white suit fit for City Hall or any destination wedding. (more…)
W Magazine Should Know Readers Won't Be Fooled Again
W magazine definitely underestimates fashion bloggers' devotion to scrutiny - in efforts to make 47-year-old Demi Moore's body look 26 again (to be precise, like 26-year-old model Anja Rubik ) the magazine seems to have done some crafty photoshopping on this month's cover. What alighted attentive bloggers to the editing? If you look closely, you'll see that Demi's left hip (our right) is reduced in an odd way, and that slinky Balmain dress seems to float above it. Just like Ralph Lauren earlier this fall, W may have created fashion photo fraud by superimposing the model's body over Demi. Come on guys, who do you think you're fooling? Whether it's Demi's real body or not (according to The Daily Mail, the actress is angrily denying the claims), we can all agree the Balmain dress is super hot. However, it's also pricey, so we suggest getting the glitter effect with a sweet sequin shift by Mark + James or Patterson J. Kincaid's sparkly chiffon style instead. For more tips, be sure to check out our guides to party dresses and celebrity dresses.
SheFinds Tries It On: Spanx Bra-llelujah! Soft Cup Bra
What: Spanx Bra-llelujah! Soft Cup Bra, $36Sure a bra can look pretty, feel nice, and claim to be supportive, but how do you really know it works until you try it on? And we don't mean in the dressing room of some frigid department store with deceiving lights and a skinny mirror. We're talking a no-frills road test - putting the bra to work at the tasks us ladies face every day to see if it holds up to our standards. We asked three very brave, very honest, and very anonymous (we reveal a lot, but our cup sizes we keep to ourselves) SheFinds writers of varying bra sizes to road test the Spanx Bra-llelujah! Soft Cup Bra to see how it would fare in the following situations: Bounce Test, Sweat Test, and Tight Tee Test. Let's see the results: Writer 1 (32B):Bounce: Less supportive than a sports bra, far more supportive than the lace-cup underwire I wear almost every day. Minimal bounce when trekking up to my 5th-floor walk-up. A Sweat: Kept me feeling comfortable and not disgusting at a hot, muggy rooftop barbecue. Bottom line: none of the misery I usually experience getting kind of sweaty while wearing a real bra. A+Tight Tee: Completely disappeared under all but my flimsiest, tightest white tee, when the gathered fabric under the cups stuck out a bit. A- Overall: A. I'd wear this under anything with sleeves or thick straps – if I wasn't planning on taking it off in front of someone. Writer 2 (34C):Bounce: Though the Spanx bra is proud of giving support without underwire--which it does--there is certainly more bounce here than with a traditional underwire bra. Stairs weren't a problem, but then I did the bounce test by actually jumping up and down, and noticed a somewhat more intense downward thud than in my underwire bras. B+Sweat: Did well on the subway, absorbing sweat in a sports bra-like way (which is way better than your standard Vicky's). ATight Tee: Looked great! Pretty flattering. Nips were a little more noticeable than they would be in a bra with some padding (this one has none), but nothing tragic. It did not make my breasts look as great under a tight t-shirt as I would have liked. They were a little less rounded and perky than in an underwire bra--not sports-bra flat by any means, but not particularly noteworthy either. A- Overall: A-. As a side note, the opportunity to go swimming suddenly presented itself on the day I was wearing the bra, and I felt like it was swimsuit-ish enough to be appropriately worn as a bikini top in public. That's a real plus, in my book. You never know when you'll want to take a dip! Writer 3 (34DD):Bounce: The bra is pretty thin and stretchy - so it didn't support me too well. I"m always running late in a hurry, and running down my five flight walk-up was a bit painful in this bra. I actually felt they bounced more than in a normal sports bra or underwire. B-Sweat: I wore this bra to take my dog on a 2 mile walk to the dog park on one of the most humid nyc days so far - and it absorbed sweat extremely well. A+Tight Tee: I sported this bra under a tight spandex blend vneck top and I could absolutely see the difference in the back. No lines, no bulge. A Overall: B+/A-. All is good except when jumping up and down. With an average grade of A-, looks like Bra-llelujah! fared pretty well with our testers. Do you have a product you'd like us to test out? Let us know about it in the comments section, or email us at [email protected] and we'll have SheFinds try it on!
Solution: Cleansers For Finicky, Sensitive Skin
Our skin can be so finicky. One minute it's tight, dry, and itchy and the next it's competing with that pepperoni pizza we just ate for greasiest surface ever. A good deep cleaning can typically balance us out, but for ladies with sensitive skin, finding the right stabilizing cleanser can be a chore. Thankfully, many skincare lines are offering for-sensitive-skin-only formulas designed to soothe, calm, and cleanse even the most feisty faces. Here are three of our gentle faves, along with a lasts-the-day cream to keep things in control. Best for Makeup Mavens: You're not doing your skin (sensitive or otherwise) any favors by going to sleep with a full face of makeup every night. Banish dirt and oil before bed, and give yourself a mini facial, with a sensitive skin-friendly cleansing oil like DHC Soft Touch ($14). Best for Dry Skin: Soapy lather and lots of scrubbing can leave even the most balanced skin tight and achy. Combat overdrying with a vitamin-packed cream cleanser like Joey New York Calm and Correct Gentle Soothing Cleanser ($27). Best for Big Spenders: There are some products it's just worth spending more on, and if you've got super sensitive skin, your cleanser isn't the item to scrimp on. If re-balancing sensitive skin is priority one, indulge in Jurlique's Soothing Foaming Cleanser ($40), a calming blend of groomwell and peppercorn that gives even the fussiest face a balanced glow. Best Follow-Up: Cleansing is only the first step in caring for sensitive skin. Follow up your pore purifying scrub with a sensitive skin-targeted day cream like Annemarie Borlind ZZ Sensitive Skin Day Cream ($21) that will keep your face hydrated throughout the day. Stressed out skin gets a soothing pre-makeup boost with this organic cream that fights signs of aging and can be used on skin with broken capillaries or rosacea.
Fashion Find: Mark's Take Three Convertible Dress
You probably don't think of calling the Avon lady when in search of the perfect little black dress—but maybe you should. Mark, Avon's younger, hipper spin-off, offers up the Take Three Convertible Dress ($28), which will take you from cubicle to cocktails, brunch to bar crawl. Unaltered, it's a knee-length strapless number, perfect for a dinner date, or for work when paired with a colorful cardigan. Fold the top under to create a flirty, empire-waisted frock (think happy hours and barbecues), or let it sit around your hips as a classic, breezy black skirt. In addition to it's versatility, the Take Three is comfortable and incredibly soft. It will be your go-to dress well into fall.Get yours: meetmark.com.And be sure to check out our Summer Dresses Guide for more trendy picks for every occasion.
What I Can't Stop Wearing This Summer: Black Bermuda Shorts
I confess, I have three pairs of black Bermuda shorts. I've bought all of them since May and I'm loath to give them up in September when the chilly weather is bound to arrive. It's turned into a habit similar to searching for the next pair of perfect jeans or unsticky lip gloss. I see a pair, I try them on, and I justify buying them because they're just a little different from the other two pairs I already own. It all began with Target's Merona Bermudas. I paid $18, but they're a steal now at $12.59. They are the perfect Sunday brunch shorts that put a little class into my roll-out-of-bed weekends. My next acquisition was Banana's cropped black cotton pants. Just a little longer and a little dressier than the first, but oh-so-wonderful at $49. These flow from the office to happy hour and back with a cute cardi and long beads. And the third… J.Crew's solid 9" chino (no longer available in black, but still in plenty of other necessary colors!), which was the casual cousin of the first two pairs and ideal for kicking around home. What are you going to have trouble not wearing this fall? Tell us in the comment section below!
Recession Beauty: I Got My Mascara At The Drugstore… But You Can't Tell
Here at SheFinds, we're feeling the economic pinch as much as the next beauty product addict. And so we're bringing you new weekly picks that won't empty your wallet. We'll test products and let you know how they hold up… hopefully saving you money by finding a cheaper version of the products you love and saving you from wasting your precious dough on a no-good knock-off. Up first, mascara. I compared four products and one was a clear winner, though all would have earned a place in my make-up bag for weekly wear. And I'm picky about mascara. I have long lashes that need a volumizing oomph and I wear contacts, which means I stay away from anything that flakes. So, the winner: CoverGirl Lash Exact ($7.39). The secret is in the plastic brush, which keeps lashes from clumping, even after multiple applications. It volumizes and lengthens without looking fake. It wipes off easily, doesn't smudge and this baby never flakes. First Runner Up: Maybelline Great Lash ($4.49). This one is an Allure Best of Beauty winner, but it's No. 2 in my book simply because it gets clumpy a little faster than the CoverGirl Exact Lash. But, it goes on evenly and is good for sensitive eyes. Second Runner Up: Wet n' Wild Mega Protein ($2). The price is right for this drug store brand staple, but the chunks put it a distant third. One application isn't enough, but two gets thick… especially after you've been using it for a week. But I'll give it you, this stuff doesn't smudge! Last Place: Tarte Lights, Camera, Lashes ($18). Lengthen, curl and volumize your lashes… and know that you spent too much on mascara. It absolutely works and probably stays clump free longer than any of the other three brands I tested… but for the price of one tube I can get a years' worth of my favorite CoverGirl. Do you have a favorite budget beauty product we should profile? Let us know in our comments section below!
Parabens? We Don't Need No Stinking Parabens!
Depending on who's doing the talking, parabens are either entirely benign, inexpensive ingredients that preserve the lifespan of your beauty goods, or cancer-causing agents of death and deformation. Hmm. I'm not one for jumping on the fear bandwagon, but while the jury is out, it can't hurt to switch to some of the great products in the paraben-free, "better safe than sorry" camp (especially for products that will be absorbed into your skin). Jurlique Herbal Recovery Gel ($134) is packed with herb and plant extracts to hydrate and firm skin. It absorbs quickly, and instantly made my skin feel cooler and smoother. Ren Seaweed and Sage Body Wash ($22) will leave your skin feeling clean and supple, without stripping away moisture. Korres Body Butter ($5-$21) is deeply moisturizing and available in four fabulous formulations: Quince, Yoghurt, Fig, and Guava. Pangea Organics Hand and Body Lotion ($16) is great for those who need extra moisture in the sticky summer months It moisturizes without being heavy or greasy.All products are also available through Ekoh where, for the month of August, SheFinds readers will receive a 20% discount on everything on the site! Ekho offers prestige organic, natural, and environmentally conscious beauty brands. Use the code 'shefinds' at checkout.
Taste Test: Which Zippered Sandal Has A Tough Price Tag To Match?
These platform sandals with cool zipper detail on the straps will both add edge to a proper pair of wide-leg trousers, and make an unexpected statement with bootcut jeans. Neither is cheap, but one retails for a whopping three times the other. Can you tell which is which? Click on the images to see what they really cost. Test your Fashion IQ with other Taste Tests.
Fashion Top Five: Long Layering Tanks
Do you often find yourself wishing that your long black layering tank wasn't balled up in your hamper, because if it wasn't quite so balled up (and sweaty – click here to fix that one), you'd probably pull it out and wear it again? Yeah, me too.There is a solution to this problem. Buy more layering tanks. It's not an unreasonable thing to do, either, because when you buy more than one of these, they get cheaper. Except the American Apparel tank…which I'm fine with, as long as those extra couple of bucks are going towards company-subsidized healthcare for workers, not skeevy ad campaigns. American Apparel's Sheer Jersey Spaghetti Tank ($17) is wonderfully soft and superthin. An Old Navy Long Layering Cami ($8.50, 2 for $10) is a good choice if you're partial to the V-neck. Ann Taylor calls this a "Seamles Cami With Novelty Trim" ($28, 2 for $42), but don't get scared by the "novelty trim"; it's really a fantastic fitted tank with a tiny bit of sheer fabric by the neckline. In the fall, I pretty much live in a Sparkle Strappy Tank ($12, 2 for $20) or two with some sort of cardigan, a scarf, and rotating pairs of pants. This Seamless Lace Camisole ($30, 2 for $45) would add a nice feminine touch to a serious pantsuit.
Latest Blog Posts From MomFinds
Eco-Friendly Totes for Kids: You're Never Too Young to Go GreenWe've seen our fair share of eco-friendly reusable totes for moms—like Environsax, Flip & Tumble and SKN—but what about kid-friendly totes? After all, you're never too young to go green. So here are a few ideas to help save the environment one bag at a time. Tell Us: Which is the Creepiest Baby Accessory? Think you've seen it all when it comes to baby gear? Think again. The gang at Cracked.com shows how low you can go in a "20 Baby Products Great for Traumatizing Infants." Win it Wednesday: Win a $100 Shopping Spree at BusyMommi.comSo you're a busy mommy. Join the club and check out BusyMommi.com, a fantastic site created by two moms who know what it's like to be busy.
News Updates: Vanity Fair Announces The Cool Kids, Keds Teams Up With Tracy Reese, And More..
Vanity Fair's annual International Best-Dressed List is now in circulation. Among the world's most dapper individuals are Brangelina, Michelle Obama, and Carla Bruni-Sarkozy (we just knew it). [VanityFair]Keds has partnered with Plenty by Tracy Reese to create a shoe collection for Spring 2009. Shop Keds now at Piperlime. [FWD]A pair of Levi's from the 1890s is currently up for bid on eBay. So far, the bidding has exceeded $11,000 and ends today. Shop our Denim Guide for more wallet-friendly choices. [NYMag] According to a recent report, sales of major magazines such as Marie Claire, Vogue, and Glamour have taken a dive. Looks like fashion blogging is where it's at. [Portfolio]
Deal Of The Day: Up To 45% Off Leather Totes At YOOX
These stylish totes are ideal for lugging some extra supplies – to work or on weekends – so you'll never find yourself short on space.This flat tote ($59, was $107) is a good option when you need to carry a newspaper, a magazine, and some manila folders. A black leather tote ($102, was $157) with just the right amount of hardware is easy to wear with jeans or a pencil skirt. In cool grey distressed leather, this bag ($85, was $141) is big enough to carry a laptop. And browse our Guide to the Best Bags Under $250 for more great bargains. More sales and deals this week:As seen in the SheFinds forum: 70% off at ShopJake.com Up to 60% off select items at Altrec Outdoors. Two camisoles for $20 at Pacific Sunwear.
Celebrity Summer Dresses: Nicole Richie in Diane Von Furstenberg
Who: Nicole RichieWearing: Diane Von Furstenberg's Novesa Long Dress ($425)Why This Works: Are you on the petite side but still want to take advantage of the long sundress trend this summer? Take these style cues from Nicole Richie who looks so elegant in this gorgeous printed jersey halter dress: make sure that the dress fits in the bodice, skims the body, and never scrapes the ground by adding wedges or platform heels. The style is classic, the cut is beautiful, and the dress is a great style statement for the new mom. If you're looking for a cool alternative for a summer function, take a cue from Ms. Richie's book on simplicity and you'll surely be the example of the simple life at your next function. Get yours: dvf.com Peruse our Summer Dresses Guide for more top picks of the season.
Butts Come Back, Luggage Goes On A Crash Diet, And More…
Required Reading:That's right: perky patooties are in in a big way, and some flat-bottomed girls are going under the knife, getting derriere implants or undergoing a new procedure known as the Brazilian Butt Lift. Now that airlines are charging for checked luggage, it's best to carry on whatever you can. SheFinds shows you how to pack light without getting charged a steep fee.Going to a wedding this summer? We know exactly what you should wear to look chic and stay cool. Need some new bling? Shop for a statement-making cocktail ring for under $50. Steals and Deals:20% Off Your Order at Lancôme, Plus Free Shipping on Orders Over $50Up to 60% Off Miu Miu Handbags During Saks' Designer SaleUp to 40% Off All-Day Summer Shoes at J. CrewJust for Fun:Which striped bow clutch will leave you with an empty wallet?Which chain link necklace is a better bargain?Thanks to Our Advertisers:We'd like to send a big shout-out to this week's advertisers: Bare Necessities, Ooh La Luxe, Pequitobun, East13 Lingerie, Red Lotus Clothing, and Kate Spade. Click here to find out how to advertise with SheFinds.