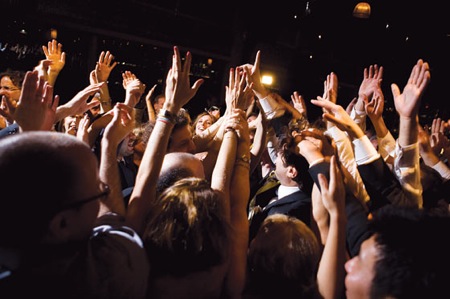 Booze-Themed Guest Favors: Because The Party Doesn't Have To End When The Wedding Does
If your crowd is a hard-partying one, why not send guests home with a booze-y reminder of your special day? Whether it's a pair of monogrammed shot glasses or a cocktail mix packet, your guests will be happy to re-live your wedding every time they throw back a cold one. It sure beats a mini picture frame they'll throw out before they even get home. (more…)
Theme Thursdays: Winterize Your Wedding (Minus The Chill Factor) With These Etsy Finds
If you're looking for winter wedding ideas, the search is over. We've found some of the best ideas and props that will keep everyone warm and fuzzy on the inside all night long. Interested in other themed wedding ideas? Check out our guides to Vegas Themed Weddings, Mardi Gras Themed Weddings, and Western Themed Weddings.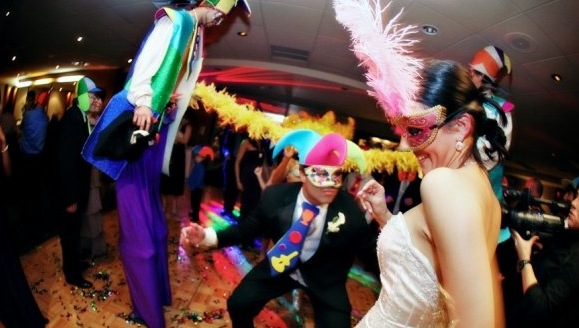 Theme Thursdays: Mardi Gras Wedding Favors (No Flashing For Beads Required)
If you're a huge fan of Mardi Gras and masquerades, we've found a few perfect additions to bring the life into your big day. With these festive masks, beads, dresses and decor,  there's no need to actually go all the way to New Orleans - see for yourself: Looking for more wedding theme inspiration? Check out our guides to Formal Weddings, Western Themed Weddings, and Vegas Themed Weddings.
SheFinds Asks You: Conscious Consumerism?
Working for SheFinds, I often find myself having to defend what I do. The questions tend to be the same: don't you get bored writing about shopping, fashion and beauty all the time? Do you think people really care that much about shopping? Wouldn't you rather do something that actually made a difference? After getting over my initial annoyance, I calmly explain that shopping actually does make a difference. To start with, it makes a difference in the lives of the people who take time out to treat themselves to something nice. We're all so busy and it's easy to get caught up in our daily activities that I think it's important (even necessary) to take time out and just do something for you. Some may call that selfish, but I happen to believe it's personal maintenance.And as if taking care of yourself isn't reason enough, proud shoppers can also take comfort in knowing that their purchases don't always have to be self-serving. Take our OCRF campaign, for example (yes, shameless plug, but it fits). A portion of the proceeds earned from the sales of this gorgeous jewelry (like the bracelet shown here) goes directly to the Ovarian Cancer Research Fund, which works to raise awareness and find a cure for this critical disease. Stuart Weitzman is also doing shoe auction for this same cause. And there are others: BuildaNest.com connects artisans in impoverished countries to consumers like you and me who can buy their products and help build their business. Shopbop.com is selling a really cute exclusive Marc Jacobs bracelet and 50% of the profits will go to the Y-ME National Breast Cancer Organization. ShopFemme.com has a great selection of clothing and accessories, and every month they donate 5% of their profits to charities that benefit women. And then there is GreaterGood.com where you can buy basically anything and choose where your money will be donated.So where do you fall? Do you think shopping can be important or is it just a frivolous, superficial hobby?
Friday Top Five: Swag Bag Beauty Finds
Now that the tents have been dismantled after another runway season and the Fashion Week whirlwind has finally died down, we had some free time to empty out our gift bags and carefully examine the mound of swag. Of the many great items we received over the week, these are our top five freebie picks: Lord & Berry Black Wardrobe Kit ($20): No, this is not a boxed set of little black dresses and patent leather pumps, this "wardrobe" is designed exclusively for your eyes. As a person whose life is not complete without a pencil drawn line of black resting above my lashes, I believe that this eyeliner kit could possibly be the best thing ever. A stick of Smooth Black is nice and matte for everyday wear, while three other special occasion liners, Glossy Black, Sparkle Black, and violet tinted Cool Black can be alternated to match your mood or your outfit. Who knew black could be so versatile? The kit comes complete with cute carrying case and pencil sharpener. Bain De Terre Prime Time Chamomile Styling Foundation ($18): We are always stressing the importance of using a great primer to prep your face before makeup application. Well guess what, your hair is just as high maintenance. This soothing chamomile foundation detangles and primes your hair for whatever kind of gel, mousse, or styling spray you can throw at it. The most important feature of this leave-in elixir is the "full spectrum" of sunscreens that protect hair from UV damage. Orna Foot Revitalizer ($30): I know my feet were absolutely hating me after running around to Fashion Week events strapped into three and a half inch heels. Well, a couple of gift bags later I finally rewarded them with this foot revitalizer that I received from Orna. I just smoothed this non-greasy botanical balm over my feet before going to bed one night and they felt instantly cool, soothed, and most importantly, moisturized. VMV Hypoallergenics Complete Clarifying System ($22): We all have those little nagging skin problems -- large pores, shiny foreheads that border on glossy, bumps, redness, dry patches -- that can really take a hit to our confidence. This kit containing items like Skin-Buffing Pumice, Salicylic Facial Cleanser and Sweat Acne and Overall Antibacterial Monolaurin Gel -- whoo, that's a mouthful -- is an intensive, yet fuss-free regimen for that coveted clear skin.Make Up For Ever Diamond Powder ($24): This is the only container of sparkles you'll ever need. Available in eight different shimmery colors, you can use the powder full strength on eyes, cheeks, body or lips to get a metallic, glittery look, or you can blend it into your foundation, lipstick, or eye shadow for a more subtle sheen.
Designs to Fight Ovarian Cancer: Marion Cage Jewelry
What: Drawn "O" Drop Necklace Why: Minimalist and elegant, this streamlined necklace adds a touch of subtle style to any ensemble and is so versatile it can easily be your favorite go-to item for everyday wear. Its simple shape and lines reflect the designer's background in architecture and industrial design. As she says, "To me, jewelry is a form of architecture, and the body its landscape."Proceeds to Be Donated: 5% Get Yours: Sterling Silver $240 or 14K Gold $480 @ MarionCage.com Hope Is Not Enough: The Ovarian Cancer Research Fund needs your help. With each SheFinds charity purchase, you're supporting their cause: formulating early diagnostic treatment programs in order to conquer ovarian cancer. With each new research grant awarded, new steps are being taken toward finding a cure while making a difference in thousands of women's lives and the lives of their families.
Janitor-Chic? Yes, Onsies (aka Jumpsuits) Are In!
Most women are going to roll their eyes at the exclamation that "jumpsuits are back!" -- I certainly did. And it may be warranted. After all, jumpsuits date back to the designer Paco Rabanne in the 60's and 70's, reaching their popularity peak in the 80's, the decade of such fashion jewels as scrunchies, leg warmers, side ponytails and spandex -- lots and lots of spandex. The jumpsuits of today, however, are "not demonstrably tied to any active impulse," but rather "primarily visible on lanky fashion types," says Meredith Bryan in the New York Observer. Does that mean you should swap out that black mini trapeze dress for a jumpsuit? In a word: no. According to uber-chic designer Mara Hoffman, "If it's done right, it's flattering. It's hard on a really long torso, since it emphasizes the length instead of breaking it up like separates would do." Translation: this is a good choice if you have a perfect body. If, indeed, you're height to weight ratio resembles that of say, Keira Knightley, then go for it (and congratulations, by the way). Otherwise, I say avoid any outfit that could leave you looking like a long-torsoed janitor with a camel toe. And just for curiosity's sake, check out these trendy renditions.
Designs to Fight Ovaraian Cancer: Total She
What: Olivia Stainless Steel "O" Pendant Why: Faith, hope, love. The words scrolled across this stately two-inch "O" pendant sum up the fight against ovarian cancer like no other. If you know someone touched by the disease, the necklace can be customized with their name so as to make the piece more personal. Either way, it's an elegant and artistic way to show your support for the cause. The pendant hangs on an 18-inch stainless steel cable chain.Proceeds to Be Donated: 25%Get Yours: $75 @ TotalShe.com Hope Is Not Enough: The Ovarian Cancer Research Fund needs your help. With each SheFinds charity purchase, you're supporting their cause: formulating early diagnostic treatment programs in order to conquer ovarian cancer. With each new research grant awarded, new steps are being taken toward finding a cure while making a difference in thousands of women's lives and the lives of their families.
Deal of the Day: 50% Off Frye Flats at Bloomingdales
DEAL OF THE DAY: Emma and Anna Why: Frye shoes (as many of you may well know) are some of the most comfortable shoes on the planet -- and we're not just talking boots. Flats and heels are main staples of Frye's summer and fall collections, which means you get style and comfort in one. Shoes don't get any better, until you factor in a great price. The Anna Cut-Out Skimmer (originally $140, on sale for $55) comes in brown sugar, off-white and tomato leather; the perfect summer accompaniment to denim, skirts, dresses and more. For ladies who want to get in on the patent trend, try out the Emma Woven Peep-toe Skimmer (once $120, now $60). With a bouncy rubber sole that provides plenty of cushioning for heavy-footed walkers and a wide open weave that lets feet breathe, you can't go wrong with this patent flat for summer. Get Yours: Bloomingdales.com Deal Alert: Save an additional 40% July 5-9. Enter promo code JULY4. RUNNER-UP DEALS * Shop the Summer Sale at Ralph Lauren and take up to 60% off. * Buy five items and get the cheapest free with promo code 5FOR4 at Figleaves.com. * Take 30% to 70% off Seven and Citizens of Humanity Jeans at shopbop.com.
Deal of the Day: Save 70% at Style Violet's 4th of July Sale
DEAL OF THE DAY: A Smokin' Hot Red Smocked Cross Front Dress by Tulle Why: Who can pass up this adorable cherry red, 100 percent cotton sundress from Style Violet? Aside from the hot color (perfect for your 4th of July festivities), the cut is perfect for all body types. The length hits right below the knee, making it comfy for strolling the streets, watching fireworks or catching a bite to eat. The cinched waist adds shape to your figure and the cross V-neck is modest, yet still a touch sexy. Price: Originally $59, on sale for $39. Get Yours: StyleViolet.com Get Free Shipping: Use code JULY4TH to get free shipping on any order of $25 or more through July 4th. RUNNER-UP DEALS * ShopLanguage.com: Take an extra 20% off everything site-wide when you use coupon code "july4th" at checkout. * PlanetFunk.com: Take an additional 50% off three or more sale items. * Trunkt: Receive 30% off purchases when you create a free Shoptrunkt buyer's account.
Freebie Friday: Win One of Our Favorite T-shirts by James Perse or Three Dots!
This Week's Freebie Friday Prize: This week we'll have two winners (and you'll have twice the chance of winning). The prizes? Two of our absolute favorite tees featured in our guide to The Best T-Shirts. Why: The first tee up for bid is a black James Perse Short Sleeve V-neck T-Shirt. This casual, long-length tee is praised for its comfortable fit, high-quality construction and flattering cap sleeves. Plus, for anyone sick and tired of showing off their panties to the world, this shirt is longer than the average tee, so it keeps your lower back fully covered. The second tee is a Three Dots Long and Lean Supima Cap Sleeve Tee T-shirt. With flattering sleeves and plunging V-neck, this T-shirt offers a body-conscious cut that's particularly flattering for long torsos. The color is "Surf," a beautiful, bright aqua hue that's perfect for all skin tones and ideal for summer. How to Enter: You must be a SheFinds subscriber to enter the giveaway, so sign-up now if you haven't already! Reply to this post in the comments section below and tell us which T-shirt you'd like to win. One comment per person, please.You must supply us with a valid email address.The contest starts now and entries must be date stamped by our server no later than Friday, July 6th, 2007 at 11:59 AM Eastern Time to be eligible.One winner will be selected during a random drawing and will be notified via e-mail to receive the prize.No prize substitutions.You must be 18 years old or older to enter.No purchase necessary.Void where prohibited. Click here for the full rules.Special thanks to Bare Necessities for supplying this fabulous prize!Congratulations to the two winners Melanie and Alicia, and thanks to everyone else for playing.
Beauty Trend: Vamped Up Lips
Pucker up ladies! It is all about lips these days. Over the past few months we have watched a change from muted, almost skin colored nude tones to bright berry pink shades. The July cover of Vogue reveals a new glam burgundy, almost wine stained lip color on model Natalia Vodianova for all of us makeup fiends to try. Pulling off this look requires some restraint though, because there is a very fine line between dramatic and theatrical. How-To: In order to wear such a bold color, it is best to tone down the rest of your face; that means no blush, and, whatever you do, avoid anything that resembles a 'smoky' eye that pushes vampy over the edge to (for lack of a better word) trampy. Light, natural eyes look great and keep the focus on the lips. If you're addicted to eye makeup, like me, and want to use a little light shadow, a nice shimmer dusted on the inside corners really works to open up the eyes… and just a few strokes of mascara never hurt anybody. The magazine recommends using a liquid foundation and a cream highlighter on the cheeks to get that coveted luminous skin. Hair should be soft and tousled around the face to take away the severity of the lips. Colors to Try: The exact shade used on Natalia is Lancome's Color Fever Lipstick in Violet Fashion, Not Victim. But we also enjoy Nars in Scarlet Empress, Mac in Diva, and Vincent Longo's Velvet Riche Rejuvenating Lipstick in Rain Dance.
Good Question: How do I get rid of shirt gap?
From a Reader: I saw in a magazine that there are things you can buy when you wear a button-down blouse that will keep the gap closed across the breast line -- any idea where I can find these? Answer: You bet! We found them at PrivacyStrips.com. Simply apply the strip to the inside of your button-down blouse and you'll never have to fear that onlookers might be getting a glance you'd rather not have them see. These strips stay stuck all day, and when you take off your shirt for washing, just remove the strip and throw it away. Get a pack of 10 for just $2.99, or order five packs and get free shipping. Another option that we suggest for women who constantly wear button-down shirts and that can't ever seem to find one that fits, is to buy your shirts bigger. Make sure that when you purchase it that there's no gaping at the bust whatsoever. Then take your shirts to a professional tailor who can bring in the waist to fit your body. It may cost more initially, but you'll have a perfect fit every time. Good luck and may the gap never be with you! For more great SheFinds Solutions and tricks of the trade, check out our guides to Undercover Beauty and Faking It.
SheFinds Asks You: Rolling Briefcases — Love 'Em or Leave 'Em?
The Issue: There's a new accessory that has over-caffeinated, busy New Yorkers tripping over each other left and right -- literally. No, it's not the new iPhone. It's the new "it bag" that's causing a commotion: the rolling briefcase. You see them everywhere saving the backs of men and women alike, but they've got tongues wagging about whether or not they're stylish, necessary or even unisex, for that matter. My Take: I received a Solo Ballistic Nylon Dual-Access Rolling Computer/Overnighter from my publisher as a gift and I have to admit this sleek business roller is addictive. I can carry research files, my laptop and all its accessories, tape recorder –- you name it -– all without throwing my back out. The looks I get when I use it, however, are varied, and run the gamut from acceptance to curiosity to downright spite. What's your opinion? Are rolling briefcases a do or a don't? Chic or geek? Leave a comment and let us know what you really think. Get Yours: eBags.com Think These Are Hideous? Check out the Chic Luggage we found -- it's practical, but it's definitely more stylish.
A Find: The Hardest Working T-Shirt In The Business
Does your T-shirt really work hard enough? Can it get customers to interact with your business? Can it get people to donate money to your cause? Can it get you a date? Get yourself a Reactee, the hardest working shirt on the market. Here's how it works: you select from existing templates (environment, humor, politics, religion, jobs), come up with your own slogan and create a keyword for people to text to Reactees' "short code" (41411) along with a reply for people who text your keyword. Pick a color and size, some unique artwork (if desired) and in short time you have a T-shirt that can literally generate some buzz. The shirts run between $20-27 plus shipping and handling. Think how much fun you could have with this shirt. Start a dog walking business. Spread the message about your political views. Get a job. Find yourself a date for Saturday night. Whatever the case, this is a shirt that works for you. Kind of makes you wonder what your other clothes have done for you lately, doesn't it? Get Yours: Reactee.com
Beauty Find: File it Under 'F' for Foot
What: Microplane Foot File Why: It's summer time and that means peep toe pumps and all kinds of cute slides. But what isn't so cute is the dry skin, tough calluses and permadirt that can plague feet exposed to grubby sidewalks and chlorinated pools. My tootsies are looking good this summer, but my secret is better than just getting a regular pedi. Before I scrub and moisturize, I've been using the Microplane Foot File. Designed to work on dry, moisturizer-free skin, the metal file easily sloughs away unsightly skin. It has a curved shape that makes it easy to reach all parts of your foot. An added benefit: It's made of plastic and metal which are easy to clean… a bonus for anyone who has read about the scary infections unhygienic foot tools can spread! Price: $21 Find it: Amazon.com
Fragrance Find: An Exotic Eco-Chic Perfume from Pacifica
What: Pacifica Mediterranean Fig Perfume Why: I'm what you might call a scentaholic. I have one tried and true perfume, but whenever I catch a whiff of something exciting and new I'm known to wander. My latest affair: Pacifica's Mediterranean Fig perfume. The blend of sweet fig, palm, cyclamen and sandalwood starts out sweet and fruity, but melts into clean, earthy scent. And it's a guiltless obsession at only $19.95 for 1.2 ounces. Eco-Chic Factor: All Pacifica fragrances are made with natural grain alcohol, a less irritating, abrasive and drying form of alcohol that's safe even for those with sensitive skin or gluten allergies. Get Yours: Amazon.com If the perfume catches your nose, I also recommend the body butters, candles and soaps.
Fashion Finds for the Fourth
Declare your independence with these fabulously festive finds for the Fourth of July. Try a Sunny Bikini: Who says it's got to be all red, white and blue for the holiday? We love the cheery nature of this canary yellow Triangle Top and matching Ring Side Hipster bikini from Rampage (each piece is $48). We also spotted a similar suit for half the price from Victoria's Secret: this polka dot bandeau top and micro-scoop bottom for a total of $29. Cover Up: If you're spending time in the sun today (or any day this summer, for that matter) be sure to protect yourself (and we're not just talking sunscreen). A wide-brimmed straw hat, like this Helen Welsh Straw Sun Hat from Bloomingdales ($40) will keep your face shaded, but also protect colored hair from fading in the sun. The eyes have it with these Christian Dior Stronger 1 Plastic Sunglasses (on sale for $150 at SmartBargains.com). Stash Your Goods: If you're hitting the beach (or even the concrete) for some fun in the sun and don't want to be bothered with a big bag, try sporting these Stash Reef Sandals ($46).
Deal Alert: Fourth of July Sales Going on Today Only!
We couldn't resist rummaging through the virtual racks to find you some great steals for this festive holiday. Here goes and Happy Fourth! * Jeans are always in style... Get an extra 25% off items already reduced for sale at Lucky Brand Jeans, plus get free shipping on orders of $125 or more. Our pick? The Classic Rider Jean in crisp white for summer, once $98, now only $36.75. * Hit up ClassicCloseouts.com and you'll find everything at their Independence Day Sale at less than $4 each! We found these Pewter Chandelier Earrings with Lime Drops for $2.99 (compared to $29.99 originally). * One of our favorite stores, shopbop.com, is offering an extra 20% off with code FIREWORKS07. We think you'd like this 100 percent silk L.A.M.B Contrast Wrap Dress already reduced to $325 from $465. * For the sporty girl inside all of us, there's Backcountry.com with promotions of up to 60% off and free shipping on all orders of $50 or more. Check out this sweet Salomon H2O Package, that includes a tank, shorts and even water shoes for all your back country adventures. * Get an extra 10% off new arrivals today only at Bluefly today only! Plus take $15 off your $100 or more order with coupon code AFF15.
Trend Alert: Ultra-Flat Sandals
Platform sandals? Those are so nineties. The hottest thing in summer shoes is a sandal that's ultra-flat (as in nearly barefoot). You can pick up a pair in lustrous metallics (we all know how hot they are this summer), sparkling with jewels or in a basic hue like black or white. One of our favorite pairs are these Pelle Moda Bounce Silk Sandalsin elegant royal purple. The bright color is so fun and adds lots of personality to any basic ensemble. Then again, we can't pass up the Reef Flory either. A dark brown sandal is simple, stylish and always winds up being a go-to shoe for all casual occasions. Now comes the disclaimer: these uber-flat finds should be worn at your own risk! With heat and humidity taking a toll on your tootsies, the last thing you want is to wind up walking for hours in these sandals (in case your feet have a habit of blistering, bring along a Blister Stick, just in case). Instead, sport them with a pretty sundress for a casual dinner, with shorts and a tee to a movie or with your bikini to the beach. Lounging in these shoes? That's a go. Going on a shopping spree? A definite no-no. Ready to try the trend? Indulge in these styles that are flat out fabulous:
SheFinds News: The Morning Roundup
NEWS * Kate Moss gets ousted as the face of Agent Provocateur, and Daisy Lowe is expected to take her rightful claim to the throne. [Radar] * Romance, elegance and whimsy are the keywords for Dior's 60th Anniversary fall couture collection celebrated Monday at Versailles. [WWD] * Do you suffer from buyer's remorse? Throw away fashion is being blamed for increasing post shopping regret (PSR). [Daily Mail] EVENTS * Paris Fashion Week begins July 4th. * Eura Le Trunk Show, Dallas, TX, Saturday, July 14, 1:00pm - 3:00pm. * First Friday in Kansas City Crossroads, Friday, July 6, featuring a "Summer Shoe Blitz" 80% off sale at Habitat Shoes.
Eco-Chic Fashion: Introducing Toggery by Kate D'Arcy
What: Organic Designs by Kate D'Arcy Why: If you're into sustainable fashion and are looking to branch out into new territory, then you owe it to yourself to give Toggery a look. What to expect? Clean lines, functional fashion, and pieces that will be as classic now as they are a year from now, including lightweight tees and tops, leggings and simple wrap dresses. The rich, vibrant colors offer plenty of selection for all, although "Infinity," a saturated cobalt blue hue, is my personal favorite. Thanks to 100% organic cotton and bamboo fibers, each garment is soft, luxurious and incredibly comfortable against the skin. Solid craftsmanship combined with feminine details, like princess seams and cowl necks, make these finds a solid investment, both for your closet and for the environment. Price: $45 - $110 Find It: ToggeryCollection.com
Taste Test: Luxurious Haltertops — Can You Spot the Steal?
These two luxuriously draped, criss cross halter tops come from reputable brands that are staples in many a fashionista's closet. Can you tell which of these vibrantly colored shirts is the splurge and which is the steal? Click the images to find out your fashion IQ.
Good Question: Jennifer Garner's Messenger Bag in Catch & Release
Question: I'm looking for the messenger bag that Jennifer Garner wore in Catch and Release -- brown leather, buckle strap… Please help! Answer: Although I scoured the Web searching for the brand of this bag (or even a good picture of it for that matter) my efforts came up short. But in the spirit of really cute leather messengers, I have done my best to provide a nice selection of look-alikes: It seems that Jennifer Garner is not the only one slinging a leather carry-all over her shoulder these days, Jessica Simpson is a big fan of this old fashioned leather mail bag by Blur. It is perfectly vintage with soft, processed Italian leather. The bag that might most resemble the one in the film is Kooba's oak leather studded 'Annie' shoulder bag with its wide buckle strap and numerous pockets. A slightly roomier version comes from Anthropologie, a store that can always be counted on for flea market-esque finds. Hobo offers a slim, urban messenger that will mold around your body very nicely for those undesired, yet necessary cramming-into-the-subway moments. It also has easily accessible outer pockets, great for Blackberries and iPods. And just in case you are already sick of looking at brown bags, Ellington Leather's Moroccan purse in a unique pumpkin color is very eye-catching.
Twenty8Twelve: Sienna Miller's New Celeb Clothing Line — Hot or Not?
Another celebrity collection is heading for the racks even though each one seems more anticlimactic than the last. In the wake of the collective eye-roll by fashion critics at Kate Moss's line, Sienna Miller will be the next to have tried her hand at designing clothes. Fortunately for Sienna, most of the actual designing of the collection, Twenty8Twelve, has been done by her sister, Savannah -- an actual design school graduate and short time protégé of Alexander McQueen. After reviewing the first few photos of the line, I am on the fence. What usually irks me is that most celeb driven collections are nothing more than items chosen from their own closets (items made by real designers) that are cheaply re-fabricated, thrown together with their names on the label, (thankfully we were spared the "M by Madonna" cone bustier for H&M) and are completely unrealistic for real women's bodies. Although Twenty8Twelve also resembles Sienna's tattered boho look, (which has been criticized a lot in the media lately), it is surprisingly… okay. There are some nice silhouettes including shirtdresses, well-tailored jackets, and even an interesting looking pair of jeans with zippers running down the back. But unfortunately, skepticism still lingers in the back of my mind. The clothes will sell, as they always do—fans of Sienna will make sure of that—but past precedent indicates that the hype about these things is usually just that: hype. Not that anyone has to take my word for it, (being a struggling design graduate just slightly bitter that the great fashion I could potentially create will never come to fruition for lack of being famous) wait and see for yourself! Let's just hope the clothing is at least well manufactured. Tell Us What You Think: Would you wear anything from Sienna's new line or are you just sick of watching celebrities masquerade as fashion designers?
SheFinds News: The Morning Roundup
NEWS * Mega entrepreneur, Oprah, is opening a boutique shop in Chicago. [A Socialite's Life] * Could it be the revival of couture? Dior is certainly hoping so. [WWD] * The layering trend stays strong into Summer '08. [IHT] * Eco-chic fashion and green consumerism may not be all that it's cracked up to be. [NY Times]
Deal of the Day: An Extra 15% Off Already Reduced Designer Tops from Bluefly
DEAL OF THE DAY: Three flattering tops to stylishly cover a troublesome tummy. Why: For some reason, no matter how overstuffed my closet and drawers become, I never seem to have enough tops that look good and feel comfortable. If you can related, then now is your chance to score some beautiful tops to give your closet a little more substance you can use. This colorful and summery Romeo & Juliet Couture jersey blouson top (left) is fab for dressing up jeans or adding some flair to a pair of plain, black trousers. Although it retails for $85, you can get it today for only $43. For something on the casual side, take our advice for covering a tummy and don one of Rebecca Beeson's puff sleeve tops, now just $30 reduced from $58. Finally, scoop up a BCBGirls banded tank in dark indigo to flatter your bust and create the illusion of a slimmer middle. Get it now for just $20 (originally $40). Get Yours: Bluefly.com
Sponsored Post: The Perfect T-shirt Bras at BareNecessities.com
What: Summer Bra Styles at BareNecessities.com Why: Ah, summertime. Garden weddings, graduations, impromptu weekend getaways and of course BBQs! You have a wardrobe full of breezy blouses, delicate dresses, bright summer tanks and tissue weight tees for every super fun event this season. The right bra is paramount in flawlessly executing each eye-catching outfit. The question is, do you have the right bra to complete those great summer pieces? Great Find: T-shirt bras are the smooth and seamless "go-to" bras that virtually disappear under any summer tanks or tee. If you have a t-shirt bra, you already know the value of this versatile, ready-to-go-under-everything undergarment. If you don't, now is the time to discover what you've been missing. Check out this Perfect Contour Convertible T-shirt Bra by Wacoal ($40 at BareNecessities.com). The smooth and seamless contour cups and partially convertible straps can criss-cross or halter, which makes this bra a great pick for any summer top. Deal Alert: Get Free Shipping on all US orders over $75 at BareNecessities.com.
Undercover Fashion Find: Commandos Patches — Love It or Leave It?
What: Go Commando's Cotton Pant Liners I was recently at a local fashion and beauty event when a small booth caught my eye. Across its display table was a huge banner asking, "Do YOU go Commandos?" Seriously? Like going out without wearing panties of any kind? Yep, that's exactly what they were wondering. Go Commandos are cotton liners that adhere to your pants… letting you go panty-free with the comfort and protection of a cotton crotch. There are liners for jeans, delicates and undyed for the green minded gal. The pros: No panty lines. No thong straps or whale tails. Your pants stay clean (the liners are disposable and leave little stickiness behind) and it's better hygiene. The cons: Well, after seeing my list the pros, I guess there are none except that it sounds a little weird. So why don't you tell us? Would you go commando with these liners? Post your comments below! Price: $16 for a pack of 8 Get Yours: gocommandos.com
Blog Roundup: Heard on the Web This Week
Jovovich-Hawk's Fall Collection preview. My Fashion Life takes a look at this season's summer staple -- The Shirtdress. Trend alert! Bye-bye bubble skirts says Stylebites says Stylebites. Yet another affordable fashion line has gone the way of the designer capsule collection. Stiletto Jungle shows off Courreges for La Redoute. Second City Style shows you How To Shop the Summer Sales for Your Fall Wardrobe. ACCESSORIES KRiSTOPHER's not into not carrying a plastic bag, but she digs the cheeky chic "I'm Not a Smug Twat" bag. eBelle5 introduces the stunning new Coach Chelsea Handbag Collection . Bag Snob wants to know if you'd be willing to shell out $1k for the Hermes Silky Pop Bag! JEWELRY Girlawhirl thinks Peace, Love and Earth jewelry is right on target. Tammy at The Jewelry Weblog is doing a "Jerry Maguire," as she rants about how some in the jewelry industry need to "get rid of that has-been hardcopy-mindset copyright BS on [their] sites" and recognize the 21st century and the blogosphere. BEAUTY Join eBeautyDaily and explore where and how you spend your beauty dollars. Stylehive Hive5: Kick it up a notch with one of summer's hottest trends -- bright, bold and beautiful technicolor eyes. Get gorgeous summer skin naturally in the produce aisle of your nearest grocery. Fashiontribes gets the juicy scoop on using fruits and veggies for skincare. Beauty Snob reviews Lamisilk Foot Therapy. LA-Story suggests Stila's all over glow powder duo for a beautiful summer glow. OTHER Check out Styleaholic Najwa Moses' new Music & Style Foto Blog. This week she covers Will I AM's Fall Fashion Preview. Nichelle at 55 Secret Street has a Q&A with Author (and yes, Lucky Beauty Editor) Jean Godfrey-June. Papierblog looks at the release of Apple's new wonder, the iPhone