Forget Ghosts And Goblins — This Halloween Wedding Dress Is Our Worst Nightmare
Back in September we brought you spooky-chic Etsy finds for a subtle Halloween-themed wedding. But today, we're throwing subtlety to the wind with this orange, black, and brown number that just earned our Worst Dress of the Week title. (more…)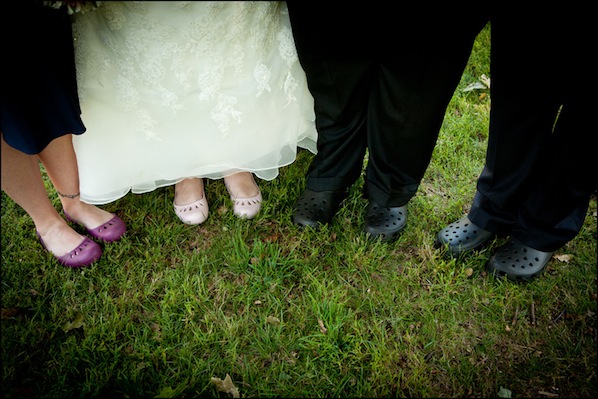 10 Things You Should Never Wear To Your Wedding: Crocs, Camo, Pasties, More
While bridal fashion has expanded its limits in recent years (ahem, TOMS bridal and the mullet dress trend), some trends will never, ever be okay. Crocs top the list -- if you're trying to be that casual, why not opt for some sweet embellished flats? There are plenty of other offenders -- lady in the leopard print, we're looking at you. Shop our guides to the best simple bridesmaid dresses, long bridesmaid dresses, and satin wedding shoes.
1.8-Mile Veils Breaks The World Record, Requires 600 People To Carry It
This week, an Italian woman set the world record for the longest wedding veil. Elena De Angelis of Naples wore 1.8-mile veil made from 3.7 miles of white silk and designed by Gianni Molaro Campania, who called the job, "biggest moment" of his career. It literally "took a village," for this one: the bride needed 600 people to help carry the piece (pictured). The record, which breaks that set by Lichel van den Ende of the Netherlands, was documented by the World Records Academy. #soapparentlythisisathing (more…)
Not The Way To Get Free Photos: A Veiled Bride Makes The Mugshot Hall Of Fame
Not the kind of formal photo you want. (more…)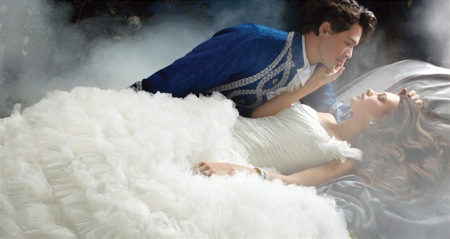 Today's Pointless Poll Question: Which Disney Princess Are You?
The question really is: would you wear a Disney Princess wedding gown? Which let's just go ahead and assume you wouldn't, but for entertainment purposes, Alfred Angelo has a Disney Princess collection out that begs the question: "Which Disney princess is your inner-8-year-old?" (more…)
Worst Dress Of The Week: One Bridal Designer Takes The Fruit Trend Way Too Far
This week at Mercedes Benz Fashion Week in Russia, designer Venera Kazarova sent Pineapple-shaped wedding and flower girl dresses down the runway -- and this was no April Fool's joke. Thanks, Venera, for taking the season's fruit trend way too far, earning yourself our Worst Dress of the Week title. (more…)
Caption Our "Worst Dress Of The Week" And Enter To Win Some Sweet Beauty Swag
Think you've got a great caption for this designer dud? Enter our worst dress of the week caption contest and show us your stuff. How to enter: 1) Like this post on Facebook. 2) Leave your most hilarious caption in Comments section below. Winner will receive $50 worth of beauty products and our respect. Good luck! In the mood to shop non-fugly dresses? Check out our guides to the best wedding jewelry, lavender bridesmaid dresses and outdoor wedding dresses.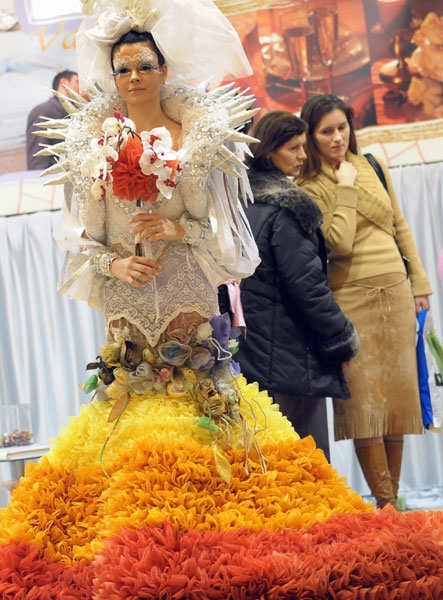 Caption Our "Worst Dress Of The Week" And Enter To Win Some Sweet Beauty Swag
Think you've got a great caption for this designer dud? Enter our worst dress of the week caption contest and show us your stuff. How to enter: 1) Like this post on Facebook. 2) Leave your most hilarious caption in Comments section below. Winner will receive $50 worth of beauty products and our respect. Good luck! For non-hideous options, check out our guides to the best inexpensive wedding shoes, wedding costume jewelry, and black bridesmaid dresses.
So You Think You're Funny? Enter Our "Worst Wedding Dress Of The Week" Caption Contest
So you think you're really funny? Enter our worst dress of the week caption contest and let's see if you really are. How to enter: 1) Like this post on Facebook. 2) Leave your most hilarious caption in Comments section below. Winner will receive $50 worth of beauty products and our respect.  Good luck! For non-hideous options, check out our guides to the best inexpensive wedding shoes, wedding costume jewelry, and black bridesmaid dresses.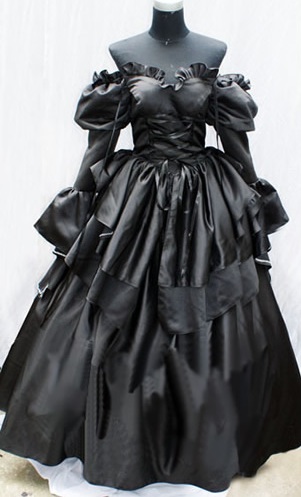 Worst Dress of the Week: Gothic Meets Trash Bag Chic
If Hefty garbage bag is the look you're going for, consider your search over. Between the puffy shoulders and bell sleeves, all upper body shape is gone from this "unique couture wedding dress." And is it just me, or does the area above the so-called "bodice" have man-cleavage? Even the most gorgeous bridal skirt couldn't save what's going on in the top half of this gown. Unsurprisingly, the rest of it also happens to be ugly as sin. For wedding dresses made for real brides, check out our guides on everything from simple wedding dresses to inexpensive gown options.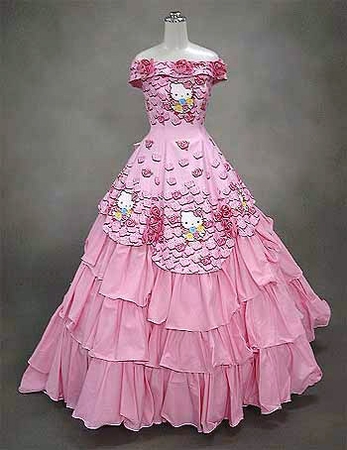 Latest From MOMfinds & BRIDEfinds: A Hello Kitty Wedding Dress, Sale On Paige Denim, More
Another 'Worst Dress of the Week' Installment This time, it's Hello Kitty themed. Paige Denim Maternity Jeans Are 50% Off Pregnant or just fat, get these forgiving designer jeans on sale. Submit Your Wedding Details To BRIDEfinds Send us your best find, and get a spotlight on the site. Adorable Valentines Day Cards Spread the love. For more great snags, check out our Deal of the Day posts and our guides to cheap sunglasses, cheap bras, sheath dresses and cocktail dresses. Follow the author of this post on Twitter @bridefinds.
Worst Dress Of The Week: If You Still Like Hello Kitty, You're Too Young For A Wedding
Some brides really want to play up their girly side on the big day, perhaps with flowers, some cheeky favors, or feminine-colored gown and suit accents. The bride who dares to wear this Hello Kitty-inspired gown, however, is officially living in an 8-year-old's Sanrio dreamland. I don't think Barbie would even be brave enough to rock this thing, despite her strong to devotion to all things pink. It's hard to believe this gown comes out of fashion-forward Japan; apparently the country has not yet been able to contain the very serious affliction of Hello Kitty fever. For some non-horrendous dress options, check out guides to the best inexpensive wedding dresses, outdoor wedding dresses, and simple wedding dresses.
Worst Dress Of The Week: A Gown For Alice In Wonderland On Acid — Mad Hatter Included
I don't mean to be picky, but let's be honest here: there's not much about this dress that hasn't gone terribly, terribly wrong. From overabundant tiers of seafoam green, black taffeta, and gold trim to the matching tiny hat straight out of an SNL skit, this is a disaster not even worth wearing on Halloween -- and at $729 (on sale!) who could afford it? Don't get me wrong, I'm all for experimenting with a little bit of color on your wedding day, but this combination is making me green and I'm just looking at it on the internet. For something a little more classic, check out our wedding dress guide, plus find great ideas for wedding accessories, and wedding decor.
Worst Dress Of The Week: A Pastel Nightmare Better Suited For Disney Land Than A Wedding
Can someone please explain how this amusement park-worthy Little Bo Peep costume is being sold as a $964 wedding dress (price includes matching headpiece and shrug)? This is a prime example of how not to wear ruffles; this many pastel colors should be reserved for a six year old's birthday cake. It looks like Rainbow Bright lost her lunch. On top of all that, the "designer" decided this gown needed some additional bows, and -- wait for it -- a headpiece? Please, have a closer look for yourself: For bridal gowns that won't have people questioning your sanity, check out our guides on simple wedding dresses, inexpensive wedding dresses, and outdoor wedding dresses.
Worst Dress Of The Week: An American Flag Gown That Would Make Betsy Ross Blush
Why do I feel like this dress is a Jeff Foxworthy punchline? This Great American Wedding Gown ($379, down from $1,020) really speaks for itself, but we'll make a few words on the matter. First of all, the original price tag for this American flag wedding dress was over a grand. It looks like something you would wear if you 1) lost a bet, or 2) were named Sarah Palin. Well, one thing's for sure, whoever wears a dress like this loves their country and wants it to be known. Somewhere, Betsy Ross is rolling over in her gave. Check out our guides to the best strapless wedding dresses, outdoor wedding dresses, short wedding dresses, and inexpensive wedding dresses.
Tuesday's Sample Sale Scoop: Michael Stars, Halston, Kate Spade, And More
Editor's Pick: Michael Stars clothing at ideeli Orla Kiely handbags and Ettika Jewelry at Gilt Fuse Halston clothing, AG Jeans, Maurice Lacroix watches at Gilt Groupe Falke clothing at the Top Secret Burberry handbags, La Fiorentina scarves and gloves, and Bejeweled tees at Beyond the Rack Titan luggage and Kate Spade handbags at ideeli Go Smile teeth whiteners, Rotenier jewelry, mixed designer watch sale  at Hautelook Mixed designer final sale at Rue La La Carmen Marc Valvo sunglasses at Editors' Closet Versace eyewear at RowNine For more good basics, check out shirts to hide your tummy and v-neck sweaters, and take a look at all the online sample sales going on this week.
Sponsored Post: The Haute Five Trends For Spring/Summer '09
As the weather warms up and we start seeing last month's runway trends being translated into real life, we've spotted five trends that are on-point for spring and summer. 1. Metal embellishments These range from grommets to studs to exposed zippers, and can be surprisingly pretty and easy to pull off. These Jeffrey Campbell shoes ($148) are intricate and fun, and more arresting than basic black.2. Tribal Patterned or beaded pieces in earthy color palettes will be all over, including on accessories. This handmade, eco-friendly tote ($100) is on-trend, but not fashion-victim trendy.3. Fuschia We like this hot pink color in ladylike silhouettes, like this Vivienne Tam dress ($144). Resist the urge to take it to an '80s extent, lest you end up looking like Jem. 4. Graphic prints Big, bold prints in geometric shapes can look refined if the silhouette is feminine, like this full skirt ($69).5. Big jewelry Accent a sharp outfit with one big statement piece, like this resin pendant necklace ($230).This post is sponsored by Mars Fling.
Go Ahead, Drink. Those New Crest Whitestrips Are Not Moving An Inch
What: Crest Whitestrips Advanced Seal ($40 for a two-week supply) Why: I've always been wary about at-home whitening products. I've tried the ultra-intensive one-day trays and ended up with a goopy mess and a whole day wasted watching a kitchen timer. That's why I love the idea of Crest Whitestrips Advanced Seal - they're a riff on the company's classic peel-and-stick whiteners, but with some noticeable upgrades. They stick right to my teeth with such a strong grip I can wear them while showering or drinking water. A bonus of the super stickiness? I don't taste a hint of icky whitening formula. Get Yours: drugstore.com (Get $10 off right now with an instant coupon) Check out our Teeth Whitening Guide, and be sure to enter this week's Freebie Friday to win mouth-care essentials from Crest and Oral-B.
Latest Site Traffic & Reach
(Include the latest Alexa chart on this page)
About SheFinds.com
Founded in 2004 by Michelle Madhok (LINK to bio), SheFinds.com is where today's professional, time-starved women go for fashion and beauty shopping solutions. Our goal is to become a trusted resource for our readers and relied upon to provide only the best product and service solutions. With our distinctive, "confidant" writing style and commitment to reviewing only products we've tested, we have tens of thousands of loyal readers (LINK to traffic chart).SheFinds editors and writers fanatically follow the latest style and beauty trends, and then scour the Web to find the best products and places from which to purchase. We send an email twice a week filled with solutions that help women simplify their lives. We also update our blog (LINK to blog) over ten times each day—from answers to embarrassing fashion questions to the best underwear and bras to great deals. We do not carry any inventory, but rather direct readers to online retailers for purchase.SheFinds.com is headquartered in New York City.
Michelle Madhok Bio
MICHELLE MADHOKChief Executive Officer and Editor-in-Chief.Michelle Madhok is Founder of SheFinds.com and MomFinds.com, online publications distributed via e-mail and blogs that help busy women everywhere shop the web for the latest beauty and style finds.A widely regarded expert in online shopping, Michelle is also the style columnist for and a contributing editor for MSN Shopping, Cotton Incorporated and the American Heart Association. Her style and shopping tips have been featured in numerous newspapers and magazines, radio and television interviews, including Metro newspapers in New York and Boston, Women's Wear Daily, The Tyra Banks show, NBC, Investor's Business Daily, The Chicago Tribune, The New York Post, and The Washington Post.Prior to launching SheFinds, Michelle enjoyed a career in new media. First, she was the Director of Entertainment Marketing for CBS Broadcasting New Media and then she was the Group Director of Editorial Products for women and oversaw all content for women at AOL. Michelle has a BS in Communications from UC Berkeley and a MS in Marketing from Northwestern University. She currently resides in New York City.
Michelle Obama's Fashionable Campaign Strategy
There's a woman behind the woman behind the man, and her name is Maria Pinto. Pinto is responsible for many of the classic, streamlined, impeccably-cut clothes Michelle Obama has been spotted in on the campaign trail, and fashionable followers are taking notice. According to the WSJ, Mrs. Obama's appearances in Pinto's designs have coincided with an increase in sales for the company – perhaps anticipating a steeper spike should she land in the White House next year. To get the sleek and sophisticated look without traveling to Pinto's Chicago showroom, check out the styles below.Donna Ricco's Stretch Satin Halter Dress ($158) mimics the classic cocktail shape and standout color of the Pinto piece above. Obama wore a different dress by Ricco on The View, and the style sold out immediately. This Sheath Dress ($39) resembles the outfit Obama wore at her husband's Democratic nomination victory speech earlier this month. Pair yours with a strand of faux pearls for a modern take on campaign-trail chic.
News Updates: Katie To Do Denim?, Wal-Mart Too Close For Nike's Comfort, And More..
1. Rumors are flying that Katie Holmes is set to design her own denim line. We've been keeping a close eye on Mrs. Cruise's personal denim choices as of late. [Denimology]2. Nike is suing Wal-Mart for copying their shoe designs too closely. The pair in question costs only a tenth of the price of the real deal. [NYMag] 3. H & M has stepped it up in the sexy lingerie department, offering chic underpinnings for cheap. But since the mega-retailer still won't provide ecommerce, we suggest checking out these surprisingly adorable intimates from Express. [Luxist] 4. Purchase a Tourmaline Crystal Pendant from Baccarat ($465) and $65 of each sale will go to The Breast Cancer Research Foundation. [Baccarat]
Freebie Friday: Lucky Puts Their Wardrobe Wisdom Into A Book – And 5 Of You Will Win It
The new book from the editors of Lucky Magazine will help you look fabulous in whatever persona you decide to embody. The Lucky Guide to Mastering Any Style: How to Wear Iconic Looks And make Them Your Own will hit shelves this Tuesday – and you could win one by Friday.For a tiny taste of what's inside, Lucky let us in on five key pieces that the book says can help you embody five iconic looks:1. To embody classic gamine style, tie on a trench coat. 2. For rock & roll chic, a leather jacket is your must-have.3. To channel all-out bombshell style a la Marilyn Monroe, shimmy into an hourglass dress.4. If you want to go Euro chic, splurge on an investment bag.5. American classic style starts with a tailored two-button blazer.So, what's your personal style? To enter, tell us what you think your personal style should be called in the comments section, and we'll enter you for a chance to win Lucky's latest book.Are you one of the five above? If our writers could enter, they'd be talking about some twists on the classic categories: We have (from left to right, each represented by a key piece): a tailored rocker, one gal who's always corporate chic, a vintage modern Managing Editor, and me, the urban prep. Your turn – tell us about your personal style for a chance to win!And don't forget to check out MomFinds for a chance to win a Special Edition Oreck XL Gold Vacuum Cleaner . 1. Post in the comments section about what you'd call your personal style.2. You must supply us with a valid email address and sign up for the SheFinds newsletter.3. The contest starts now and entries must be date stamped by our server no later than Friday, October 10th, 2008 at 11:59 AM Eastern Time to be eligible.4. One winner will be selected during a random drawing and will be announced in the October 14th SheFinds newsletter. The winner must reply via email as instructed in the newsletter to claim the prize. 5. No prize substitutions.6. You must be 18 years old or older to enter and a resident of the USA.7. No purchase necessary.8. Void where prohibited.9. Click here for the full rules.
What To Wear With: Argyle
Thanks, in part, to the return of Gossip Girl and a resurgence of all things preppy, argyle is back in a big way. But how does one pull it off without looking like Chuck Bass? Pair a classic argyle sweater with slightly distressed jeans and a modern cropped bomber jacket. Add some animal print ballet flats to de-preppify the look, and throw in a colorful pendant to break up the argyle pattern. Finally, grab a shiny patent tote and cozy grey scarf before heading out the door. 7 For All Mankind Jeans, $155 Pear Pendant, $57.50 Cyndi Patent Tote, $2030 Bomber Jacket, $495 Ribbed Scarf , $122.50 Leopard Flats, $20You can also view this set right now on Polyvore.com where we welcome all of our readers to join the SheFinds Group and create your own sets, letting us know what you'd wear pair with preppy argyle.
Deal Of The Day: Up To 54% Off Wide-Leg Pants At Banana Republic
Be stealthily trendy and wear a pair of shooties under your wide-leg pants this fall.These lightweight wool-and-silk pants ($70, were $110) come in versatile charcoal and light gray.Hem the Jackson cuffed pants ($45, were $89) for flats or heels; they'll look great with both.The small pattern on these plaid houndstooth pants ($60, were $130) is unmistakably professional. More sales and deals on the web:Score Ellen Tracy clothes at sample sale prices starting today at Rue La La. At Old Navy's Colombus Day Sale, find hundreds of items for $14.92 and under until Sunday. Save an extra 25% on select sale items at Bloomingdales.
Blog Round-Up:Heard On The Web This Week
Two European inspired boots save Girlawhirl transatlantic airfare. They're part of Gap's design editions and only available online. SeenON! wants you to follow Halle Berry's lead and wear your vote on your tee with our election savvy gear! SheFinds thinks Patricia Field's new collection for HSN ventures a bit too far into tranny territory. Smarter Fashion featured tees from Queen of Suburbia that help you tell the world what you are thinking..so you don't have to! StyleBakery has the scoop on this season's hottest independent boutiques and must-see designers on the rise. At Real Simple's Simply Stated, we find presentable gym bags on three budgets.
Week In Review: Zoe Buys A Bunch Of Old, Expensive Stuff, We Plan October For You, And More…
Must-Reads:Rachel Zoe raids her favorite New York vintage store -- much to the chagrin of her more fiscally responsible hubby. We map out all the goings-on for the month of October, from the launch of a new handbag site to the finale of Project Runway. Been to American Eagle lately? Maybe you should make a trip to check out their surprisingly adorable outerwear. Sales and Deals:Up to 44% off sophisticated Mary Janes at Piperlime Up to 60% off little black dresses at Net A PorterUp to 65% off trench coats at SaksTaste Tests:Which silver cuff costs more?Which striped sweater will deplete your savings?Thanks, AdvertisersWe'd like to send a big thank you to this week's advertisers: Bare Necessities, Ex-Boyfriend Jewelry, Hairflix, and Pretty City. To find out how to advertise on SheFinds, click here.
SheFinds News: Project Runway's Uli Herzner Designs For Sale
What: Scoop Style Creates the "Ultimate Closet" Why: Scoop Style is a collaboration between Scoop NYC and HSN that aims to bring women a variety of trend-inspired looks by famous designer brands such as J. Crew, Kors by Michael Kors, Alice + Olivia, and Seven for All Mankind, that will ultimately comprise their must-have warm weather wardrobe. More importantly, especially for all of us Project Runway fans, is that it will also include new, exclusive-to-HSN pieces by Uli Herzner. In case you are not familiar with the German physical therapist turned stylist, she's known for her interesting prints and dramatic cuts. Her Spring 2007 collection  was full of sparkling metallics, zebra stripes and ethic-inspired prints, to get an idea of what we can expect from this up-and-comer.  This image is one example of the styles from the collection. Where: HSN.com Update: Unforunately, Uli's collection for HSN was a one-off (but we're hoping we can find her designs elsewhere soon, besides in warm-weather local boutiques.) However, we've found a few maxi dresses that rival the Uli's -- for all of you heading somewhere warm, check out these great finds, all under $TK: This Victoria's Secret bright orange keyhole jersey maxi dress is vibrant and fits the bill perfectly--insta-vacation mode. Get swept away in this sky blue maxi dress by Calvin Klein. The floral print is subtle enough that you can wear it on the beach or at dinner. This black maxi dress by Hurley is super sophisticated--and very Angelina Jolie. If these examples of maxi dresses leave you wanting more, take a look at our guides to celebrity handbags, jewelry, and scarves.
Taste Test: Which Pair of Red Shades Will Leave You With Enough Left Over For A Trip To The Beach?
Last summer it was the opaque, candy apple Ray Bans that were all the rage. This sunny season, we're digging a less-harsh version, with translucent, licorice-red rims and a curvier, more streamlined shape. One of the pairs above, designed by Tom Ford, will set you back $450. The other pair's a measly $38. So which pair will leave you broke for the summer, and which will ensure that your future's so bright you have to wear shades?Pick out more sartorial savings by playing our other Taste Tests .
The Coolest Website You Don't Know About (Yet) – Swell.com
I'm in the midst of planning a vacation, and although it would be nice to show up to the resort in a brand new exotic-themed wardrobe (à la the Mexico scenes from SATC) my bank account will not be accomodating me - especially after I shelled out so much on the vacay itself. But that doesn't mean I have to wear last year's ratty old swimsuit or tired out dress on my trip. Thanks to a fabulous, newly discovered site, I can snatch up adorable, beachy finds for cheap. Swell.com offers a variety of summer swimwear, bottoms, tops, and dresses, as well as great sandals, bags, and accessories. Below are some of my top picks. I found these amazing dresses - all perfect for a warm-weather vacay, and all for under $50: Lost Chiba dress ($44), Summer Haze dress ($38), and Roxy Moorea dress ($49.50). Cover two trends in one shot with this Billabong swimsuit ($68). The hip animal print and of-the-moment one-piece style is perfect for your getaway. And isn't it nostalgic to be able to don Billabong again? Go all out global chic with a pair of these Patina earrings ($16) and this unique and versatile elephant charm necklace ($26). Get Yours Now: swell.com
Deal Of The Day: Up To 65% Off Embellished Thongs At Vivre
Embellished thongs are like jewelry for your feet – you can get away with fewer accessories when shoes are this fancy. And who wants to be dragging around six pounds of bangle bracelets when you're already sticky from the humidity? Best to let your feet sport the bling instead. This flat Beach Thong ($88, were $250) comes in brown, bronze, and turquoise – all neutral enough to turn these festive flip-flops into your go-to footwear. Copper disks and visible weaving make these Triangle Disk Thongs ($61, were $175) look earthy – perfect to offset crisp white jeans, or complement a breezy linen skirt. Remember pyrite from Earth Science class? The shiny rock – also called "fool's gold" – sits on black leather straps to give these Pyrite Thong Sandals ($90, were $225) an air of rough-hewn glamour. More Steals and Deals:Enter the code SECRETSALE at checkout to get an extra 20% of sale items at Urban Outfitters today and tomorrow. Up to 60% off shoes at Banana Republic. Save up to 75% on tees, tanks and simple dresses at C&C California's summer sale.Shop the SheFinds Forum for more amazing discounts.
News Updates: American Apparel Unveils Its Bling, Johnny Depp's Honey Reps Miu Miu, And More…
American Apparel recently debuted their jewelry collection which consists of gold-plated chain necklaces and bracelets. All pieces are available on their website. [Racked]Vanessa Paradis, best known as Johnny Depp's partner, will star in Miu Miu's Fall 2008 ad campaign. Shop Net-a-Porter for the latest Miu Miu styles. [FWD]A spa in New York is now offering a Breast Lifting Treatment that promises to temporarily perk up breasts through massage and application of creams. Click here to read about other bizarre beauty treatments. [NYMag]Marc Jacobs has come out with a controversial t-shirt in honor of Gay Pride Week that superimposes the Confederate Flag over the Gay Pride rainbow. [Shophound]
Latest Blog Posts From MomFinds
Big Hair is Back: How to Steal Angelina Jolie's LookApparently, "big hair" is making a comeback. However, except for Jolie and a model or two, this is a tough look to pull off. I'm talking about you Amy Winehouse. Baby Find: Get Personal with Two Tinas When it comes to baby shower gifts, I'm all for buying something off the registry. But it's also fun to give something unexpected and truly unique—like a personalized gift from Two Tinas. Win it Wednesday: Win a $100 Shopping Spree at Cabana Life We're huge fans of Cabana Life, the sun protective clothing line with 50 + UPF through patented High IQ Sun Protection. They have everything the kids need for a sun-smart summer, including stylish swimwear, playwear and accessories, and they also have some items for mom and dad.
Eco Cosmetics Movement Makes Makeup Good For Everybody
For years, if you wanted organic, eco-friendly or natural cosmetics, you had to search out small, expensive manufacturers, some of dubious quality. However, as awareness has grown, so has the industry. Not to be left out, traditional cosmetic companies are jumping into the fray. With sustainability on everyone's mind, here's what some brands are doing to help out:Mary Kay: To coincide with the launch of their new refillable, customizable compact, Mary Kay is encouraging customers to turn in their old compacts for recycling. For each recycled compact, the company will plant a tree in the Bitterroot National Forest in Montana and Idaho. Mary Kay estimates their new compacts will eliminate 60 million units of packaging and 60,000 tons of carbon emissions. Go to marykay.com for more information.Cargo: The eco-lipstick PlantLove from Cargo incorporates 100% compostible material. The packaging includes wildflower seeds and, when planted, will add flowers to your garden. Cargo also donates $2 to St. Jude Children's Research Hospital for every lipstick sold. Find PlantLove at sephora.com.MAC: One of the original recycling incentive programs, MAC offers customers a lipstick of their choice when they return six cosmetics containers. Plus, many of their items are refillable, lessening the impact on the earth. You can shop for MAC products at nordstrom.com.Aveda: While Aveda's cap-recycling incentive is no longer underway, the company still encourages caps with their recycle caps program. Simply bring caps to the store and Aveda will use them in their new caps and containers. Pick up Aveda goods at drugstore.com.
Taste Test: Which White LInen Skirt Won't Leave You Broke?
Which white linen skirt will give you that great summer boho look without draining your wallet and turning you into a hobo? Test your Fashion IQ with other Taste Tests .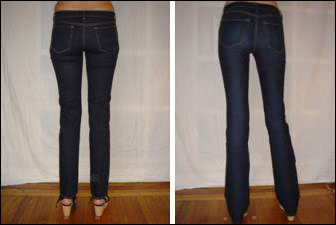 Skinny Jeans That Actually Make You Look Skinny: Priceless
One of my girlfriends just admitted to me, "I just bought my first pair of designer jeans." I gasped, my jaw fell, and I actually felt pity for her. Why is that you ask? Because if you haven't discovered the amazing power of well-tailored jeans, that come with quite the price tag I will admit, you haven't lived! The technology has moved far beyond your basic five-pocket jean in the last ten years and, according to Kristin Cole of CBS, they are doing three simple things to make us look fabulous: First, they are pulling exposed seams further in the front, to give the illusion of less surface area.Then, they are using the fade to give the illusion that you are thinner in the areas that are faded.Finally, in the back at the rear, they are using elastic technology to actually lift your rear end to have a nicer shape in the backside. Well fitting designer jeans will run you anywhere between $130 (basic Joe's Jeans) to $300+. "But that price tag!" you say? Leave it to Levi's to come up with a solution for price pollution. In July, the world's most recognized jean brand is coming out with a jean that claims to flatten the tummy and tighten the butt -- for $20. Can't wait until July (really ladies - it's a week away) you can pick up a pair of denim that are already taking full advantage of the technology available. The appropriately named brand SkinnyJeans promises to alleviate all the issues we face when pulling on our duds: the dreaded muffin top, thigh cleavage, saggy butt, stretching out to the point you have to wash and dry them after each wear, and so on. Check out the difference: It's all about the art of illusion! Get yours at skinnyjeans.com for $178. For more trendy denim finds, check out our Denim Guide.
Deal Of The Day: 30% Off Jovovich-Hawk Tops At Pink Mascara
Now that their eponymous line has all but disappeared from Target shelves, it's a good time to take advantage of markdowns on Jovovich-Hawk's higher-end label. The thoughtful design details on their pieces make these tops interesting and easy to wear with pretty much any pair of pants already in your closet. The butter-yellow Alexa Sleeveless Top ($190.40, was $272) has sweet eyelet detail and ruffle at the neckline – enough summer punch to pair it with the dark skinny jeans you've been eschewing all season. Cute with mimosas on Sunday afternoon, appropriate with black trousers on Monday morning, this Zoey B Ruffle Sleeve Top ($170.10, was $243) is one of those unexpectedly versatile items that'll become your own unique staple. The subtly sexy Gracie Silk Crochet Top ($335.30, was $479) features open-weave crochet on the front and back, and rounded hemline for an flowy, elongating effect.More Sales and Deals To Check Out:Up to 40% off women's shoes at Piperlime. Save 20% on best-selling jewelry at ICE.com. 50% off select items at Lucky Brand Jeans.Exclusive sales for SheFinds readers are now posted in our forum!
Seen Around Town: Milly Tank Dress
Lately I have been spotting Milly dresses everywhere I go - the office, cocktail parties, restaurants - you name it. I don't know what's spawned this mini Milly explosion, but I'm not going to question it as I happen to love these girly, nostalgic frocks. Their simple shape can be dressed up or down, and there's always a bit of embellishment for that special touch. Below are three favorites: This Tank Cocktail Dress ($355) has a unique graphic pattern in a rich metallic gold and black. Its fitted bodice and slight A-line cut flatters any form. Throw a blazer on over this Jewel Shift Dress ($445) for the office, and then throw it off for five'o'clock cosmos. The Moire Dress (was $338, now $101.40) exudes classic sophistication with a bit of vintage flare. The dash of pink peeking out from the hem makes it feminine and approachable.
SheFinds Asks: When Do Long Locks Need A Short Cut?
It used to be an unspoken rule: once you hit 40, you had to chop off all your hair and sport what was so lovingly referred to as The Mom Haircut. Nowadays the line is blurred, according to a recent article in W, with nearing-40 stars like Gwyneth Paltrow and Jennifer Aniston, and over-40 hot mamas like Demi Moore, rocking locks that fall below their bustlines. Old school tastemakers say this is inappropriate, and that older women look hippie-ish and unkempt with Rapunzel-length hair. But newer generations see no problems with letting strands grow long and loose, citing versatility as a key factor (hey, we all have a ponytail day every once in a while).Of course, we have to keep in mind that the celebrities mentioned above all have stellar styling teams to keep their long manes in check. As we get older, our hair naturally becomes more coarse and hard to manage, so routine trims, lots and lots of top-dollar conditioning products, and a good blowout are all key to sporting long strands. With that in mind, what side of the line do you fall on? Should older women embrace short, easy hair that accents a refined bone structure and opens up the face? Or is ultra-long hair an expression of femininity that works at any age?If you fall into the latter camp, how long is too long? Some stylists, like L.A.'s Chris McMillan, think the cutting-off point is just above the breasts - anything else tends to look messy and unhealthy. Others take a less formulaic approach, with conservativeness of wardrobe or nature of lifestyle coming into play. Whether you rock Katie Holmes' kid-friendly bob or Demi's locks-for-days, we know you've got an opinion on this. Take our poll below and sound off in the comments section.And if you decide to grow out that mane, try Frederic Fekkai's Tousled Wave Spray for a textured look, or Ojon Glossing Mist for something sleeker.
Bargain Chic: Jovovich-Hawk For Target
What: Jovovich-Hawk Collection for Target Target's latest project in the store's brilliant GO International series is a line by Jovovich-Hawk, designed by the classy-chic duo of Milla Jovovich and Carmen Hawk. Pieces in the line will retail for around $30 and incorporate the vintage sensibility that their Spring 2008 collection already embodies. Jovivich told the L.A. Times that the Target collection will feature "all our classic pieces - smock dresses, tunics, minis - all vintage-inspired, great prints." When: Debuts March 2 Get It Now: The feminine, bohemian-inspired pieces from their original line are available at Net-a-Porter and Shopbop.
Steal Lindsay Lohan's Style
When she's not starring in bad movies, sporting a SCRAM bracelet, or hijacking cars while wearing someone else's pants that happen to be well-stocked with nose candy, Lindsay Lohan has managed to become one of the fashion darlings of her celebrity generation. Although lately she hasn't been looking quite as haute, one can blame the mere 1K-a-day shopping allowance her beleaguered money men have placed her on. Or perhaps it might be the fact that she's no longer in the stable of Rachel "Raisin Face" Zoe's uber-skinny style clients. However, there are still some classic Lindsay pieces that a girl can incorporate into her wardrobe to remember those days of Lohan plenty. La Lohan loves to show off her questionably attained curves in classic frocks by Herve Leger ($1480). Although pricey, these timeless dresses are impeccably constructed (like Lohan's questionably attained curves) and a no-fail go-to-gown for any cocktail or black tie affair. Not a fan of the stripes? - try a steamy red number instead. 90% of Lohan's looks revolve around leggings and cotton tunic tops. I can only speculate that when your weight shifts as quickly as hers, it's hard to stay stocked in jeans that fit. However, American Apparel has a great deal on leggings - 3 for $63! And overall, it's comfortable and easy to emulate this look. You can also try Banana Republic's knit leggings. I'd recommend checking out Rebel Yell and Ella Moss for tops to suit your Lilo fancy. Who needs shirts? I mean, dancing is hot. And sometimes illicit substances make your body temperature heat up. So if you're famous and you won't be subject to that no shirt, no shoes, no service policy... just do like Lindsay and rock that bra-out all-out. Victoria's Secret T-Shirt Bra will guarantee you're comfortable - until someone informs you that you were partying in your bra the night before. Lindsay's cute and almost demure gray jersey dress by Nikka is available for pre-order at Singer22. And should you want to add some public humiliation by tucking the skirt into your panties, Victoria's Secret nude Body by Victoria panties offer a reasonable facsimile of Lohan's tush-tuck. No tacky panty-lines...unless you, um, expose them. So take these fashionable tips, slather on some faux tanner, take your drunk mom out to hit on George Clooney, and your life can be a little more Lohanlicious.
Tap Into Your Accidental Trendiness – Vogue Says Brunettes Are In
So brown is the new blonde. At least that's what a feature in February's Vogue – the one with untrendy blonde Kate Bosworth on the cover – is claiming. Writer Marina Rust talked to several stylists who have been darkening clients' locks of late, and implies that brown hair is the more mature color choice. We're glad to see Vogue back a so-called trend that everyone can embrace. To help achieve that "high-end, luxury look" Rust talks about, check out the shampoos below.Ted Gibson's Color Depositing Shampoo ($36) amplifies brown shades in natural and color-treated hair. Instead of depositing color onto hair, John Frieda Brilliant Brunette Shampoo ($6.59) contains crushed pearls to reflect light, creating more depth and shine. For other SheFinds hair picks - no matter your color - check out our Guide To No More Bad Hair Days. And take a peek at our Solution for Taming Static-y Hair.
Celebrity Trend: Good Planet Tees
What: Good Planets Are Hard To Find Tees, $49 Spotted On: Tori Spelling and Denise Richards Why: Hollywood celebs are embracing the eco-trend with this new collection of earth friendly t-shirts. Make a statement of your own with a Good Planet Tee from Gypsy05.Get Yours: www.gypsy05.com For SheFinds Readers: Get a 20% discount on everything in the store by entering the code stylewatch08.
SAG Awards – And Best Accessorized Goes To..
Finally the gorgeous ones got a chance to flaunt their stuff on a red carpet - the attention drought must have been driving them insane, poor things - and the leading ladies didn't disappoint, showing off some fresh jewelry trends to complement their glamorous threads. Below are our top 3 picks for the best accessorized at the SAGs: 1. Marcia Cross continually impresses me on the red carpet. Her stylist knows exactly what colors highlight her skin tone and feisty red locks. This aqua Monique Lhuillier is a perfect match, and Marcia ups the ante with a stunning brooch. We love this similar Tiffany Clematis Brooch ($2500), or pave rose pin (was $348, now $174) by Brooks Brothers. 2. Ellen Pompeo was dashing in her ironically colored Grey velvet dress by Nina Ricci. She was one of many celebs seen sporting statement bracelets, instead of a bunch of matchy-matchy jewels. This striking look can be achieved with the Nadri Pave Cuff Bracelet ($228) for a conservative occasion, or the Metal Rimmed Horn Cuff ($28) to give your formal wear some street appeal. 3. Eva Longoria Parker flaunted her tiny frame and flawless complexion in an Ivory form-fitting Naeem Khan mermaid gown. Her accessory of choice was a pair of large diamond and ruby drop earrings - a trend that is trumping necklaces this season. For Eva's look, go for these sparkling Crystal Drop Earrings ($315) from Jose & Maria Barrera or this Garnet and Diamond Pair (was $260, now $131.75).
'It' Is So Over: Handbags Become Obscure Again
I probably shouldn't be saying this, but I am so sick of It-bags. These mini-status symbols cost enough to cover a few months' rent - and their longevity in the social circuit is more uncertain than today's stock market. The worst part is they can't even live up to being exclusively 'It'. Which is why more women are now moving away from designer It bags towards lesser known labels. According to the Wall Street Journal, women who used to seek out these bags as status symbols and signs of luxury lifestyles are no longer feeling very special with their Fendi Baguettes tucked underneath their arms. Basically, luxury companies got greedy, forgot their target consumer- or rather pinpointed a new one - and the word 'luxury' no longer holds any water. What took these women so long to figure this one out? I knew it the minute I passed a 12 year old on the street carrying the same Chloe Bag I had saved A YEAR to purchase. In my mind, this bag represented a step towards maturity, sophistication, responsibility, and the finer things in life. I guess the 12 year old and I have a lot in common. Or is it just that luxury doesn't mean crap anymore. Women are now flocking towards smaller labels in order to stand out from the crowd with a bag that not everybody can get a hold of. These bags also tend to be more streamlined and simple. Here are a few of our suggestions for supremely stylish bags that will definitely keep you a head above the rest. These patent bags from Ziordia are very sleek and compact, but pack a poweful punch. The mustard Peyton clutch ($295) is tri-folded, with a metal-chain handle that can be worn long or short. The Ashby Satchel ($445) is detailed with antique copper hardware and a tattoo-printed interior lining. For a more casual look, Qara bags are the perfect fit. The distressed leather and matte metal buckles on the Amanda Bag ($325) make it perfect for daytime toting. And for heftier loads, the Bobo Weekender ($390) will carry everything from your drop-kick dog to last night's cocktail dress. Kooba makes edgy leather bags in modern, useable shapes. The Kooba Cameron Tote ($625) has roomy pockets and a comfortable handle for carrying around. The Hannah Clutch ($375) comes in an iridescent metallic leather that's perfect for evening.
Beauty Find: Colorescience Lip Candy Glaze
What: Colorescience Lip Candy Glaze Box of Chocolates, $150Why: Every time I see a box of chocolates, I become a pseudo-schizophrenic. 'Ohh, they look good!' 'No don't touch!' 'But why, only one won't hurt.' 'Oh yeah, tell that to the thighs suffocating under your Spanx!' It becomes rather exhausting. Well finally, I have stumbled upon a box of sweet treats that won't undo my hours (minutes) at the gym or the strict diet (of bagels and mac & cheese) that I have been adhering to for months. Colorescience Lip Candy Glaze Box of Chocolates is a set of 6 chocolate mint flavored lip glazes that look as good as they taste. The gloss is supremely moisturizing with a hint of color and sheen. The glazes can be worn alone, over lipstick, or mixed together for a custom-made chocolate explosion. The whole package is adorable, delectable, and completely calorie-free.Get Yours: SpaLook.com
Name That Designer: Who Was The Latest CFDA Emerging Designer Award Winner?
Wake up those fashion savvy brain cells because it is time for another round of Name That Designer:We'll give you a few fun facts about the designer and our favorite product picks, and then we'll leave it to you to guess the brand name. If it's too tough, just click on one of the images and the designer's name will be revealed. If you think you know the answer, take the poll below and then click on an image to see if you got the name right. The subject of this week's game is a California native who lives and breathes New York City. He resides in Chelsea, works in the Garment District, and enjoys the crispy garlic red snapper at Tribeca's NAM. He recently opened his first Manhattan store in Soho where he can now house all of his laid back, yet elegant designs. This young talent also recently won the Emerging Designer prize at the CFDA Awards.Here are some of our favorite new items of his that are out in the stores now: After you're done taking the poll, check out our three other Name That Designer polls: 1. Who is the Duo that Revolutionized the Basic Hoodie?2. Who Designs that New Eco-Friendly Dress Collection? 3. Which Project Runway Guest Judge Integrates Parisian and New York Fashion?
Shop Our Bra Guide: SheFinds' Readers Picks for the Best Bras
I spent Saturday sorting out my bra drawer. I tossed anything with stringy straps, busted hooks or that was just plain tired. Perhaps it's time for you to purge your top drawer and add some new brassieres to your morning repertoire. Check-out SheFinds' readers' favorite bras to upgrade your collection. While you're at it - If you're lucky enough to be well-endowed you'll love our guide to Bras for Big Busts. And if you're an athletic type, check out our Sports Bra Guide. Upgrade your entire lingerie drawer with our other guides: Best Women's Underwear and best Butt and Tummy Shapewear.Deal Alert:
Just In: Halloween Costume Quick Guide
It's already halfway through October! Time is running out on choosing your alter-ego for this year's parties. From coquettish to classic, storybook to superfly, there's no end to the fun you can have on All Hallow's Eve. Problem is, finding a costume takes time you probably don't have, so here's a quick-fix guide to some serious costume hunting: For the sexy, it should come as no surprise that Fredericks of Hollywood does it up for Holly-ween. From a smokin' Native Princess Costume to amazing wigs (think Afro, Cleopatra-style, and that perfect volume you've always dreamt about.) Henry and June also play up the naughty with everything from the Pirate Cutie to the Cuddly Lion (with hilarious, furry anklets). Have fun, it's the one time of a year where no one can call you out for dressing like a 'ho. If a more classic approach to costuming is your thing, the Discovery Store has a beautiful selection of historical figures you can emulate from the Queen of the Nile to Woodland Faerie all priced under $100. And, let us never forget the secret gems one might find, scouring Ren sites for the traditional bawdy wench and ye olde Maid Marian wannabes. The Disney Store is an obvious choice. Favorites are Cruella DeVil (complete with wig and purse) and the eye-catching Queen of Hearts. Completely clueless on a character? Try Anytime Costumes literally has everything from Austin Powers to the Pink Ladies to Cowboys and Indians and superheroes (and they have plus sizes too). And, of course-- one must always accessorize. Sometimes, that's all you need to whip up something with clothes you already have. Target.com has the most comprehensive list of affordable (almost all under $19.99) swords, slippers, wigs, fangs and cloaks out there, not to mention some serious pet costumes. Women can shop by price point and size, they offer a good selection of plus sizes. But whatever you choose to wear, BEWARE! You may experience death by trick-or-treat chocolate. And you single ladies, be safe. Halloween is the #1 night for one-night stands...