The Ruffles On This New Marchesa Reception Dress Are Really Doing It For Us
Please excuse us, but we're schvitzing over this Marchesa Ruffled silk-crepe strapless dress ($3,500) we just found on Net-A-Porter. Are you dying from the soft, cascading ruffles in all the right places? Would you just dance the night away in it at your reception? Because we would. And that's why it's earned our coveted "Worth It!" badge. (more…)
Lela Rose's Crystal & Lace Belt Dresses Up Any Gown – No Matter How Casual Or Simple
Crystal belts are a big trend this year, which is why we love this Lela Rose Crystal-Embellished Lace Belt ($595). Look at it this way - you can shop for a simple and inexpensive wedding dress and let the belt work its magic by sassing it up. After all, you'll be able to sport  this fab belt over and over again to parties, friends' weddings, and even around a pair of skinny jeans. Worth it? We think so! For more fabulous finds, shop our guides for customized wedding favors, wedding veils, and strapless wedding dresses now.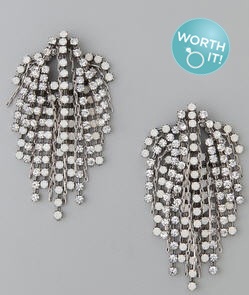 Dangly Dannijo Earrings That Are Anything But Boring – Aka, You Can Wear Them After
No wedding accessory says "Worth It!" more than the one you'll wear again and again after the big day. These unique mixed-chain and Swarovski crystal Cecile earrings by Dannijo ($297) certainly fit that bill; not only do they get away from the clichéd pearl studs and diamond drops that every bride on the planet has worn, these hand-made gems make a real statement and are still comparably affordable. Looking for more accessories like this? Check our guides on gold wedding jewelry, sapphire rings, and the best wedding jewelry sets.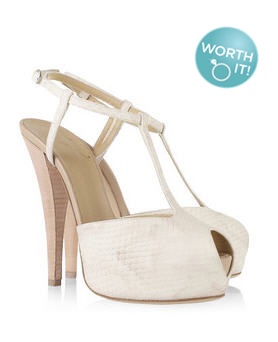 Worth It: On-Trend Giuseppe Zanotti T-Strap Platforms You Can Re-Wear All Summer
Italian designer Giuseppe Zanotti has done it again -- made me want to buy, that is -- with this T-Strap Platform Sandal ($595). I love it for a wedding because the look is so ladylike with the small peep toe and leg-slimming, thanks to the hidden platform. The T-strap keeps the sandal in place while you dance the night away. And it's not just a regular white shoe: it's snakeskin, so you can totally wear this pair with mini-shorts and flirty skirts to go out all summer. Sorry that I'm such an enabler, but this sexy shoe is totally Worth It. Need a fabulous pedicure color to show off in these peep toes? Check our list of the 6 best wedding day nail polish, then check our guides to inexpensive wedding dresses, cheap wedding invitations, and the best wedding jewelry sets.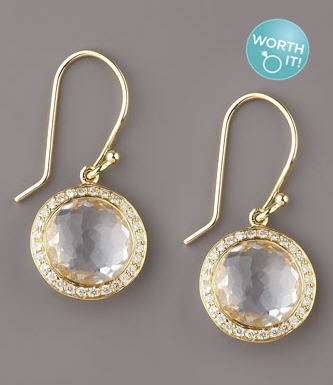 Worth It: These Ipolita 'Lollipop' Earrings Are Sweeter Than Candy
Candy was (and is) great, but now that you're getting married, it's time to think a little bigger. These Ippolita Mini Lollipop Diamond Earrings in Clear Quartz ($1,400) are the perfect accessory for your wedding day and all the days of your life together after that. Italian-inspired, Ippolita is one of those classic brands that stands the test of time  -- meaning your daughter may want to wear this Worth It! piece one day. For more fabulous finds, visit our guides to the best customized wedding favors, wedding veils, and strapless wedding dresses.
The Bride Wore 'Maniacs': Brian Atwood's Must-Have Satin Wedding Shoe
Louboutin, who? In the designer shoe world, there's no one more hot (or Worth It!) right now than Brian Atwood. He's a former model and Versace accessories designer, and the creator of this fabulous Maniac Silk-Satin Platform Pump ($480). The sky-high pumps have adorned the famous feet of Jennifer Lopez, Kate Hudson, and more, and now, Brian offers them in a silk-satin pearl pink --which means you can totally walk the aisle in them. Or do dishes in them for that matter -- you won't want to take these puppies off. If you splurge on the shoes, save on something else with our guides to cheap wedding invitations, inexpensive wedding dresses, and wedding jewelry sets.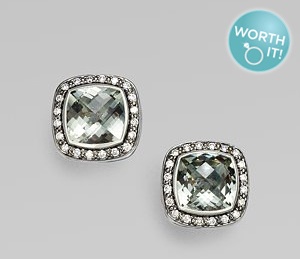 One Diamond Isn't Enough: Splurge On David Yurman Pave Earrings, And Thank Us Later
So we know you already got the ring--but would it be so wrong to ask for these David Yurman diamond, prasiolite & sterling silver earrings ($1,750) as the perfect complement to a gorgeous dress and engagement ring on your wedding day? This Worth It item has more than a half-carat of diamonds and the center stones are sparkling prasiolite. Not only will these be stunners on your big day - but they'll become a bit of a family heirloom. Show off your shopping smarts with our guides to inexpensive wedding dresses, cheap wedding invitations and cheap bridesmaid dresses.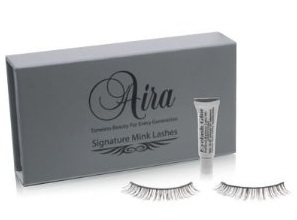 Your Wedding Day Feels Like Going To The Oscars: Get Red Carpet-Ready In Mink Lashes
When Jennifer Lopez rocked mink lashes to the Academy Awards, she turned heads. Since your wedding day is basically like going to Oscars, it's time to splurge on notice-me Aira Signature Mink Glamour Fake Eyelashes and Adhesives ($250). They're hand-selected from the gentle brushing of minks -- no animal cruelty here. Our advice? Find a makeup artist who can help you apply these beauties, and your hubby will be mesmerized by these Worth It celeb-worthy lashes. For more ideas for your big day, visit our guides to customized wedding favors, best bridal hair accessories, and wedding veils.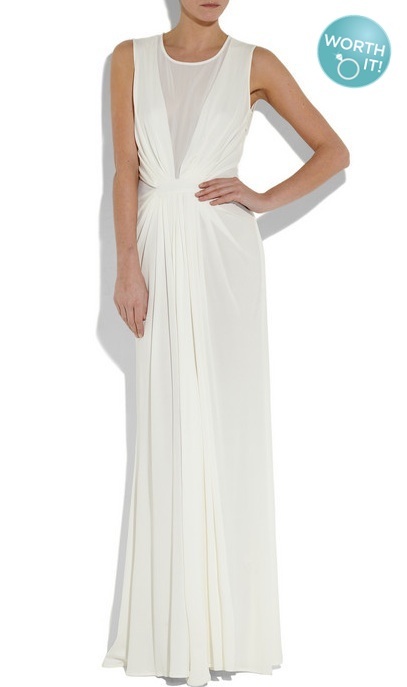 Worth It: A Kate Middleton-Approved Issa Dress That's Cinched In All The Right Places
We know from the official engagement photos that Issa is Kate Middleton's preferred dressmaker, but American girls can love the London-based label, too. Make a piece of your own history with this Issa Silk-Chiffon Gown ($800). With a plunging neckline with mesh panels in the front and back give it a Hollywood glamour that makes it a perfect wedding gown--or reception dress if you're really splurging. Whatever the use, this gown is officially Worth It! If you've splurged on the dress, save on the accessories with our guides to inexpensive wedding shoes, cheap wedding invitations, and wedding costume jewelry.
Worth It: Glitzy Louboutin Pumps You Can Wear On Your Big Day–And Sell On eBay Later
Lusting over Louboutins have been something girls have done since those brilliant red soles hit the market. These Crystal-Encrusted Suede Pumps ($3,095) take shoe fetish-izing a whole new level. The ladylike peep toe, the studded-all over crystals, and the four-inch heel - oh my. While you may have fallen in love with your groom, you can fall in love with this shoe, too. And with the high demand for Loubs on eBay - this pair is officially Worth It! For more fabulous finds, visit our guides to designer wedding shoes, best wedding jewelry, and inexpensive wedding dresses to make up for the cost of the shoes.
What's The Most Weight You'll Assign Your Poor Shoulder?
The bustle of New York that gets us thinking we need to carry around enough stuff for the next 12 hours - or two days.  What about you?  Whether you live in a city, the 'burbs, or the straight-up countryside, do you cart around a big bag that could fit a small child, or do you limit your stuff and carry something a little more reasonable? I tromp around Manhattan and Brooklyn (for work and for the rest of life, respectively) with an oversized Gryson bag slung over my shoulder.  My sister does more or less the same thing (though she refuses to go to Brooklyn, ever) but takes it one step farther - she only carries the giant bag on her right shoulder.  Her shoulders are now kind of asymmetrical.
Latest From MomFinds
$25 Room Decor for the Noncommital Wall decals are the perfect room accents for you--and your kids. Plus, Gilt Groupe has the best of the best--Wall Candy Arts--available right now for 50%. Deal of the Day: Kids' Shorts So Cheap, They're Practically Free Shorts for under $4?  You bet they're going quick.  Before they run out, head over to The Children's Place and grab a few pairs for just $3.99 each. Win it Wednesday: Two Lucky Readers Will Win the New BPA-Free Weil Baby Bottle and Sippy Cup Set Dr. Weil's Bedtime Face and Body Treatment from Origins is a new mom must-have.  And now he's venturing into the world of baby with his new BPA-free Weil Baby products.
Deal of the Day: Take 70% Off Creative Shoes From Shopbop
If you've been looking to indulge in a new pair of trendy shoes, but haven't wanted to take the risk at full price, now's the time to do it.  Shopbop has some show-stoppers marked down by 70%. Pour La Victoire makes interesting and well-crafted shoes, and these strapped, cut-out booties are no exception ($98 from $325). These wedges from Eileen Shields ($149 from $495) present an interesting glamour that'll work in both  an office and party setting. A pair of gray suede cut-out pumps from Tashkent by Cheyenne ($170 from $564) look right both bare-legged and paired with black tights. For more footwear picks, take a look at our guides to boots, wedges, and party shoes. More Sales and Deals: Steve Madden:  Save 20% and receive free shipping with code MADDEN20 ShoeSteal:  Save up to 60% off all dress shoes EDUN: Save 30% off "The ONE" tees
Thursday's Sample Sale Scoop: Rock & Republic, MaxMara, Gucci, And More
Editor's Pick: Rock & Republic clothing at Gilt Groupe Romanelli Umbrellas at Editor's Closet Joia de Majorca jewelry at The Top Secret Rock & Republic shoes, Twenty8twelve clothing, and Mary Louise designs jewelry at Gilt Groupe Small Town Jeans, Tammilyn Bags, and Walter clothing at ideeli MaxMara clothing at Rue La La Tracy Reese clothing and shoes, MD Skincare, and Gucci wallets at Hautelook Don't forget to check out our full list of the week's sample sales, along with our August calendar and up-to-the-minute fashion world news.
News: A Summer Of Zoe, Coach Is Down With Bloggers, And More
1. Rachel Zoe is wrapping the second season of The Rachel Zoe Project, and it's set to premiere on August 25th.  Catch up on last year's antics to get yourself in the mood for more.  [fashionologie] 2. Coach is embarking on an ad campaign for Poppy, their playful new line, which will include partnerships with bloggers.  We appreciate the validation of our style savvy. [WWD] 3. A butter mogul is suing Louis Vuitton for repurposing Murakami's handbag leather as contemporary art.  Avoid the lawsuit with something in a cute print that's not a logo. [Racked] 4. Today and tomorrow, Bluefly gets exclusive access to many of Nicole Miller's Spring '09 dresses as well as to her bridal gowns, which will be 60% off.  For more insider info like this, check out our June calendar.  [Bluefly Blog]