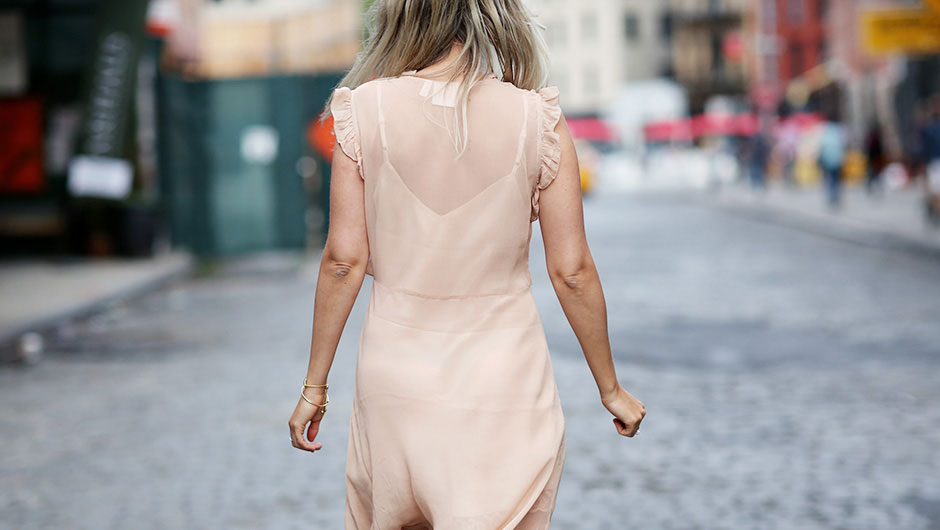 The One Color You Should Never Wear On A First Date
For whatever weird (likely psychological) reason, the color you wear on a first date tends to make quite the impact on your prospective partner. Across the board, men and women say that a date clothed in anything yellow would put them off. Wow, okay, some of the best things in life are yellow: egg yolks, Peeps, THE SUN... Whatever. Anyway, don't risk blowing it with your potential soulmate just because you're going through a pastel phase. Save your yellow picks for when you're beyond first impressions. And in the meantime, win his or her heart with the color red! Studies show that a woman in red is deemed most attractive by potential suitors. Hmm... Fire? Love? Tomatoes? Maybe it's just that red stands out and leaves a lasting impression. Not a great color for a sports car, but great for romance! So next time you're meeting someone new, ditch that LBD (Little Black Dress) and invest in a fiery LRD (Little Red Dress)! Silence + Noise Plunging Crepe Fit + Flare Dress ($59) Drape-Back Sheath ($188) Bec & Bridge Desert Cutout Dress ($200) Don't forget to check out: The One Thing You Should Never Do When Shaping Your Brows and The One Thing You Should Never Do After Getting A Spray Tan [Photo: The Fashion Guitar]
Don't Avert Your Eyes–Bright Yellow Is Happening In A Big Way This Season
Spring Has Sprung & Yellow Bridesmaid Dresses Are Starting To Look Like A Pretty Good Idea
We recently came across this sunny image (courtesy of Style Me Pretty), which made us see yellow bridesmaid dresses in a whole new light: not only is the color happy and bright, but perfect for spring/summer weddings (think daffodils and buttercups). It's already a huge fashion trend for spring '12, so why not bring your b-maids up to speed? (more…)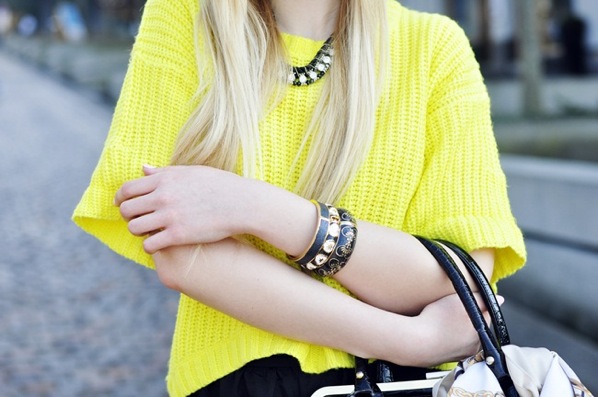 The Happiest Color Of The Season Also Rhymes With Mellow. Got It?
Nothing quite screams summer and sunshine and beaches and umbrella cocktails like the color yellow. Luckily, it's a huge trend this season, as evidenced by this awesome editorial on Kayture (and above). As we told you last month, the highlighter has become the most popular pen color in fashion this season. The color is zesty and fresh (like a lemon!), and if you're not ready to try head-toe-toe yellow, try a simple accessory like a clutch or a skinny belt. We're all about a bright shirt or some neon yellow pants -- but we'll give you a minute to get there. Shop our flyest picks above. Shop our guides on friendship bracelets, snow leopard print jeans, and printed maxi dresses.
Feeling Blue? Perk Up With Insta-Happy Yellow Styles
Cold, dreary weather inevitably starts to take a toll as winter drags on. The color yellow, however, is known to bring your mood up because it is associated with the sun and energy. So instead of putting on your usual black on black or neutral attire this week, switch it up and put some happy into your wardrobe with these vivacious picks that will perk up any closet. This charming satin J. Crew Panier Clutch ($88) is show-stopping in this sumptuous gold hue, but you can also find it in five other colors. Either way, it's the perfect, low-cost addition to your evening bag collection. Wear it to the workplace with black slacks or a pencil skirt, or on the weekends with your destroyed denim. The billowy sleeves of this Diane von Furstenberg 'Ortega' Chiffon Top ($265) can be both elegant and boho chic. If you have a tan, don't think twice about donning this simple, yet flattering Alice + Olivia Twisted Halter Dress ($367) to your next evening out. You can layer it now or wear it bare come summer. A huge fan of anything Frye, these Maya Vintage Stud Pumps ($184) immediately stood out in the crowd. With a low, chunky heel, these shoes are both proper and comfortable at once. Very on-trend for spring, this black, white, and yellow graphic print Maggy London Matte Jersey Shift Dress ($148) takes center stage in any ensemble. Just add heels, a simple bag, and earrings to complete the look. Get more inspiration on our what to wear tutorials, trends pages, and in our buying guides.