It's time for a day at the beach. You pack your Seafolly 'Splash' Velour & Terry Towel, a book, healthy snacks and cold beverages, throw on your Echo Design Batik Long Caftan over your bathing suit, slide your feet into Sol Sana Phoenix Sandals and pop on your Wildfox Steff Sunglasses. But you feel like you've forgotten something… sunscreen, of course!
When it comes to protecting your skin from the sun's harmful rays, don't cheat yourself-grab AVEENO® PROTECT+HYDRATE® Lotion Sunscreen with Broad Spectrum SPF 30. Sure, the other brands will do an okay job, but AVEENO® goes above and beyond by formulating their SPF with ACTIVE NATURALS® Oatmeal to provide 50% more hydration and broad spectrum coverage that exceeds FDA standards.
"Choose a broad spectrum sunscreen with an SPF of 30 or higher, that also has hydrating properties, which restores skin's barrier and reduces moisture loss," says dermatologist Jeanine Downie, M.D. "Apply sunscreen 20 minutes before you leave the house and re-apply every 1 -2 hours. It's not enough to put sunscreen on just in the morning!
Available in SPF 30, 50 Face and 70, AVEENO® PROTECT+HYDRATE® Lotion Sunscreen with Broad Spectrum  SPF is formulated with skin-soothing ACTIVE NATURALS® Colloidal Oatmeal to hydrate and actually leave skin feeling healthier than before sun exposure.This collection also features ENVIROGUARD™ Technology to deliver superior broad spectrum UVA/UVB protection.And don't fret, the fast-absorbing (and oil-free!) lotions are water and sweat-resistant for up to 80 minutes, so that falls right in line with Dr. Downie's advice.
And talk about cool factor , America's sweetheart Jennifer Aniston and AVEENO® Global Brand Ambassador swears by the sun protectant. "I use my AVEENO® PROTECT+HYDRATE® SPF 30 everyday," she said. "I never step outside without it." Hey, if it's good enough for Jennifer Aniston, it's good enough for us!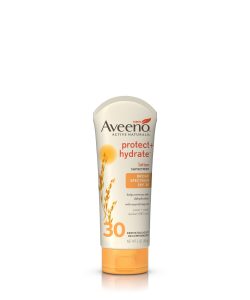 AVEENO® PROTECT+HYDRATE® Lotion Sunscreen with Broad Spectrum SPF 30