It's not that we're condoning real stalking, but if you've grown up with visions of marrying Prince William and living happily ever after, it's probably okay to know more about the royal wedding than you would about your own sister's. Thanks to a very tech-savvy monarchy – there are plenty of ways to do it:

The Official Royal Wedding Website:
The Royal Wedding Official Website features the latest YouTube videos of the couple's royal appearances. You can look at Kate's childhood photos and take a virtual tour of Westminster Abbey (OMG, the site of the royal nuptials).
On Twitter: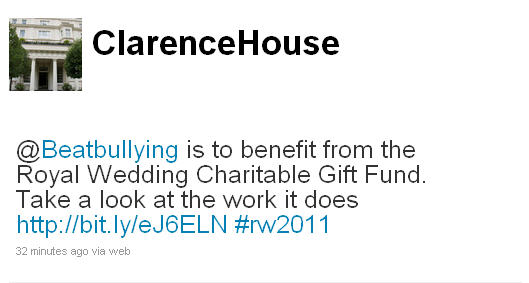 On the big day, check official "Royal Tweets" (now there's a phrase we never thought we would say) on the ClarenceHouse Twitter feed. It's also fun to see who the royals are following–from the UK Prime Minister to an international horse and donkey charity.
On Facebook:
"Like" The Royal Wedding on Facebook to get a little royalty in your news feed. The page itself lists "Catherine Middleton," "The British Royal Family," and "Prince William of Wales," as interests. Glad we have that in common.
On Your iPhone:
There's an app for everything else wedding-related — and now there's a "Royal Wedding 2011," which offers details on the dress hunt, helps you track the locations involved in the wedding and even gives advice on how to host your own royal wedding party.
On People:
It's sad but true. People.com is trying to rival you for royal wedding stalking. Round out your ultimate stalker status by visiting their page daily and voting on important things like "What Tiara Kate Should Wear."
For more coverage on the royal wedding, visit our royal wedding guide. Even if you're just a commoner, try our guides to the best wedding jewelry, designer wedding shoes and bridal hair accessories.