The time is here– it's finally bootie season! From brocade to bold colors, there are plenty of bootie trends to try (and not to mention love) this season. While some of the trendy styles can definitely cost you a fortune, fast fashion retailers have picked up on the best styles this year so you can shop more affordable options! Target is always one of our top go-to retailers to shop and try the best trends of the season. And luckily, thanks to Target's brand launch of A New Day, there are a ton of brand new booties that you'll want to add to your closet ASAP. Without further ado, read on to find out the Target booties our editors love, and we're sure you will too! Plus, all Target boots are on sale right now for 20 percent off. So, you better hurry and get shopping!
These Mary Tie booties, originally $34.99, are the perfect classic neutral bootie for the fall. The low chunky heel makes it easy to walk around in them all day, and the tie detailing makes them look so much more expensive than they are. We seriously love these and are adding them to our Target cart right now.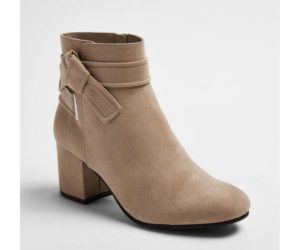 Mary Tie Heeled Booties – A New Day™ ($27.99)
Leopard booties make for the best statement boot every single year. They definitely add some fierce flair to any outfit that you put together, and they can instantly transform a simple t-shirt and jeans look. These bold and fun Bridget Mod Booties, originally $34.99, will make the perfect bootie addition to your growing collection this fall. I mean you can never have too many booties, right?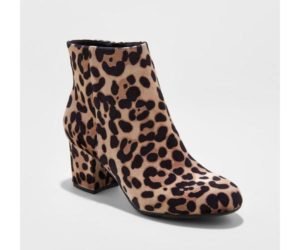 Bridget Mod Booties – A New Day™ ($27.99)
Chelsea booties certainly haven't gone out of style after they've stepped back into the fashion scene. These Lara Chelsea Booties, originally $34.99, have just enough heel to give you a little extra height while still being super comfortable. You can definitely wear these day after day for any look that you're going for– both dressy and casual.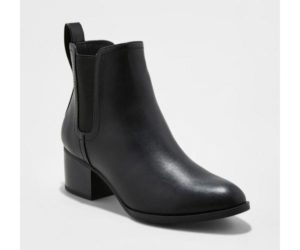 Lara Chelsea Booties – A New Day™ ($27.99)
A New Day also offers another trendy of-the-moment style with these metallic booties, originally $34.99. They feature both a chunky heel and round toe, which makes them super comfortable as they make a fashion statement.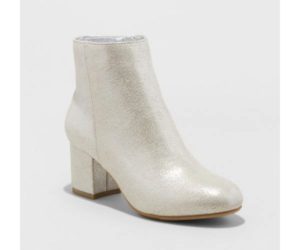 Rivers Metallic Booties – A New Day™  ($27.99)
Brocade print seems to be literally everywhere this season, and Target has certainly picked up on that. You can shop these Merona Brocade booties, originally $37.99, for just about $30. The dark neutral colors in the print are easy to pull off and give the bootie just enough detail. The low chunky heel and zipper detailing also makes them super comfortable and easy to wear.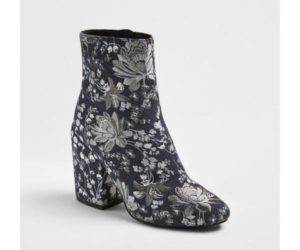 Arie Brocade Booties – Merona™ ($30.39)
We've got all of the latest Target news and arrivals that you need to know about this season. For more, make sure to check out the new Chip and Joanna Gaines Target home collection, new Target arrivals you need to shop before they sell out, and the best Target skincare products with incredible reviews and reputations.
[Photo: Shutterstock]