Owner of trendy LA boutique Intuition, Jaye Hersh, has made her first foray into budget accessories with a cheap and chic line for Target. And after viewing the decimated shelves at my local Target this weekend, I suggest you'll have more success finding the Hollywood Intuition pieces on the store's site.
Below are some faves:
1. While I'm not a huge fan of the Peace sign on jewelry (or clothing for that matter), I decided I could overlook its inclusion in the Mixed Media Necklace ($15) because I loved the layering as well as the gold tone/bead/metal mixture.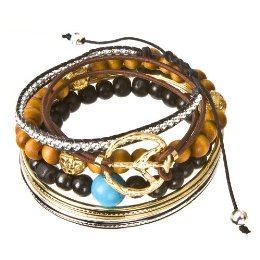 2. Yeah, that Peace sign again, but the wood beads in the Mixed Media Bracelet ($10) really stand out against the metal, making it look like you're wearing a bunch of different bracelets together.
3. The Multicolor Bracelet set ($10) is nothing I haven't seen, and I'd probably only wear a couple at a time. However, they don't look bad for faux leather, and the punky studs are on-trend.