We love a chunky collar necklace to toughen up our dainty summer wardrobe, and we've been crushing on the Dannijo Stella for months without being able to make the almost $500 splurge. Lucky for us, many hours of online shopping have finally yielded results and we've finally found an imitator almost as cute as the real thing.
The Dannijo is oxidized silver, and we love the bow detailing, but we can't help but do the math and figure we can get nearly 21 of the Miss Selfridge versions for the price of one Dannijo.
We're going to ask the audience on this one: Splurge or Save? Can you tell (captions non-withstanding) which of these necklaces costs $472 more than the other?
Dannijo Collar Necklace, $495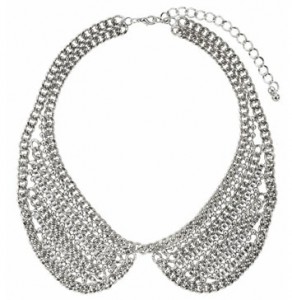 Miss Selfridge Collar Necklace, $32
Love this taste test? Check out more here: Pave Earrings, Suede Booties, Opaque Tights.