Taylor Swift Inserts Herself In Nicki Minaj's VMA Drama. But Why?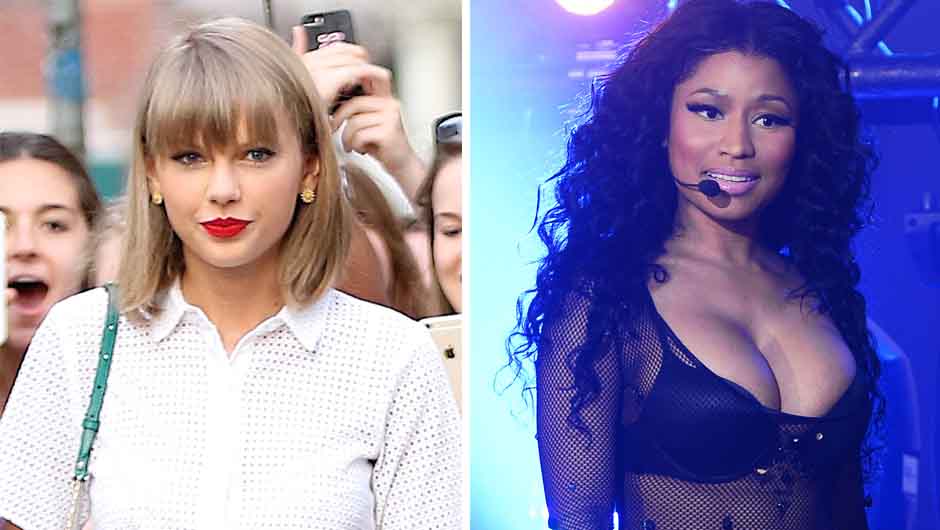 This morning Nicki Minaj took to Twitter to let out some frustration after being snubbed in nominations for MTV's Video Music Awards. Nicki's video for "Anaconda" didn't get nominated for video of the year and she's upset about it and, quite frankly, she's entitled to her opinion considering "Anaconda" has over 488 million views.
She sent out these tweets in response to hearing the news:
Hey guys @MTV thank you for my nominations. Did Feeling Myself miss the deadline or…?

— NICKI MINAJ (@NICKIMINAJ) July 21, 2015
If I was a different "kind" of artist, Anaconda would be nominated for best choreo and vid of the year as well.

— NICKI MINAJ (@NICKIMINAJ) July 21, 2015
When the "other" girls drop a video that breaks records and impacts culture they get that nomination.

— NICKI MINAJ (@NICKIMINAJ) July 21, 2015
If your video celebrates women with very slim bodies, you will be nominated for vid of the year

— NICKI MINAJ (@NICKIMINAJ) July 21, 2015
Oh but trust me. I'll be on that stage to collect my awards for vid of the year. Feeling Myself & Anaconda.

— NICKI MINAJ (@NICKIMINAJ) July 21, 2015
And…cue Taylor Swift. For some reason, Taylor feels the need to interject and assume Nicki's statements are aimed at her because "Bad Blood" is nominated for video of the year. Personally, I don't understand why she feels the need to get in everyone's business. For someone who says she hates drama, she always seems to be at the center of it.
https://twitter.com/taylorswift13/status/623616796277506048
To which Nicki simply responded:
Huh? U must not be reading my tweets. Didn't say a word about u. I love u just as much. But u should speak on this. @taylorswift13

— NICKI MINAJ (@NICKIMINAJ) July 21, 2015
Media outlets then start posting headlines making Nicki out to be the crazy one and Taylor as her usual "wonderful" self. Fans were having none of it.
can we discuss @EW's picture of preference to represent nicki vs taylor in their last tweet/article? pic.twitter.com/fMe0xi3mSt

— desus' lip balm (@_hudahassan) July 21, 2015
Dear @EW: Let's reverse the imagery & not uphold the #angryblackwoman stereotype. pic.twitter.com/INNPP4Az90

— Janet Mock (@janetmock) July 21, 2015
Nicki Minaj is FURIOUS with MTV's VMAs for snubbing #Anaconda & #FeelingMyself. See her rant: http://t.co/avP9JI7Hb2 pic.twitter.com/OACYomQZBL

— HollywoodLife (@HollywoodLife) July 21, 2015
Kim Kardashian got in the mix as she tweeted out a picture with the caption "Imma let you finish but…" She followed up with a couple more tweets claiming she has no idea what's going on in the music world because she's busy posting pictures from her Vogue Spain shoot.
https://twitter.com/nASHtygal/status/623637080355270656
I'm not trying to shade anyone! That's not my style! I just thought that caption was perfect for that pic! Changing the caption now! #ironic

— Kim Kardashian West (@KimKardashian) July 21, 2015
Katy Perry jumped into the debate on Wednesday with this cryptic Tweet:
Finding it ironic to parade the pit women against other women argument about as one unmeasurably capitalizes on the take down of a woman…

— KATY PERRY (@katyperry) July 22, 2015
Without naming names, Katy suggested that it is "ironic" of Taylor to call out Nicki for pitting two women against one another, when she does the exact same thing in "Bad Blood" (which is supposedly about Taylor and Katy's feud).
Is the feud over? Taylor just apologized to Nicki over, what else, Twitter. Here's what she said:
https://twitter.com/taylorswift13/status/624240681750536192
Phew…that was a lot to take in. All I can say is #TeamNicki all the way!
UPDATE: Taylor just crashed Nicki's performance at the VMAs! Looks like all is good between these two ladies:
Didn't see this coming. #VMAs pic.twitter.com/D4uI0HacAO

— The FADER (@thefader) August 31, 2015
Don't miss Beyoncé's classic Ray-Ban sunglasses and Kim Kardashian's baby bump made its first debut!
[Photo: Splash News]