Take Notes, Ladies: Taylor Swift Demonstrates How To Kill It In A Romper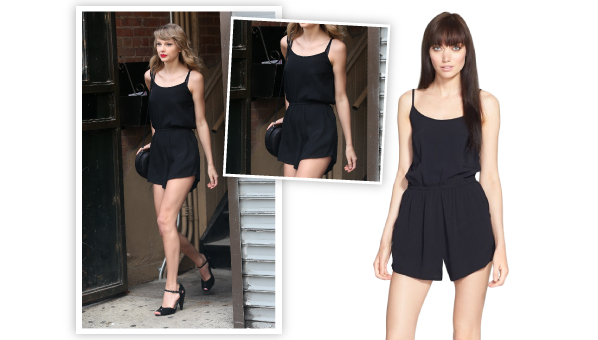 The romper, otherwise known as an insta-man repellent. For some reason, guys just do NOT dig the onesies that most girls seem to love, like Taylor Swift. And since the p0p star extrordinaire is without eye candy this summer season, we are going to blame it on the romper she wore, MINKPINK See The World Crepe Romper ($74) because why else would this adorable blonde be without love?! Okay, so the revenge songs could be a little discouraging. Well, we don't care because we just love ourselves a good romper (boys will deal). Snag Taylor's below!
MINKPINK See The World Crepe Romper ($74)
Don't miss out on Jessica Alba's gladiator sandals, Jamie Chung's favorite accessory, Kourtney Kardashian's bikini, Lea Michele floral blazer, and Gwen Stefani yellow loafers.
[Photo: Splash News]