We're diehard Etsy fans here at SHEfinds, mostly because the jewelry selection is unbeatable. Of course, that's due in large part to the thousands of sellers who find and make gorgeous products the rest of us can't resist. But rather than simply be content ordering jewelry up the wazoo, we decided to go behind the scenes a little and actually meet one of these highly talented Etsy sellers.
I was actually introduced to Soledad Proaño of Sol Del Sur at an event here in NYC and as soon as I saw her stuff, I knew I wanted to learn more. So I enlisted the SHEfinds graphic designer/resident photographer to trek it to Brooklyn with me where we got up close and personal with Sol's amazing pieces and how they come to life. Take a peek: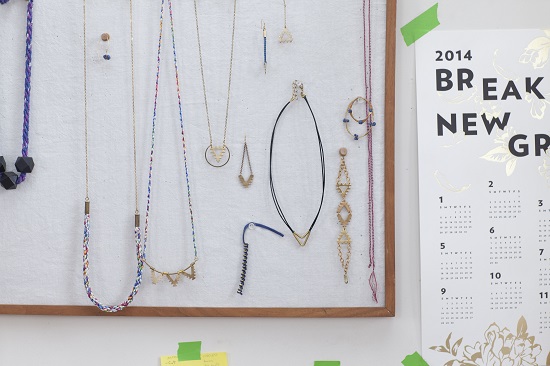 A few of Sol's latest pieces on display in her Brooklyn studio.
SHEfinds: What were you doing before you started selling on Etsy?

Soledad Proaño: I was an acoustical engineer. I studied audio and acoustics, but ended up focusing on architectural designs to create spaces that had good sound quality. We basically came up with treatments and materials to make texture in spaces. It was the best job I could have had with my education, but it wasn't enough for me. I really wanted to make creative decisions.
Sol wearing some of her favorite pieces.
SF: So you decided to start selling on Etsy?

SP: I think it was probably 2008. I started selling mosaics, but they were very time-consuming. So I started making scarves with all these amazing yarns, but then summer cam so I had to diversify. Probably a year after I joined Etsy, I started doing jewelry.
Works in progress.
SF: Do you have any formal training? How long have you been making jewelry?

SP: I started when I was 10, off and on making friendship bracelets. Later I learned some wire-grapping and metal- and leather- work. I love all kinds of processes, though. That's my thing–to figure out how things are made.
SF: What made you decide to try your hand at jewelry?

SP: At craft shows I would see people doing jewelry and it was selling and selling and I said, "I can do that!"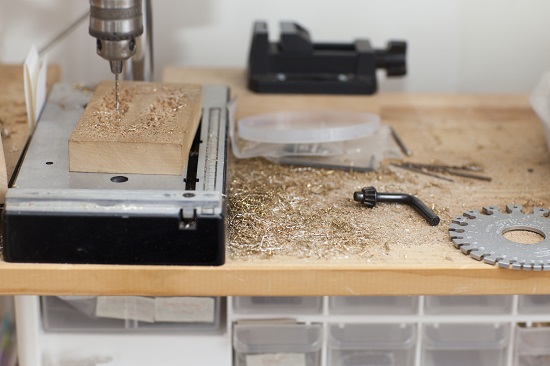 Where the magic happens.
SF: How do customers find you?

SP: I have repeat customers, but most of my customers are new and honestly, I don't know where they come from. Sometimes I will get referrals or when I do an event I will get a lot of traffic right after.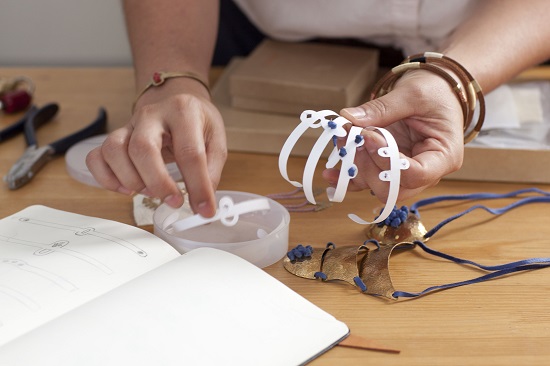 The early stages of some new Sol Del Sur cuff bracelets.
SF: How does it feel to work for yourself?

SP: It has its pros and cons. Sometimes I do miss the security and teamwork of working for a company. It's sometimes lonely and hard to connect with other creative people. But, of course, it's also nice to have my own ideas about how things should be made and execute them that way.
Sol's favorite necklace.
SF: Do you have a favorite piece?

SP: It's always the newest.
Click through the slideshow to shop our favorite Sol Del Sur pieces, then head over to Etsy to shop Soledad's collection yousrself.
Don't miss these stunning unique engagement rings, black moto jackets for fall and quilted shoes.
[Photo: Shelby Rodriguez]