When you start piecing together your dream wedding, it's easy to get overwhelmed by one particular aspect of wedding planning that you have absolutely no expertise in. Unless you, or someone close to you, were gifted with an extreme green thumb, you probably don't know a Billy Button from a Billy Ball – which means you're clueless when it comes to identifying all those beautiful wedding flowers you see on Pinterest.
Lucky for you, we're here to help. We queried professional Atlanta florist and event designer Juli Vaughn of Juli Vaughn Designs and Lauren Page of G. Page Wholesale Flowers about their favorite (and most in demand) floral picks for summer.
Peonies
[Pinterest]
"These are super romantic and are my number one requested wedding bloom." says Juli. "They're soft and fluffy and come in shades of white, pink, red, and yellow." We're quite partial to these big fluffy blossoms ourselves! They add fabulous volume to any centerpiece or bridal bouquet.
Ranunculus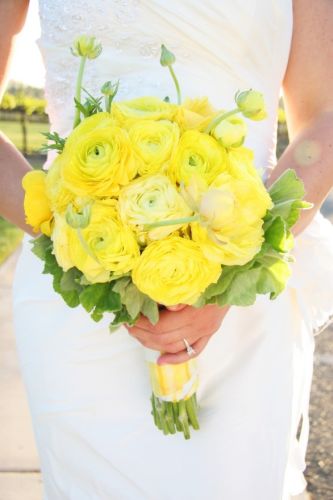 [Kristy Weldon Photography]
"These little blooms are the 'it' flower for trendy brides.They have a high petal count and a whimsical feel. They come in shades of just about every color except blue." These tightly bunched little blossoms bloom in late spring and early summer – we're looking at you, June brides!
Lavender
 [Emmaline Bride]
Lavender is a sweet smelling perennial plant that blooms in June and then again in August.  If you're looking to add a little rustic, French Provencal elegance to your affair, try lavender bouquets or centerpieces. BONUS: Lavender's fabulous fragrance actually repels insects! (Check out even more lavender wedding inspiration here.)
David Austin Roses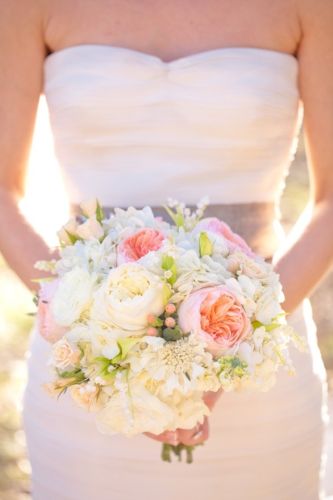 [Style Me Pretty]
David Austin Roses are the most well-known of all the English Garden Roses, and for good reason. "Along with being romantic, and, well, British, they have the most heavenly scent you can imagine." says Juli. Lauren notes that these roses are " A great beautiful and fragrant option for when peony season finishes," because of their obvious resemblance!
Hydrangeas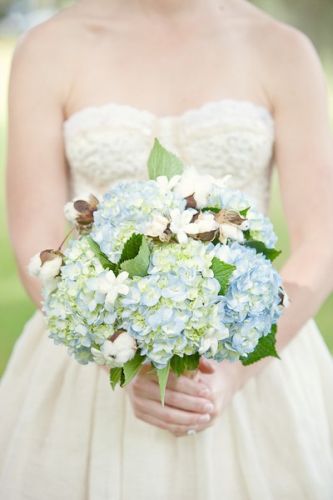 [Southern Weddings]
"If a cloud could be interpreted into a flower, it would be a hydrangea. They are like little cloud puffs – especially when they come in their most popular colors: white and blue." says Juli. "My favorite is Antique Jumbo – a soft green with a touch of pink." adds Lauren. As a Southern gal myself, I have a strong nostalgic connection with these lush, unique blooms – and if you're a Southern bride, it's likely your wedding guests will too.
Dahlias
[The Bride's Cafe]
Dahlias are a great option for late summer brides – they have a sublimely simple, yet modern vibe. "Often mistaken for daisies, dahlias are a daisy's uptown cousin." says Juli. "They provide great texture in bouquets when a bride wants something more modern." (Lauren recommends the Cafe au Lait Dinner Plate Dahlia variety.)
Crespedia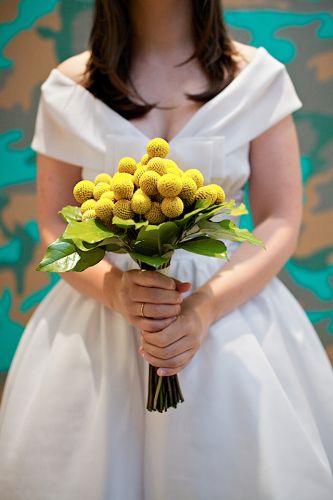 [The Wedding Chicks]
Crespedia are a "funky textural option," as Lauren calls them. Also known as "Billy Buttons" these flowers are festive and quirky" says Juli."They are available year-round, but seem to work best in the summer when combined with brighter colors." Billy buttons are especially great options for boutonnieres – and are just as colorful and usable when dried!
Delphinium 
[Pinterest]
I'm a sucker for these tall elegant blossoms. If one of your wedding colors is blue or purple, consider this type of larkspur. They're a fairly uncommon flower, and come in XXL hybrid varieties – so if you're looking for stems with stature, delphinium is your go-to summer bloom.
Freesia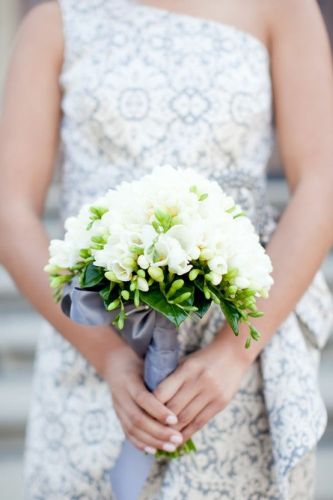 [Style Me Pretty]
Freesia is commonly grown for its especially fragrant scent – it's highly likely you own perfumes, lotions, and soaps that have strong notes of freesia. If you're trying to set the mood on every level, then freesia is a fabulous flower pick.
Callas 
[elizabeth anne designs]
These gorgeous white lillies are available year-round, but look particularly classy on the arm of a beautiful summer bride.  Lauren recommends the Crystal Blush variety – "It's a beautiful white variety with a blush hue."
If you're in the midst of assembling your wedding decor, check out our guides to the best wedding centerpiece decor, wedding cake toppers, and eco-friendly wedding favors.