Burberry vs. Choies: The Burberry color-block poncho is arguably the most wanted piece of 2014, so it wasn't much of a shock when Choies made a copy that cost under $40.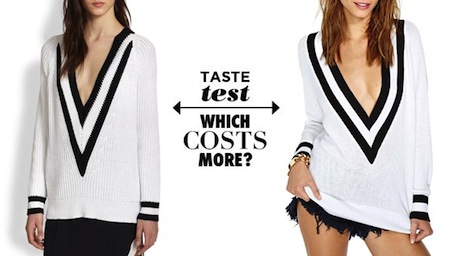 Rag & Bone vs. Nasty Gal, Missguided, and Forever21: Rag & Bone's Talia V-neck sweater was everywhere this past spring. Then again, so many brands knocked it off that you'd never know who was actually wearing Rag & Bone's and who was wearing a copy.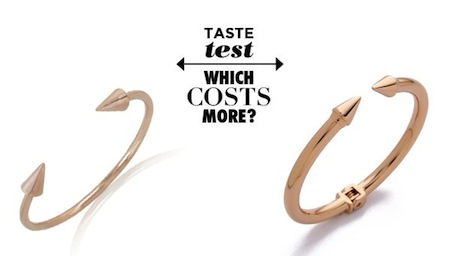 Vita Fede vs. Jennifer Fisher: We were as shocked as ever when Jennifer Fisher, a popular jewelry designer in her own right, mimicked Vita Fede's Mini Titan Bracelet, and then charged $55 more.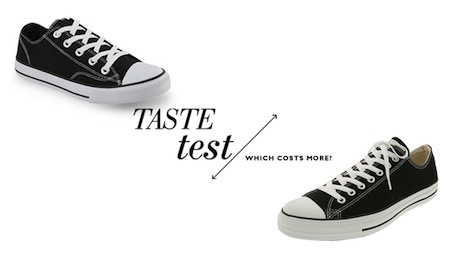 Converse vs. 31 Brands: Remember when Converse filed a lawsuit against 31 brands for copying the Chuck Taylor sneaker? Some of the copy-cats include Kmart, H&M, Sketchers and Walmart.
Mansur Gavriel vs. Forever21: Copying a high-end brand is nothing new for Forever21, but they really pulled it off when they went and did an exact replica of Mansur Gavriel's Leather Bucket Bag. The only two differences are the price and that the Forever21 version is missing the gold Mansur logo.
Balenciaga vs. Steve Madden: Steve Madden loves to 'interpret' high-end designs, but his Btalia bag has an uncanny resemblance to the Balenciaga Motorcycle bag, which did not make the Italian design house very happy. So they decided to go ahead and file a lawsuit, claiming that Steve Madden's intent was to confuse customers.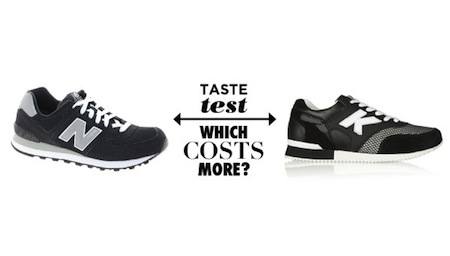 Karl vs. New Balance: There was the time when the Kaiser (aka Karl Lagerfeld) went and knocked off a pair of New Balance sneakers. It's a wonder that the man behind Chanel and Fendi didn't feel like coming up with a design of his own.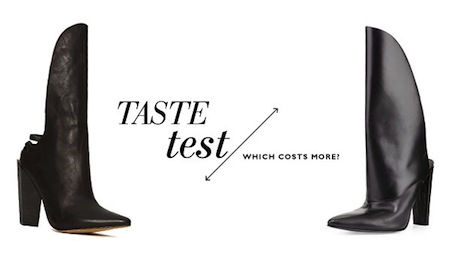 Alexander Wang vs. Jeffrey Campbell: Who could forget Alexander Wang's mule-boot hybrids? They were literally the stars of fashion week—but they also cost a pretty penny, so Jeffrey Campbell did us all a favor and did a near identical version for $220.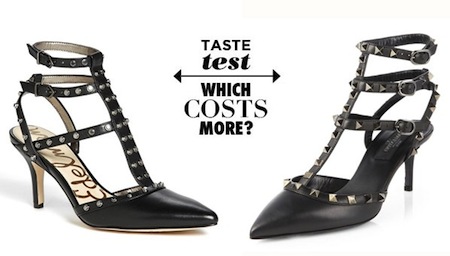 Valentino vs. Sam Edelman: At this point, everyone knows what a Valentino Rockstud looks like, but that doesn't mean that everyone can afford it. So Sam Edelman went and made a version of the Rockstud leather pump for a hell of a lot cheaper—like a $1,000 cheaper.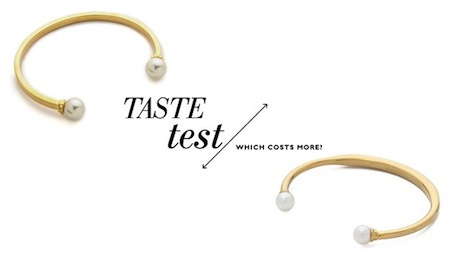 Vita Fede vs. Tory Burch: How about that time when Tory Burch copied Vita Fede's gold and pearl accented cuff? Okay Tory, so you added a T to yours, way to lay claim to someone else's design.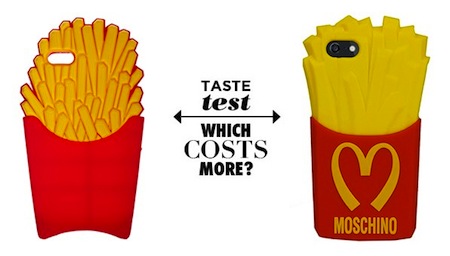 Moschino vs. Asos: Apparently iPhone covers fall victim to being copied, which is exactly what happened when Moschino's McDonald's iPhone Case was cloned by Asos.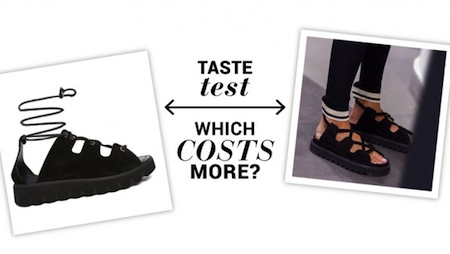 Celine vs. Asos: Remember when ugly sandals were all the rage? Celine's sandals were so damn ugly (in the best way) but so damn popular that they were impossible to find. But then Asos must've realized that there was a market for them, because they did a copy for $73.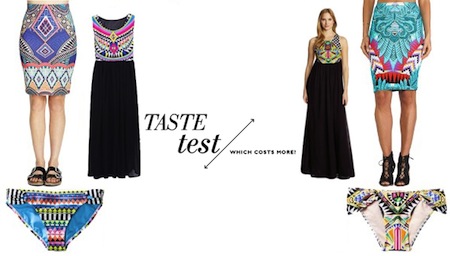 Mara Hoffman vs. Forever21, Sheinside, and Target: Oh Mara Hoffman, you really know a thing or two about a good tribal print—perhaps that's why your prints inspired Forever21, Target, and Sheinside to more or less copy you.
American Apparel vs. Forever21, Sheinside, and Choies: Everyone loves a good American Apparel high-waisted pair of shorts, but spending $60 on something that barely covers your ass is questionable. So when Forever21, Choies, and Sheinside knocked off three versions of American Apparel's shorts, we were kind've excited—and we couldn't have been the only ones.