Anyone who suffers with eczema knows there's nothing worse than those dry, itchy patches. And if the cooler, drier fall weather only makes your eczema worse, we're here to help. First, with two of our favorite eczema-soothing products on the market, AVEENO's® Eczema Therapy Bath Treatment and AVEENO's® Eczema Therapy Moisturizing Cream. Not only is it super gentle so it soothes the symptoms associated with eczema, but it also helps deeply moisturize skin that needs it most and contains ACTIVE NATURALS® colloidal oatmeal.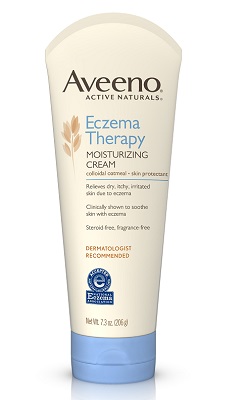 But there's more you can do to help your skin when eczema starts to flare. Because October is National Eczema Awareness Month, we wanted to share dermatologist Dr. Kenneth R. Beer's tips on treating eczema. Here are his dos and donts:
"Treating eczema for babies, children and adults is really a combination of preventive and therapeutic efforts."
DO use hydrating cleansers and barrier creams with soothing ingredients, like colloidal oatmeal, daily to maintain the integrity of the skin's barrier – for example AVEENO® Eczema Therapy products for adults and AVEENO® Baby Eczema Therapy products for babies.
DO look for products with ceramides—an essential lipid naturally found within the skin that plays a key role in enhancing and restoring the skin's protective function.
DO use fragrance free laundry detergent to wash clothing, sheets and towels and avoid dryer sheets.
DON'T use body lotions with irritants which can aggravate skin and cause eczema to flare.
DON'T use products with fragrances or harsh dyes.
To learn more about eczema, visit Nationaleczema.org.

And for more information about AVEENO® Eczema Therapy products, visit Aveeno.com or Facebook.com/Aveeno.