(Almost) 5-o-clock somewhere.
Last year, I got the Michael Kors 'Large Gold Runway Watch' for Christmas, and excluding when I'm showering or wearing silver (I'm weird about that), I've yet to take it off. As a person who has never worn a watch in her life, I've become not only obsessed with it but also completely dependent on it. And although it'd definitely be classified as "oversized," I didn't expect that it would become such a conversation piece. Check out the five weirdest comments I've gotten about it, after the jump:
5. "Hey, we have the same watch." – Some Bro-ey Canadian guy.
4."Why are you wearing a man's watch?" – a Man (who probably wanted one for himself).
3. "I like your bling." – Someone who made me feel like I had street cred.
2. "You can pay for this pizza with your watch." – Guy in a pizza store on Staten Island (…)
1. "So…do you really like time?" – Some guy in my office elevator. Unsure as to whether this was a pick-up line or a real question.
And yes, if you're wondering, I do like time. Get my watch for yourself here at Nordstrom: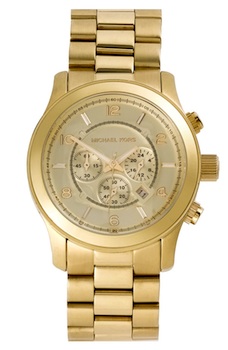 Michael Kors Large Runway Watch, $250
Or, be sure to check out Ke$ha's new line of Baby-G watches, our favorite black watches, or Timex for J.Crew's line of unisex watches.