Last night, NBC aired an epic 3 1/2 hour SNL 40th Anniversary special, which featured so many stars that they even hosted a red carpet special beforehand (and I'm not even going to attempt to list them here). If you missed the special, no worries–here are the 10 best moments to watch today:
1. Adam Sandler & Andy Samberg's "That's When You Break."
This hilarious digital short about breaking (laughing) during sketches is a reminder that Adam Sandler and Andy Samberg would have been comedy gold if they'd be on the show at the same time. Can you imagine?? Watch now: 

https://www.youtube.com/watch?v=jP0ebrjmhLM
 2. Jerry Seinfeld answers audience questions.
This bit is a staple of Saturday Night Live monologues, so I was pleased that they reserved it for such a big star as Jerry. The comedian fielded questions from Seinfeld co-creator and SNL writer for 1 season Larry David ("Look how big we hit it after that!") as well as John Goodman, Tim Meadows, Michael Douglas, Sarah Palin, Dakota Johnson (who's hosting next!) and others.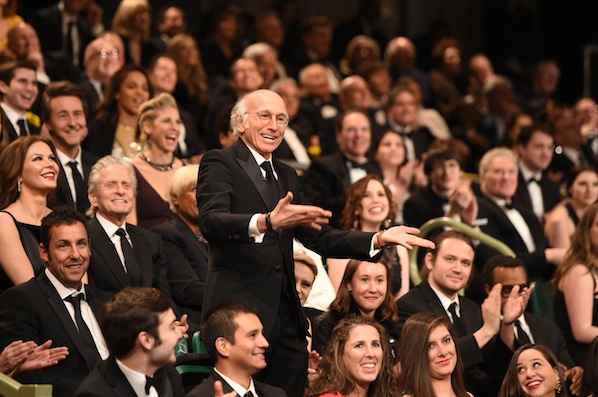 3. Chris Rock honors Eddie Murphy.
Chris Rock's tribute to Murphy was the most sincere of the evening, with Rock basically admitting that none of them would even be here tonight if it were not for Eddie Murphy saving the show during it's fledgling 1980 season. He also touched on Murphy's influence on him personally, saying:
When I was young, I didn't think comedy was a job. I thought a job involved lifting things and wearing a uniform. Comedy wasn't work, comedy was something that got you sent to the principal's office for. And then when I saw Eddie Murphy on SNL it changed everything. Not only could comedy be a job, it could be a career. Right then I discovered what I wanted to do. I wanted the thing I lifted to be a mic. And I wanted the uniform I wore to be leather. And when I got sent to the principal's office, I wanted the principal to be Lorne Michaels.
https://www.youtube.com/watch?v=ghmmHWNkhCk
4. Miley Cyrus performs "50 Ways To Leave Your Lover."
Miley not only appeared alongside Paul McCartney, Alec Baldwin, Steve Martin and more SNL superstars in the monologue, but she also knocked it out of the park with her musical performance of Paul Simon's 1975 hit "50 Ways To Leave Your Lover." Girl's got some pipes!
https://www.youtube.com/watch?v=CaF9Lsp0Rx0
5. Tina Fey, Amy Poehler & Jane Curtin host "Weekend Update."
Three of Update's funniest fake anchors (who also happen to be ladies) reunited to host a silly segment featuring the land shark, Emma Stone as Roseanne Roseannadanna, Edward Norton as Stefon, and Melissa McCarthy as Chris Farley's Matt Foley ("In a VAN down by the RIVER!").
6. A star-studded "Californians."
This is one of my favorite sketches of all time and last night it did not disappoint, with cameos by Bradley Cooper, Betty White, Taylor Swift and Kerry Washington. Betty and Bradley's passionate lip lock stole the show, even though T. Swift was hamming it up pretty hard.
7. Maya Rudolph as Beyonce. 
No wonder NBC gave Maya Rudolph her own variety show last year–she can really sing/dance! The comedienne, who is known for playing other larger-than-life divas like Whitney Houston, hosted a segment about SNL musical moments alongside Martin Short in full Beyonce regalia (and in front a non-stop-blowing fan!).
8. Celebrity Jeopardy all-stars. 
Will Ferrell returned to play Alex Trebek and revive his on-screen feud with Darrel Hammond's Sean Connery. The bit was as silly and fun as ever, with Norm McDonald also returning as Burt Reynolds and current cast member Kate McKinnon doing her very best Bieber.
[Photos: Theo Wargo/NBC, Chris Haston/NBC, Dana Edelson/NBC)